Andrew Wyeth – America's Famous Realist Regionalist
Andrew Wyeth's paintings are infused with the mysterious character of the actual world, subverting conventional ideas of reality. Andrew Wyeth's artworks have an unsettling aspect to them, causing some commentators to label him a Magic Realist. In the 1960s, numerous detractors said that Andrew Wyeth's watercolors did not uphold the times and were not pertinent to a changing society. Several of Andrew Wyeth's prints are regarded as unconventional in their examination of his models' intrinsic sexuality.
Andrew Wyeth's Biography
| | |
| --- | --- |
| Nationality | American |
| Date of Birth | 12 July 1917 |
| Date of Death | 16 January 2009 |
| Place of Birth | Chadds Ford, Pennsylvania |
Andrew Wyeth's drawings and paintings typically used twisted viewpoints and angles, giving his models an eerie or bizarre look. Andrew Wyeth's artworks are not about magical themes; alternatively, they expose the actual universe to be surrounded by enigma and ambiguity. Before we go further into his artworks, though, let us start with Andrew Wyeth's biography.
Childhood
Wyeth was frequently ill as a youngster and contracted whooping cough. Because of his compromised situation, his parents decided to home-school him. Wyeth's family began spending their summers in Maine when he was three years old, where they could appreciate the outdoors while also receiving some benefit from the social and intellectual stimulus afforded by their guests.
Andrew Wyeth started sketching before he could even read, and eventually assisted his father in the creation of the illustrations for their publications.
With restricted movement due to his failing health, Wyeth absorbed himself in Robert Frost's poems and Henry David Thoreau's writings, acquiring a deep love of nature. He also had a vivid imagination and enjoyed dressing up in the outfits and accessories depicted in his father's sketches and making up narratives to go with them. He grew up with a passion for mortality and the morbid, as well as a love for theater, especially Shakespeare.
Early Life
Wyeth was nurtured by a meticulous artist who provided him with rigorous art education. Watercolor was his favored medium because it enabled him to incorporate both Impressionist motion and light into his works. In reaction to these early works, a prominent art dealer presented Wyeth's first solo display at his gallery in 1937. In barely two days, every single painting had been sold. Wyeth's reputation expanded swiftly, and by the age of 20, he had eclipsed many other young artists in his area.
He tried out new methods, including the dry brush technique, in which he wrung out as much fluid and pigment from the paintbrush as possible before painting on the paper. He was able to get incredibly detailed results by layering effects in this manner. In the late 1930s, Peter Hurd exposed him to egg tempera, which he employed and perfected for the remainder of his life. Wyeth loved Italian Renaissance art, and also Greco-Roman antiquities when it came to artistic aesthetics.
Although he was greatly influenced by prominent American artists such as Edward Hopper and Winslow Homer, Wyeth kept faithful to his own style.
Mid-Life
Wyeth met and fell in love, with Betsy Merle James, in Maine during the summer of 1939. His father was skeptical of the union, fearful that Betsy would take over his son's artistic career and personal life. When Andrew's paintings gained popularity, his father became resentful and began to doubt his own illustrating career, regretting that he had never been a brilliant artist. This created a rift between the pair of them.
Despite the strains of family connections, his regard and affection for his father never wavered, and in May of 1940 as a consequence. Because he didn't want to insult his father, Wyeth was remote and distant throughout the day, according to Betsy. Betsy took on the role of curator and manager of the business for her husband. She was also in charge of their properties, as well as raising their sons.
Despite the arrival of newborn infants, Wyeth stayed alone in his workshop, producing as much as he could.
Andrew Wyeth's egg tempera works were included in the exhibition American 1943: American Realists and Magic Realists. As a consequence of his intriguing and enigmatic depictions of common rural life and landscapes, he has been termed a Magic Realist. As he became increasingly interested in dramatic, grotesque, and ludicrous subject matter, Andrew Wyeth's paintings became more morbid. The use of symbolism in Andrew Wyeth's prints was seen as a reaction to occurrences in his personal life and in the larger world.
When it comes to the subject matter of his canvases, Wyeth placed a premium on capturing the spirit of the location.
He did this by gathering natural things from his Chadds Ford environs, such as hay bales and branches, and placing them next to his easel in the workshop so he could view them more carefully. In 1945, Wyeth's father was hit by a train as he traversed the tracks near his home in New Jersey. Andrew began using Kuerner's Hill as a recurring setting in his paintings in the winter of 1946.
Kuerner Farm at 14 Ring Road, in Chadds Ford Township, Delaware County, Pennsylvania; Smallbones, CC0, via Wikimedia Commons
Following Wyeth's father's untimely death, his landscape paintings adopted a darker color palette and tone, while his portraits of individuals became more emotive than ever. Wyeth had the feeling that his father's passing had finally given him permission to feel. He produced portraits of the people with whom he had built bonds through time, but one of his greatest disappointments was not being able to produce a portrait of his father.
Late Life
Even while he grappled with the atrocities of World War II, Wyeth created pictures from his solitary setting. The meaning in paintings of fields and pumpkin farms extends well beyond what can be seen literally. By the mid-1950s, museums, organizations, and newspapers had all praised Wyeth.
In the aftermath of the advent of Pop Art, Minimalism, and institutional critiques, his work was criticized by many reviewers as being out of date and retrograde.
"His sharpest critics dubbed him a regressive provider of readily consumable, stickily nostalgic representations of a rural past that never was," according to the New York Times. Some chastised Wyeth for his romanticism, but he responded by examining the sexuality of his subjects.
After Christina Olson died in 1968, Wyeth began to work with a new figure, Siri Erickson, a younger girl who resided nearby. He portrayed her dressed and nude for ten years, prompting others, even his wife, to speculate about his love for her. When his homoerotic nude painting of his next-door neighbor Eric Standard, created in the late 1970s as if the person were Botticelli's Venus coming from the field, was initially displayed in the 1980s, it became an emblem for homosexual males.
Wyeth "had shifted in one fundamental manner," he said in a 1990 interview, and "was now showering his works with actual lighting."
Andrew Wyeth's watercolors became more mature as he grew older, to the point that they may be labeled abstract. Wyeth's landscape painting method went beyond realism by paying attention to the smaller details in the setting. Wyeth died gently at the age of 91, but he left behind a large art portfolio of thousands of drawings and paintings.
Andrew and Betsy Wyeth invited William Waterway Marks to visit them at the Cushing, Maine sheep farm in 1977. On several occasions, Wyeth invited Marks to drive around the farm while he painted various scenes en plein air. On one occasion, Wyeth gave Marks permission to photograph him while he painted. This is one of a series of photos that Marks took of Andrew Wyeth painting en plein air; Williamwaterway, CC BY-SA 3.0, via Wikimedia Commons
Legacy
Because they evoked a deep emotional connection to and desire for the rural life he showed, Andrew Wyeth's drawings and paintings were omnipresent in households and dormitories during and after his passing.
Many local artists in Pennsylvania and Maine, as well as painters from other areas of the country, were affected by his naturalism, but with the rise of abstraction and Conceptual Art, most of these artists have achieved little or no national exposure.
Scholars have re-evaluated Wyeth's realism and connection to modernism in the years since his death, and his standing as a notable artist has only grown since then. Wyeth served as an inspiration to aspiring artists and filmmakers. Wyeth's youngest son, Jamie, is a realist painter who frequently employs an overtly homoerotic attitude in his artworks.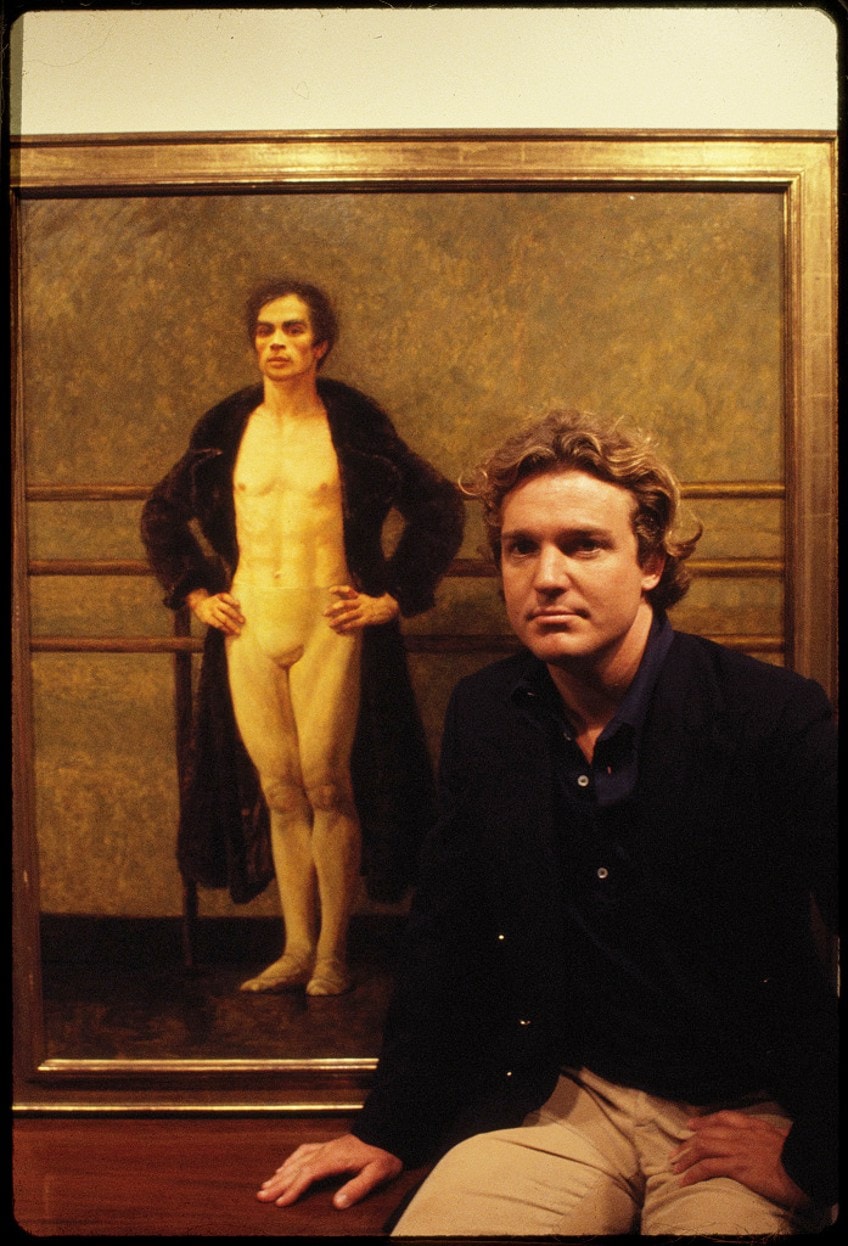 Artist Jamie Wyeth standing in front of one of his paintings, c. 1979; Bernard Gotfryd, Public domain, via Wikimedia Commons
Andrew Wyeth's Important Artworks
Now we will look at famous examples of Andrew Wyeth's paintings. Wyeth was passionate about painting the rural life he knew and was unwilling to change his approach to fit the times. Later, Wyeth became a household figure in America and a role model for new artists who were returning to realism to address modern social issues.
Winter Fields (1942)
| | |
| --- | --- |
| Date Completed | 1942 |
| Medium | Tempera |
| Dimensions | 44 cm x 104 cm |
| Current Location | Whitney Museum of Art |
After discovering the dead bird on a stroll, Wyeth returned to his studio to examine and paint it, resulting in numerous drawings for this work. Wyeth said, "The nature and closeness of the Pennsylvania environment were epitomized by this crow in one of Karl's fields. The feathers' blue-black helped me break out from 'Impressionism'". Wyeth's ability to capture precise details using tempera paint, a rare choice of media in modern times, demonstrates how much he deviated from then-current abstraction tendencies.
Some have noticed connections between the picture and images of the dead and injured on European battlefields since it was painted during World War II.
Wyeth was also attracted by American films, especially early silent war pictures released following World War I, and was influenced by the cinematic framing of conflict scenes. However, Wyeth claimed that his works had little to do with photography, and upon closer examination, the things in the backdrop are painted as finely and meticulously as the crow.
Wyeth does this by depicting space in a way that neither people nor cameras could. Wyeth's realism has always tried to convey "what lies close down at the surface", as he puts it.
Winter 1946 (1946)
| | |
| --- | --- |
| Date Completed | 1946 |
| Medium | Tempera |
| Dimensions | 79 cm x 121 cm |
| Current Location | North Carolina Museum of Art, Raleigh, NC |
Following the tragic loss of his father, he made this artwork. His father was killed by a train on Kuerner's Hill in Chadds Ford. His car engine failed, and he and his little grandson were unable to move or convince the operator to stop in time. Over the following 30 years, Wyeth's neighbor became a substitute father figure to him, and the farm and the hill were a key source of motivation for his works. Given the biographical setting, the young person could be Wyeth himself, roaming wildly and distractedly while attempting to make meaning of his father's death.
Wyeth subsequently stated that he wished he could create a picture of his father but that "the hill eventually became a portrait of him."
Christina's World (1948)
| | |
| --- | --- |
| Date Completed | 1948 |
| Medium | Tempera |
| Dimensions | 82 cm x 121 cm |
| Current Location | Museum of Modern Art |
The subject of Wyeth's picture, Anna Christina Olson, stands with her back to the viewer, staring out over her house in Cushing, Maine. Christina was unable to walk due to a degenerative muscular disease. "The difficulty was to give credit to her tremendous victory of a life which most people would deem hopeless," Wyeth said of the woman who was "restricted physically but by no means spiritually."
The figure's fragile physique and feeble arms and legs convey the idea that she is defenseless and alone in the huge expanse. Because they are observing her from behind, the spectator is in an uncomfortable situation.
The situation has a fragile quality to it, which contributes to the overall sense of dread. It would not be completely accurate to assume that this is a true representation of Christina Olson.
While the pink dress and thin limbs belonged to Olson, who was 55 at the time, Wyeth employed his young wife Betsy as the true model here, combining Christina's aged and aberrant figure with that of a healthy, youthful one. Despite the fact that Wyeth sought to convey Olson's misery, the subject might be regarded as an "Everywoman".
It is a fascinating, open-ended story that piques the reader's interest. What is Christina's name? Why is she in the middle of a field? Is that her residence? What makes her appear to be crawling? While Christina's World appears to be a simple painting, it is representative of Wyeth's interpretation of Magic Realism, which is less magical and openly surrealistic and more subtle and unnerving in its hyper-realism.
Wyeth's paintings "are packed with hidden metaphors that address recurring themes of nostalgia, melancholy, and loss," according to one curator. According to the artist, "Magic! It's what elevates everything. It's the distinction between a really artistic painting and a painting of an item." Despite the fact that the ferocity with which Wyeth was able to convey himself in this painting makes it one of his more well-known and admired pieces, it was not his particular preference. Without the figure in the field, Wyeth believed the work would have been more effective.
He commented, "When I was painting, I would sit for hours on end working on the grass, and I started to feel like I was out in the field. I became completely absorbed in the texture of the object. I recall walking into the field and picking up a piece of soil to place on the easel's base. I wasn't working on a painting at the time. I was, in reality, doing some work on the ground."
Recommended Reading
Today, we discovered Andrew Wyeth's biography and art. Would you like to learn more about Andrew Wyeth's prints and lifetime? Here are some book recommendations to do so!
Andrew Wyeth: Autobiography (1998) by Thomas Hoving
Would you like to own your own amazing Andrew Wyeth prints? His tempera, drybrush, and watercolor paintings, as well as pencil drawings, are reproduced in this magnificent collection. The most comprehensive exhibition of the artist's work to date.
A lavish volume reproducing the best of Andrew Wyeth's artworks
138 tempera, drybrush, and watercolor paintings and pencil studies
Most comprehensive retrospective of Wyeth's work ever produced
View on Amazon
Andrew Wyeth: Looking Out, Looking In (2014) by Nancy Anderson
Andrew Wyeth's first comprehensive manifestation of the window as a recurrent topic in his art is also one of his most important paintings. Over the following 60 years, Wyeth returned to windows, creating more than 300 exceptional paintings that explore the subject's formal and thematic depth. The narrative aspect necessarily linked with Wyeth's better-known figural compositions is absent from these austere, beautiful, almost abstract works. This collection takes a fresh look at Wyeth's work by focusing solely on paintings without human subjects, and it's the first time his non-figural works have been published together since the 1990s.
A critically acclaimed, beautifully printed hardcover on the artist

Published by the National Gallery of Art, Washington, D.C.

Offers a new approach to Andrew Wyeth's work
View on Amazon
Andrew Wyeth was an internationally renowned American artist known for his realistic watercolor and tempera paintings of people and landscapes. Even in a postwar period dominated by abstraction, Wyeth's realistic paintings remained popular throughout his career. In the years after his death, scholars have re-evaluated Wyeth's realism and link to modernism, and his reputation as an important painter has only risen.
Frequently Asked Questions
Who Was Andrew Wyeth?
Andrew Wyeth was an American watercolorist and tempera painter known for his realistic renderings of his private world's houses, fields, hills, and people. Wyeth's work has been described by art historians as emotional and antagonistic to the abstract trend of 20th-century painting. Despite the negative press, Wyeth's art has always remained popular.
What Was Andrew Wyeth's Most Well-Known Painting?
Christina's World (1948), Andrew Wyeth's best-known painting, features a young woman lying on the grass and gazing at a farmhouse. Despite its mundane subject material, the piece has a frightening feeling of urgency and looming dread. Although his work has been described as melancholy, the artist prefers to call it contemplative.
Isabella studied at the University of Cape Town in South Africa and graduated with a Bachelor of Arts majoring in English Literature & Language and Psychology. Throughout her undergraduate years, she took Art History as an additional subject and absolutely loved it. Building on from her art history knowledge that began in high school, art has always been a particular area of fascination for her. From learning about artworks previously unknown to her, or sharpening her existing understanding of specific works, the ability to continue learning within this interesting sphere excites her greatly.
Her focal points of interest in art history encompass profiling specific artists and art movements, as it is these areas where she is able to really dig deep into the rich narrative of the art world. Additionally, she particularly enjoys exploring the different artistic styles of the 20th century, as well as the important impact that female artists have had on the development of art history.
Learn more about Isabella Meyer and the Art in Context Team.
Cite this Article