Throughout the history of art, Spanish artists have dominated the art movements of their era, with many of the most celebrated names originating from Spain. Spanish painters have been formative figures in many traditional painting styles as well as the avant-garde movements. Spain has been influenced by many other countries over the centuries due to its geographical position such as France and Italy during the Baroque and Neoclassical periods.
Famous Spanish Artists and Painters
Due to its position in Europe, many Spanish artists were able to travel and pick up techniques from other countries. Many Spanish artists' paintings are today regarded to be instrumental in the development of many art movements in Europe. Today, we will be taking a deeper look at the famous Spanish artists and painters that left their mark on the art world. What follows is a list of 10 of the most famous male Spanish painters.
El Greco (1541 – 1614)
| | |
| --- | --- |
| Nationality | Spanish |
| Lived In | Greece and Spain |
| Known For | Painting |
| Associated Movements | Spanish Renaissance |
Doménikos Theotokópoulos was born on the 1st of October, 1541 in Crete. El Greco was his nickname, referencing the artist's home country of Greece. Despite his Greek origins, he was considered a principal member of the Spanish Renaissance. El Greco trained and mastered post-Byzantine art before traveling to Venice at the age of 26, a traditional tour for young Greek artists at the time.
He then moved to Rome and opened a workshop in 1570. During this time, El Greco started incorporating the styles of contemporary artists such as Mannerism as well as elements of the Venetian Renaissance.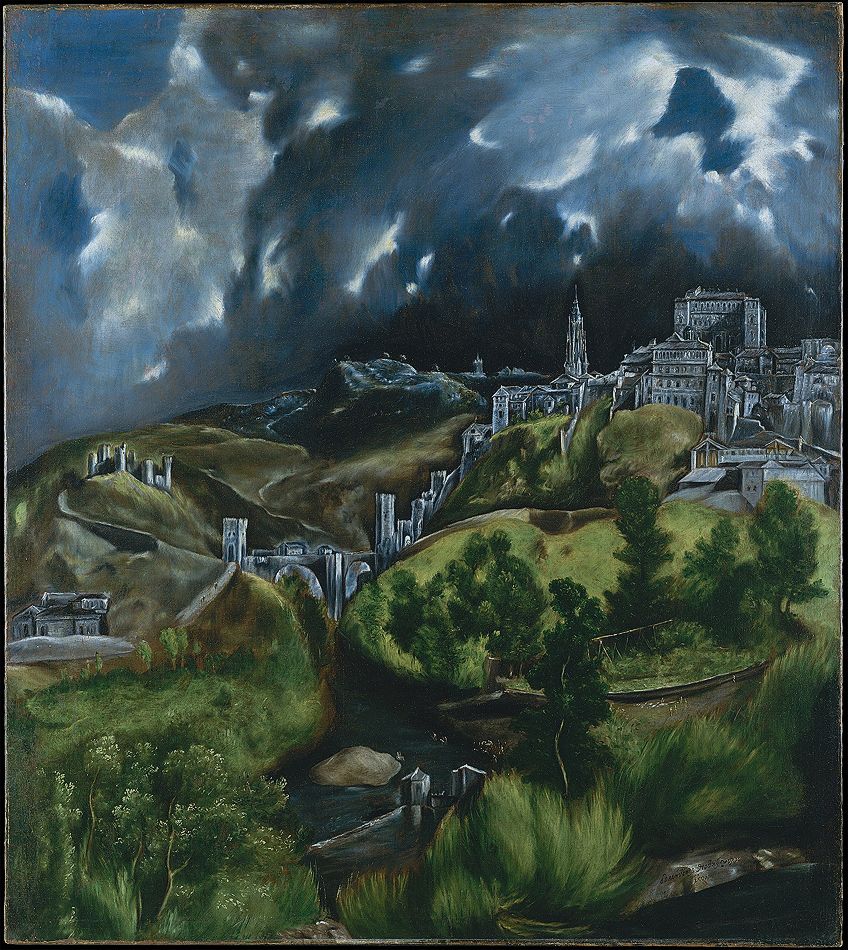 View of Toledo (c.1596-1600) by El Greco; El Greco, Public domain, via Wikimedia Commons
He then moved to Toledo in Spain in 1577, where he would remain until his death in 1614. Several of his most famous paintings such as Opening of the Fifth Seal (c. 1608-1614) and View of Toledo (1596-1600) were commissioned during this time. Although his style was met with a sense of bewilderment by his contemporaries due to its expressionistic and dramatic style, it eventually found high regard with scholars and critics of the 20th century.
Art historians regard his work as non-conventional and not belonging to any specific art movement, yet he is considered as a precursor to Cubism and Expressionism.
The Opening of the Fifth Seal (The Vision of St John) (between 1608 and 1614) by El Greco; El Greco, Public domain, via Wikimedia Commons
El Greco's work is viewed as an intriguing mixture of western painting styles and Byzantine traditional art. His art is best recognized by his fantastic use of pigmentation and his strangely stretched and elongated figures. Some of the more notable of the Spanish artist's paintings include:
The Dormition of the Virgin (1567)
The Adoration of the Magi (1565)
The Assumption of the Virgin (1577)
The Burial of the Count of Orgaz (1586)
Francisco de Zurbarán (1598 – 1664)
| | |
| --- | --- |
| Nationality | Spanish |
| Lived In | Fuente de Cantos |
| Known For | Painting |
| Associated Movements | Baroque, Caravaggisti |
Francisco de Zurbarán was born on the 7th of November, 1598 in Fuente de Cantos, Spain. He is mostly known for his paintings that depict religious subjects such as martyrs, nuns, and monks. Due to his masterful application of the chiaroscuro technique, he was known as the "Caravaggio of Spain". De Zurbarán started playing around with drawing early in life, recreating objects in charcoal as a child. In 1614, his father sent him to apprentice for three years with a little-known artist called Pedro Diaz de Villanueva in Seville.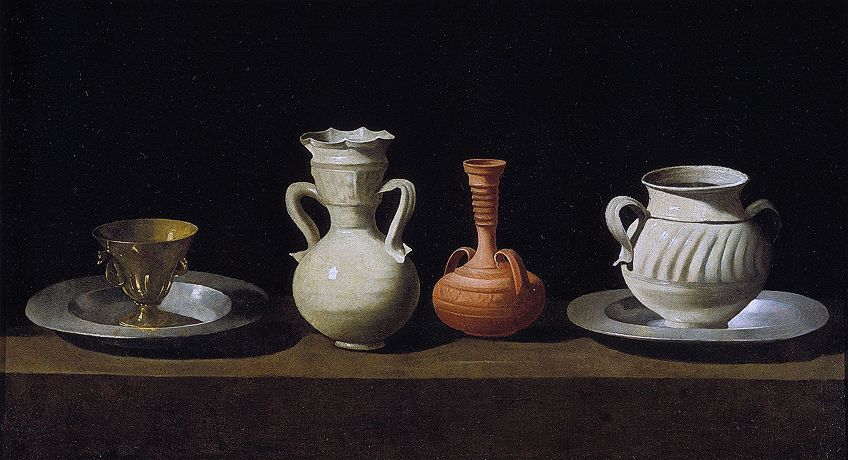 Still Life with Pots (c. 1650) by Francisco de Zurbarán; Ё, Public domain, via Wikimedia Commons
In 1626, de Zurbarán was commissioned by the Dominican monastery to produce 21 paintings within eight months. Most of the paintings portrayed Saint Dominic, and the others were representations of the four Doctors of the Church, Saint Thomas Aquinas, and Saint Bonaventura. This helped establish de Zurbarán as a figure to watch among young Spanish painters. Two years later, he was commissioned to produce 22 paintings for the Mercedarians of Seville's monastery.
Around 1630, Philip IV appointed de Zurbarán as his personal painter and later confided to him that he was not only a painter to the king, but also the king of painters.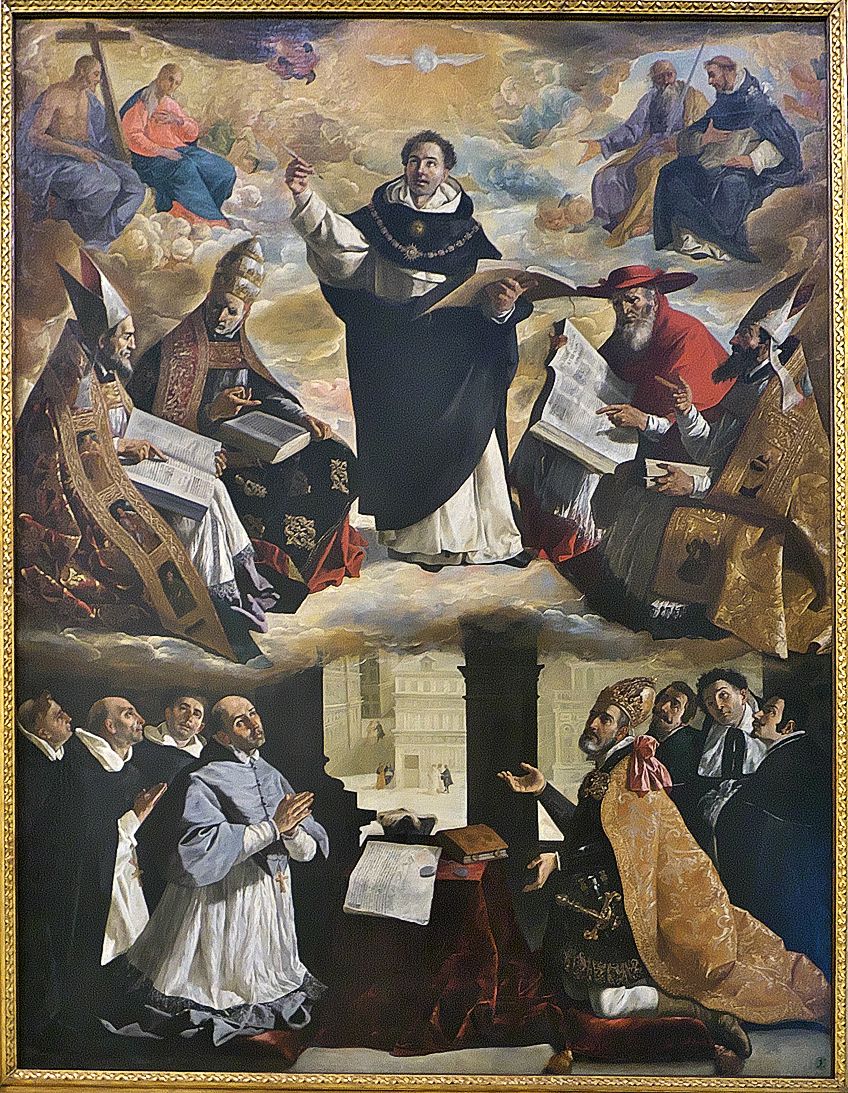 The Apotheosis of Saint Thomas Aquinas (1631) by Francisco de Zurbarán; Jl FilpoC, CC BY-SA 4.0, via Wikimedia Commons
His work has often been compared to that of Caravaggio due to his use of the chiaroscuro technique in creating very dark backgrounds. However, it is not known whether he ever had the opportunity to even see Caravaggio's artwork. He was highly regarded for his depiction of materials such as draperies and robes. In 1631, de Zurbarán painted his largest contribution to art, the revered altarpiece of The Apotheosis of Saint Thomas Aquinas for the church of the saint's college. Some of his other notable works include:
Christ on the Cross (1627)
St Hugh in the Carthusian Refectory (1630 – 1635)
Still Life with Pots (1650)
Immaculate Conception (1630)
Diego Velázquez (1599 – 1660)
| | |
| --- | --- |
| Nationality | Spanish |
| Lived In | Seville, Spain |
| Known For | Painting |
| Associated Movements | Baroque |
Diego Velázquez was born on the 6th of June, 1599 in Seville, Spain. Diego Velázquez was considered the greatest painter among other Spanish painters of the Spanish Golden Age, as well as a highly respected artist in the court of King Philip IV. He was considered a highly individualistic creator of Spanish paintings during the contemporary Baroque period.
He painted many renditions of culturally significant scenes in history, as well as many portraits of the Spanish royalty and common people.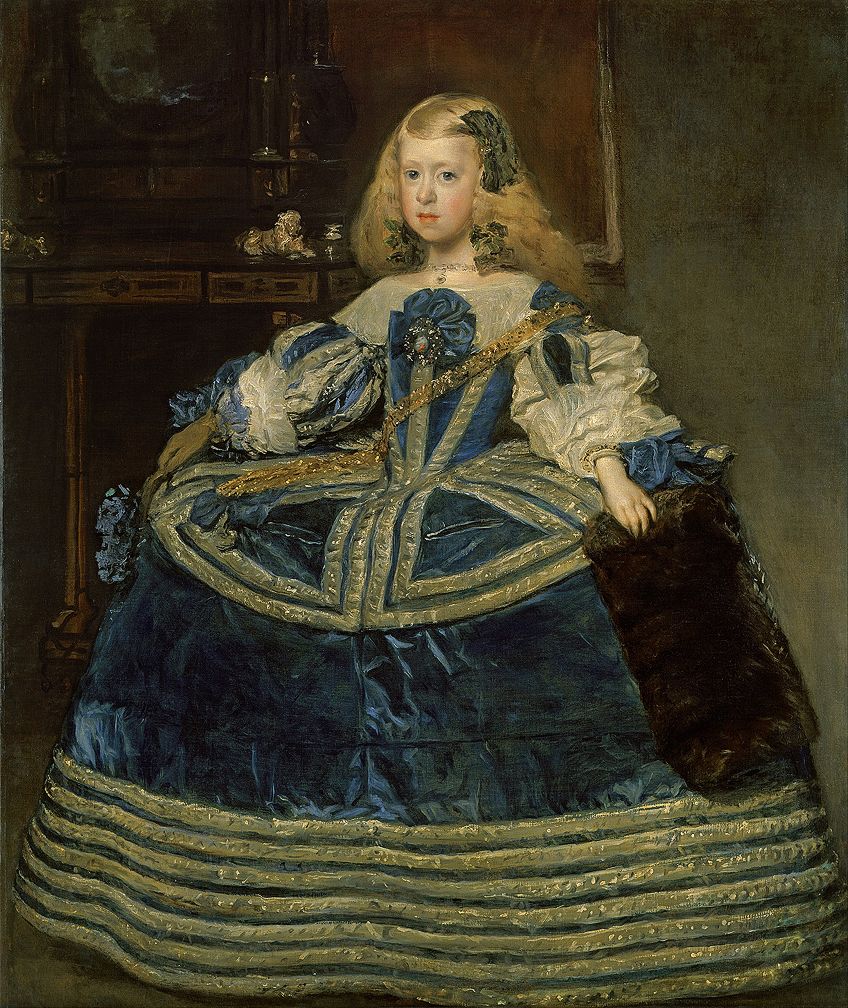 Infanta Margarita Teresa in a Blue Dress (1659) by Diego Velázquez; Diego Velázquez, Public domain, via Wikimedia Commons
For many Impressionists and Realists of the 19th century, Diego Velázquez's artwork was the model to follow. Many artists such as Francis Bacon, Salvador Dalí, and Pablo Picasso would pay tribute to him in the 20th century by producing their own renditions of some of his most iconic artworks. Velázquez was a close friend of all of the most eminent painters of his time and was well informed on all the various Italian schools of art.
Yet, despite being surrounded by equally talented peers and influences, he managed to remain largely focused on developing his own principles and style.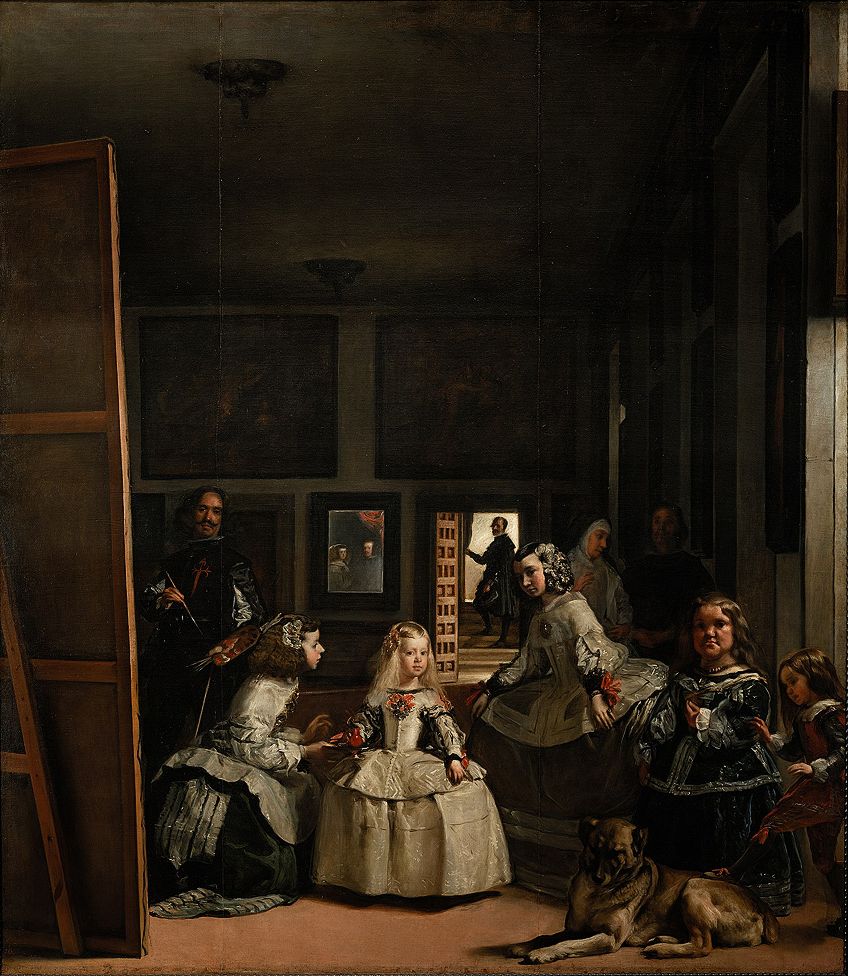 Las Meninas ('The Maids of Honor', 1656) by Diego Velázquez; Diego Velázquez, Public domain, via Wikimedia Commons
Diego Velázquez spurned the ceremonial solemnity that typified the portraits of many other European courts. He had great skill in creating various hues with a very finite palette of colors. Only a very small amount of sketches can be attributed to his hand without doubt and with definite certainty. A few preliminary sketches of his paintings have been noted by scholars, but his most widely applied technique was to simply paint subjects directly from life and to correct mistakes as he went along. Some of his most notable artworks include:
Infanta Margarita Teresa in a Blue Dress (1659)
Las Meninas (1656)
Portrait of Juan de Pareja (c. 1650)
Bartolomé Esteban Murillo (1617 – 1682)
| | |
| --- | --- |
| Nationality | Spanish |
| Lived In | Seville, Spain |
| Known For | Painting, Drawing |
| Associated Movements | Baroque, Caravaggisti |
Bartolomé Esteban Murillo was born, lived, and died in the city of Seville in Spain. Seville at that time was a city considered to be on par with Amsterdam and Venice in terms of influence and power. Up until the 1630s, the city was very prosperous due to its position in the trading route with the New World. However, as Murillo was carving the first steps of his career, Seville was going through a period of population decrease and a decline in the living standard for the locals. The church and other fraternities of a religious nature, on the other hand, were experiencing an increase in influence and wealth.
1645 was an important year in Murillo's life, as he married Beatriz Cabrera and also received his first commission to create 13 paintings for a church in Seville called the Convento de San Francisco.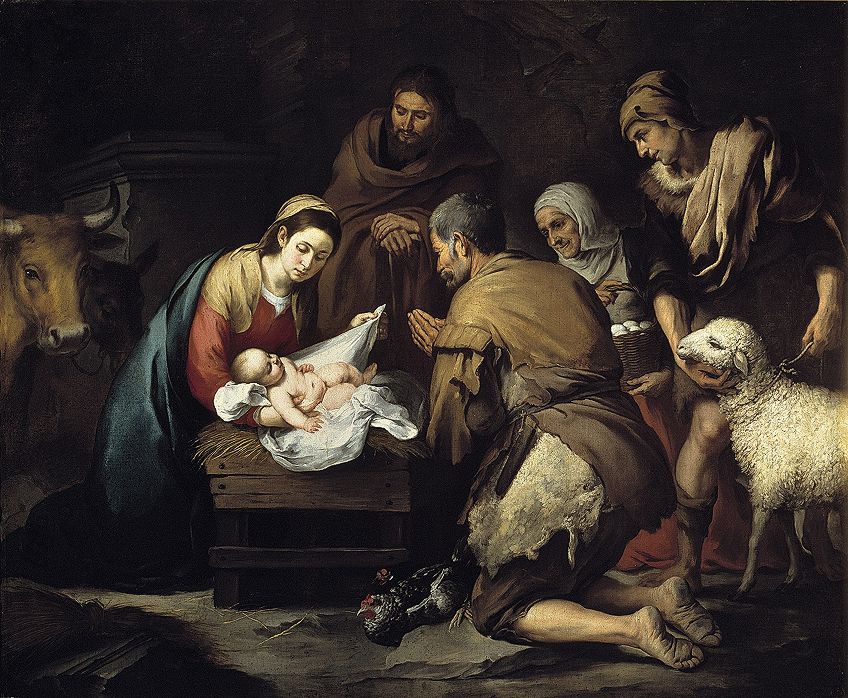 The Adoration of the Shepherds (1650) by Bartolomé Esteban Murillo; Bartolomé Esteban Murillo, Public domain, via Wikimedia Commons
Each painting portrays a saint performing a miracle or act of charity. Eleven of the canvases still exist and are housed throughout America and Europe in various collections. This series was very well received and led to the commission of several other artworks in the 1650s, including The Virgin of the Rosary and Adoration of the Shepherds. By this time, Seville was no longer considered the major commercial hub of Spain, and nearly half of its population had been wiped out by a plague and other natural and political upheavals that left it a shadow of its former glory.
Due to the city's disintegration, churches and other religious orders started pumping large sums of their vast wealth into various charities and commissioning artworks to ensure that their charitable works were documented and celebrated.
The Angel's Kitchen (1646) by Bartolomé Esteban Murillo; Bartolomé Esteban Murillo, Public domain, via Wikimedia Commons
Being a devout member of the Catholic church, Murillo gained much work and fame through these commissioned works. Throughout his career, he continued to create works of art that were religious in theme and content. Some of his most notable works of art include:
The Angel's Kitchen (1646)
Virgin of the Rosary (1650)
The Good Shepherd (1660)
Francisco de Goya (1746 -1828)
| | |
| --- | --- |
| Nationality | Spanish |
| Lived In | Madrid and Bordeaux |
| Known For | Painting, Drawing |
| Associated Movements | Romanticism |
Francisco de Goya was a Spanish painter born in the town of Fuendetodos in Aragon in 1746. After studying under José Luzán y Martinez from the young age of 14, he went on to study further with Anton Raphael Mengs in Madrid. He was highly regarded for his work in the Romanticism movement, and in 1786 he was appointed court painter of the Spanish Crown.
Much of his earlier work therefore includes mostly commissioned portraits of Spanish royalty and nobility.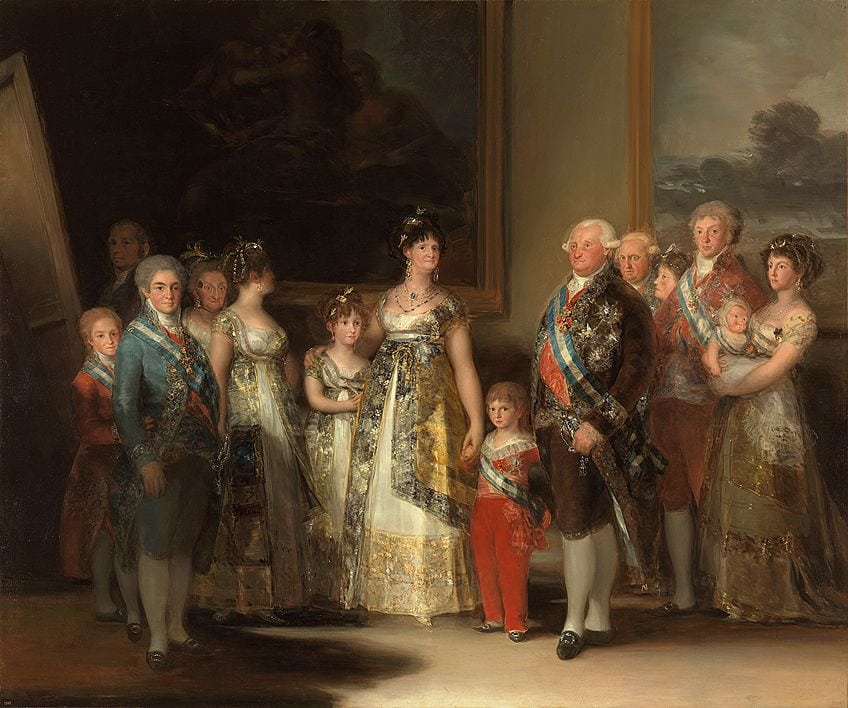 Charles IV of Spain and His Family (1800-1801) by Francisco de Goya; Francisco Goya, Public domain, via Wikimedia Commons
Francisco de Goya is regarded by scholars as one of the most prominent and influential Spanish artists of the late 18th century as well as early 19th century and is often referred to as the Last Old Master. De Goya's artworks were greatly admired for their reflection of historical upheavals and contemporary events.
In 1793, his work took a more pessimistic and darker turn when he fell ill with a disease that left him deaf.
This dark tone relating to both the social and political state of Spain as well as the personal struggles he was experiencing at this time can be seen in the artwork he was creating in his mural and canvas paintings. The French war against Spain in 1807 deeply affected de Goya and he expressed his unspoken feelings about it by creating the series of prints titled Disasters of War.
The Repentant St. Peter (c. 1820-1824) by Francisco de Goya; The Phillips Collection, Public domain, via Wikimedia Commons
In his late period, de Goya live in isolation and painted on the wall surfaces of his home. At this time, he grew bitterly disenchanted with the social and political situation in Spain and his works from this period of 1819 to 1823 are referred to as the Black Paintings. He eventually left Spain and retired with his young wife in 1824 to Bordeaux in France. Some notable artworks of Fransisco de Goya include:
Pablo Picasso (1881 – 1973)
| | |
| --- | --- |
| Nationality | Spanish |
| Lived In | Spain And France |
| Known For | Painting, Sculpture, Printmaking |
| Associated Movements | Cubism, Surrealism, Expressionism |
The Spanish painter Pablo Picasso was born in Málaga, Spain in 1881, although he lived in France for most of his adult life. Picasso was responsible for co-founding Cubism and collage art, as well as constructed sculpture. In fact, this Spanish artist is regarded by art historians to be one of the most prominent painters of the 20th century.
Portrait photograph of Pablo Picasso, in front of his painting The Aficionado (Kunstmuseum Basel) at Villa les Clochettes, Sorgues, France, summer 1912; Anonymous Unknown author, Public domain, via Wikimedia Commons
Picasso was already painting in a naturalistic style in his childhood, displaying exceptional artistic skill from a very young age and through his adolescent years. During the 1910s, he experimented with various techniques and methods that resulted in a drastic change in his approach to art. Matisse's work in the Fauvist movement inspired Picasso to experiment with more non-conventional art styles, resulting in a productive rivalry between Picasso and Matisse for many years, as they were both viewed by critics as leading figures of modern art.
Unlike other Spanish abstract artists, Picasso's work always began with reality as a starting point, despite the end result having a decidedly abstract appearance.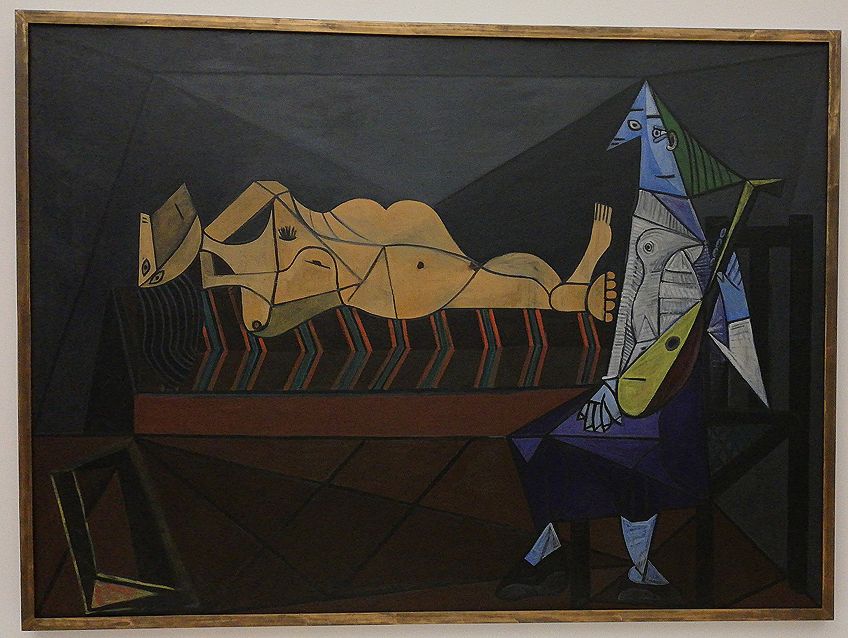 L'Aubade (1942) by Pablo Picasso; Wisi eu, CC BY 3.0, via Wikimedia Commons
Picasso was well known for his prominence in the Cubist movement. Along with the much-regarded work of the artist Georges Braque, Picasso co-developed a new style of looking at painting subject matter called Analytical Cubism. The term is derived from how both artists would break down objects and analyze them in terms of their form and shapes.
Many similarities are therefore shared in both these Spanish Artists' paintings.
Picasso was also involved in the development of Synthetic Cubism, which incorporated the use of materials like newspaper cuttings and pieces of paper to create collage compositions in the style of fine art. Some of Picasso's notable works include:
La Vie (1903)
Family of Saltimbanques (1905)
Les Demoiselles d'Avignon (1907)
Portrait of Daniel-Henry Kahnweiler (1910)
Joan Miró (1893 – 1983)
| | |
| --- | --- |
| Nationality | Spanish |
| Lived In | Barcelona and Palma, Spain |
| Known For | Painting, Sculpture |
| Associated Art Movements | Surrealism, Abstract, Dada |
Joan Miró was born in the city of Barcelona on the 20th of April, 1893. While attending private school at the old mansion ar Carrer del Regomir, he began taking art classes when he was only around seven years old. He then enrolled at a fine art academy In La Llotja at the age of seventeen, much to the consternation of his father. Joan Miró showcased his first solo exhibition in 1918 at the Galeries Dalmau, leading to much negative critical reception and ridicule.
Portrait of Joan Miró, Barcelona, 1935; Carl Van Vechten, Public domain, via Wikimedia Commons
During his travels to Barcelona and abroad, he was inspired by the exhibitions there, especially the art by Fauvist and Cubist artists. After joining the Surrealists in 1924, he proceeded to spend most of his time living and painting in Paris. His work was already highly poetic and symbolic so it fitted naturally with the dream-like qualities of Surrealist art, with all its contradictions as well as dualities.
During this period, his work became more focused and less chaotic, he began to experiment with mediums like collage, and his art began to reflect his steady process of rejecting the traditional methods of painting.
Joan Miró is often cited along with other Spanish abstract artists, yet his work did not wholly cast aside subject matter. His preliminary sketches reveal that he did indeed use a methodical and sequential process to create his paintings, despite the automatic techniques employed by Surrealists also being used.
His work always maintained a symbolic narrative and never indulged in pure non-objectivity.
In 1928, he painted the Dutch Interiors, which saw a marked return to painting representational forms after being inspired by the art he saw in a trip to Holland. They showed closer resemblance to some of his works like Harlequin's Carnival than to the dream-like surrealist paintings he had created a few years before that. Some notable works by Joan Miró include:
Harlequin's Carnival (1924)
Dutch Interior (I) (1928)
The Beautiful Bird Revealing the Unknown to a Pair of Lovers (1941)
Salvador Dalí (1904 – 1989)
| | |
| --- | --- |
| Nationality | Spanish |
| Lived In | Figueres, Spain |
| Known For | Painting, Drawing, Photography, Film |
| Associated Movements | Surrealism, Expressionism, Post-Modernism |
Salvador Dalí is one of the most recognized figures in the world of art and is remembered and loved as much for his wonderfully strange and lavish lifestyle as he was for his prodigious artistic output. To prove how completely connected Dalí was to his work, he was buried in his museum after he passed away in 1989. Dalí was very well aware of his eccentricities and he created extremely personal artwork with imagery that was full of subconscious symbolism and dream-like qualities.
The 1948 work Dalí Atomicus explores the idea of suspension, depicting three flying cats, water thrown from a bucket, an easel, a footstool, and Salvador Dalí apparently suspended in midair; Philippe Halsman, Public domain, via Wikimedia Commons
In both his life and art, Dalí sought to break up social conventions and helped create new symbolic visual languages and artistic techniques that expanded our way of examining and expressing the human psyche and the subconscious mind. His anti-establishment way of looking at life began early in his career, being expelled from Madrid Academy for instigating a protest amongst the students against an art professor who he regarded as being a mediocre teacher and unfit to tutor students.
In 1929, Dalí moved to Paris to join the Surrealists out of a desire to upset the status quo of rational thought, and by doing so, to free the psyche of self-imprisonment.
This move ignited Dalí's interest in exploring new mediums and saw him experimenting with other creative people such as Luis Buñuel, a Spanish director with whom Dalí collaborated to create Un Chien Andalou, the first Surrealist film.
Although considered one of the Spanish abstract artists, Dalí did not like certain aspects of abstract or surrealist techniques like automatism, which was a technique where artists sought to not control their art or writing and let it come out spontaneously. Although these kinds of methods were meant to free the creative mind, Dalí preferred creating the objects and themes in his artwork deliberately so as to illustrate a hyper-realistic world instead of a world of abstract figures. Some of Dalí's most notable works include:
The Persistence of Memory (1931)
Metamorphosis of Narcissus (1937)
Swans Reflecting Elephants (1937)
The Temptation of Sint Anthony (1946)
Antoni Tàpies (1923 – 2012)
| | |
| --- | --- |
| Nationality | Spanish |
| Lived In | Barcelona, Spain |
| Known For | Painting, Sculpture, Lithography |
| Associated Movements | Art Informel |
Antoni Tàpies was a Spanish painter born in Barcelona on the 13th December 1923. Tàpies was not only a painter, but also an art theorist and sculptor, and was regarded as one of the most well-known artists from Europe of his generation. When Tàpies was just 17, he suffered a heart attack and spent two years living in the mountains. It was there that he spent much of his time reading and pursuing his growing interest in art, which had already begun in his early teens.
After three years of studying law at the German School of Barcelona, Tàpies completely devoted himself to his artwork from 1943 and onwards.
He began his experimentation with rinse materials in 1945, mixing whiting solution with oil paint. The Spanish abstract artist's paintings have been exhibited in many major museums around the globe. Tàpies was a prominent component in the founding of the first post-war art movement in 1948 known as Dau al Set, which displays similarities with other movements of the time such as Dadaism and Surrealism.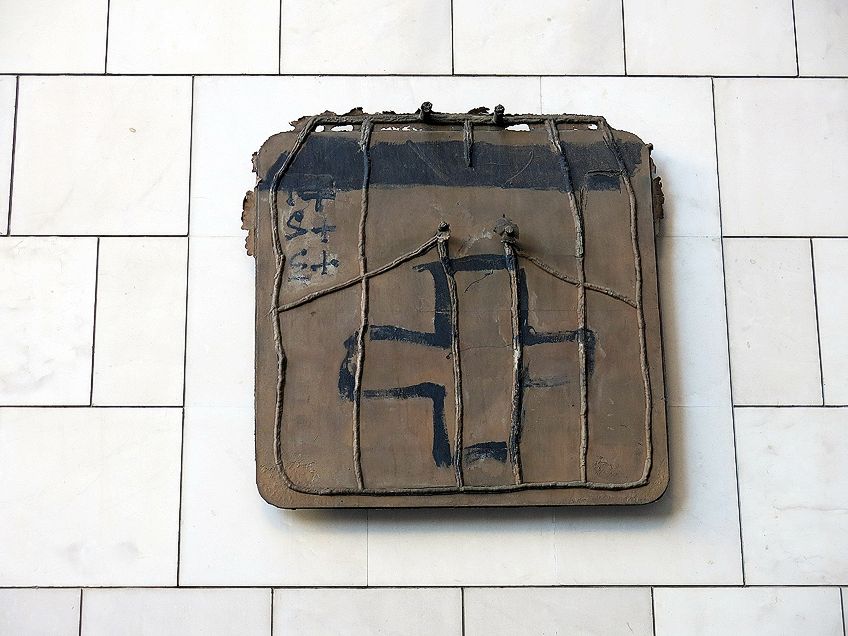 A composition by Antoni Tàpies; Enric, CC BY-SA 4.0, via Wikimedia Commons
Although he started his career as a painter of surrealist art, Tàpies shortly afterward became an artist of the style known as Art Informel, which employed a technique of taking materials that were considered non-artistic in the traditional sense and mixing them into the paintings.
This exploration of the mixed media method is regarded as being Tàpies' greatest contribution to art history.
His artworks often include commonly found materials such as the dust of marble and soil mixed with expressive brushstrokes and interesting applications of the impasto technique. Some of the Spanish artist's most notable works include:
Grey and Green Painting (1957)
Grey Ochre (1958)
Great Painting (1958)
Equation III (1987)
Eduardo Arroyo (1937 – 2018)
| | |
| --- | --- |
| Nationality | Spanish |
| Lived In | Spain and France |
| Known For | Painting, Set Designer |
| Associated Movements | Realism |
Eduardo Arroyo was a graphic artist and painter from Spain. Due to a growing disdain for Spanish politics, he moved to Paris in 1958. In Paris, he became closely acquainted with those in the art scene, such as future stage collaborator Gilles Aillaud, with whom Arroyo created sets that were meant to be artistic statements of their dislike for contemporary French art.
Over two decades of creating artworks could be traced back to one highly successful exhibition in 1964, which demanded good prices on the market and received glowing critical appraisal. Arroyo's work has been described as the meeting point of pop art and figuration narrative. His work is typified by his flattening of perspective and a noticeable absence of spatial depth.
These cartoon-like parodies depicted subject matter in a flattened version of pictorial space, much of the style picked up during his time drawing caricatures for work.
Having been born in Spain during a time of great political unrest under Franco-rule, his opposition to these oppressing forces is reflected in the politically active artist's work. It was through his work in costume and set design that Arroyo became renowned as a creative figure in Milan, Berlin, and Paris. He did eventually move back to Spain to live and work until his death in 2018. Arroyo's artwork can still be found in collections across the globe such as in the Bilbao Fine Arts Museum, the Hirshhorn Museum, and the Museum of Modern Art in New York. Some of this Spanish painter's most notable artworks are:
Cuore (Portrait d'Edmundo d'Amicis) (1962)
La Perquisition de St. Sebastian (1969)
Nella giungla della città (1975)
Portrait de James Joyce (1992)
Today, we have learned about ten famous Spanish artists and painters that have helped shape the face of the art world. Spanish artists are some of the most well respected in their various styles, such as Cubism, Surrealism, Spanish Renaissance, and other influential movements. Spanish artists' paintings are now revered as masterpieces and have helped lay the foundations for several movements that were founded by Spanish painters. From Spanish abstract artists to hyperrealists, the famous Spanish artists and painters have left behind a legacy of fascinating and non-traditional artwork.
Take a look at our Spanish artists webstory here!
Frequently Asked Questions
Which Spanish Artist Founded the Cubism Movement?
Although he started his early career painting in a more traditional, naturalistic style, Picasso became interested in expressing forms in a way related to their shapes and founded the Cubist style through his experimentation. Georges Braque was one of Picasso's closest contemporaries and also played a formative role in the development of the movement.
Why Does Spanish Art Display So Much External Influence?
Due to its position during the early days of European trade with the west, Spain was constantly the hub of creative influences, with people from different cultures and countries moving through the area and leaving behind their techniques and methods.