Blue is a widely-loved color. So much of the world we live in is blue, from the oceans to the sky. Whether you are a graphic designer or a painter, knowing how to make and use different shades of blue is essential. You may want to know what two colors make blue. In this article, we go through the meanings of blue, discuss how to create many different blue hues, and give you the inside scoop on creating tints, shades, and mutes.
What Does Blue Mean?
When it comes to using a particular color in a design or painting, we must consider how it will affect our emotions. Blue has a variety of meanings and associations, and each shade varies in its effect. In general, blue is a calming color, signifying trust, relaxation, expansiveness, and stability. Used in the right circumstances, however, blue can communicate deep sadness or trouble. Blue can be light and serene, dark and troubling, and bright and exciting.
Positive and Negative Effects of Blue
| Positive properties | Negative properties |
| --- | --- |
| Trust | Coolness |
| Quiet | Distant |
| Clarity | Sad |
| Security | Melancholic |
| Peace | Lonely |
| Stability | Depressed |
| Reliable | Conservative |
| Faithful | Cold |
| Intelligent | Restrained |
The Positive Effects of Blue
We have been associating the color blue with calm and positive mental states for a long time. In fact, looking at a cool and bright shade of blue can actually help our bodies produce the chemicals that promote rest and relaxation. Not only that, but blue can also help to slow down our metabolism and suppress our appetite.
This relationship shows that colors and humans have evolved together for a long time.
Blue helps to create balance and encourages self-expression. Very often, a blue shade can communicate feelings of confidence and significance. We also find that some blue shades are powerful colors and are very often associated with royalty. In fact, throughout history, royalty has been said to have "blue blood." Many national police services use blue in their uniforms, and blue suits are common in the corporate space. These associations lend blue feelings of unity, stability, and intelligence.
Blue shades can hold a lot of cultural and spiritual significance across the world. Many global cultures believe that blue shades bring peace and deter evil spirits. Blue is a mourning color in Iran. In the Western world, there is a bridal tradition of providing "something blue."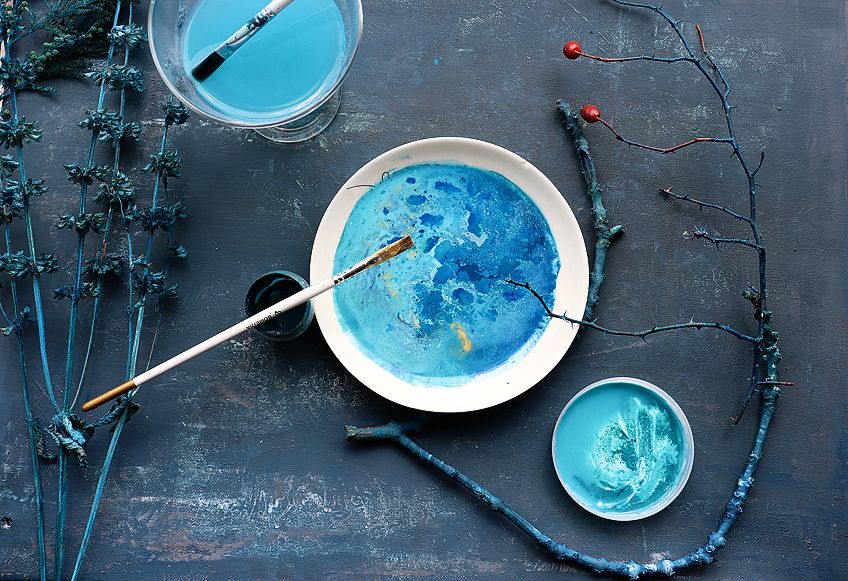 A More Melancholy Interpretation of Blue
While blue can be associated with feelings of serenity and peace, it can also make us feel a little sad. There is a reason we say, "I am feeling a little blue," when we are feeling low. Deeper blue shades can make us feel sadness and negativity. Blue can also enhance feelings of depression and loneliness. In the English language, there are several phrases which link the color blue to feelings of sadness.
Another phrase, "singing the blues," often refers to people complaining or being unhappy about their lot in life. The blues music genre was born out of the struggles of African Americans as they continued to fight for their lives and equality after the end of slavery. Also, "baby blues" is a phrase often used to refer to postpartum depression, a disorder that many women experience after giving birth. Those feeling sad about returning to work may be dreading a "blue monday."
Possible Traits of People who like Blue
Studies shown that people who prefer blue are often perceived as relaxed, calm, creative and intellectual. They may also be seen as trustworthy, loyal, and responsible. However, it is important to note that these are general perceptions and may not apply to everyone who likes the color blue.
Here are the underlying studies:
In a 2009 study published in Personality and Social Psychology Bulletin, researchers found that the color blue promotes positive emotions such as calmness and contentment and also has a calming effect on the body.
A 2010 study published in the Journal of Environmental Psychology found that the color blue provides feelings of safety and stability and is also recommended as a preferred color in environments such as hospitals and schools.
Another 2011 study, published in the journal Color Research and Application, found that blue is often associated with trust, intelligence and reasonableness.
A 2013 study published in the journal Emotion found that the color blue has a calming effect on the body and can promote a positive mood.
So, How Do You Know Which Blue to Use?
With so many varied associations, it can be tricky to decide on the perfect shade of blue to use in your work. Colors have a strong psychological and emotional component, so our best suggestion is to spend some time looking at different shades. You will very quickly be able to feel the color, and you can then decide whether this is the feeling you want to evoke in your designs.
As a general rule of thumb, lighter and brighter blue shades tend to be more relaxing and joyful, while darker and moodier blues can evoke sadness.
What Colors Make Blue?
What two colors make blue? Blue is one of the three fundamental colors on the light spectrum. As a result, you cannot actually make "true blue" by using different colors. Alongside red and yellow, blue is one of the primary colors on the color wheel devised by Sir Isaac Newton. You cannot create any of these three colors by combining other colors, but every other color is a combination of these three.
Although we cannot make our own "true blue," we can create different shades of blue. Using the color wheel and basic color theory, we can create a whole variety of unique blue hues that you can use in your paintings and designs. But before we dive into how to make different shades of blue, we need to go over some basic color theory.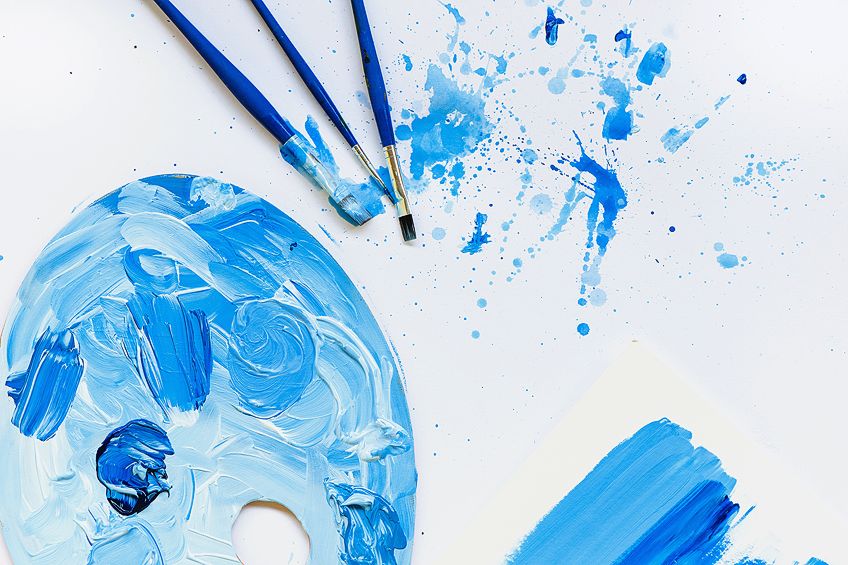 Fundamental Color Theory: The Color Wheel and the Color Bias
The color wheel is just that – a wheel representing the relationships between all the colors of the visible light spectrum. Sometimes color wheels only include the primary colors, while others include a host of secondary, tertiary, and complementary shades.
Let us use the tertiary wheel, which has 12 colors on it. In addition to the three primary shades, this color wheel includes three secondary shades and six tertiary hues. Mixing any two primary hues will create a secondary shade (orange, green, and purple). You can then create tertiary hues by combining a secondary and primary shade.
On this color wheel, the colors that sit opposite each other are complementary. If you use green and red in a design together, they will make the other appear brighter and bolder. The reason behind this relationship is because they are each other's color complements.
Another important thing to notice about the color wheel is the variety within the secondary and tertiary hues. You will see that purple shades range from very pink purples to very blue purples. This phenomenon is known as color bias. The purple hues that are pinker have a little more red in them, while the bluer purples have more blue.
This bias also applies to primary shades like blue. You will see a darker blue that leans a little more towards purple and a lighter blue that appears to be closer to green. The green-blue appears this way because it has a small amount of yellow in it, and the purple-blue contains a tiny bit of red. Colors with a bias towards red shades are referred to as warm colors, while those that lean more towards yellow or green are cool colors.
When mixing different shades of blue, being aware of this underlying color bias is essential. The relative temperature of your blue hues will impact the emotions you can evoke with them. Cooler blues tend to be more calming, while warmer blues can encourage feelings of safety.
How to Make Different Types of Blue
As blue is a primary shade, we will not be mixing it from scratch. Instead, we will be using a base blue hue and adding other colors to create a variation of shades. There are two base blues that we are going to use throughout this article. The first is ultramarine blue, a darker blue hue that is closer to royal or navy blue. The second blue hue we are going to use is cobalt blue. Cobalt blue is brighter and a little less dark.
We describe the theory in this next section of the article, and we highly recommend that you grab a piece of paper and the paints and try out these combinations yourself as we go along. The best way to learn how to mix colors is to practice them and experiment with them yourself. We will be covering the fundamentals, and you can go one step further and experiment with different ratios. As an artist, it can be incredibly helpful to keep a color mixing journal, where you document your experiments with color mixing for future reference.
How to Make Warm Shades of Blue
You will now be familiar with the temperature terminology in color theory. As a primary shade, blue is typically a cooler color. Color temperature is, however, a relative term. As a result, we can mix shades of blue that are much warmer than others. Warm blues, depending on their darkness, can be either inviting or melancholic.
Using Ultramarine Blue to Make Warm Shades
On its own, ultramarine blue is already quite a warm shade. If you paint a little of it in a square on your page, you will see that it is closer to purple than green. This base temperature makes it the perfect shade for creating warmer and darker blue hues. There are two colors that you can try mixing with ultramarine blue to make lovely, deep, warm blue hues.
The first color option for making a warm blue with ultramarine is alizarin crimson. Alizarin crimson is a warm and slightly purple-red hue. The fact that alizarin crimson is a relatively cool red, in that it leans more towards blue than orange, is vital when mixing it with ultramarine blue. Mixing alizarin crimson with ultramarine blue will create a dark purplish-blue hue. If you used a red that was warmer, closer to orange, and therefore contained a small amount of yellow, you would end up with a brownish, muted blue.
The second color option for mixing a warm blue shade is burnt sienna. Burnt sienna is another warm and dark red hue. Using burnt sienna will make a much darker warm blue than alizarin crimson because the burnt sienna is much darker and closer to brown. Compared to alizarin crimson, the blue made with burnt sienna and ultramarine will be a little cooler.
Using Cobalt Blue to Make Warm Shades
Cobalt blue is naturally cooler than ultramarine blue, so it is harder to transform it into a warm blue hue. You can, however, certainly make cobalt blue warmer by adding the same colors as we did with ultramarine.
If you are looking for a brighter warm blue hue, mixing cobalt blue with some alizarin crimson is a fantastic option. The brightness of cobalt blue makes it much more vibrant than ultramarine when combined with alizarin crimson. You can adjust the ratio of cobalt blue and alizarin crimson to create different warm blue hues. You can make the warmth more subtle by adding only a small amount of alizarin crimson. Alternatively, you can make a very warm blue, verging on purple, by adding more alizarin crimson.
If you want a darker, more muted warm blue, you can mix cobalt blue with some burnt sienna. This color combination produces a much darker shade of warm blue that verges on a dark purple. Compared to the mix of ultramarine and burnt sienna, the cobalt mixture is a little brighter and a little bluer.
How to Make Cool Shades of Blue
If you want to paint the beautiful turquoise blue oceans or a bright blue sky, you will need a cooler blue hue. The trick to creating cool blue hues is to add a touch of green. Just like there are so many different types of blue, there are countless green shades. Each green shade will create a unique shade of cool blue when combined with either ultramarine or cobalt blue. We will focus on the two most useful green shades for making cool blues: cadmium green and Veronese green.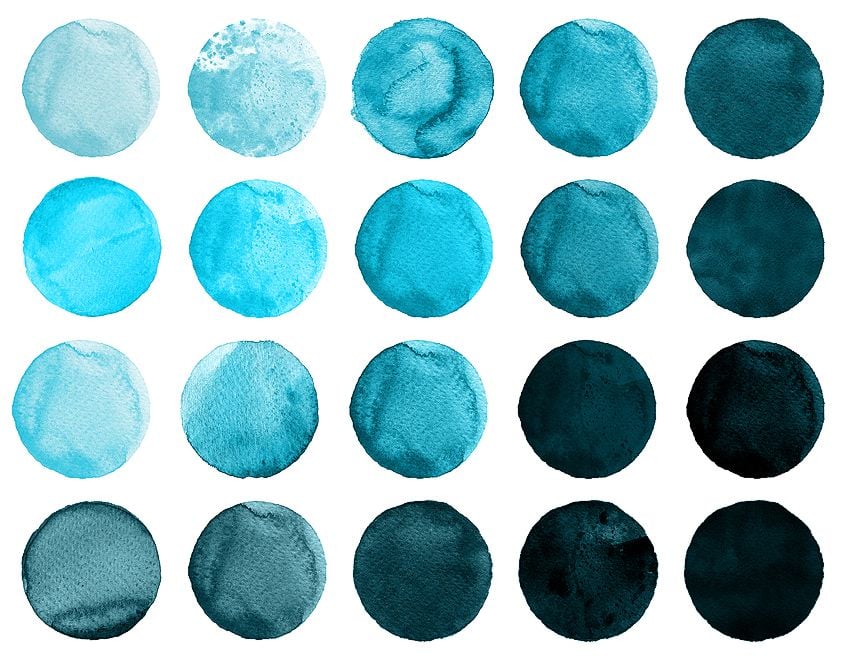 Using Veronese Green to Make Cool Blues
Veronese green is a cool and bright green shade, making it perfect for cooling down blue shades. As a cool green, Veronese already leans towards a light blue hue, and as a result, the cool blue we can create with it is light and bright.
Veronese green and ultramarine blue are a fantastic combination if you are looking for a very cool and dark blue hue. This shade would be perfect for painting a deep blue ocean. The darkness of the ultramarine blue remains in this combination. If we are honest, this dark, cool shade of blue is a little unsettling, like a stormy sea.
You can make a much brighter and lighter cool blue by using cobalt blue and Veronese green. If you try mixing these colors on your own, you will see how rapidly the green cools down the cobalt blue. The hint of purple in the cobalt blue shade quickly disappears, and the resulting color is much more green.
Using Cadmium Green to Make Cool Blues
While Veronese green is already a cool green hue, cadmium green is a little warmer. In other words, cadmium green has a slight tinge of yellow, which will directly affect the blue we create with it. As we add yellow to blue shades that include a touch of red, using cadmium blue will mute your blue slightly.
The muting effects of cadmium green are most visible when you combine it with ultramarine blue. As we already know, ultramarine blue is quite purple, meaning it contains a small amount of red. So, we have a situation where we are combining all of the primary colors, which will create a shade of blue that is a little brown.
We will discuss creating muted blues a little later, but this is a good muted blue shade. The resulting blue is much cooler than ultramarine, but it remains very dark and feels quite ominous. This cool blue hue would be perfect for crafting a gloomy and stormy sky.
As with Veronese green, cobalt blue with cadmium green is much brighter than the ultramarine mixture. Cobalt is much cooler than ultramarine already, so we do not run into the problem of combining all three primary shades. The blue hue we create by combining cobalt blue and cadmium green is very cool but still beautiful and bright. This shade would be perfect for creating a peaceful blue ocean or a summer sky.
How to Mute Different Shades of Blue
When it comes to painting an ocean as it rolls and changes, having a range of blue shades is essential. While bright blues are beautiful and certainly have their place, they can become overwhelming. To create the depth and dimension necessary for realism, we need a broad palette of blue shades. Muted colors are an essential part of this palette. Without muted colors, everything would appear a little garish.
When it comes to muting colors, the color theory is quite simple. To mute any color, you simply need to add a touch of its complement.
The complementing color for blue is orange. Now, if you want to get really technical, each unique blue shade has its own exact orange complement. We will not get this technical, but you can experiment on your own by combining different shades of blue and orange.
Using Cadmium Orange to Mute Blue Hues
Once again, we are using ultramarine and cobalt blue shades as our bases. Cadmium orange is a very bright and warm hue, so it will easily mute our blues.
When we combine ultramarine blue and cadmium orange, we have a very dark, dull, and warm blue shade. The orange dulls the brightness of the ultramarine blue and enhances the warmth. Although this color is incredibly dark, we will cover how to lighten blues in the next section.
Cadmium orange also dulls cobalt blue, making it much less vibrant and blue. You only need a touch of orange to mute your blue hue. If you add too much orange, you will end up producing a very dark, slightly brown shade of green. If this does happen, all you need to do is add more blue.
Using Burnt Umber to Mute Blue Hues
Burnt umber is a much darker shade of orange. As a result, it will make each of your blue shades much darker as it mutes them down. When you mix ultramarine blue and cobalt blue with burnt umber, you will get a blue hue that is much more brown. There are, of course, times where you will need a brownish-blue, but it is not our favorite muted hue.
Creating Light Blue and Dark Blue Tints and Shadows
In addition to your vibrant blues and your muted hues, your color palette also needs some tints and shadows. Perhaps even more so than muted colors, tints and shadows are essential for creating depth and dimension in your paintings or designs. Fortunately, it is relatively easy to create light blue and dark blue shades.
Using White to Make Light Blue Hues
When it comes to creating light tints for almost any color, white is the most common option. Not only can you use white to lighten ultramarine and cobalt blue hues, but it can also make your muted shades lighter.
Using white to mute ultramarine blue results in a very vibrant light shade, similar to cornflower blue. You can really see the warmer undertones in the ultramarine shade when you lighten it with white. You can control how light you make your shade by how much white you add.
We recommend being careful about how much white you add because it can very quickly become too much!
In the same way that you can see the underlying warmth of ultramarine blue when you lighten it with white, you can see how much cooler cobalt blue is. The light blue you can make by adding white to cobalt blue is much brighter.
You can also use shades of light green or yellow to make light greenish-blue shades. The method you choose to make light blue will depend on the exact shade of blue you are looking for. We always recommend experimenting on your own and gradually building up a color mixing chart.
Using Purples, Greens, and Reds to Make Dark Blue Hues
While we typically stick to white when lightning blue hues, there are several ways to make blue darker. We have already covered some of these colors when we were speaking about muting and changing color temperature.
Dioxazine purple is one of the best ways to make a darker shade of blue. This dark purple shade deepens the blue color in ultramarine and makes rich dark blue shades. Dioxazine purple will mute cobalt blue a little because it contains red pigments.
Burnt Umber is another fantastic way to darken blue shades, and we have already covered the resulting hues. The last way that we love to make dark blue hues is to add a combination of alizarin crimson and phthalo green. In theory, the combination of phthalo green and alizarin crimson is similar to burnt umber, so the effects are very similar.
How to Make Different Shades of Blue Technically
So far, we have spoken about which colors to use to make different values of blue hues. There is a more technical side to color mixing, and we are providing the necessary information for various shades of blue below. This information includes the blue hex codes and the RBG values for each shade.
Type of Blue
Blue Shade
Blue Hex Number
RBG
Uses
Turquoise
#40e0d0
64,224,208
Turquoise is a very versatile color. It has a very soothing effect, making us feel calm. Very often, turquoise can also make us think of luxury and good fortune.

You can use a light pink shade alongside turquoise to create a light and playful effect in your paintings and designs.

Navy Blue
#000080
0,0,128
Navy blue is very popular in fashion because it flatters dark and light complexions and can communicate a sense of luxury and wealth.

Navy blue is also a commanding color, often making us feel a sense of integrity, authority, and dignity. Navy blue is often associated with royalty because it is such a rich and vibrant shade.

Baby Blue
#89CFF0
137,207,240
Baby blue is a very light and soft color. You can use baby blue in your designs and paintings to create a soothing atmosphere.

Baby blue can be used alongside other monotone colors to create an accent and break up the bolder shade.

Cerulean Blue
#2a52be
42,82,190
If you are looking for an invigorating, vibrant shade of blue, you can try cerulean. Cerulean blue is a warmer shade of blue that can boost productivity because it reduces the sense of visual space.

You can create a sense of sophistication by using cerulean blue in your designs. Out of all the many shades of blue, cerulean is one of the most popular worldwide.

Egyptian Blue
#1034a6
16,52,166
Egyptian blue has its name because it was popular amongst the royal Pharaohs in ancient Egypt. As such, you can use Egyptian blue to create a feeling of royalty and power in a design.

The Egyptian blue pigment is very rich and vibrant. You can use Egyptian blue as a stand-alone shade, or you can use it with lighter shades to create a cooler palette.

True Blue
#0073cf
0,115,207
True blue is the most common shade of blue in design and paintings. When artists paint the sky or the ocean, it is typically in a shade of true blue.

True blue can communicate feelings of loyalty, innovation, trustworthiness, independence, and dependability.

Azure Blue
#007FFF
0,127,255
Azure blue is often used extensively in advertising because it is quite fashionable. This light and bright shade of blue appeals to our emotions. Adverts that use this shade of blue make us think of cleanliness, positivity, and freshness.

The ancient Romans used a lot of azure blue in their clothing and paintings. The Romans believed that this shade of blue communicated nobility and power.

Azure blue works very well alongside very light colors like white.

Pacific Blue
#1ca9c9
28,169,201
Pacific blue is a very attractive shade of blue. It is not as bright and vibrant as some other light blue hues, and as a result, it can make us feel calm and relaxed.

As is suggested by its name, many artists use this blue hue when painting crashing ocean waves and sea spray.

Cornflower Blue
#6495ed
100,149,237
Cornflower blue is one of the more gentle and sweet blue shades. The color is named after a beautiful blue flower that grows in fields of corn.

Cornflower blue is a beautiful addition to any design because it makes us feel calm and warm.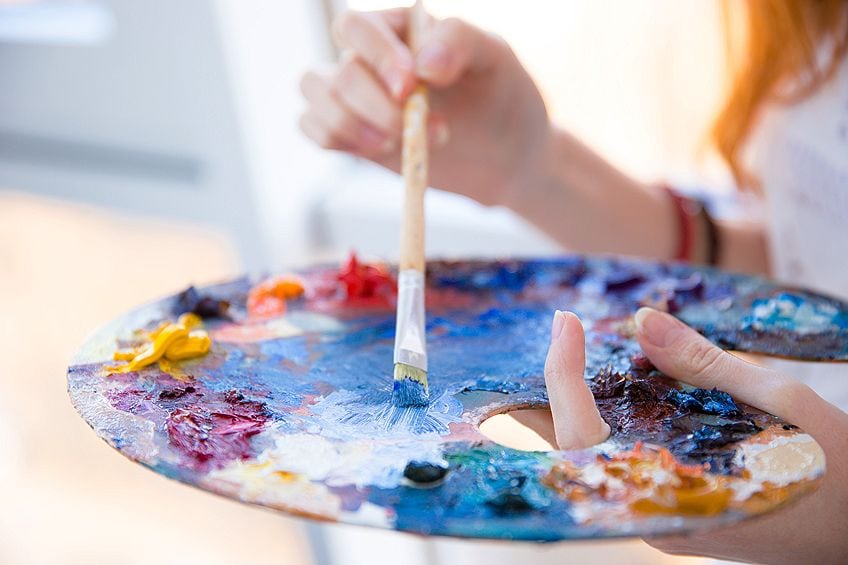 Frequently Asked Questions
Do Green and Yellow Make Blue?
The short answer is no. Blue and yellow will result in green, but blue is one of the three fundamental colors which cannot be mixed. You can use yellow and green to alter your shades of blue, but you cannot use them to make blue.
What Is the Complementary Color for Blue?
Colors that complement each other tend to sit opposite on the color wheel. As such, orange is the complementary color for blue. You can use orange to mute blue shades and make them duller.
How Do You Make Dark Blue Shades?
It is very easy to make dark blue hues. The best way to make a darker blue is to add a little bit of dark purple or a touch of burnt umber. You can also add phthalo green and alizarin crimson to your blue hue.
How to Make Light Blue Hues?
The easiest and best way to make a blue light is to add white. If you want to make a light greenish-blue hue, you can try adding a touch of yellow or light green.
In 2005, Charlene completed her Wellness Diplomas in Therapeutic Aromatherapy and Reflexology from the International School of Reflexology and Meridian Therapy. She worked for a company offering corporate wellness programs for a couple of years, before opening up her own therapy practice. It was in 2015 that a friend, who was a digital marketer, asked her to join her company as a content creator, and this is where she found her excitement for writing.
Since joining the content writing world, she has gained a lot of experience over the years writing on a diverse selection of topics, from beauty, health, wellness, travel, and more. Due to various circumstances, she had to close her therapy practice and is now a full-time freelance writer. Being a creative person, she could not pass up the opportunity to contribute to the Art in Context team, where is was in her element, writing about a variety of art and craft topics. Contributing articles for over three years now, her knowledge in this area has grown, and she has gotten to explore her creativity and improve her research and writing skills.
Learn more about the Art in Context Team.