Henri Rousseau the artist was renowned for his Naïve tropical paintings such as Tiger in a Tropical Storm (1891). Due to his former employment at a Parisian customs office, he was known by the title "La Douanier Rousseau", which translates to "the toll collector". Today, we will be exploring Henri Rousseau's biography as well as famous examples of Henri Rousseau's paintings.
Henri Rousseau's Biography
| | |
| --- | --- |
| Nationality | French |
| Date of Birth | 21 May 1844 |
| Date of Death | 2 September 1910 |
| Place of Birth | Laval, France |
Despite his hopes of becoming a well-known academic artist, Henri Rousseau ended up being the prototypical naïve painter. Henri Rousseau the artist was mostly self-taught, and his work reflected his absence of formal education, with its disregard for accurate proportion, one-point perspective, and utilization of vivid, sometimes garish colors.
As a consequence of these characteristics, an oeuvre filled with a feeling of mystique and strangeness emerged.
Childhood and Early Training
Henri Rousseau was born into a poor family in Laval in northwestern France. His father experienced long-term financial problems, accumulating enough debts to have the family home seized in 1851. Henri then enlisted as a boarder at Laval High School, where he remained until 1860. Aside from getting honors in music and sketching, he was an ordinary scholar. In 1861, the family relocated to Angiers, where Rousseau worked as a bookkeeper for the municipal bailiff. He evaded the conscription, but he wound up enlisting in the infantry unit to avoid embarrassment after his employers accused him of theft.
His years of active service in France were unremarkable, but he frequently inflated reports of his military exploits.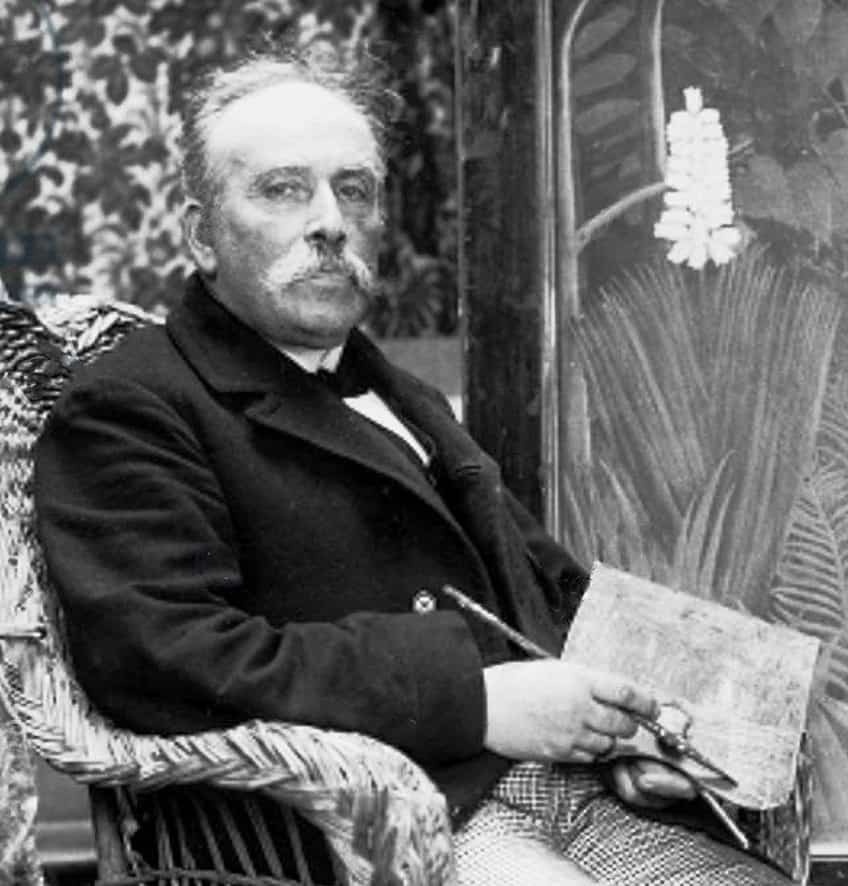 Photograph of Henri Rousseau in 1907, taken by Dornac; Dornac, Public domain, via Wikimedia Commons
One of his made-up exploits involves putting down a rebellion against Emperor Maximilian in Mexico, where he would purportedly have been subjected to the tropical environment that would subsequently influence his artworks. In 1868, Rousseau wedded Clemence Boitard, his first wife. Only Julia, one of their many offspring, lived into maturity.
He obtained a job inspecting items for the toll authorities after exiting the army, earning him the moniker "Le Douanier Rousseau" for life.
Rousseau made his first sketches and canvases during his time there. His origins as an artist are unknown, however, he claimed to have started painting at the age of 40, which coincides with the period he got permission to copy artworks from the Louvre. Rousseau may have been able to practice sketching during calm intervals at work because of his employment as a customs officer, which demanded only sporadic periods of attention.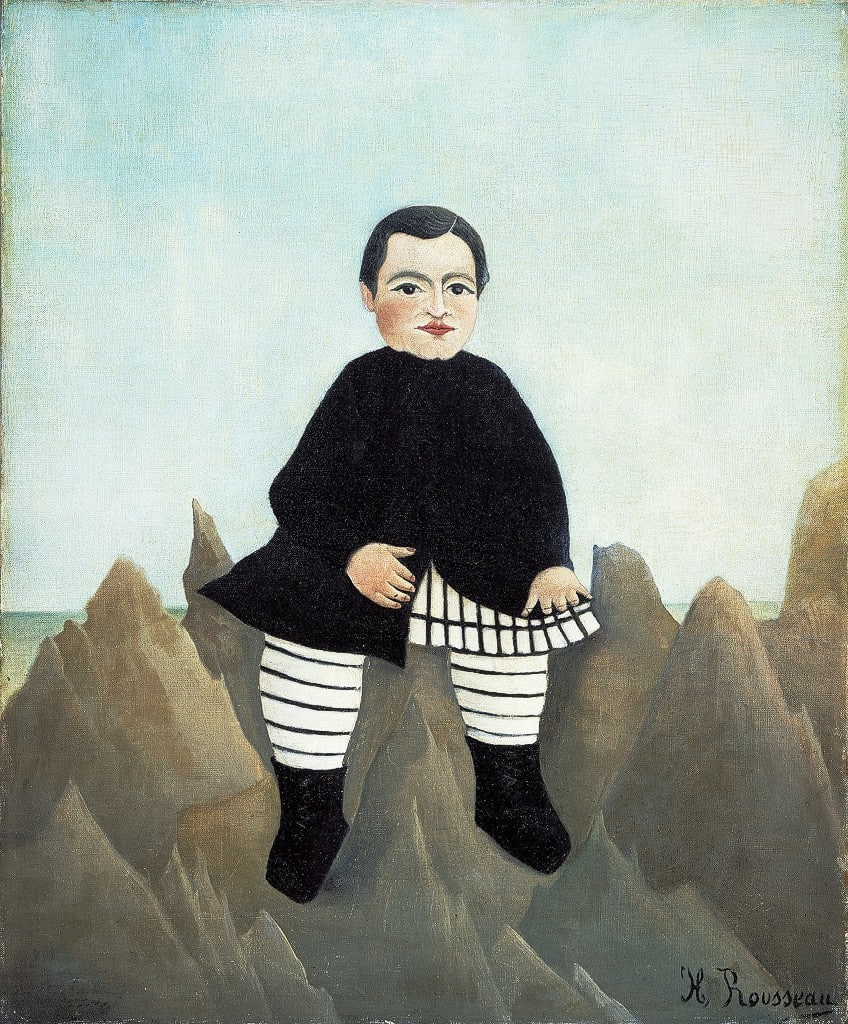 Boy on the Rocks (1895 – 1897) by Henri Rousseau, located at the National Gallery of Art in Washington D.C., United States; Henri Rousseau, Public domain, via Wikimedia Commons
Remarkably, Rousseau aspired to be recognized by the Académie des Beaux-Arts due to his admiration for artists such as William-Adolphe Bouguereau and Jean-Leon Gerome. He displayed for the first time with the Groupe des Indépendants in 1885 after being rejected from the Salon. The two works selected for the exhibition demonstrate his duality between modernity and tradition: Italian Dance represents a subject favored by academic artists, while Sunset portrays a topic favored by Impressionists.
The Groupe des Indépendants founded its own Salon the next year, and Rousseau attended practically every year until his eventual passing. The inaugural Salon des Indépendants included Carnival Evening (1886), an earlier work that already revealed the mature style of Henri Rousseau's paintings with their dreamy character and compositional structure.
The first of his well-known tropical paintings, "Tiger in a Tropical Storm" (1891), was displayed at the Indépendants in 1891.
Mature Period
Henri Rousseau the artist visited Paris in 1889 for the World's Fair, which prompted him to compose a play on his experience. The exposition was also used as a backdrop in the work Myself, Portrait-Landscape (1890), which was met with derision and contempt by critics. He became a full-time artist in 1893 after an early departure from the customs office.
"War" (1894), which he showed at the Independents that year, was a watershed moment in his profession. In the publication "Mercure de France", he received his sole favorable critique to date for the large-scale allegorical artwork.
It also grabbed the eye of Alfred Jarry, a writer, and poet who included a lithograph of war in his periodical. In 1895, Rousseau produced a portrayal of Jarry, which Jarry subsequently smashed for the pleasure of destroying his own portrait. Rousseau wedded Josephine Noury, a widow, in 1898, 10 years after his first wife died. In an attempt to gain recognition, he joined two contests between 1898 and 1900 to repaint the town halls of Asnieres and Vincennes but was unsuccessful in both.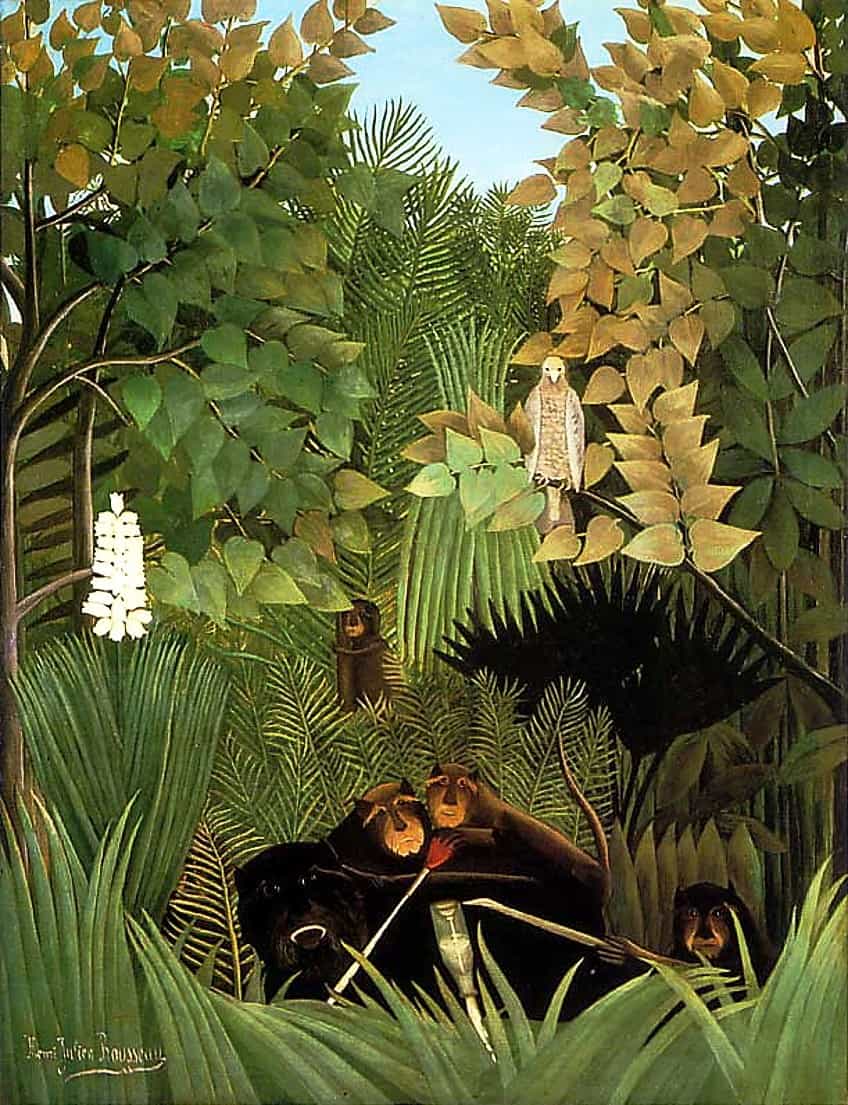 The Merry Jesters (1906) by Henri Rousseau, located in the Philadelphia Museum of Art in Pennsylvania, United States; Henri Rousseau, Public domain, via Wikimedia Commons
Nevertheless, he realized that his tropical paintings had received some prominence thanks to media exposure, and he reverted to the theme in 1904 with Scouts Attacked by the Tiger. Its appearance at the Indépendants drew a slew of positive reviews, bringing Henri Rousseau's paintings back into the spotlight. Around this period, a new generation of painters discovered Rousseau, whose works appeared to be closely connected to the "primitive" aesthetic that was growing fashionable among many avant-garde enthusiasts.
Pablo Picasso, Georges Braque, Guillaume Apollinaire, and Robert Delaunay were among the painters with whom he rapidly became acquainted.
Rousseau encountered Wilhelm Uhde, a German critic, and collector, in 1906. During the later years of his life, Uhde was influential in marketing Henri Rousseau's paintings. Rousseau's career was hampered, though, when he was incarcerated in 1907 for bank fraud. Some of the most reliable data on the artist exist in the series of messages he sent to the judge pleading for his release, which embellished his character and virtues.
Later Period
In 1908, Uhde staged Rousseau's first solo show, which was a failure. Pablo Picasso bought Portrait of a Woman (1895) from a secondhand shop that same year. Picasso threw a now-legendary party to commemorate his purchase, which sparked vividly written reports from several of the visitors, including Gertrude Stein.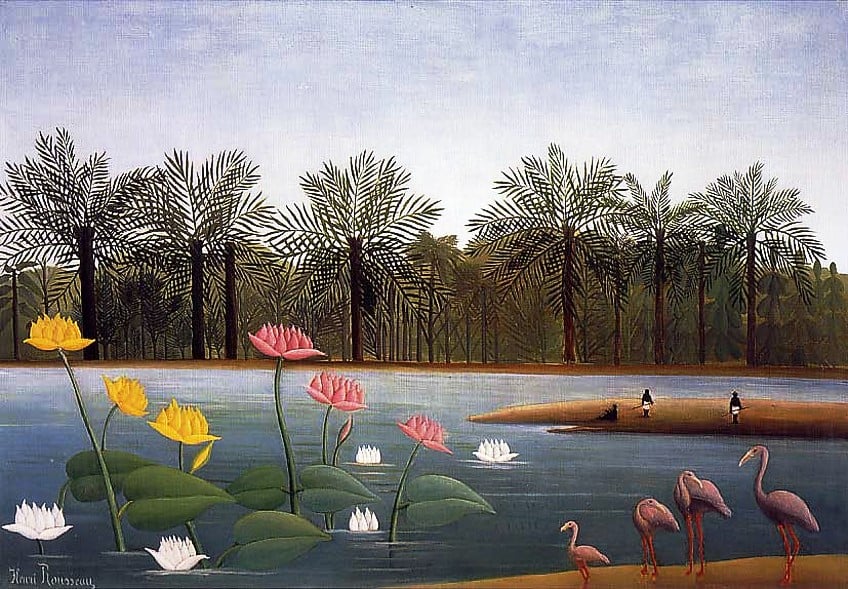 The Flamingoes (1907) by Henri Rousseau, located in a private collection; Henri Rousseau, Public domain, via Wikimedia Commons
Rousseau was seated on a throne made from a chair erected on a packing crate as the honored guest contributed to the festivities by performing a waltz he had composed and dedicated to his first wife. Despite his reputation among his peers, Rousseau was seen as a source of entertainment in the art world, and he spent the remainder of his life in destitution.
He died in 1910, afflicted with an untreated leg wound and distraught about Leonie, a store worker, declining his amorous advances.
Legacy
Directly after Rousseau's passing, his friends and colleagues played an essential role in maintaining his legacy. In 1910, the painter Max Weber staged a New York show to present Henri Rousseau's paintings to American viewers, supported by a commemorative exhibition produced by Robert Delaunay the next year. Wassily Kandinsky later acquired two of Henri Rousseau's paintings and featured copies of his works in the Blaue Reiter almanac from 1911 to 1914, thanks to Uhde's publication of Henri Rousseau's biography.
Rousseau's output made an enduring effect on painters of the following generation and beyond, gifted with an inexplicably alluring strangeness that could elicit wonder among the mundane and exotic.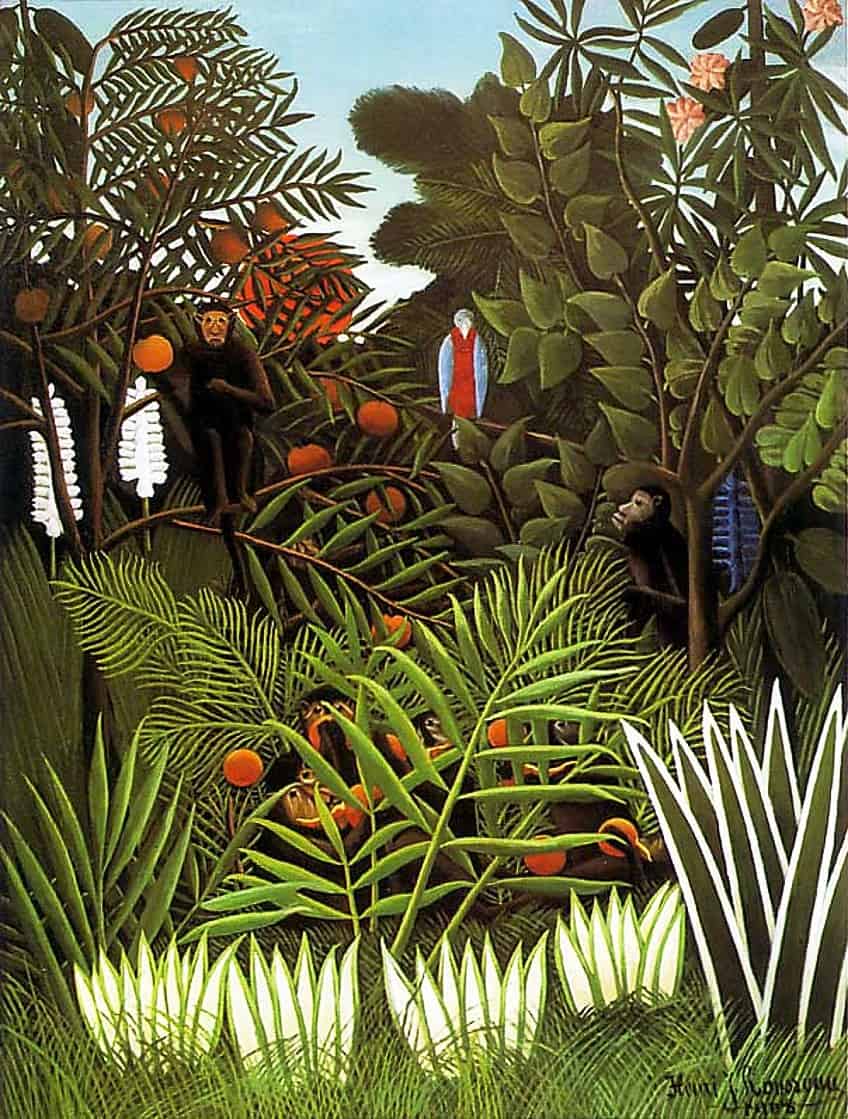 Exotic Landscape (1908) by Henri Rousseau, located in a private collection; Henri Rousseau, Public domain, via Wikimedia Commons
Numerous early observers of Rousseau's works mocked his unsophisticated and distinctive style, with one Parisian reporter famously stating, "Monsieur Rousseau creates with his feet and closed eyes." Yet, by borrowing influence from the tribal masks of Africa, and other "primitive" and old art forms, contemporary painters like Picasso recognized in Henri Rousseau's paintings a prototype for the authenticity and candor to which they strove in their very own works.
Important Examples of Henri Rousseau's Paintings
Rousseau developed modern, unusual representations of established genres like portraiture, landscape, and allegory, influenced by a mix of "high" and "low" materials – the sculpture of academia, postcards, tabloid graphics, and visits to the Parisian public zoos and parks.
The Surrealists, whose art prized striking paradoxes and dream-like emotions, praised the imaginative, often obscene images that arose from these composite elements – most memorably, a naked lady sitting on a couch mysteriously found amid a tropical forest.
Myself, Portrait-Landscape (1890)
| | |
| --- | --- |
| Date Completed | 1890 |
| Medium | Oil on canvas |
| Dimensions | 146 cm x 113 cm |
| Current Location | National Gallery, Prague |
Rousseau depicts himself in outsized proportions, palette, and brush in hand, donning a suit and conventional artist's beret, in front of a panorama that includes the Eiffel Tower and a tall-masted ship decked with global flags, capturing the pinnacle of grandeur to which he strove as an artist. Even though Rousseau finished the portrait in 1890, he later revised it with autobiographical specifics such as a sash of the order of academic distinction and the names of his two wives, Josephine and Clemence, which he later added to the palette.
The subtitle of this painting, which debuts a new hybrid genre called "portrait-landscape," alluded to Rousseau's intentions to become a well-known academic artist.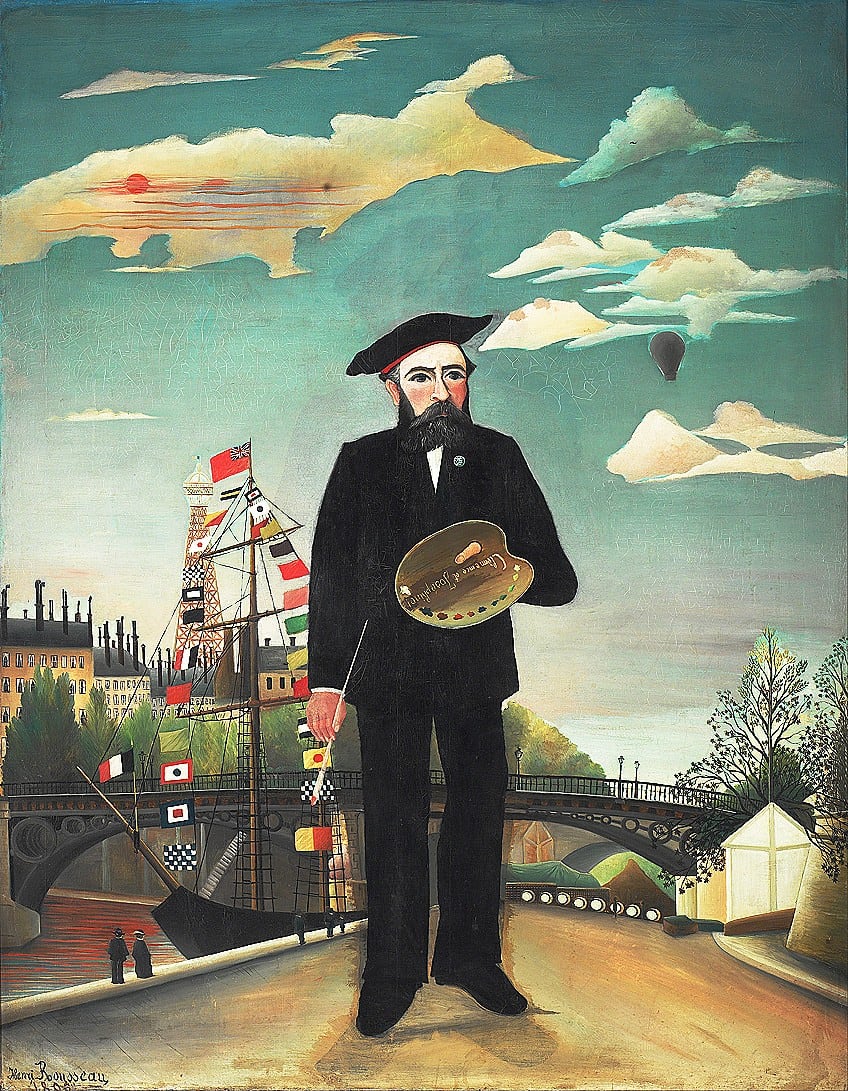 Myself: Portrait – Landscape (1890) by Henri Rousseau, located in the National Gallery in Prague; Henri Rousseau, Public domain, via Wikimedia Commons
Rousseau's self-aggrandizing representation in this piece was criticized by a contemporaneous reviewer, who wrote, "I had a hard time coming to grips with Monsieur Henri Rousseau, whom I'll refer to as the sensation at the Indépendants if I may. M. Rousseau is on a mission to revitalize the art of painting. The Portrait-Landscape is his own creation, and I would encourage him to protect it since unethical persons are susceptible to exploiting it."
Surprised! Tiger in a Tropical Storm (1891)
| | |
| --- | --- |
| Date Completed | 1891 |
| Medium | Oil on canvas |
| Dimensions | 130 cm x 162 cm |
| Current Location | National Gallery, London |
A large-eyed, growling tiger rises from the grasses where it had been hidden in this, regarded as the first of Rousseau's tropical paintings, with the flowing foliage, sloped limbs, rainfall, and gloomy sky symbolizing the storm described in the title. Tigers Pursuing Explorers was another potential name for the artwork, implying some uncertainty about its subject matter.
This tropical image, which was shown at the Salon des Indépendants and was mocked by many commentators for its obvious amateurish nature, was derided by numerous critics.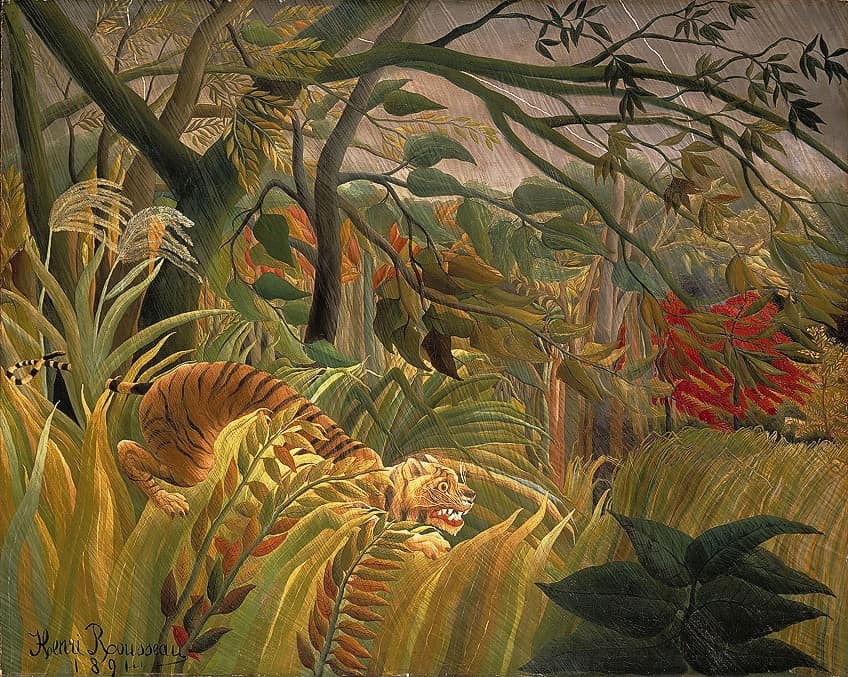 Tiger in a Tropical Storm (Surprised!) (1891) by Henri Rousseau, located in the National Gallery in London, United Kingdom; Henri Rousseau, Public domain, via Wikimedia Commons
Nonetheless, the piece was a "must-see" for artist and reviewer Felix Vallotton, who described it as "the apex and delta of painting, so disturbing that, in front of so much expertise and juvenile naivete, the most deeply seated views are held up and challenged."
Vallotton's depiction hints at why Rousseau was so well-liked by modern painters in the early 20th century and beyond.
The Sleeping Gypsy (1897)
| | |
| --- | --- |
| Date Completed | 1897 |
| Medium | Oil on canvas |
| Dimensions | 130 cm x 201 cm |
| Current Location | Museum of Modern Art, New York |
Because the artwork deviated from Rousseau's customary subject matter, many people assumed it was a fake, with some even putting it in the hands of André Derain. The moonlit picture occurs in a desert, where a gypsy woman rests peacefully with a mandolin and pitcher by her side, unafraid of an inquisitive lion.
The perilously sloping level and depiction of the creature and gypsy as though below the audience's viewpoint add to the weirdness of the scenario.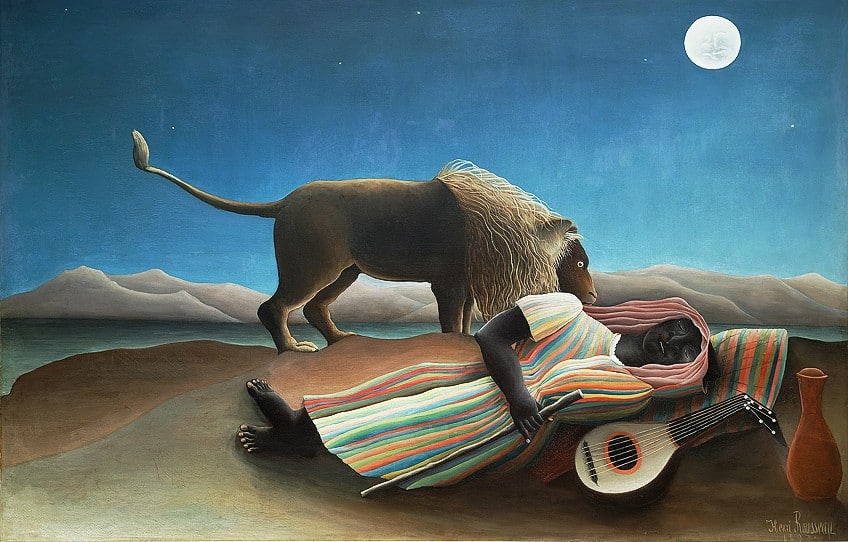 The Sleeping Gypsy (1897) by Henri Rousseau, located in the Museum of Modern Art in New York City, United States; Henri Rousseau, Public domain, via Wikimedia Commons
The gypsy is clothed in Eastern costume, and the image as a whole is reminiscent of stories from Arabian Nights, which had been transcribed into many unabridged editions by the mid-1880s. Rousseau offered the accompanying explanation to the Mayor of Laval to promote the painting to his hometown: "A mandolin-playing traveling negress sleeps soundly with her pitcher beside her. When a lion appears to walk by, it sniffs her but does not eat her."
"The Sleeping Gypsy" has become a symbol of humankind's peace with the animal kingdom due to its spooky, contemplative beauty and picture of humankind's connection with the animal world. Various artists have tweaked or mocked it with the feline sometimes substituted with a dog.
The Hungry Lion Throws Itself on the Antelope (1905)
| | |
| --- | --- |
| Date Completed | 1905 |
| Medium | Oil on canvas |
| Dimensions | 200 cm x 301 cm |
| Current Location | Ernst Beyeler Collection, Basel |
The lifeless glances of the antelope and lion in the artwork's middle add to a strangely immobile attack scenario, which is dominated by lush foliage in front of a sun setting. Rousseau modeled the stances of the two animals on a diorama created for the Jardin des Plantes' zoological halls, which house a great collection of flora and wildlife that the painter frequented.
The accompanying description, which mentions an antelope shedding tears, demonstrates Rousseau's lack of intimate contact with his wild animal subjects.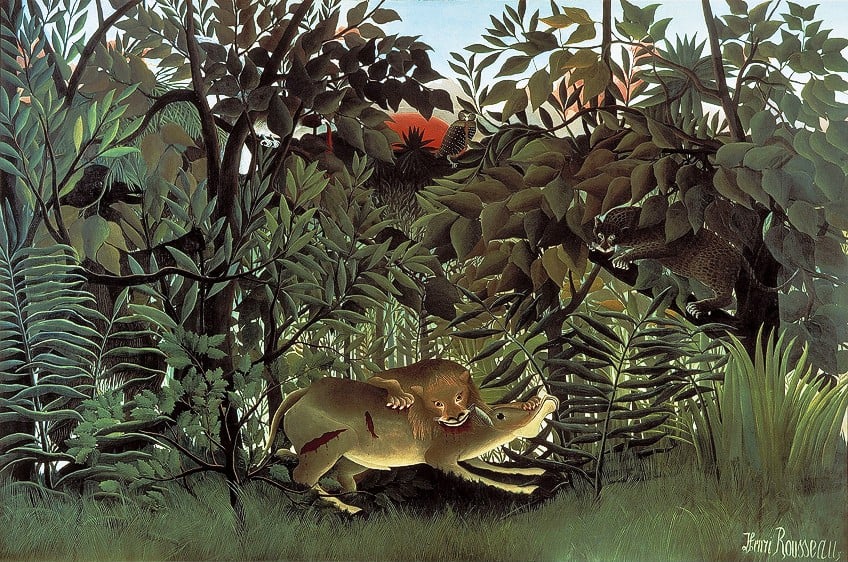 The Hungry Lion Attacking an Antelope (1905) by Henri Rousseau, located in the Ernst Beyeler Collection at the Beyeler Foundation, Switzerland; Henri Rousseau, Public domain, via Wikimedia Commons
The ravenous lion pounces on the antelope and devours him. The panther waits patiently for the time when he, too, will be able to claim his part. The miserable animal that produces a tear has had parts of flesh torn out by birds of prey! The artwork boldly declared the reappearance of Rousseau's jungle subjects, which he had abandoned between 1891 and 1904. If you want to dive deeper into this topic, we recommend this Rousseau of the Jungle article.
The artwork was regarded as both ancient and modern.
This was due to its lack of three-dimensional mysticism and portrayal of jungle brutality, drawing comparisons to art forms such as cave art and fresco while illustrating the candor of expression possible when academic artistic fundamentals are rejected. The artwork was displayed alongside works by André Derain and Henri Matisse at the Salon, prompting one astute critic to allude to the young artists as "Fauves."
The Snake Charmer (1907)
| | |
| --- | --- |
| Date Completed | 1907 |
| Medium | Oil on canvas |
| Dimensions | 169 cm x 190 cm |
| Current Location | Musée d'Orsay, Paris |
Berthe Delaunay, Robert Delaunay's mother, commissioned this work. Rousseau allegedly chose the subject for this artwork after listening to her stories about her travels in India. The charmer's mystery form, surrounded by snakes and buried in shadow save for a blazing set of eyes, might almost be confused for a member of the animals. The strange quiet of the piece – emblematic of Rousseau's overall tone – seems especially fitting here, as if the music of the flute kept the globe in a spell.
Several formal characteristics of the painting, such as the asymmetrical arrangement and use of backlit, vivid hues, foreshadowed the Surrealist René Magritte's works.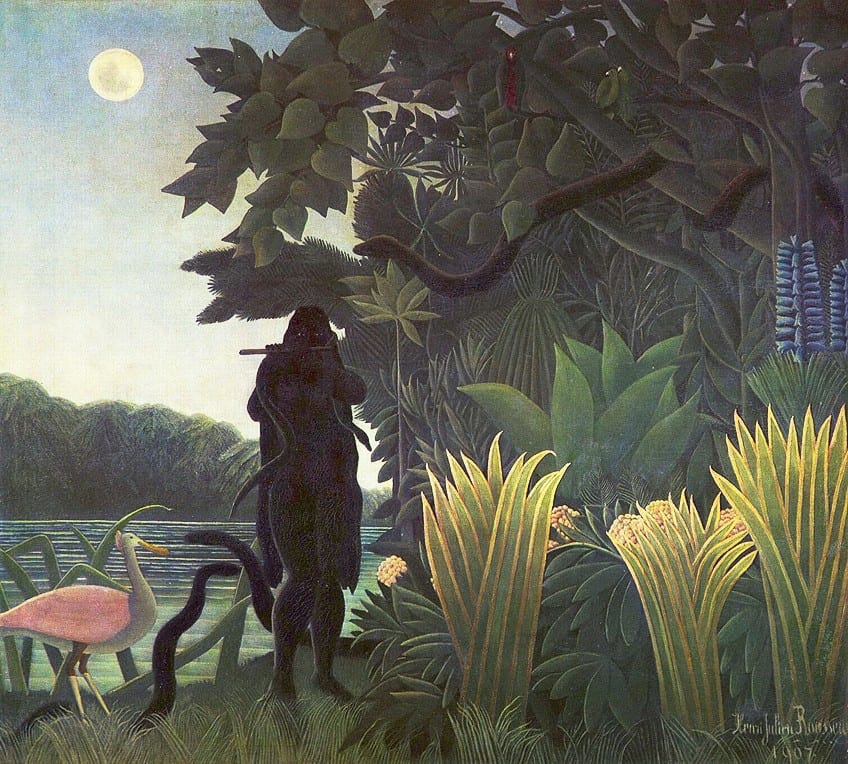 The Snake Charmer (1907) by Henri Rousseau, located in the Musée d'Orsay in Paris, France; Henri Rousseau, Public domain, via Wikimedia Commons
The Dream (1910)
| | |
| --- | --- |
| Date Completed | 1910 |
| Medium | Oil on canvas |
| Dimensions | 204 cm x 298 cm |
| Current Location | The Museum of Modern Art, New York |
With its strange picture of a nude lady lying on a sofa in a woodland, The Dream is a suitable title for the piece. The woman is encircled by bright, carefully drawn flora – comprising 22 various hues of green – and jungle dwellers, including many wide-eyed cats who stare at the bizarre sight or the spectator.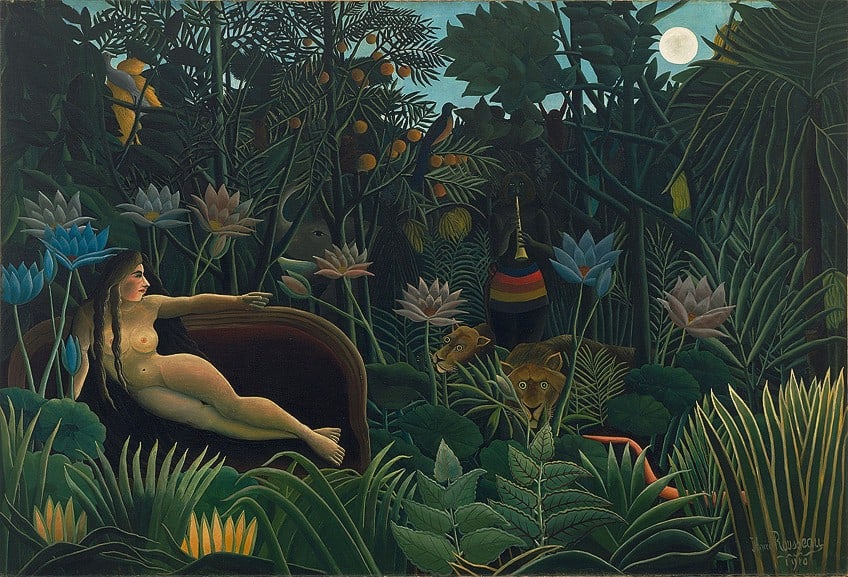 The Dream (1910) by Henri Rousseau, located in the Museum of Modern Art in New York City, United States; Henri Rousseau, Public domain, via Wikimedia Commons
This impression of an amusingly out-of-place scholarly nude – evocative of neoclassical odalisques depicted by painters such as Ingres and possibly styled on a Polish woman Rousseau once adored – in an exotic environment far from the creator's native France may be interpreted as Rousseau's reaction to late-19th-century French colonialist development to territories he only encountered through museum visits and visuals available in publications and magazines.
"The Dream" demonstrates why Rousseau's work was so loved by the Surrealists, particularly the movement's originator, André Breton.
Breton stated, "It is with Rousseau that we may talk for the first occasion of Magic Realism." Guillaume Apollinaire, a writer, and critic, was attracted by the painting and stated, "It is impossible to deny that the image is beautiful. Nobody will laugh this year, I suppose."
Reading Recommendations
What did you think of Henri Rousseau's biography and art? Want to learn even more about him? Here are some suggested books related to the artist's work and lifetime.
Rousseau (2001) by Cornelia Stabenow
Henri Rousseau's painting is a beautiful blend of primal idyll and exodus from civilization. Henri Rousseau came from poor beginnings, which is mirrored in his nickname, Le Douanier Rousseau. He was an autodidact who worked his way up through the Paris customs agency to become one of the painters who were reviving the art world at the turn of the century.
For years, the art world mocked the layman's flat, icon-like figures, plain landscapes, and, in his later phase, exotic jungle vistas. His "Naïve" works, however, became an icon that sparked Avant-curiosity. Rousseau's tropical paintings featured decorative variants of plant foliage, as well as brightly colored predators, locals, and nudists.
A concise biography of Rousseau's life and art
About 100 illustrations with explanatory captions

Detailed chronological summary of the life and oeuvre of Rousseau
View on Amazon
Henri Rousseau (2010) by Christopher Green
Henri Rousseau the artist was in his 40s when he truly accepted his métier as a painter, arriving fully developed with his independently accomplished realism. Rousseau straddles the Parisian avant-gardes at the turn of the century, praised by Gauguin, Redon, and Degas at the start of his work and promoted by Apollinaire, Picasso, and Delaunay near the end. Rousseau's style was mockingly termed "Primitivism" by the press, but as his early supporters understood, its crystalline unity of limpid hue and hauntingly peaceful clarity was sophisticated in its simplicity.
Complete with 80 color illustrations
Commemorates the 100th anniversary of the artist's death
Previously unpublished records of early encounters with his works
View on Amazon
Henri Rousseau never went to visit the rainforests or saw a forest in person, nor did he study the feral creatures he depicted in their natural surroundings. Rousseau's tropical paintings were city dweller dreams based on travels to the Paris Botanical Gardens, literature, and his creative imagination. Nonetheless, they have struck a chord with subsequent generations of audiences, providing a fantasy of escape from mundane reality to an exotic and wild universe.
Take a look at our Henri Rousseau paintings webstory here!
Frequently Asked Questions
Who Was Henri Rousseau the Artist?
Henri Rousseau's self-described realism differed from that of his French contemporaries. Rather than depicting rural and urban squalor, the artist's works featured immaculate suburbia and neat families with vibrant colors, simple forms, consistent lighting, and precise brushwork regarded as infantile by both fans and opponents. Furthermore, in the 1890s, Henri Rousseau the artist embraced a new subject that few would consider realist: tropical rainforests teeming with chaotic mixes of flora and fauna, ranging from palm trees and lotus blossom to jaguars and flamingos. The artist began his first tropical paintings in 1891 and completed roughly 20 over the next 20 years.
What Did Henri Rousseau Paint?
Henri Rousseau's works of jungles are the most well-known. But he never saw any, and he never left France! His inspiration comes from children's book drawings, the floral gardens in Paris, and tableaux of taxidermy wild creatures. During his duty, he also met troops who had escaped the French mission to Mexico, and he heard their descriptions of the subtropical land they had discovered. Rousseau created around 25 artworks with a jungle subject. Those tightly packed, enigmatic dreams were largely created between 1904 and 1910.
Isabella studied at the University of Cape Town in South Africa and graduated with a Bachelor of Arts majoring in English Literature & Language and Psychology. Throughout her undergraduate years, she took Art History as an additional subject and absolutely loved it. Building on from her art history knowledge that began in high school, art has always been a particular area of fascination for her. From learning about artworks previously unknown to her, or sharpening her existing understanding of specific works, the ability to continue learning within this interesting sphere excites her greatly.
Her focal points of interest in art history encompass profiling specific artists and art movements, as it is these areas where she is able to really dig deep into the rich narrative of the art world. Additionally, she particularly enjoys exploring the different artistic styles of the 20th century, as well as the important impact that female artists have had on the development of art history.
Learn more about the Art in Context Team.