Watercolor Painting Ideas – Easy Watercolor Techniques for Beginners
There are so many wonderful watercolor art ideas. Not only is watercolor art accessible, you can purchase paints from your local craft store, but watercolor paint is also affordable. Even though there are many watercolor techniques you will need to learn, you can do so by practicing the many watercolor painting ideas for beginners and more experienced artists from our collection below.
Basic Watercolor Techniques
Watercolor paint is quite versatile, and you can use it in many ways, including with other mediums. For example, you can use watercolors with acrylics, gouache, and pastels to create unique art pieces. You do not need all that much when it comes to painting with watercolors, just some watercolor paints, brushes, and paper. This is why many also like to travel with watercolors as they are easy to transport and use.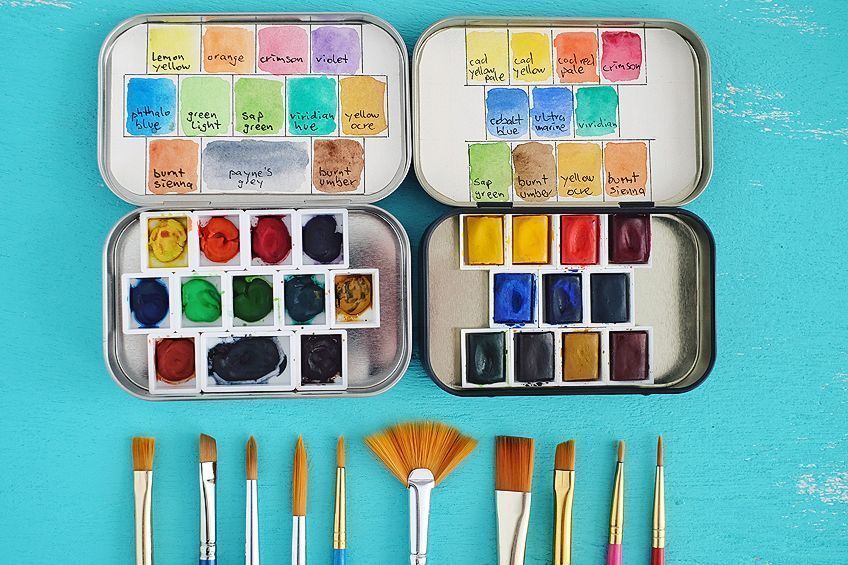 Watercolor paint does dry quickly if you have not oversaturated the paper, which is another reason it is perfect for traveling. There are many effects you can create from layering to color washes. You can create beautiful subtle paintings, but you can also go for more vibrant choices. There are many watercolor painting ideas available, however, some are more difficult than others. The first thing you should do as a beginner is to learn all the essential watercolor techniques. Blending watercolors is one of these essential techniques and creating a watercolor mixing chart is one way how you can learn to mix your paints to form various hues.
Watercolors can be challenging initially, however, as with many things, practice makes perfect. Here are three basic watercolor techniques to get you started.
Wet-on-Wet Watercolor Paint Technique
This watercolor technique can help you to paint landscapes and things like water and the sky. The technique is quite simple. You wet the canvas with water and then apply the paint. This is also a great way to blend watercolors. Make sure you wet your watercolor paper until it is damp, you do not want it to be soaked with water. You simply then load the brush with watercolor paint and touch it down onto your paper. You should observe the paint blooming or spreading.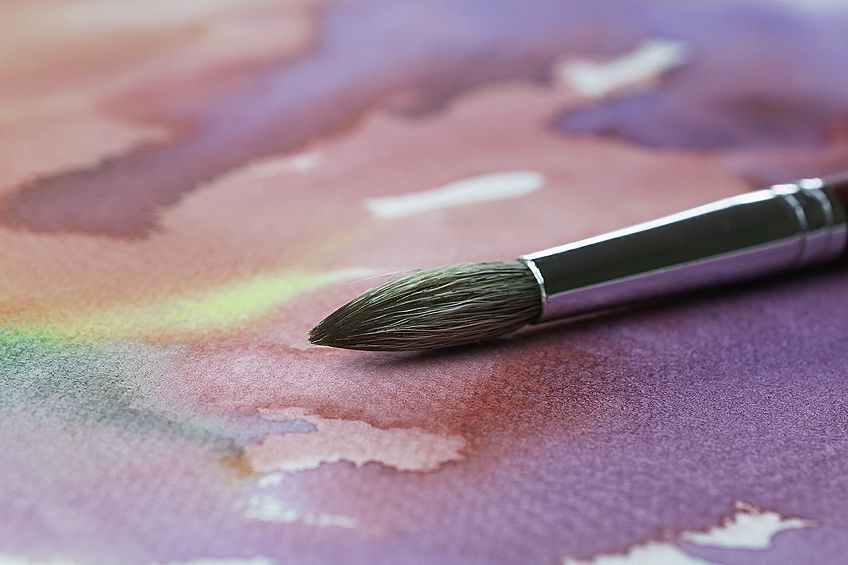 Wet-on-Dry Watercolor Paint Technique
This is another simple technique, similar to the above but the paint goes on dry paper instead. This is the more common and traditional way of painting and is great for adding details and providing clean, sharp edges. This technique is something you can use alone, or it can be used with other watercolor techniques.
Load your brush with paint and then apply to your watercolor paper.
Creating Watercolor Washes
This watercolor technique can be used to create nice, even coverage over the paper. You can also use it to create faded colors and to blend colors easily. You might have to practice these techniques before getting them right. There are three kinds of washes and are they are as follows.
Gradient wash: Use a single color to create a graded wash, which means there is a gradual change in the intensity of the paint color. For this, you can use either the wet-on-wet or wet-on-dry technique. You usually begin with a more vibrant, intense color, which changes into a less intense or lighter color.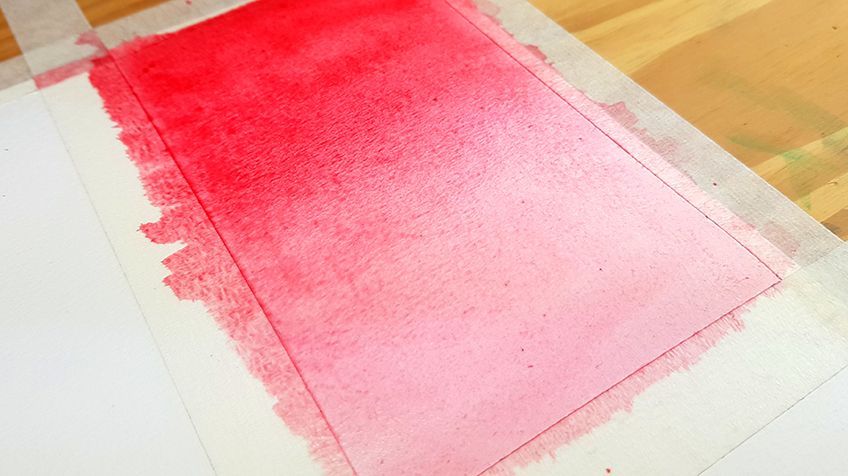 Variegated wash: This uses two or more paint colors, which incorporates the wet-on-wet technique. Similar to your gradient wash, the wet paper helps the colors to blend.
Flat wash: This involves using one color that is applied evenly over the paper and you will need to prepare a fair amount of paint to get consistent coverage.
Watercolor Paint Supplies
As mentioned, you do not need all that many supplies to begin watercolor painting. However, depending on what watercolor painting ideas you are going to do, you might need to add a few more items to the list. Here is a basic watercolor supply list of things you might need.
Watercolor paints
A paint palette
A set of brushes
Correct watercolor paper
At least two or more cups of water
Pencil and eraser
Paper towels
If needed, a drawing reference, for example, a flower from the garden
Watercolor Ideas
There are so many watercolor ideas, we hope we have covered most of them. However, the ideas are only limited to the imagination, so you can always add more ideas to the list. When starting to watercolor paint, it is always great to follow tutorials that show you how to paint step-by-step. These not only help you to paint but will teach you useful skills you will need. Keep an eye out for some of these tutorial links in this article.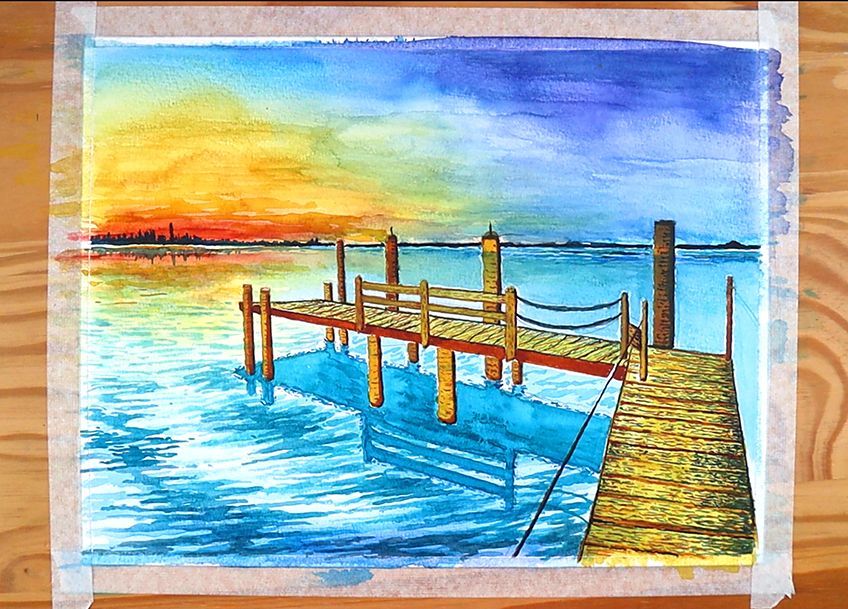 Watercolor Flowers
Flowers are a popular choice to paint in any medium as there are many different types, shapes, and colors to choose from. It could also be as simple as picking a flower in the garden to paint, whatever it might be. So, there are all kinds of watercolor flowers you can paint, however, roses are rather a common and well-liked subject. You can use soft or bold colors to create beautiful unique rose paintings.
There are boundless other ideas and flowers to paint, let us take a look at a few more examples.
Beautiful and bright sunflowers
Vibrant poppies
Tulips
Hibiscus
Garden flowers in a vase
Herbs and botanicals
Dandelions
When using watercolors, you can combine them with other mediums. A simple example is combining watercolors with a pen. This can be done by painting your watercolor flower and then adding details and outlines with a pen. A simple technique is to apply a wet-on-wet technique to your watercolor paper and create a background, then draw in a basic line-art flower. Simple, easy, and one of many beginner watercolor ideas.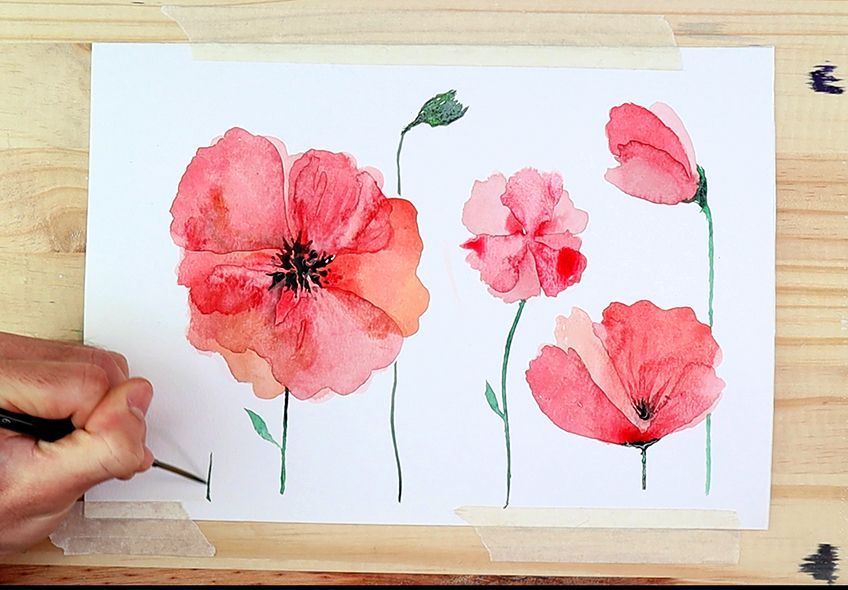 Another popular idea is watercolor wreaths. These are great for making greeting cards as there is space in the center to write something, while the flowers surround the open space. If you feel that an entire flower is too challenging, then why not attempt a section or part of a flower instead.
You also do not have to stick to traditional colors, you can experiment with various colors, some enjoy making a rainbow-like color effect that is quite eye-catching. You could also create different textures by using other painting tools besides paintbrushes, for example, sponges.
Watercolor Trees
Watercolor Trees are also popular and there are many ways you can paint them. You can try the single tree, the forest, or focus on parts like the leaves or pinecones. There are various colors and shapes of trees to choose from. If you are a bit afraid to begin painting trees, try an abstract version first.
This could mean painting with any color you wish, instead of using traditional and natural colors.
You could also then play around with form a bit more, without having to worry too much about details. Watercolor silhouette trees are also quite popular, where a basic silhouette is created against a colorful background. When using this technique, you are not required to stick to trees, you can use any object. For example, mountains, boats, a palm tree, a girl on a swing, a cactus, or other landscapes.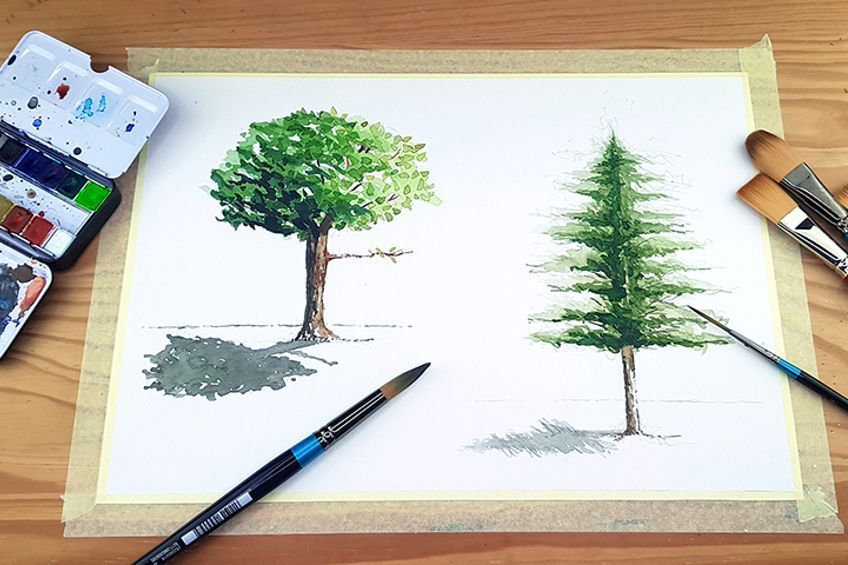 Trees are also a great way to create something like a fall watercolor painting. What better way than to depict seasonal changes, than through the various stages trees go through. A fall watercolor painting could have rich brown, yellow, red, and orange colors. Spring could bring in beautiful colored flowers, while winter could have some amazing snow scenes.
Watercolor Clouds
Watercolor Clouds can be a great way to learn how to create various gradients of color. For example, from dark gray to white and all the color in-betweens You can also have fun and add in details and patterns using a black finer liner pen. Naturally, clouds are involved in beautiful sunrises and sunsets.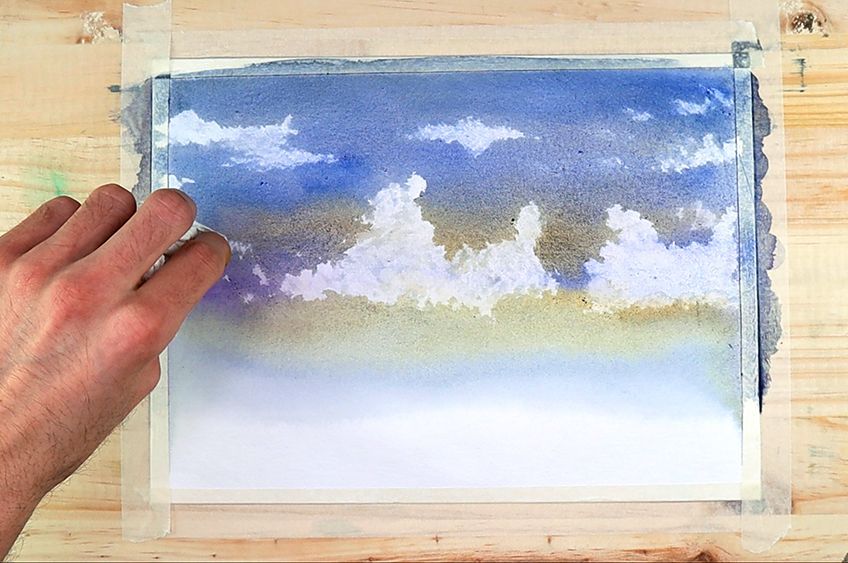 Painting a sunset with watercolors is a favorite amongst many artists. The process can also be as detailed or as simple as using three colors to create a beautiful watercolor art piece. Clouds are in the sky, which usually forms part of a landscape, which leads us into the following few examples of watercolor art you can try.
Watercolor Landscapes
If you love to travel, then painting watercolor landscapes might be your favorite pastime. There are so many ideas, that choosing can be difficult. Many artists like to choose scenes that inspire them at a given moment. Maybe a painting of a sunset watercolor. However, here are a few more ideas you might want to try out.
Mountain landscapes: the mountains could be snow-capped, and as a backdrop to a forest or lake. Instead of mountains, think rolling hills or a road through a wheat field.
Desert Landscapes: this type of landscape can be rocky or sandy, with cacti or dried tree stumps. Consider sand dunes or an oasis.
Cities and Travel Watercolor Ideas
This can easily also connect with your landscapes, any scene that can be painted. If you are visiting a coastal town, you might enjoy painting the boats or ships in the harbor. Lighthouse paintings are quite popular, you could even use a template if you need a little help. How about painting your city skyline? Many cities are well-known for their city skylines.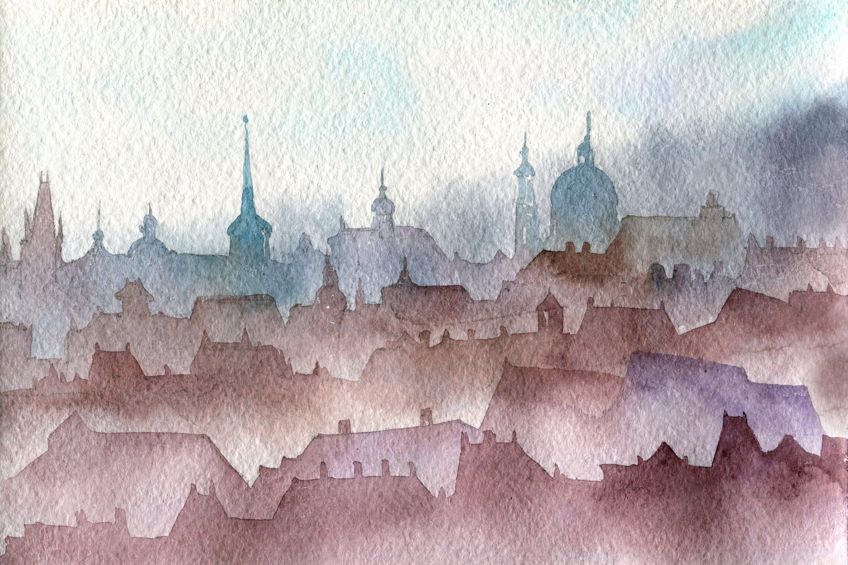 Maybe you want to keep it simple, another popular watercolor art idea is to paint doors and windows. Think about those old country windows with white shutters and flowers all around or beautiful old doors in stone cottages. You might even want to reverse this idea and paint a scene that looks out from a window onto a landscape.
Abstract Watercolor Paintings
If you are an absolute beginner and you do not think you could paint anything we have mentioned so far, then why not try some things that fall under beginner watercolor ideas. Abstract painting with watercolor is less intimidating, and you have more flexibility in what you wish to achieve. You can experiment with different forms and colors, and it could be anything from trees to flowers and animals or simply using different colors.
You can also use various techniques like using a sponge or toothbrush. Splatter painting is a fun and easy way to start, using either of these tools. Simply load your toothbrush with paint and then take your finger and run it along the bristles to spray or "splatter" the paint onto the surface.
Another easy and fun technique you could try is known as "Hirameki".
You know when you see faces in patterns or bunnies in clouds, this is exactly what this technique uses. You simply apply watercolor brush marks or splotches using different colors and see what shapes and images you can discern. Wait for the paint to dry and then add in details using a pen of what you can see. This can be entertaining for both kids and adults.
Watercolor Butterfly and Insects
There are thousands of different insects that have various shapes and colors. Watercolor butterflies are a great example and can be painted by those still learning but can also be a challenge for those who are more experienced painters. If this is something that interested you, you might want to make a collection of insects you encounter every day.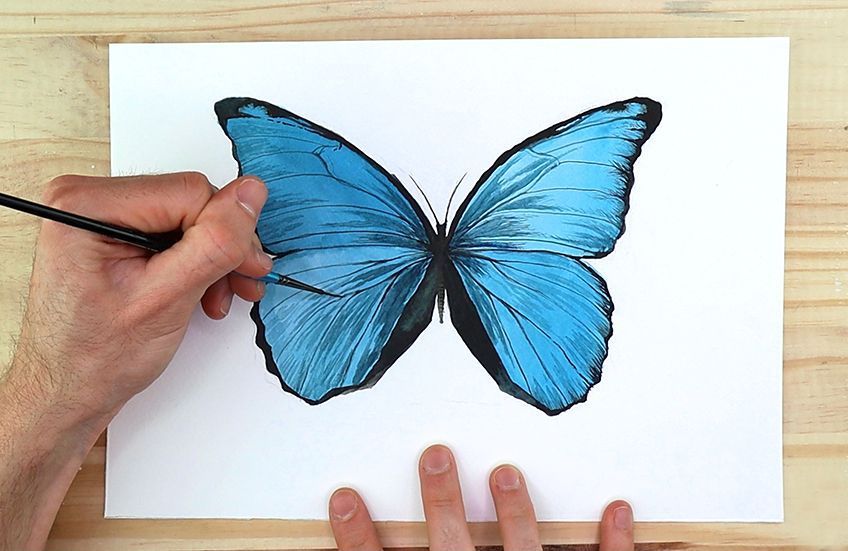 Watercolor Galaxy
Want to create something beautiful, that might seem difficult to create but is quite simple if you follow some basic watercolor techniques like creating a background and using the splattering technique, you are on your way to creating a beautiful watercolor galaxy.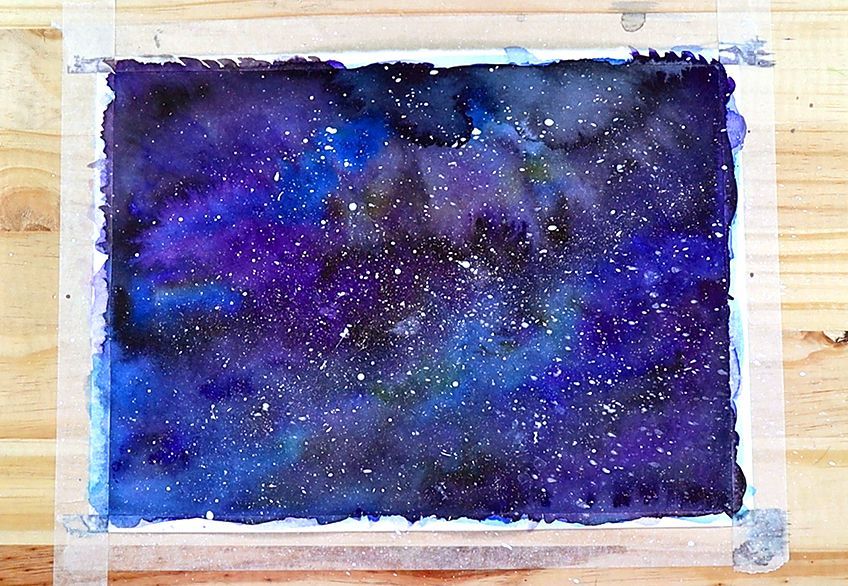 Watercolor Food
Many easy watercolor ideas are right under your nose every day. A few of the more familiar ideas are food-related. For example, painting fruit in a bowl or a lone bunch of grapes. These are great everyday items that can help you to practice the various watercolor techniques.
Some more food ideas can involve painting the following.
Lemons or pears
Watermelons
Cakes, cupcakes, or donuts
Vegetables
Ice-cream cones
Waffles
Bacon and eggs
Avocado
Pasta
Wine
Using Watercolor Pens
You can paint watercolors with watercolor pens, which are easier to carry around and use. The pens make it easier to add more precision painting and are great for journaling and other on-the-go painting. You also get watercolor pencils, which can be used as a pencil, or you can use them as watercolors. These watercolor tools are a great addition to any artist's supplies and can be used to paint anything you wish. You can also read our watercolor pencil tutorial.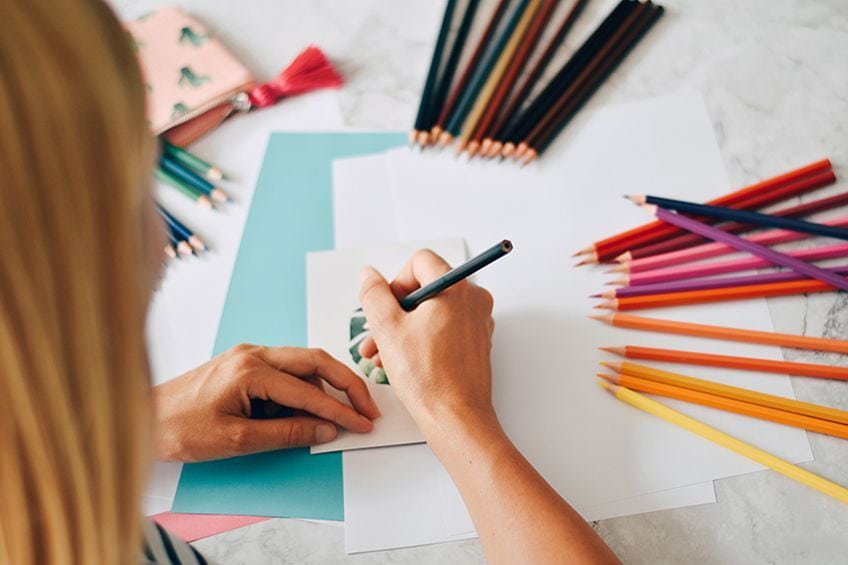 Watercolor Paint Animals
Animals may be challenging for beginners, but with enough practice, you can develop the shapes and different textures. Just like everything else, there are many ideas, but some more widespread options include paintings of birds. These can include all types of birds from the small garden variety to owls, eagles flamingos, roosters, and peacocks. There are a lot of other animals watercolor painting ideas, choose something that interests you the most.
Elephants or other wild African animals
Foxes
Rabbits or squirrels
Sea animals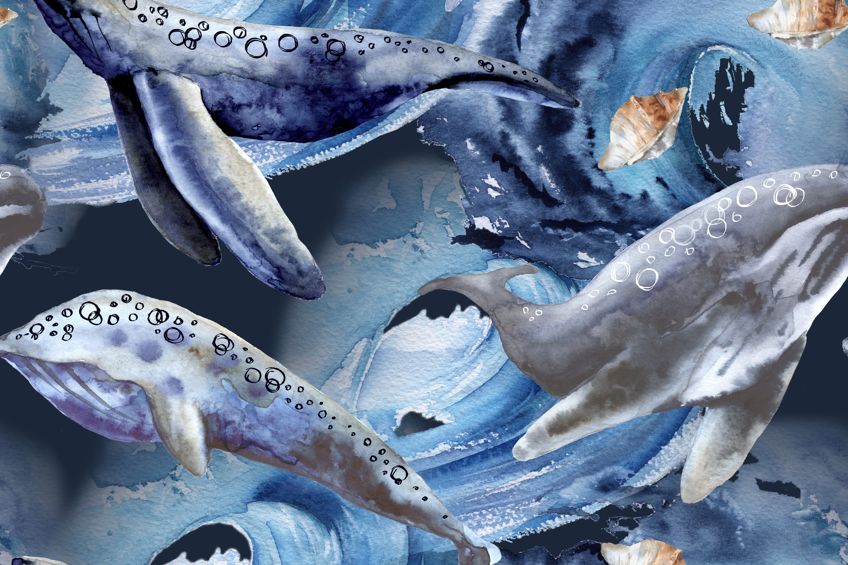 Snakes
Tigers
Dogs or cats
Raccoons
Wolves
Watercolor Objects
These can be easy watercolor ideas and can be very simplistic. Take everyday objects and make them into watercolor paintings. For example, a balloon, which is easy and fun to paint. You can paint a single balloon or make it a bunch of balloons. You can add a single color or make it a rainbow of colors, use your imagination. Other objects can be as simple or more challenging, for example, a teacup, umbrella, clock, lamppost, or a bicycle. How about watercolor gemstones?
This can also be quite a fascinating subject to paint as a gemstone usually has many sides and shades of color.
Musical Instruments
Maybe you have a love for music and playing an instrument? Many instruments can be made into watercolors, where you can create anything from a beautiful violin painting to a guitar or saxophone. The watercolors can also be as detailed as you wish them to be or create something more abstract.
Mixed Media Watercolor Art Ideas
As already mentioned, there are various methods to watercolor painting, and paintbrushes are not the only means of applying the paint. Not only are there different methods, but you can also use other mediums with watercolors. For example, you can use acrylic paints, inks, pastels, pencils, and watercolor paints together. Also, you can paint on different surfaces besides watercolor paint.
In this way, you can create mixed media art.
Monochrome or Vibrant Watercolor Ideas
When choosing watercolor painting ideas, you can decide to go for a more monochromatic look and use a single color. This is a great way to learn how to create different tints and shades of the same color. On the opposite side of the spectrum, you can also go for multiple vibrant colors, and create a surreal rainbow effect. Even if you are painting realistic animal pictures, you can still go for a vivid palette of colors without sticking to the natural colors.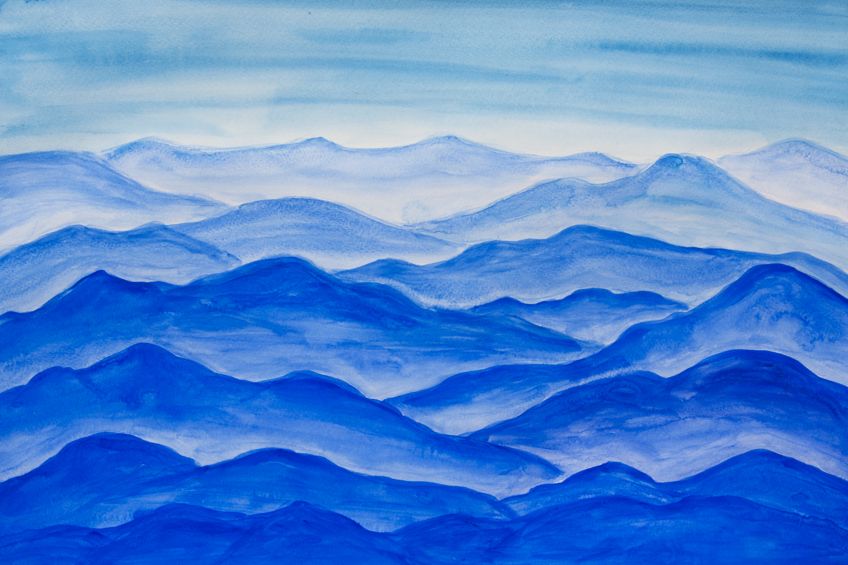 Watercolor Paper Collages
This is a bit of a different twist on using watercolors. Maybe you have some paper that has been washed with watercolors that you are considering throwing away. Instead of throwing it away, use the paper to create watercolor paper collages. In other words, use and cut the paper to form images.
You could also specially create colored watercolor paper for this technique.
Watercolor Portraits
This could be one of the most challenging watercolor ideas as painting the human form can be daunting. This might not be a beginner watercolor idea, but with practice, you can create some amazing portrait paintings. You could also go for a more abstract painting, where you can add in more colors or effects. You could also choose to try pet portraits instead.
If you are studying or simply enjoy fashion design, using watercolors in your design layouts can be fun. This is a great way to create clothing pictures with color and detail. If you want to do something easier and more fun, why not try some watercolor emojis instead. You can also incorporate watercolors into your photographs. You can do this by printing out black and white photos and then painting in color with watercolor paints.
Words and Watercolors
Watercolor can also be used to create word art. The watercolor pens might be a good idea for this type of painting, to be able to apply more precision. You can easily create beautiful greeting cards and wall art. If you do not want to do this freehand, there are stencils you can use to make it easier. You could also make your word printouts even more spectacular by adding watercolors. For example, choose a word or short phrase and print this out with space at the bottom.
Once printed, you can add watercolors at the bottom of the wording to create a more unique and customized wall art piece.
Creating Watercolors Using Negative Space
This technique involves painting around a certain shape with a darker color. So, you are only painting within the negative space and the main composition or subject of the painting. For this technique, you can use masking tape or fluid for sharper edges, and it also helps to prevent the paint from bleeding into the space. For example, think of a white tree shape against a darker background.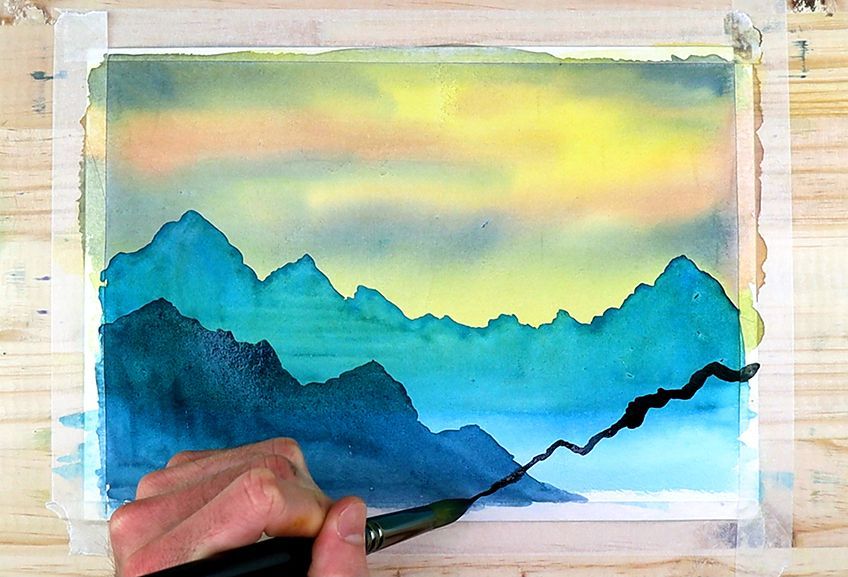 Watercolors and Kids
Watercolors are easy and safe to work with, something everybody can use. This makes watercolor paints perfect for kids to paint with. There are many fun and exciting ways you can use watercolor paints with kids.
Below are three simple ideas.
Create a Rainbow Painter
There are two ways you can do this. This first is to take a giant chip clip, a few cotton balls, and your watercolor paint. Dip the cotton balls into the paint and line them up in the clip so you can hold the clip and paint the rainbow with it. You could also use the cotton balls dipped in paint to place or glue onto the paper in the shape of a rainbow.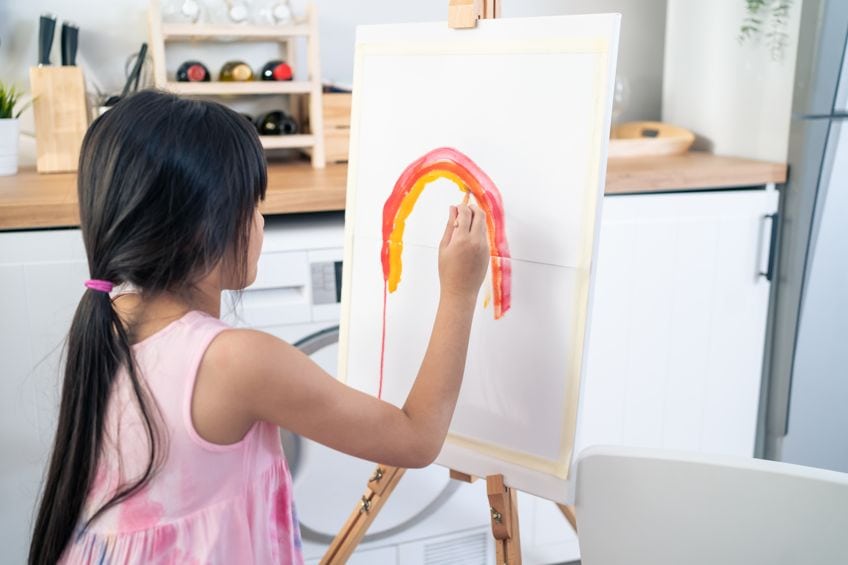 Raised Salt Watercolors
This is one of the many easy watercolor ideas you can do with kids. All you need is some paper, glue, salt, and watercolor paints. Draw your design using glue onto some paper. Sprinkle the glue with the salt and shake any excess off.
Then take your paintbrush and add watercolor to the raised glue-salt surface and watch the paint run along the lines.
Blowing Paint
This is a simple way to paint and can be fun for both kids and adults. Place a few drops of paint onto your paper and use a drinking straw to blow the paint around the paper, forming a variety of shapes and blends of color.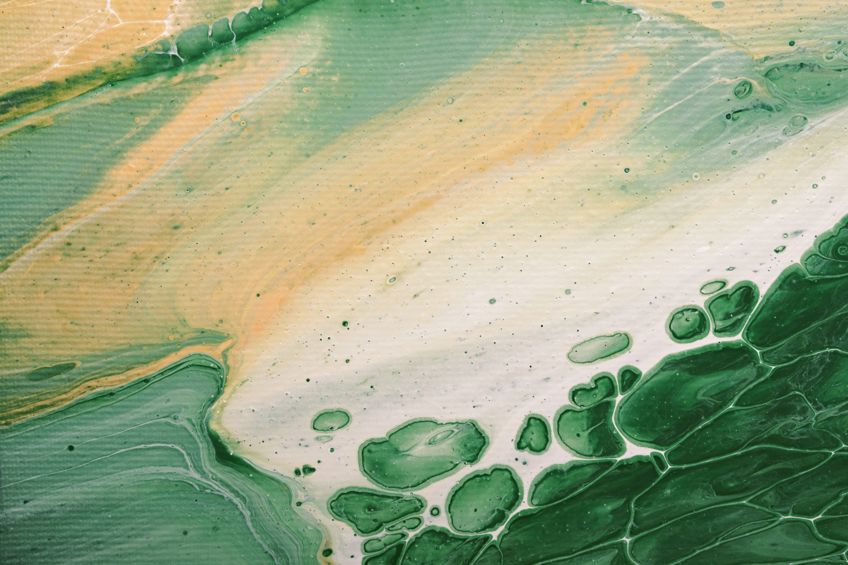 This guide to watercolor painting ideas is only the tip of the iceberg, so to speak, and you are only limited really to your imagination. Watercolor painting is a great way for people to express themselves, but some might not know where to start. The best thing you can do is not overthink too much. Choose something to paint, even if it does not come out as expected, learn, and try again. The point is to be creative and to simply have fun.
Frequently Asked Questions
Is Watercolor Painting Hard?
When compared to other mediums, many find that painting with watercolors can be demanding. Many artists prefer using oil or acrylic paints as they are less forgiving. However, watercolor painting has its own benefits and there are many watercolor techniques and ideas you can start with.
What Are Some Easy Watercolor Ideas?
There are quite a few watercolor ideas you can try that are fairly easy to complete. Some of the easier subjects include flowers and birds. Various landscapes can also be a good starting place. Try to pick an easy item or object to paint. For example, a balloon or banana.
What Are Three Basic Watercolor Techniques?
There are three watercolor techniques that artists use most of the time. This includes your wet-on-wet, wet-on-dry, and watercolor wash techniques. These techniques should be practiced and can form the basis of all your watercolor paintings.
What Makes Watercolors Unique?
Watercolor painting is unique when compared to other mediums in its luminosity or transparency. Other mediums like acrylic paints are opaque, while watercolors provide a different appearance by being able to reveal the substrate underneath, which is usually white paper. This also makes it difficult to fix any mistakes once the paint has dried.
Matthew Matthysen is an educated multidisciplinary artist and illustrator. He successfully completed his art degree at the University of Witwatersrand in South Africa, majoring in art history and contemporary drawing. The focus of his thesis was to explore the philosophical implications of the macro and micro-universe on the human experience. Matthew uses diverse media, such as written and hands-on components, to explore various approaches that are on the border between philosophy and science.
Matthew organized various exhibitions before and during his years as a student and is still passionate about doing so today. He currently works as a freelance artist and writer in various fields. He also has a permanent position at a renowned online gallery (ArtGazette) where he produces various works on commission. As a freelance artist, he creates several series and successfully sells them to galleries and collectors. He loves to use his work and skills in various fields of interest.
Matthew has been creating drawing and painting tutorials since the relaunch in 2020. Through his involvement with artincontext.org, he has been able to deepen his knowledge of various painting mediums. For example, watercolor techniques, calligraphy and lately digital drawing, which is becoming more and more popular.
Learn more about Matthew Matthysen and the Art in Context Team.
Cite this Article