As someone looking to work with watercolors, either as a beginner or an experienced artist, it is important to know what watercolor paints are available, which brands to choose from, and which are the best paints. We offer a little insight into watercolor paints in order to help beginners and professionals.
What is Watercolor Paint?
It is important to have some insight when selecting your watercolor paints, as this will help you to know the difference between the good and the bad, saving you money and ensuring you achieve a high-quality piece of art. Watercolor paint is easy to use and wonderful to work with, made up of a water-soluble binder that has had color pigments added to it. This causes the paint to liquefy, and you can then use the pigment to paint. You can buy the two ingredients required for watercolors from any supply store:
Color Pigments: You can get synthetic or natural pigments that are ground down to a fine powder. There are hundreds of color pigments available to use for watercolor paints, some of which can be very expensive, particularly certain rare natural pigments.
Binder: A binder can be a natural gum arabic or synthetic glycol. The binder allows the pigment to stay in suspension and helps the pigment adhere to the surfaces they are painted onto.
In addition to color pigments and binder, watercolor paints can also contain additives, certain solvents, or fillers. These additions modify the composition of the paint, which can make it brighter, change the viscosity, or increase the durability of the paint.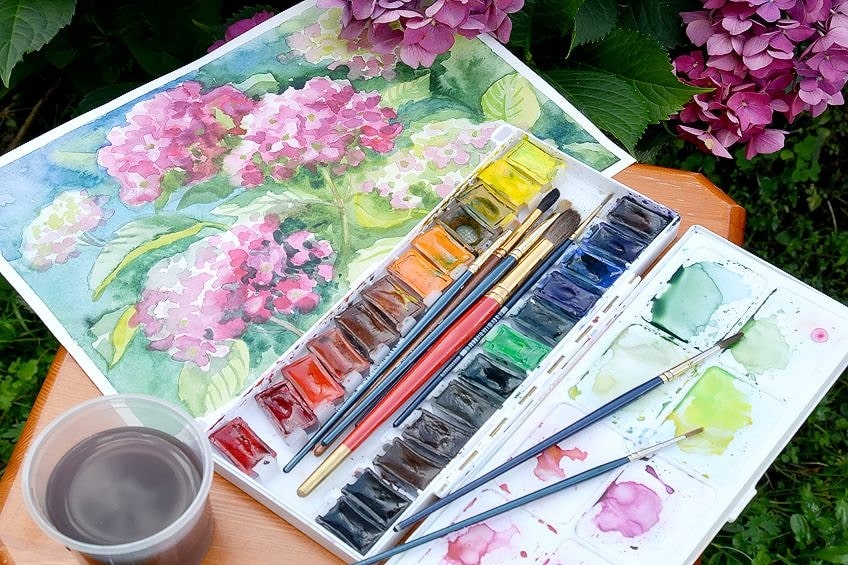 Pros and Cons of Watercolor Paint
Watercolor paints require practice and experience to master, as the fluid nature of the paint makes it difficult to get things right. That being said, when working with watercolors, you will notice that they often give unexpected results, which makes it a fun and exciting medium to experiment and work with.
Pros
Watercolors are a relatively affordable medium. 
As it is water-based, it is easy to clean, particularly in comparison with acrylic paints. 
There are a number of brands selling watercolor paints that are readily available. 
Watercolor paints do not give off any bad odors. 
The paints are available to purchase in vibrant colors. 
Watercolor paints dry quickly, and you can even use a hairdryer to further speed up the drying process. 
Watercolor paints are an ideal medium for particular subjects, such as water. 
It is a very easy medium to work with
There is little to no wastage, as any unused paint will dry up on your palette, to which you can simply add water in order to use again.
Watercolor paint is very easy to clean. To remove the paint from your brushes, you can just use soap and water. 
Watercolors are light and easy to travel with. 
Cons
Before adding layers, you will have to wait for the paint to dry. 
If you are working in a hot climate, this can cause the paint to dry too quickly and create hard edges. 
You are limited by which surfaces you can paint on, as the material needs to soak up the paint. If the surface cannot soak up the paint, it will slide off. 
If you have made a mistake, you will not be able to make changes. You will either have to hide the mistake or start again. 
You will have to learn how to work with the fluid nature of the paint, so it is necessary to practice. 
You will have to take care of your work, as the paint can crack and the colors may lighten if left in the sun. 
Best Watercolors for Artists
The sheer number of brands of watercolors can overwhelm any beginner wanting to try their hand at this artistic medium. That is why we have selected some of the leading available watercolor products, so that you may make the best decision for your painting needs.
Best Watercolor Set: WINSOR & NEWTON Cotman Pocket Watercolor Set
This set is a popular choice with artists and is thought of as the best watercolor set on the market. The manufacturers are known for making a high-quality product with gorgeous paint shades. The set is actually relatively affordable, as some of the pricier pigments are swapped out with more affordable options. The set comes in a plastic box that has a mixing palette inside of the lid. The set also includes a pocket brush. The set is made up of 12 watercolor half pans, in colors such as Viridian Hue, Ultramarine, and Sap green, to name a few.
Good transparency and excellent tinting strength

Integral mixing palette in the lid

Includes a pocket brush and 12 watercolor half pans
View on Amazon
Pros
A pocket brush is included in the set. 
The paints have great tinting strength. 
The box is pocket-sized. 
Compared to similar products, the set is quite affordable. 
These paints are really easy to work with. 
The watercolors have superb transparency. 
Cons
The set is quite small. 
You cannot use the set to make grey shades, as it does not come with a black color. 
Best Value For Money: ARTEZA Watercolor Paint
In this set, you receive 12 color tubes (each with 12 ml of paint) in a convenient metal storage box. The colors you receive are very pigmented, which allows you to create stunning paintings. The set is great for if you are starting out with watercolor paints, as it offers high-quality paints at an affordable price.
12 rich colors

Durable metal box

The paints are non-toxic and reusable
View on Amazon
Pros
The set has been certified by the ACMI (Art and Creative Material Institute). 
The watercolors offer a range of bright colors. 
The set has detailed labels.
The paint is non-toxic. 
Cons
This is not a great option for professional use. 
The paint dries very quickly, which may result in it becoming flakey. 
Best Option for Beginners: DALER-ROWNEY Aquafine Half Pan Travel Watercolor Set
This set is ideal for beginners and students, as it is perfect for those looking to practice techniques. This affordable set offers 12 colors, each of which comes in a 12 ml tube. You can mix the colors to achieve an assortment of different shades, and the paints can be used on all normal watercolor surfaces (that can absorb the paint). While the paints are considered low-cost, they still offer bright, transparent colors.
Rich, free-flowing transparent colours

Lightfast with excellent tinting strength

Ideal for making beautiful, delicate washes
View on Amazon
Pros
You can re-wet dried colors to reuse them. 
This set is affordable. 
The paints bind well to watercolor paper. 
These watercolor paints blend with ease. 
The set includes 12 vibrant, bright colors. 
Cons
Some of the colors give a 'chalky' appearance. 
The paint may streak or clump. 
Best Watercolor Paints for Professionals: Schmincke Horadam
These paints are manufactured by a German brand that has been making paints since 1881. The brand produces premium paints made from top-quality natual ingredients. The set comes with 12 quality colors as well as a paint brush. The colors include a range of yellows, reds, greens, and blues, including Cadmium Yellow, Phthalo Green, English Venetian Red, and Prussian Blue.
Superior quality

Carefully selected natural ingredients
An optimal amount of Oxgall
View on Amazon
Pros
The set comes with a swatch card (color guide). 
These are finely milled paints that are of a superb quality. 
The paint set is in a long-lasting tin. 
The watercolor paints are highly pigmented. 
Cons
Only two of the colors are transparent.
The box has sharp edges that can cut someone if not careful. 
Famous Watercolor Brands
On Amazon, you will find a large selection of watercolor brands. The site allows you to see which watercolors are popular, and you can also read customer reviews to get a better understanding of how a particular product works. Some of the best watercolor paint brands include:
What is Important When Purchasing Watercolor Paints?
There are several considerations that need to be thought of when selecting a set of watercolor paints. You need to think about whether you want to use tubes or pans, the quality and cost of the paint, the density and lightfastness of the pigments, the granularity and transparency of the colors, as well as whether or not the colors stain.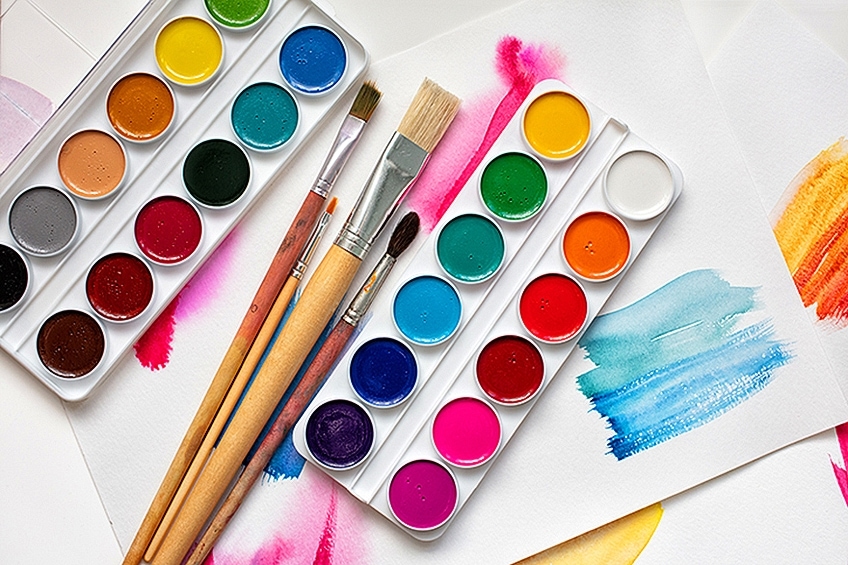 Tubes or Pans
Top-quality watercolors come in shallow pans or in tubes. A pan is a small container that holds the dry paint. Pans come in two sizes, namely a full pan and a half pan. Most artists, however, prefer to purchase their paints in tubes. The main reason for this is that not all brands offer their paints in pans.
A huge disadvantage to pans is that they come in color palettes. Thus, you are not able to select your own colors as they come in sets of specific colors. You ideally want to pick your own colors so as to ensure that you get a better mixing range. That being said, if you are a beginner, watercolors in pans are ideal. Keep in mind that paint tubes offer more concentrated colors.
Pros and Cons of Paint Tubes:
Pros
The paint is already moist and in a paste consistency.
You can cover larger areas, as you can squeeze out as much paint as you require. 
The color intensity provided by the paint is immediate. 
Should you have any excess dried paint, you can simply reactivate it by adding water. 
Cons
Should you have many tubes, it can take time to pick the correct color. 
Should you leave the cap off, the paint in the tube may dry out. 
Your tubes can break or crack. 
Pros and Cons of Pans:
Pros
Pans are simple to transport and store. 
Pans are long-lasting. 
As the paint is dry, it can be transported with ease. 
Pans are ideal for beginners. 
Cons
Dust can collect on the paints if the pans are left open. 
It can take time to get the correct color intensity and workable consistency. 
Student-Grade or Professional Paints
Student-grade paints are a more affordable option than professional watercolor paints. The reason as to why professional watercolor paints are so expensive is that they are made with high-quality pigments, while student-grade paints are made with lower-cost alternative pigments, or simply contain less pigment.
If you are just starting out with watercolor paints, there is nothing wrong with using the cheaper student-grade option, but you should still try to choose well-known brands. When you have built up your confidence and gained more experience, you can move on to professional paints.
Pigment Density
Pigments are ground colors that are 0.05 to 0.5 microns in size. The small size allows the pigment to seep into the paper and remain there once applied. The different densities of pigments impact how they stick to the paper fibers, as the different densities can cause granulation or flocculation.
It is important to note that pigment volume is not the same as pigment density, as pigment volume refers to the amount of pigment in the paint. 
Lightfastness
This describes how the paint reacts when it is exposed to light, namely how long it will be before it discolors or fades. The lightfastness of a pigment is measured in line with the American Standard Test Measure, and is rated from excellent to extremely poor. The guidelines are in place to assist in determining where to display your artwork and whether it requires direct sunlight. A way to protect your artwork is by framing it and placing it behind glass, but over time there will still be fading of the colors.
Non-Staining vs. Staining
Staining refers to when watercolor paint has dried completely and you are not able to move it off the surface without some difficulty. A heavy stain means that the paint is permanent, while a light stain can be removed from the surface, only leaving a light color behind. Certain paints stain more than other paint, although other factors that influence the permanence of a stain include:
The type of paper that has been used. 
The manufacturing process of the paint. 
Smaller pigments seep into the paper's fibers with ease and stain the paper. This stain is hard to remove, so you need to be espeically careful when using these paints, as fixing any mistakes will be very difficult. That being said, they do offer vibant colors, so we suggest using  staining colors for techniques such as glazing or layering.
Larger pigments remain on the paper's surface and are known as non-staining color pigments, which are easier to remove. These are useful for achieving special effects such as highlighting once the base coat of paint has dried. If you need to work with the paints again after they have dried, you simply need to add a little water in order to move it around again.
Granularity
Granular pigments are normally weightier and overall bigger than finer pigments. When used, they give a grainy effect on the paper's surface and tend to spread out unevenly. Some artists would rather work with smooth colors, while others like to work with textures when painting – it is up to you which you prefer.
When you have experimented, you will find out which paints will granulate. If you are working with expensive, high-quality paper, perhaps you should do some research before painting. As each manufacturer's paint is formulated differently, the same color from two different brands may react differently. Save your time and money by checking in advance.
Transparency
Certain paints are more transparent than others. Transparency has three different categories, namely transparent, semi-transparent, and opaque. If you are using transparent paint, it will allow you to see previous paint layers through, whereas an opaque paint will cover the surface with a solid color.
Cost
When it comes to watercolor paints, you get what you pay for; the expensive professional watercolor paints are of a much higher quality in comparison to cheaper versions of paint. Deciding between professional-grade paints and student grade paints is dependent on your needs, but be sure to go with a well-known brand, regardless of the level of paint you choose to buy.
What Colors Should You Begin With?
Colors have the ability to provoke emotions and set the mood, having a great impact on those viewing them. Looking at particular colors can excite you or calm you. When painting, you should have an assortment of paint colors available so that you can create transparent colors and vibrant colors as needed.
Start by purchasing the six primary colors, being the darker and lighter hues of red, yellow, and blue. You will then have a set a basic color palette that can create an assortment of colors. The number and range of colors you have will differ from artist to artist; some may prefer a large variety of colors whereas others are happy with just a select few. With time, you will be able to determine what works best for you.
While talent plays a role in painting, practice is important. You can practice by experimenting with different techniques and colors so as to see what works for you and what does not. You should have fun creating and learning.
Over time, you can learn a variety of techniques such as laying washes, mixing the colors, wetting, building glazes, creating textures, and many more techniques. 
Selecting the Perfect Paintbrush for Watercolors
To achieve a top-quality piece of art, you will not only require good watercolor paints, but also the correct brush. In order to select the perfect brush, you need to take the following into consideration:
Brush hair,
Brush shape, and
The size of the brush. 
Begin by determining the kind of brush: is it synthetic or natural? A natural brush is always a better option than a synthetic one. The cost of brushes can also impact your selection; if you are just beginning and only want to buy one brush, select one that is natural and round in shape. Alternatively, purchase one medium and one small natural brush. These will be sufficient to begin with, and with time, as you gain experience, you can build on your collection of brushes.
What to Consider When Buying a Watercolor Paintbrush
Size: You can buy brushes in an assortment of sizes, and we suggest that you get a variety of different sizes. To begin with, you should purchase one round medium or large brush, as you will be able to create detailed strokes or larger washes with just one brush.
Shape: There are a variety of different shapes, each giving different effects with their own functions. Shapes include round, liner or script, oval wash, angular, square wash, and mop brushes.
Synthetic Hair: Although being the more affordable option, you can find some good synthetic brushes. Synthetic brushes will require a little more care, but if they are well looked after they can last for some time. They will, however, eventually need to be replaced.
Natural Hair: This is the best option, but it is very expensive. There are different hair options, such as goat hair, which is great for large areas. Squirrel hair can be used for mop brushes, and sable hair is particularly long-lasting.
Types of Brush Shapes
Round Brush: This is a versatile brush that can be used for larger washes and finer details. To achieve the stroke you require, you simply have to change the angle of your brush and the applied pressure.
Liner/Script Brush: This is a relatively narrow brush that forms a point, making it ideal for finer details.
Oval Wash Brush: The shape of this brush is like that of a make-up brush, and can be used for wetting the paper and creating larger washes.
Angular Brush: The hairs of the brush create an angle. This brush can be used for more precise strokes.
Square Wash Brush: This brush can also be used for washes and wetting the paper, but is shorter than the oval wash brush.
Mop Brush: This brush is used to wet the paper and paint larger surface areas quickly.
Frequently Asked Questions
Why Are Watercolor Paints So Expensive?
Watercolor paints contain many color pigments, making them more expensive. Certain pigments are pricier and harder to obtain, which also impacts the price. Certain manufacturers occasionally use cheaper color options to decrease the costs.
Do You Need Water to Work With Watercolor Paint?
You will need to mix your watercolor paints with water. The quantity of water used will determine the depth and hue of the paints in order to make the effect you require.
Are Watercolor Paints Washable?
There are two types of watercolor paints: non-stain (washable) and stain. You can remove washable watercolors from your paper to create specific effects, and you are also able to wash them out of your clothes should it be necessary.
What Are the Best Watercolor Paints for Beginners?
There are so many options of watercolor paints available on the market, and it can be a bit overwhelming for a beginner. To ensure you select a good quality option rather stick to a well-known brand, such as Winsor & Newton's Cotman Watercolor Sketches Pocket Box or Daler Rowney's Watercolor Tubes.
Matthew Matthysen is a multidisciplinary artist. He completed his fine art degree, majoring in History of Art and Contemporary Drawing Practice at the University of Witwatersrand, South Africa. The emphasis of Matthew's practice was a research-based approach into the philosophical effects on the human experience of the macro and micro-universe. Through various mediums, such as written and practical components, Matthew explores various ideas located within the conjoined space between science and philosophy.
Matthew has had various exhibitions before and throughout his year of studies and continues to do so. He currently works as an artist/ writer in various contexts. He has commissioned and sold various works to galleries and collectors. He currently sells work to an online gallery (Artgazette) and continues to make work for the public and private sector. Matthew continues to function as an artist, allowing his work and skills to be utilized in various areas of interest.
Learn more about the Art in Context Team.