Watercolor is a classic art medium that is used all around the world. Many people have used watercolor paints at some point in their life, whether playing as children or pursuing it as a hobby in adulthood. You might think of painting as something that takes place at home or in a studio, but sketchbooks allow you to sketch and paint anywhere you like. While you may be familiar with sketchbooks and their use with artists who love them for convenience, you may not have known that there are also sketchbooks suitable for use with watercolors. This article has everything you need to know about watercolor sketchbooks because whether you are a beginner or an intermediate-level artist, you should have the best watercolor sketchbook.
What Are Watercolor Sketchbooks?
A watercolor sketchbook is a journal or pad that is made using watercolor paper. The only thing that makes watercolor sketchbooks different from normal sketchbooks is that they use watercolor paper. Watercolor paper prevents watercolor paint from seeping through one and bleeding into others. It also prevents something called "buckling" which is when paper warps and distorts from absorbing too much water.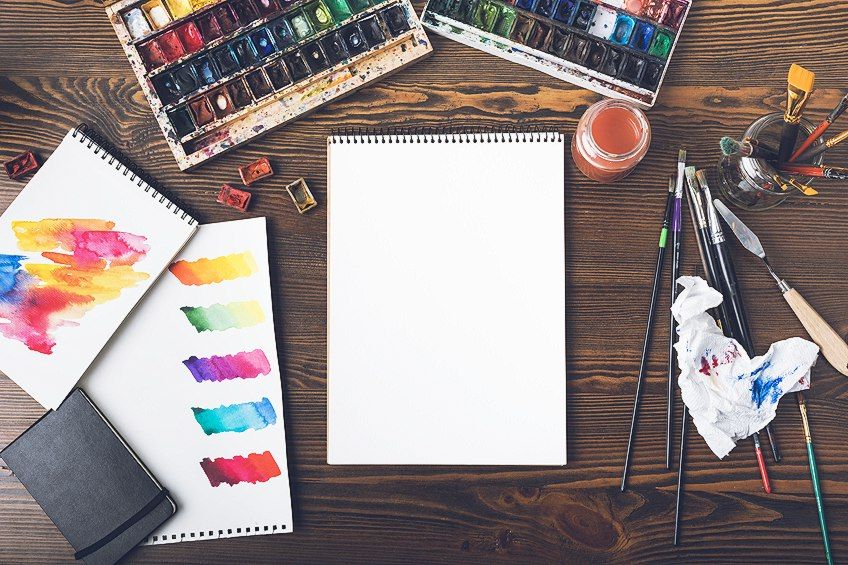 Many artists prefer to use sketchbooks because they are easy to take with them so that they can easily paint or draw whenever inspiration strikes. Watercolor sketchbooks are great for capturing any scenery you see while you are out and are an easy way to draft an idea as it comes to you so that you don't have to worry about forgetting about it later.
Sketchbooks can also act as an art journal which allows you to monitor your progress over time and easily store your artworks without having to worry about them getting damaged!
Why Are Watercolor Sketchbooks Needed?
If you try to use watercolors in a regular sketchbook it will be a disaster. Normal sketchbooks are not made to be used with wet art mediums and you can destroy an entire sketchbook with just one failed attempt. Regular paper journals cannot hold water in the same way that watercolor paper journals do. Water will seep through and break down normal paper. Normal paper is also much more prone to warping and buckling than specially designed watercolor papers.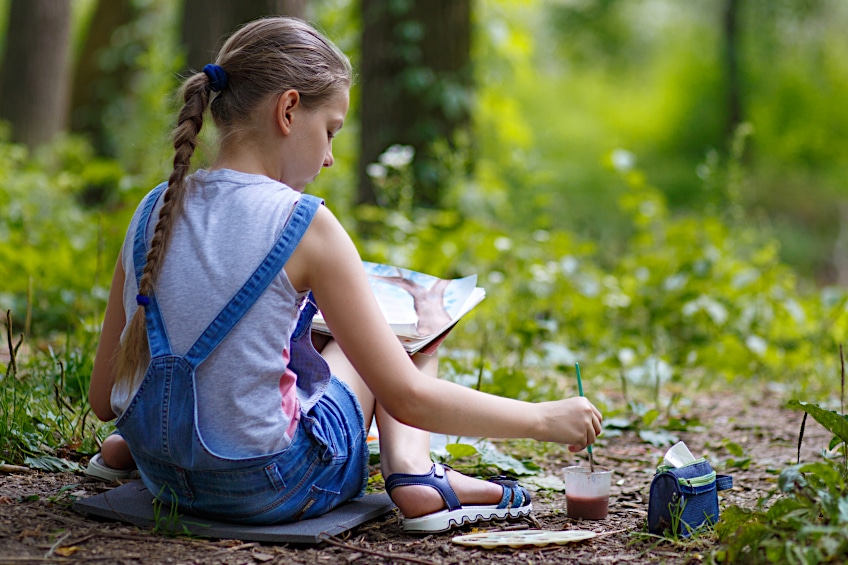 What Are the Different Types of Watercolor Sketchbooks?
If you are a watercolor artist who is looking into getting a sketchbook, make sure that you invest in the best watercolor sketchbook possible to avoid any disappointment. There are different thicknesses of paper that can be found in your sketchbooks.
The thickness or "grade" that you require will depend on your budget and skill level.
If you are a beginner that doesn't want to go all out on an expensive sketchbook you can opt to buy a student-grade watercolor sketchbook. These are thinner than artist or professional-grade sketchbooks, but they are also more affordable.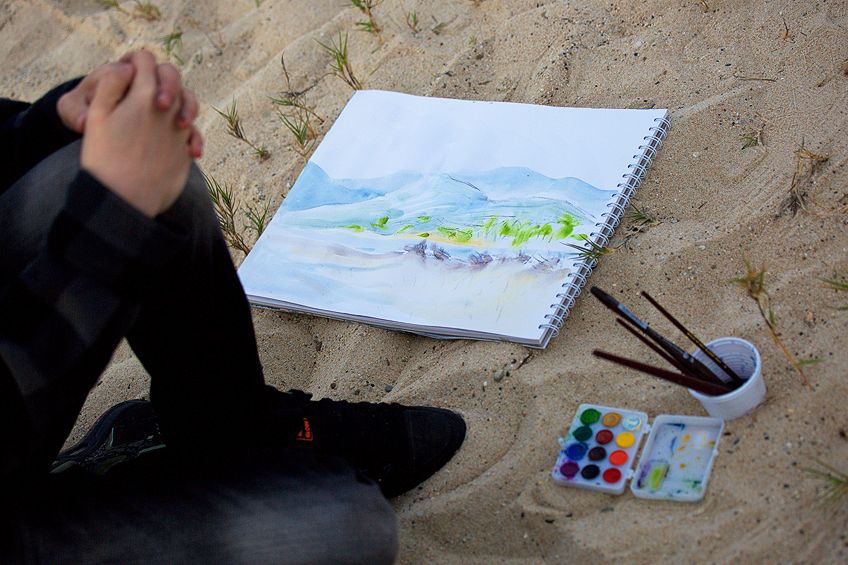 Other than the different thicknesses or grades of watercolor sketchbooks available, you will also find a variety of different sizes available to cater to different needs. There are large, medium, and small sketchbooks available and what you choose will depend on how portable you would like your sketchbook to be, how much space you have to store and carry your watercolor paper journal, and how big you want your artworks to be.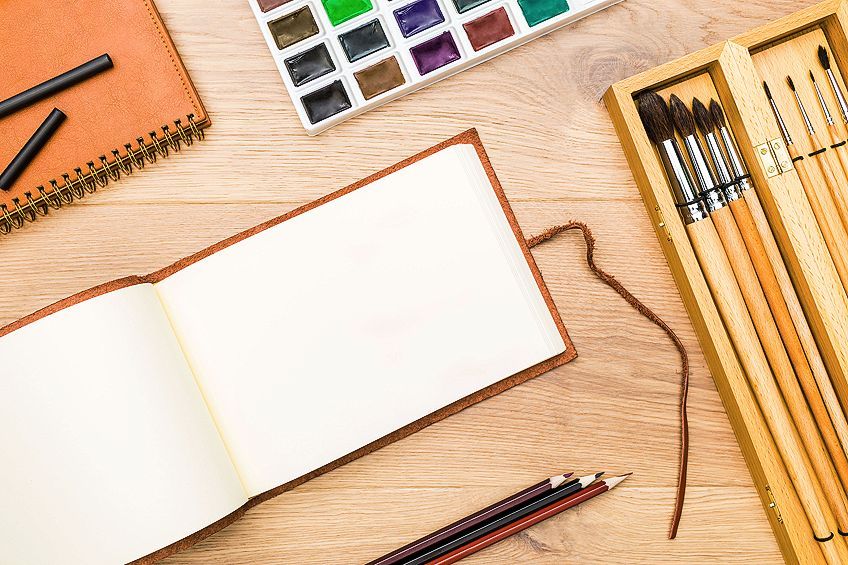 Some sketchbooks even allow you to remove your artwork without damaging the integrity of the journal. The paper may be perforated, or the sketchbook could have a ring binder that allows for hassle-free removal of pages.
Reasons to Try a Watercolor Sketchbook
There are many reasons why every artist should try using a sketchbook. If you are a watercolor artist, you will find that you can benefit from using a watercolor sketchbook. Below we outline some great reasons you should consider getting one and trying it out for yourself!
Practice Painting and Monitor Progress
Having a sketchbook around to easily paint in at any time will encourage you to paint more frequently. This will improve your confidence as an artist and help you improve your skills at the same time. Painting more often and not being afraid to make mistakes will be the biggest factor towards your improvement over time.
Having a watercolor notebook helps you easily monitor your progress and take note of where you need improvement.
Convenience
As we briefly mentioned above, part of the charm of any sketchbook is how portable and simple it is. You don't need to only work and paint at home. With a watercolor sketchbook, you can easily set up to paint wherever you like. If you do only want to paint at home, a sketchbook is still very easy to store and doesn't take up as much space as canvases, big drawing pads, or easels!
Watercolor sketchbooks are great if you want little to no setup when you want to paint.
Art Journaling for Mindfulness
Many people use art as a tool to improve their mental health by channeling feelings, thoughts, or memories into the artworks they create. You can use a watercolor sketchbook as a visual journal that helps you express what you are feeling.
If you have tried writing diaries or journals before and didn't manage to stick with them, you might find that a visual watercolor journal is just what you need.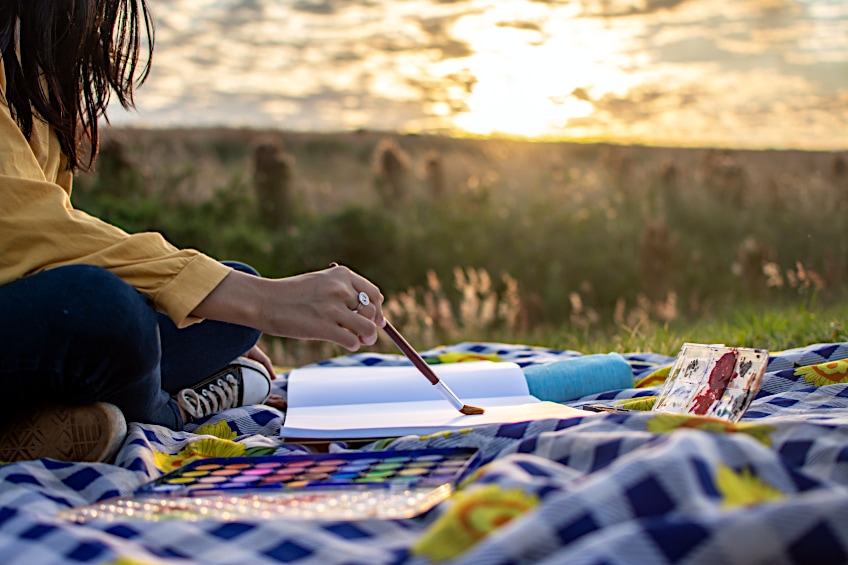 What to Look for When Buying the Best Watercolor Sketchbook
When you start looking for a watercolor sketchbook you will find that it isn't easy finding the right journal for your needs. Everyone has different needs and preferences and there are watercolor sketchbooks to suit everyone's different needs. Some people may want bigger pages in their sketchbooks while others don't mind a smaller sketchbook as long as it has premium quality paper. Regardless of what you are looking for, there is something suited to your needs.
Read through these tips to help you choose the best watercolor sketchbook possible.
Paper Quality
While you will encounter many sketchbooks suitable for watercolor, you will also find that their ability to handle large amounts of water effectively will differ. If you get the wrong kind of paper, you could fall victim to warped paper and pilling when too much water is applied. The type of paper in the watercolor sketchbook will also determine how well your sketchbook will handle techniques like lifting, layering, or scrubbing without bleeding, being broken down, or getting damaged.
Thicker papers like 200 and 300 gsm are more resilient to these effects, but if you only use light washes then you can opt for thinner paper at your own risk. You might also choose to work with a thinner paper such as 150 gsm if you work with gouache as your medium since gouache is much drier than traditional watercolor paints.
Find the right paper weight that works for your needs.
Ultimately, you want something thick enough to withstand water and use without breaking down, but also light enough to provide many pages while keeping your sketchbook light and convenient to take around with you.
Aim to find a watercolor sketchbook with paper made from 100% premium cotton if it is within your budget. While you might get away with synthetic blend fibers for your watercolor pads, a sketchbook is a very different story. Cheaper papers could very quickly bleed and buckle, which can ruin an entire sketchbook in a very short amount of time. Cotton is great for holding water and keeping colors vivid and is well worth the investment in the long run. Cotton watercolor sketchbooks are great for holding water and keeping colors vivid and are well worth the investment in the long run.
Taking a look at the number of sheets in a sketchbook will allow you to work out how much you are paying per page. If both sides (or pages) of a sheet are usable, then you are getting good value for money.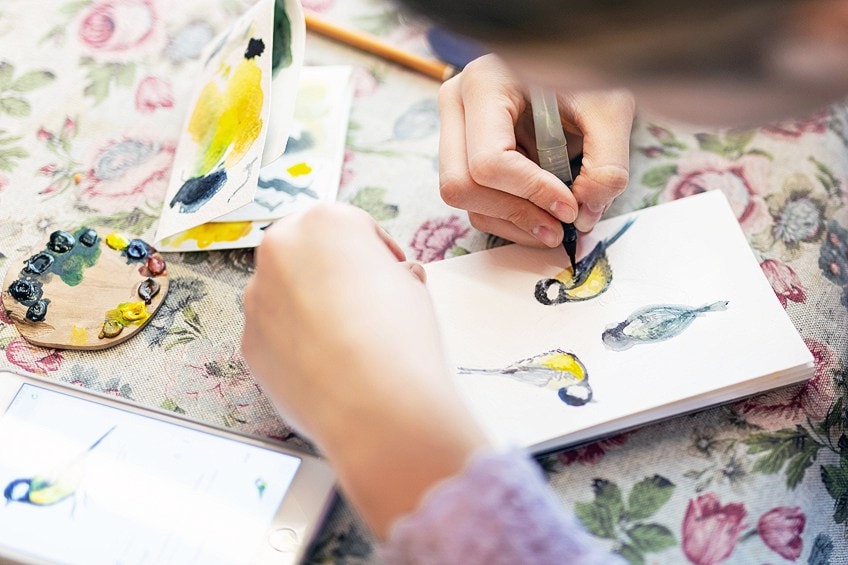 Another thing to look out for when you choose a watercolor sketchbook is whether the paper is acid-free or not. Some papers can have traces of residual acid which causes the paper to fade and turn yellow over time.
Acid-free paper variations stay white for longer, which helps you ensure that your sketchbook artworks won't look prematurely dated or aged.
Paper Texture
Watercolor paper can be either smooth or textured, and which texture you choose will depend on certain factors, such as whether you like fine, intricate details in your work, or if you prefer to work with broader, water-dense strokes. The texture of the watercolor paper is dependent on the method of processing used to make the paper.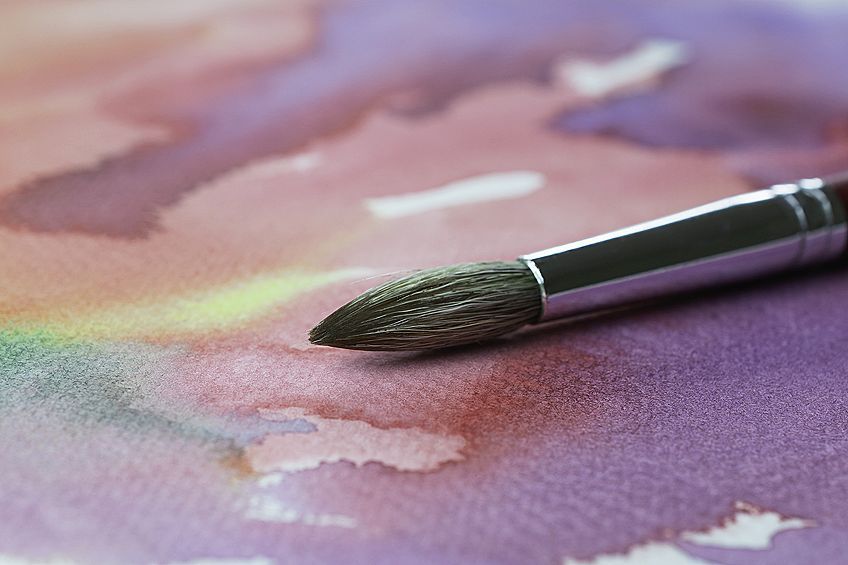 Choosing the right paper is an important step in deciding what sketchbook is the right one for you.
Watercolor paper that has been hot-pressed gives a very smooth result. Hot-pressed paper is great for artists who need fine detail and who do not use a lot of water in their paintings. Cold pressed paper produces a finish that is rough and textured. This paper is better suited for artists who work with a lot of water and don't want to worry about the water sliding or dripping off the page. Cold-press watercolor paper is the most common paper choice for watercolor journals since it can prevent accidentally ruining all your pages after one mishap.
Sketchbook Construction and Quality
Once you have established the sort of paper you want in your notebook, you need to consider the construction of the notebook you choose. Do you need something with a hardcover, or will you prefer a notebook that can lay flat? Some notebooks will have softcover cardboard or linen covers while others will be thicker and more durable.
Hardcover books can stand upright on a shelf without damage while softcover books cannot, but hardcover sketchbooks cannot lay open flat as softcovers can. This means you will lose some space where the pages curve into the binding. Softcover notebooks, however, tend to unintentionally bend and can be more easily damaged over time.
Watercolor sketchbooks also have binding variations that will alter your painting experience. The binding you choose for your watercolor sketchbook will depend on your preferences. The different bindings are glue bound, stitch bound and spiral bound.
Cheaper notebooks tend to be glue bound and can come apart quite easily over time. Glue-bound pages in a notebook are generally not stitched. Stitch-bound pages are sewn together with thread and tend to be a sturdier option and have the added benefit of being able to lay flat for double-paged artworks.
If you plan on using your watercolor sketchbook as a journal then stitch-bound sketchbooks are a great choice, since you will not be needing to rip out any pages.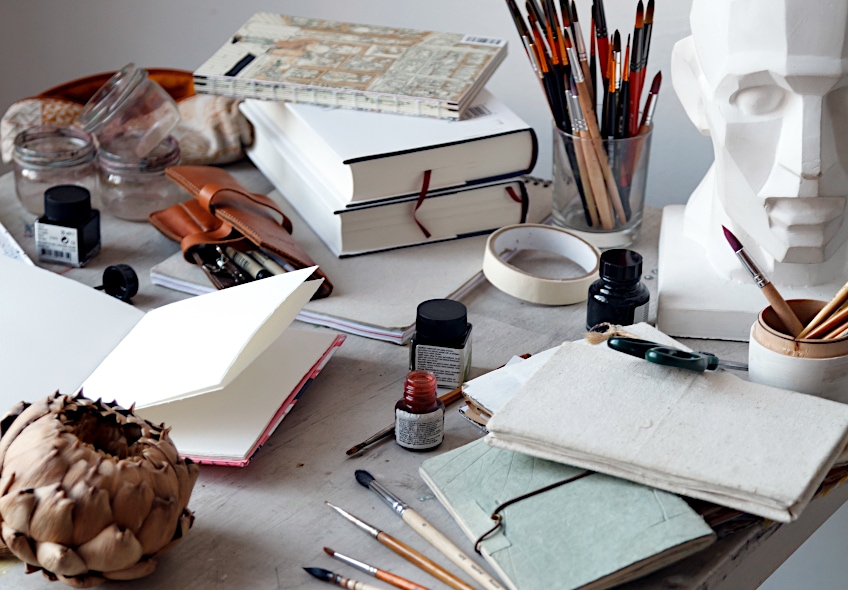 Spiral-bound notebooks are most commonly used for watercolor papers with a lighter weight and tend to come with perforated pages which allow you to remove individual sheets as you please. The downsides are that wires on spiral sketchbooks can become unwound and hook onto fabric and that the paper around the holes can become worn over time.
If you want artwork that covers two pages, then the spiral wire will be an interruption, but spiral sketchbooks are great for artists that want to keep their artwork flat and want to easily navigate their sketchbook.
Our Picks for the Best Watercolor Journals
Below are some of our picks for the best watercolor journals. We have chosen a premium option, a budget-friendly option, and the best value for money option. All of the choices below are made by reputable brands and have their own pros and cons for you to consider in relation to your needs.
Premium Choice: MOLESKINE Hardcover Watercolor Album
Moleskine is a premium art brand renowned for its dedication to creating high-quality art supplies for artists of all levels. This Moleskine notebook has a durable leather-like cover with thick watercolor paper pages. It also has an elastic closure band and rounded corners which make it more portable for artists who want to paint on the go. The binding of this premium watercolor journal is strong and durable enough to withstand travel and everyday use.
Heavy 200-gram, cold-pressed paper that is identical on both sides
Each book contains 36 sheets (72 pages since both sides are usable)
Strong and durable threaded binding with a cardboard bound cover
View on Amazon
PROS
Cold-pressed cotton fiber paper
Thick, acid-free pages
Well-known premium brand
Climate pledge-friendly product
Durable cover with rounded corners
Elastic closure band
72 pages/36 sheets
CONS
A bit pricey
Might be too small for some artists
Landscape format binding may not be suitable for some artists
Best Value for Money: STRATHMORE Softcover Watercolor Art Journal
This notebook from Strathmore contains thick watercolor paper suitable for washes with copious amounts of water. Its naturally white color and cold pressed surface make for a smooth and easy painting experience with archival quality results. The notebook has a velvety soft cover and 48 high-quality pages with sewn binding, making the notebook sturdy and allowing the pages to lay flatter. The pages are ideal for lifting and scraping techniques due to their thickness and durability.
Heavy 300 gsm intermediate level cold press watercolor paper

Natural white paper is ideal surface for various watercolor techniques

48 sheets are textured one side and smooth on the other
View on Amazon
PROS
Thick paper
Sewn binding
Acid-free and non-bleached paper
Cold-pressed pages
Soft velvet cover
Suitable for lifting and scraping techniques
CONS
Fewer pages than the premium option
Paper may be unnecessarily thick for some artists
Landscape spine orientation may not be suitable for some artists
It may be too large for some artists
Budget Friendly Choice: HANDBOOK JOURNAL CO. Hardcover Watercolor Sketchbook Journal
Each page in this watercolor book by Handbook Journal Co. is made from 200 gsm, cold-pressed, toothy paper that can readily hold light to medium washes with ease. The notebook has 60 pages and is bound with natural, European linen that is finely woven to be more durable. There is an elastic closure band and rounded corners on the sketchbook, which make it more portable for artists who want to paint on the go. The notebook has a landscape orientation and is also suitable for media artists.
30 sheets soft-white, acid-free, 200 gsm with a cold-press finish
Both sides of sheet is usable to make 60 pages in all
Specially designed for portability and bound in natural linen
View on Amazon
PROS
Toothy, cold-pressed paper
Suitable for light to medium washes
60 pages
Bound with natural European linen
Elastic closure with rounded corners
Suitable for multimedia artists
Good for artists who want to travel with their notebook
CONS
Not suitable for heavy washes
Landscape format may not be suitable for some artists
May be too small for some artists
Making Your Own Watercolor Book
If you like DIY projects, you could try to make your own watercolor journal at home instead of just buying one. You might have a watercolor paper that you love and cannot imagine straying away from, which makes it tricky for you to settle on a new watercolor notebook.
The solution is to use your beloved paper to make a watercolor book all on your own!
Below, we talk you through the process of making your own watercolor paper journal for the first time. Keep in mind that there is a bit of a learning curve and making the notebook will take a bit longer than you expect the first few times. It is worth it to invest the time into making your own notebook especially if you work on a tight budget, or just want something personalized.
What You Will Need
An old book cover (more detail on this below)
A watercolor paper pad of choice
Masking Tape
A needle and bookbinding thread
An awl
A slide cutter, scissors, or a craft knife
Mod podge or craft glue
A sponge or brush
Step 1
The first thing you will need to do when making your watercolor sketchbook is to find an old book that you can take the cover off of. If you have any old hardcover books sitting around that have some internal damage or don't serve any use to you, you can use one of them.
Otherwise, you can try going to a secondhand bookstore to source some old books to use for this project.
Aside from making sure that you choose a hardcover book, you must also ensure that the cover is in good condition, that the size is correct for your needs, and that the pages of the book are sewn to the spine and not glued. If the book is glued, you will not be able to remove the book pages without damaging the spine.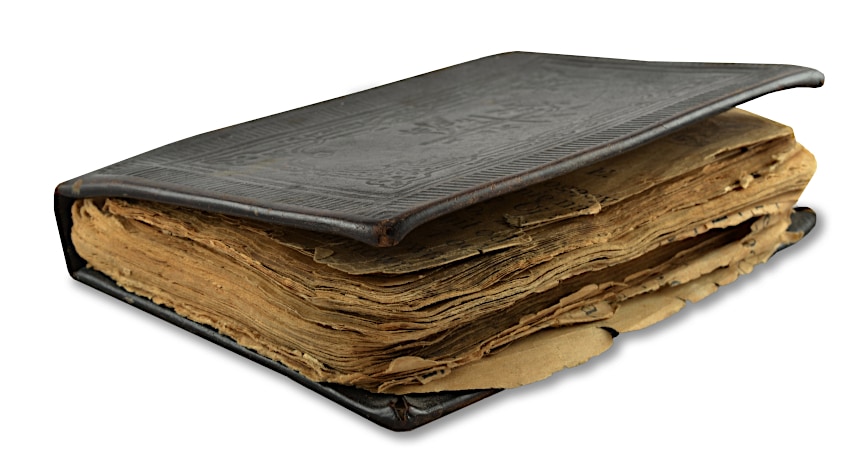 Step 2
Use a craft knife or a pair of scissors to cut away the stitching from the book you have chosen. Be careful not to damage the spine of the cover during this process. If you want to keep the book contents you should also be careful not to damage the pages. If correctly done, the process of removing the pages from the spine should be quite effortless.