Whether you are an experienced watercolor artist or just a beginner, watercolor pencils are a stunning medium to use. These pencils offer you gorgeous techniques with a watercolor finish while simply using coloring pencils. Buying watercolor pencils is an investment, so we have put together some information so as to help you select the best watercolor pencils, as well as how to use them.
What Are Watercolor Pencils?
The main difference between watercolor pencils and standard coloring pencils is the binding agent of the pigments. The binding agent of traditional coloring pencils normally contains wax or oil, yet the binding agent of watercolor pencils is water-soluble. You may think that watercolor pencils are simply watercolors in a pencil form, but this is not exactly correct. The main characteristics of watercolor pencils as follows:
Normally, you are unable to remove all of the pencil marks from your watercolor artwork, no matter how much water you add. These pencil marks are not the end of the world, however, and can assist in defining your watercolor drawings from ordinary watercolor paintings.
Watercolor pencils dry quickly – even faster than watercolor paints take to dry. This speedy drying time can be beneficial in that it allows you to layer quickly. That being said, you have to work quickly once the water has been added to the pencil.
You will need to take your time and experiment to better get a feel for the medium.
Try using fewer layers and lighter colors when you are working with watercolor pencils. You may cause a build-up of sludge and make the colors murky if you choose to do intense layering. But experimenting is the way to go, as each watercolor pencil works differently and gives a different result.
Why Use Watercolor Pencils?
Watercolor pencils are a great option for professional artists who are looking to try a new medium or beginners looking to experiment. You can find an assortment of different color watercolor pencils that will allow you to create dimensions, details, and depth to your work. You can also get way more coverage when using watercolor pencils over normal coloring pencils. While the color is still wet, you can lighten the watercolor pencils after you have applied the color, which is something you are not able to do with coloring pencils.
The versatility of watercolor pencils is amazing! You can achieve a level of texture and details from the pencil strokes, which is another thing that you just are not able to achieve with coloring pencils or watercolor paints alone. By sharpening your watercolor pencils, you can achieve a fine point, which will allow you to create fine details that are not achievable using a brush. The watercolor pencils also offer different effects if used dry or wet.
When you combine your coloring with watercolor effects such as diffused color and washes, the texture of the watercolor pencil strokes become unique. You can use watercolor pencils in conjunction with mediums such as ink, graphite pencils, pens, and coloring pencils.
What to Remember When Purchasing Your First Watercolor Pencils
Which type of watercolor pencils you select depends on your unique needs and the effect you desire. You will get a better idea of what you require the more you work and experiment with your watercolor pencils. When purchasing your first watercolor pencils, you should consider the following aspects.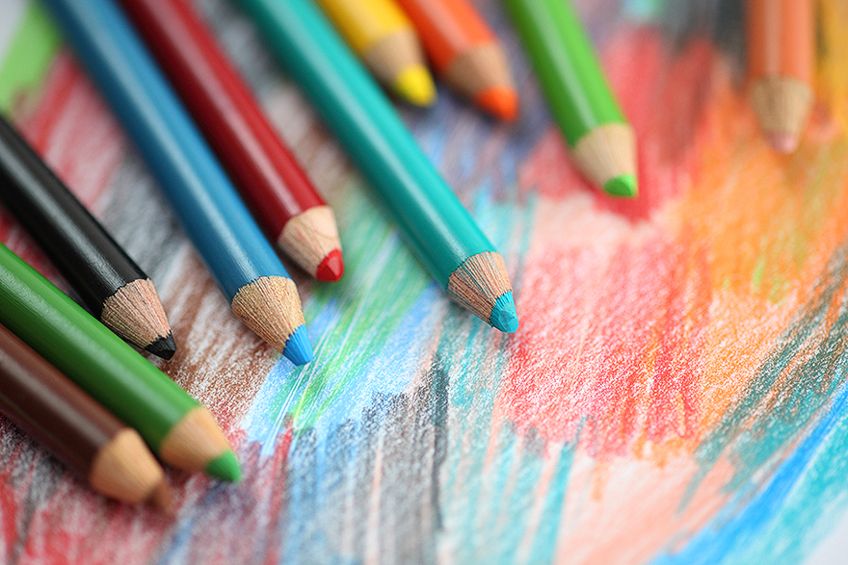 Application on the Paper
What style of application are you looking for? This will impact which watercolor pencils you choose. If you are looking to produce detailed fine lines or wish to apply a vivid, thick wash of color, you would require different watercolor pencils. We suggest that you have an assortment of watercolor pencils which will allow you to experiment with several different techniques when it comes to application.
You would use skinnier pencils to achieve precise line-work, but if you are looking to cover a large area of your paper, you should turn to sticks and blocks. Your application of color will also be impacted by the hardness of your watercolor pencils. To achieve opaque and vivid colors, you would have to press hard against the paper's surface with a highly pigmented set of watercolor pencils.
Surface Compatibility
You will get the best results when working on watercolor paper, as it does not disintegrate when wet. If you are working on glass or canvas, there are certain watercolor pencils which will work. Always take your desired results and the nature of your project into account when buying your paper.
The Scale of Your Work
How big your piece is will also dictate which watercolor pencils to choose. If you are working on a large-scale piece that will require several sessions to finish, it is not ideal to use watercolor pencils that are made with paint. During each session, different areas of color could dry differently depending on the amount you dilute the watercolor pencils. We suggest that you choose an ink-based watercolor pencil as the ink will dry permanently, which allows you to ensure consistent color despite working over multiple sessions.
All About Quality
The better the quality of your tools, the better the finish of your piece of artwork. There tends to be less pigmentation in cheaper watercolor pencils than in the more professional options. But if you know how to work with the more affordable watercolor pencils, you can achieve fairly decent results. As a beginner, we suggest you choose more affordable watercolor pencils, as this will place less stress on you when working.
Recommendations for the Best Watercolor Pencils
What follows is a list of the top three watercolor pencil brands for you to choose from. Whether you are looking for a budget-friendly option or high-quality professional watercolor pencils, we will help you decide on the best product for you.
Best Value for Money: STAEDTLER Karat Aquarell Premium Watercolor Pencil Set
Staedtler is a renowned German brand, and these particular pencils are of top quality. The pencils can be purchased in sets of 60, 48, 36, 24, 12, or six, depending on what your budget may be. These watercolor pencils offer smooth application whether dry or wet, superior blending, and high pigmentation.
The pencils contain break-resistant lead and are made from sustainably sourced wood, and are considered a must-have for any professional artist. Even once you have applied water, the color remains vivid, and the pencils are simple to sharpen. Despite being of a high quality, these watercolor pencils are not the most expensive on the market, offering you amazing value for money. The pencils do not, however, come with any extras, but this is not a problem.
Premium-quality watercolor pencils for a range of creative effects

24 brilliant, light-fast colors with smooth, intensive performance

Manufactured in Germany and comes in an attractive storage tin
View on Amazon
PROS
Different set sizes available
Top quality
Made from sustainably sourced wood
Break-resistant lead
Vivid pigmentation
Simple to sharpen
Easy and smooth blending
CONS
No extras provided with the set
Best Option for Beginners: ZENACOLOR Watercolor Pencils Set
This set of 24 watercolor pencils by Zenacolor is the perfect product for those wanting to learn how to use watercolor pencils. Available at an affordable price, this set includes a good range of colors for a beginner as well as a paintbrush. The colors themselves are great for blending, shading, sketching, drawing, coloring, and more, thus allowing your creativity to shine.
The lead of these watercolor pencils is pre-sharpened, and is soft yet sturdy enough that you will be able to color in precisely and accurately. Simply wet the paintbrush with water in order to begin mixing, layering, and blending your colors. Packaged in a sturdy metal tin case, your watercolor pencils will always have a place for storage and can be transported with ease. These watercolor pencils offer great value for money to those just beginning their watercolor journeys.
Set of 24 unique watercolor pencils that includes a back brush
Pre-sharpened and soft yet sturdy pencil leads for precise coloring
Pencils come in a metal tin case for protection and easy travel
View on Amazon
PROS
Wide range of colors
Affordable
Great for blending
Soft, sturdy lead nib for precise coloring
Comes with a paintbrush and metal storage tin
Best Option for Professionals: DERWENT Inktense Permanent Watercolor Pencils
Derwent Inktense is your go-to for professional, high-quality watercolor pencils. While these are more expensive than other options, they are certainly worth the money. You can purchase these pencils in sets of 72 and 48, which are packaged in a wooden box, as well as sets of 36, 24, and 12, packaged in a tin case. All sets offer a large assortment of very pigmented colors. These watercolor pencils are unlike the others mentioned above, as they are ink-like and therefore more permanent.
You can use these watercolor pencils on several different surfaces, including fabric. You will be able to blend with great ease thanks to the core being wide and soft. The colors you receive are breathtaking, including the likes of a striking fuchsia pink and a range of neutral shades. There are two negative aspects to this set, however, in that they are not lightfast and the fact that they are quite expensive.
Pencils are easy to sharpen, break-resistant, and offer great precision

Give you the control of a pencil with the beauty of watercolors

Pigment transfers to paper quickly due to a softer formulation
View on Amazon
PROS
Can be bought in different sets
Provide an ink-like quality
Can be used on fabric
Core is wide and soft
Striking color range
Superb blending ability
CONS
A very expensive watercolor pencil set
Additional Supplies Required
If you want to use your watercolor pencils to achieve watercolor techniques, you will require additional supplies. Without these extras, you may as well be using ordinary coloring pencils.
Watercolor Paper
A great starting point for working with watercolor pencils is investing in some great quality watercolor paper. This type of paper is sturdier than standard printer paper, which ensures that it will remain sturdy when it gets wet. In comparison to sketching paper, watercolor paper is much thicker. The paper is specifically tailored in terms of the rate at which it absorbs water and in turn, pigment.
There is an assortment of different watercolor papers available, offering different absorption rates, thicknesses, and textures. Equip yourself with a little more insight into the different types of watercolor paper so that you can select the best option for your artistic vision. We recommend using this pad of watercolor paper by Strathmore, as it is affordable and great for beginners.
A Normal Brush or Water Brush
To achieve the watercolor effect and to activate your watercolor pencils, you will require a brush. If you choose a water brush, it will allow you to work without having to constantly dip your brush in water. A more affordable option is a standard, normal brush which will perform just as well. Go for a size eight or ten brush, which is considered medium-sized, and preferably a round brush. This type of brush will help you spread the color, and you can use the point of the brush for finer details. If you need to cover large areas or do washes, then you should use a flat brush. You can get a whole range of brushes at an affordable price with this 20-piece set by Soucolor.
Pencil Sharpener
You will truly benefit from a great-quality pencil sharpener for sharpening your watercolor pencils to a fine point and not damaging the soft lead inside. You may need different sizes of sharpeners depending on your chosen watercolor pencils. Prismacolor offers a handy sharpener with a different size on either end.
Water, Tape, and Paper Towels
You will use water for more than just activating the watercolor pencils. You can try wetting the paper so as to attempt different techniques, or you can wet just the tip of your pencil to see what happens. You will also need water to clean your brushes, so have some on hand in a separate jar or container.
Paper towels are beneficial to have on hand, as you can use them to soak up any excess water from your paper or brush. The tape is also quite important to have when painting with watercolor pencils, as you should tape down the paper to your work surface in order to stop the water from causing the paper to crinkle.
How to Use Watercolor Pencils
As its beginner, it can be difficult to know how to start working with watercolor pencils and to achieve the effects you desire. We have provided you with some basic steps for getting started, as well as some useful tips and tricks to further test your creativity.
Making a Sample Chart
You can use a sample chart to get used to your new watercolor pencils. You can always refer to your sample chart to determine the correct color and how each pencil reacts to water.
To begin, take a page from your sketch book and draw two blocks per watercolor pencil. In the first block, use your dry watercolor pencil and shade in a gradient of each color. These blocks will give you a sample of how each pencil looks when dry.
In the second block, shade just the top half of each block using a dry pencil. Next, take your wet brush and drag the color down to fill the remainder of the square. You can then refer to the second square to see how each pencil reacts to water, thus giving you a guide in terms of the different shades you can create.
Stretching Your Paper
Your watercolor paper, despite being created to withstand water, will need a little preparation to ensure it does not warp or crinkle while you are painting. Start by taking your sheet of paper and wetting either side. If there is any excess water, blot it away with paper towels so that your paper is damp but not swimming in water. Take four strips of masking tape and wet them, and then use them to stick your paper down to the surface you are working on. Allow both the tape and paper to completely dry, after which you can start painting.
Planning Your Work
Before beginning with your watercolor pencils, you should plan out your work. Granted, this depends on the artistic style you are going for. At this stage, you can also plan which colors you are going to use. Alternatively, you can work freehand and allow your artistic abilities to flow. As a beginner, planning out your work may assist in building your confidence.
Bringing on the Color
It does not matter if you will be working freehand or if you have planned your work, as now is the time to start using your watercolor pencils. It may seem that watercolor pencils are similar to normal coloring pencils, but there is an assortment of differences, such as the fact that you do not have to color in the whole area. You can leave areas blank if you wish them to be light, as you will move the color to them with brush strokes when you brush on the water.
Keep in mind the direction of your pencil strokes and the shapes you create. Once you have added the water, it is impossible to remove any pencil marks, so try to use the direction of your pencil strokes to your advantage. Think of it as a graphite pencil and shade directionally so that if any pencil strokes remain, they simply add to the overall texture.
Activating Your Watercolor Pencils
Now the real fun begins! You can start diffusing the colors using clean water and a brush. To keep your piece cohesive and to add dimension, attempt to follow your pencil strokes. A few pencil marks will remain the more you apply your wet brush to the color. Be careful not to overwork the paper, as it may pill (form tiny bubbles) or fray. Just know that you will not be able to remove all the pencil strokes, so rather use them to enhance your piece.
Tips and Tricks: Ways to Help Master Watercolor Pencils
When tackling an artistic project, you can feel a little overwhelmed. Over time, however, through experimenting and practicing, you can build your confidence.
Detail and Depth
If you are looking to add depth to your watercolor pencil artwork, layering is a great option and is relatively easy to do when using your watercolor-colored pencils.
When the initial layer has dried, you can use your pencils to repeat the coloring process and use water to activate them. You can layer contrasting colors and use more of the same hues to deepen existing colors, should you wish to achieve shading. Try not to overdo it and use too many layers, as your artwork may start to look muddy.
If you wish to include intricate details in your painting, you can use a sharpened watercolor colored pencil. To achieve bold and bright details that pop and stand out from the background, dip the tip of your pencil into some water. Rather save this for the finishing touches, as it can be difficult to blend these out.
Always Work from Light to Dark
This is a rule that is relevant for the sheerness of your shading as well as the shades of the color.
Begin by layering your lightest colors first and then building on them with your darkest colors, little by little. It is always harder to take away than to simply add.
If you have an area that is too dark, you can blot it with a paper towel. You can also blot it with a dry brush while the paint is still wet. This can potentially lift some of the colors off the paper and therefore lighten it.
Do not panic if the color has already dried! You can simply reactivate it by adding a little water and then going in and blotting it.
The joys of watercolor pencils can be experienced by both advanced artists and beginners. Make sure you buy the right set, as better-quality watercolor pencils will make all the difference. We hope you have a fantastic time experimenting with watercolor pencils!
Frequently Asked Questions
Can You Use Watercolor Pencils Like Regular Coloring Pencils?
You can use your watercolor pencils to draw like you do with your regular coloring pencils. Having a watercolor pencil set is an advantage in that you can use them like regular coloring pencils or have fun and experiment with watercolor techniques.
Are Watercolor Pencils a Good Choice?
The versatility of watercolor pencils is amazing, as you can shade and draw with them just like you would if you were using standard coloring pencils. In addition, you can also use them to create magical watercolor effects.
Are You Able to Dip Your Watercolor Pencils Straight into Water?
Yes, you can. When you dip the tip of your watercolor pencil into the water, you can then create fine details. In doing so, the colors become richer and can create some amazing effects.
Do You Require Specialized Paper for Watercolor Pencil Drawings?
It all depends on what you are looking to achieve. If you plan on activating your watercolor pencils using water, then we strongly suggest that you use watercolor paper.
Matthew Matthysen is a multidisciplinary artist. He completed his fine art degree, majoring in History of Art and Contemporary Drawing Practice at the University of Witwatersrand, South Africa. The emphasis of Matthew's practice was a research-based approach into the philosophical effects on the human experience of the macro and micro-universe. Through various mediums, such as written and practical components, Matthew explores various ideas located within the conjoined space between science and philosophy.
Matthew has had various exhibitions before and throughout his year of studies and continues to do so. He currently works as an artist/ writer in various contexts. He has commissioned and sold various works to galleries and collectors. He currently sells work to an online gallery (Artgazette) and continues to make work for the public and private sector. Matthew continues to function as an artist, allowing his work and skills to be utilized in various areas of interest.
Learn more about the Art in Context Team.