Jean-Léon Gérôme – Discover Jean-Léon Gérôme's Paintings and Impact
There is no denying that this artist was a technical master, despite the criticism Jean-Léon Gérôme's paintings received for their exotic and even immoral subject matter. One of the most well-known French artists of his day, Jean-Léon Gérôme is recognized for revolutionizing historical painting. However, Jean-Léon Gérôme's paintings drew harsh criticism and controversy from those who thought that his combination of academic artwork with genre painting placed him in the middle of two antiquated schools.
Jean-Léon Gérôme's Biography
| | |
| --- | --- |
| Nationality | French |
| Date of Birth | 11 May 1824 |
| Date of Death | 10 January 1904 |
| Place of Birth | Vesoul, France |
Gérôme captured an audience that was won over by the brilliance and theatricality of his work even though his visual worlds could not be trusted for historical authenticity. Gérôme subsequently reinvented himself as a sculptor, but his magnificent historical narratives – which became even more well-known because of the photographic recreation of his images – remain his most famous works. Gérôme's many Orient artworks demonstrated both his power and weakness. His painstaking and exact pictures added a patina of realism to a complete and unspoiled imagination of the Orient.
While this ability did not win over the art establishment's seniors, it became extremely popular with everyday art fans, who purchased large amounts of replicas of his work.
Childhood
Jean-Léon Gérôme was born in 1824 in the French village of Vesoul. He was a bright, studious youngster who studied Greek, Latin, and history in high school. Claude Basil Cariage, a Neoclassical artist and former pupil of Jean-August-Dominique Ingres, taught him drawing. Young Gérôme displayed a remarkable gift for art, and his tutor urged him to study plaster models and casts sent to Vesoul from Paris.
Gérôme earned his first award for drawing in 1838, and his work was noticed by a colleague of Paul Delaroche.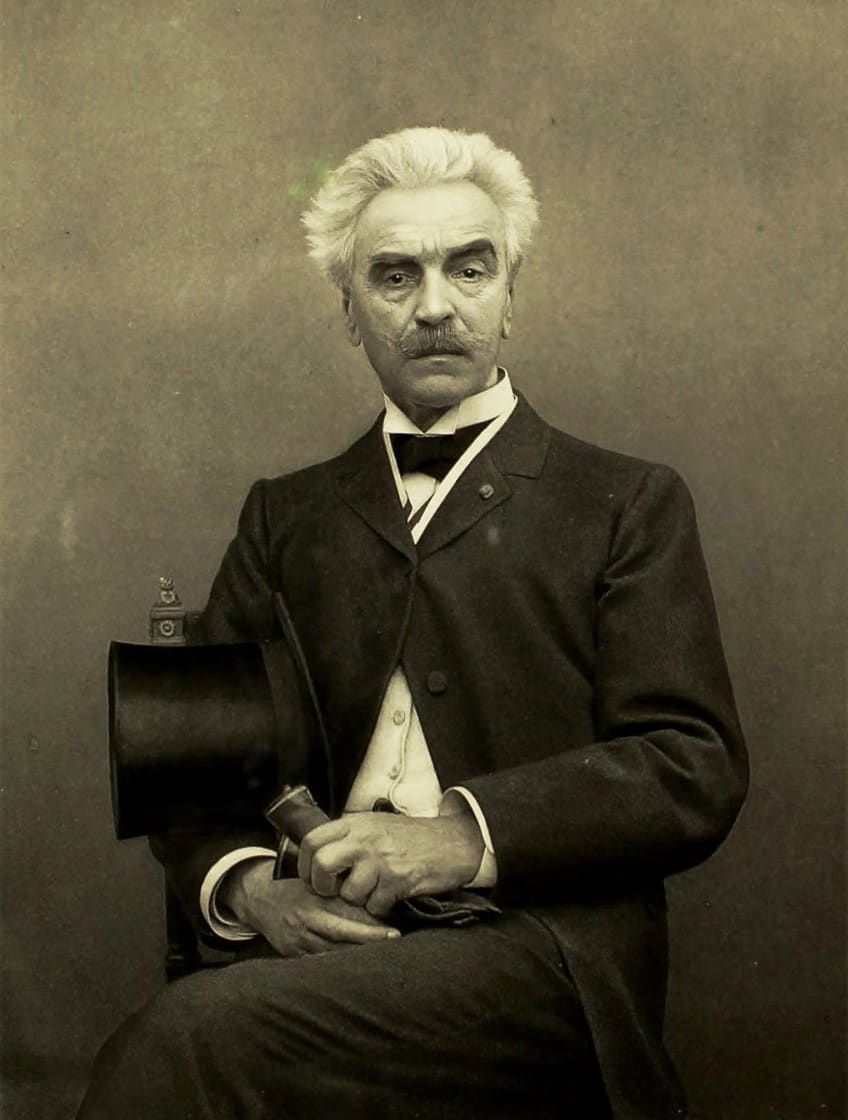 Portrait photograph of Jean-Léon Gérôme (c. 1892); photogravure Goupil, Public domain, via Wikimedia Commons
Early Training
Gérôme got his baccalaureate before the age of 16, and he left his birthplace for Paris to study in Delaroche's workshop, whom he admired. Gérôme, on the other hand, had gone against his father's preferences in the relocation, and to survive, he was compelled by necessity to create religious cards, which he peddled on the steps of churches to make a living. Gérôme maintained a rigid pattern for three years, learning from castings in the morning and sketching or painting en Plein air in the afternoon.
He was also urged to reproduce illustrations and Old Masters at the Louvre, as well as to study at the famed École des Beaux-Arts.
His hard work and talent soon won over his father, who, delighted with his son's quick improvement, offered him a considerable stipend. Gérôme and Delaroche visited Italy in 1843, seeing Venice, Rome, and Naples. "This period is one of the greatest and richest in my life," the youthful painter noted in his diaries, "and at this time I have achieved many important advances".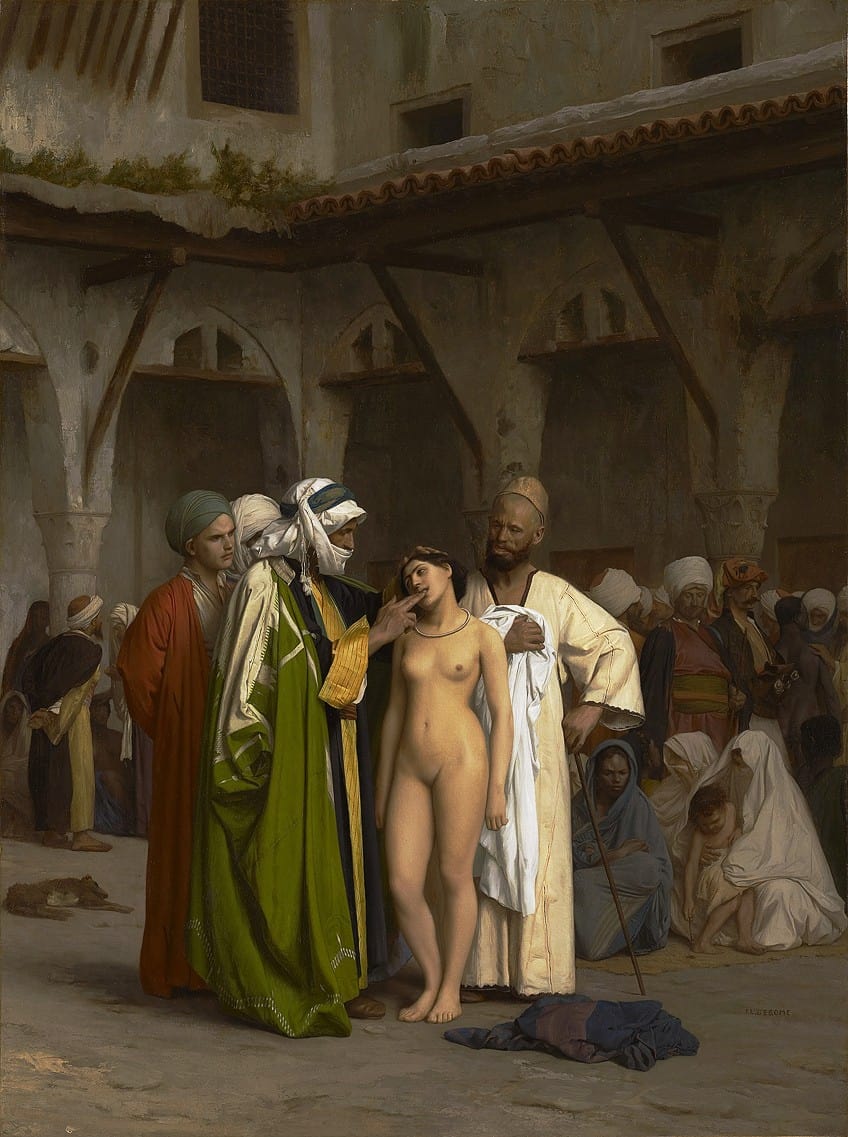 The Slave Market (c. 1866) by Jean-Léon Gérôme, located at the Clark Art Institute in Massachusetts. Gérôme executed a very similar painting in 1857, in an ancient Greek or Roman setting; Jean-Léon Gérôme, Public domain, via Wikimedia Commons
Delaroche's contacts introduced him to other young painters and photographers, including Charles Nègre, Henri Le Secq, and Gustave le Gray. These new contacts would have an impact on the cinematographic style of most of his work. Théophile Gautier, a French novelist, and poet advocated photography in 1856 as a technique of allowing painters like Gérôme to create images that were genuinely accurate to reality.
Gérôme had returned from his first trip to the Middle East with over a hundred images, and while he let his imagination guide his work, Gérôme's highly detailed paintings depended on these photographs to reflect his own perspective of the colorful area.
Bashi-Bazouk (1869) by Jean-Léon Gérôme, located at the Metropolitan Museum of Art in New York City, United States; Jean-Léon Gérôme, Public domain, via Wikimedia Commons
Gérôme returned to Paris and trained under the artist Charles Gleyre. Gleyre instructed Gérôme on how to develop his sketching skills and cleanse his shapes. It was under Gleyre's tutelage that he developed his talent for genre painting, and the fraternity of the "Néo-Grecs" was founded in 1846. The Neo-Grecs, led by Gérôme and comprised of Gleyre's other pupils Henri-Pierre Picou, Jean-Louis Hamon, and Gustave Boulange, shared a residence in Paris.
Gérôme remembers the Neo Grec community's environment as follows: "It was a social hub for all of our friends, as well as musicians. We had a great time since we were all in sync".
Mature Period
Gérôme made his first voyage to the Middle East and Egypt in 1856. He traveled the Nile, went to Cairo, traversed the Sinai Peninsula, and explored the Holy Land, seeing Damascus and Jerusalem. He was inspired by the North African scenery and people when creating his earliest Orientalist paintings.
Gérôme caught the interest of the American audience three years later when two of his works were presented in New York.
"During the first 19th century, Americans centered on domestic, morally instructional arts," art historian Mary G Morton noted, "but the instability and lack of national morale during the Civil War era led to an assertive turning outside". This brought reviewers and buyers back to the Old World, and Gérôme's Orientalism became synonymous with great art in America for a while. His popularity, nevertheless, was also his demise; the more popular his paintings grew, the more he was ridiculed as a revolutionary artist.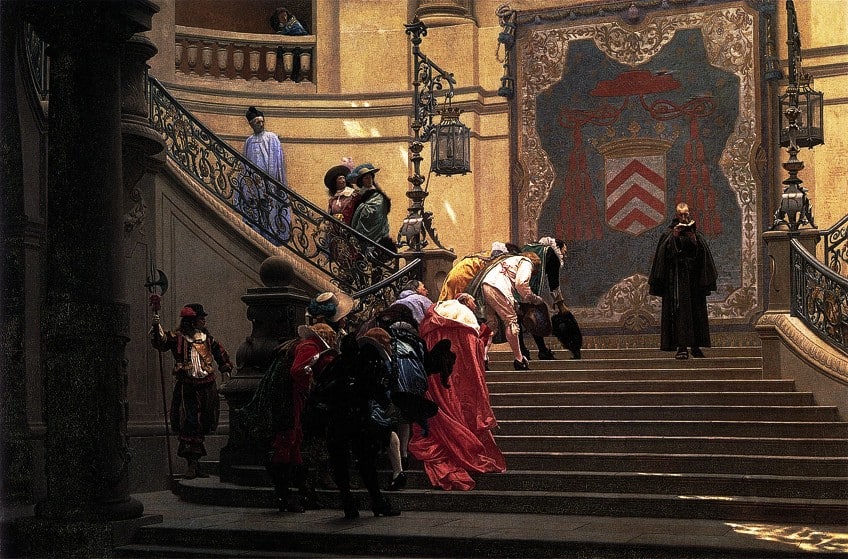 L'Eminence Grise (1873) by Jean-Léon Gérôme, located in the Museum of Fine Arts in Boston, United States; Jean-Léon Gérôme, Public domain, via Wikimedia Commons
Morton continued: "His competence, sophisticated Frenchness, intellectualism, knowledge, and polished technical training were all glorified. But he was also derided as unduly commercial and accused of a typically French moral depravity that some Americans desired to avoid in their national identification rebuilding".
Despite this critique, Gérôme was able to charge exorbitant prices for his canvasses, with his works fetching tens to hundreds of times the price of his Impressionist colleagues.
In 1863, Gérôme wedded Marie Goupil, the offspring of Adolphe Goupil, a prominent international art collector with whom he had been working for four years. His 21-year-old wife was characterized as "a lovely woman of exceptional beauty and exquisite elegance." They relocated to rue de Bruxelles. Jeanne, their first child, was born that year, and they went on to produce three more girls and one son. His luck continued when, in 1864, he accepted a position at the famous École des Beaux-Arts, where he rose to become one of the school's most regarded instructors.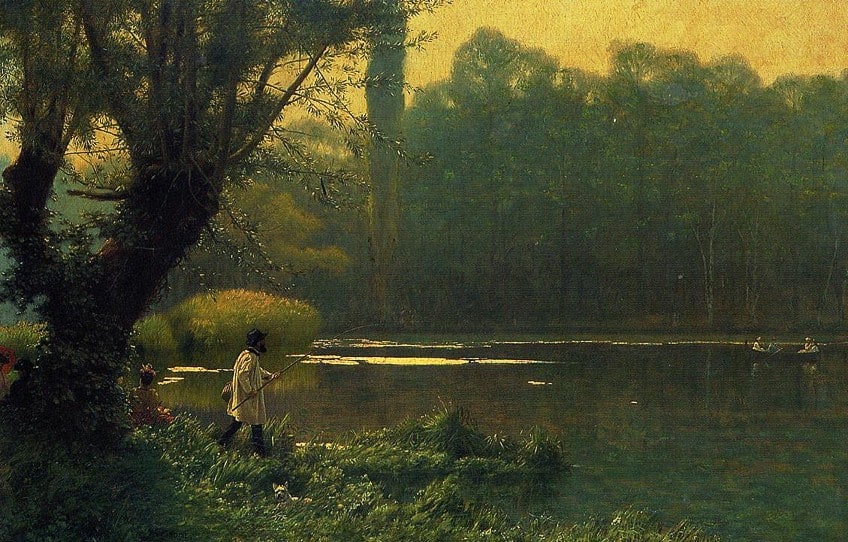 Summer Afternoon on a Lake (c. 1895) by Jean-Léon Gérôme, located in a private collection; Jean-Léon Gérôme, Public domain, via Wikimedia Commons
The artist's business partnership with Aldophe Goupil, dubbed "the worldwide dynamo of modern art dealers," was critical to his achievement. Gérôme was Goupil's most reprinted artist, and he sold images and photogravures of contemporary works through offices in London, New York, and Berlin. Meanwhile, Gérôme traveled around the Middle East and Europe, stopping in Greece, Spain, Turkey, Syria, and Jerusalem.
He toured Egypt on six occasions during his lifetime, and his visits prompted some stunning, startling, and provocative works, such as slaves waiting to be auctioned at the market, ladies indulging in Turkish baths, a belly dancer amusing troops at rest, and decapitated heads hanging on hooks on the outside of a mosque.
Intellectuals largely rejected him as a fantasist whose art served mainly lurid and commercial goals.
Indeed, at the 1897 Paris Exposition Universelle, Émile Zola slammed Gérôme as a "cynical creator of anecdotal pictures for mass replication and public consumption". According to author Édouard Papet, Gérôme was 55 years old when he found sculpture, yet he approached it "with all the enthusiasm and commitment of a youthful artist." By this time, Gérôme had established himself as a staunch anti-Impressionist. When the École des Beaux-Arts mounted a posthumous exhibit of Édouard Manet in 1884, he protested.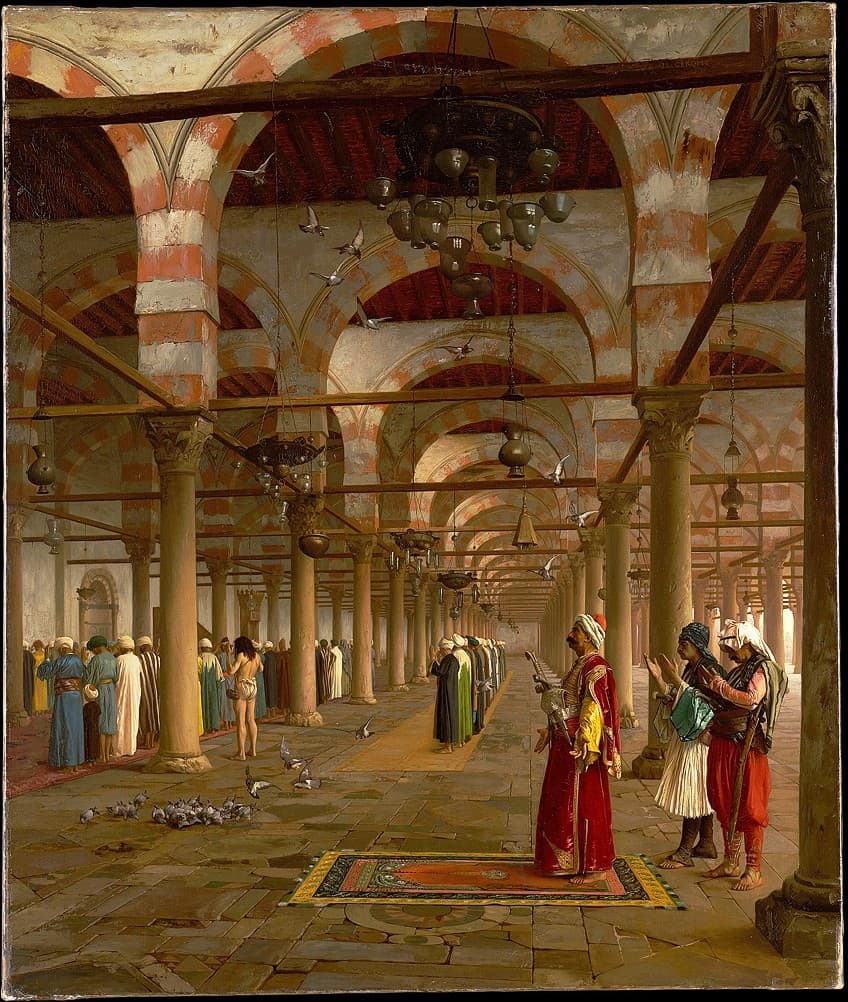 Prayer in the Mosque (1871) by Jean-Léon Gérôme, located in the Metropolitan Museum of Art in New York City, United States; Jean-Léon Gérôme, Public domain, via Wikimedia Commons
Manet, according to Gérôme, "was the prophet of an indulgent fashion, of a piecemeal craft," and while he had been "delegated by the Nation to instruct young individuals the grammar of art," he did not believe his pupils "should be introduced with the framework of strongly intentional and prurient craftsmanship by a man who never established the unique characteristics with which he was bestowed".
Around that same period, Gérôme fell out of favor in the United States, where he was regarded as a destructive force on American art.
According to an 1882 article in the New York Evening Post, Gérôme was an example of the contemporary tendency of painters to paint entirely for a public appeal to command high prices. The Barbizon School came to dominate, and collectors turned to painters like Théodore Rousseau, Jean-Baptiste-Camille Corot, and Jean-François Millet.
Late Period
By 1898, Gérôme had been appointed Grand Officer, the second-highest title in the Légion d'honneur, and a unique honor for a painter. He's been defined as a man obsessed with looks, both other people's and his own. He dressed nicely, was fond of his bushy hair, and loved having his picture taken. According to the Art Journal, Gérôme's appearance was "his head, with its deep-set, wide eyes, wild heaps of graying hair, and pointy grey mustache, is admirably picturesque," he continues. He is as slender as a shadow and is known for his great productivity, impatience, and disdain of guests."
Gérôme's preoccupation with his personal look appears to have impacted his own death in 1904, when he died cleanly and quietly in his workshop at the age of 80, before a Rembrandt picture.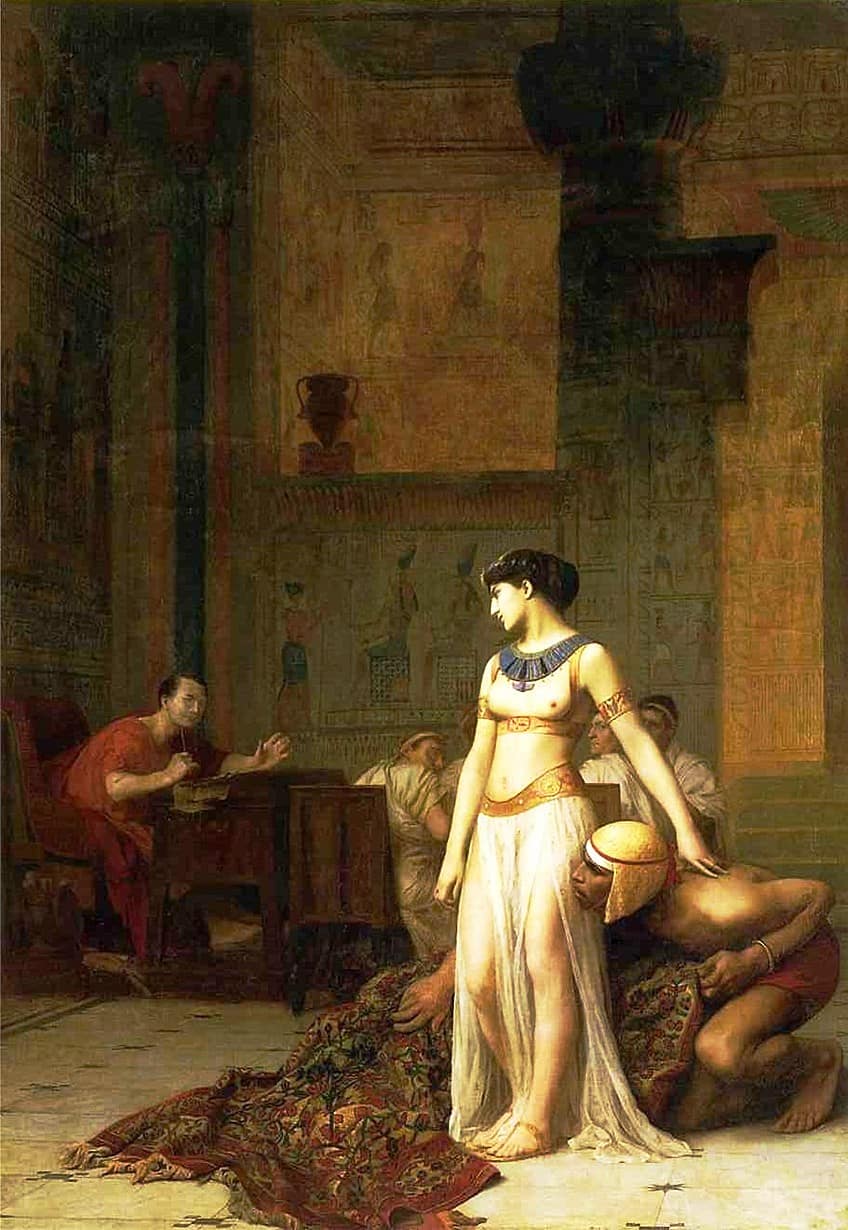 Cleopatra and Caesar (1866) by Jean-Léon Gérôme, located in a private collection; Jean-Léon Gérôme, Public domain, via Wikimedia Commons
Albert Soubise, a French writer, announced his death: "Death occurs unexpectedly, with full stride and vitality, without a period of slow bodily decline. He was last spotted a week ago, slender and erect like an official in civilian clothes." His Legion of Honor status entitles him to a military spectacle funeral, but he left orders for a lesser event.
He was laid to rest at the Montmartre Cemetery, next to his own artwork, "Sorrow" (1865).
Legacy
Gérôme's career coincided with that of another French painter, William-Adolphe Bouguereau. The latter's brilliantly crafted Neoclassical nude, religious, and genre paintings were likewise extremely popular with the public, however, like Gérôme, Bouguereau split opinion owing to his distaste for Impressionism. Gérôme, like Bouguereau, fell into contempt after his death.
Regardless of the fact that his artwork is kept in the collections of several prestigious institutions, Gérôme's relevance, particularly in recent decades, has been called into doubt; his vehement hostility to contemporary art does not help things.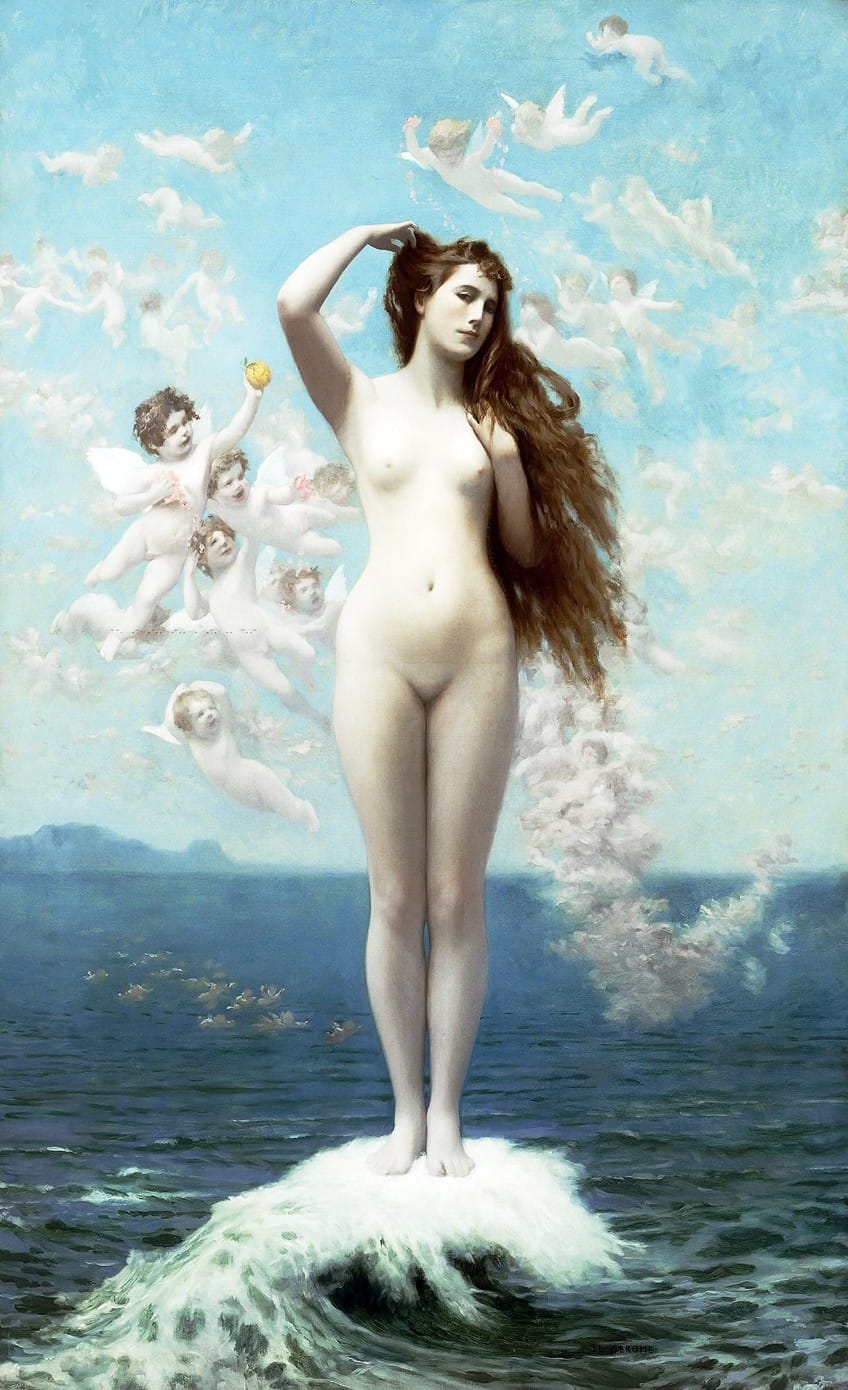 The Birth of Venus (1890) by Jean-Léon Gérôme, located in a private collection; Jean-Léon Gérôme, Public domain, via Wikimedia Commons
Jean-Léon Gérôme's Paintings
Even though he precedes the maturing of narrative cinema, his work has been labeled as "cinematic" in retrospect. This term refers to a painting technique that generates stunning and overpowering graphical illusions of historic worlds like photographic realism. Indeed, Jean-Léon Gérôme's paintings were amenable to photographic replication, with still reproductions of his work reaching a wide audience.
Gérôme was a founder member of the Neo-Grec Circle. It was founded in 1847 by a group of young painters who intended to introduce a better level of realism and archaeological authenticity to Greco-Roman ancient painting.
The Cock Fight (1846)
| | |
| --- | --- |
| Date Completed | 1846 |
| Medium | Oil on canvas |
| Dimensions | 39 cm x 55 cm |
| Current Location | Musée d'Orsay, Paris |
When it was shown at the Salon de Paris in 1847, this genre of painting was a major hit. It depicts two youths sitting alone at the foot of a relic. Across from them, two cocks attempt to kill each other in what was a customary Greek sport. In the center, the youngster kneels in front of lush flora while holding one animal. A lovely youthful woman flinches from the battle behind him, semi-nude. The blue Aegean Sea may be seen beyond her, with a Grecian mountain background.
Gérôme was a proficient animal illustrator and a nature enthusiast who thought that studying and representing animals was a vital element of an artist's education.
The piece, however, was misplaced in the salon, "hanging so high as to obscure it from the observing eye," according to Gérôme. Nonetheless, it received critical praise, catapulting him into the avant-garde as the head of the Néo-Grecs. Art Critic Théophile Gautier praised the piece, citing "marvels of drawing, motion, and color," and artist Victor Mottez added to the acclaim, calling Gérôme the "jewel of the Salon."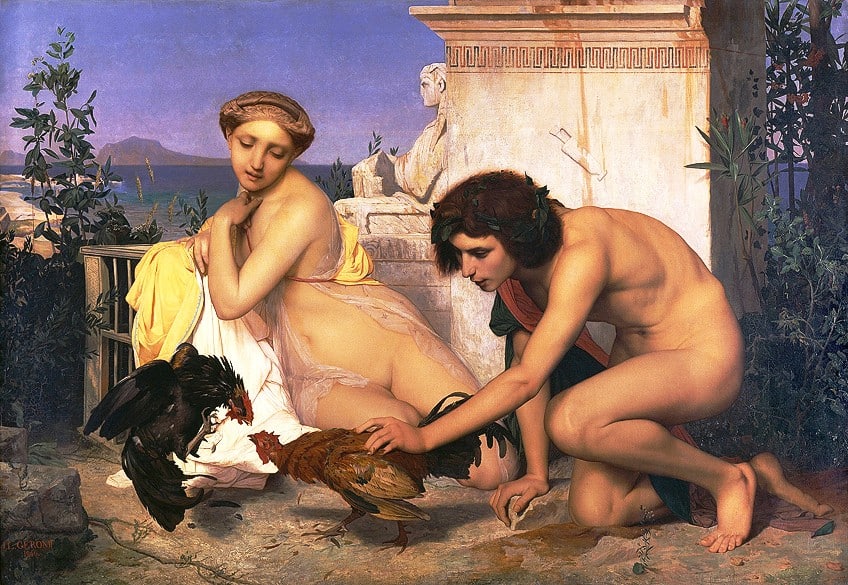 The Cock Fight (1846) by Jean-Léon Gérôme, located in the Musée d'Orsay in Paris, France; Jean-Léon Gérôme, Public domain, via Wikimedia Commons
The Néo-Grecs rejected the seriousness of classicism in favor of more joyful subjects. This painting shows what would become Gérôme's hallmark; a historical topic reworked in his imagination. He creates an image from tiles in Naples, murals from Pompeii, and motifs from the Italian Renaissance in his polished, scholarly manner. Jacques-Louis David's scholarly influence may also be seen in his accurate naturalism and meticulous details.
Gérôme, on the other hand, "added a new dimension by striving to base his artwork on the most recent archaeological, anthropological, and historical studies," according to Louvre head curator Dominique de Font-Réaulx.
This inspired the Pompeians, known as a crowd of imitators. Yet, not everyone was thrilled. Charles Baudelaire criticized "an artist who sacrifices the enjoyment of a page of knowledge for the delight of pure painting" and rejected Gérôme as the leader of the meticulous school.
Hail Caesar! We Who Are About to Die Salute You (1859)
| | |
| --- | --- |
| Date Completed | 1859 |
| Medium | Oil on Canvas |
| Dimensions | 93 cm x 145 cm |
| Current Location | Yale University Art Gallery, Connecticut |
For those about to die in the service of Caeser, this was an intense moment for any gladiator. This stunning picture depicts gladiatorial combat at Rome's Colosseum, a topic rarely chosen for historical painting. A warrior lays lifeless in the foreground, surrounded by abandoned weaponry and armor in the sand.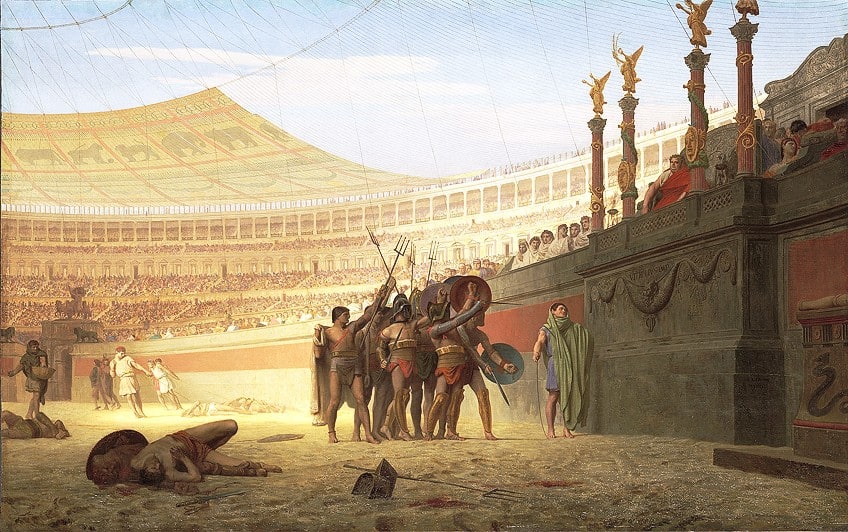 Hail Caesar! We Who Are About to Die Salute You (1859) by Jean-Léon Gérôme, located in the Yale University Art Gallery in Connecticut, United States; Jean-Léon Gérôme, Public domain, via Wikimedia Commons
A man shovels sand over the bloody stains behind him, while other workers remove corpses from the stadium. A group of eight gladiators stands in the center, yelling the title to Emperor Vitellius, who is seated above. A bunch of consort virgins sits to his left. The light from behind beams on the crowds of people crammed within the colosseum's curving sweep.
Gérôme preferred to depict panoramic views of history, emphasizing people, architecture, culture, and landscape rather than individuals or faces. The masterpiece, which was the outcome of Gérôme's painstaking investigation, shocked both critics and the general audience.
He examined architectural blueprints of the Colosseum, produced several sketches of gladiators and their weapons, and even included the web-like framework that held up the canopy that protected the wealthy members of the public from the Roman heat. However, Gérôme's works were not historical, which harmed his reputation as a competent painter. It was said here, for example, that building on the Colosseum did not begin until 11 years after Vitellius gained power.
The Execution of Marshal Ney (1865)
| | |
| --- | --- |
| Date Completed | 1865 |
| Medium | Oil on canvas |
| Dimensions | 65 cm x 104 cm |
| Current Location | Museums Sheffield, UK |
This picture, which has been hailed as one of Gérôme's most unexpected works, best exemplifies his vibrant imagination. Marshal Ney, one of Napoleon's most valiant and faithful generals, falls face down in the dirt in the foreground. Nevertheless, soon after the Battle of Waterloo, he was found guilty of treason by the new Administration and executed in a dismal part of Paris. Gérôme concentrated on Ney's physique, hands, and suit, while the excellent details in the dirty wall and muddy foreground just accentuate the General's fall from favor.
Yet, in the background, the brushstrokes are less finely drawn, representing the motion of the killing squad and contributing to the scene's feeling of realism.
Gérôme once again concentrates on the period following a significant event in self-conscious defiance of tradition. Gérôme's discovery of a new form was critical to his significance as an artist, especially considering that, by the mid-19th century, French artwork was on the verge of a new epoch.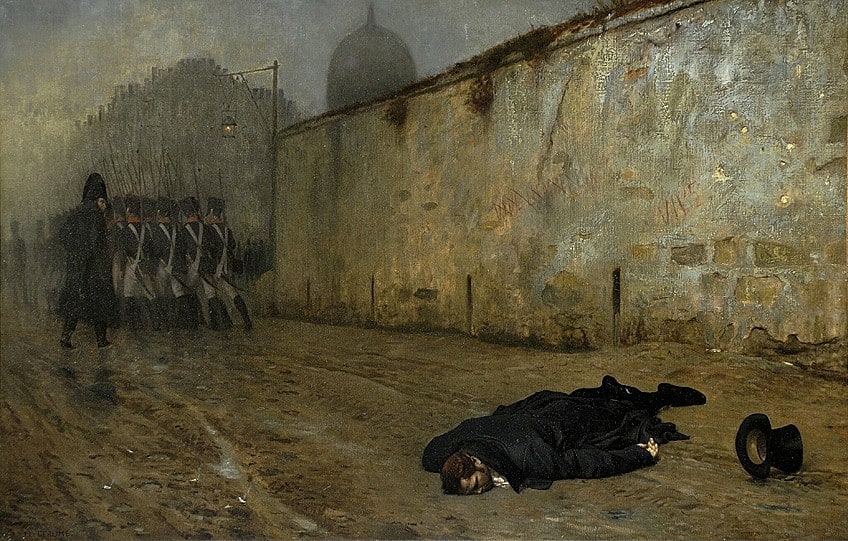 The Execution of Marshal Ney (1865) by Jean-Léon Gérôme, located in the Museums Sheffield, United Kingdom; Jean-Léon Gérôme, Public domain, via Wikimedia Commons
Realists like Jean Francois Millet, Gustave Courbet, and Rosa Bonheur had previously eschewed outside influences as well as historical and mythical subjects in favor of natural representations. Though they continued to utilize traditional painting techniques, painters such as Édouard Manet began to dabble with more impressionistic styles. Furthermore, Manet's A Bar at the Folies-Bergère would soon alter the course of contemporary art.
The Impressionists sparked a sensation among the art establishment when they were first shown at the Salon in 1882, presenting a questionable morality to the domain of high art since the Folies-Bergère was a known hotspot for meeting up prostitutes.
History paintings were being pushed off their pedestal, and viewers demanded new methods to observe and understand the present. For those who remained involved in historical painting, "the facts" were no longer sufficient, and they sought a new depth of psyche and drama. While a few sympathetic commentators saw a terrifying melodramatic frisson in Gérôme's detailed deadpan, most criticized him for ignoring everything big, heroic, and pitiful about the topic.
Gérôme's painting was an avoidance by emphasizing the drama's ignoble consequences rather than its passionate culmination. Indeed, these forms of critique were based on the assumption that historical artists should be dependable and diligent if they were to earn that noble position.
The Death of Caesar (1867)
| | |
| --- | --- |
| Date Completed | 1867 |
| Medium | Oil on canvas |
| Dimensions | 85 cm x 145 cm |
| Current Location | The Walters Art Museum, Baltimore |
This painting quickly became one of America's beloved Gérôme works. The piece depicts the immediate wake of the Roman Emperor's murder, with his happy assassins dancing away from the body, hands aloft. We witness an accurate representation of the art, statues, and architecture that Gérôme investigated while in Rome. The scene, situated in Pompeii's Theatre, was performed unusually for the time: the topic of the performance, while prominent, is subordinate to the activity of the conspirators.
While the story is concentrated on the gang of joyous knifemen, Caesar's corpse is discarded in the shadows to the left of the canvas.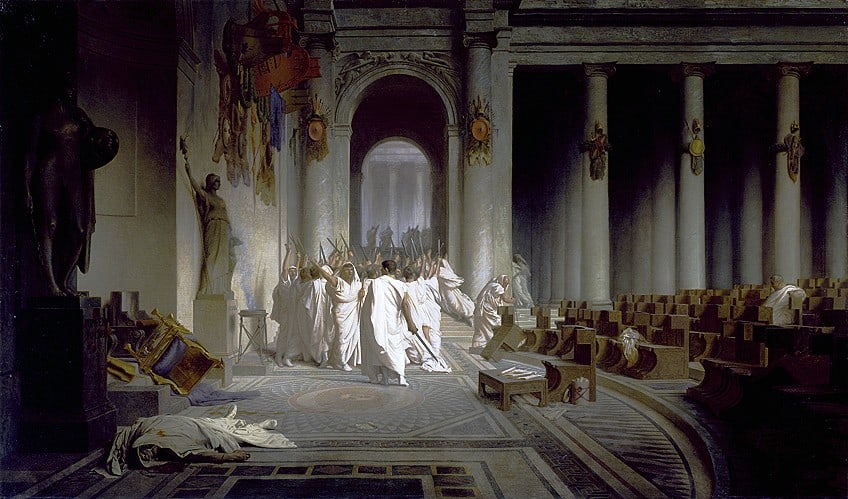 The Death of Caesar (1867) by Jean-Léon Gérôme, located in the Walters Art Museum in Baltimore, United States; Jean-Léon Gérôme, Public domain, via Wikimedia Commons
This composition influenced other historical artists. "Its evocative force and flawless grasp of visual theater, marked by the beloved device of the center emptiness, was to be a lasting impact on the way subsequent artists represented and structured drama," Des Cars wrote.
Even a skeptic like Baudelaire was captivated. He commented: "This time, clearly M Gérôme's mind has been swept away! This method of delivering the information has been criticized, although it deserves high acclaim. The impact is really potent." John Taylor Johnston, an American art connoisseur, brought the painting.
Recommended Reading
In this article, we explored Jean-Léon Gérôme's biography and art. If you are keen to take a deeper look at Jean-Léon Gérôme's paintings, then check out these books. They all offer insight into Jean-Léon Gérôme.
Cours de dessin (2019) by Charles Bargue
Between 1866 and 1871, Goupil & Cie published the Jean-Léon Gérôme and Charles Bargue drawing course, which consisted of 187 separate lithographs intended for copying by pupils in atelier art schools. Many notable painters, including Van Gogh, Picasso, and John Singer Sargent, reproduced these images as part of their art education. This book comprises 130 pictures from the drawing course's sections I through III.
Contains 130 illustrations from parts I and III of the drawing course
Printed on high quality paper and extremely lightweight
Perfect for training yourself how to draw
View on Amazon
Gerome: 70 Artworks (2020) by Jean-Léon Gérôme
Jean-Léon Gérôme was a French painter and sculptor who specialized in historical subjects. Academic realism may be found in Gérôme's work. Pollice Verso, a work from 1872, is regarded as one of the most remarkable works on warriors and the picture that has formed today's thoughts about gladiatorial battles. Gérôme had conducted a significant study and thoroughly analyzed armor unearthed in Pompeii, thus his picture is based on the current level of research. Although the armor arrangement is incorrect according to current understanding, Pollice Verso correctly conveys the mood of the critical moment: an eager audience judged the ultimate sentence for those about to die beneath the light filtered by the awning.
Fantastic collection of some of Gérôme's works
76 pages of Gérôme's artworks and paintings
Annotations accompany each artwork listed
View on Amazon
Gérôme's boundless energy, lengthy career, and widespread appeal resulted in a massive body of work that is now housed in museums and private collections all over the world. His meticulously studied and finely detailed pictures of warrior combats, chariot racing, slave auctions, and a variety of other historical themes left a lasting influence on popular culture. His works were so frequently reprinted that by 1880, he had become "probably the world's most recognized living artist." His output encompassed historical art, Greek myth, Orientalism, portraiture, and other topics, bringing the academic art style to an aesthetic apex. He is regarded as one of the most prominent artists of this epoch. He was also a lecturer with a large student body.
Frequently Asked Questions
Who Was Jean-Léon Gérôme?
When Jean-Léon Gérôme first traveled to Egypt, he was captivated by what he observed and started creating the Orientalist works for which he is today known. Gérôme's work covered a wide range of topics, including antiquity, Greek myths, and portraits, many of which featured his typical luxurious feminine nudity. He was praised for his ability to depict theatrical story situations with glowing people; some of his creations were so effective that he reused them in many incarnations. Gérôme also made beautiful figural sculptures from metal, ivory, precious stones, silver, and gold. Gérôme was one of the most officially recognized French artists of his period, having trained at the École des Beaux-Arts as well as under Charles Gleyre and Paul Delaroche.
What Is Jean-Léon Gérôme's Art Style?
French painter and sculptor Jean-Léon Gérôme worked in the academicism movement. His body of work included a wide range of topics, including historical paintings, Orientalism, portraits, and other themes, reaching an aesthetic high point for the academic art genre. He is regarded as one of this academic era's most significant artists. He had a large student group and was also a teacher.
Isabella studied at the University of Cape Town in South Africa and graduated with a Bachelor of Arts majoring in English Literature & Language and Psychology. Throughout her undergraduate years, she took Art History as an additional subject and absolutely loved it. Building on from her art history knowledge that began in high school, art has always been a particular area of fascination for her. From learning about artworks previously unknown to her, or sharpening her existing understanding of specific works, the ability to continue learning within this interesting sphere excites her greatly.
Her focal points of interest in art history encompass profiling specific artists and art movements, as it is these areas where she is able to really dig deep into the rich narrative of the art world. Additionally, she particularly enjoys exploring the different artistic styles of the 20th century, as well as the important impact that female artists have had on the development of art history.
Learn more about Isabella Meyer and the Art in Context Team.
Cite this Article