William-Adolphe Bouguereau – Famous Bouguereau Paintings
William-Adolphe Bouguereau was an academic artist from France who specialized in mythical themes and modern adaptations of traditional topics, with a focus on the female human figure. Throughout his life, he was popular in the United States and France, and several official distinctions and top awards were awarded to him. The Impressionist avant-garde despised William-Adolphe Bouguereau's paintings and viewed him as the archetypal salon artist of his period. Let us find out why by taking a look at William-Adolphe Bouguereau's biography and art.
A Look at William-Adolphe Bouguereau's Biography
| | |
| --- | --- |
| Nationality | French |
| Date of Birth | 30 November 1825 |
| Date of Death | 19 August 1905 |
| Place of Birth | La Rochelle, France |
Few painters of the modern era have had such contrasting financial and critical successes during and after their lives. In his day, the Neoclassical artist William-Adolphe Bouguereau was among the most renowned and marketable painters in the Western world, having received official praise and awards, being extremely beloved by the art-buying aristocracy, and being a renowned and adored instructor. His mythical and religious motifs, classic nudes, and Naturalist-influenced depictions of the poor peasant lifestyle were created at a breakneck pace for an insatiably hungry public.
Temptation (1880) by William-Adolphe Bouguereau; William-Adolphe Bouguereau, Public domain, via Wikimedia Commons
However, as academic art became less popular with art critics and scholars in the years after his passing, his image was substantially diminished, in some instances to that of an institutional hustler, flinging out lifelessly flawless figures and pietàs for a naïve middle-brow public. In retrospect, this latter version is unjust: a phenomenally accomplished designer capable of magnificent figurative works, Bouguereau's preferences were merely more conventional, his approach toward his job more opportunistic and utilitarian than those of his avant-garde contemporaries.
Childhood
William-Adolphe Bouguereau first lived in La Rochelle, a predominantly Protestant town on France's southwestern coast. His father was a reasonably prosperous olive oil and wine trader who was also a Roman Catholic, whereas his mother came from a middle-class Calvinist background. They compromised on their family's religious education by raising their boys as Catholics and their girls as Protestants. Bouguereau had a restrictive childhood, yet he acquired a great attachment to his coastal house and its local traditions that lasted the rest of his life. He was taken to stay with his uncle, a Catholic priest, when he was 12, presumably to prepare him for a career in the Priesthood.
Bouguereau was introduced to classic literary works, outdoor trips, and a new level of familial devotion at this time, which he subsequently described as the happiest moment of his life.
Education and Early Training
Bouguereau was taken to the Catholic college in Pons a few years after moving in with his uncle to finish his religious and academic studies. Louis Sage, a disciple of the famous Neoclassical artist Jean-Auguste-Dominique Ingres, taught Bouguereau in drawing at Pons, but his training was disrupted by his father, who requested that he rejoin the family at their new residence in Bordeaux, in south-east France. Here, William-Adolphe met Charles Marionneau, a local painter and historian who assisted him in gaining entrance to the Municipal School of Painting and Drawing.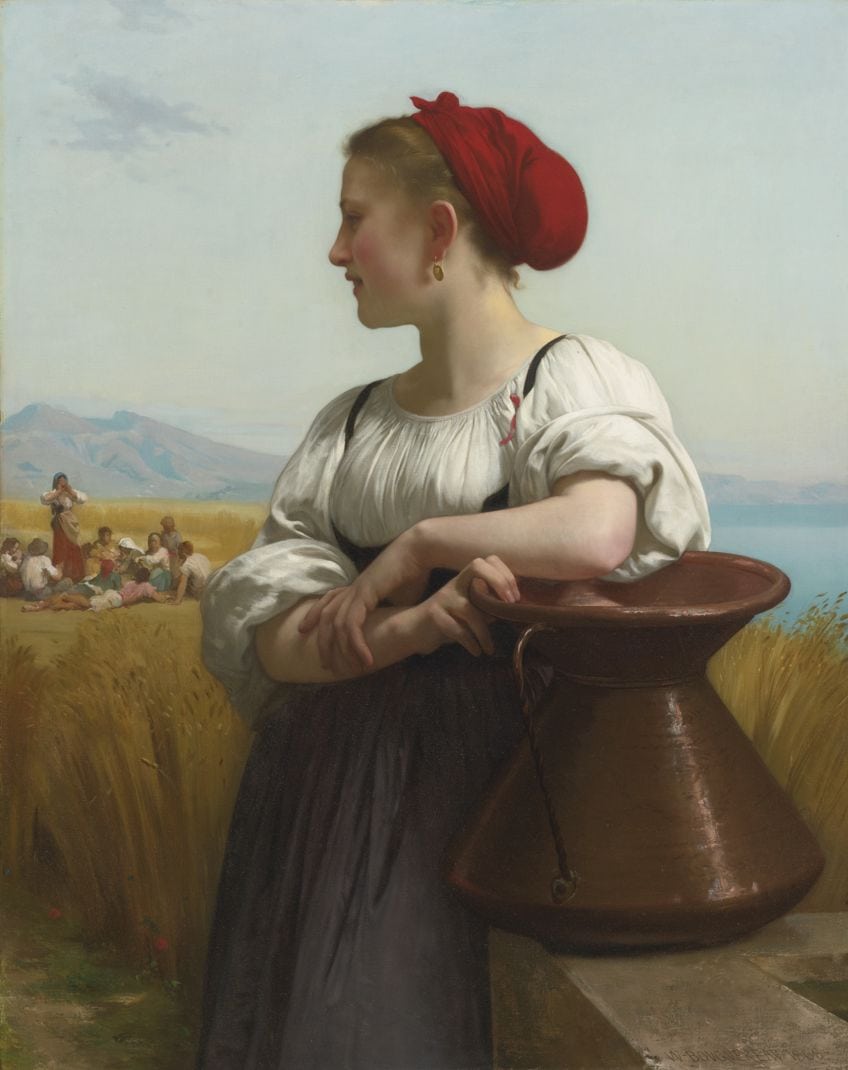 Moissonneuse (1886) by William-Adolphe Bouguereau; William-Adolphe Bouguereau, Public domain, via Wikimedia Commons
Despite being pressed to help his father's company, Bouguereau continued his creative education, funding his studies by making hand-colored lithographs for grocery items. He thrived in this mercenary profession, finally earning enough money to come to Paris at the age of 20 in 1846. Bouguereau was requested to study under the acclaimed Neoclassical artist François-Édouard Picot after receiving a reference from the Municipal School in Bordeaux. Bouguereau and the other pupils in Picot's workshop focused on the fundamentals of figurative drawing and painting, employing lithographs, plaster casts, and live subjects.
Despite barely making ends meet, he was accepted to the famous École Royale des Beaux-Arts, whose curriculum included painting, perspective, anatomy, antiquities, history, and sculpture.
Bouguereau's ambitious goal was to win the Grand Prix de Rome, an award for exceptional young painters that provided a scholarship to the French Academy at the Villa Medici in Rome. After two failed tries, he finally succeeded with the large historical artwork Zenobia Found by Shepherds on the Banks of the Arax (1850), based on a topic already explored by Nicolas Poussin. In January 1851, Bouguereau traveled to Rome, where he spent the next several years honing his technical talents and researching art collections, cathedrals, architecture, and sculpture across the Italian peninsula. When his grant ended in 1854, he returned to La Rochelle instead of traveling to Paris.
Mature Period
After his early experiences in Italy, Bouguereau's profession was marked by the never-ending accumulation of acclaim and commissions, as well as the yearly exhibition of Bouguereau paintings at the Salon de Paris. He remained steadfastly committed to the Neoclassical style in which he had been schooled, and the exhibition of his works at the Salons sparked huge interest from both middle and upper-class clientele, as well as prospects to adorn churches and state buildings. In 1856, he received a commission from Emperor Napoleon III, for whom he painted the unabashedly promotional piece Napoleon III Visiting the Floods of Tarascon (1856), depicting the emperor's humanitarian journeys to flood-ravaged parts of the Loire and Rhône Valleys.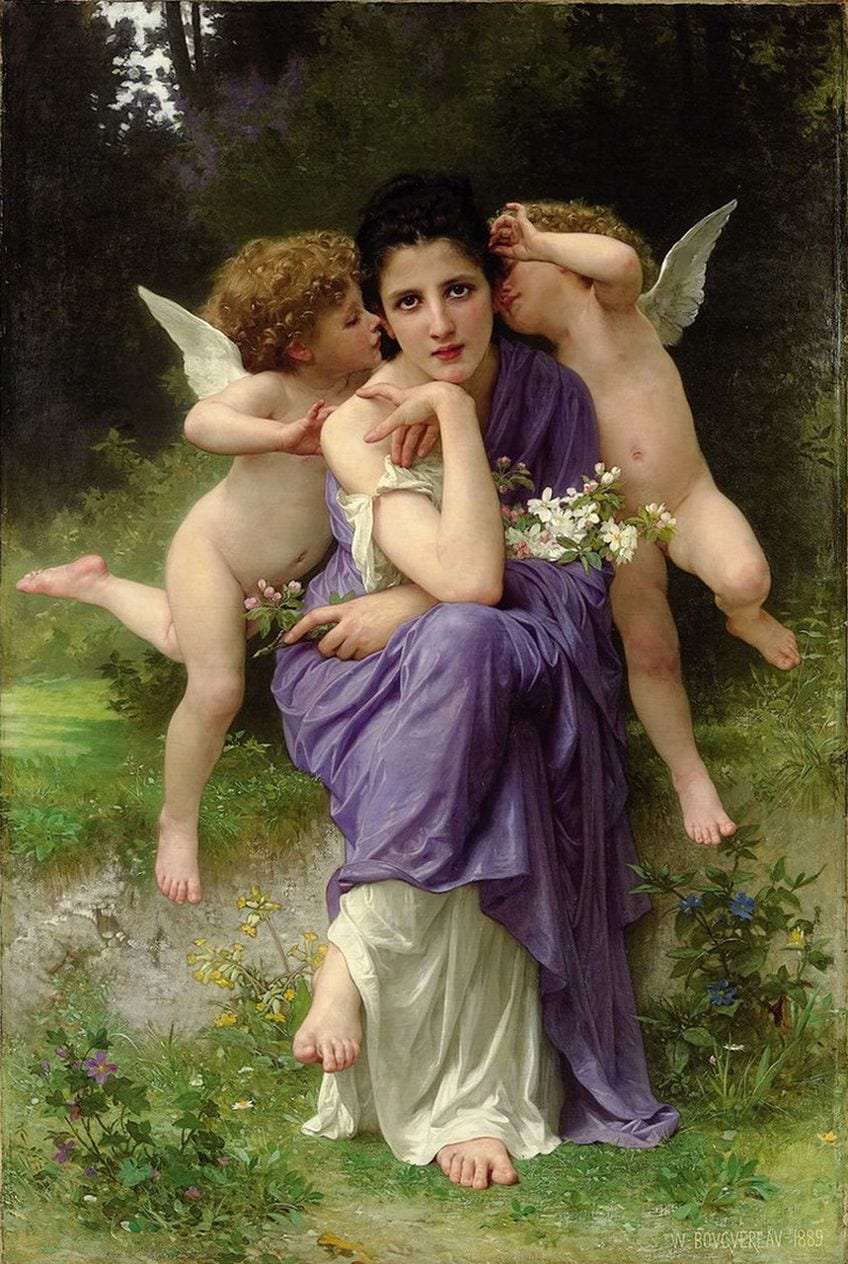 Chansons de printemps (1889) by William-Adolphe Bouguereau; William-Adolphe Bouguereau, Public domain, via Wikimedia Commons
During this time, demand for Bouguereau's paintings remained continuous, thanks in part to agreements with two major art dealers, Adolphe Goupil and Paul Durand-Ruel. Bouguereau started moving beyond large classical and historical topics in the 1860s, producing quasi-Naturalist genre settings in line with changing aesthetic trends, demonstrating his utilitarian and commercialist attitude to his works. In practice, he remained a strong protector of convention and was vital in guaranteeing that Édouard Manet's painting was excluded from the 1863 Paris Salon, along with his Neoclassical colleague Alexandre Cabanel.
This resulted in the formation of the Salon des Refusés, which is frequently regarded as the birthplace of avant-garde art.
Bouguereau started a romance with his 19-year-old sitter Nelly Monchablon in 1856, with whom he had three children before their wedding in 1866, and another two afterward. He had a magnificent residence and workshop in Paris's Montparnasse quarter and spent the summers with his family in La Rochelle, where he frequently took local decorating orders. Bouguereau maintained a mostly apolitical position throughout his lifetime but became politically involved outside of painting twice, associating himself with the powers of the French elite on both occasions.
Late Period
While his professional life was defined by achievements – he was given lifelong membership in the Academy in 1876 – his personal life was marred by tragedy. Several of his offspring died as babies, and their mother passed away in 1877, experiences that prompted him to create a sequence of solemn religious artworks. Even so, shortly after Nelly's passing, Bouguereau started a relationship with another one of his frequent models, Elizabeth Jane Gardner – also a noteworthy painter – whom he married in 1896, after a 20-year engagement (the couple was awaiting the death of William's mother, who frowned upon his remarriage).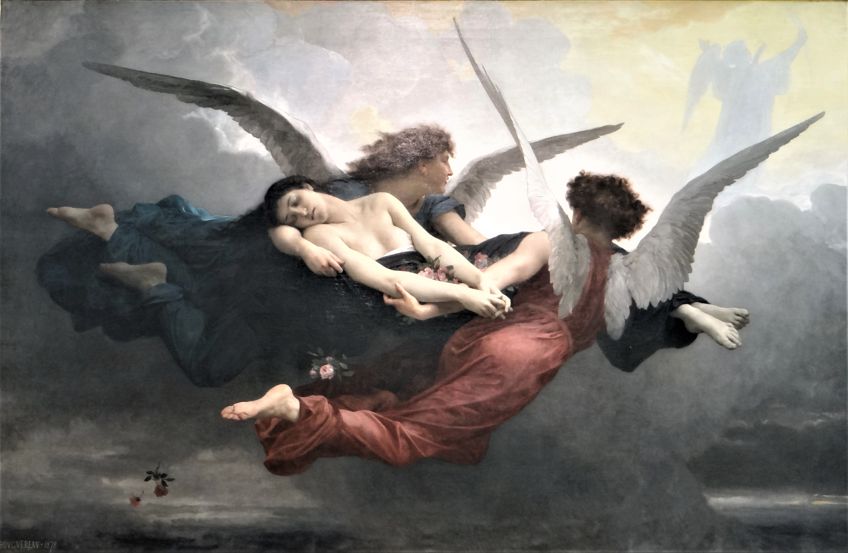 Une âme au ciel (1878) by William-Adolphe Bouguereau; MOSSOT, CC BY-SA 4.0, via Wikimedia Commons
During this time, Bouguereau's reputation grew even beyond France, and he became involved in artists' groups in Austria, Belgium, and Spain. Even in his senior years, he worked furiously, never forsaking his conventional painting skills. Bouguereau was also an ardent and prominent instructor in the last several decades of his life, instructing both female and male painters in the Academic style. Then from 1872 onwards, he lectured at the elite Académie Julian, where he became recognized for pushing for the development of female painters.
Many of his students went on to critical and commercial success, and he drew a slew of fans and imitators outside of official schooling.
Bouguereau's death in 1905 was marked by spectacular funeral parades and tributes in both La Rochelle and Paris. He is interred at Paris's Montparnasse Cemetery, with Nelly and their family. Throughout his life, he remained devoted to his art, stating, "every day I go to my workshop full of delight; in the evening when I am forced to quit because of darkness, I can barely wait for the following morning to dawn. if I cannot commit myself to my beautiful painting, I am wretched".
Legacy and Accomplishments
The popularity of Impressionism throughout the 20th century, as well as the Impressionists' opinions about Bouguereau's paintings, help explain Bouguereau's posthumous decline. More broadly, the emergence of avant-garde developments in the second half of the 19th century put in place a new conceptual framework in which artists characterized themselves against the Neoclassical specifications of the Academy, which meant that some of the most popular painters of the subsequent generation scorned his Academy-approved artwork. He notoriously chastised one of his pupils, Henri Matisse, for his inability to sketch, while another one, Edgar Degas, described a fussy, overblown piece as "bouguerated".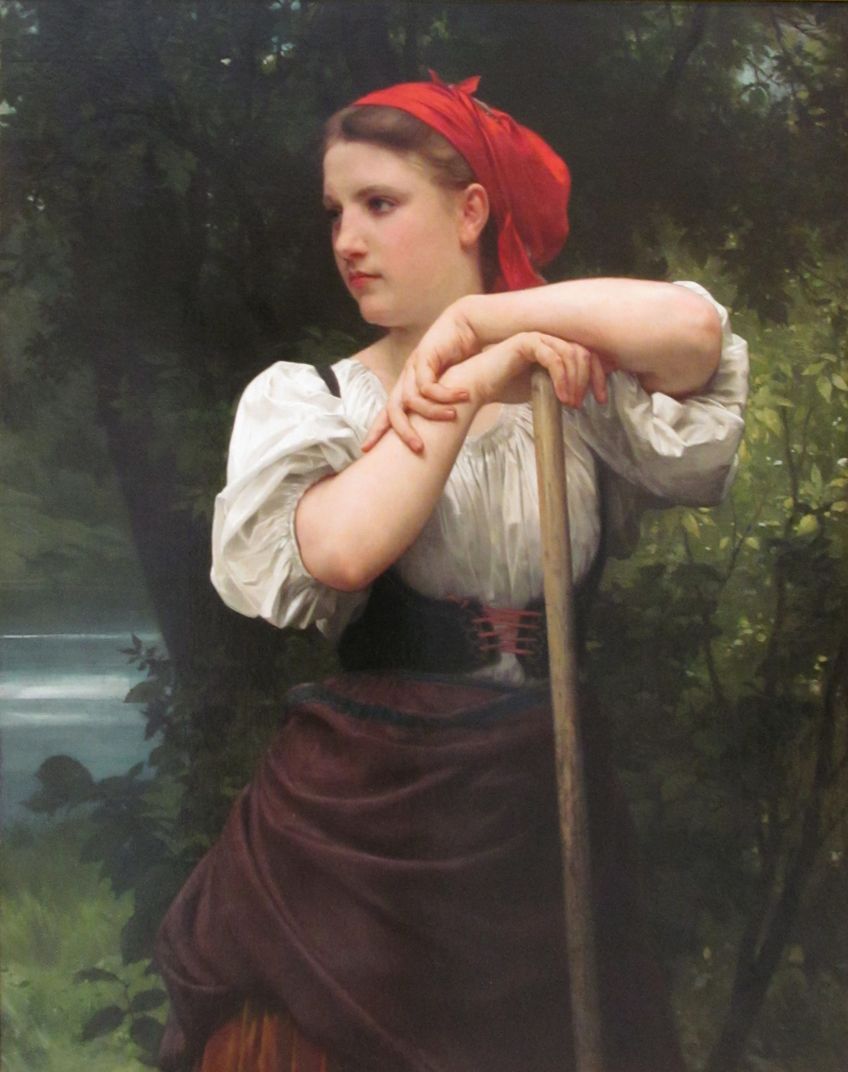 Peasant Woman (1869) by William-Adolphe Bouguereau; William-Adolphe Bouguereau, Public domain, via Wikimedia Commons
Legacy
The same counter-cultural forces fought Bouguereau's Neoclassical colleagues Jean-Louis-Ernest Meissonier and Alexandre Cabanel's reputation. To be charitable to his detractors, Bouguereau definitely had a pragmatic approach to the emotive works he created with factory-line precision. These were commercial artworks, created in response to a demand from the middle and upper classes for depictions of idealized feminine elegance, enthralling mythology, rustic rural life, and youthful purity. However, because of his image as a bulwark of bourgeois taste, the more innovative parts of his work and life were disregarded.
He was passionate about mentoring new painters at the Académie Julian, for instance, and, unlike his predecessors, he was enthusiastic about the training of female artists.
In the 1970s and 1980s, there was revived interest in Bouguereau's paintings, with major exhibits in Montreal, New York, and Paris. Several monographs and revisionary scholarly essays published around the same period shed new light on his effect on 19th-century art in the United States and France. His works are currently fetching great sums at auction and are still in private hands. Given his enormous success throughout his lifetime, it is natural that a number of his paintings appear on posters, greeting cards, and calendars, with pictures such as Cupid and Psyche (1890) flooding present Western society while the artist's name remains unknown.
William-Adolphe Bouguereau's Accomplishments
Bouguereau has the unusual distinction of being most known for his clashes with other painters, specifically the Impressionists and other late-19th-century avant-garde groups. He derided them for their inadequate technical expertise, while they despised Bouguereau's fussy, exacting style. "As for the Pointillists, Impressionists, and so on, I cannot debate them since I do not perceive the way they perceive, or pretend to", the artist once said. Louis de Fourcaud, a Naturalist critic, argued that "in his observations of the natural world, Bouguereau is constantly the victim of his ambition to advance it".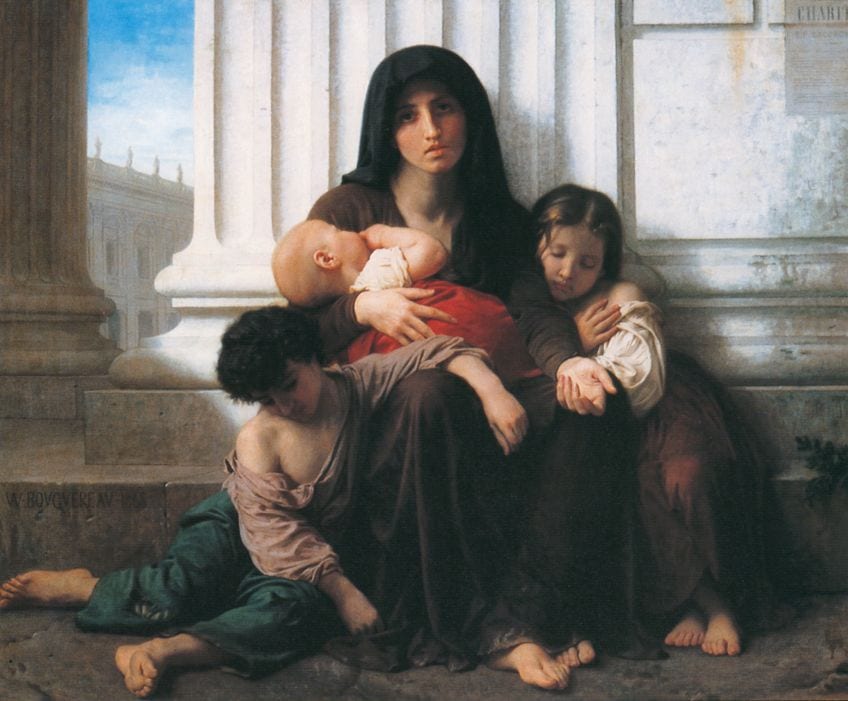 Indigent Family (1865) by William-Adolphe Bouguereau; William-Adolphe Bouguereau, Public domain, via Wikimedia Commons
Bouguereau was a leader of a late school of Neoclassical artists working from the 1850s through the 1890s, including artists such as Jean-Louis-Ernest Meissonier and Alexandre Cabanel. Despite the emphasis dedicated to Impressionism and other advancements in experimental painting during this era, these painters were significantly more successful, with Bouguereau being acclaimed for his technical prowess of the traditional nude, among many other things. Despite his image as a reactionary, Bouguereau was a revered and – by all accounts – a supportive instructor, whose greatest enduring cultural impact was his constant championing of female art students' instruction at the Académie Julian.
A former pupil, the American artist Edmund Wuerpel, regarded Bouguereau as always compassionate, always fair, never uttering anything he did not truly mean. "Listening to him was both a joy and a luxury".
William-Adolphe Bouguereau's Art Style and Paintings
Bouguereau was a strict traditional artist whose realistic genre works and mythical themes were contemporary adaptations of Classical topics, with a strong focus on the female human figure. Despite the fact that he constructed an idealized universe, his virtually photorealistic technique proved popular with wealthy art consumers. He was well-known at the time, but his subject matter and techniques have received less attention in comparison to the Impressionists. In his paintings, Bouguereau employed well-established and traditional methods. He did intricate oil and pencil sketches.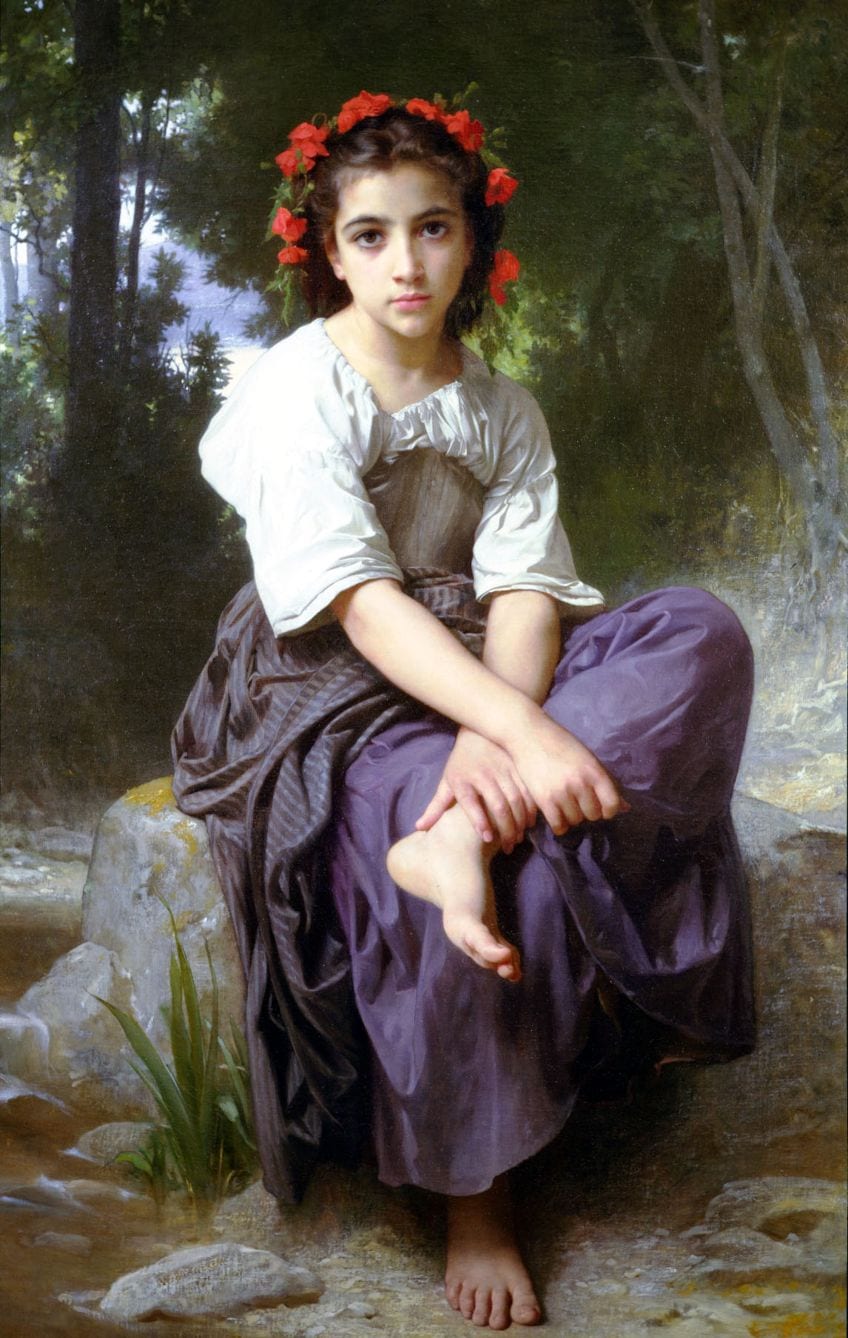 At the Edge of the Brook (1875) by William-Adolphe Bouguereau; William-Adolphe Bouguereau, Public domain, via Wikimedia Commons
Bouguereau's attention to detail resulted in realistic renderings of the human figure; he was particularly skilled at painting feet and hands. Bouguereau's portraits frequently depicted naked women in rural and domestic situations. This romanticization piqued the interest of affluent American collectors in particular. Bouguereau's paintings had a polished, academic style that contrasted significantly with the Impressionist movement, which advocated the concept that artists could paint expressively without the restrictions of reality.
Critical Reception of William-Adolphe Bouguereau's Portraits and Other Works
Even during his lifetime, there was disagreement over his works; art critic Richard Muther stated in 1894 that Bouguereau was a person "devoid of creative emotion but endowed with an educated taste who displays in his pathetic mawkishness, the inevitable collapse of the ancient schools of tradition". In 1926, art historian Frank Jewett Mather critiqued Bouguereau's commercial intentions, stating that the painter had multiplied ambiguous, pink shrines of nymphs, adorned them when they became paragons of virtue, painted on the large scale that dominated exhibitions, and had reaped his reward.
He was persuaded that Bouguereau's nakedness was staged to appeal to the aspirations of a New York stockbroker.
In 1891, Bouguereau admitted that the course of his mature works was mostly influenced by the consumer market: "What do you think, you have to cater to public opinion, and the audience only buys what they like? As a result, my painting style evolved throughout time". Bouguereau dropped out of favor after 1920, owing in part to shifting preferences. When compared to his Impressionist and Realist peers, Kenneth Clark criticized Bouguereau's paintings for "lubricity", describing Salon art as shallow, utilizing the "norm of smoothed-out shape and waxen gloss".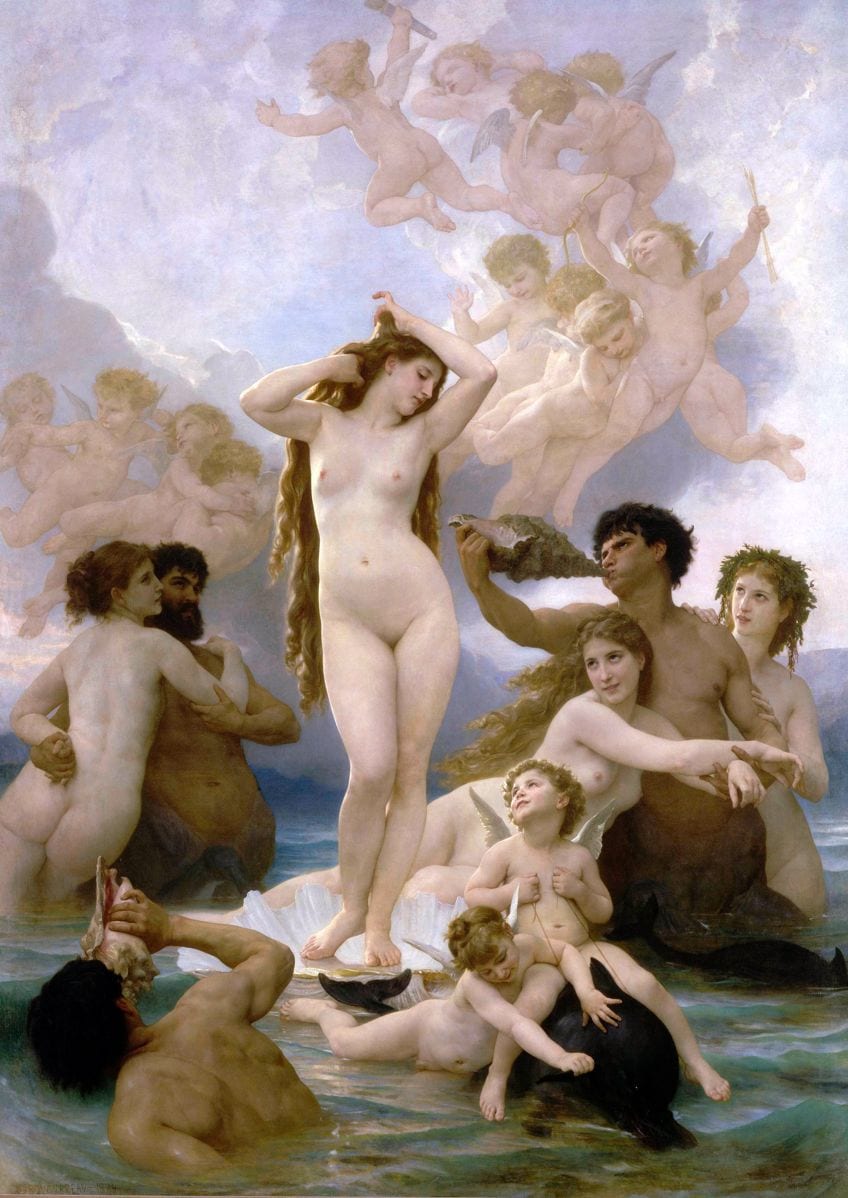 The Birth of Venus (1879) by William-Adolphe Bouguereau; William-Adolphe Bouguereau, Public domain, via Wikimedia Commons
In 1974, the New York Cultural Center mounted a display of Bouguereau's portraits and other works, ostensibly as a curiosity, but organizer Robert Isaacson had his sights set on the long-term restoration of Bouguereau's reputation and legacy. The Borghi Gallery staged a commercial exhibition of more than 20 oil paintings and one sketch in 1984. The Montreal Museum of Fine Arts in Canada hosted a big exhibition the same year. The show began at the Musée du Petit-Palais in Paris, then moved to The Wadsworth Atheneum in Hartford before concluding in Montréal. In more recent times, a revival in the artist's reputation has been pushed by American collector Fred Ross, who owns a handful of Bouguereau paintings and showcases him on his site at Art Renewal Center.
Notable William-Adolphe Bouguereau Paintings
Bouguereau's work includes several portraits as well as hundreds of contemporary renditions of classical topics. Bouguereau's renowned works mirrored the shifting preferences of the times and covered many various genres as a traditional painter and one of the early modern painters. He was well-regarded in the academic world of art, but he was chastised by the Impressionist avant-garde, which included Paul Gauguin, Edgar Degas, and Vincent van Gogh. Here are some of his most notable artworks.
| | | | |
| --- | --- | --- | --- |
| Artwork | Date | Medium | Current Location |
| La Danse | 1856 | Oil on canvas | Musée d'Orsay, Paris |
| Alone in the World | 1867 | Oil on canvas | Private Collection |
| The Knitting Girl | 1869 | Oil on canvas | Joslyn Art Museum, Omaha |
| Nymphs and Satyr | 1873 | Oil on canvas | Clark Art Institute, Williamstown, Massachusetts |
| Flora and Zephyr | 1879 | Oil on canvas | Musée des Beaux-Arts, Mulhouse, France |
| Song of the Angels | 1881 | Oil on canvas | Forest Lawn Museum, Glendale, California |
| The Return of Spring | 1886 | Oil on canvas | Joslyn Art Museum, Omaha |
Recommended Reading
This article has covered William-Adolphe Bouguereau's biography and art style. There is plenty more to discover when it comes to Bouguereau's artworks, so why not learn more by purchasing a book about the artist? Here are a few great recommendations for you.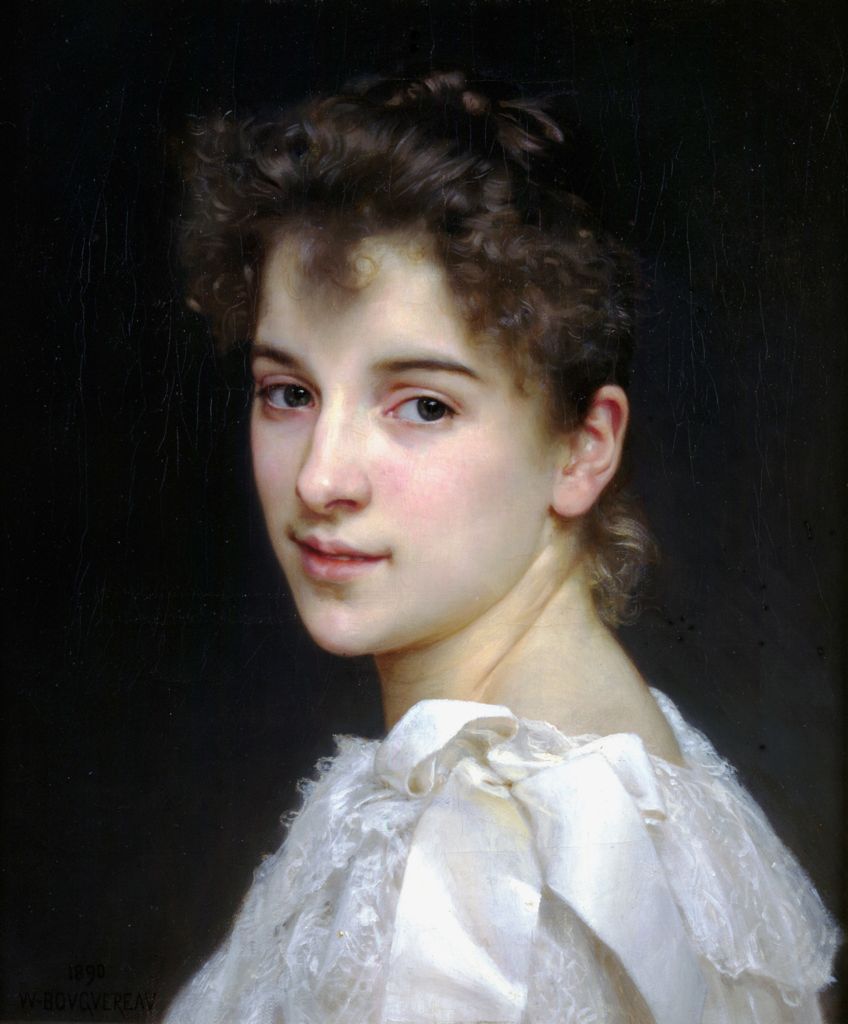 Gabrielle Cot (1890) by William-Adolphe Bouguereau; William-Adolphe Bouguereau, Public domain, via Wikimedia Commons
Bouguereau (1996) by Fronia E. Wissman
Adolphe-William Bouguereau created works that are ageless in their physical, emotive, and intellectual value. He studied at the Ecole des Beaux-Arts in Paris and went on to become a highly sought-after portraitist, exhibiting at the Salon and winning medals in numerous international exhibits. Fronia E. Wissman's Bouguereau provides perceptive and fascinating insights into the art, career, and family life of this great artist, whose magnificent works of a finer, refined time and place continues to captivate contemporary audiences. It's the perfect read for anyone wanting to discover more about the artist's life and works.
A collection of timeless works of sensual and emotional appeal
The author offers astute and illuminating insights into his life
Offers a contemporary take on these timeless classics
View on Amazon
The Art of Man – Volume 2 (2014) by Robert Adamcik
This eBook aims to balance out a field of art that heavily emphasizes the female body. We showcase artists that are bold enough to devote a large section of their portfolio to the masculine form. We provide you in-depth insights into their mental processes, decisions, problems, and inventiveness in a manner that no book on the topic can; a feast for the figurative art aficionado. Artists such as Adolphe-William Bouguereau were well-known for their portrayals of the human form.
An eBook that brings a male balance to a predominantly female genre
Includes in-depth interviews about the artists' processes
A must-have book for any art lover
View on Amazon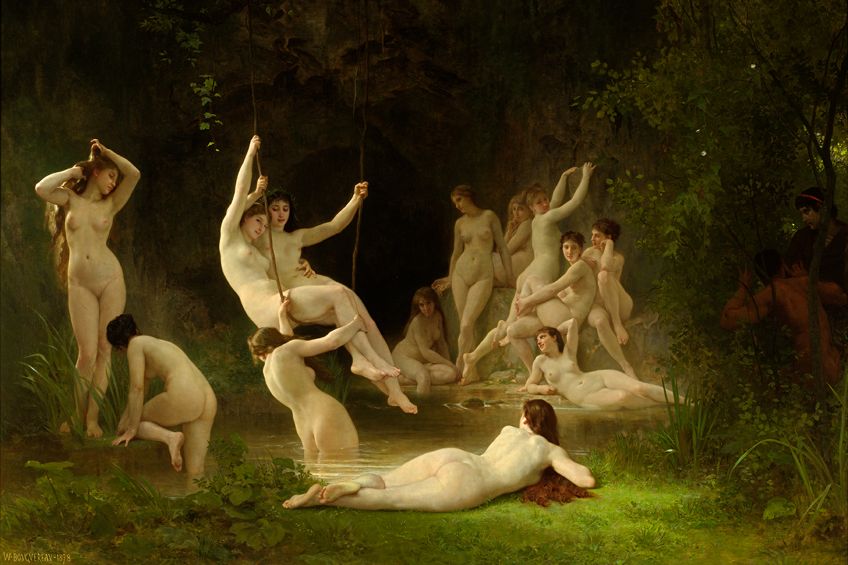 The Nymphaeum (1878) by William-Adolphe Bouguereau; William-Adolphe Bouguereau, Public domain, via Wikimedia Commons
Adolphe-William Bouguereau's intellectual approach was both admired and derided. In his own lifetime, the Academic art establishment regarded Bouguereau as one of the world's best artists, while the avant-garde despised him. Receiving contracts to adorn public buildings, private homes, and churches was one of the benefits of adhering to the Academic style and performing well in the Salons. As was characteristic of these engagements, Bouguereau would create in his own manner at times and adhere to an existing group style at others.
Take a look at our William-Adolphe Bouguereau paintings webstory here!
Frequently Asked Questions
What Characterized Adolphe-William Bouguereau's Career?
Bouguereau's career was practically straightforward with few setbacks. To many, he represented taste and elegance, as well as a reverence for tradition. Others saw him as a capable technician caught in the old era. According to Fred Ross, Monet and Degas apparently designated him as the most likely artist to be recognized as the finest 19th-century French artist by the year 2000 in 1900 – though, with Degas' renowned poignant wit and the artistic tendencies of the two Impressionists, it is plausible the comment was intended as an ironic statement on the forthcoming public's taste.
How Were Adolphe-William Bouguereau's Received at the End of His Career?
American aristocrats regarded Bouguereau as the most prominent French painter of the day and enthusiastically purchased his paintings. However, after 1920, Bouguereau fell out of favor, owing to shifting preferences and his vehement resistance to the Impressionists, who were gradually gaining respect. His name was not even referenced in encyclopedias for years after that.
Isabella studied at the University of Cape Town in South Africa and graduated with a Bachelor of Arts majoring in English Literature & Language and Psychology. Throughout her undergraduate years, she took Art History as an additional subject and absolutely loved it. Building on from her art history knowledge that began in high school, art has always been a particular area of fascination for her. From learning about artworks previously unknown to her, or sharpening her existing understanding of specific works, the ability to continue learning within this interesting sphere excites her greatly.
Her focal points of interest in art history encompass profiling specific artists and art movements, as it is these areas where she is able to really dig deep into the rich narrative of the art world. Additionally, she particularly enjoys exploring the different artistic styles of the 20th century, as well as the important impact that female artists have had on the development of art history.
Learn more about Isabella Meyer and the Art in Context Team.
Cite this Article