Tony Oursler – Looking at the Best Tony Oursler Artpieces
Tony Oursler is a prominent installation and multimedia artist, who began to produce artworks that were inspired by mass-media influences at the start of the 1980s. Oursler is perhaps best known for his integration of different artistic mediums such as sculpture, performance, and video, as his artworks cover a wide range of styles. Today, he currently resides in New York City, where he continues to produce his quirky artworks.
Tony Oursler Biography
Tony Oursler (born 1957) is a notable American contemporary artist who was born in Manhattan and grew up in Nyack, New York. Oursler attended the California Institute of the Arts and graduated with a Bachelor of Fine Arts in 1979. Upon the completion of his degree, he began creating works that firmly established himself in the art scene, and at the beginning of the 1980s, Oursler returned from California to the East Coast to open up his own studio in New York.
Whilst studying, Oursler was greatly influenced by the artworks created during the Conceptual movement, which led to him collaborating on early projects with fellow artists John Baldessari, who taught him at university, as well as Mike Kelley.
In his own creations, Oursler has demonstrated an embrace of the Conceptual movement's philosophy that typically began with and placed initial focus on an idea, before progressing to a more conventional expression of the idea.
When beginning his artistic career, Oursler displayed a fascination surrounding the narrative possibilities of images and the related power that language held. He based his interest in storytelling on the influence of the television and the moving images that began to pervade society, as he contemplated the relationships that society was starting to form with these elements of popular culture.
 A photograph of Tony Oursler at his exhibition, Probe: UFOs and Effigies exhibition in 2013; Columbia GSAPP, CC BY 2.0, via Wikimedia Commons
By working through a variety of mediums, Oursler broadened his understanding of what art-making could be and what was allowed to be presented in a gallery. Thus, within his artworks, Oursler managed to successfully combine multiple elements of media in order to convey an extremely crucial view of the psychological impact that mass media had on viewers.
Oursler's wide range of works includes the mediums of painting, performance, installation, and sculpture pieces. Throughout his career, Oursler has repeatedly interrogated the impact that visual technologies have had on the way that society views the world, as well as how images are essentially interpreted for mass consumption. Within his art pieces, Oursler works to raise ordinary things above their level of objectivity, which strengthens their influence on contemporary culture.
Known for incorporating a variety of influences, Oursler frequently makes use of mass media, popular culture, and consumer-driven ideas in his creations. The combination of these elements is seen through his exploration of the psychological and social relationships that he believed to exist amongst society and visual representations within technology.
Through the examination of these two roles, Oursler's art is known for its application of wittiness and irony so as to playfully yet honestly focus on the inner effects of media on the human mind.
Existing as a pioneering figure in new media, Tony Oursler's artworks have explored diverse methods of incorporating the use of video into his practice, as well as ways to break video art out of its two-dimensional sphere. Due to his popularity, his artworks are currently housed in a variety of public and private collections within America, Europe, Japan, and the United Kingdom. Today, Oursler lives in New York, where he continues to create art and put on numerous exhibitions.
Artistic Style
Oursler's artistic style is apparent across all of the mediums that he works in, although his primary medium appears to be firmly rooted in the painting and film genre. Through creating distorted and ethereal combinations of film, sculpture, and technology, Oursler is able to turn his artworks into performance pieces and installations in addition to them simply existing as a two-dimensional artwork to view.
The use of technology within Oursler's works evokes sculptural and captivating experiences that refer to the fully networked and digitalized future of images and identity creation. Through experimenting with a variety of technologies, Oursler has continued his exploration of the human mind and emotional upheavals in his often unsettling and twisted artworks.
Thus, a style that is characteristic within his works is that of topics that tend to focus on obsession, isolation, escapism, and the relationship between society and virtual platforms.
Since Oursler's career began in the early 1970s, he is considered to be an important innovator in the field of video art. A lot of his significant artworks have made use of this element, demonstrating that his style lies in exploring the potential of technological aspects that are used within art. He has credited his captivation with video and technology to be from television, as this inspired him to truly challenge and push the boundaries of what art could be.
A section of Tony Oursler's 2013 Probe: UFOs and Effigies exhibit; Columbia GSAPP, CC BY 2.0, via Wikimedia Commons
This element has allowed Oursler to explore the continually evolving world of multimedia and audio-visual practice, which he continues to make use of in his works and installations. A focal point of his artworks is the effect that they have on humanity, with Oursler making use of a cacophony of moving images and sounds that work to disorient and alarm viewers. The disorder that is created demonstrates the role that the expansion of technology plays in changing and hindering the social behaviors that are present in humans.
Other artistic elements that Oursler made use of in his artworks were animation, montage, and live-action, which he incorporated when creating a trippy fantasy world spurred on by the drama related to digital growth experienced in society. Examples include creating disfigured and motionless bodies with video projections of moving faces, projecting disjointed facial features onto walls, and juxtaposing animate and inanimate figures in a sinister way.
In doing so, Oursler has been able to explore rapid digital growth through his eerie alterations.
Well-Known Tony Oursler Artpieces
Throughout the numerous art pieces that Tony Oursler has created, many exist as significant multimedia artworks. The advancement of technology has remained a strong reference point for Oursler, as he frequently points back to this concept in the majority of his works. Within this article, a few of Oursler's notable artworks have been mentioned.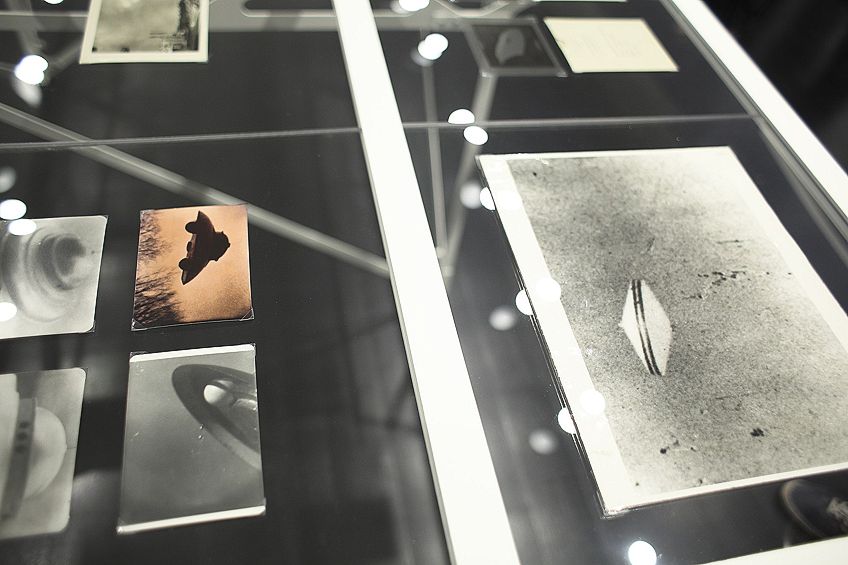 A close-up of Tony Oursler's 2013 Probe: UFOs and Effigies exhibit; Columbia GSAPP, CC BY 2.0, via Wikimedia Commons
The Watching (1991)
Known as one of Tony Oursler's early works that made use of both a video projection and installation, The Watching was created in 1991 and exists as his first video doll artwork. This work made use of handmade soft cloth figures that were merged with suggestive faces and then animated by video projections, which brought together themes of violence, sex, and the media through this low-tech and obscene depiction of a figure.
The title of the artwork refers to the fact that while audiences watch it, they are simultaneously being watched by the figure. Thus, Oursler began to incorporate his captivation with and subsequent dislike of technological surveillance in his early works, as demonstrated by this piece.
Phobic (1993)
Created in 1993, Phobic exists as a mixed media work that made use of sculpture and video installation. The works present a slack and sculptural human body accompanied by a stuffed head that hangs limply in a dark corner. Using the video element, the man's face was projected onto the space where the head should be, so as to complete the figure. When viewing this work, the form appears to be tightly squeezed into a space that it does not fit into, which adds to the unease that is created due to the disconnected video of the face.
A voice-over track appeared alongside the figure, which invoked fear in viewers, as it told a story of being buried alive and ultimately trapped. Thus, viewers were able to become active participants within the event, as the terror they felt directly commented on the complacency society displayed when watching films and television.
Oursler stated that through this interaction with the artwork, viewers were able to further engage with the moving image as it displayed genuine human emotions surrounding horror.
Underwater (Blue/Green) (1996)
Another of his famous artworks is Underwater (Blue/Green), which was created in 1996. This artwork made use of an acrylic fiberglass sphere and a videotape, with these elements being combined in order to create the performance Oursler wanted to achieve. Oursler attempted to elicit a sense of empathy from viewers by depicting a head that seemed to be gasping for breath in a frantic effort to prevent drowning.
Through projecting videos onto these three-dimensional objects that took on the form of stuffed heads, this work became a metaphor for detached and lonely individuals living in a digitally-driven culture, as well as referencing real encounters that were meant to trigger empathy and understanding in audiences.
Most Significant Exhibitions
Throughout Tony Oursler's career, his work has been displayed in many notable exhibitions around the world. He started exhibiting in 1979, which was the bridging gap between the end of his university studies and the true beginning of his career. Some notable public institutions that have housed his exhibitions include the Museum of Modern Art in New York, the Tate Modern in the United Kingdom, and the Centre Georges Pompidou in Paris. Though he has many extensive exhibitions that have taken place, some notable ones have been listed below.
Tony Oursler's exhibition, Probe: UFOs and Effigies, in 2013; Columbia GSAPP, CC BY 2.0, via Wikimedia Commons
Black Box
His most current exhibition, titled Black Box, began in January 2021 and is running until May 2021. This is Oursler's first major museum exhibition located in Asia and is staged at the Kaohsiung Museum of Fine Arts in Kaohsiung, Taiwan. This exhibition exists as the first full-scope retrospective of Oursler's lengthy four-decade career and showcases his most praiseworthy experimental films, video installations, and cinema work that he has created.
Black Box displays Oursler's fascination with esoteric phenomena and guides viewers through an image environment that explores the human psyche and spirit through realistic video sculptures, the use of satire, and references to pop culture and ambiguous modern technology.
Oursler explores the notion of two-dimensionality, as his incorporation of sculpture and performance into his artworks through the use of projectors helped him to create a distinctive and transformative three-dimensional setting for viewers to explore.
Amidst the artworks on display is GeN, which exists as Oursler's most recent series of works that was inspired by facial recognition technology. Emphasizing the rapid growth of social media, as well as public and private sector surveillance, these portraits highlight Oursler's apprehensive relationship with technology, the thought of being watched, and all areas of data tracing.
Tear of the Cloud
One of Oursler's most well-known exhibitions, which was on view during October of 2018, was located in Riverside Park South along the Hudson River in New York and was titled Tear of the Cloud. This extensive site-specific work existed as Oursler's most large-scale multimedia artwork and exhibition at the time. The artwork was comprised of five digital projections that were layered onto the 69th Street Transfer Bridge Gantry, the neighboring landscape, and the water of the Hudson River.
Oursler grew up along the banks of the Hudson River, which sparked his interest in the area's entangled cultural, ecological, and technological accounts. This was the driving force that inspired him to create an artwork that was able to sensitively dig up the various activities of that location. This exhibition remixed modern and important icons through the apparitional images that were projected, with Oursler adding an expressive soundscape to construct a striking experience that had the ability to transform Riverside Park each night.
Imponderable
Another of Oursler's notable exhibitions, which ran from 2015 to 2016, opened up to great critical praise at The Museum of Modern Art in New York and was titled Imponderable. This exhibition focused on the historical account of spiritualism within popular culture and incorporated elements belonging to spirit photography, stage magic, and aspects of the supernatural.
This exhibition offered viewers an alternate portrayal of modernism, as it revealed the intersection between technological developments and mysterious phenomena throughout the previous two centuries. Inspired by Oursler's own records of ephemera, Imponderable was a captivating feature-length film that drew on elements of manifestations of the supernatural. Characters within the film were inspired by members of Oursler's family, as well as icons like illusionist Harry Houdini, writer Sir Arthur Conan Doyle, and medium Mina Crandon.
In collecting with this exhibition, Oursler presented selections of his archived work that related to the film. Additionally, Imponderable coincided with the Tony Oursler: The Imponderable Archive exhibition, which was on view at the Center for Curatorial Studies in New York during 2016.
Other Works
Tony Oursler also collaborated on several well-known videos with his longtime friend, singer-songwriter David Bowie. Oursler made the background videos that were played at Bowie's 50th birthday party in 1997, as well as the film titled Empty, which featured Bowie's bodiless head in 2000. In addition to these works, Oursler also worked with Bowie on a video for his 2013 single "Where Are We Now?", which was put on display at the David Bowie Is exhibition organized by the Victoria and Albert Museum that same year.
Online Work
Still displaying a fascination with technology and its great advancements in his most recent works, Oursler began to experiment with the concept of exhibiting in the digital age. During the Coronavirus pandemic that happened in 2020, Oursler considered the relationship that exists between viewers and the way communication takes place, seeing as all types of interactions were switched to an online sphere during the worldwide lockdown.
The culmination of his examination of the digital world led to an online exhibition that was titled Magical Variations and occurred last year in July and August. Within this exhibition, visitors were directed to an online viewing room where they were able to browse a series of expressive artworks on paper that portrayed a combination of popular folklore, detached images, and nods to internet culture. Additionally, viewers were also able to watch accompanying videos for each work.
An important aspect of Oursler's online exhibition was the new Instagram filter that he developed with a graphic designer, called "Facewreck." The filter makes reference to facial identification technology, as it quickly shifts the viewer's facial features as well as emitting muted and harsh voices once activated.
Oursler stated that the idea behind this use of technology was to make users aware of the new type of portraiture that dominates in this new digital era, as he displayed a great interest in looking at how users view technology and the reciprocal relationship that exists between both parties.
After reading through the Tony Oursler biography above, it is clear as to why he is generally considered to be among the great forerunners of American multimedia and video art. His innovative ways of redefining moving images and installation art through the sculptures and performance pieces he has created stand testament to the great creativity he possesses. Oursler's interest in the development of technology has led to him producing truly dynamic and powerful artworks that offer social critique, which he continues to do today.
Suggested Reading
Tony Oursler exists as a fascinating artist, as his works have carried a great social impact on the modern world and its obsession with technology. If you would like to know more about the iconic Tony Oursler artpieces that went on to define his career, the following book has been suggested for its in-depth insight into the artist's works.
Imponderable: The Archives of Tony Oursler
This book features up to 1500 objects taken from Oursler's collection, including prints, photographs, rare books, historic manuscripts, letters, and other items. The topics discussed cover the different areas of interest that appear in Oursler's many artworks, such as stage magic, hypnotism, photography, demonology, technology, and the supernatural. Additionally, 13 essays written by academics are included, which provide a deeper insight into the unusual material of his works. This book is a great overview of Oursler's seemingly timeless career.
Features highlights from Oursler's incredible magic and occult collection
A beautiful publication with up to 1,500 items from Oursler's collection
13 essays by renowned art historians and specialists for deeper insight
View on Amazon
Isabella studied at the University of Cape Town in South Africa and graduated with a Bachelor of Arts majoring in English Literature & Language and Psychology. Throughout her undergraduate years, she took Art History as an additional subject and absolutely loved it. Building on from her art history knowledge that began in high school, art has always been a particular area of fascination for her. From learning about artworks previously unknown to her, or sharpening her existing understanding of specific works, the ability to continue learning within this interesting sphere excites her greatly.
Her focal points of interest in art history encompass profiling specific artists and art movements, as it is these areas where she is able to really dig deep into the rich narrative of the art world. Additionally, she particularly enjoys exploring the different artistic styles of the 20th century, as well as the important impact that female artists have had on the development of art history.
Learn more about Isabella Meyer and the Art in Context Team.
Cite this Article