In the early 19th century, painting outside, or en Plein air, became increasingly popular amongst Impressionist painters. This painting practice allowed Impressionists to capture the more ephemeral qualities of the environment. There are several different methods that Plein air artists use to capture the scene in intricate detail. Impressionists were able to reflect the effects of natural light like never before through painting en Plein air.
A Brief History of Plein Air Painting: What Is Plein Air Painting?
Painting outdoors has a long history in the art world, but it was not until the early 19th century that it became widely practiced. Before this shift, many artists mixed their own paints using raw pigments. These pigments needed to be ground and mixed into paint, so portability was inconvenient. Most painting activities were strictly confined to the studio. Plein air paintings became a viable option for many artists once tubes of paint became widely available in the 1800s.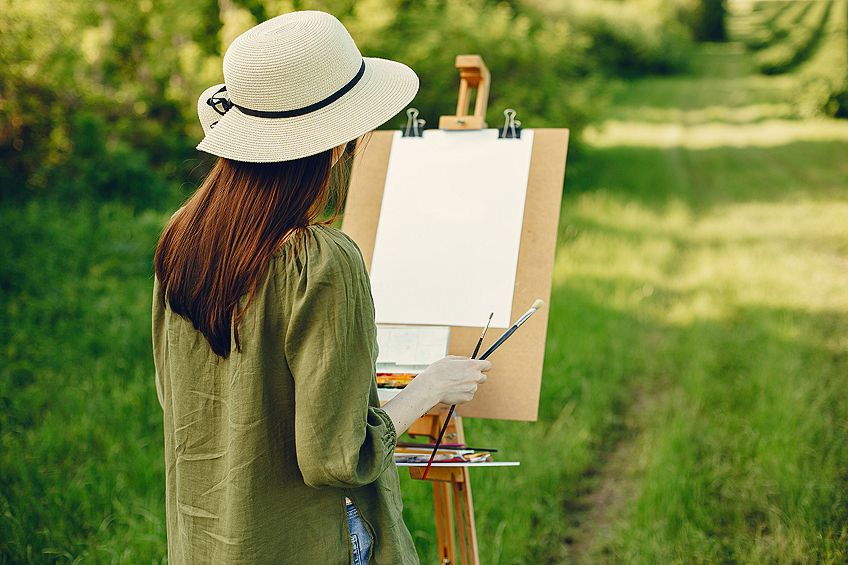 French Impressionists and Plein Air Paintings
The Barbizon school of art in France was central to the rise in popularity of painting en Plein air. Barbizon artists like Theodore Rousseau and Charles-Francois Daubigny were proponents of this style of painting. By painting outside, these artists could capture how the weather changes light's appearance in an environment.
In the 1860s, Pierre-Aguste Renoir, Claude Monet, Frederic Bazille, and Alfred Sisley met when studying under Charles Gleyre. These four artists discovered a common passion for painting scenes from contemporary life and landscapes. This group often ventured into the countryside to paint en Plein air. Using the natural sunlight and the newly available variety of rich pigments, these artists developed a new painting style. This style of Impressionist painting was brighter and lighter than the Realism of the Barbizon school.
This painting style was radical at first, but towards the end of the 19th century, Impressionist theories had permeated academic circles and everyday artistic practices. Across Europe, small colonies of artists specializing in Impressionist techniques and Plein air painting were popping up. Landscape Impressionists Henri Le Sidaner and Eugene Chigot were part of the artists' colony on the Cote d'Opal.
Plein Air Painting in Italy
In Tuscany, the Macchiaioli group of Italian painters were breaking the antiquated traditions of the academies in the second half of the 19th century. Beginning in the 1850s, these artists did much of their painting outdoors, where they could capture the color, shade, and natural light of the environment accurately. The practice of painting en Plein air connects this group of artists with the French Impressionists, who became prominent several years later.
Plein Air Painting in England's Landscape
In England, too, painting outside became a prevailing practice amongst landscape artists. Many in England believe that John Constable was the first pioneer of the Plein air painting approach in around 1813. In England in particular, painting en Plein air was a fundamental part of the development of Naturalism. In the late 19th century, the Newlyn School was a strong proponent of the en Plein air techniques.
Lesser-known colonies of artists painting outside popped up throughout England, including the collective at Amberly. This West Sussex collective formed around the Paris-trained landscape artist Edward Stott. The late Victorians loved Stott's atmospheric landscapes. Painting outside was often taken to extremes. There is, for example, a photograph of Stanhope Forbes painting in high winds on a beach, with his canvas and easel tied down with ropes.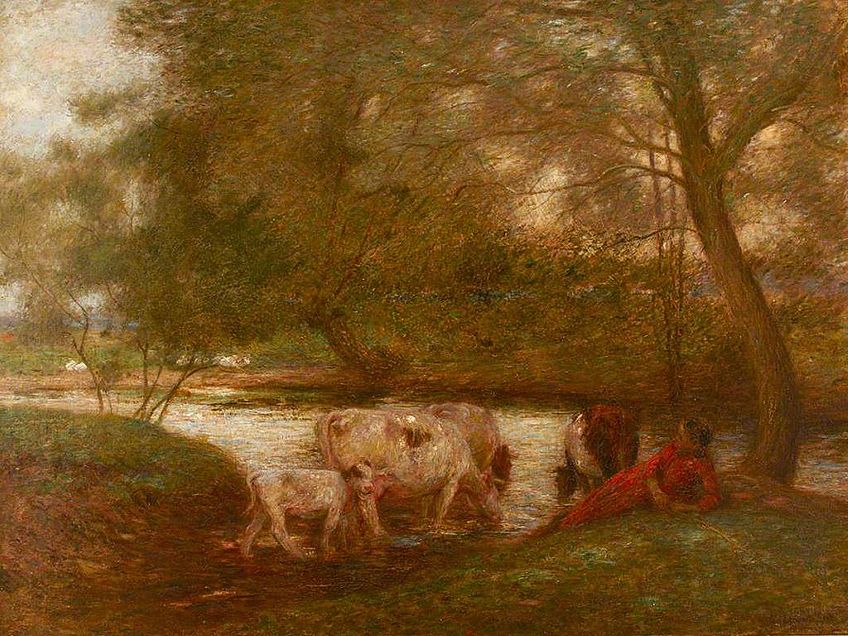 The Watering Place (1879-1918) by Edward Stott; Edward Stott, Public domain, via Wikimedia Commons
Painting Outdoors in North America
The practice of Plein air painting also spread to Northern America, beginning with the Hudson River School. Many American artists, like Guy Rose, traveled to France to study under French Impressionist painters. Collections of American Impressionists grew up in areas with stunning landscapes and lots of natural light. Parts of the American South West, the West, and East Coasts became popular among artists for their incredible light. Painting outside became a fundamental part of art education, and many artists made intrepid journeys to study and paint magnificent landscapes.
When traveling to different locations, for students and teachers alike, the goal of painting en Plein air was to capture each place's specific colors and light. To capture the vibrant sunlight in Rhode Island, American painter Philip Leslie Hale would pose models in his aunt's garden. The ability of American artists to capture the feeling of open air and real sunlight is perhaps best personified by Edmund Tarbell. Notable Plein air painter, William Merritt Chase, is known not only for his paintings of seashores and parks, but also for the outdoor painting lessons he provided at the Shinnecock Summer Art School and other institutions.
Challenges of Painting en Plein Air and the Equipment to Overcome them
Painting outside posed several problems to the first proponents of Plein air. Not only did it require artists to transport all of their equipment, but there was the problem of carrying wet canvases home and navigating the weather. The weather was perhaps the greatest challenge to Plein air painters. All the latest developments in painting equipment could not account for rain and wind.
The box easel, or French box easel, is one of the most significant equipment inventions from the 19th century. There is no consensus on who first developed this box, but the incredibly portable easels with a built-in paint box and telescopic legs made painting en Plein air much easier. These easels fold up into the size of a briefcase, making them easy to transport and easy to store, and are still popular among artists today.
Another development in painting equipment is the Pochade Box. A compact box with space for artists to keep their painting supplies, the Pochade Box also held a canvas in the lid. Depending on the design, artists could clamp larger canvases to the lid, and some designs had inbuilt compartments to hold wet canvases. Although these boxes were initially designed for outdoor painting, many artists continue to use them today in the home, classroom, or studio.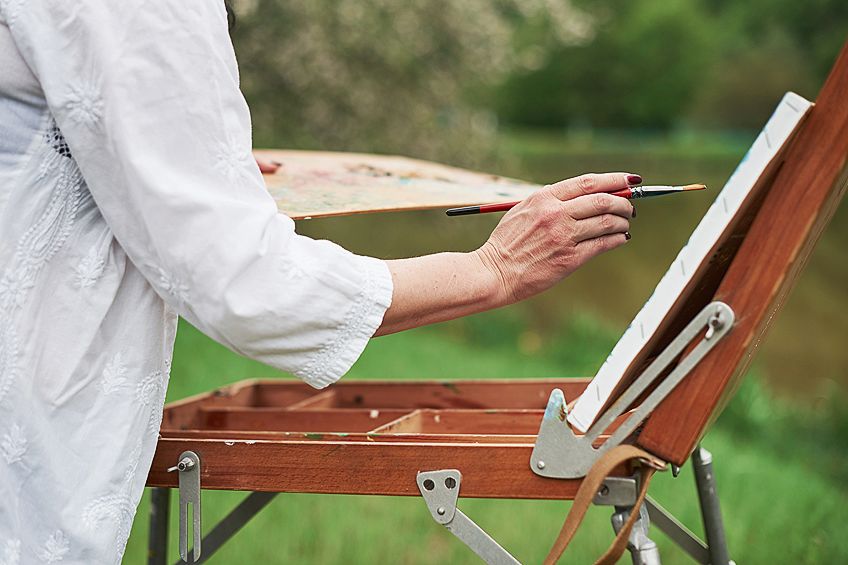 Some of the Most Famous en Plein Air Painters
We have broadly discussed some of the most influential painters who used en Plein air techniques. Plein air artists like Constable, Monet, and Renoir remain in the annals of history as some of the most influential painters from this movement. Let us explore their styles and practices in a little more depth.
John Constable (1776-1837)
Many art historians consider John Constable to be the first pioneer of painting outside. Born in Suffolk, the English artist is famed for his landscape paintings. Constable had an inherent ability to capture with precision and feeling the colors, light, climate, and unsophisticated romanticism of the English countryside. Having studied the works of one of the greatest Baroque landscape artists, Claude Lorrain, Constable painted immaculately measured reconstructions of the landscape.
Constable's paintings have a signature lightness of touch. He can capture, with striking accuracy, the plays of light and color in the rolling English countryside. Using small and broken brushstrokes, like those that would characterize the Impressionists later in the century, Constable could capture light and movement so that it sparkled and danced on the canvas.
During his career, Constable did paint some portraits. Although these portraits are excellent, Constable did not enjoy portraiture as it was not as exciting as landscapes. Religious paintings were one genre that Constable did not excel in. Constable moved around England a lot throughout the year. He would spend the summer painting at East Bergholt, and then go to London for the winter. Constable was particularly fond of Salisbury, and he would visit at every chance he got. His watercolor painting, Stonehenge, is considered to be one of his best.
Significant Works
It was not until he was 43 years of age that Constable sold his first major painting. The White Horse paved the way for future large-scale paintings that were often more than six feet in length. Perhaps Constable's most famous painting is The Hay Wain, which he painted in 1821. This painting depicts a horse and cart crossing a wide river in front of large rolling hills. After seeing this painting on exhibition at the Academy, influential French artist Theodore Gericault praised Constable. It was through Gericault that the art dealer John Arrowsmith first encountered The Hay Wain, which he later purchased. In 1824 at an exhibition at the Paris Salon, The Hay Wain won the gold medal.
The Hay Wain (1800) by John Constable; Ernst Ludwig Kirchner, CC0, via Wikimedia Commons
Claude Monet (1840-1926)
Of all the French Impressionist painters, Monet must be the most famed. Born in Paris, Monet began drawing when he was still a child. Monet sold caricatures and portraits for pocket money as a young boy. In his teen years, Monet began to paint landscapes en Plein air. After serving in the army for two years, Monet returned to Paris and formed firm friendships with other young painters. It was from this group of painters that the French Impressionist movement emerged. Monet's obsession with painting outdoors became common practice for the Impressionists.
Unlike many artists of his day, Monet devoted himself entirely to painting outside of a studio. The play of natural light and shadow on any surface was the prominent focus of much of Monet's work, and he felt that painting outside was the best way to capture this. As a result of his interest in light and color, Monet painted many subjects that other artists would not consider. Whether it was a haystack or a red kimono, Monet found beauty in the way the light played off of it.
Monet did not only challenge the conventions of the subject, but he also challenged traditional understandings of what it meant to finish a painting. Monet and the other early Impressionist painters worked quickly to capture a particular moment of light. Many conventional artists ridiculed Monet's style for being little more than rough sketches.
Significant Works
Monet's most famous series of works has to be Water Lilies. This collection of around 250 oil paintings of his water lily garden at Giverny is famed around the world. Monet painted the Water Lilies countless times, capturing the light on the water in ever-changing climates and colors. These paintings focus entirely on the water, without any representation of sky or land. Any hint of the sky or land is little more than a reflection in the water. Before embarking on this series of paintings, Monet planted the water lilies in his garden at Giverny. The arrangement of flowers in this garden was much like the composition of a painting. In the last 30 years of his life, Monet dedicated himself to capturing the ever-changing world of his water lily pond.
Another influential series of multiple paintings by Monet is Haystacks. There are 25 primary paintings in this series, each depicting a haystack of harvested wheat. Monet began painting this series towards the end of 1890 and continued into the following year. The significance of this series lies in the way Monet was able to capture changes in atmosphere, light, and color. The series is an Impressionist masterpiece and has been on exhibit throughout the world.
Water Lilies (1906) by Claude Monet; Claude Monet, Public domain, via Wikimedia Commons
Pierre-Auguste Renoir (1841-1919)
Another great French Impressionist painter, Pierre-Aguste Renoir found influence in early painters from the Barbizon School. Painting landscapes throughout his career, Renoir was inspired by the naturalistic approach that these artists took to landscape representation. Pure landscapes, or landscapes without any evidence of human activity, were the most common subjects for these Barbizon painters and Renoir.
Renoir followed the example of Barbizon painters and painted predominantly outdoors, or en Plein air. When painting outside, Renoir would often create small studies for future works, and complete paintings in a single sitting. It is possible to see the rapid brush strokes, loosely defined forms, and rough surface texture of early Impressionist style in many of Renoir's paintings. Renoir used these techniques to capture the atmospheric conditions and changes in light which were central to Impressionist painting.
Significant Works
The rapid and unblended brushstrokes characteristic of Renoir's style is evident in The Gust of Wind. This painting is full of contradictions. The brushstrokes create a landscape that seems almost sketchlike, an effect that only strengthens the atmospheric feeling of a blustery day. In contrast, the way Renoir manages to capture the dapples of light and the air movement is incredibly vivid. It is believed that Renoir completed this Plein air painting in a single sitting.
In 1877, Renoir exhibited The Seine at Champrosay, among others. When he visited Champrosay to paint a commissioned portrait, Renoir became enamored with the countryside. In this painting, we can see the quick brush strokes and the bold, unblended color that is characteristic of the Impressionist style.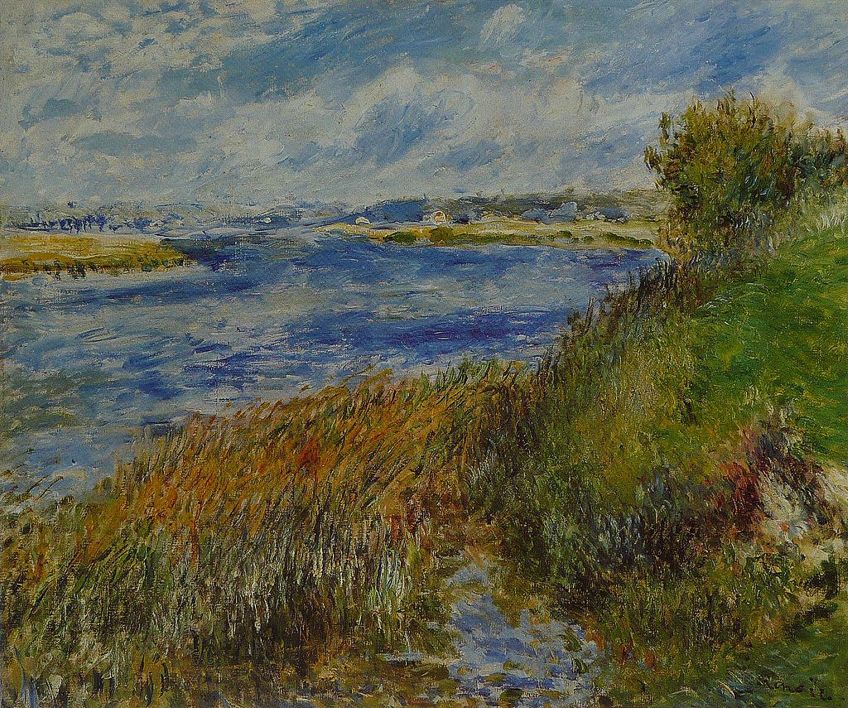 Banks of the Seine at Champrosay (1876) by Pierre-Auguste Renoir; Pierre-Auguste Renoir, Public domain, via Wikimedia Commons
Some Recommended Reading on Painting en Plein Air
Painting en Plein air has a long and beautiful history. Beginning with early Naturalist painters like Constable and continuing in many parts of the world today, painting outside has a certain charm that the studio cannot replace. If you are interested in learning more about the history of painting en Plein air, we have three book recommendations.
The Work of Art: Plein Air Painting and Artistic Identity in Nineteenth-Century France
In this stunning hardcover book, author Anthea Callen explores the development of an artistic identity among the early French Impressionist painters. Through an analysis of portraits of fellow artists, self-portraits, prints, photographs, and studio images from prominent Impressionist painters, you will gain an insight into the development of Avante-Garde painting in France. This book, with 180 black-and-white and color illustrations, explores how landscape painting and Plein air paintings, in particular, drove the Impressionist revolution.
An analysis of prominent 19-century French Impressionist painters
The influence of "plein air" painting in the Impressionist revolution
Examining the self-representation and painting methods of artists
View on Amazon
This book offers more than a simple history of an art movement. Callen carefully examines the social, performative, and aesthetic elements of painting en Plein air. She also looks closely at the materials and techniques that drove the popularity of painting outside and offers thoughtful commentary on the growing Impressionist movement.
In the Light of Italy: Corot and Early Open-Air Painting
We touched only briefly on the practice of painting en Plein air in Italy, so if you would like to explore this part of art history further, we cannot recommend this book enough. While the practice of painting outside is most often associated with the Impressionists, early open-air painting has a long history in Italy.
Prominent art historians discuss the background of outdoor painting
Early history, theory and practice, and sites of open-air painting
A rich selection of relevant paintings is discussed and reproduced
View on Amazon
This book is a collection of discussions by prominent art historians Sarah Faunce, Peter Galassi, Philip Conisbee, Jeremy Strick, and Vincent Pomarede. Together, they examine the early history of Italian open-air painting, its significance, theory, and practice. The book contains a rich selection of reproduced paintings and photographs. You can really see how the beautiful Italian landscape inspired painters from France and other European countries.
Baltic Light: Early Open-Air Painting in Denmark and North Germany
During the early 19th century, many artists from Germany and Denmark who studied in Rome and Paris brought home the concept of painting en Plein air. The atmospheric conditions and light in the north were perfect for this style of landscape painting, particularly during the long summer days. This book explores the works of several Dutch and German landscape artists from the 19th century. Caspar David Friedrich, who is best known for developing the Romantic style, is covered in depth.
A focus on the painters and paintings of the "plein air" period
Presentation of topographical landscapes, panoramas, and more
Includes essays by eminent authorities to discuss this movement
View on Amazon
In addition to a range of essays by art historians discussing various aspects of the North German and Danish open-air painting movement, this book contains many stunning landscapes, portraits, and panoramas. In this book, you will learn about how the style of painting en Plein air rejected the moral and intellectual overtones of neoclassical landscapes. Whether you are interested in Dutch and German art or open-air painting, this book comes highly recommended by us.
Artists Who Paint en Plein Air Today
So far in this article, we have looked predominantly at artists from the 19th century, but the practice of painting outside is still very much alive and well today. Below, we present the experiences of several artists who continue to paint outside in a range of mediums.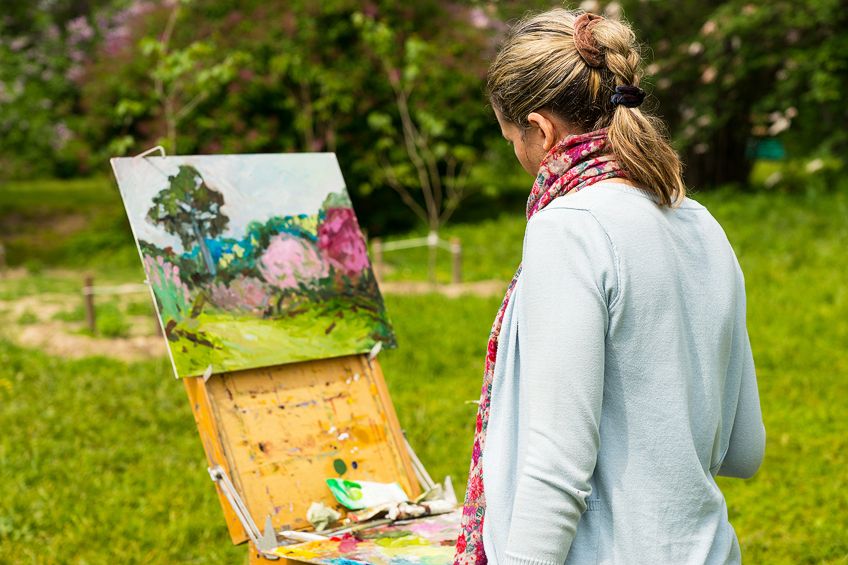 Brian Shields
For Brian Shields, painting outside is about exploring how you represent natural elements. Painting en Plein air can be challenging, and for Shields, the most challenging aspect is representing all of his sensory experiences in an environment – smell, sound, emotion, and vision on one small canvas. Shields often finds that he should do a quick sketch or take a photograph of a scene and then return to his studio to condense the memory by painting. After painting outside for almost 30 years, Shields now prefers to gather images during long walks and then return to his studio to compile them.
David Grossmann
Born in Colorado, David Grossmann spent his childhood in Chile. His career as an artist has taken him all over the world, but he now lives in Colorado with his wife. Grossmann's landscape paintings are incredibly evocative, blurring the lines between memory, reality, and imagination. Grossmann has always been an artist, and he received his formal education at the Colorado Academy of Art and with Jay Moore, the renowned landscape artist.
For Grossmann, painting is a way to connect with people. His paintings of tranquil landscapes and quiet, watchful skies reflect a longing to find shelter and peace. He hopes that his paintings portray this sense of haven so that others may share in it with him.
Grossmann merges various old techniques with a contemporary aesthetic, and in this way, his work bridges the gap between the old and new. Typically, Grossmann paints luminous layers of pigment with elaborate surface texture onto hand-made wooden panels. For Grossmann, this time-consuming process is highly meditative.
Having received awards like the Southwest Art Award of Excellence and the Artists Choice Award, Grossmann's work has been celebrated widely. Over the years, Grossmann has exhibited his work throughout Europe and North America.
Frances B. Ashforth
Having been raised among a family of artists, Frances B. Ashforth has always been drawn to color and line. At her grandparent's farm in New Hampshire, Ashforth cultivated her fascination with the horizon line, a common feature in her en Plein air landscapes. Through her work, Ashforth hopes to honor her family heritage as artists and landowners.
Ashforth uses a combination of open-air painting and studio painting to complete her works. Sometimes she will complete a drawing entirely in the field, and other times she will create field drawings to take back to her studio. Water and the horizon between bodies of water and land have always been a beloved subject for Ashforth. Stone is another subject that Ashforth cannot get enough of. To her, a stone is just as beautiful as the shrubbery that covers it during the summer months. Ashforth says that our individual memories define the way we view the world, and so her art is a direct communication of her past, present, and future.
Jane Shoenfeld
Jane Shoenfeld's medium of choice when she is working en Plein air is pastel. Shoenfeld has been creating art outside for much of her life, and her abstract works often reflect the light, colors, and rhythms of the natural world she loves dearly. Much of Shoenfeld's works are completely abstract, but her play with color and shape communicates a certain level of emotionality.
When Jane draws outside, she feels excitement and tension as she feels out the landscape before her. Often, these works do not capture a scene but rather the feeling of a place. For Shoenfeld, the energy she experiences in a particular location is far more important and far more influential to the final work than what she sees with her eyes.
Painting en Plein air has a long and international history. From the early Naturalists and French Impressionists to contemporary artists, painting outside has been a popular technique. Painting a landscape from within seems to capture its essence in a very real way that is unique to this method.
Isabella studied at the University of Cape Town in South Africa and graduated with a Bachelor of Arts majoring in English Literature & Language and Psychology. Throughout her undergraduate years, she took Art History as an additional subject and absolutely loved it. Building on from her art history knowledge that began in high school, art has always been a particular area of fascination for her. From learning about artworks previously unknown to her, or sharpening her existing understanding of specific works, the ability to continue learning within this interesting sphere excites her greatly.
Her focal points of interest in art history encompass profiling specific artists and art movements, as it is these areas where she is able to really dig deep into the rich narrative of the art world. Additionally, she particularly enjoys exploring the different artistic styles of the 20th century, as well as the important impact that female artists have had on the development of art history.
Learn more about the Art in Context Team.