Famous Australian Artists – A Look at Austrailian Art History
Australian art can be difficult to define given the diverse group of artists living there. However, this mixture of cultures is what makes the artwork so fascinating. In this article, we will be taking a closer look at some of the most famous Australian artists. Each of these artists has their own unique style, which has resulted from a variety of cultural influences.
A Brief History of Australian Art
Anthropologists believe that the first humans settled in Australia some 60,000 years ago. These were the Aboriginals, a collective group made up of various tribes that then spread across Australia. Just as Aboriginals were the first to inhabit Australia, they were also the first people to create art there. The oldest example of Aboriginal art dates back approximately 30,000 years.
A number of different types of art developed over time and across the different Aboriginal tribes. However, the most common types of Aboriginal art include rock carvings or paintings as well as complex abstract dot paintings. Most Aboriginal artworks are deeply spiritual and tell stories of the Dreamtime, which is the creation of the earth and all the creatures on it. Therefore, art has a sacred place in the religion of the Aboriginals.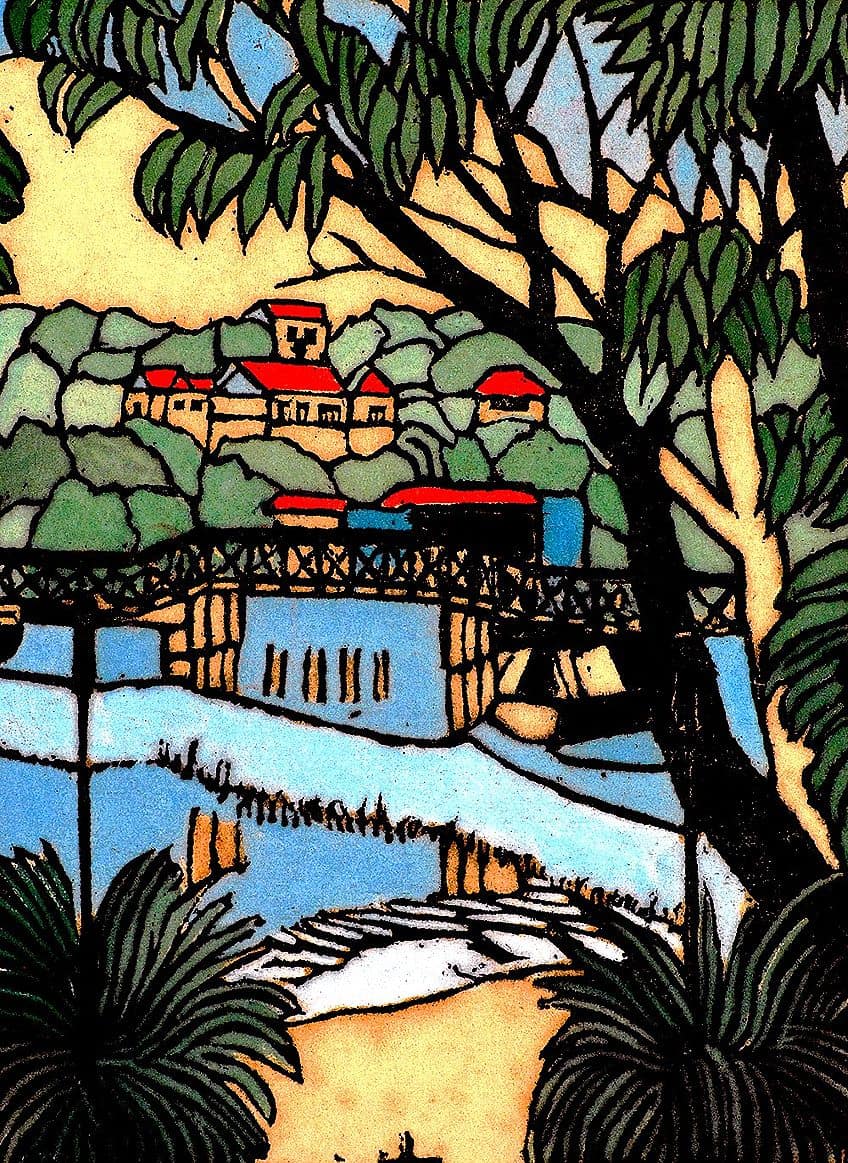 Mosman Bridge (1927) by Margaret Preston; Margaret Preston, Public domain, via Wikimedia Commons
Moving forward in time to 1788, the first Europeans settled in Australia. At first, Britain simply established a penal colony with only prisoners and guards settling there. Australia remained a penal colony until the late 1860s, by which time everyday Europeans had already begun making it their home. Many were attracted by the gold deposits found on the continent, whilst others were fascinated by the exciting new terrain and wildlife. Amongst the latter group were numerous artists, who traveled to Australia to find new inspiration.
Many artists traveled to Australia and brought what they had learned in Europe with them. Combining these skills with the new subject matter presented to them resulted in something distinctly Australian. An example of this would be the Heidelberg School, an art movement unique to Australia that was inspired by Impressionism.
Modern-day Australian art is a melting pot that is as diverse as the continent itself.
Many Aboriginal artists are trying to reconnect with their ancestral artistic traditions, which suffered greatly with the arrival of Europeans. Australians of European heritage have also become so far removed from their European ancestors that they have developed their own distinct culture. The merging of these two cultures, as well as the many others now present in Australia, has resulted in highly original art.
Our List of the Most Famous Australian Artists
As mentioned above, Australian art is so special because of the diversity that exists in Australia. Therefore, in order to give you a holistic idea of Australian art, our list of famous Australian painters is made up of men and women from a variety of backgrounds and periods.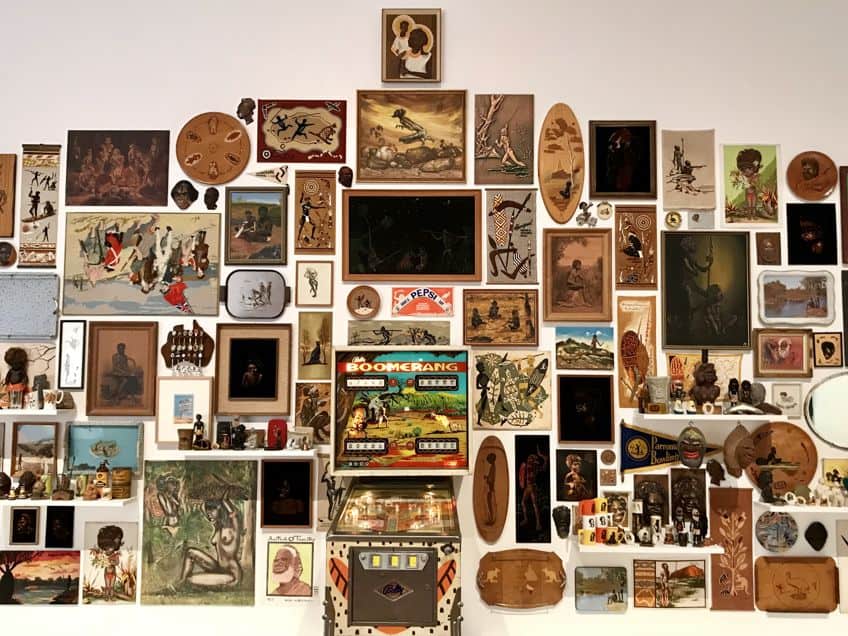 Tony Albert: Visible, Aboriginalia exposition at Queensland Art Gallery; Kgbo, CC BY-SA 4.0, via Wikimedia Commons
Margaret Preston (1875 – 1963)
Date of Birth
29 April 1875
Date of Death
28 May 1963
Where They Lived
Sydney, New South Wales
Associated Art Movements
Modernism
Most Famous Artworks

Western Australian gum blossoms (1928)
Self-portrait (1930)
I lived at Berowra (1941)
Margaret Preston (born McPherson) was born on 29 April 1875 in Port Adelaide, Australia. When Preston was 10 years old, her family moved to Sydney. It was here that she attended her first art gallery and began taking an interest in art. Her parents nurtured this interest, paying for private lessons and allowing her to complete her tertiary studies at the National Gallery of Victoria Art School and then later the South Australian School of Design.
The time period between 1904 and 1912 was particularly important for Preston's artistic development.
She lived in various European cities for four of these nine years, studying the art styles that were popular there. She was most inspired by French artists like Cézanne and Matisse. The Japanese art she saw at the Musée Guimet also made a lasting impression on her.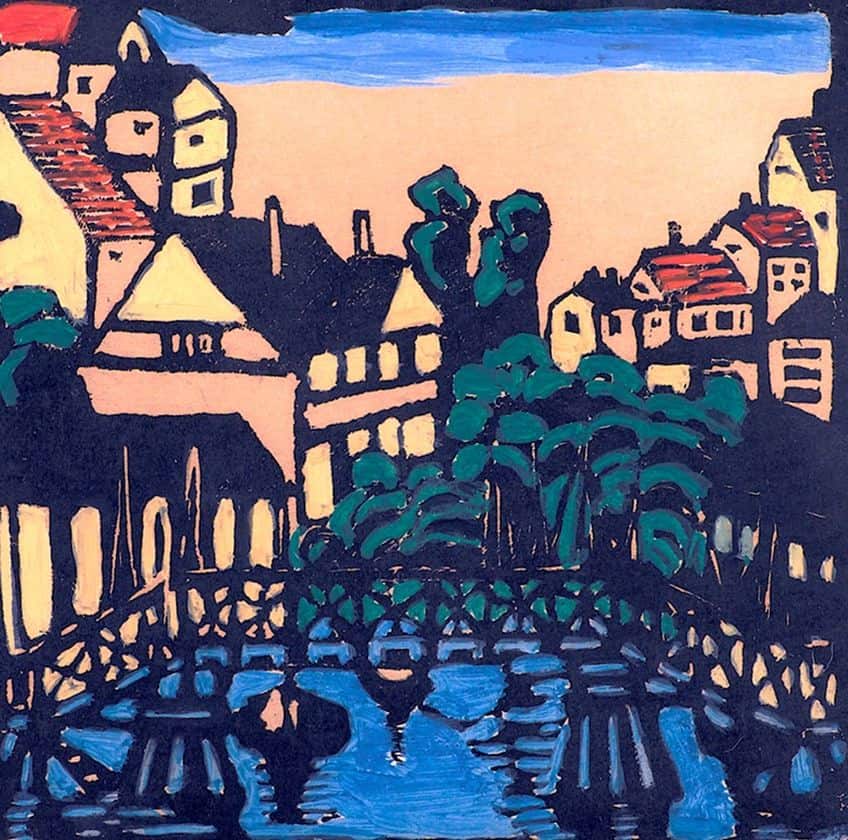 Wooden Bridge (1925) by Margaret Preston; Margaret Preston, Public domain, via Wikimedia Commons
Upon returning to Australia, Preston became very interested in Aboriginal artworks. This was particularly true when she lived in the rural suburb of Berowra. Therefore, she began taking inspiration from Aboriginal art and combining it with the Modernist style she had developed during her time abroad. This resulted in the incredibly innovative style that she is known for.
Grace Cossington Smith (1892 – 1984)
Date of Birth
20 April 1892
Date of Death
20 December 1984
Where They Lived
Sydney, New South Wales
Associated Art Movements
Modernism
Most Famous Artworks

The Sock Knitter (1915)
The Bridge Curve (1930)
The Lacquer Room (1936)
Grace Cossington Smith was born in Sydney Australia in 1892. At the age of 20, she and her sister spent time living with a relative in the UK. It was there, as well as during her travels through Germany, that she became exposed to some of her greatest influences. One of these artists was Jean-Antoine Watteau, a French painter known for his bold use of color. Cossington Smith was also inspired by the Modernist art that she saw in Europe and many believe that she was the first famous Australian painter to participate in the art movement.
The Sock Knitter (1915) by Grace Cossington Smith; Rosebutel, CC BY-SA 4.0, via Wikimedia Commons
Cossington Smith's best-known artworks are those depicting the construction of the Sydney Harbour Bridge. These would include Bridge Pillar (1939), The Bridge in Curve (1930), and Before the Arches Met (1930). Although these paintings were refused by the 1930 Society of Arts exhibition, they are now seen as symbols of Australian pride.
Albert Namatjira (1902 – 1959)
Date of Birth
28 July 1902
Date of Death
8 August 1959
Where They Lived
Alice Springs, Northern Territory
Associated Art Movements
Contemporary Aboriginal Art Movement
Most Famous Artworks

Central Australian Landscape (c. 1945)
Ghost Gum, Glen Helen (c. 1950)
Waters of the Finke (1958)
Albert Namatjira was an Aboriginal artist belonging to the Arrernte tribe that inhabit parts of the Nothern Territory in Australia. Namatjira grew up in an Aboriginal community called the Hermannsburg Lutheran Mission. It was here that the Hermannsburg School art movement was born. With Namatjira as its most famous member, the Hermannsburg School was characterized by Western-style landscapes featuring the Australian terrain. This was one of the first times in history that Aboriginals strayed from their traditional art forms.
Namatjira enjoyed sketching as his pastime from a young age, however, it was only at the age of 32 years old that he began to take art seriously.
In 1932, artist Rex Battarbe visited the Hermannsburg Lutheran Mission to exhibit his artworks and paint the surrounding area. Battarbe and Namatjira struck up a friendship and the former taught the latter to paint. Combining what he had learned from Battarbe with the colors used in Aboriginal art, Namatjira was able to produce art that was completely original.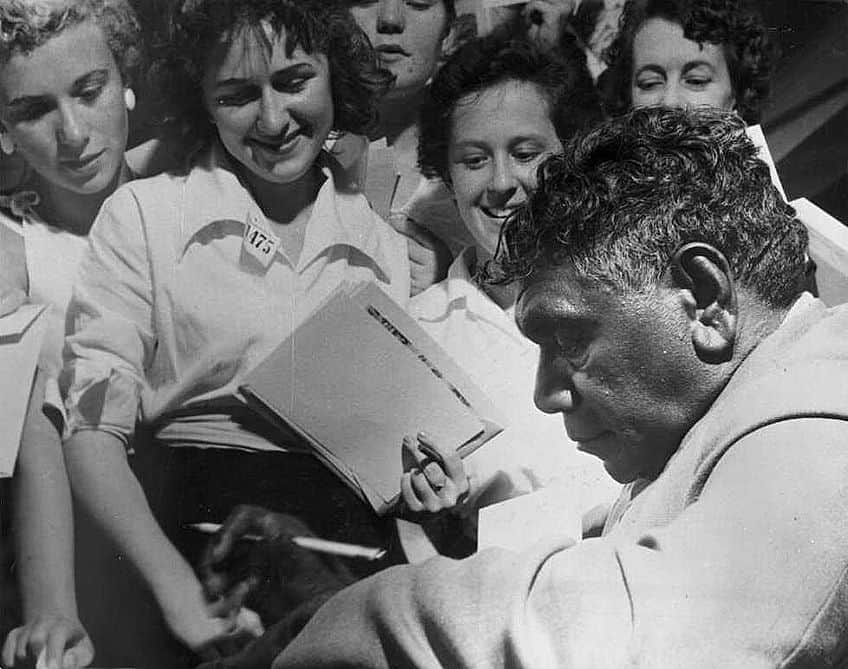 Indigenous Australian artist Albert Namatjira signing autographs (c. 1947); National Library of Australia, Public domain, via Wikimedia Commons
Due to his unique fusion of Western and Aboriginal art, Namatjira became one of the most famous Australian artists of his generation. His artwork was admired worldwide, and in 1953 he was even awarded the Queen's Coronation Medal by Queen Elizabeth II. In fact, she was such a fan of his work that she requested to meet him personally.
Sidney Nolan (1917 – 1992)
Date of Birth
22 April 1917
Date of Death
28 November 1992
Where They Lived
Melbourne, Victoria
Associated Art Movements
Surrealism
Most Famous Artworks

Ned Kelly (1945)
Kelly and Horse (1945)
Carcass in Swamp (1955)
Sidney Nolan was born in 1917 in the city of Melbourne. He was interested in pursuing a career in art from a very young age. He began studying Design and Crafts at Prahran Technical College at the age of 14. By 16 years old he had already graduated and begun working as a commercial artist.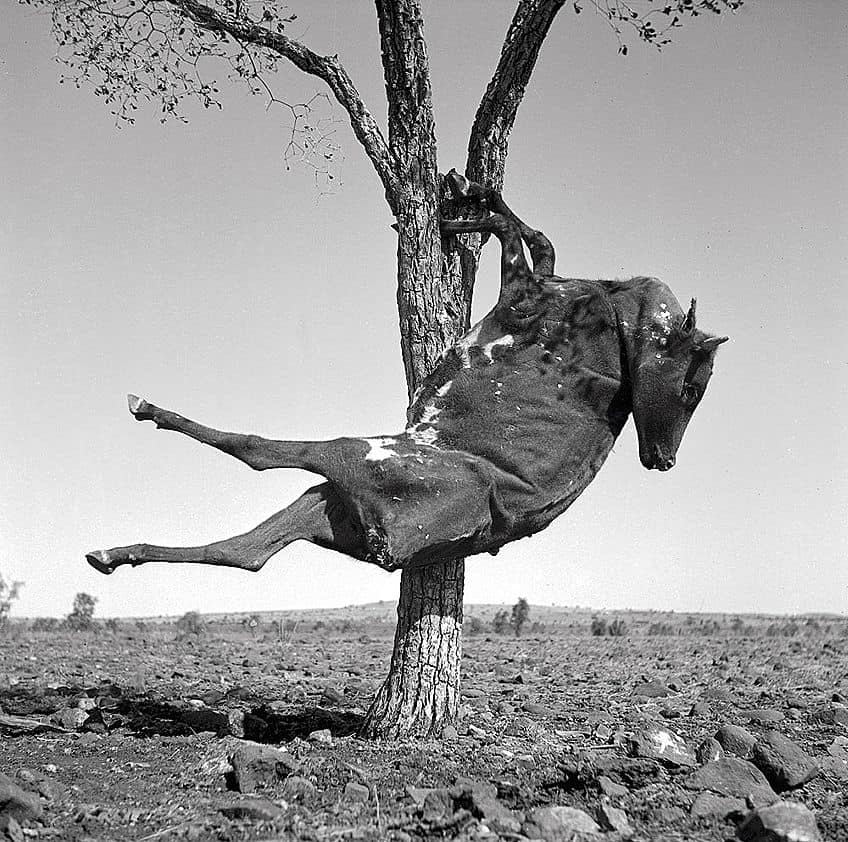 Calf Carcass (1952) by Sidney Nolan; Sidney Nolan, Public domain, via Wikimedia Commons
Nolan was one of the members of the Heide Circle, a group of famous Australian painters who lived with art patrons John and Sunday Reed. Heide, previously an old dairy farm, has now been converted into the Heide Museum of Modern Art. Nolan found his time living at Heide very inspiring and produced some of his most famous paintings whilst there. Amongst these were some of his Ned Kelly paintings, a series that marked him as one of the most famous Australian artists of his generation.
John Olsen (1928 – Present)
Date of Birth
21 January 1928
Date of Death
Present
Where They Lived
Newcastle, New South Wales
Associated Art Movements
Abstract Art
Most Famous Artworks

Summer in The You Beaut Country (1962)
Five Bells (1963)
The Chapel (1966)
John Olsen was born in Newcastle in 1928 but grew up in Bondi Beach. He was trained in academic art at a number of reputable art schools in Sydney, including the Julian Ashton Art School. Once his studies were completed, he was sent to Europe to paint by art patrons Robert and Annette Shaw. It was during his vast travels there that he came into contact with Modern art.
This would inspire him to create the unique avant-garde landscapes that he became famous for.
Olsen's art career has spanned almost 70 years. His artwork has evolved over time; however, his artworks all carry elements of his personal style, which make them distinguishable from other artists. One of his most famous paintings, Salute to Five Bells (1973), which can be found on the walls of the Sydney Opera House, is a prime example of his abstract style landscape paintings.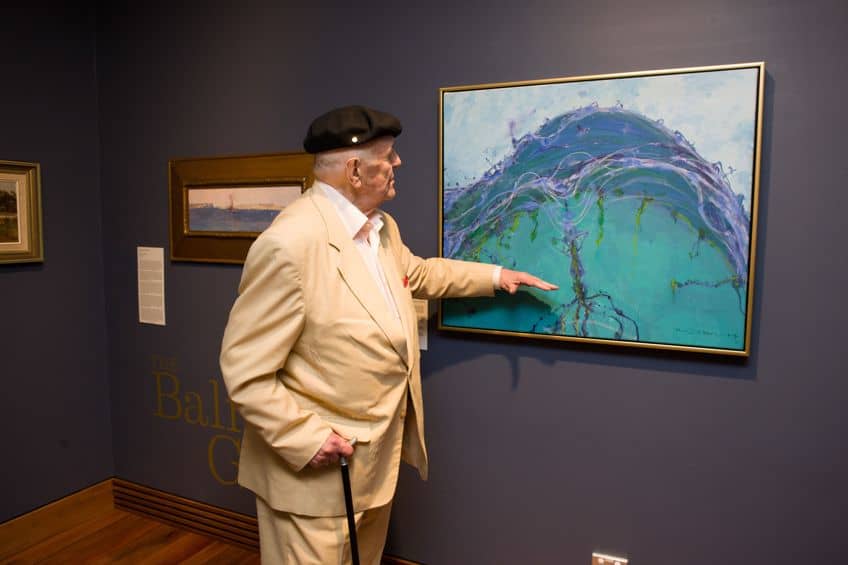 John Henry Olsen, Australian artist, at the Mosman Art Gallery, on the donation of his painting, The Rolling Sea and that Streeton Painting (2015); Mosman Council from Sydney, Australia, CC BY 2.0, via Wikimedia Commons
Brett Whiteley (1939 – 1992)
Date of Birth
7 April 1939
Date of Death
15 June 1992
Where They Lived
Sydney, New South Wales
Associated Art Movements
Avant-Garde, Expressionism
Most Famous Artworks

Sofala (1958)
Big Orange Sunset (1974)
Self Portrait in Studio (1976)
Brett Whiteley was born in Longueville, Sydney in 1939. When he was 20 years old, he won an art scholarship, which allowed him to travel throughout Europe whilst studying art. After living there for only a year, his painting Untitled Red Painting (1960) was bought by the Tate Modern in London. This made him the youngest artist the famous art gallery had ever purchased art from. This record has yet to be beaten in the present day.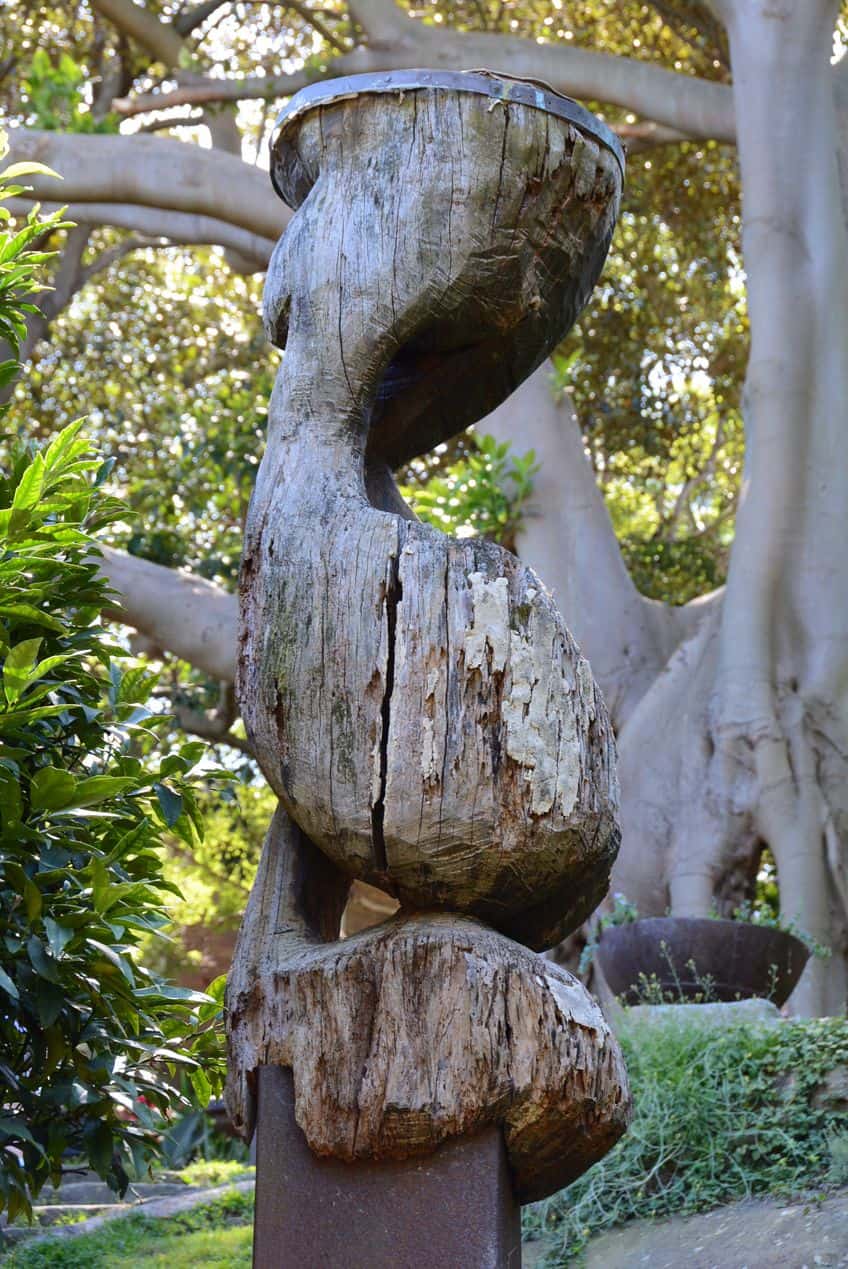 Nude (1962) by Brett Whiteley; Sardaka, CC BY-SA 3.0, via Wikimedia Commons
Whiteley's early style was very Abstract and often composed entirely of warm earthy tones. Paintings such as Untitled Warm Painting (1961) and Nude at Basin (1963) exemplify his early style perfectly. However, in the 1980s his style evolved into something more colorful and Expressionist. It is this era of his career, and his Expressionist landscapes in particular, which put him on the map as one of the greatest Australian artists of all time.
Betty Muffler (1944 – Present)
Date of Birth
1944
Date of Death
Present
Where They Lived
Watarru, South Australia
Associated Art Movements
Aboriginal Art
Most Famous Artworks

Ngangkaṟi Ngura (Healing Country) (2017)
Ngangkaṟi Ngura (Healing Country) (2020)
Betty Muffler is an Aboriginal artist belonging to the Pitjantjatjara and Yankunytjatjara ethnic groups. She grew up near Marlinga, where a series of nuclear weaponry tests were conducted by the British in the 1950s. This nuclear testing left high amounts of radiation which had a devasting effect on the landscape and people and wildlife that inhabited the area. Land sacred to the Aboriginal people was also destroyed. Muffler explored the trauma this event caused her and her people through her art.
Her famous series Ngangkaṟi Ngura (Healing Country) (2017-2020) is based on her feelings surrounding this event.
In recent years, Muffler has become one of the art directors for Iwantja Arts a collective of artists from the APY ( Anangu Pitjantjatjara Yankunytjatjara) Lands in South Australia. She is a highly respected healer and artist within her community as well as globally. In 2020, she was commissioned to create an artwork for the cover of Vogue Australia. This was the first artwork to feature on the magazine's cover since its conception in 1959.
Simryn Gill (1959 – Present)
Date of Birth
1959
Date of Death
Present
Where They Lived
Australia
Associated Art Movements
Sydney, New South Wales
Most Famous Artworks

Dalam No. 4 (2001)
Dalam No. 162 (2001)
Full Moon (2012)
Simryn Gill was born in Singapore but spent a large portion of her childhood moving from place to place. After meeting her husband, Souchou Yao, she settled in Australia. Gill began studying a degree in Fine arts at the South Australian School of Arts, however, she did not complete it due to the numerous obligations she had. This did not hinder her career and in the 2000s her art started to gain international attention.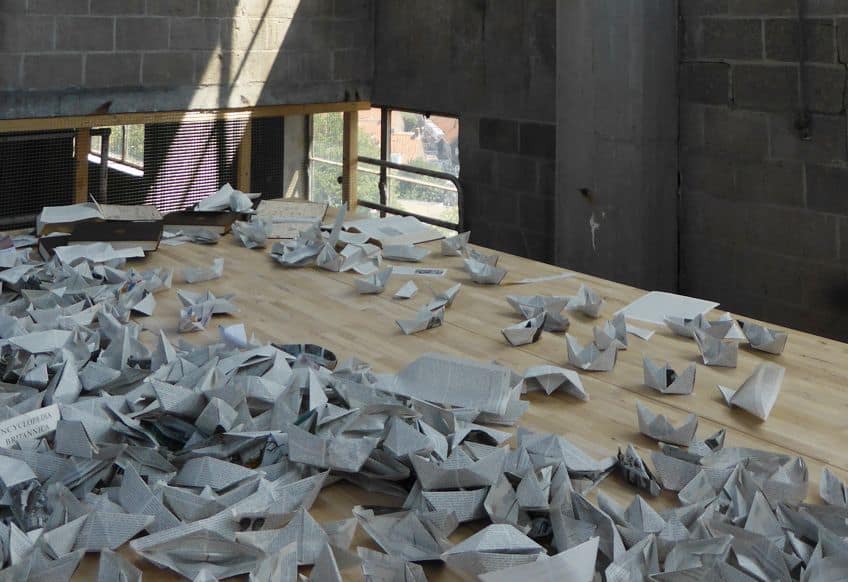 Paper Boats (2008) by Simryn Gill; John Lord from Edinburgh, Scotland, CC BY 2.0, via Wikimedia Commons
Gill is admired for her versatility and willingness to experiment with different art mediums. Some of her most famous pieces are works of sculpture, textiles, and installation. To many, she is seen as a Jack of all trades. Due to this variety in her craft, Gill was awarded the honor of representing Australia at the Venice Biennale in 2013.
Kaylene Whiskey (1976 – Present)
Date of Birth
1976
Date of Death
Present
Where They Lived
Indulkana, APY Lands
Associated Art Movements
Contemporary Aboriginal Art
Most Famous Artworks

Do You Believe in Love? (2019)
I Love the Flag (2019)
Dolly's Christmas (2021)
Kaylene Whiskey was born in a rural Aboriginal community located in the APY Lands of Australia. She comes from a family of artists, with her grandfather Whiskey Tjukangku being particularly prominent. However, in recent years she has surpassed her relatives in popularity due to her unique and innovative style.
Her paintings can be found in world-famous art Australian art galleries such as the Art Gallery of New South Wales and the Museum of Contemporary Art Australia.
Whiskey's art style is a visual representation of modern Australia. She combines elements from traditional Aboriginal art with Western influences through pop culture references. Her art is heavily influenced by her Aboriginal heritage. This can be seen through her bright use of color with subtle dotwork, as well as her caricature-like figures.
Tony Albert (1981 – Present)
Date of Birth
1981
Date of Death
Present
Where They Lived
Townsville, Queensland
Associated Art Movements
Contemporary Aboriginal Art
Most Famous Artworks

Headhunter (2007)
Frontier Wars (Flying Fox Story Place) (2014)
Hey F##kers (2019)
Tony Albert was born in North Queensland in 1981. However, he also spent time with family members further north in the rainforested areas of Australia. He is of Aboriginal heritage and has ancestors from the Girramay and Kuku Yalanji ethnic groups. He is proud of his Aboriginal heritage and it features prominently in his artwork. He is one of the main members of ProppaNow, a group of artists of Aboriginal and Torres Strait Islander descent.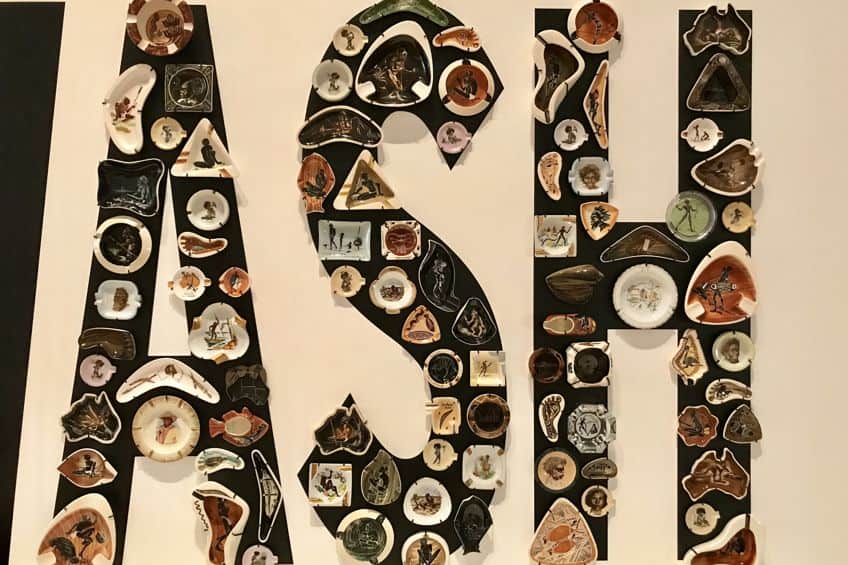 Tony Albert: Visible, Aboriginalia exposition at Queensland Art Gallery; Kgbo, CC BY-SA 4.0, via Wikimedia Commons
Albert frequently creates artwork that contains a political statement. One of his main goals is to portray contemporary Aboriginal art in a way that is not clichéd and remains true to the culture without being stereotypical. One of his most famous paintings is Headhunter (2007) is a multimedia installation that comments on the atrocities enacted upon Indigenous Australians by European settlers in Australia. The message of the art piece plays on the notion that Aboriginals were deemed savages yet the way European settlers treated them was far from civilized.
Australia has a rugged yet beautiful landscape that has inspired so many artists from a variety of backgrounds. Its long and rich history has led to a culturally diverse society in the modern day. With current society's emphasis on inclusivity, the Australian art scene has never been so vibrant! If you have enjoyed this brief look at some of Australia's most famous artists, be sure to do some further research of your own.
Frequently Asked Questions
What Is Aboriginal Art?
There are a number of different types of Aboriginal art as each tribe has its particular own style. However, the most well-known Aboriginal art style, commonly used by the Pintupi tribe is dot painting. Dot painting was actually only created when Europeans settled in Australia. Aboriginal artwork is very spiritual and so the dots were used to prevent Europeans from understanding it.
What Type of Artwork Is Australia Known For?
Australia has a large and diverse population, made up predominantly of Aboriginals and Europeans. This is due to Aboriginals being indigenous to the area and Britain colonizing the country. As these are the dominant cultures, Australia is known for both Aboriginal art and art inspired by movements from Europe.
Isabella studied at the University of Cape Town in South Africa and graduated with a Bachelor of Arts majoring in English Literature & Language and Psychology. Throughout her undergraduate years, she took Art History as an additional subject and absolutely loved it. Building on from her art history knowledge that began in high school, art has always been a particular area of fascination for her. From learning about artworks previously unknown to her, or sharpening her existing understanding of specific works, the ability to continue learning within this interesting sphere excites her greatly.
Her focal points of interest in art history encompass profiling specific artists and art movements, as it is these areas where she is able to really dig deep into the rich narrative of the art world. Additionally, she particularly enjoys exploring the different artistic styles of the 20th century, as well as the important impact that female artists have had on the development of art history.
Learn more about Isabella Meyer and the Art in Context Team.
Cite this Article