Jenny Holzer – Sagacious Transformer of Text into Art
Jenny Holzer is an American conceptual and installation artist and political activist who is renowned for her intimate use of language. She works with a variety of media, including electronic signs, carved stones and plates, billboards, and paintings. Her work explores the tension between knowledge and emotion and draws on both individual and collective experiences to evoke conversation about violence and power, intimacy and tenderness. This article takes a closer look at Jenny Holzer's art and life.
Artist in Context: Who Is Jenny Holzer?
Jenny Holzer was born in Gallipolis, Ohio, and initially wished to become a painter. She pursued her dream by first studying art at Ohio University and then an MFA from the Rhode Island School of Design.
In 1977, Holzer moved to New York City, where she started using language as her medium instead of painting.
She soon gained recognition for her first major series, Truisms (1978 – 1987), which consisted of short, sometimes confrontational, sentences that she printed and stuck on the walls of several buildings in Manhattan. Since then, she had a rich career with multiple successful series of work that inspired many important conversations. Below, we take a closer look at the life of Jenny Holzer.
| | |
| --- | --- |
| Date of Birth | 29 July 1950 |
| Country of Birth | Gallipolis, Ohio, United States |
| Art Movements | Conceptual art, Neo-Conceptual art, Contemporary art |
| Mediums Used | Installation art, painting |
Photograph of Jenny Holzer; http://www.wikiartis.com/en/profile-picture/jenny-holzer/, CC BY-SA 4.0, via Wikimedia Commons
Childhood
Jenny Holzer was born in 1950 in a hospital in Ohio that, by chance, was named Holzer Hospital. She was born the oldest of three children to a father who was a car salesman and a mother who was actively involved in the community. Her mother was also a keen horse rider and she shared this passion with her daughter. Holzer also expressed her passion for art from a young age.
Later in her life, she explained that her upbringing was rooted in Midwestern traditionalism, and she believes that the frankness of her work is derived from this upbringing.
Early Education
Holzer moved to Florida when she was still a teenager. Here she enrolled in Pine Crest Preparatory before deciding to pursue an undergraduate in Duke University, where she studied from 1968 till 1970. Hereafter, she decided to pursue a BFA instead and transferred to the University of Chicago. Holzer, however, soon transferred again to Ohio University, where she finally obtained her BFA in 1972, specializing in Painting and Printmaking. Worried about the financial security of starting an artistic practice, Holzer decided to continue her studies. In 1975 she obtained an MFA from the prestigious Rhode Island School of Design (RISD) in Providence. Later, she would marry one of her fellow RISD students, Mike Glier, and in 1988 she would give birth to their daughter, Lili.
Early Career
Holzer's signature style of text-based artwork did not arrive till a bit later in her career. Initially, she practiced as an abstract painter, inspired by many of the Abstract Expressionist painters that came before her. The rise of a fast-paced media culture in the 1970s and early 1980s, however, prompted her to reconsider how the best way would be to communicate through her art. She decided to move to New York City in 1976, a city at the center of shaping popular culture. Here, she soon enrolled in an independent study program, hosted by the Whitney Museum.
The program altered Holzer's trajectory as an artist as they promoted the idea that intellectualism should be at the heart of contemporary art.
Holzer's work became more and more conceptual, inspired by the extensive reading list of philosophy and literature included in the Whitney Museum's program. Holzer resonated with the ideas in these texts but felt that they could be simplified and distilled in a way that a larger public audience could relate to. From this concept, Holzer created her first text-based public series of works called Trusisms (1977 – 1979). This series remains one of the most famous of Holzer's career and set the tone for many successful and impactful series of works to come.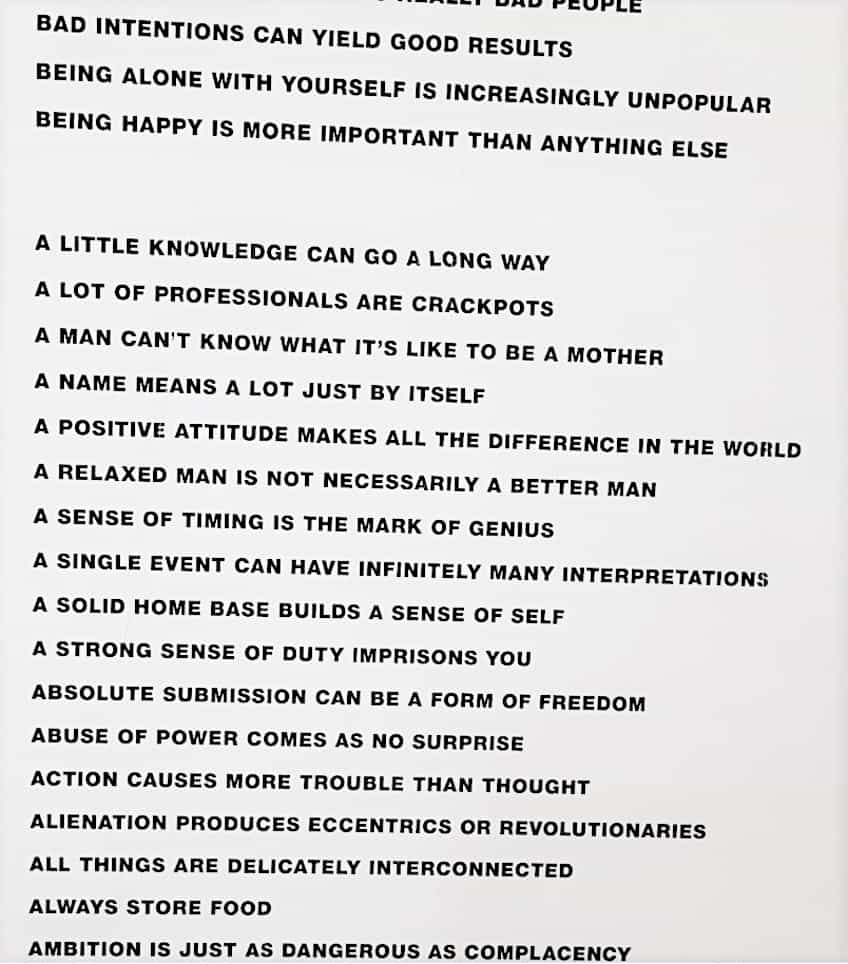 Detail of Truisms by Jenny Holzer (1978 – 87); Annielogue, CC BY-SA 4.0, via Wikimedia Commons
The series consisted of short black-and-white printed sentences in italics. Holzer pasted these prints anonymously throughout building walls and phone booths in lower Manhattan. Doing the work anonymously was important for Holzer, as she did not want people to read it through a particular lens of stereotypes associated with the kind of person who wrote it. The anonymity did not last long, however, as the work drew so much attention from curators and collectors, resulting in almost instantaneous fame for Holzer when it came about that she was the creator.
Her career was solidified when, in 1982, her Truisms were flashed in Times Square on a massive electronic signboard; a project sponsored by the Public Arts Fund. This was the first time she would use LED lights, a medium that became synonymous with Jenny Holzer's art.
Mature Period
In 1985, Holzer moved with her husband and daughter to upstate New York, to a town called Hoosick Falls that is surrounded by green hills. They adopted many animals and Holzer even called herself a "hillbilly". Despite moving away from the city, Holzer's career remained steady and kept growing and developing over the years. In the 1980s, she had several prolific exhibitions in New York and had a seminal installation in 1989 in the Guggenheim Museum.
One of the highlights of her career happened in 1990 when Holzer was selected as the first female artist to represent the United States at the Venice Biennale, where she won the Biennale's most prized award, the Golden Lion.
For SAAM by Jenny Holzer (2007); Photograph by A.M. Kuchling of "For SAAM" by Jenny Holzer, CC BY-SA 2.0, via Wikimedia Commons
Holzer exhibited in the Guggenheim Museum again in 1993, this time in a virtual reality exhibition. In 1994, she produced her series Lustmord, based on war crimes against women and children in Bosnia. Two years later, Holzer started collaborating with Helmut Lang, an influential clothing designer. This introduced a merge between art and fashion into her work. In the beginning, Holzer's projection-based artworks were based on her own words, often drawn from previous works, such as Truisms (1978 – 1987) and Survival (1983 – 1985). However, since the mid-1990s, she's been focusing on other people's words that comment on the effects of wars in areas such as the Middle East and the former Yugoslavia.
Since 2004, Holzer has also projected snippets taken from declassified government documents, showing how certain texts are blacked out. Her more recent work used double-sided LED signs with dynamic text that can be interpreted from different angles.
Current Practice
After starting to work on declassified government documents, Holzer surprisingly started painting again. Jenny Holzer's paintings are as political as her text-based work. In 2006, she created a series of silk-screened paintings that illustrated a PowerPoint presentation that was used in 2002 to brief President George W. Bush and Vice President Dick Cheney on the Iraq invasion.
In 2014, she created a series of paintings that depicted the unfolding narrative of Jamal Nasser, a young soldier from Afghanistan that was captured by the United States military and died while being detained.
In addition to living and working in Hoosick Falls, Holzer also owns an apartment on Manhattan's Lower East Side and has an artist studio in Brooklyn.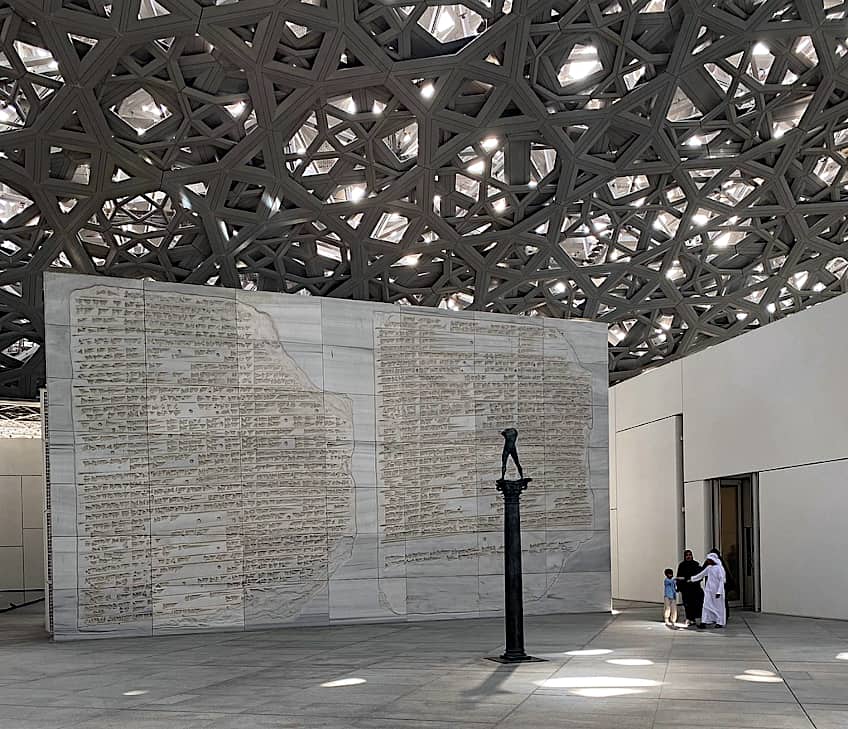 For the Louvre Abu Dhabi by Jenny Holzer (2017); Boubloub, CC BY-SA 4.0, via Wikimedia Commons
Jenny Holzer's Most Important Series of Works
No matter the medium, Jenny Holzer's art is intimate and probing, whilst simultaneously addressing important political and social issues, such as war, inequality, gender, and power. Holzer has worked with a variety of media throughout her career, including text-based works that ranged from posters to LED signs; from fashion to plates on stone benches; from paintings to projections. Below, we briefly introduce the most significant series of works in Holzer's oeuvre.
Installation view of the Projections exhibition by Jenny Holzer at Mass MocA (2007 – 2008); Photograph by libbyrosof of an artwork by Jenny Holzer, CC BY 2.0, via Wikimedia Commons
The Truisms Series (1978 – 1987)
All of Jenny Holzer's art, her Truisms series, introduced earlier in this article, is arguably her most famous, possibly because it is these works that placed her on the map. Motivated by the reading list in the Whitney Museum's Independent Study Program, Holzer created prints consisting of maxims, which she called "truisms". The maxims ranged from light-hearted and witty, to controversial and offensive.
An example of this can be seen in two separate prints that seem to be created to start a lively debate: one reads "CHILDREN ARE THE HOPE OF THE FUTURE", while the other states, "CHILDREN ARE THE CRUELEST OF ALL". Holzer explained that these phrases are her response to the books she read, and she attempted to distill the contents of the books into simple one-liners.
Other examples of these sentences include "ROMANTIC LOVE WAS INVENTED TO MANIPULATE WOMEN", "ABUSE OF POWER COMES AS NO SURPRISE", "THE ONLY WAY TO BE PURE IS TO STAY BY YOURSELF", A LOT OF PROFESSIONALS ARE CRACKPOTS", and "REPETITION IS THE BEST WAY TO LEARN THINGS."
Allentown Benches: Selections from Truisms and Survival Series by Jenny Holzer in the Edward N. Cahn Federal Building and U.S. Courthouse, Allentown, Pennsylvania (1995); Carol M. Highsmith, Public domain, via Wikimedia Commons
She explained that she knew that most people would not read these books, which she thought had important messages, so she wanted to make them understandable, accessible, and readily available in public spaces. Initially, Holzer printed these phrases in bold, italic, capitalized black letters onto white paper, and pasted them on walls, telephone booths, street lights, and fences throughout Manhattan.
Later, the works became more colorful, and she even printed them on T-shirts, stickers, and stone benches.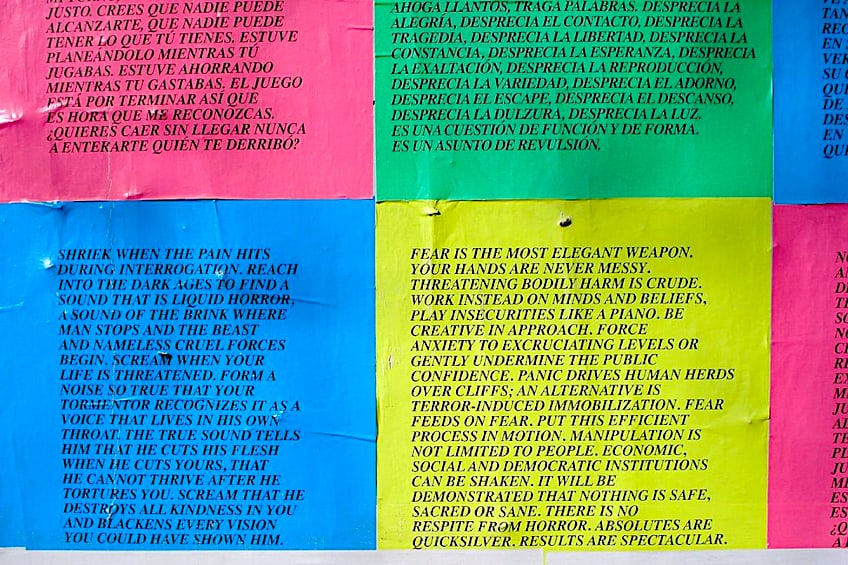 Reprintings in English and Spanish of Jenny Holzer's Inflammatory Essays from the 1980's at the Women in the City exhibition in Los Angeles (2008); Photograph by Lord Jim of "Inflamatory Essays" by Jenny Holzer installed in Los Angeles, Spring 2008, as part of "Women in the City", CC BY 2.0, via Wikimedia Commons
The Living Series (1980 -1982)
For the Living series, Holzer used bronze plaques as her medium. These plaques look similar to those often found on governmental or medical buildings, stipulating the historical significance of the site. Instead of using the signs as information boards about places, Holzer created plaques that speak directly to the person who is reading them. Some of the texts are witty and provocative, like "SPIT ALL OVER SOMEONE WITH A MOUTHFUL OF MILK IF YOU WANT TO FIND OUT SOMETHING ABOUT THEIR PERSONALITY FAST".
Other plaques are dark and disturbing, although representing sad truths about life, like "AFTER DARK IT'S A RELIEF TO SEE A GIRL WALKING TOWARD OR BEHIND YOU. THEN YOU'RE MUCH LESS LIKELY TO BE ASSAULTED".
This series of works introduce a character in Holzer's work that questions authority and establishment, while still being incredibly individual, thus blurring the gap between public and private.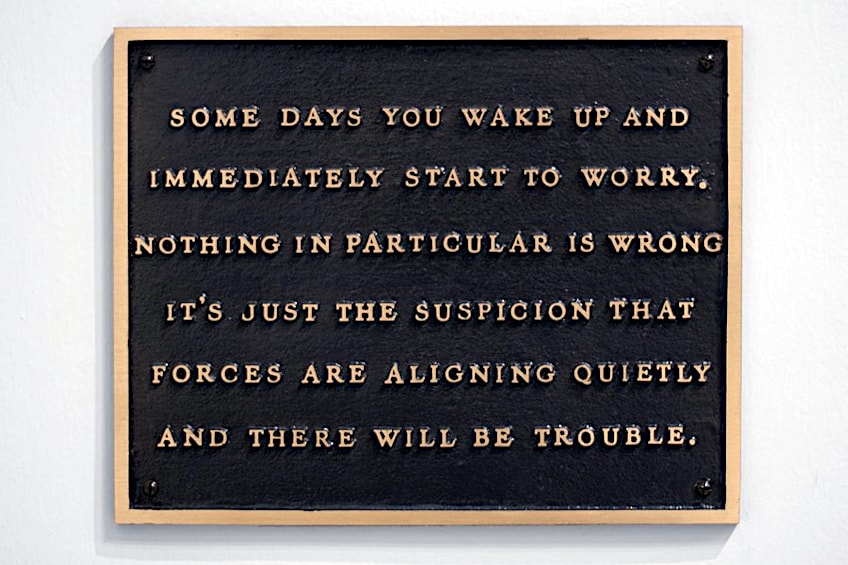 Living: Some days you wake up and immediately… by Jenny Holzer (1980 – 82); Photograph by Marcin Wichary of Jenny Holzer's sign, CC BY 2.0, via Wikimedia Commons
The Guggenheim Installation (1989)
Holzer's seminal installation in the Guggenheim Museum in 1989 consisted of a 535-foot-long sign that looped around in a projection along the inside spiral of the famous building. The texts in the sign were taken from Holzer's earlier work, especially from her Inflammatory Essays (1979 – 1982), and Truisms (1978 – 1987).
In this spiraling of words, Holzer included many taboo subjects and the installation created the effect of being inside the artist's mind. The texts reflected various voices with different beliefs and biases.
This resulted in viewers agreeing with some and disagreeing with others, based on their own biases and background. The idea behind the work is to start important conversations and to establish that the truth is always relative, and never absolute.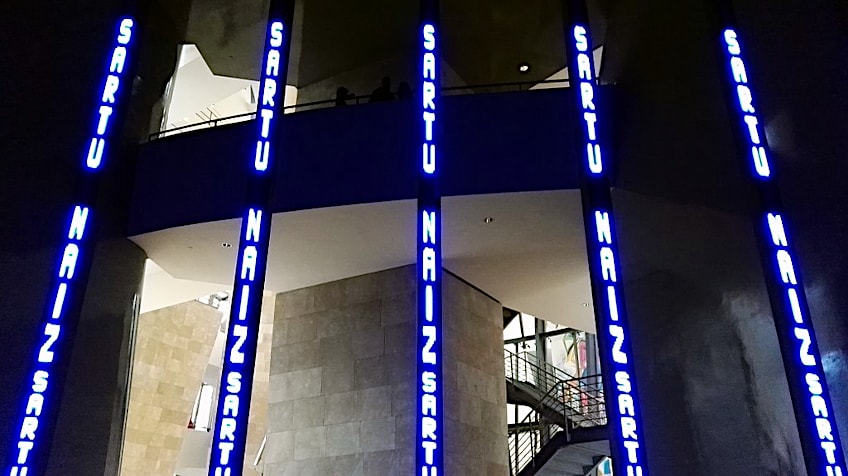 Installation at the Guggenheim Bilbao Museum by Jenny Holzer (1997); Fred Romero from Paris, France, CC BY 2.0, via Wikimedia Commons
Jenny Holzer and Helmut Lang Collaborations (1996 – Present)
The collaboration projects between Holzer and Lang are considered one of the most iconic artist/designer pairings of history. The creative pair, who were introduced to each other by the late fashion and art critic, Ingrid Sischy, did their first collaboration in 2996 for the Florence Biennale. The work combined Lang's new fragrance with Holzer's use of text. For the collaborative installation, Lang designed a scent inspired by the smell of a lover, lingering on bed sheets.
Their installation featured the scent along with LED text works by Holzer that displayed romantic phrases, including "YOU ARE MY OWN", "YOU ARE THE ONE WHO DID THIS TO ME" and "YOU ARE THE ONE."
Another example of a collaboration between Jenny Holzer and a commercial entity is her BMW Art Car (1999); Tim Wang from Beijing, China, CC BY-SA 2.0, via Wikimedia Commons
Holzer would later create text-based art for Lang's fashion store in New York City. Arguably, the duo's most significant work was the "anti-advertising" campaign their devised in 2000, alongside art director Marc Atlan. Going against the typical glossy photographic advertisement campaigns that the perfume industry normally uses, Holzer and Lang decided to rather create slogans, reminiscent of the old-fashioned newspaper headlines, that read intimate phrases, such as "I BITE YOUR LIP / I BREATHE YOUR BREATH / I SMELL YOU ON MY SKIN".
These minimal old-fashioned advertisements for Lang's new fragrance, went against convention, showing no color, no photographs, and no models.
Jenny Holzer Paintings (2007- Present)
Jenny Holzer's art did not feature any paintings for decades, yet, in 2007, she finally returned to her first love, painting. Her paintings, however, remain quintessentially true to Holzer's art philosophy; they are abstract, intimate, and political. After scouting declassified documents from the United State Security Archive, initially for text-based works, Holzer found inspiration for painting again. Initially, she created silkscreen paintings on canvas inspired by the war between America, Iraq, and Afghanistan. These paintings reflected her findings in these declassified documents, which stipulated the mapping and plotting of the invasion of Iraq.
In Protect Protect (2007), for example, Holzer screen-printed one of these innovation maps onto the canvas that contained words like "exploit". "suppress", "seize" and "isolate", next to arrows pointing to certain terrains.
Other paintings are inspired by words found in letters that prisoners wrote to their families, interrogation reports, and files that discuss torture methods.
Book Recommendations
This article was only a brief introduction to the incredible oeuvre of Jenny Holzer's artwork. Below, we recommend three books that will provide much more context and content on the life and work of Jenny Holzer.
Jenny Holzer: Truth Before Power (2004) by Henri Cole, Peter Glotz, et al.
This stunning hardcover book accompanies Jenny Holzer's project, Truth Before Power, which she did with the Kunsthaus Bregenz. The publication is an illustrated catalog that includes the work that Holzer presented in the project, alongside a selection of reproductions of the declassified US government documents that inspired the work. This is a seminal book on one of the most significant projects Holzer has produced in her life thus far.
Catalogue for Holzer's Kunsthaus Bregenz project
Includes sections of declassified texts that informed the installation
Features color images of Holzer's installation and her own writings
View on Amazon
Jenny Holzer (2008) by Elizabeth A.T. Smith and Jenny Holzer
This publication presents a wide variety of Holzer's art, spanning decades. Along with stunning illustrations, the work also includes multiple scholarly articles on Holzer's artwork and interviews with artists. The book was published to accompany a major of Holzer's works across multiple mediums that was held at the Museum of Contemporary Art in Chicago in 2008.
Catalogue for a major retrospective of Holzer's art
Includes excerpts of influential texts selected by Holzer herself
Excellent and essential in-depth survey of Holzer's art and career
View on Amazon
Jenny Holzer: War Paintings (2015) by Joshua Craze, Thomas Kellein, et al.
This book focuses on Holzer's more recent works that expose tactics of war and terror in the United States military operations in Iraq and Afghanistan. The book includes more than 200 images, including artwork reproductions and installation views of many of Holzer's work, especially focusing on her silkscreen paintings. This publication establishes Holzer as one of the most important political artists of our time.
Essential volume on Holzer's most political work to date
Includes full-bleed reproductions detailing Holzer's technique
Features multiple color photographs of Holzer's installations
View on Amazon
Through using text in public spaces, Jenny Holzer's artwork encourages important debate about social and political issues of our era. The scope, size, and audience for her work have expanded as she developed throughout her career. Holzer's approach to text and language, and the importance of addressing social and political issues, has inspired a whole generation of neo-Conceptual artists. Her work on declassified military documents had gained renewed attention since the September 11 attacks on the World Trade Center in New York. Today, Jenny Holzer is known as one of the most important political contemporary artists of our time.
Frequently Asked Questions
What Type of Artist Is Jenny Holzer?
Jenny Holzer was initially inspired by Abstract Expressionism. Her work, however, evolved to be more conceptual in nature. Overall, Holzer is considered a Contemporary artist, whose work is influenced by Conceptual art and Neo-conceptual art.
What Font Does Jenny Holzer Use?
Jenny Holzer's art features many different fonts. Her fonts are often bold and black when printed, mimicking newspaper headlines. For her Truism series, Holzer apparently used the font Futura Condensed ExtraBold.
Chrisél Attewell (b. 1994) is a multidisciplinary artist from South Africa. Her work is research-driven and experimental. Inspired by current socio-ecological concerns, Attewell's work explores the nuances in people's connection to the Earth, to other species, and to each other. She works with various mediums, including installation, sculpture, photography, and painting, and prefers natural materials, such as hemp canvas, oil paint, glass, clay, and stone.
She received her BAFA (Fine Arts, Cum Laude) from the University of Pretoria in 2016 and is currently pursuing her MA in Visual Arts at the University of Johannesburg. Her work has been represented locally and internationally in numerous exhibitions, residencies, and art fairs. Attewell was selected as a Sasol New Signatures finalist (2016, 2017) and a Top 100 finalist for the ABSA L'Atelier (2018). Attewell was selected as a 2018 recipient of the Young Female Residency Award, founded by Benon Lutaaya.
Her work was showcased at the 2019 and 2022 Contemporary Istanbul with Berman Contemporary and her latest solo exhibition, titled Sociogenesis: Resilience under Fire, curated by Els van Mourik, was exhibited in 2020 at Berman Contemporary in Johannesburg. Attewell also exhibited at the main section of the 2022 Investec Cape Town Art Fair.
Learn more about Chrisél Attwell and the Art in Context Team.
Cite this Article