Japanese artist Yayoi Kusama's artworks are primarily recognized for their use of recurring patterns and psychedelic images to express themes of feminism, psychology, sex, obsessions, creativity, destruction, and profound self-reflection. Yayoi Kusama's paintings first started to emerge in childhood as a way of escaping the realities of life and expressing the visions she experienced. These visions contained recurring patterns and polka dots that would become a trademark of her work.
The Life of Japanese Artist Yayoi Kusama
Yayoi Kusama's life is both a moving testimonial to the therapeutic power of art and an examination of human perseverance. As a youngster, afflicted by mental illness and severely tortured by a heartless mother, the young artist survived by channeling her visions and psychological obsessions into prodigious artistic production across several disciplines. Despite being born and raised in a traditional, patriarchal Japanese society and trying to make it as a female artist in the New York art world, this has shaped a lifetime devotion to creativity at any cost.
Today, Kusama is regarded as one of the most distinctive and well-known modern female artists, working from her self-imposed residence in a mental institution.
| | |
| --- | --- |
| Nationality | Japanese-American |
| Date of Birth | 22 March 1929 |
| Date of Death | N/A |
| Place of Birth | Matsumoto, Nagano, Japan |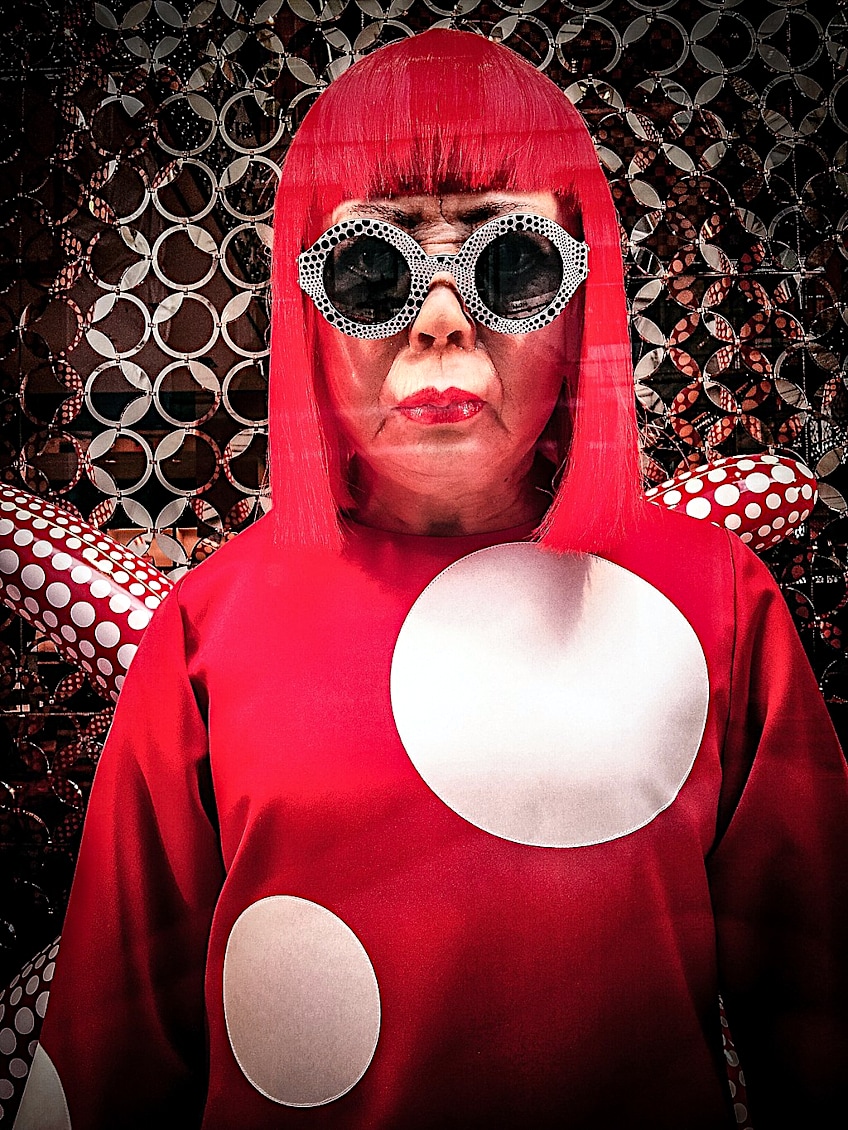 Yayoi Kusama wax model at Louis Vuitton for 2012 collection unveiling; Garry Knight, CC BY 2.0, via Wikimedia Commons
Childhood and Education
The Japanese artist Yayoi Kusama was born in 1929 in Matsumoto, Japan, the youngest of four children in a wealthy household. Her childhood, on the other hand, was far from perfect. Her parents were the result of a arranged marriage that was devoid of love. Her distant father, humiliated by the fact that he had to assume his wife's surname as a requirement for marrying into her affluent family, spent the majority of his days away from his family, having affairs with other women, letting his enraged wife emotionally and physically abuse her youngest child. She would frequently send Kusama to eavesdrop on her father's sexual adventures, causing Kusama to develop a lifelong revulsion to intimacy and the male body.
Kusama started having intense hallucinations when she was around 10 years of age, in which plants would communicate with her, and fabric designs would spring to life and swallow her. She started drawing these images as a therapeutic release, giving her comfort and command over the anguish that afflicted her.
Kusama was assigned to work in a military factory stitching parachutes for Japan's World War II efforts when she was 13 years of age. Her adolescence was spent in the factory's darkness, hearing air-raid sirens and the noise of army jets passing overhead. The atrocities of war would have a lifelong impact on Kusama, inspiring her to produce several anti-war artworks as well as to cherish individual and artistic freedom. Her time in the factory also taught her how to sew, which she would need later in life when she started making soft sculptures in the 1960s.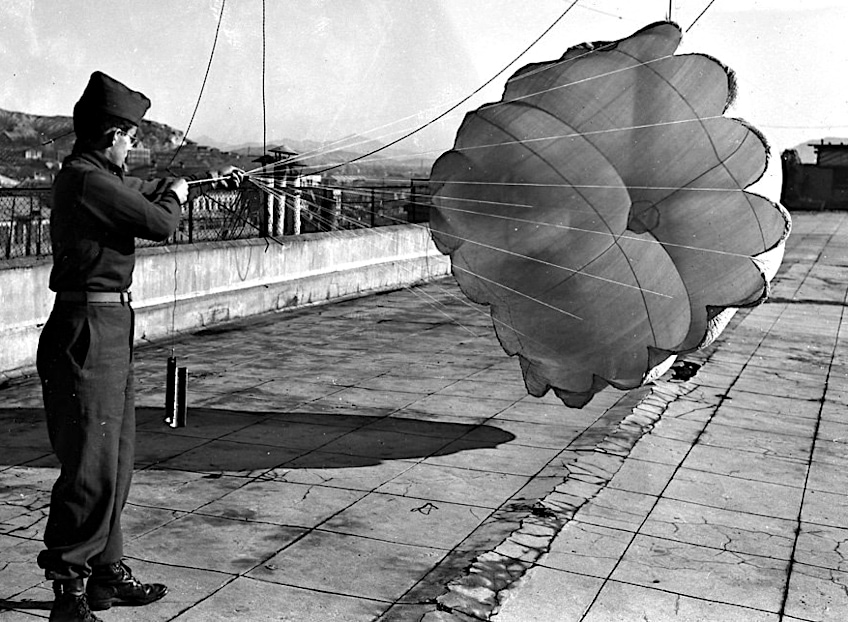 American soldier with a Japanese parachute in Korea; Don O'Brien from Piketon, Ohio, United States, CC BY 2.0, via Wikimedia Commons
Early Training
Kusama studied painting in Kyoto and Masumoto, defying her mother, who wished that she become a dutiful housewife. Because there was a tendency in Japan during that time to reject Western cultural influences, Kusama was required to learn Nihonga, which consisted of producing paintings utilizing 1000-year-old classical Japanese materials and techniques. Her creative aptitude was evident even at an early age, and Yayoi Kusama's artwork was displayed in shows around Japan.
The suffocating orthodoxy of Japanese society and her violent mother, though, were too much for the young artist, and she emigrated to the United States in 1957, landing in New York City in 1958.
Kusama's mother gave her money and warned her to "never set foot in her household again". Kusama retaliated by destroying hundreds of her creations.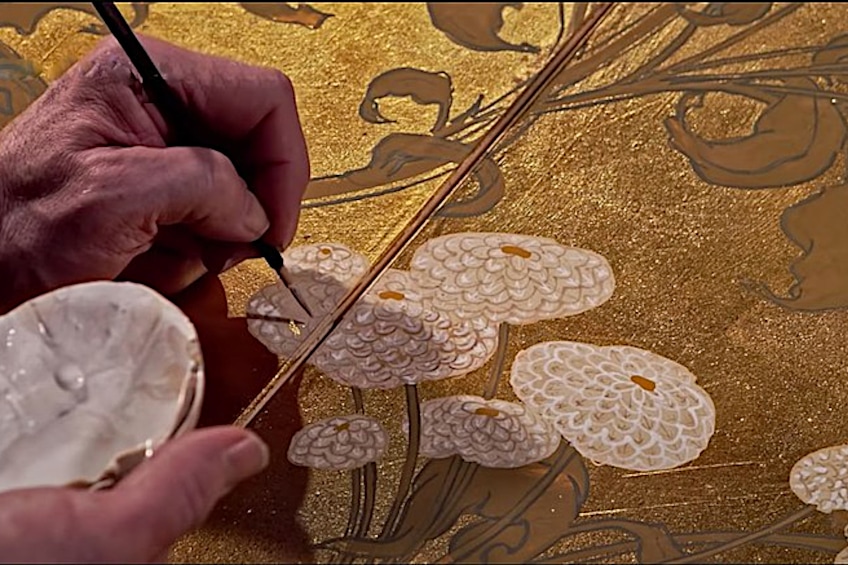 Nihonga painting technique; Cosmomontoya, CC BY-SA 4.0, via Wikimedia Commons
Mature Period
Yayoi Kusama was able to express herself artistically in the United States after being repressed in Japan. "Japan was too subservient and too dismissive of women and art like mine. My work needs more unrestricted freedom and a larger audience". With the assistance of Georgia O'Keeffe, with whom Kusama had begun a friendship while still residing in Japan, she was able to obtain exhibits and sales, resulting in early interest in Yayoi Kusama's paintings.
But there was also interest in the exotic artist herself, and she developed a close friendship with Donald Judd, a fellow Minimalist artist who appreciated her works so much that he bought one of her early Infinity Net canvases.
Joseph Cornell, the then middle-aged reclusive master of assemblage art, was likewise smitten with Kusama, frequently sending her love notes and painting her naked
Because of her anxiety and phobia of sex, both of these relationships were exclusively platonic. Cornell shared her dislike of sex, and Kusama once said, "Cornell loathed sex, which is why we got along so wonderfully".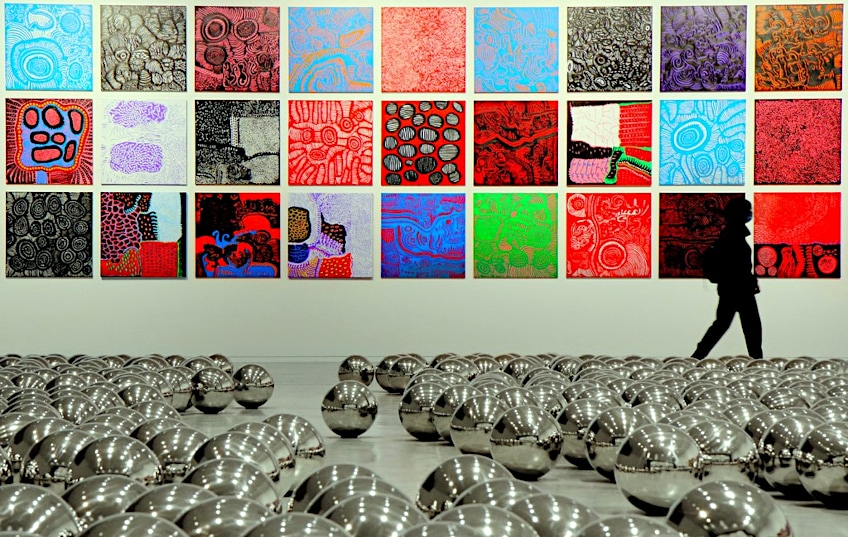 Yayoi Kusama Exhibition in Israel showing paintings and installation art (2022); Lizzy Shaanan Pikiwiki Israel, CC BY 2.5, via Wikimedia Commons
Kusama and Cornell became so close that after he died in 1972, she started making collages to commemorate his achievements, and deal with his loss. During this period, Kusama worked tirelessly, truly embodying the 1960s free-spirited hippie culture, which included denouncing war, sexism, and capitalism. Blending these subjects with her own emotional concerns, she made art that was very personal while also speaking to current injustices.
Critics were perplexed by this avant-garde work, and the struggling artist quickly rose from obscurity to fame. Her celebrity equaled that of a number of the most prominent Pop artists, and Kusama relished the limelight. Judd recalls Kusama grabbing a pregnant cat and sucking one of its nipples to bring attention to herself when she was at a friend's house.
However, her brazen and stated desire for recognition might also be interpreted as an attempt to openly self-validate her identity in response to the hurdles imposed on her by her family's early rejection of her profession and her struggle with mental illness. During this 15-year timeframe, Kusama's artistic production was prolific and diversified, exploring many mediums such as sketching, sculpture, painting, performance, clothing, writing, and installations.
Financial strain combined with Cornell's death ultimately took their toll, and she returned to Japan in 1973 to seek therapy for her psychological anguish and worsening physical condition.
She started to devote her time to her surreal literature and an avant-garde clothes brand. Kusama entered the Seiwa Mental Hospital in 1977 and she has been working and living there voluntarily ever since.
Late Period
In the early 1970s, after Kusama returned to Japan, the Western art world had almost forgotten about her. Even in Japan, she was largely renowned for her violent novels. That changed when she was selected to be the Japanese representative at the 45th Venice Biennale in 1993.
The celebrated display of one of her Infinity Mirror Rooms incorporating polka-dot pumpkins, together with the artist's performances in conjunction with the show, rekindled attention and enthusiasm for Yayoi Kusama's artwork, as well as curiosity in the eccentric artist herself.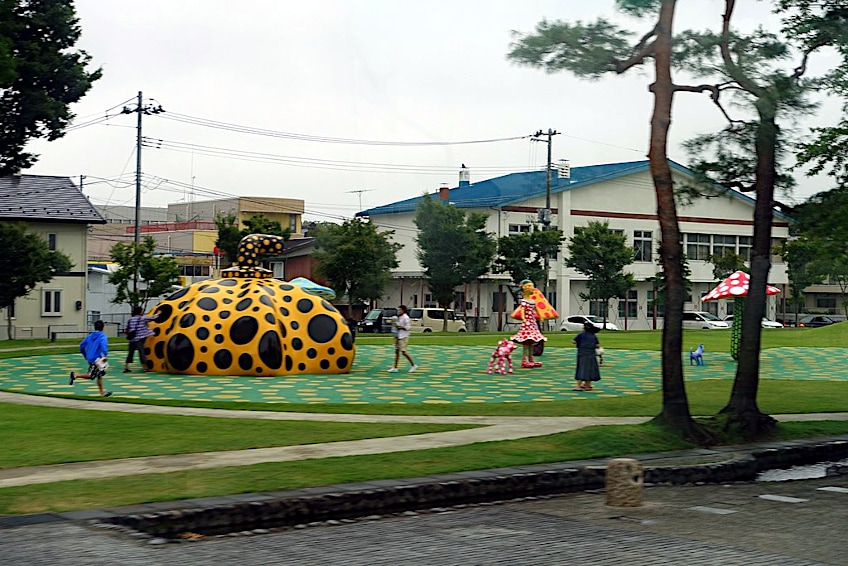 Love Forever, Singing in Towada (2010); Daderot, CC0, via Wikimedia Commons
Kusama continues to seek the spotlight and insists on being photographed with her art. Kusama's persona has become as enthralling as her work, as she wears her characteristic red wig and her own polka-dot clothing. One of her Infinity Nets, which Judd had owned, smashed new art sales price records for a contemporary female artist in 2008, leading to partnerships with luxury fashion companies such as Louis Vuitton and Marc Jacobs. The Japanese artist, whose work used to be a protest against capitalism and consumerism, now wholeheartedly embraces them.
Legacy and Accomplishments
More significant than her eclectic work's impact on the art world is its effect on other creators and movements that transcends generations. Pop painters including Andy Warhol, Feminist painters such as Carolee Schneemann, Performance artists notably Yoko Ono, and modern artists like Damien Hirst were all influenced by her work.
Kusama's wide-ranging influence may be due to the fact that she has always been one step ahead of her time, with her art at the vanguard of major aesthetic movements.
But since her art is so intimate, serving as both a symptom and a remedy for her mental illness, it doesn't cleanly fit into any of these recognized movements. Claes Oldenburg, another Pop artist, says, "Kusama's thinking was not the type that associated with movements. She simply went her own way ". She still portrays herself as a solitary wolf who is content with being labeled as independently avant-garde.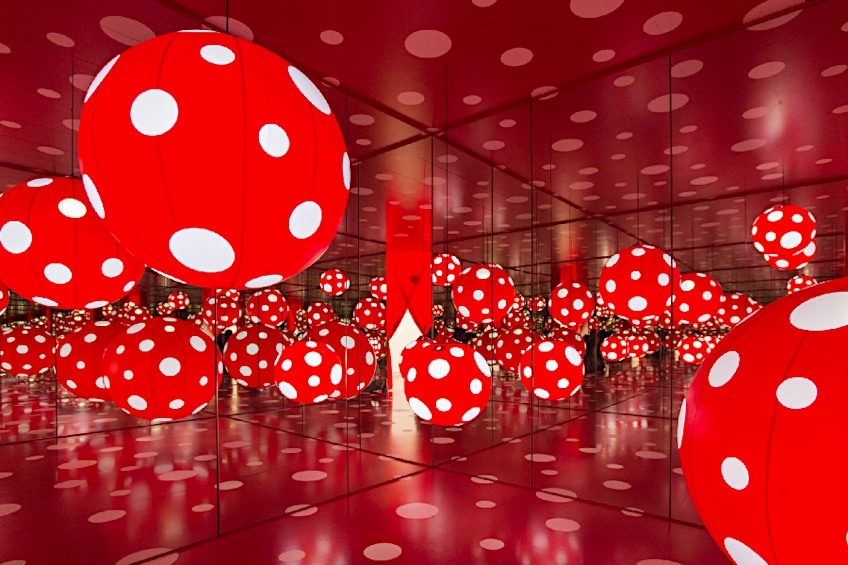 Dots Obsession (2013-2016); M.Ahmadani, CC BY-SA 4.0, via Wikimedia Commons
When Kusama was a youngster and started to have hallucinations, she coped by painting what she saw. She states that art became a method for her to convey her mental illness, as seen by her Infinity Net canvases (which she first created in 1959 and continues to create to this day), based on repeated patterns and her installation pieces in which she constructs intricate settings overwhelmed with polka dots or small points of light.
Kusama uses art to cope with hallucinations in the same way as she uses it to tackle personal anxieties, particularly a dread of sex resulting from seeing her father's womanizing. This is evident in her "compulsion" soft sculptures and furniture items draped in various phallic shapes.
Her experience battling for her life, as well as her sympathy for people active in anti-injustice causes, inspired Kusama to temporarily associate with numerous subcultural groups of her period, including the feminist movement and the hippie movement. Art became a crucial survival strategy for Kusama. It was her lone means of making meaning of a world in which she lived on the outskirts of normative experience, and it became the very thing that helped her to effectively integrate into society.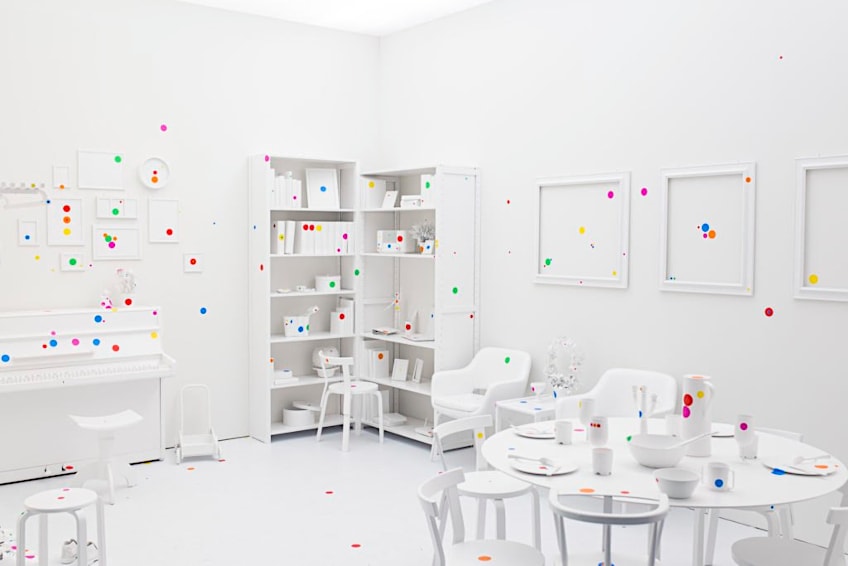 Obliteration Room during early part of installation (2016, first staged in 2002 at the Queensland Art Gallery); Helsinki Art Museum, The Broad, CC BY-SA 4.0, via Wikimedia Commons
According to curator Mika Yoshitake, Kusama's pieces on show are intended to envelop the entire individual in her accumulations, obsessions, and cycles. These limitless, repetitive artworks were created to distract Kusama from her obsessive thoughts, but she now shares them with the rest of the world.
One of Kusama's mirror shows, according to Claire Voon, may "transport you to a calm galaxy, a lonely maze of pulsating light, or what could be the engulfing bowels of a behemoth with the measles".
It was intended to instill these emotions in the viewers. Kusama's experiences appear to be special to her art since she wanted others to sympathize with her in her challenging existence. One historian defined Kusama's desire to influence how others perceive space and time while entering her shows as a result of her feeling of not being in control throughout her life. This comment appears to imply that Kusama would not have made these works as well, if at all, without her tragedy. Kusama's coping strategy has evolved into art.
Notable Yayoi Kusama Artworks
Although we won't go into detail about Yayoi Kusama's paintings in this article, we have included a list of her best works. The famed Japanese artist has created many pieces that allow one to feel as if you have entered directly into one of her visions. Her obsessive love for polka dots has created a distinct signature style that is hard to mistake or miss.
| | | | |
| --- | --- | --- | --- |
| Artwork | Date | Medium | Location |
| The Woman | 1953 | Tempera and acrylic on paper | The Blanton Museum, Texas |
| No. F | 1959 | Oil on canvas | The Museum of Modern Art, New York |
| Accumulation No.1 | 1962 | Sewn stuffed fabric, paint, and chair fringe | The Museum of Modern Art, New York |
| Sex Obsession Food Obsession Macaroni Infinity Nets & Kusama | 1962 | Collage | Private Collection |
| Narcissus Garden | 1966 | Plastic silver balls, signs, gold kimono, | 33rd Venice Biennale, Venice, Italy |
| Anatomic Explosion on Wall Street | 1968 | Naked dancers, blue paint, drums | Yayoi Kusama Studio |
Recommended Reading
Now that you have been introduced to famous Japanese artist Yayoi Kusama, perhaps you would like to learn even more about Yayoi Kusama's art and lifetime. There is no better way to enjoy Yayoi Kusama's paintings than with a book. Here is a list of a few recommended books that you can purchase and enjoy today!
Yayoi Kusama: Every Day I Pray for Love (2020) by Yayoi Kusama
Yayoi Kusama's most intimate book to date invites us into her private world via lyrical reminiscences, providing insight into her creative process and the critical role words play in her artworks and daily life. This book includes an outstanding review of Yayoi Kusama's poetry with a fresh focus on her use of language. The book devotes special emphasis to the intriguing, lyrical names of her paintings, emphasizing the significance of words to the artist. These imaginative titles are a staple of Kusama's eye-catching paintings, but they also stand on their own as distinctive aphorisms and compelling affirmations of cosmic spirituality. The poetry included in this collection also addresses Kusama's personal hardships, human values, and her courageous pursuit of art above everything else.
Rare compilation of Kusama's poetry paired with her artwork
Catalogues her 2019 exhibition at David Zwirner gallery in New York
Beautifully illustrated in an unusually compact format for an art book
View on Amazon
Infinity Net: The Autobiography of Yayoi Kusama (2021) by Yayoi Kusama
Yayoi Kusama is one of today's most important modern painters. In her own words, she relates the tale of her life and astonishing career, exposing her as a fascinating person and maverick artist who turns her obsessive fears and anxieties into work that crosses cultural bounds. Kusama recounts her decade in New York, initially as a poor artist and subsequently as the grande dame of an alternative counter-cultural community. She gives a moving story of her friendships with prominent personalities in the art world, including Donald Judd, Georgia O'Keeffe, and the solitary Joseph Cornell, with whom Kusama formed a strong relationship. She narrates her youth and the initial appearance of the intense hallucinations that have plagued her throughout her life in frank words. She narrates events from her youth including the first incidences of hallucination that have plagued her throughout her life with complete frankness.
Complex first-hand account of Kusama's turbulent life
Provides rare insight into her thought and artmaking processes
Details her relationships with artists like O'Keefe, Judd, and Cornell
View on Amazon
Obliteration Room after mass participation (2011, first staged in 2002 at the Queensland Art Gallery); Stephan Ridgway, CC BY 2.0, via Wikimedia Commons
The incredibly gifted Japanese artist, Yayoi Kusama, was able to take her harsh upbringing and strange visions and turn them both into fuel for her imagination and art. Polka dots feature heavily in her works, as do recurring patterns, and both serve to draw the audience into the pulsating world of shifting patterns and lights that she would experience during her visions as a child. We can be thankful that the artist was able to take her pain and transform it into something unique and beautiful – which is truly the power of art.
Take a look at our Yayoi Kusama art webstory here!
Frequently Asked Questions
What Is the Yayoi Kusama Museum?
The Yayoi Kusama Museum is a modern art museum dedicated to the works of Yayoi Kusama. It can be found in the Shinjuku Ward of Tokyo, Japan's western suburbs. Kume Sekkei, a Japanese architecture studio, created the five-story structure. The building was finished in 2014, and it debuted in 2017 with a display of 600 of Yayoi Kusama's artworks. The tickets to the museum have time limits, and it only allows around 200 visitors each day that it is open to the public.
What Inspired Yayoi Kusama's Paintings?
According to the Japanese artist, her artwork was heavily influenced by a traumatic childhood, hallucinations, and mental issues. Her dad was an adulterer who was always out of the house and her mother was abusive to her. Art became a means of escaping from this reality for the young woman as well as a way to express the strange visions that she encountered. These visions would often include the polka dots and recurring patterns that are such a prevalent characteristic of her works. She would later be diagnosed with compulsive obsessive behavior and would voluntarily place herself in an institution.
Isabella studied at the University of Cape Town in South Africa and graduated with a Bachelor of Arts majoring in English Literature & Language and Psychology. Throughout her undergraduate years, she took Art History as an additional subject and absolutely loved it. Building on from her art history knowledge that began in high school, art has always been a particular area of fascination for her. From learning about artworks previously unknown to her, or sharpening her existing understanding of specific works, the ability to continue learning within this interesting sphere excites her greatly.
Her focal points of interest in art history encompass profiling specific artists and art movements, as it is these areas where she is able to really dig deep into the rich narrative of the art world. Additionally, she particularly enjoys exploring the different artistic styles of the 20th century, as well as the important impact that female artists have had on the development of art history.
Learn more about the Art in Context Team.