Despite being trained in fine art, Belgian painter James Ensor quickly abandoned it in favor of developing an innovative Expressionism style that represented his own perspective on modern life. The imagery of James Ensor's paintings is constantly pessimistic and ridiculing, displaying an almost monstrous type of Realism intended to document the pressures underpinning modern social morays of his period, and most likely of all times. In this article, we will be exploring James Ensor's Biography as well as infamous examples of James Ensor's drawings and paintings.
James Ensor's Biography
| | |
| --- | --- |
| Nationality | Flemish |
| Date of Birth | 13 April 1860 |
| Date of Death | 19 November 1949 |
| Place of Birth | Ostend, Belgium |
He was especially intrigued by the famous carnival culture arranged around the annual celebration of Mardi Gras all through Belgium, which was most likely impacted by the reality that his family's shop in Ostend was a major peddler of festive paraphernalia.
James Ensor created a revolutionary painting style that was best suited to his particular agenda.
He started to construct volume with spots of color across the exterior of the canvas, rejecting the use of illusionism and one-point point of view to arrange the impression displayed. As a result, the visuals no longer shrunk but rather affected to access the audience's space. The figures in James Ensor's paintings command attention despite being crammed to the brim and deprived of breathing space.
Childhood
The Belgian painter's parents, James Frederic Ensor and Maria Catherina Haegheman owned a gift shop in Ostend, attempting to sell carnival knickknacks and seaside ornaments. Ensor was inspired by the shop's inventive patterns and artifacts all through his artistic career. He grew up in a joyful and easy-going household with his family.
He attended the College Notre Dame but demonstrated little interest in education. He struggled in the organized curricular environment and dropped out after two years.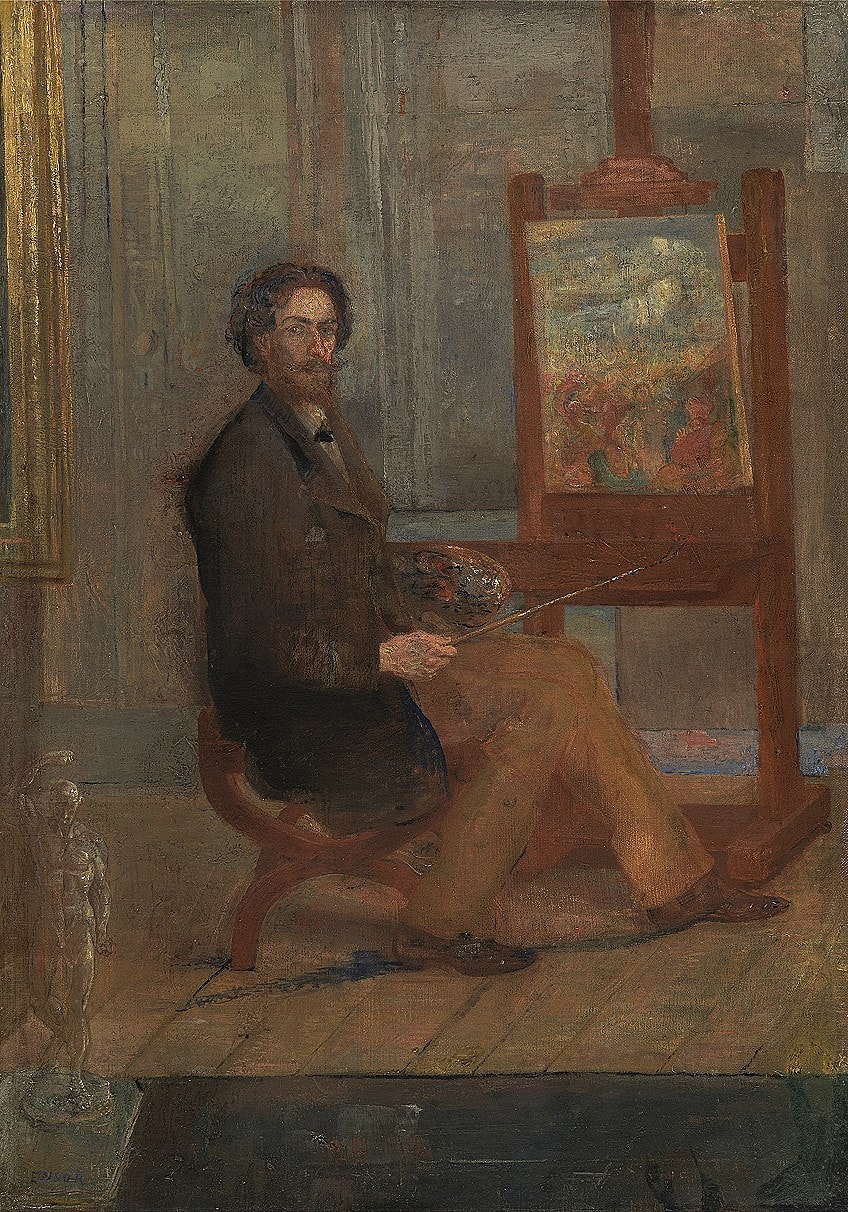 Self-portrait of artist James Ensor titled Ensor at his Easel (c. 1890). Located in the Royal Museum of Fine Arts Antwerp in Belgium; James Ensor, CC0, via Wikimedia Commons
Early Training
Ensor began painting at the age of 13 and was taught by two Ostend watercolorists, Van Cuyck and Dubar. "Van Cuyck and Dubar, both salty and oily, professorially introduced me to the disheartening banalities of their dour, stillborn, and obstinate craft," he recalled. At the age of 17, he registered at the Brussels Academy of Fine Arts and started working under the tutorship of Alexandre Robert, Joseph Stallaert, and Jef Van Severdonck.
Ensor rebuffed the Academy's formal teaching and devised novel ways to invigorate the required study of antiquity.
As he put it: "A big issue appeared on the frontier the moment I arrived. I was given the task of drawing Octavius, the most powerful of the Caesars, from a white plaster bust. I was terrified by the snowy plaster. I re-created it with bright pink chicken skin, reddening the tresses and causing quite a stir among some of the pupils."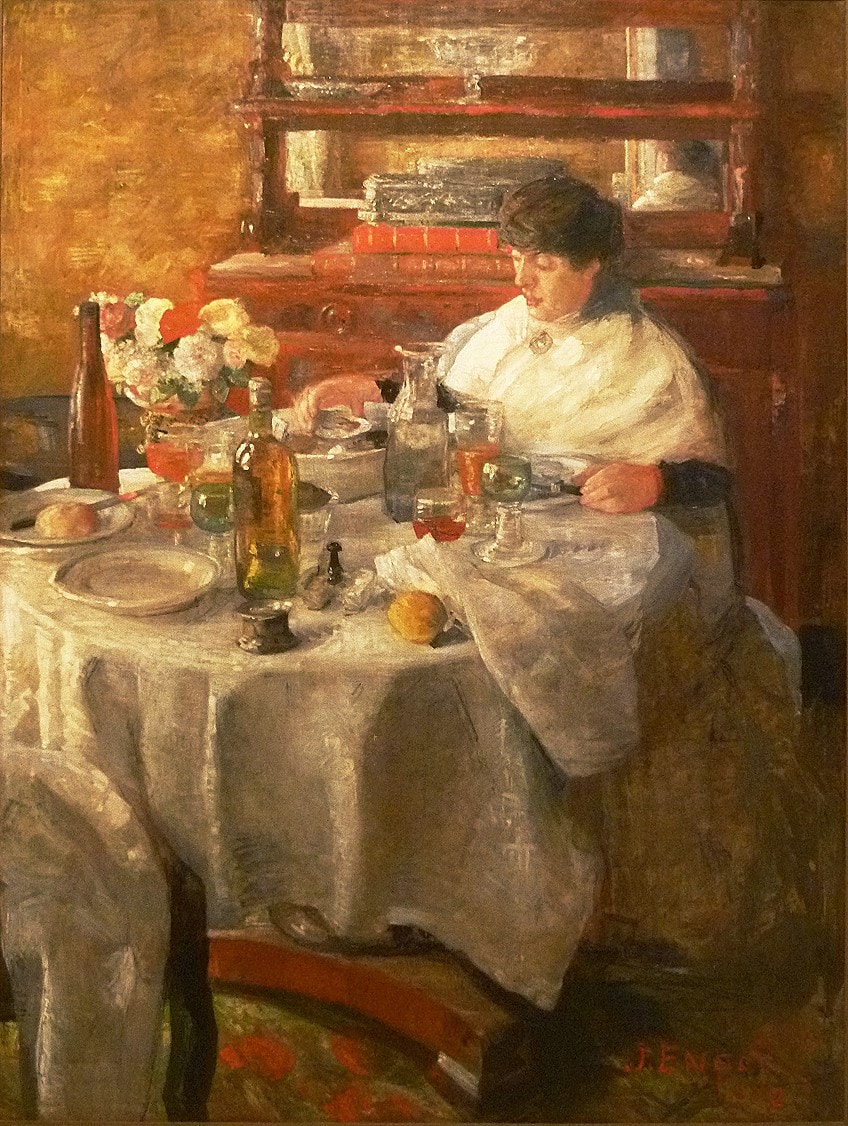 The Oyster Eater (1882) by James Ensor, located in the Royal Museum of Fine Arts Antwerp in Belgium; James Ensor, Public domain, via Wikimedia Commons
Even though he had caused controversy, he was permitted to proceed with his schooling at the Academy and was allowed to sketch from live models. He left the academy after three years, naming it an "organization of the short-sighted."
Ensor got to know many other liberal creatives during his time at the Academy, such as Théo van Rysselberghe, Fernand Khnopff, Guillaume Van Strydonck, and Theo Hannon. They formed the Belgian group Les Vingt of artists, creatives, and sculptors and were willing to take responsibility for the publishing of two artistic journals. Ensor showed six creations at Les Vingt's first exhibition in 1884.
Critics were outraged by his paintings, and among the negative comments were: "Is that painting? Not at all! It's filthy!" His work has also been referred to as "truly disgusting studio garbage" and "nefarious idiocies."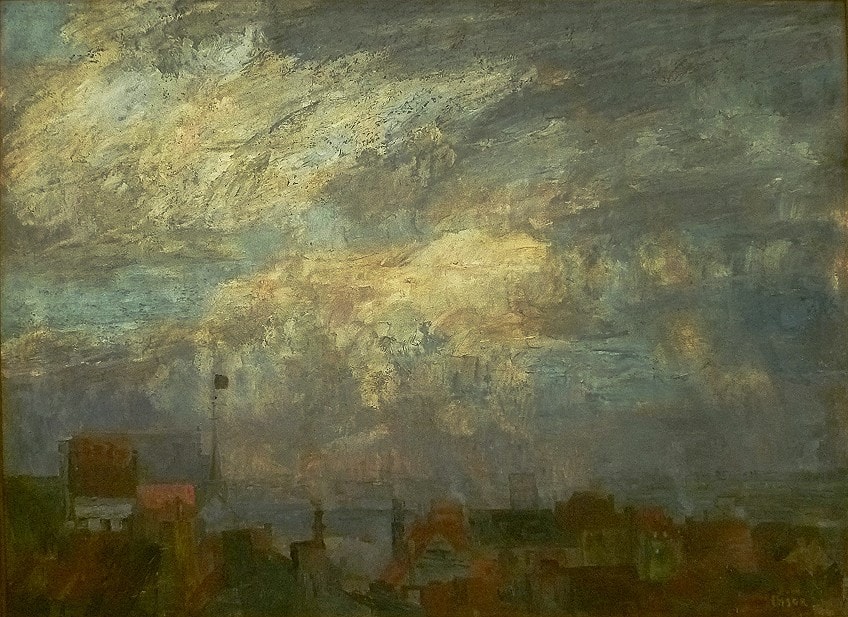 The Rooftops of Ostend (1884) by James Ensor, located in the Royal Museum of Fine Arts Antwerp in Belgium; James Ensor, CC BY 3.0, via Wikimedia Commons
Despite the negative feedback, Ensor began painting at a steady pace. Ensor's early career, which lasted about five years, is referred to as his "somber period" and is classified as Realism. Middle-class designs, self-portraits, and still-life paintings were some of the subjects of emphasis, all embellished with layers of thick paint in warm tones.
Notwithstanding the dark interiors, the creator's fascination with light, akin to the Impressionists, is evident. This component of his artwork was deemed too groundbreaking in Belgium, and as a result, his artworks went unsold.
Mature Period
All through his "somber phase," Ensor created Scandalized Masks (1883), which would also culminate in the artist's "light period." This next phase, which lasted about 15 years, was distinguished by the portrayal of headgear and other carnival memorabilia. His work progressively became too liberal for Les Vingt, and his entries into the group were rejected. Achille Chainaye, a sculptor, even demanded his official rejection from the group. This was brought to a referendum, and while Ensor was able to stay a member, Chainaye decided to resign.
Amidst being an outcast in one of the period's more avant-garde groups, Ensor proceeded to display with them until they discontinued in 1893. Ensor's outlandish behavior made him a target of derision in Ostend.
His mother and aunt abandoned him as a result of the rumors. As a consequence of his failing artistic career and the lack of enthusiasm from his peers, he had become depressed and moved to Brussels, where he sought refuge with Ernest Rousseau's family.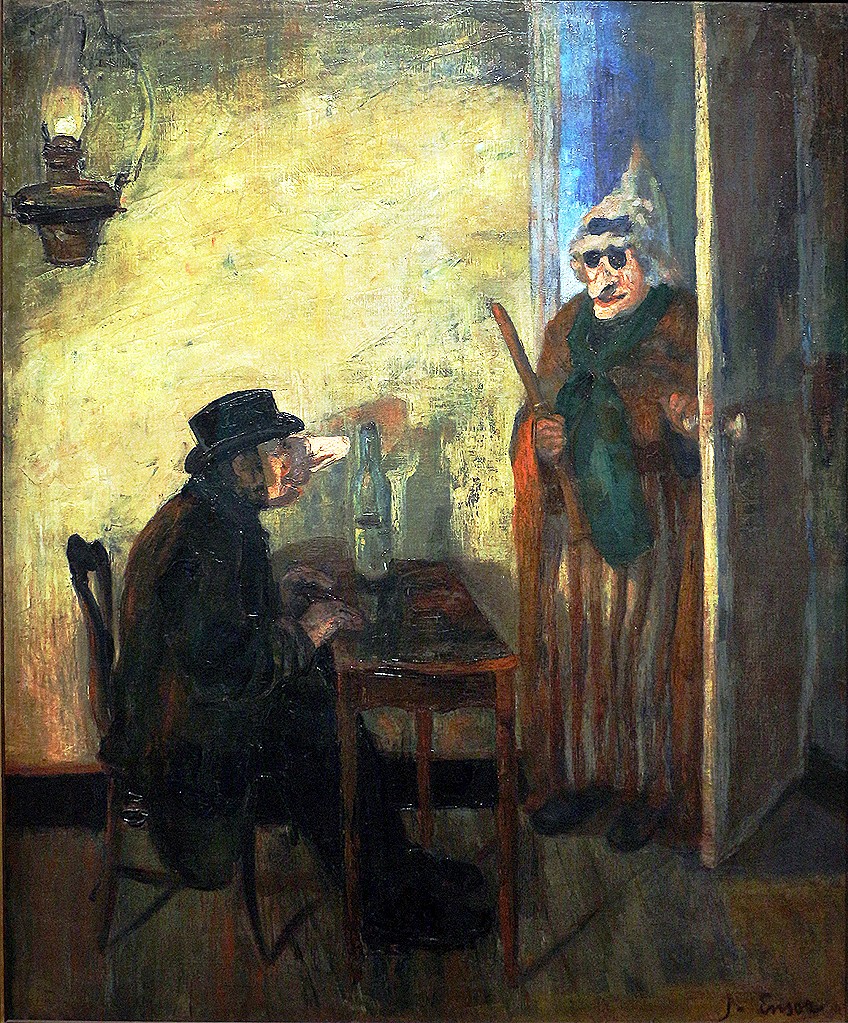 Scandalized Mask (1883) by James Ensor, located in the Royal Museums of Fine Arts of Belgium; James Ensor, Public domain, via Wikimedia Commons
At Rousseau's house, Ensor encountered Eugene Demolder, who became one of his most fervent supporters, as well as other neighborhood academics, painters, and free thinkers. This group's anarchistic and atheist viewpoints emerged as a primary source of motivation for the artist.
Ensor displayed his odd character by playing the prankster at Rousseau's house, often pulling off pranks on friends and even strangers on occasion. He even plagiarized the creations of the major masters he analyzed on occasion.
Still life with a cabbage (1921) by James Ensor, located in the Kröller-Müller Museum in the Netherlands; James Ensor, Public domain, via Wikimedia Commons
Ensor went to Ostend now and then to see his girlfriend, Augusta Boogaerts, whom he dubbed "the Siren." She was 10 years his junior, had a lovely personality, and worked as a saleswoman in his family's souvenir shop. Despite his parents' disapproval of their relationship and the fact that they were never to tie the knot, their love lasted the rest of his life.
Ensor's Brussels friends applauded his works and wrote glowing reviews for them in local publications such as la Plume. Their vehement criticisms are thought to have contributed to his success as an artist. While his notoriety grew and his talent became more well-known, his creative thinking began to wane.
The absence of his father, his newly gained success, and/or the lack of stimuli and inspiration he'd previously received at Rousseau's home all contributed to the artist's downturn in a zest for life.
Late Years and Death
Ensor's last phase, dubbed the "crystalline phase," lasted 50 years and started at the start of the 20th century. Vibrant hues that barely cover the surface, hesitant lines, and a lack of internal structure characterize these works. While a few were regarded as inventive and masterful, the majority of the works of art and subjects were rehashed from previous works.
He continued to withdraw even further from the public. While James Ensor's paintings were more expensive than those of any other living Belgian painter, his production shrunk.
The Intrigue (1890) by James Ensor, located in the Royal Museum of Fine Arts Antwerp in Belgium; James Ensor, Public domain, via Wikimedia Commons
Augusta pressed him to keep working, to keep track of his works of art, to make a stockpile of his oeuvre, and curate their sale. He was not used to having such a credible person overseeing his work, and the rumor goes, "one day, she ended up going out and Ensor left a note on the table saying, 'do not take any of it; I have counted all of it.'" When he returned, she wrote, "Do not count anything; I have chosen to take it all."
Ensor's passing in 1949 created quite a stir in the Belgian community. Cabinet members, commanders, judicial officers, church leaders, and painters were among those who came to pay their love and respect. He was laid to rest in Mariakerke's Notre-Dame des Dunes Cemetery.
The Legacy of James Ensor
Ensor earned a lot of attention during his lifetime as a result of his marriage of technological innovation and social criticism. His explorations, autonomy from tradition, and deliberate break with reality position him in a class by themselves.
Aspects of his work influenced the development of a number of substantial artistic movements, including Fauvism, Symbolism, Expressionism, Surrealism, and Dadaism.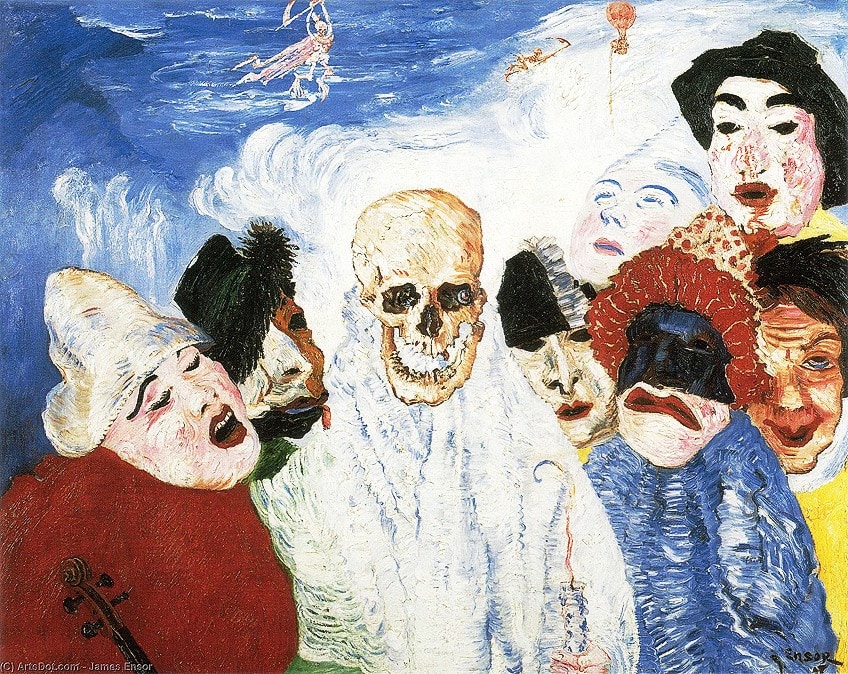 Death and the Masks (1897) by James Ensor; James Ensor, Public domain, via Wikimedia Commons
His eagerness to deride the civilization in which he resided, for example, impacted the jobs of a variety of artists, such as Munch, Derain, and Picasso, whilst also his use of daring, evocative color that adheres to the surface of the canvas and refuses to disappear in any traditional manner influenced the work of Bonnard, Matisse, and the German Expressionists.
James Ensor's Drawings and Paintings
The carnival theme piqued the artist's interest, and he saw it as an excellent way to encapsulate society's frailties. He masked his figures and gave them faces that reflected their inner selves instead of their anatomical ones. In this manner, he was able to delve underneath the and expose society's "true face." His unmasked investigation of society eventually led to his repudiation by many, including local avant-garde artists.
The Belgian painter's social commentary, which was initially subtle, eventually became frantically cynical.
While it may be noted in the incorporation of a joking element inside an illustration, it could also be a full-fledged attack on a sacred subject such as Christ's Entrance into Jerusalem. There's no doubt that the artist's constant sense of rejection was to blame for his frenzied criticisms, but the final outcome was simply more alienation.
Portrait of the Painter in a Flowered Hat (1883)
| | |
| --- | --- |
| Date Completed | 1883 |
| Medium | Oil on Canvas |
| Dimensions | 76 cm x 61 cm |
| Current Location | Ensor Museum, Ostend, Belgium |
Ensor is depicted in a three-quarter view, directly confronting the viewer's gaze. His utilization of loose, fluffy brushstrokes and the conflation of colored areas on the canvas to imply volume, as well as the emphasis on trying to distinguish light to indicate depth, exemplify the Impressionists' contemporaneous portraiture work, which began in Belgium and Holland in the 1870s.
Ensor, like many other painters before him, drew motivation from the great masters' tradition. This painting is reminiscent of Peter Paul Rubens' "Self-Portrait with Hat" (1624).
Self-portrait with flowered hat (1883) by James Ensor, located in the Mu.ZEE in Ostend, Belgium; James Ensor, Public domain, via Wikimedia Commons
Despite their resemblances, the two images are quite different, and it is clear that Ensor is mocking the legacy of the old master whom he presumably emulates. He's wearing a customary Belgian costume with pastel blossoms and feathers, which was fitted by women during the mid-lent carnival. And, while his facial hair appears to be similar to Rubens', he incorporates blue flame-like hairs into his mustache in an unconventional manner.
Even though both displayed figures have a strenuous appearance, implying something about their state of mind, Ensor's disappointed expression on his own mouth is alleviated by the joviality of the hat.
The lighthearted motifs in this painting portray a transformation in Ensor's artwork from his "somber phase" to his "light phase," or from Realism to some shape of fantastical reality. It marks the start of his exploration of playful topics and alternate interpretations.
Christ's Entry into Brussels (1889)
| | |
| --- | --- |
| Date Completed | 1889 |
| Medium | Oil on Canvas |
| Dimensions | 252 cm x 430 cm |
| Current Location | The J. Paul Getty Museum, Los Angeles |
This painting, without a doubt Ensor's most famous, depicts a carnival mob enveloping Christ on a donkey. Although the topic is traditional, the appearance is anything but. The rather formal manner by which he implies this crazy scene makes it difficult to grasp what is being depicted. There's a hazy sense of disappearing point perspective here.
The horrific faces, depicted as if wearing masks, linger in the viewer's face in the center of the frame, but as they fall away into the background, starting to come together in a "V," they smudge into dots of color.
However, a more contemporary method of establishing volume mitigates this. To make the picture more demanding and powerful, Ensor straightens out the figures across the substratum of the composition, attempting to deny the perspective he's constructed. There's even a feeling that the crowd is leaning forward, ready to swoop in and overwhelm the audience at any moment. The volume of the crowd is implied by the contrasts of unmodulated beads of pure, unsaturated hue. Figures in the audience are represented from different perspectives, their shapes and patterns disassembled.
Christ's Entry into Brussels (1889) by James Ensor, located in the Getty Museum in Los Angeles, United States; James Ensor, Public domain, via Wikimedia Commons
This almost primitive, oversimplified technique is reminiscent of Gauguin's. "My colors are cleansed, vital, and intimate," Ensor explained. Belgian King Leopold II had transformed Brussels into a modern metropolis with royal landmarks, sleek facades, and broad innovative boulevards, following the Haussmann model in Paris, but by the late 1880s, the country's situation had resembled that of the notorious Paris Commune. The country suffered from political and economic oppression, which Ensor depicts by turning Brussels into an ocean of chaos and destruction.
Instead of facing a Jerusalem audience, Ensor's Christ is confronted with a Belgian audience. The people depicted are a mix of the ruling class, clergy, and army – in other words, the ruling class.
People are depicted masked to highlight their shallowness in a carnival-like setting – all while a religious, significant event is presumably depicted. The artist's interest in offering those who are disadvantaged by society a voice, allowing them to communicate out against people in positions of authority can be seen in the power as well as the severity of the crowds.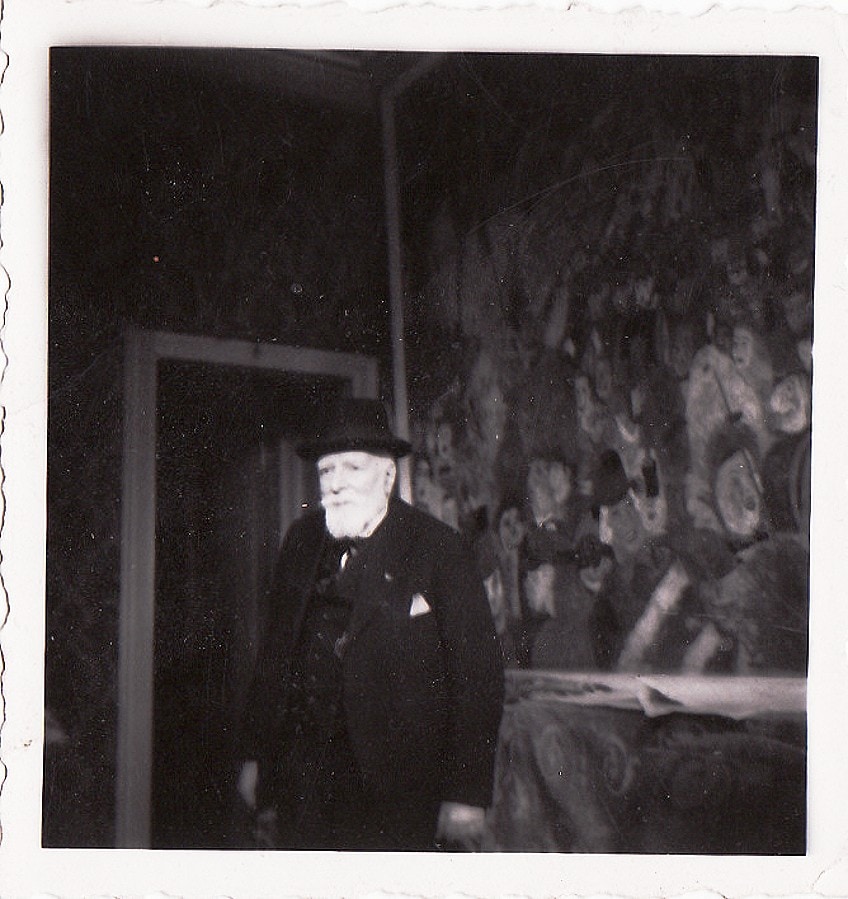 Photograph of James Ensor in front of Entry of Christ into Brussels (1889) in his house in Ostend, taken by Albert Lilar sometime in the 1940s; S. Fredericq, CC BY-SA 3.0, via Wikimedia Commons
This tumultuous scene draws attention away from the figure of Christ. Christ has been depicted with the artist's own characteristics, trying to express compassion and understanding with the biblical figure and purposefully portraying himself as a martyr. Ensor identified the use of horrific realism as cleansing, and notwithstanding receiving harsh criticism for his depiction of society's ugly side through magical parody, he continued to use it throughout his career.
In this way, his work expresses the avant-garde instinct toward socioeconomic, structured, and libidinal revolution, and foreshadows a number of modern movements, including Surrealism, Fauvism, and even Abstract Expressionism.
The Baths at Ostend (1890)
| | |
| --- | --- |
| Date Completed | 1890 |
| Medium | Black crayon, colored pencil, and oil on panel |
| Dimensions | 37 cm x 45 cm |
| Current Location | Foundation Challenges, Paris, France |
Ensor creates a fanciful scene here, paying tribute to the Ostend Sea, which he adores. Ostend had evolved into a seaside resort by this time, with a casino, seafront, beach, and therapeutic baths. Ensor depicts this odd vacation spot with colored pencils, colored pencils, and oil. He continues to add a sophisticated look by having drawn arabesque lines to define the water and, people which eventually settle into an ocean of characterizations created on multiple planes, depicting the beachside resort as a crowded sideshow.
Ensor creates a dream-like space by drawing his figures across the canvas without using linear perspective and a limited palette of black, blue, and red.
The Great Judge (1898) by James Ensor, located in a private collection; James Ensor, Public domain, via Wikimedia Commons
Overall, Ensor portrays this middle-class summer playground in a satirical light. The tourists are depicted as caricatures by him. While the scene depicted appears to be a happy one, with visitors enjoying themselves on a sunny day, it also shows them without clothing, with a few of them displayed upside down with their heads among their legs, engaged in vulgar acts. As a result, when regarded up close, this painting has a rather cartoon and most certainly unsettling effect, and it goes against the bourgeoisie's expected social decorum.
Ensor's work is a clear critique of the social milieu in which he resided, foreshadowing movements such as Dadaism.
Recommended Reading
This has been our in-depth look at James Ensor's biography as well as James Ensor's drawings and paintings. However, you might wish to learn more about the Bleagina painter in your own time. Here are a few books we can recommend to you to learn more about James Ensor's paintings.
Between Street And Mirror: The Drawings of James Ensor (2001) by Catherine De Zegher
James Ensor, a Belgian painter, split away from Impressionism early in his career, dismissing its loveliness in pursuit of an authentic, sensational style. Ensor was a talented controversialist and a strong viewer of his political and social milieu, combining elements of satire, pastiche, spoofing, and the horrific. His designs are given high importance for their inventive subject areas and methods, as well as the good social critique at their core, spanning the 19th century and not conveniently suited to one specific movement or group.
Includes more than one hundred plates, most of them in color
Published to accompany the first major exhibition of Ensor's drawings
Places drawings in the context of artistic and historical developments
View on Amazon
James Ensor (2006) by Joachim Heusinger von Waldegg
Few artists in the late 1800s created a body of work as strange, ironic, profound, and full of inferential potentials as Belgian painter James Ensor. By combining the influence of his Belgian forefathers, Bosch and Breugel, with bright, loosely brushed brushstrokes, his work challenged norms of flavors and technique. Ensor's depictions of the tourists who flooded his hometown of Ostend on vacation trips, whom he satirized unmercifully as clowns and skeletons, or hidden behind brightly colored fairground masks, were distinctive symbols of existence.
Key pieces from each of his creative periods
Attention is paid to his late work, long neglected by scholarship
Includes eighty masterpieces on canvas and sixty works on paper
View on Amazon
James Ensor was a Belgian painter and influential figure known for his macabre and colorful depictions of seascapes, masks, and carnivals. Through thickly painted spots of color and horrific caricatures, Ensor investigated both autobiographical and cultural themes. Ensor was adamant about giving up painting after selling everything in his studio due to a private dilemma in the 1890s, though he decided to return to it after only a few years.
Frequently Asked Questions
Who Is James Ensor?
Despite having received formal training in fine art, Belgian painter James Ensor quickly abandoned it in favor of developing an innovative Expressionism style that reflected his own view of modern life. James Ensor's paintings are constantly pessimistic and mocking, displaying an almost monstrous type of Realism intended to document the pressures that underpin modern social morays of his time, and most likely of all time.
What Kind of Art Did James Ensor Create?
He was particularly excited by the famous carnival lifestyle centered on the annual celebration of Mardi Gras throughout Belgium, which was most likely motivated by the fact that his family's shop in Ostend was a large peddler of festive mementos. James Ensor developed a revolutionary painting style that suited his agenda perfectly. He began to build volume with spots of color across the canvas's exterior, rejecting illusionism and a one-point point of view in order to arrange the impression displayed.