Alice Neel – A Look at the Life and Works of Alice Neel the Artist
Alice Neel the artist, an unwavering original, observed a procession of avant-garde trends ranging from the Abstract Expressionists to Conceptual Artists and chose not to embrace any of them. Alice Neel's paintings, on the other hand, were produced with a distinct, expressive approach to painting portraits that portrayed the psyche of New Yorkers ranging from neighbors and friends in Spanish Harlem to the famous. Alice Neel's portraits and figure paintings were produced at a time when they were extremely out of fashion. Alice Neel's artworks indicated her intention to stay firm in her selection of style and content, unintimidated by an art world that valued abstraction, although completely immersed in the New York art community and linked with its key pioneers.
Alice Neel's Biography
| | |
| --- | --- |
| Nationality | American |
| Date of Birth | 28 January 1900 |
| Date of Death | 13 October 1984 |
| Place of Birth | Merion Square, Pennsylvania |
Regardless of what others said, she continued creating art that she enjoyed. Before 1970, Neel was hardly known, with just a few solo appearances. She had 60 in the last 20 years of her life. This was owed not just to the quality of her work, but also to a radical transformation in the art world, which began to recognize the accomplishments of women and minorities.
While productive, Alice Neel seems to have been unconcerned in self-promotion. In this regard, she differs from many other renowned artists of her period, notably women, who had to work extra hard to gain the attention of reviewers.
Childhood
Alice Neel is a writer who lives in the United States Neel was born into a multicultural household in the United States. George Washington Neel, her father, was a Pennsylvanian Railroad accountant who came from a family of steamboat owners and classical musicians. Alice Hartley, Alice's mother, was a descendent of the Declaration of Independence's contributors.
Hartley, her elder sibling, passed away from diphtheria soon after she was born. He was just eight years of age at the time of his passing.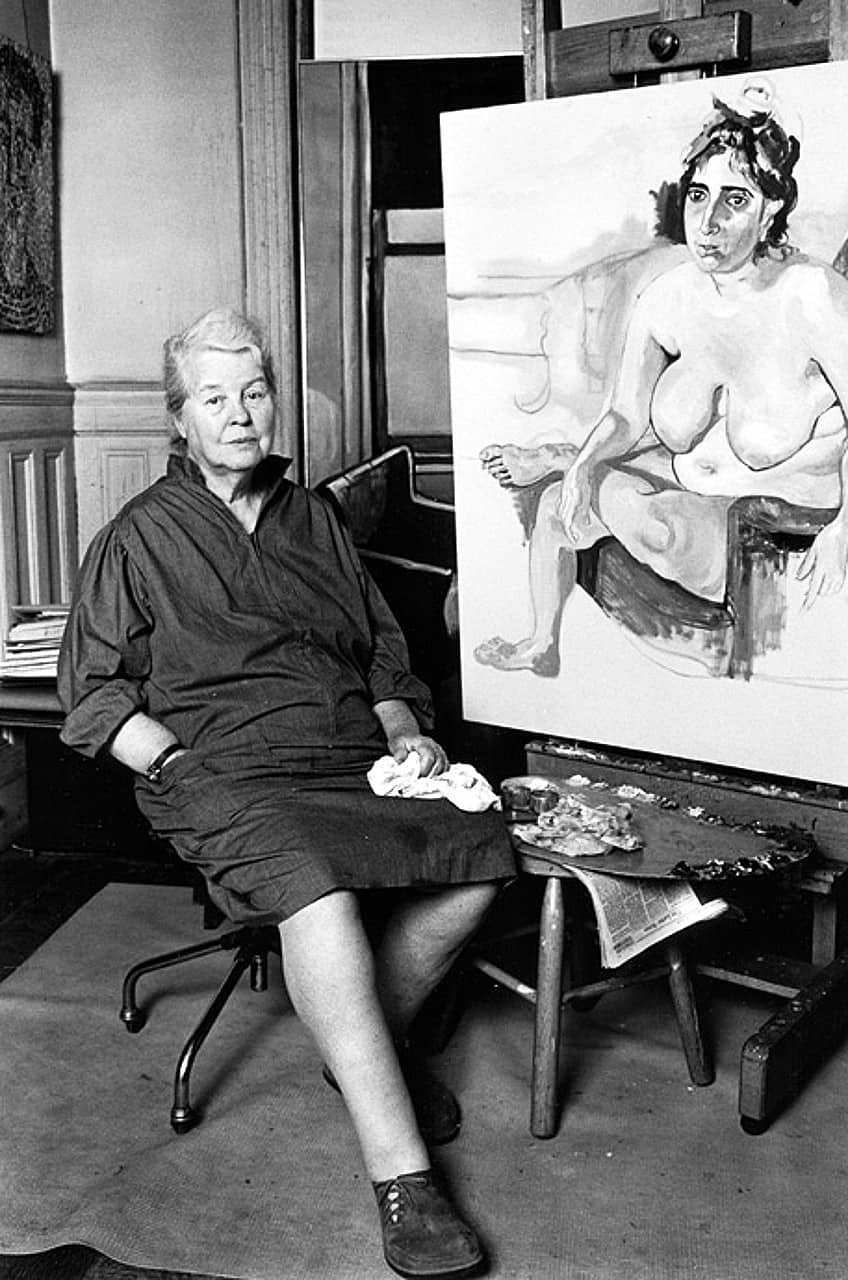 Alice Neel in her studio, photographed by Lynn Gilbert (1976); Lynn Gilbert, CC BY-SA 4.0, via Wikimedia Commons
Neel's family relocated to the little town of Colwyn, a few months later, where she attended elementary and high school. Neel passed the Civil Service test after finishing high school in 1918 and took a secretarial position with the Military to help sustain her family. She stayed there for three years while also studying painting at Philadelphia's School of Industrial Art in the evenings. Neel's parents were baffled by her career goals.
Her mother once warned her, "I don't understand what you expect to be doing in this world, you're just a girl."
Early Training
In 1921 she entered the Fine Arts program at the Philadelphia School of Design for Women with the support of scholarships and her earnings from her profession as a secretary. She pursued landscape art with Henry Snell and life-drawing studies and portraits under Rae Sloan Bredin at the university.
Neel was a great student who won multiple accolades for her portraiture, which would become her life's work.
She then entered the Pennsylvanian Academy of the Fine Arts' summer program in the lovely hamlet of Chester Springs in 1924. She started a relationship with Carlos Enriquez, an affluent Cuban in the course. The start of the disastrous phase in Alice Neel's life began with her marriage to Enriquez. In June 1925, the two were married in Colwyn and relocated to Havana a few months later. She had her first exhibit the next year and delivered her first child, Santillana, who died of diphtheria while still a newborn, the same sickness that had killed Neel's elder brother.
The couple traveled to and fro between Cuba and the United States until settling on the Upper West Side of Manhattan. In November 1928, they welcomed their second daughter, Isabetta, and intended to go to Paris in 1930. Instead, Enriquez relocated to Paris abruptly, bringing Isabetta with him and abandoning the baby in Europe with his family.
Over the next several months, Neel had a mental breakdown, was briefly hospitalized, and then went looking for Enriquez. Neel tried to commit suicide when it became evident that the marriage was doomed, and she was rushed back to the hospital.
Neel never married, but she stayed alienated from her spouse for the rest of her life, seeing her child only in rare instances.
Mature Period
In 1933, Alice Neel the artist got funds from the Public Works of America Project, whereby she proceeded to work and live in New York City. During the Great Depression, she became a left-wing political activist. Alice Neel's paintings were subsidized by the WPA until 1943, with intermittent funding disruptions, after which she battled to pay the bills for the remainder of the decade.
She only took part in one show and struggled to find a marketplace for her works. She even repurchased several of her own artworks that had been sold for four cents a pound to a Long Island trash trader in 1944.
Neel never married again, although, from the 1930s forward, she had a series of intimate relationships. The most long-lasting of these friendships was with documentary filmmaker Sam Brody, which lasted over two decades. Hartley, Brody and Neel's second son, was born in 1941, and they reared him alongside Richard. In general, Neel's boyfriends were dismissive of her artistic aspirations, and one was overtly destructive: when their relationship soured, Kenneth Doolittle burned 300 of Alice Neel's artworks and 50 oil paintings in a furious frenzy.
In New York, Alice Neel witnessed the emergence of Abstract Expressionism in the 1950s and 1960s, but she was staunchly dedicated to representational painting. She wasn't interested in bohemians or other artists, but in genuine people, warts and all. In her pictures from the 1950s, she attempted to capture the personality of her neighbors and friends in New York's Spanish Harlem in meticulous, expressionistic detail. The artist's passion for left-leaning causes is shown in this aspect of her work.
Mike Gold, a well-known communist writer, saw the importance in the range of her human subjects, which depicted a wide range of New York society, and helped arrange multiple exhibits of Neel's work.
Alice Neel started to earn the acclaim she had long deserved 30 years into her career. Alice Neel's portraits "started to be comprehended in the late 1950s; before then, it was too difficult for people," according to the artist.
She was constantly open to new ideas, even though she was adamant about the type of work she wanted to do. She portrayed art critic Frank O'Hara throughout five appointments in the spring of 1960, producing two portraits, one charming and the other startlingly scathing. It was at this point that Neel's commercial breakthrough began. The energy of the women's liberation movement sparked renewed interest in Alice Neel's paintings at the end of the 1960s.
Alice Neel was regarded as a feminist heroine, yet the practicality with which she approached her work life, feminist or not, may be observed in the next illustration.
In 1970, she was requested to shoot the cover of Time magazine with Kate Millett, a youthful feminist campaigner. Millett was adamant about not sitting for the picture. Neel was unfazed by the objection and proceeded to paint her nevertheless, based on a scowling image. Alice Neel's portraits accomplished the task and accurately depicted the anti-establishment activist's wrath.
Late Period
By the 1970s, Neel had established himself as a significant American artist, thanks in large part to female engagement in art history. In 1979, President Jimmy Carter honored her for her efforts as a woman in the arts with an award. In 1981, she traveled to Moscow for a significant display of her art, and in 1982, she was recognized by New York Mayor Ed Koch.
She gave talks and took part in roundtable discussions at a number of prestigious museums, art schools, and colleges, and she was a vocal opponent of the Vietnam War.
Neel's private life remained full as her son Hartley and his wife built a studio on their home in remote Vermont for her to occupy during her frequent trips. Her old lover, John Rothschild, settled into her guest room after she became a grandma multiple times. Neel collapsed numerous times in 1980 and was fitted with a pacemaker, despite her seemingly boundless creative energy. Doctors detected advanced, incurable colon cancer during a regular trip to examine the device.
Despite her worsening health, she proceeded to create and visit her children and grandchildren in Vermont. She went on the Tonight Show in 1984 and demanded that the presenter, Johnny Carson, visit her and pose for a photograph. She died at her New York residence the same year, flanked by relatives and friends. At a memorial event at the Whitney, Allen Ginsberg wrote and performed an original poem for her.
She is considered to be among the few female artists of her period to live to have her work exhibited at a major retrospective. Alice Neel was buried near her Vermont studio.
The Legacy of Alice Neel's Artworks
As artistic forerunners for Neel's focus on conveying mental depth under the surface, Kathe Kollwitz and Edvard Munch come to mind. Neel's concentration on showing a broad cross-section of the American populace, from a range of ethnic, cultural, and socioeconomic origins, was strongly anchored in her political ideas and echoes Diego Rivera and American painters of the Harlem Renaissance's ardent radicalism.
Blanche Angel Pregnant (1937) by Alice Neel, located at the Whitney Museum of American Art in New York City, United States; Sharon Mollerus, CC BY 2.0, via Wikimedia Commons
Berenice Abbott, Gordon Parks, Dorothea Lange, and Helen Levitt, all documentary photographers who worked for the WPA at the same time as Neel, share an interest in the intricacies of time and place. Although Alice Neel the artist's return to the form, expressive brushstrokes, and insightful understanding of human psychology is rarely associated with Neo-Expressionism, they foreshadow the movement many decades ahead of its time.
Neel's influence on contemporary art may be seen in the work of renowned portraitists ranging from Chuck Close to Lucian Freud.
Elizabeth Peyton's varied, equitable approach to a wide cross-section of culture, as well as South African painter Marlene Dumas's honest viewpoint on social and political problems, are both thanks to Neel. Alice Neel's artworks have taught countless other painters crucial lessons.
Alice Neel's Paintings
Neel's denial of standard boundaries of race, gender, socioeconomic standing, and so on is part of what made her one of the best American portraitists of the 20th century. She doesn't make assumptions about things she doesn't know. She approaches each matter with a fresh perspective.
Neel's observations of the human condition were always straightforward, uncompromising, and sympathetic.
Carlos Enriquez (1926)
| | |
| --- | --- |
| Date Completed | 1926 |
| Medium | Oil on canvas |
| Dimensions | 76 cm x 61 cm |
| Current Location | Private collection |
Neel's spouse, the artist Carlos Enriquez, is depicted in this early painting a year after they married. Many of the aesthetic and compositional aspects seen in her later work are present in this portrait. However, Neel was still developing as an artist. The face, with its preoccupied features, glances over the frame's edge, as if thinking about something far away.
In comparison to Neel's subsequent portraits, the backdrop is darker here, and the features are more idealized.
While her interest in psychological depth is obvious here, it would not be completely realized until later in her career. During a summer art workshop in Pennsylvania in 1924, the two met. Due to his lack of involvement, he was ejected from the program, and Neel followed him out the door. In the fall, Enriquez went to Havana, but the pair maintained their affair through letters. Enriquez's rich family was against his pursuing his dream of being an artist. It's unfortunately not possible to know what they thought of her career goals.
Pat Whalen (1935)
| | |
| --- | --- |
| Date Completed | 1935 |
| Medium | Oil on canvas |
| Dimensions | 69 cm x 58 cm |
| Current Location | Whitney Museum of American Art |
Neel's strong interest in left-wing politics may be seen in her painting of Communist activist and labor leader Pat Whalen, which she created while working for the Works Progress Administration (WPA), which was part of President Franklin D. Roosevelt's New Deal. Whalen is presented as the prototypical blue-collar worker in this scene.
His hands are clenched in a display of will and determination as he looks up from a print of the "Daily Worker".
The employment of flat, unmixed hue, expressive brushstrokes, and special attention to the details of the subject's face and hands that reveal greater psychology are all characteristics of the artist's distinctive style. "People are the biggest and profound clue to a period," Neel famously said.
She captures the ferocity of a struggle that impacted multitudes of Americans in the 1930s and after by focusing on a single issue: the fight for worker's rights.
Puerto Rican Boys on 108th Street (1955)
| | |
| --- | --- |
| Date Completed | 1955 |
| Medium | Oil on canvas |
| Dimensions | 106 cm x 122 cm |
| Current Location | Tate, the United Kingdom |
In 1938, Neel relocated from Spanish Harlem to Greenwich Village. She thought the Village was overrun with pompous bohemians. She moved in with Jose Santiago, a Puerto Rican singer, and began painting portraits of neighbors and friends. The two boys in this photograph are not like the angelic innocents shown in many classic kid photographs. They're dressed like men, not youngsters, and have a strong, streetwise demeanor. Even though they are Hispanic, Neel does not minimize or stereotype this aspect.
Unlike many of Alice Neel's portraits, which have sparse backgrounds, this one features detailed renderings of the metropolitan area.
Residents loiter on a porch, marketing posters peel from a corner shop's facade, and a graffiti tag with the word "Felipe" is apparent. Many of Alice Neel's paintings from Spanish Harlem are reminiscent of the aesthetic of American documentary photographers like Berenice Abbott and Dorothea Lange in this regard.
While many photographs, including Neel's, have a transcendent or timeless character, these two youngsters are clearly of their time and location.
Hartley (1965)
| | |
| --- | --- |
| Date Completed | 1965 |
| Medium | Oil on canvas |
| Dimensions | 127 cm x 91 cm |
| Current Location | National Gallery of Art (Washington DC) |
Some of Alice Neel's most powerful artworks are about the people she cares about. Among the most well-known portraits of her son, Hartley, is this one. Though his position, with legs and arms akimbo, exudes power and confidence, it also exudes vulnerability, as well as a jaded hardness in Hartley's face. As indicated by the fact that his glance escapes that of the spectator, he appears distracted or lost in contemplation.
The frame's perimeter is incomplete, as it is in many of her photographs.
This draws our focus to the image's most important features, such as the shadows on his shirt and jeans, which have a lifelike look to them, and the bold, black outlines of his torso. Neel relied on aid to maintain her family, and she even tried to steal occasionally to make ends meet. Hartley's grim visage exudes intimate experience with harsh circumstances, yet the frenetic energy in his lanky figure indicates promise rather than surrender. Andrew Hartley, Hartley's son, later produced an Alice Neel documentary film in 2007.
At its best, Neel's excellent brushwork gives the figure an urgency that makes it appear as if it may get up and walk.
Andy Warhol (1977)
| | |
| --- | --- |
| Date Completed | 1977 |
| Medium | Oil and acrylic |
| Dimensions | 76 cm x 101 cm |
| Current Location | Whitney Museum of American Art |
This picture of the renowned figure, one of Neel's best-known paintings, contrasts starkly with the flashy image Warhol built for himself. His eyes are closed, implying grief and unease with being observed – Warhol was notoriously self-conscious about his appearance. He seems weak and elderly without the spiked white wig, glasses, and black turtleneck sweater, as well as the fans, celebrities, and hangers-on. Valerie Solanus shot him three times in 1968, two years before he sat for this picture when he refused to stage her play.
Warhol's pink flesh contrasted with the green shadowing on his face and torso as he stands alone and naked against a sparse background that accentuates his loneliness.
Large scars across his body indicate the ongoing traces of that assassination attempt, with the corset he used to support his weakened abdominal muscles apparent. Warhol's public reputation as an everlasting symbol of cool crumbles here, revealing him to be a frail human being.
The work opposes the shallow ways in which we enact identity and judge power, and provides an alternative paradigm for gauging the human condition: compassion, demonstrating Neel's ability as a portraitist.
Reading Recommendations
Today we covered some of Alice Neel's biography and art. We learned that there is even Alice Neel's documentary that was created by her grandson. If you would like to read some more about Alice Neel's portraits and lifetime, then check out these awesome books!
Alice Neel: Freedom (2019) by Alice Neel
Neel was able to break away from the anticipated inhibitions and stifling taboos that were imposed on women via her paintings and works on paper. She concentrated on the subtlety and beauty of the human body. Her nudes are as important today as they were when they were drawn because of their command of form, color, and suggested social criticism.
Includes a newly commissioned scholarship by Helen Molesworth
Documents the solo exhibition of her work in New York in 2019
Includes works that span the 1920s to the 1980s
View on Amazon
Alice Neel: People Come First (2021) by Kelly Baum
Neel's nearly 70-year career is examined through the prism of her radical humanism in this enormous book. Neel considered humanism as a philosophical and political ideal, as seen by his remarkable images of Great Depression sufferers, fellow inhabitants of Spanish Harlem, political leaders, LGBT painters, obviously pregnant women, and residents of New York's worldwide diaspora. Neel's highly emotional streetscapes and Still Lifes, as well as the designer's erotic pastel and watercolor works, are among the more than 100 pieces on display, which also include his sensual pastels and watercolors.
Positions Alice Neel as a champion of civil rights

Explores how Neel's paintings convey her humanist politics
Reasserts her place in the broader cultural history of the 20th century
View on Amazon
Alice Neel was known for her boldly honest portraits, and she liked to depict people in all their intricacies, penetrating and revealing their fears and concerns, as well as how they defied and survived. She also liked painting the plain human form. Her nudes, especially, are candid explorations of the body that celebrate the uniqueness of each of her models, and they demonstrate the freedom and daring with which she conducted her work and home life.
Frequently Asked Questions
Who Is Alice Neel the Artist?
The declared purpose of Alice Neel was to capture the moment. Neel was born into a good Victorian family around the turn of the 20th century, and he became eligible to vote during the suffrage movement. She was a classic bohemian and one of the first painters to depict the hardships of living during the Great Depression. Neel, an outspoken humanitarian, opted to paint the world around her, focusing on realistic work even all through the height of abstract expressionism. Neel never stopped pushing the boundaries, producing a one-of-a-kind record of her time.
What Was Important About Alice Neel's Artworks?
In choosing her subjects, Alice Neel was adamantly democratic, capturing a wide range of people, from renowned personalities to her Spanish Harlem neighbors in the 1940s. She painted an unforgettable image of America in the 20th century. Neel was able to overcome personal anguish by establishing her terms.
Isabella studied at the University of Cape Town in South Africa and graduated with a Bachelor of Arts majoring in English Literature & Language and Psychology. Throughout her undergraduate years, she took Art History as an additional subject and absolutely loved it. Building on from her art history knowledge that began in high school, art has always been a particular area of fascination for her. From learning about artworks previously unknown to her, or sharpening her existing understanding of specific works, the ability to continue learning within this interesting sphere excites her greatly.
Her focal points of interest in art history encompass profiling specific artists and art movements, as it is these areas where she is able to really dig deep into the rich narrative of the art world. Additionally, she particularly enjoys exploring the different artistic styles of the 20th century, as well as the important impact that female artists have had on the development of art history.
Learn more about Isabella Meyer and the Art in Context Team.
Cite this Article