Feminist Art – An Empowering Look at Feminism in Art
Emerging during the Second Wave of Feminism, the Feminist art movement burst onto the scene during the 1960s as a cultural reaction to the male-dominated society that had previously controlled the art world. Feminist artists worked to create a different cultural narrative that gave women a place to be heard where they could express themselves through their art and engage with the world through encouraging various social and political conversations. This article will discuss the Feminist art movement and explore some of the most famous feminist artists and their iconic artworks that they brought to the table.
Historical Overview: What Is Feminism?
The roles that have traditionally been assigned to women throughout history have long been debated and are frequently challenged to this day, just as men's role within society is questioned. Each gender has had its fair share of expectations and duties placed upon them, proving that it has not been easy for both men and women to find their identity and voice in society, especially when it goes against the supposed "status quo."
Throughout human history, there have always been groups existing on the outskirts of society and fighting for their rights. As a group, women have long been fighting for their equality and rightful place.
The history of women is as old as humanity itself, and it would require an entire article on its own if we were to record every instance of a woman's role in society since the time of "man". Therefore, for the purpose of this article, let us look at the origins of the cultural movement called Feminism and discuss where it began.
The "Waves" of Feminism
Feminism started as an activist movement that addressed various social issues related to the rights of women and their supposed place in society. It sought to address the prevalent inequalities that existed between the genders and utilized various political campaigns to draw attention to these disparities. Some of the issues that were initially included, which are still relevant today, are equal pay, sexual harassment and violence, maternity leave, women's suffrage, reproductive rights, domestic violence, and women's liberation, among others.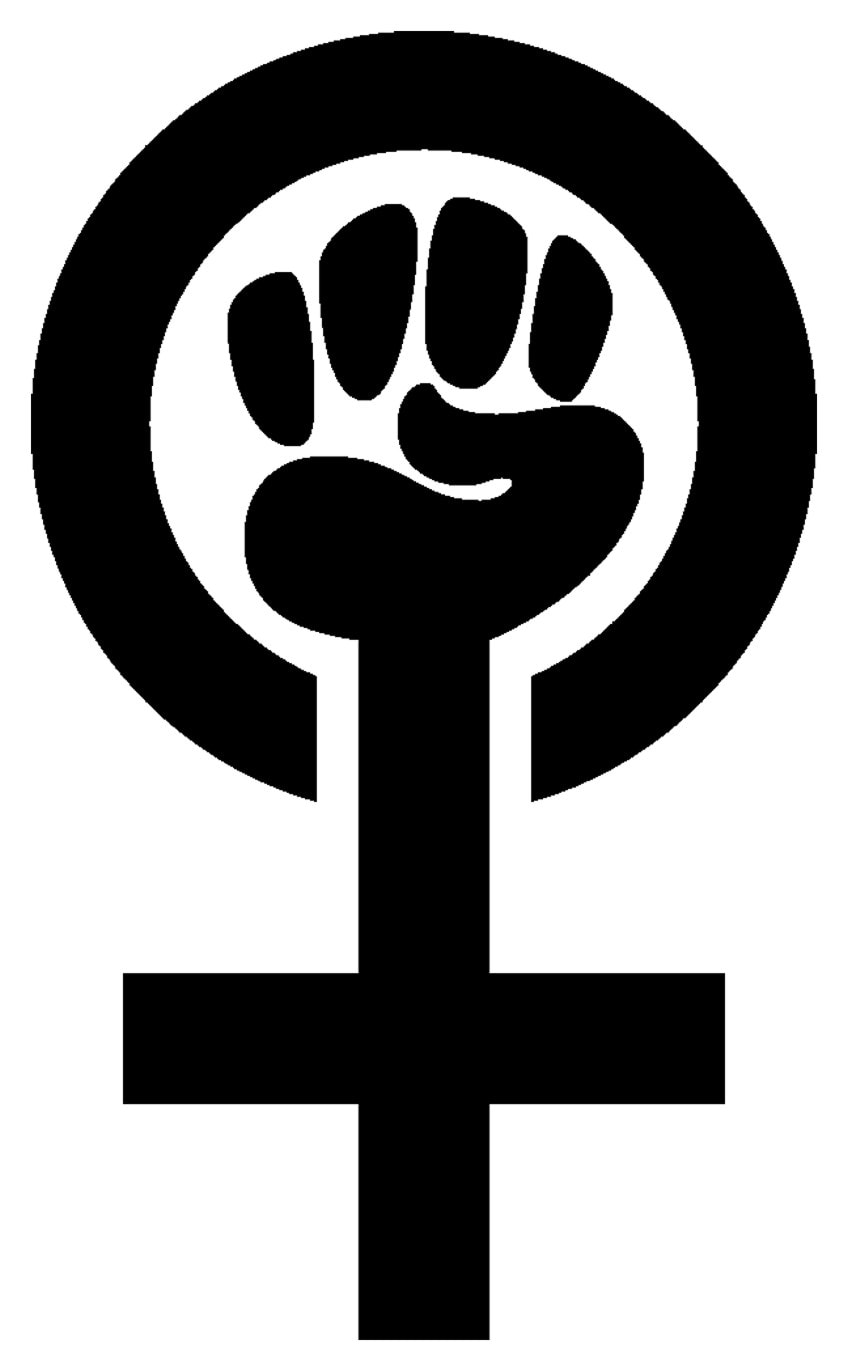 A symbol of Feminist empowerment; Mathieu Kappler, CC BY-SA 4.0, via Wikimedia Commons
There have been several "waves" of the Feminism movement (some sources indicate that there have been three, while others show that there have been four). The first wave is believed to have started during the 1840s at the Women's Rights Convention at Seneca Falls, New York, and this was known as the Suffragette Movement. It centered around the rights of women and their opportunities, with a particular focus on women's suffrage, which refers to women's right to vote.
The social landscape for women during these times was under the control of male-dominated rules.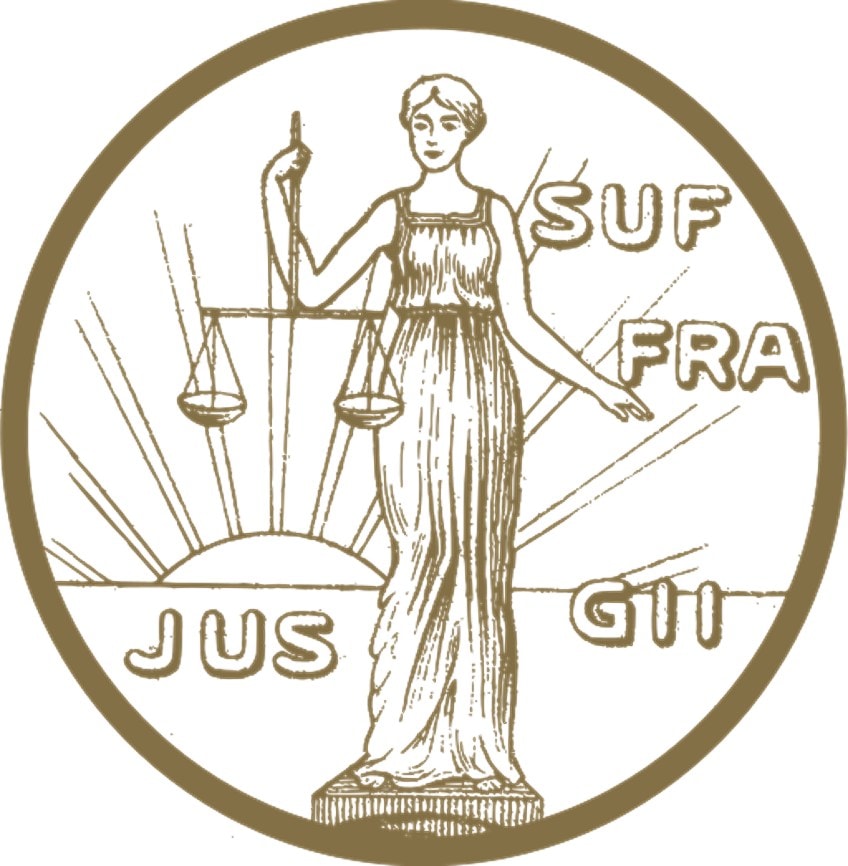 Logo of the International Woman Suffrage Alliance (the current International Alliance of Women), the Jus Suffragii newsletter, and the symbol of women's suffrage, 1904; No known author, Public domain, via Wikimedia Commons
For example, women were expected to perform a certain role in the household, did not have the right to vote or own property, and were instead considered to be the "property" of their husbands and paternal figures. If a woman was able to work, she would have been limited to more "feminine" roles, such as factory labor or performing domestic tasks, which resulted in a much lower-earning income. This lack of working opportunities for women was also attributed to their level of formal education. Men were encouraged over women to attend school to study so that they could automatically assume the role of the provider in their own family.
While the above-mentioned inequalities were only some issues that were called into question, the Feminist movement was much more complex.
The movement included women from all races and cultures fighting for their own emancipation from various circumstances that plagued them. Despite the Feminist movement growing, women of color were often excluded from the narrative due to the many racial injustices that occurred then and still exist today. It was only in 1920 that women were granted the right to vote once the Nineteenth Amendment was passed, yet this aided white women more than anything else. This was because the Nineteenth Amendment did little to eliminate existing state laws that kept women of color from the voting polls, with this act not ending their fight to vote.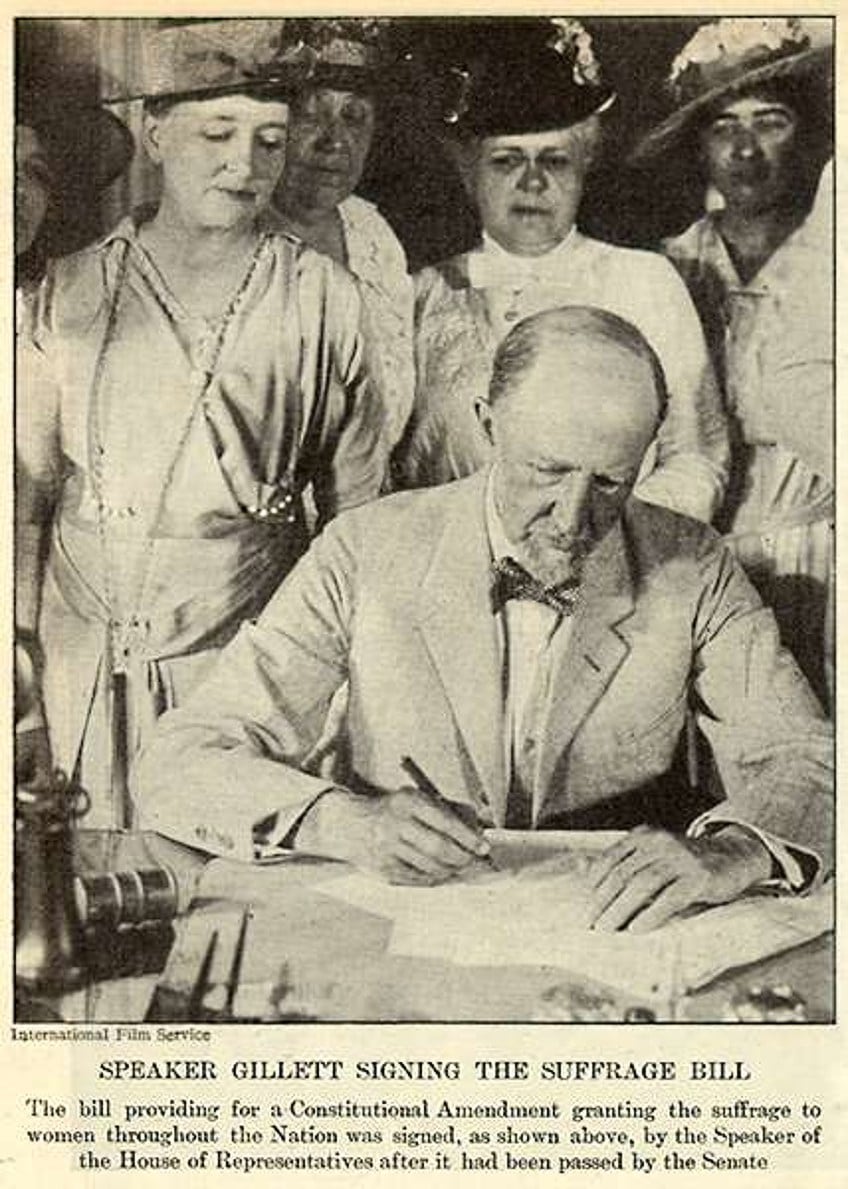 Speaker Gillett signing the Suffrage Bill, 1919; International Film Service, Public domain, via Wikimedia Commons
The second wave of the Feminism movement started during the 1960s and focused on a broader spectrum of issues, such as topics that pertained to women's sexuality, their role within their nuclear families, marital rape, and sexual violations.
This wave also arose as a result of the domestication that was seen in women's roles within the house, which became more prevalent after World War Two.
While this period is known as the post-war boom, not much progress occurred. After taking over their husband's jobs while they enlisted in the war, women were soon expected to return to their subservient roles within the house once the war had ended, as they were required to leave the workforce once again.
It is also important to note significant figures who contributed new philosophies during this time regarding the Feminist movement, namely, the French feminist Simone de Beauvoir. Her publication, The Second Sex (1949), provided a theoretical groundwork exploring how women were typically seen as a "second sex" in relation to men and included thoughts on the notion of the "other", which explored the nature of and what it meant to be a woman.
A photograph of French writer, activist, and philosopher Simone de Beauvoir; NiaVasileva, CC0, via Wikimedia Commons
The second wave of Feminism is believed to have ended during the 1980s, which triggered the third wave to start during the 1990s. This wave consisted of Generation X women (Generation X refers to anyone born during the 1960s and 1970s). The women during this wave sought greater individuality, with the social landscape during this time showing an increased development in media and technology.
At this point, some basic rights were already set for women and there was some diversity in cultures, yet much more work needed to be done.
Undoubtedly, the second-wave feminists created secure foundations upon which the third-wave feminists built. Notable figures from this stage were the Feminist punk movement called "Riot grrrl", which started in the city Olympia, Washington in the United States, and other figures like Jennifer Baumgardner who wrote Manifesta: Young Women, Feminism and the Future (2000).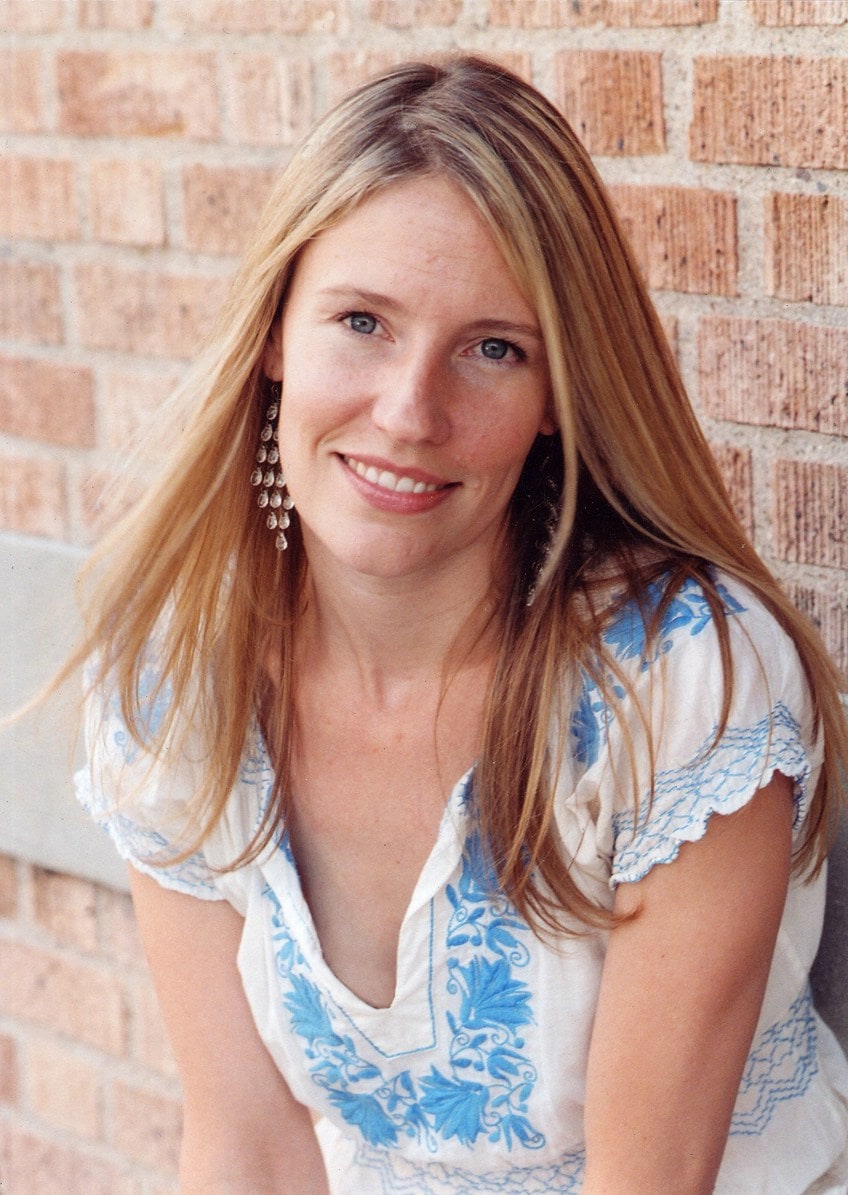 A portrait photograph of Jennifer Baumgardner; Ali Price, CC BY-SA 2.5, via Wikimedia Commons
The nature of the third-wave Feminism movement paid greater focus to uprooting the preconceived ideologies of what a woman's place in society was. It also explored new narratives and concepts about how women had previously been represented in the media and became a more intimate exploration of women's personal stories. Some sources have suggested that the third wave possibly pushed for the rights of women too much, as the first and second waves already accomplished what they needed to do for women in society.
However, in the supposedly modern era that is the 21st century, women of different races, religions, cultures, ethnicities, and sexualities still face a variety of discrimination and prejudice, demonstrating that perhaps the movement has not been taken far enough yet.
The fourth-wave Feminist movement is said to have started around 2012 and exists currently. This wave's focus is on issues surrounding sexual harassment and rape, as well as the concept of ownership of a woman's body.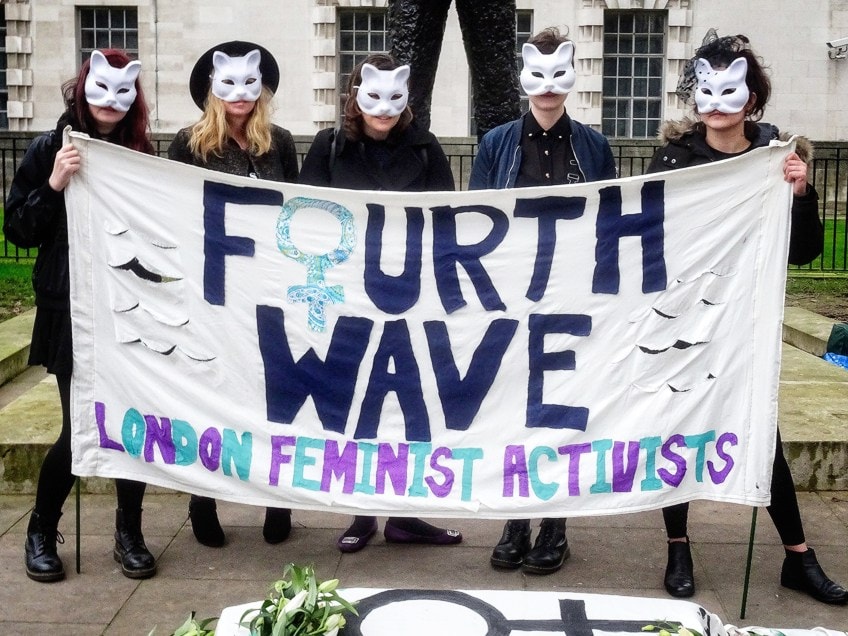 A sign held by a group of Feminists for International Women's Day in London, 2017; Garry Knight from London, England, CC BY 2.0, via Wikimedia Commons
A prevalent example of how much work still needs to be done with regards to these issues can be seen in the new abortion laws that were passed in Texas this year, which bans abortion after six weeks. Despite living in a time where society claims that women have a right to make their own decisions regarding their bodies, countless laws like this are still being put into place that hampers women's rights and takes away their autonomy completely.
With the rise of social media, these platforms have provided another space within society for women, and those supporting these women, to express their views and to raise awareness about the above-mentioned issues.
It is important to note that the above overview is a brief explanation that simply provides context about the development of the Feminism movement, as this is a very intricate and complex movement. There have also been critiques around the accuracy of utilizing the term "waves" to categorize Feminism, as it can also discriminate against the periods of time not mentioned between each "wave".
"Transforming Stereotypes": Feminism in Art
Occurring in both the United States and England, Feminist art is believed to have started during the second wave of the Feminist movement during the 1960s. Feminist art emerged as a diverse mix of modalities and was most notably known for its conceptual, performance, and body art. Women fought hard to carve out their place within the art world so that they were regarded with the same level of respect that was given to men.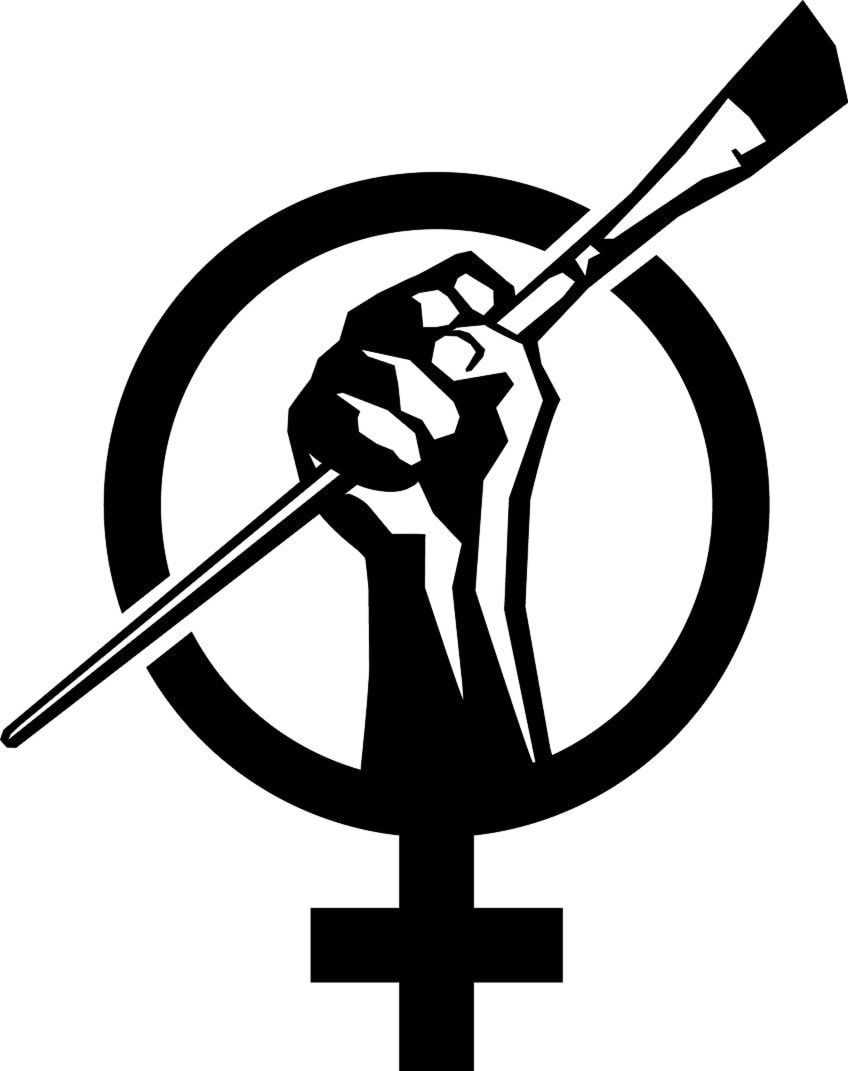 The symbol for Art and Feminism; Maeveoregan, CC BY-SA 4.0, via Wikimedia Commons
As a result of the oppression that was experienced within the art world, women emerged as incredibly liberal in the artworks that they produced. A time had finally come where women were able to express themselves, with many images being centered around the woman's body.
Artworks of this time also addressed important issues like gender inequality, which remains a prevalent topic today.
Throughout the evolution of the Feminist art movement between the 1960s and the 1980s, women danced between bodily enactments, performances, as well as theoretical explorations of Feminist concepts that were often coupled with postmodern theories.
The Brooklyn-born art historian, Linda Nochlin, wrote her seminal essay in 1971, Why Have There Been No Great Women Artists? (1971). Published in ARTnews, this essay created theoretical foundations for the discourse of women and art in Feminist art history.
Nochlin explored various socio-cultural and economic issues that related to women, as well as the reasons that held women back from having access to similar opportunities as men. Furthermore, the essay discussed the question of greatness and how this definition meant different things to men as it did to women.
A famous quote from her essay further explained her argument on this topic. She introduced the idea that there were no "women equivalents" for great masters like Michelangelo, Picasso, and Warhol, from the Renaissance period up until the time of Modern art. She further explained:
"But in actuality, as well know, things as they are and as they have been, in the arts as in a hundred other areas, are stultifying, oppressive, and discouraging to all those, women among them, who did not have the good fortune to be born white, preferably middle class and above all, male. The fault lies not in our stars, our hormones, our menstrual cycles, or our empty internal spaces, but in our institutions and our education".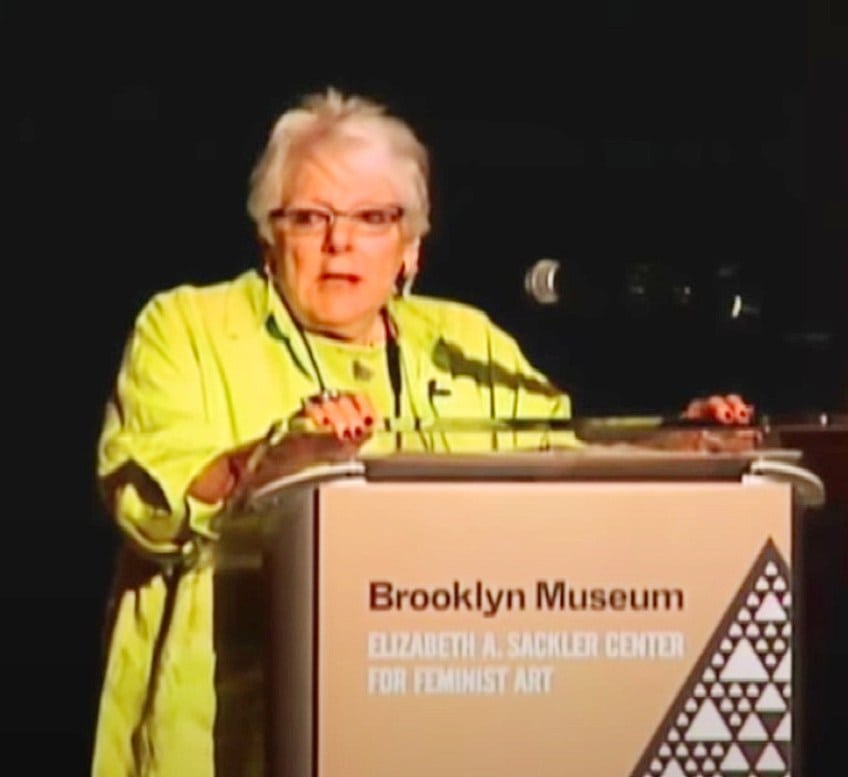 Linda Nochlin, Professor of Modern Art at New York University's Institute of Fine Arts. April 18, 2012, honored with Sackler Center First Awards. The event commemorated the fifth anniversary of the Elizabeth A. Sackler Center for Feminist Art, Brooklyn Museum; Brooklyn Museum/Elizabeth A. Sackler Foundation, CC BY 3.0, via Wikimedia Commons
Nochlin was also involved in other artistic pursuits to help raise awareness of women artists. Along with Professor Ann Sutherland Harris, the two organized the exhibition called Women Artists: 1550-1950. It was held at the Los Angeles County Museum of Art from 1976 to 1977, as well as in Texas, Pennsylvania, and New York. As an exhibition at an international level, it solely featured the works of over 80 female artists from over ten countries.
Feminist Art Organizations and Groups
A few Feminist art groups, organizations, and spaces were created during the 1990s that were meant to provide women with a platform and place to voice and showcase their artworks. These groups also addressed art establishments like the MOMA and the Whitney Museum of American Art because of the lack of exhibitions by female artists.
The Feminist art groups included Women Artists in Revolution (WAR), the AIR Gallery, and the Art Worker's Coalition (AWC). The AWC consisted of various artists, writers, filmmakers, and museum staff who went on to form a collective that protested for exhibitions to become more inclusive.
Among these was the inclusion of women artists in exhibitions. They also protested various other rights and policies related to admissions and moral stances. The coalition formed during 1969 in New York City, the same year that WAR formed. In 1970, various members from WAR and a group called Feminists in the Arts co-founded the Women's Interart Center that was based in New York.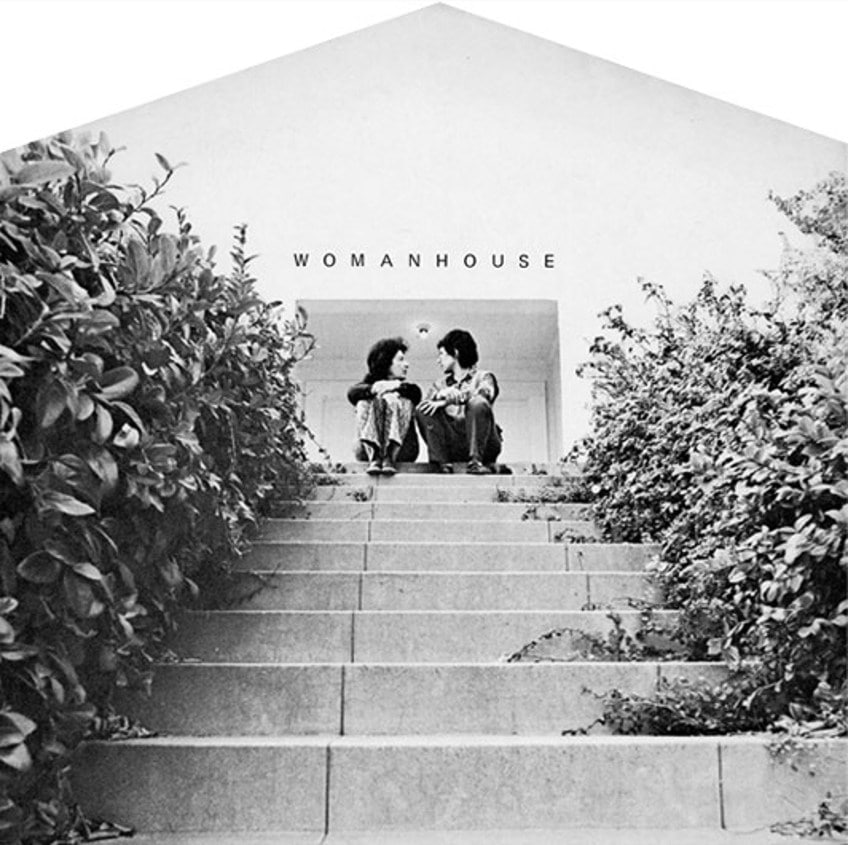 The front page of the exhibition catalog for "Womanhouse" (January 30 – February 28, 1972), Feminist art exhibition organized by Judy Chicago and Miriam Schapiro, co-founders of the California Institute of the Arts (CalArts) Feminist Art Program; Sheila Levrant de Bretteville, CC BY-SA 4.0, via Wikimedia Commons
Women artists in California also opened new art spaces. For example, Womanhouse (1972), was started by Judy Chicago and Miriam Schapiro, who were also the co-founders of the California Institute of Arts' Feminist Art Program. Womanhouse was a project and exhibition that was held over several months at a property in Los Angeles and included installation arts and performances.
At this exhibition, there were rooms with specific themes and displays.
Some examples include the Nurturant Kitchen, which had a display called Aprons in Kitchen, the Bridal Staircase, Leaf Room, Red Moon Room, Shoe Closet, Linen Closet, Lipstick Bathroom, Menstruation Bathroom, and many others. Each room and display is closely connected to various motifs that touch on the stereotypes and gender roles that were, and unfortunately still are, related to women within the home and culture.
Some of the performances included Maintenance, which had Scrubbing and Ironing as its main presentations. As the name suggests, it centered on domestic cleaning acts that were inevitably undertaken by women in the household. Other performances were Three Women, Waiting, The Birth Trilogy, and Cock and Cunt play.
Characteristics of Feminism Artwork
The Feminist art movement has been described as a type of postmodernist art, with its overarching characteristic being one of raising awareness about gender inequalities and providing women with the open creative agency to express themselves. Below, we will explore several common characteristics associated with this movement.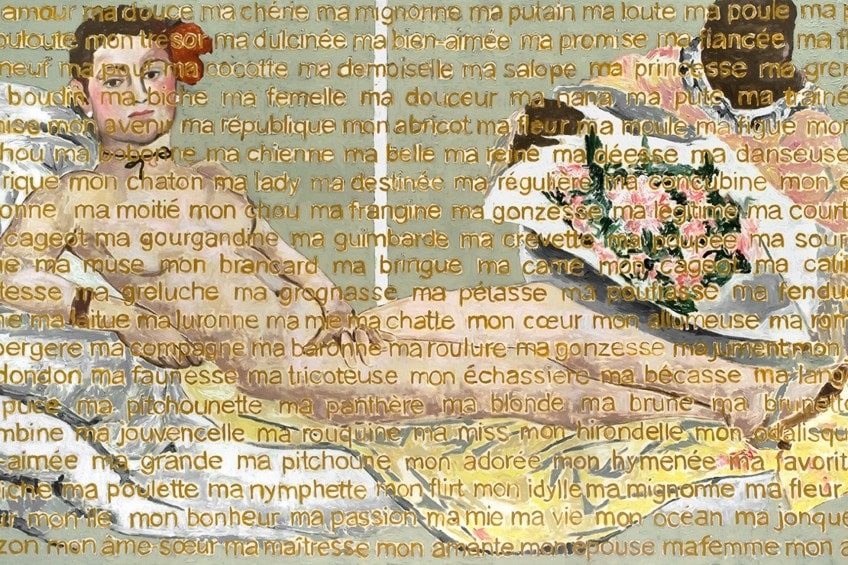 Olympia #2 (2017) by Agnès Thurnauer, depicting Édouard Manet's Olympia (1863) covered by various French pet names given to women; Agnès Thurnauer, Public domain, via Wikimedia Commons
Multi-Disciplinary
Feminist art worked to upend stereotypes in many ways, whether through painting, performance, film, or any other form of art. We might say that the second overarching characteristic of this movement is its multi-disciplinary nature, as many different modalities of Feminist art intersect.
Throughout history, women have not strictly adhered to the traditional and male-dominated art forms like painting and sculpture.
Some of the most common types of Feminist art are Body art, Conceptual art, Performance art, and Film or Video art. What made these modes of expression more unique was that they had a "hands-on" quality about them, as they were able to engage with the audience or viewers in a deeper way. This made them part of the artwork itself, which was not often seen in conventional art, and inevitably made the message that much stronger.
The Body as Art
Following on from the multi-disciplinary nature of Feminist art, the role that a woman's body played as an artistic vehicle was very common. Not only did women's bodies become their main canvas, so to say, but they became the tool for consciousness-raising. This proved to be quite contentious, with audiences stating that the shameless presentation of female bodies could not possibly be considered as art.
What they failed to realize, which proved to be incredibly ironic, was that traditional art created by men had used women's bodies as an "object" of adoration within their paintings for many centuries.
A notable example is the famous artist and singer, Yoko Ono, and her performance called Cut Piece (1964). During this performance that was held in Japan, the artist kneeled on the stage and asked audience members to cut pieces of her clothing off. The performance explored questions of sexuality, gender, and a deep sense of vulnerability.
https://www.youtube.com/watch?v=Zfe2qhI5Ix4
Through the act of engagement for the audience members, the performance piece also evoked emotions for them. These feelings allowed audiences to experience not only the idea of the nature of women's issues that we might view on a flat canvas but the reality of it through active engagement.
Courageously exploring women's sexuality, iconic feminist artist Carolee Schneemann performed a piece where she pulled a scroll out of her vagina. The performance was titled Interior Scroll (1975). It was performed in front of other women artists at the Women Here and Now exhibition in New York.
"Women's Techniques": Femmage
The word and concept, "femmage", was invented by Feminist artist Miriam Schapiro during the 1970s when she utilized techniques typically utilized by women to make art. For example, these techniques included sewing, hooking, cutting, appliqueing, among others, which were combined in media like paint and fabric.
This touched on the important fact that "women's art" (as these techniques are referred to), which appeared to be more crafts-based, was just as worthy of being seen as another form of art and given the status attributed to a conventional medium like painting.
These types of art forms (for example sewing) were also considered as "low art", with artists like Miriam Schapiro working to incorporate them into the "fine art" realm.
This also explored the notions of domesticity, which was a concept that all women were long exposed to and associated with. It not only included the above "women's techniques", but also included the various activities in the home like cooking and cleaning that were stereotypically performed by women.
Various Feminist artists explored these concepts. Artist Martha Rosler, in her piece called A Budding Gourmet (1974), introduced a woman (housewife) talking about how she wanted to learn gourmet cooking, not only to improve her family but her status as well.
Other Feminist artists like Faith Wilding use textiles and weaving. She also participated in the Womanhouse exhibition by Judy Chicago and Miriam Schapiro. Her piece was titled Crocheted Environment or Womb Room and was made up of a room filled with crochet patterns that looked like spider webs.
This is only one example of many where a craft is typically done by women in the home, like crochet, was done within the context of art.
A Place for Women in Art History
A lot of Feminist paintings question women's place in the history of art and importantly, their inclusion as great artists among the venerated male artists. These pioneering females shone a light on how women have been absent from theoretical texts and documents throughout history. Common examples include the famous Dinner Party (1974 to 1979) by Judy Chicago and Nancy Spero's Notes in Time (1979), which is made as a scroll documenting various women and their place in history.
Themed Narratives
This characteristic can be found in the above-mentioned examples; however, it is worth mentioning on its own. While we will always find themed narratives in any form of art throughout human history, as it has always been utilized to express and raise awareness of certain issues, Feminist art focuses on significant themes across its multi-disciplines. Common themes we will find in Feminist art history addresses issues like gender inequality, sexuality, sensuality, women's bodies, domestication, women's objectification, and the fact that women's art was omitted from art history.
One of the main topics speaks to the role that countless women have played throughout history to forge their place in society.
Apron Tied Up (1983) by Mary E. Rawlyk; Bernard Clark, CC BY-SA 3.0, via Wikimedia Commons
Important Feminist Artists
Below we look at several prominent Feminist artists and the artworks that they contributed to the Feminism art movement. Among the mentioned female artists are hundreds of other equally important artists who worked to create and express their own perspectives and experiences of womanhood.
Miriam Schapiro (1923 – 2015)
Born in Canada, Miriam Schapiro moved to New York at a young age. She started to pursue the arts when she was just a child and explored drawing. Studying at Hunter College and then the State University of Iowa, Schapiro received her Bachelor of Arts (1945), Master of Arts (1947), and Master of Fine Arts degrees (1949).
After Schapiro had her son and restarted her artistic career, she went on to explore the theme of gender more prominently within her works. As a female artist, she experienced the limitations placed on her gender in the art world.
During the 1970s, her work evolved into collages where she began to combine crafts, otherwise referred to as domestic materials, with her paintings.
A few examples of her artworks include Big Ox No.2 (1968), Dollhouse (1972), Anatomy of a Kimono (1976), I'm Dancin' as Fast as I Can (1984), and Mother Russia (1994), among many others. Anatomy of a Kimono is a good example that demonstrates Schapiro's focus on collage elements in Feminist paintings. It consists of ten panels made up of various objects like handkerchiefs, fabrics, lace that were combined with depictions of Japanese kimonos, which she was inspired to include after receiving a book on the traditional Japanese garment. The panels end in a pair of legs kicking outwards.
This work has been exemplary for the Feminist art movement as it courageously placed domestic crafts into the art space. Without question, Schapiro was able to make the craft form visible for everyone to see and observe as an art form. She also led the way for many other female artists to create and express themselves through new materials.
Schapiro also noted about the kicking legs at the end of the above-mentioned panel, "I ended the painting with the kick so that the painting would walk or strut its way into the '80s".
This was symbolic for moving beyond the imposing restrictions women faced in the art world, and the artist illustrated the "kicking" down of these barriers. Today, this fierce energy can be seen within the Feminist artworks created, as many barriers exist for women that still need to be overcome.
Mary Beth Edelson (1933 – 2021)
Mary Beth Edelson was born in Indiana, United States. She has been one of the pioneering Feminist artists and was involved in numerous endeavors like the Heresies Collective (started in 1976), which helped improve the overall exposure of female art. She studied at the Art Institute of Chicago and earned her Master of Fine Arts degree from New York University in 1958.
Edelson was also a multi-talented artist, as she experimented as a painter, collage artist, photographer, performance artist, printmaker, book artist, and writer/author. Her artworks included a combination of artistic modalities that touched on and questioned the ideals of patriarchy and hegemony.
She also utilized different feminine themes like the image of the goddess (she was a part of the Goddess movement) and different pop-cultural motifs.
A famous quote by the writer and art critic Lucy Lippard aptly describes Edelson as a Feminist artist. She states, "Mary Beth Edelson's work arises from Feminism's double strength. Like the great Goddess to whom she has dedicated her art, she has (at least) two aspects – political rage and life-giving affirmation. The two merge in an individual identification with the collective ego: 'Women exploring who "we are" and not who "I am"'."
One of her famous artworks is the collage, Some Living Women Artists / Last Supper (1972). Here we see the artist taking the classical Renaissance painting, The Last Supper (the 1490s), by Leonardo da Vinci and giving it a pop-cultural feminist twist. Instead of seeing the faces we expect from this painting, we see the superimposed faces of various famous female artists. There are over 80 female artists celebrated through this painting.
Edelson further explored the role and subordination of women artists in history and religion.

Some of the artists are Georgia O'Keeffe, whose face is over Christ's face, and (in alphabetical order) Lynda Benglis, Louise Bourgeois, Elaine de Kooning, Helen Frankenthaler, Nancy Graves, Lila Katzen, Lee Krasner, Louise Nevelson, Yoko Ono, M.C. Richards, Alma Thomas, and June Wayne. Additionally, the border around the painting displays the faces of more female artists.
Judy Chicago (1939 – Present)
Another pioneering Feminist artist is Judy Chicago, who was born Judy Cohen. She changed her last name due to the death of her father and husband, both of whose names she no longer felt connected to. Born in Chicago and receiving the nickname "Judy Chicago" from a gallery owner, the artist legally changed her then surname "Gerowitz", to Chicago.
She was always interested in the arts from a young age and in 1964 she earned her Master of Fine Art from UCLA.
Some of Chicago's more common themes include images of birth, creation, and female sexuality. We see this played out in Chicago's works like Through the Flower (1973), which hints at the female genitals, and Hatching the Universal Egg (1984), which more directly illustrates the process of giving birth as it showed a woman in a half-squatting position giving birth.
One of Chicago's famous art pieces is The Dinner Party (1979), which is an installation piece celebrating women throughout history. It touches on how women have been mostly excluded from history and sought to reset the rightful place of women in history along with their achievements.
This piece appears as a large triangular banquet table with place settings for 39 women, all from history. Some of the women include Virginia Woolf, Sacajawea, Empress Theodora of Byzantium, Georgia O'Keeffe, Sojourner Truth, and others.
The place settings each consist of a China plate with cutlery on napkins and a chalice, all placed on embroidered runners. Most of the plates depict female genitalia. Chicago's triangular installation venerated female figures to the status of heroines, a veneration that was mostly reserved for men throughout history.
The artist has described her piece as a "tour of Western civilization, a tour that bypasses what we have been taught to think of as the main road".
Furthermore, the artist also described this iconic female remembrance as, "a reinterpretation of The Last Supper from the point of view of women, who, throughout history, have prepared the meals and set the table". This work is another testament to arts like embroidery, tiling, and textiles entering the space of "high art".
The Ever-Evolving Feminism in Art
The Feminist Art movement has evolved over the decades, incorporating numerous themes that touch on the role of women and their sexuality throughout history and society. This has extended from the macro sphere of fighting for women's rights to the microsphere of more personal perspectives explored by individual female artists.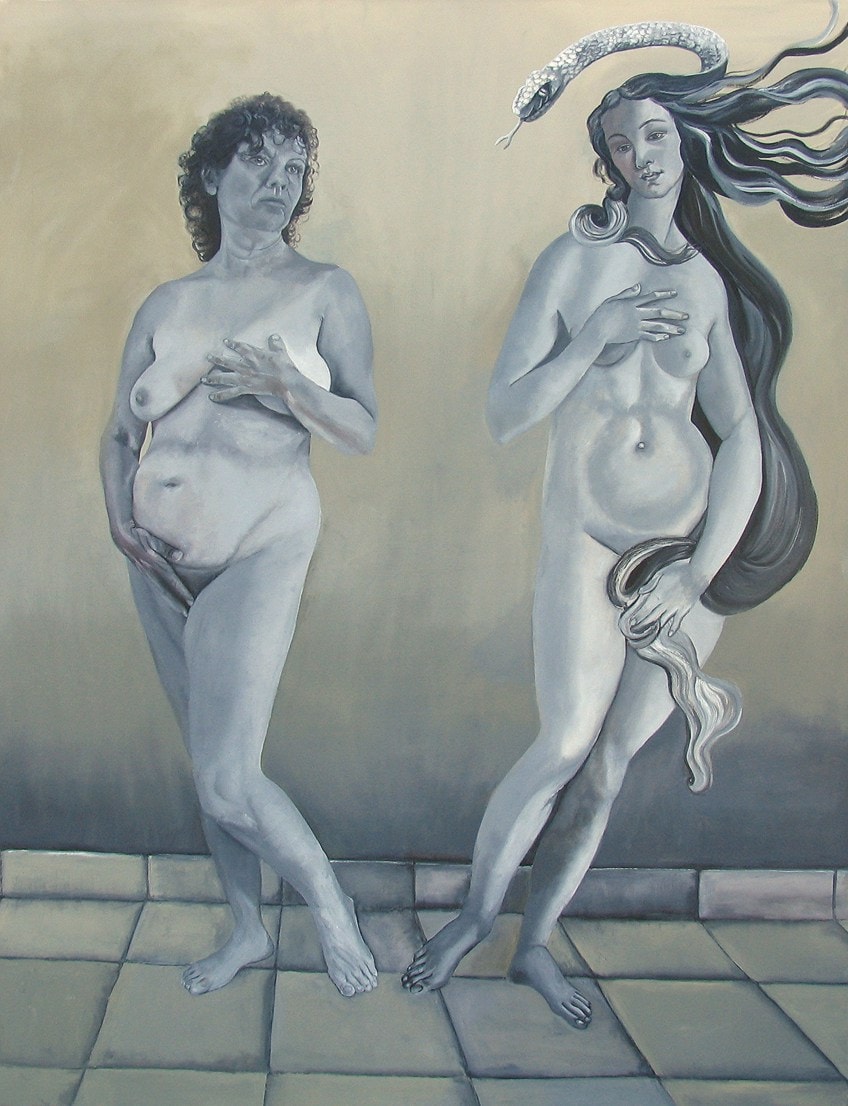 Venus and You (2008) by Ora Ruven, depicting an image of Botticelli's Venus (1485-1486) on the right, and a painting of the artist on the left; Uffizi, CC BY-SA 4.0, via Wikimedia Commons
Feminism in art has opened new doors for the way that art is made and expressed. While it has given some women a voice and agency to explore new territories previously not engaged with, many other women continue to be left out of the narrative still. As both an art and history movement, much still needs to be done in order for Feminism art to be seen as completely inclusive, as women from different races, cultures, ethnicities, and religions are still being excluded today.
It has been and still is, an ever-evolving movement in the art world, bridging the gaps between what was considered "low art" and "high art", the latter mostly patriarchally driven. Feminism art is a vast and expansive world that has certainly been revolutionary, not only to women but men too.
The famous artist Kiki Smith is also quoted as giving an adequate description of the Feminist art movement: "Without the feminist movement I wouldn't exist; and an enormous amount of the artwork that we take for granted wouldn't exist; and a lot of the subject matter that we assume can be encompassed by art wouldn't exist. The feminist movement exponentially expanded what art is, and how we look at art, and who is considered to be included in the discourse of art-making."
Frequently Asked Questions
When Did Feminist Art Start?
Feminist art started during the second wave of the Feminist movement during the 1960s. It started in countries like the United States and England. It occurred as an ongoing art movement and is still present in our art world today.
What Is Feminist Art?
Feminist art includes a diversity of modalities, for example, conceptual art, performance art, body art, and other forms that include more craft arts like embroidery, sewing, and textiles. A variety of motifs and images explore the woman's body and role in society, addressing issues like gender inequalities, gender stereotypes, and many others.
What Are the Characteristics of Feminism Artwork?
One of the main characteristics of Feminism artwork is that of raising awareness about gender inequalities and providing women open creative agency to express themselves. Other characteristics include its multidisciplinary nature, its strong focus on performance and body art to convey important issues related to women, and its questioning of women's place in the history of art, as well as their inclusion as great artists among the respected male artists.
Isabella studied at the University of Cape Town in South Africa and graduated with a Bachelor of Arts majoring in English Literature & Language and Psychology. Throughout her undergraduate years, she took Art History as an additional subject and absolutely loved it. Building on from her art history knowledge that began in high school, art has always been a particular area of fascination for her. From learning about artworks previously unknown to her, or sharpening her existing understanding of specific works, the ability to continue learning within this interesting sphere excites her greatly.
Her focal points of interest in art history encompass profiling specific artists and art movements, as it is these areas where she is able to really dig deep into the rich narrative of the art world. Additionally, she particularly enjoys exploring the different artistic styles of the 20th century, as well as the important impact that female artists have had on the development of art history.
Learn more about Isabella Meyer and the Art in Context Team.
Cite this Article