Tracey Emin – The Candid Bad Girl of British Art
Love, desire, loss, and grief: Tracey Emin's work makes tangible the intensity of these emotions. She is most famous for her confessional and autobiographical style of work. Emin remains a controversial artist to some and was initially branded as the "enfant terrible" member of the Young British Artists. Today, however, she is a Royal Academician, a recipient of the Turner Prize, and one of the most noteworthy contemporary artists of our era.
Artist in Context: Who Is Tracey Emin?
Tracey Karima Emin is a British multidisciplinary artist who works across a range of media, including installation, painting, drawing, photography, film, sculpture, neon text, and sewn applique. Tracey Emin is one of the most interesting and respected conceptual artists living and working today. The section below unpacks Tracey Emin's biography in more depth.
| | |
| --- | --- |
| Date of Birth | 3 July 1963 |
| Country of Birth | Croydon, United Kingdom |
| Art Movements | Young British Artists, Conceptual art |
| Mediums Used | Installation, painting, drawing, photography, film, sculpture, neon text, and sewn applique |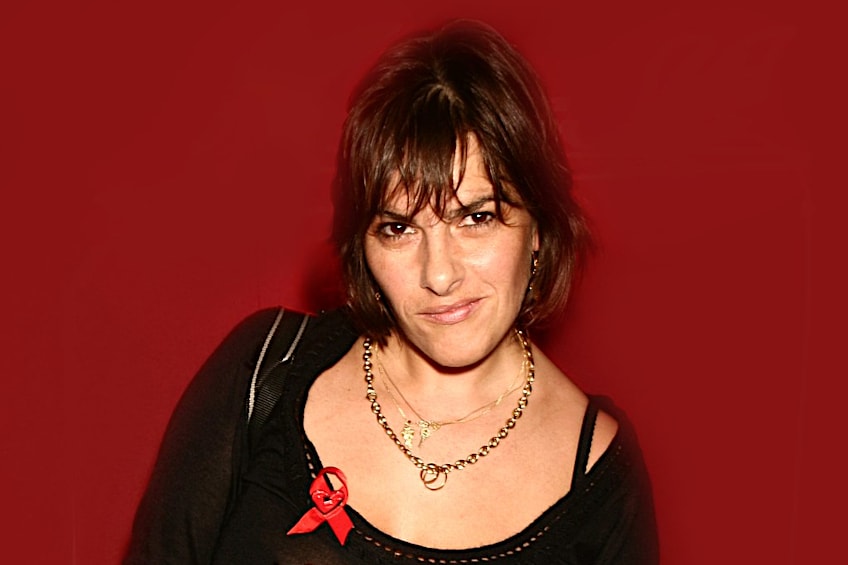 Tracey Emin; Piers Allardyce, CC BY 2.0, via Wikimedia Commons
Childhood
Tracey Emin was born with her twin brother in 1963 in Surrey, England. Where did Tracey Emin spend her childhood? The answer is not that simple as she had a rather unusual and traumatic childhood. The first years of her childhood, Emin spent living, as she said, "like a princess". Initially, she lived with her mother and brother in Margate, on the coast of Kent, in a seaside hotel.
Her father, who was Turkish, spent his weeks divided between two families, as he had a wife and other children in a different location. This arrangement, however, did not last long, as a few years later, he abandoned Emin's mother and the family of three bankrupt.
Emin spent the rest of her childhood living in poverty, and when she was 13, she was raped. She later said that this was something that "happened to a lot of girls" where she lived.
I Followed You into the Water Knowing I would Never Return (2011); UHkuru, CC BY-SA 4.0, via Wikimedia Commons
Early Training and Work
In 1980, at the age of 17, Emin enrolled at the Medway College of Design to study fashion. Here, she met Billy Childish, an avant-garde writer who influenced Emin as an artist and thinker. Although Childish would later be expelled from the College, the friendship remained intact and they even developed a romantic relationship. Emin describes the projects she did with Childish, like their collaboration at Childish's small press, as being instrumental to her early career. The relationship, however, dissipated when Emin moved to London in 1982 in pursuit of her MA in painting from the Royal College of Art.
Unfortunately, none of the artist's work from this period exist anymore, as she destroyed it out of grief and frustration after having two abortions not long after graduating in 1982.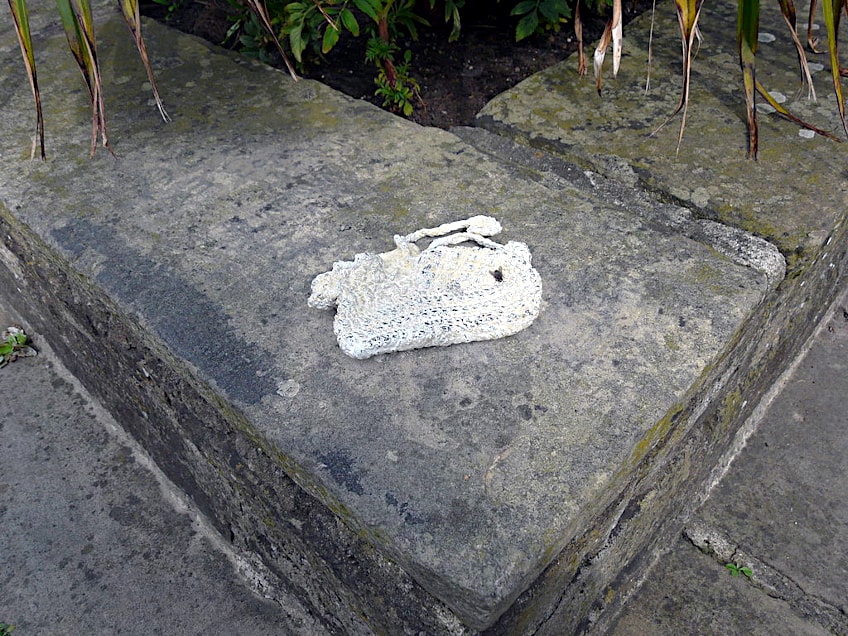 Part of the Baby Things installation at the Folkstone Triennial (2008). Cast in bronze and painted to resemble the actual object, these items related to infancy were scattered across Folkestone the town which at that time had the highest incidence of teenage pregnancies in the UK; Loz Pycock from London, UK, CC BY-SA 2.0, via Wikimedia Commons
In her early career, Emin influenced an artistic movement called Stuckism. Stuckism was a reactive movement, founded in 1999 by Childish (her then ex-boyfriend) that prioritizes figurative work over the Conceptual art that Emin was already practicing at the time. Childish called the movement "Stuckism" based on a comment that Emin once gave on his work, saying that his paintings were "Stuck! Stuck! Stuck!". Childish gained fame soon after his breakup with Emin, and he was very vocal about his disapproval of her artistic practice.
Childish explained his grievance when he said that Conceptual British artists cite anti-establishment artists like Duchamp as their inspiration, but that "now they are that pretentious art establishment themselves yet they still put forward this idea that they are undermining something".
Despite Childish's vehement disapproval of Emin's artistic practice, his movement of Stuckism, which is still popular today, would not exist without Emin's work. Even in her early career, Emin inspired an entire artistic movement based on her criticism. This is truly something that not a lot of artists can say.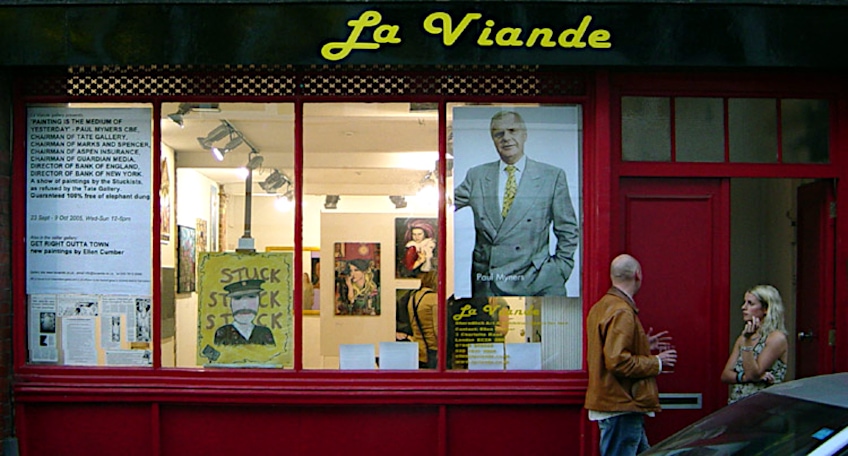 Opening of the Stuckist exhibition Painting is the Medium of Yesterday (2005); Photo by Charles Thomson, CC BY-SA 3.0, via Wikimedia Commons
Mature Period
During her time in London, Emin became friends with a group of artists, including, among others, Sarah Lucas and Damien Hirst. This group would later famously become known as the Young British Artists. The group exhibited together from 1988 and Emin joined them in the early 1990s. The group exhibited in the now-famous Saatchi gallery, founded by Charles Saatchi, who supported the group since the beginning of their careers.
The now-infamous "Young British Artists I" group exhibition at the Saatchi gallery was held in 1992.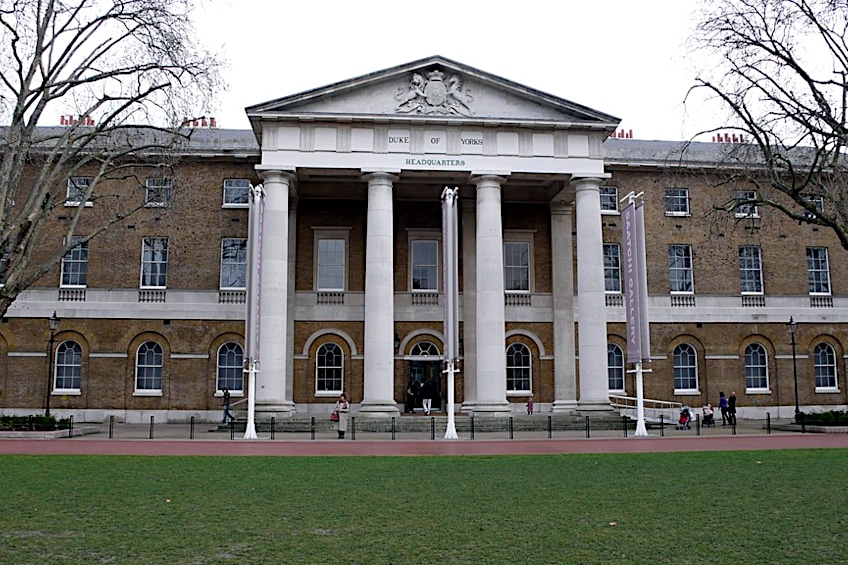 The Saatchi Gallery of modern art; Portico of the Saatchi Gallery of modern art by Anthony O'Neil, CC BY-SA 2.0, via Wikimedia Commons
In 1993, a year after this exhibition, Tracey Emin and Sarah Lucas opened "The Shop " in the East End of London. Here, they would sell their own work and artist merchandise, including everything from t-shirts to paper-mâché sex toys. That same year Emin's first solo exhibition was held in London at the prolific White Cube Gallery.
Emin is to this day a White Cube artist. The exhibition, which was ironically titled My Major Retrospective, included an installation of extremely personal items and photographs. This was Emin's first truly autobiographical style exhibition, a key characteristic that would define her work for the rest of her career.
In the mid-1990s, Emin fell in love with Carl Freeman, a prominent curator. The two started a relationship and enjoyed traveling together. In 1994 they traveled to the US, and soon after they visited the Kent coast together, where they would stay in a beach hut that Emin and Lucas purchased together. Coming from poverty, it was a remarkable feat for Emin to own property in this area that is so connected to her childhood. It is clear to see the importance of this to Emin in her 1999 work titled The Last Thing I Said to You is Don't Leave Me Here. In this work, Emin recreated the beachfront hut in the Saatchi Gallery.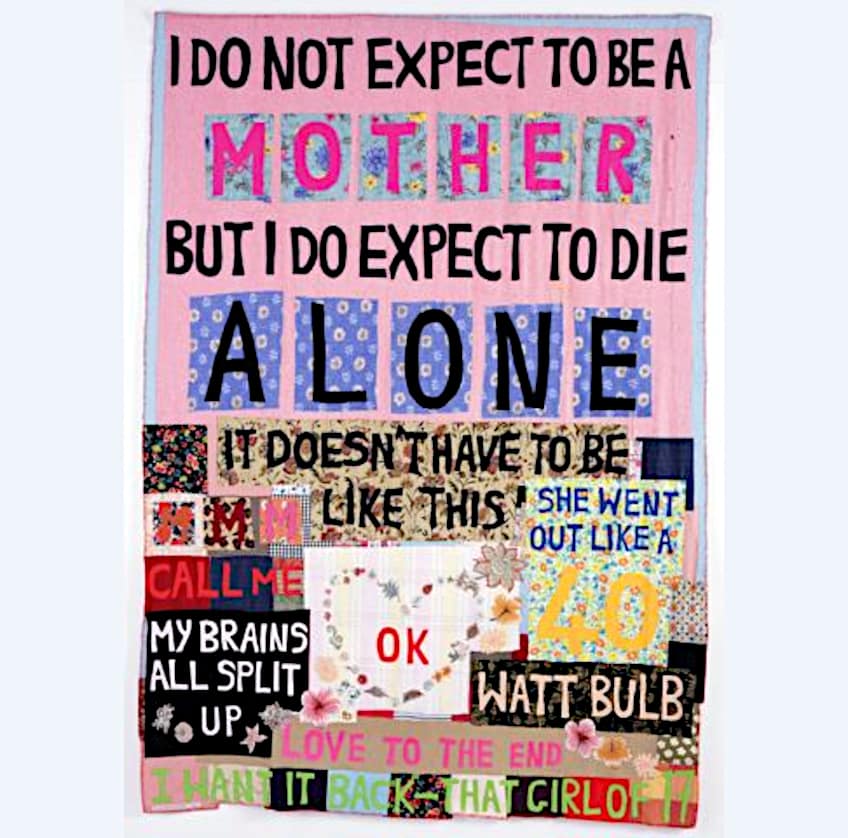 I Do Not Expect (2002). This patchwork blanket is a prime example of the deeply personal nature of Emin's work; tracey emin, CC0, via Wikimedia Commons
In 1995, Freedman challenged Emin to create larger work that is less ephemeral for an exhibition he was curating, called "Minky Manky". For this exhibition, Emin created one of her most famous works to date, called Everyone I Have Ever Slept With 1963-1995 (1995), better known simply as The Tent. In 1999, the work was shown again at a Saatchi exhibition titled Sensation. The work consists of a tent that she embroidered with the names of everyone she had shared a bed with in the past, whether it was sexual or not. Text remains a common thread throughout her work and across the various mediums she uses.
Emin quickly gained a wider British audience after a controversial interview that was aired in 1997. The program was with a group of academics who were discussing the Turner Prize, and Emin appeared in the interview drunk. At the end of the interview, which was aired live, she said: "I'm leaving now, I wanna be with my friends, I wanna be with my mum…this is live and I don't care…You people aren't relating to me now, you've lost me."
Emin walked off of the television set halfway through the show. Two years later, despite the disaster, her seminal work, My Bed (1998), was nominated for the Turner Prize. This nomination sparked her international fame.
Current Practice
Since the late 1990s, Emin's work has become more concentrated on techniques, such as embroidery, which represent "women's work".
The artist seemed to gain quiet confidence in herself and her work, which resulted in less dramatic public appearances.
Her work, however, went from strength to strength and is today in many important collections Celebrities, including Elton John and George Michael, also own some of her work. Over the years, she has become friends with famous names in the music and fashion industries, including Ronnie Wood of the Rolling Stones, Kate Moss, Madonna, and Vivian Westwood.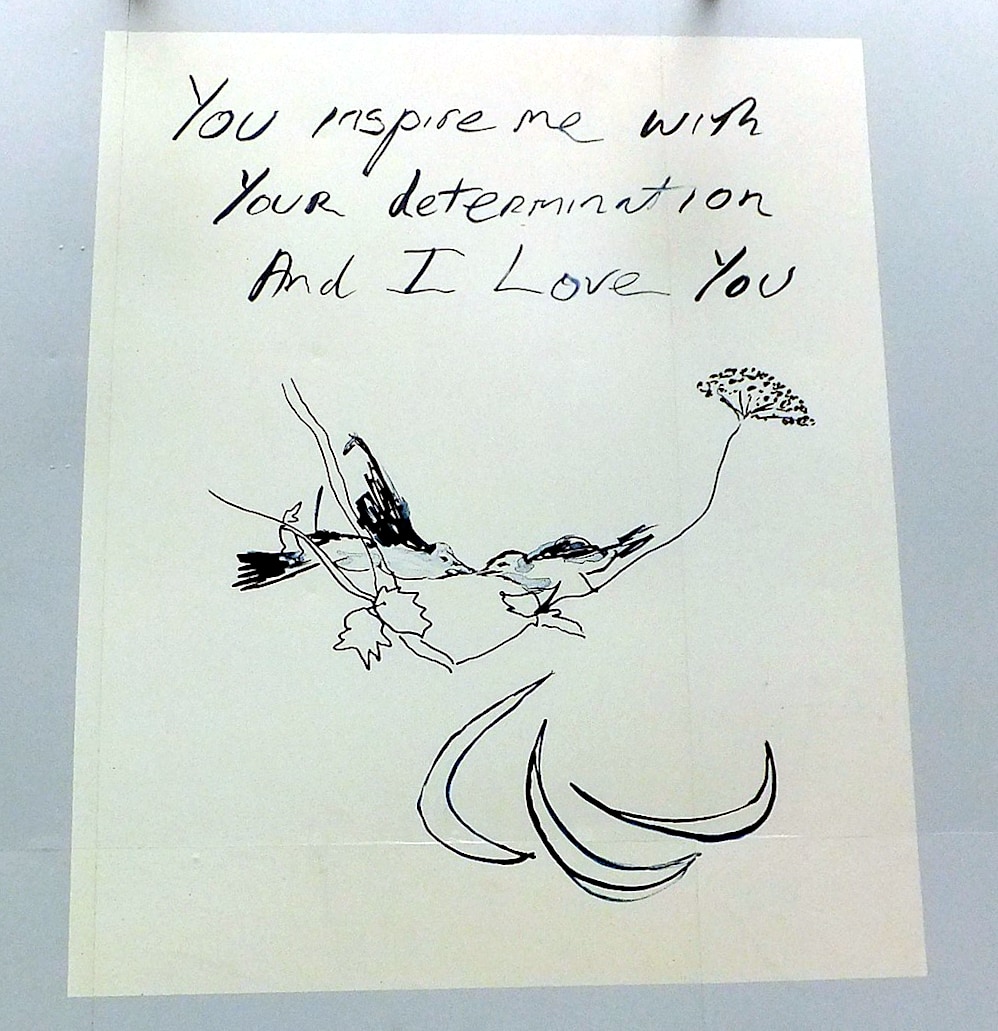 Poster designed by Tracey Emin for the London Paralympics also known as Birds (2012); Paralympic Poster: Birds 2012 by Tracey Emin by PAUL FARMER, CC BY-SA 2.0, via Wikimedia Commons
Emin was awarded the title "Royal Academician" at London's Royal Academy of the Arts in 2007, and she later also became a professor of drawing at the academy. In the same year, Emin showcased at the 52nd Venice Biennale, representing Britain. In 2013 she was appointed CBE by the British Empire for her services in the arts. In the same year, she was mentioned on the BBC's list of the 100 most powerful women in Britain.
In 2015, Emin made a statement by marrying a rock in her garden in France. She claimed that she made this choice as the rock is not "going anywhere", and that her new rock-husband is an anchor, something I can identify with."
Important Tracey Emin Artworks
Tracey Emin's artworks explore topics such as sexuality, gender, and addiction. All of her work, no matter the medium, has an element of performativity that is deeply connected to the artist's eccentric personality. Throughout her career, she built an authentic approach to creating works that serve as social commentary, as well as inner reflections. Below, we discuss in more depth some of Emin's most notable works.
Everyone I Have Ever Slept With 1963-95 (1995)
| | |
| --- | --- |
| Artwork Title | Everyone I Have Ever Slept With 1963-95 |
| Date | 1995 |
| Medium | Appliqued tent, mattress, and light |
| Collection | Destroyed |
Everyone I Have Ever Slept With 1963-95 (1995) is the first work that really drew serious international attention to Tracey Emin's artworks. The work features a tent that is covered in names embroidered on it. The tent is presented with an open door, inside is a mattress and a shining light. Although some critics mistook the meaning of the work to only refer to sexual partners, which some critiqued as being boastful, the true intention of the work is much more nuanced. Although some of the names are of previous sexual partners, others have simply shared a bed with Emin or slept next to her.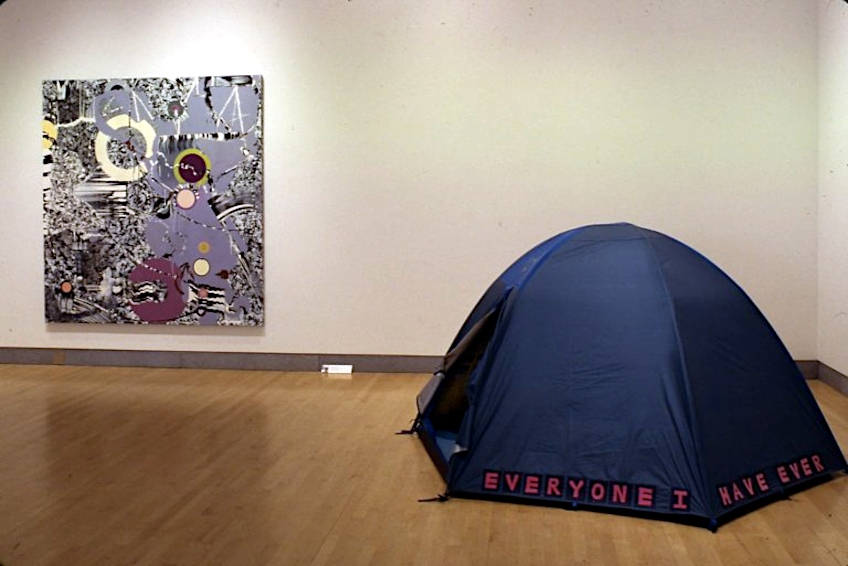 Everyone I have Ever Slept With (1995) installed at the Brooklyn Museum from 1999-2000; Brooklyn Museum, No restrictions, via Wikimedia Commons
The tent features 102 names, among which are past lovers, like Childish, and non-sexual partners, like her brother, grandmother, and, sadly, her two aborted fetuses. Instead of being sexual, the work is about intimacy, love, and grief. This intimacy is compounded by the small size of the tent, which viewers are invited to enter.
The work was unfortunately destroyed in 2004 in a warehouse fire, but it introduced Emin as an artist whose works are vulnerable, intimate, daring, cathartic, and incredibly honest.
My Bed (1999)
| | |
| --- | --- |
| Artwork Title | My bed |
| Date | 1999 |
| Medium | Bed, with linens, pillows and various objects |
| Collection | Tate Collection, London, United Kingdom |
This is arguably Emin's most famous work. The work can be described as a combination of an installation and a performance. In 1999, Emin suffered from depression and following an emotional breakup with a romantic partner, spent several days in bed. The work is a record of these days and consists of the bed placed in the gallery in its unmade state, full of stains, and installed between an array of items strewn across the bed and the floor. Among these are condoms, contraceptive pills, cigarette ends, money, and menstrual blood.
Explaining why she chose to display her bed laced with traces of depression as an artwork, Emin said: "I got up and took a bath and looked at the bed and thought, 'Christ, I made that'".
The work becomes an autobiographical documentary of her suffering, addiction, shame, grief, and depression. The work was controversial and received mixed responses from the audience and critics. It was, however, still nominated for the Turner prize in 1999 and became a seminal work for Emin.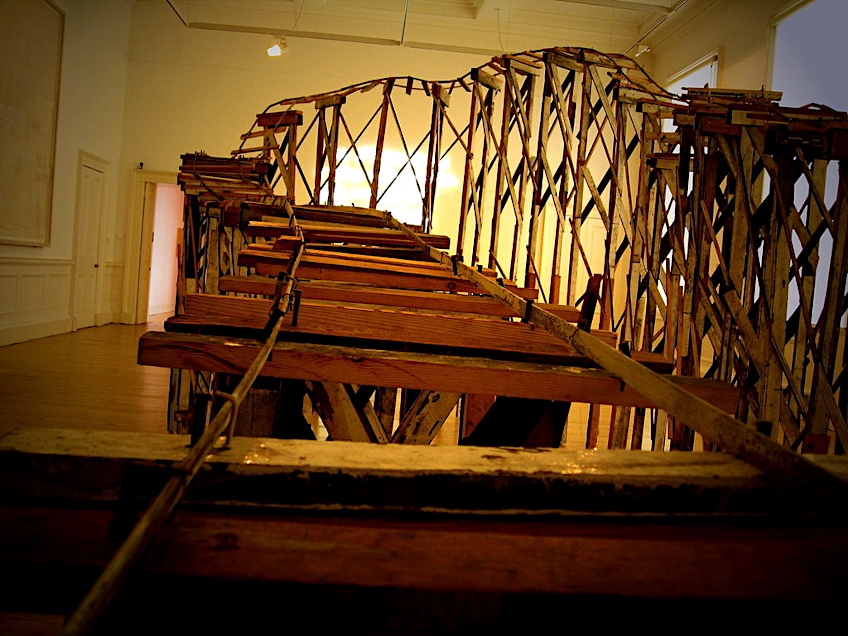 It's Not the Way I want to Die (2005). As in My Bed, in this work Emin demonstrates her skill at using an object presented in a shambolic state (in this case a rickety rollercoaster track) to reflect and evoke a complex set of emotions and associations; FearfulStills, CC BY 2.0, via Wikimedia Commons
In this work, Emin plays with the distinction between representation and presentation. The work is not representational in the same way that a painting or sculpture represents 'real' life. Instead, the art object, the bed, is not referring to something else that exists apart from it, it is the work and the object itself.
The work can also be seen as subscribing to the ideals of third-wave feminism, as it promotes that women should have the freedom to express their own sexuality, on their own terms.
My Bed was sold in an auction in 2014 for a staggering 2.5 million pounds, a record price for any Emin work to this date. The work was exhibited again in 2015 at Tate Modern. Seeing the work again after so many years, Emin said that people initially judged the work for its shock factor, but that now "15 years later, people will finally see it as a portrait of a younger woman and how time affects all of us."
I Never Stopped Loving You (2010)
| | |
| --- | --- |
| Artwork Title | I Never Stopped Loving You |
| Date | 2010 |
| Medium | Pink neon light |
| Edition Size | Edition of three plus two artist's proofs |
| Size (cm) | 23 x 179 |
| Collection | Turner Contemporary Art Trust, Margate, United Kingdom |
I Never Stopped Loving You (2010) is among the most famous of Tracey Emin's neon works. Emin began working frequently with neon lights in the 2000s. Like Bruce Nauman's iconic neon works, Emin's works incorporate words and phrases, but her work features her own handwriting. This gives the work a personal touch that is in stark contrast to the mass production of most neon products. Typically, neon signs symbolize consumerism as they are often associated with shop fronts, casinos, and bars. There is also the more sexual connotation of neon lights and red-light districts. Embedded in these associations is the theme of addiction.
Emin explained that one of the reasons she is attracted to neon signs is because of the way the pulsing of light around the class has a feel-good factor. While this might be related to themes of addiction, Emin explains, neon is also proven to help people that have depression.
This specific neon work spells the words "I never stopped loving you", a romantic statement that Emin dedicated to her hometown of Margate. confessional style of work. Emin explains that the work is both a declaration of love and a sentiment of what she wants for people: "I want people to come off the train, I want them to walk along the seafront, I want them to hold hands and to have a snog and say 'I never stopped loving you'."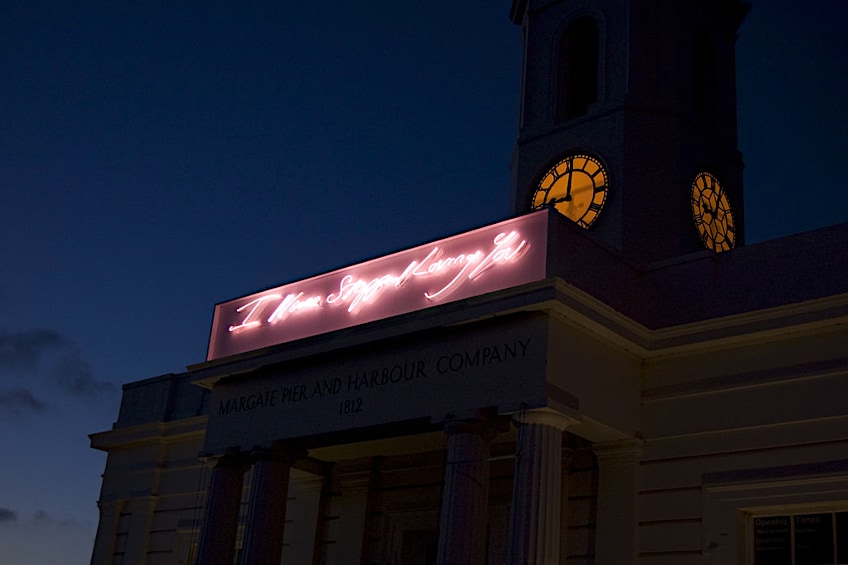 I Never Stopped Loving You (2010); Katie Hunt from St Albans, UK, CC BY 2.0, via Wikimedia Commons
Similar to Tracey Emin's paintings, her neon works also typically have sexual and romantic connotations. Her sign for Margate can be understood in a similar vein. While the artwork expresses Emin's love for her hometown, it also suggests that Emin's relationship with Margate has played an integral part in her romantic relationships throughout her life. The work is bittersweet, especially when considering Emin's traumatic childhood in Margate, which included poverty and sexual assault.
Traces of the seaside town of Margate can be found in multiple Tracey Emin drawings, paintings, poems, and installations the artist created over decades, but none as prominent as in this work.
In this work, the neon sign was not displayed in a gallery space but installed above the Harbor Arm in Margate itself as a public work. Emin moved back to the coastal town in 2016 and her studio is now a ten-minute walk from the neon sign. The town, Emin says, had declined dramatically since she left in the 1970s and today the artist is a champion of Margate's renaissance.
Like A Cloud of Blood (2022)
| | |
| --- | --- |
| Artwork Title | Like a Cloud of Blood |
| Date | 2022 |
| Medium | Acrylic on canvas |
| Size (cm) | 152 x 182 |
| Collection | Private Collection |
Like all of Tracey Emin's paintings, Like a Cloud of Blood (2022) is expressive, honest, and intimate. Emin created this work after she had undergone intensive treatment for bladder cancer. The artist explains that for six months following the treatment, she was so weak that she could not paint at all. When she eventually regained her strength, she had an outpouring of emotion on the canvas.
The painting was created in her studio in Margate and Emin decided to sell the work on auction on the 13th of October 2022 to raise funds for an art school and center in Margate.
Emin opened TKE Studios (TKE is short for Tracey Karima Emin) in 2022 in an old bathhouse near Margate beach. The studio can house 12 artists and functions as a residency space and a lecture room that offers free workshops and talks. The work sold for 2.3 million pounds and all proceeds will go towards funding for the school and its programs. The school will offer free tuition and studio spaces for 15-20 students.
Emin explains that it is important for her to leave a legacy. She says: "If my art can make something happen for the future, then I'm doing the right thing".
Book Recommendations
Tracey Emin is one of the most respected artists living today. This article only provided a glimpse into Tracey Emin's artworks and her interesting life. Below are three book recommendations if you wish to learn more about the work of this remarkable multidisciplinary artist.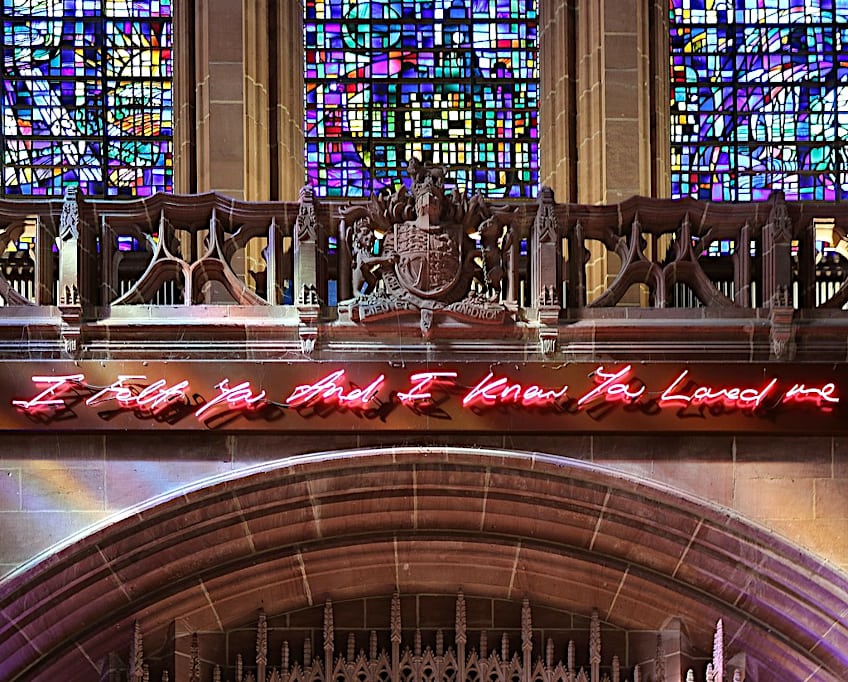 For You (2008). This contemplative work was commissioned for the Liverpool Cathedral where it was installed above the West doors; By Phil Nash from Wikimedia Commons CC BY-SA 4.0, CC BY-SA 4.0, via Wikimedia Commons
Strangeland (2006) by Tracey Emin
Who better to provide an in-depth Tracey Emin biography than the artist herself? This book is a collection of intimate memoirs and confessions written by Emin over several years. The book gives a deep insight into the artist's romantic worldview, paired with her, sometimes brutally, honest sensibilities. If you want a nuanced look into the beautiful mind of the artist, this is the one for you.
First full-length compilation of 25 years of Emin's writings
Provides frank first-hand insight into Emin's art and psyche
Extremely personal and intimately revealing autobiography
View on Amazon
Tate Modern Artists: Tracey Emin (2006) by Neal Brown
The Modern artist series of books by Tate are essential references to some of the most relevant artists of our time. The book is highly informed, yet accessible, with clear language and stunning illustrations. Included in the book are interviews with the artist, analyses of her work, and a compelling flow of text and images. Here you will find a wonderful collection of Tracey Emin drawings, paintings, neon works, and installations.
Clearly written introduction to Tracey Emin's career and artwork
Provides contextual insight into Emin's place in contemporary art
Includes interviews with Emin and features well-chosen illustrations
View on Amazon
Tracey Emin (Art File) (2021) by Jonathan Jones
This book is one of the most recent overviews of Tracey Emin's biography. The book included up-to-date information, along with some previously unpublished earlier works of the artist, produced during the 1980s in the Young British Artists period. Written by the art critic for the Guardian, Jonathan Jones, this book is an essential publication on the work of Emin.
Comprehensive yet concise up-to-date survey of Emin's life
Includes multiple previously unpublished works
Essential reading for anyone interested in Tracey Emin
View on Amazon
Moren, The Mother (2022); Gerd Fahrenhorst, CC BY 4.0, via Wikimedia Commons
From the start of her career, Tracey Emin's visceral and emotional confessional artworks changed the British art scene for years to come. As her work engages with universally felt emotions all over the world, she soon gained an international stage and is today one of the most important Conceptual art voices in the world. Emin's work, which aligns empathetically with third-wave feminism, continues to inspire generations of female artists to express themselves honestly and powerfully. Emin continues an active artistic practice based on vulnerable emotional integrity.
Frequently Asked Questions
Who Inspired Tracey Emin?
Tracey Emin was most inspired by artists Louise Bourgeois, Bruce Nauman, Egon Schiele, and Edvard Munch. The art movements that influence her work most are Feminist art, Conceptual art, Abstract Expressionism, and Body art. Her close friends, Sarah Lucas and David Bowie, also had a great influence on Emin's work.
Where Did Tracey Emin Spend Her Childhood?
Emin was born in Croydon and raised in Margate, Kent. She lived here with her twin brother and her mother. Initially, her Turkish father divided his time between Emin's family and his wife and other children. Soon, however, her father abandoned her mother, condemning Emin to a childhood lived in poverty.
Is Tracey Emin a Feminist?
Emin does not describe herself as a feminist and believes that Feminism should not exist anymore as, by now, people should all be equal. This, however, she knows, is not the case, and so, her work tends to be clearly Feminist. Tracey Emin's artworks can be described as having the ethos of third-wave feminism. This is the kind of feminism that believes that women have the right to define their sexuality on their own terms.
Isabella studied at the University of Cape Town in South Africa and graduated with a Bachelor of Arts majoring in English Literature & Language and Psychology. Throughout her undergraduate years, she took Art History as an additional subject and absolutely loved it. Building on from her art history knowledge that began in high school, art has always been a particular area of fascination for her. From learning about artworks previously unknown to her, or sharpening her existing understanding of specific works, the ability to continue learning within this interesting sphere excites her greatly.
Her focal points of interest in art history encompass profiling specific artists and art movements, as it is these areas where she is able to really dig deep into the rich narrative of the art world. Additionally, she particularly enjoys exploring the different artistic styles of the 20th century, as well as the important impact that female artists have had on the development of art history.
Learn more about Isabella Meyer and the Art in Context Team.
Cite this Article