Ernst Ludwig Kirchner – A Look at the German Expressionism Artist
Ernst Ludwig Kirchner was a leading figure in the Die Brücke collective that thrived in Berlin and Dresden before World War I, and he has grown to be regarded as one of the most accomplished and important components of German Expressionism. Kirchner had conflicting opinions about the old and new, driven by the same worries that seized the group as a whole – misgivings about humanity's role in the contemporary world, its lost sentiments of sanctity and sincerity. Ernst Ludwig Kirchner's artwork such as Group of Four Nudes was centered on the human body. Ernst Ludwig Kirchner's paintings were a dramatic reaction to the Impressionism that dominated German art at the time he first appeared.
Ernst Ludwig Kirchner's Biography
| | |
| --- | --- |
| Nationality | German |
| Date of Birth | 6 May 1880 |
| Date of Death | 15 June 1938 |
| Place of Birth | Aschaffenburg, Bavaria |
Ernst Ludwig Kirchner's artworks were a reaction to the staid formality of bourgeois existence. He constantly denied being influenced by other painters, yet Edvard Munch and Henri Matisse were definitely influential in defining his aesthetic. Fauvism had a strong influence on his palette, prompting him to employ flat swaths of unbroken, frequently unmixed color and basic shapes.
Kirchner felt that strong energies – both enlivening and destructive – lurked under the shell of Western civilization and that creativity provided a way to harness them. This perspective influenced the way he showed men and women in his photographs, as individuals who appear to be at odds with themselves or their surroundings.
It also piqued his interests in Primitivism, particularly that of the Pacific Islands, because he saw this work as providing a more direct depiction of those elemental elements. Kirchner was also influenced by primitive art in his pursuit of a more basic presentation of form. His attitude to primitive sculpture, as well as his appreciation of rough-hewn, partly painted surfaces, were clearly influenced by it.
Early Training
Ernst Ludwig Kirchner was born in Aschaffenburg, Bavaria, on the 6th of May, 1880, and started pursuing architecture at the Dresden Technical High School with his parents' assistance in 1901. He became good acquaintances with Fritz Bleyl, who supported his extreme views on art and the environment while taking courses. Kirchner preferred to focus on fine art instead of architecture at this age.
Kirchner and Bleyl created the artist group Die Brücke in 1905 with other architecture classmates, Erich Heckel and Karl Schmidt-Rottluff.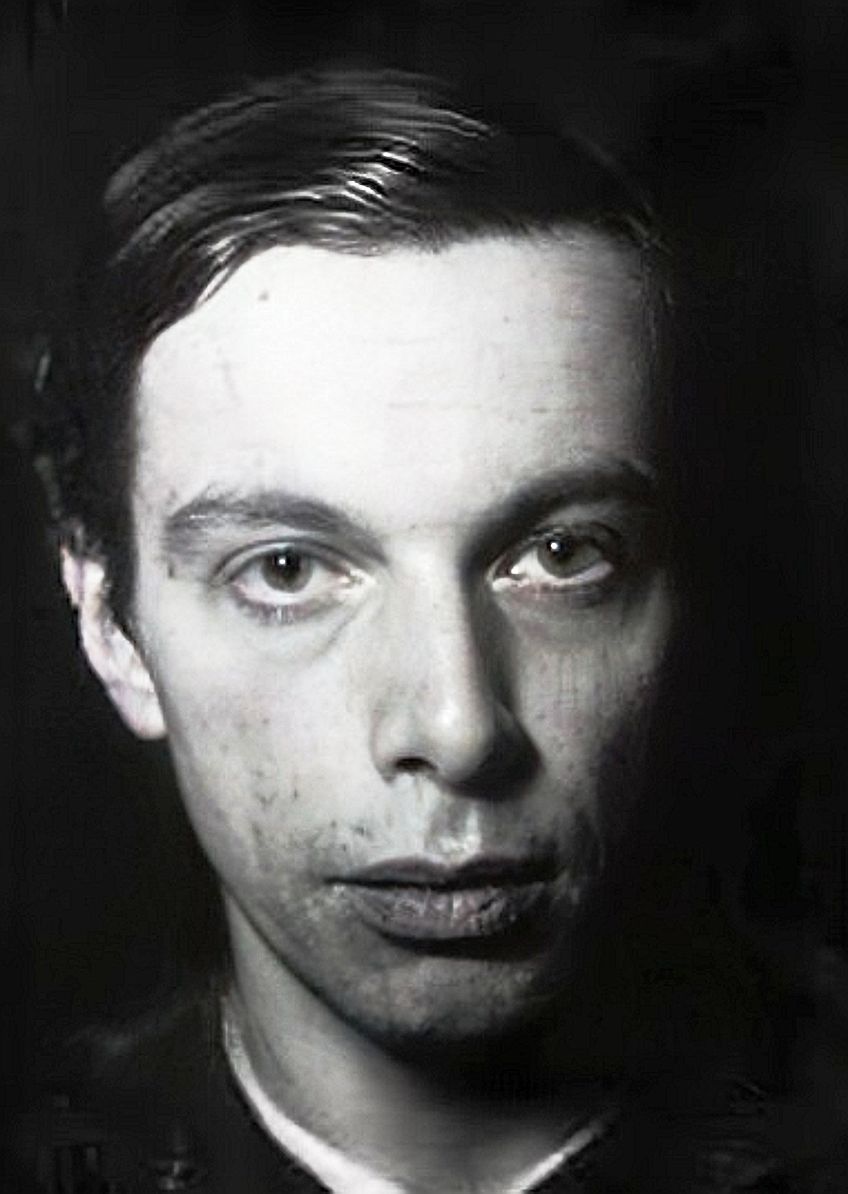 A self-portrait photograph of German artist Ernst Ludwig Kirchner, taken in 1919; Ernst Ludwig Kirchner, Public domain, via Wikimedia Commons
The goal was to abandon old academic approaches in favor of a new manner of creative expression that would serve as a "bridge" connecting past classical themes and the current avant-garde. Die Brücke used crude lines and a vivid, artificial color palette to convey strong emotion. The new group would exercise figure drawing in an old meat shop that also functioned as Kirchner's workshop. Meetings at the studio, on the other hand, would frequently descend into spontaneous lovemaking and widespread nudity.
Die Brücke's art was inspired by Albrecht Dürer's work as well as the Neo-Impressionists' vivid color scheme. Kirchner was particularly fond of Dürer's woodcarvings, which he attempted to update with his own distinct aesthetic of pared-down lines and energetic compositions.
Mature Period
Die Brücke and Kirchner had their first group show at a light factory in 1906. The exhibition's main theme was female nudity, which was inspired by late-night workshop discussions. The exhibition's dynamic tone is exemplified by Kirchner's woodcut work Nude Dancers (1909). Naked ladies performing on a stage are shown in coarse, graphic lines.
Die Brücke came to an end in 1913, when Kirchner published "Chronik der Brücke", a book about the freedom of existence and mobility in the face of long-established older influences.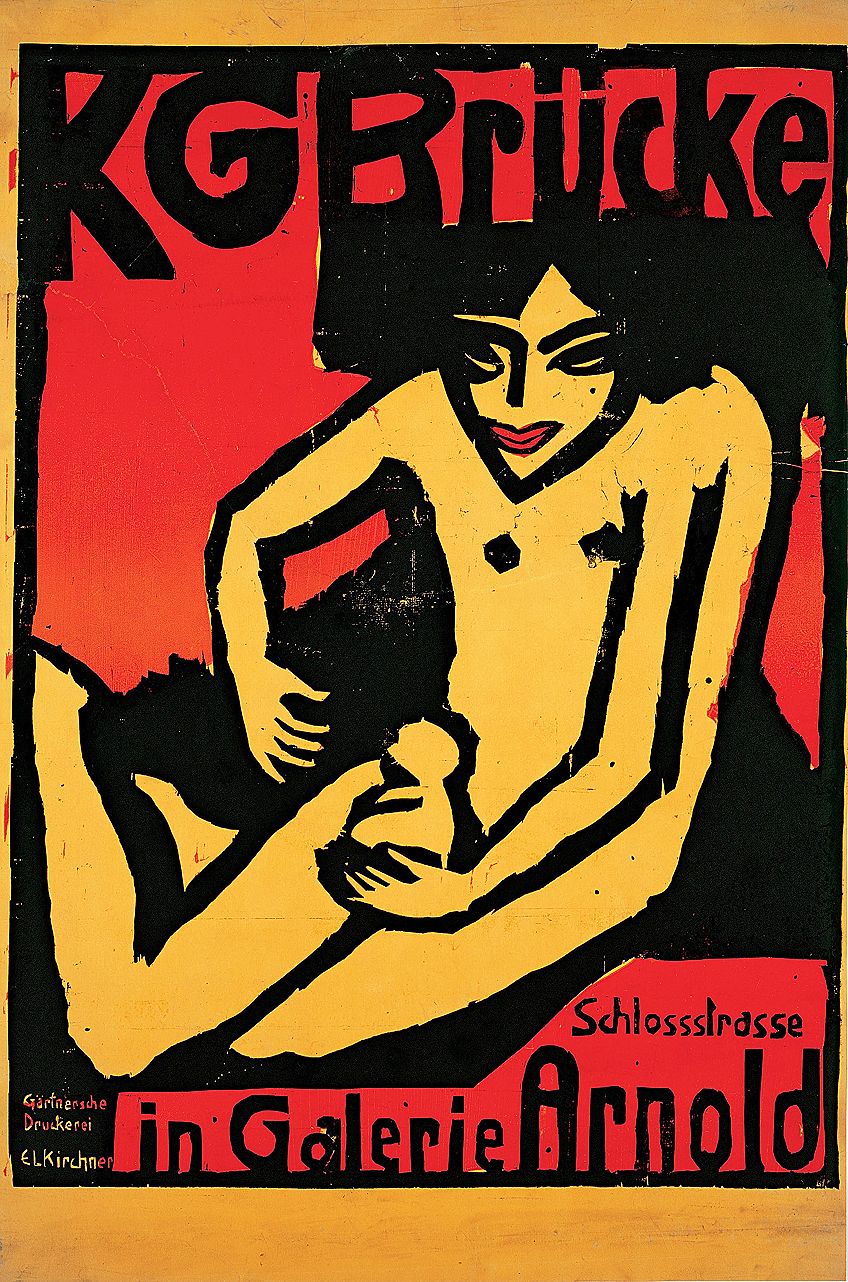 Poster for the exhibition for the artists' group "Die Brücke" at the Arnold Gallery in Dresden, created by Ernst Ludwig Kirchner in 1910; Ernst Ludwig Kirchner, Public domain, via Wikimedia Commons
Kirchner wanted to build his own artistic identity after that. He became interested in industrialization and the alienation that people feel in cities. With the production of the Strassenbilder series in 1915, he gradually shifted his focus away from the female nude and onto the Berlin streets.
As he saw the shifting political circumstances of World War I and its influence on German culture, these works focus on the vibrant life of modern Berlin.
Kirchner used strong, expressive brushstrokes and bright hues like blues, greens, oranges, and rose to show groups of people. As a repudiation of the academic traditions that he learned in his architectural classes, his perspective was frequently warped, with people towering and leaning either towards or away from the image plane.
Late Years
Kirchner enlisted in the military willingly in 1915 but was discharged soon after owing to a psychological breakdown. Throughout 1916 and 1917, he healed in several Swiss institutions. He relocated to a farmstead in the Alps near Davos in 1918, traumatized by his combat experience, and his new home produced a series of alpine landscapes.
With shows in Germany and Switzerland in the 1920s, his standing as a major artist of German Expressionism grew even further.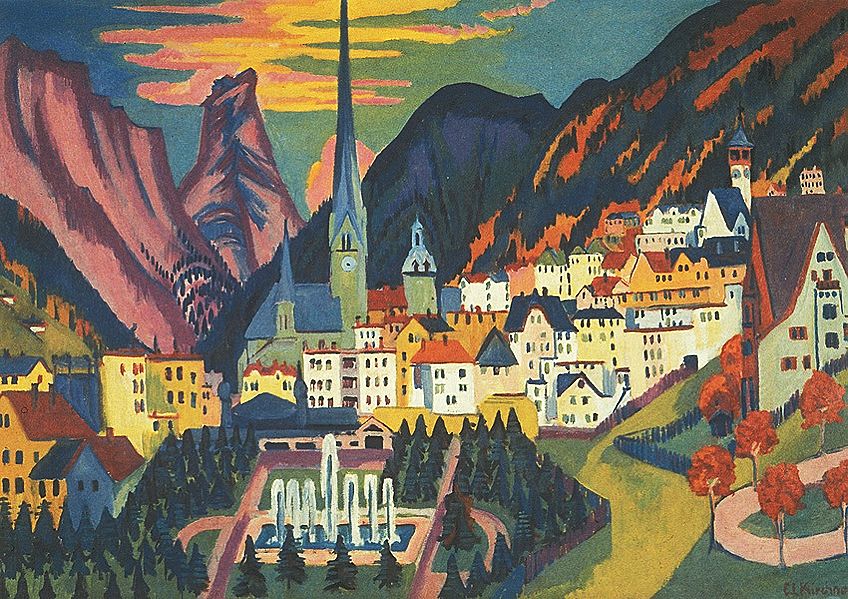 Davos im Sommer (Davos in Summer) (1925) by Ernst Ludwig Kirchner, located at the Kirchner Museum Davos in Davos, Switzerland; Ernst Ludwig Kirchner, Public domain, via Wikimedia Commons
In 1926, he released his first monograph and inventory of graphic works. In 1927, he was appointed to paint murals for the Folkwang Museum, and he was invited to participate in the Venice Biennale in 1928. Kirchner was elected to the Prussian Academy of Arts in 1931, as his fame grew.
Kirchner was forced to withdraw from the Berlin Academy of Arts in 1933 after German Nazis labeled him a "deviant painter." The Nazi dictatorship imprisoned or destroyed over 600 of his paintings. These incidents had such a terrible effect on him that he committed suicide on the 15th of July, 1938.
List of Ernst Ludwig Kirchner's Paintings
Ernst Ludwig Kirchner's paintings were centered on the human form. It was crucial to the photographs that used his studio as a backdrop – photographs in which he depicted models posturing as well as parts of his bohemian life.
For Kirchner, the workshop was a vital junction where art and reality intersected.
But the figure also influenced his photographs of Berlin, in which the mood of people on the street seemed to take precedence over the accompanying cityscape. And, more often than not, he showed the figure in motion, believing that this better represented the completeness and energy of the human form.
Nude Dancers (1909)
| | |
| --- | --- |
| Year Completed | 1909 |
| Medium | Woodcut Print |
| Dimensions | 259 cm x 390 cm |
| Current Location | The Museum of Modern Art, New York |
This woodcut print depicts a group of sensuous naked female performers. The piece, which was created during the Die Brucke period, depicts the intense mood of a gathering in Kirchner's workshop, a recurring scenario in his photographs. Kirchner developed expressive, dynamic black lines by vigorously cutting away the woodblock in a bid to revitalize traditional printmaking; the wide regions of light and dark give an uncertain feeling of physical depth on a two-dimensional surface.
Kirchner achieves a cohesive composition by striking a harmony between the two extremities (light and darkness, powerful and delicate).
The deliberate decision to leave white sections unpolished, exposing the carving processes, is a rejection of typical academic education, shown by Die Brucke. "Woodcut was the most visual of the graphic processes," Kirchner remarked.
He and his Die Brücke compatriots cultivated the medium's potential for strong, rough textures, fostering a rawness that fit their goal for emotive directness.
Kirchner used rough cuts in the woodblock to create his strangely placed figures, who are emphasized by the flat, black surface of an immense hat. His subjects' nakedness implies an openness, a discarding of convention in quest of fundamental reality.
Marzella (1909 – 1910)
| | |
| --- | --- |
| Year Completed | 1909 – 1910 |
| Medium | Oil on Canvas |
| Dimensions | 75 cm x 79 cm |
| Current Location | Moderna Museet, Stockholm |
Kirchner's style is evident in this picture, from the bright, contrasting color palette to the black lines that define the shape. Instead of striving to mix everything together, the face is likewise made up of blocks of color. The girl has an intriguing mix of innocence and young, but also attractive eyes and brilliant lips. She strikes a vulnerable position, leaning over with her arms folded and her knees together. She sits on a little striped mat or towel, and the colors that fill the space behind her are vibrant and pleasant, with minimum detail once again.
The painting is unmistakably Expressionist, in which artists focus on feelings and emotions rather than directly recreating reality.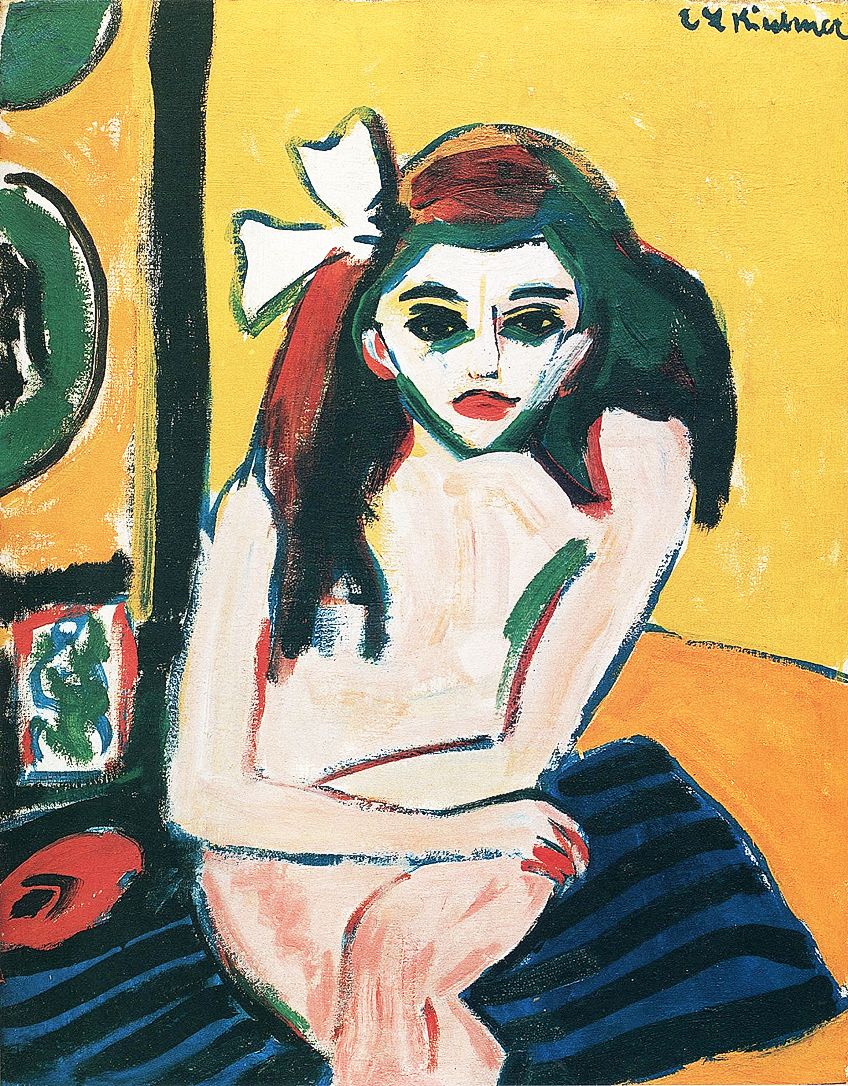 Marzella (1909 – 1910) by Ernst Ludwig Kirchner, located at the Moderna Museet in Stockholm, Sweden; Ernst Ludwig Kirchner, Public domain, via Wikimedia Commons
An intriguing parallel may be seen between Marzella and Puberty, both paintings by Edvard Munch in 1895. Both painters employed emotive techniques in their works, focusing less on details and more on communicating themselves. Kirchner's artwork is cropped in this case, so we don't get to view the model in its entirety. When opposed to the Norwegian artwork, her demeanor is more neutral and difficult to discern.
The Die Brücke group had been active for around 5 years at the time of this picture, and this group of painters already had a distinct character, from the juxtaposition of light and dark colors to the jagged portraits.
These forward-thinking painters would face severe opposition from German officials who were opposed to their contemporary approach and favored more conventional styles of art. This type of conflict is common, but what made this case specifically exceptional was that the government did not only criticize the art but went so far as to confiscate and even demolish some of it.
Painter and Model (1910)
| | |
| --- | --- |
| Year Completed | 1910 |
| Medium | Oil on Canvas |
| Dimensions | 150 cm x 100 cm |
| Current Location | Kunsthalle Hamburg |
The artist's coat is the first thing that catches your eye, with its clashing colors that appeal to us from the recesses of the creator's soul. Aside from the striping, there is minimal intricacy, with only a few buttons and a pouch. The artist strikes a stance with a black pipe and directs his gaze at the observer. He looks to be nude or in underwear beneath his coat, implying that he is working in a particularly informal and comfortable workplace.
In the backdrop, a model perches on a little tool, providing interest without detracting from the artist's work.
She wears a plain bluish dress or underwear and brown buckled shoes. This room's decor is bright, yet it also uses the same color palettes as Kirchner's jacket. Again, there is little information, just enough to hint at elements in the picture and also to create the general structure of the space to offer the smallest angles of viewpoint.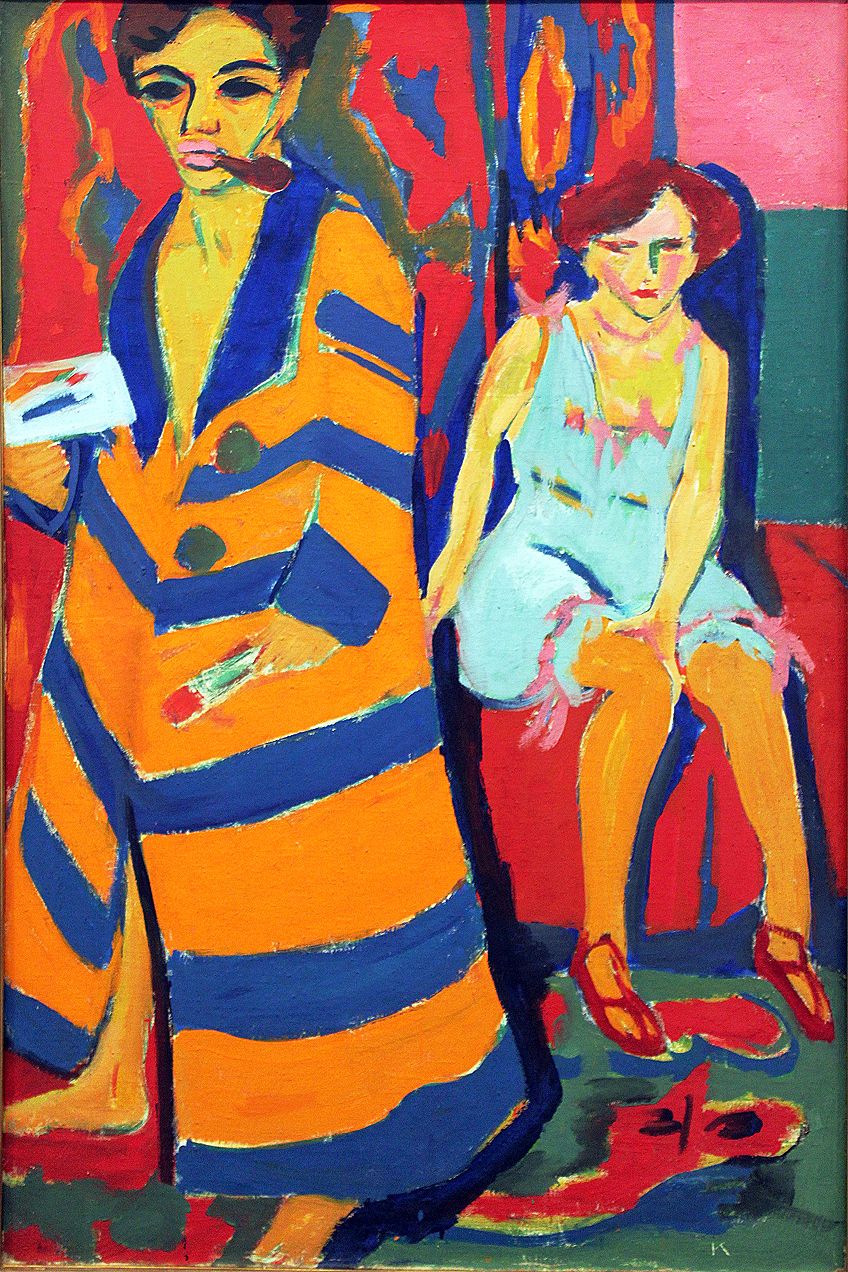 Painter and Model (1910) by Ernst Ludwig Kirchner, located at the Hamburger Kunsthalle in Hamburg, Germany; Ernst Ludwig Kirchner, Public domain, via Wikimedia Commons
The painter appears to be especially cool, while the model seems to be staring at him yearning. He has material in his right hand, maybe an easel, while he works on a canvas. He looks to be barefoot, and there is some texture on the floor, though it is difficult to tell. Kirchner carefully cuts the image such that neither the top of his head nor the tips of his toes are quite 'in shot.' Some of the elements in this picture were used to classify the Die Brück group, of which this painter was a key crucial figure.
The use of brilliant colors against black lines to create shapes, as well as jagged edges and minimal detail, was very much in keeping with the overall orientation of the Expressionists and influenced many painters who came later, not only those in Germany.
The cropping method was inspired by past centuries' Japanese painters, while the colors are reminiscent of the Post-Impressionists and Fauvists, who both believed in enabling the genuine outpouring of the creative spirit.
Street, Berlin (1913)
| | |
| --- | --- |
| Year Completed | 1913 |
| Medium | Oil on Canvas |
| Dimensions | 121 cm x 91 cm |
| Current Location | Museum of Modern Art, New York City |
The artist's depictions of city life created an aura of turmoil and activity, which matched the artist's vivid and expressionist creative style wonderfully. Kirchner employs a strong contrast of darkness and light, as well as bright pink and purple hues that catch the eye right away.
The majority of the men are dressed in basic black suits to avoid drawing too much attention to themselves, while the prominent figures are dressed in different colors to focus the eye as Kirchner planned. The two ladies in the center are prostitutes, although glamorously dressed.
They are dressed in blue and purple costumes that are both lovely and sophisticated, as the artist presents these ladies in an honest yet positive light. They appear cheerful and comfortable, which may be at odds with how many women in this business are stereotyped. It is the men who are largely devoid of character, as though ten-a-penny.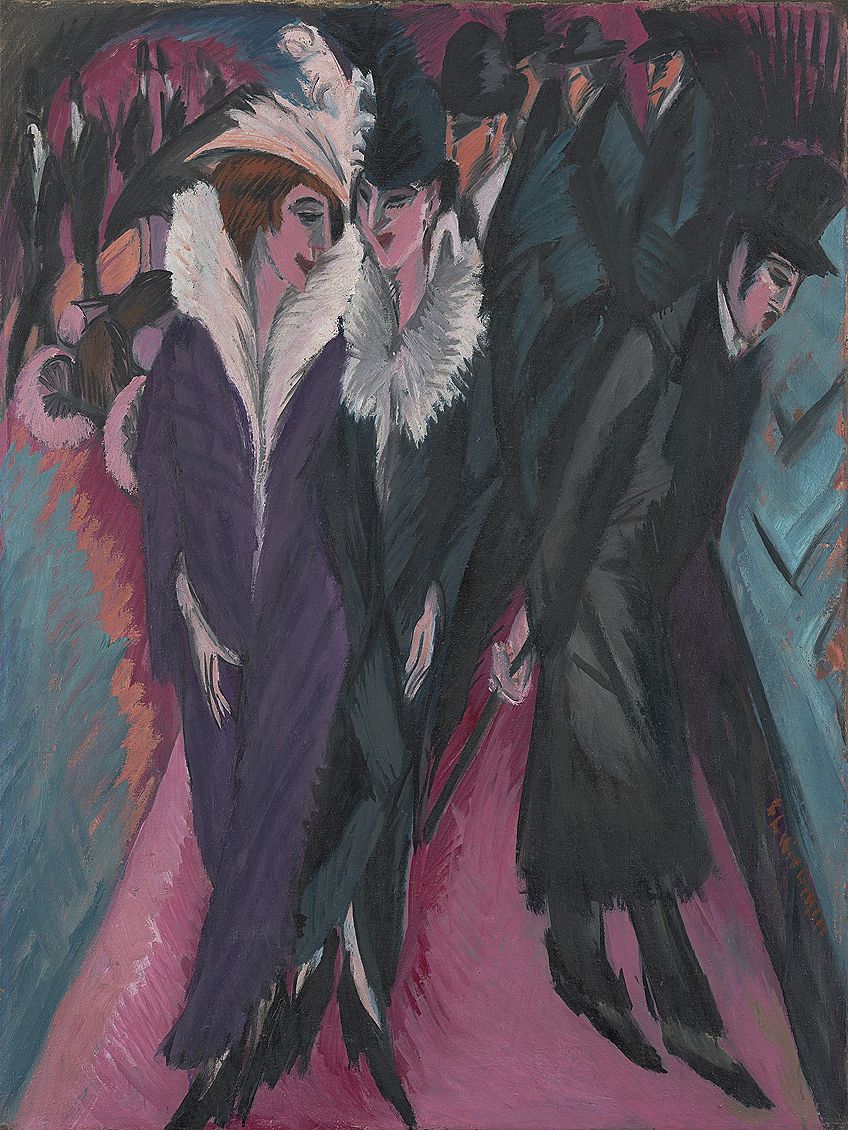 Street, Berlin (1913) by Ernst Ludwig Kirchner, located at the Museum of Modern Art in New York City, United States; Ernst Ludwig Kirchner, Public domain, via Wikimedia Commons
It provides the impression that the ladies are in high demand and being pursued, with the males competing for their interests. This angle on the issue of prostitution is carried over into Kirchner's other works from this period.
Kirchner's "Streetwalker" sequence, of which this is a renowned instance, is one of his most admired areas of work.
Performer Gerda Schilling and her sibling Edna, who subsequently became the creator's lover, may have served as inspiration for the series. He once characterized the two ladies as having "gorgeous, architecturally designed, rigidly made bodies," and their meeting surely informed this sequence of figure compositions.
Self-portrait as a Soldier (1915)
| | |
| --- | --- |
| Year Completed | 1915 |
| Medium | Oil on Canvas |
| Dimensions | 69 cm x 61 cm |
| Current Location | Allen Memorial Museum, Ohio |
One of Kirchner's most renowned paintings, Self-portrait as a Soldier, has aspects of symbolism by depicting the painter with a severed hand. The significance of his disability in this picture is to represent how the war will harm his inventiveness as if he were physically losing a hand. The emotional and physical upheaval produced by going to war is hard to fathom until you have gone through it yourself, and because Expressionist artists are so in sync with their feelings, the effect would be much greater for them.
The sight of this artwork may communicate these atrocities better than the language of even the greatest war poet.
The artwork arrived in 1915, amid WWI, a conflict that some say was the bloodiest of all in regards to numbers affected and methods of combat utilized. Kirchner volunteered as an artillery driver in the hopes of avoiding some of the really heinous jobs.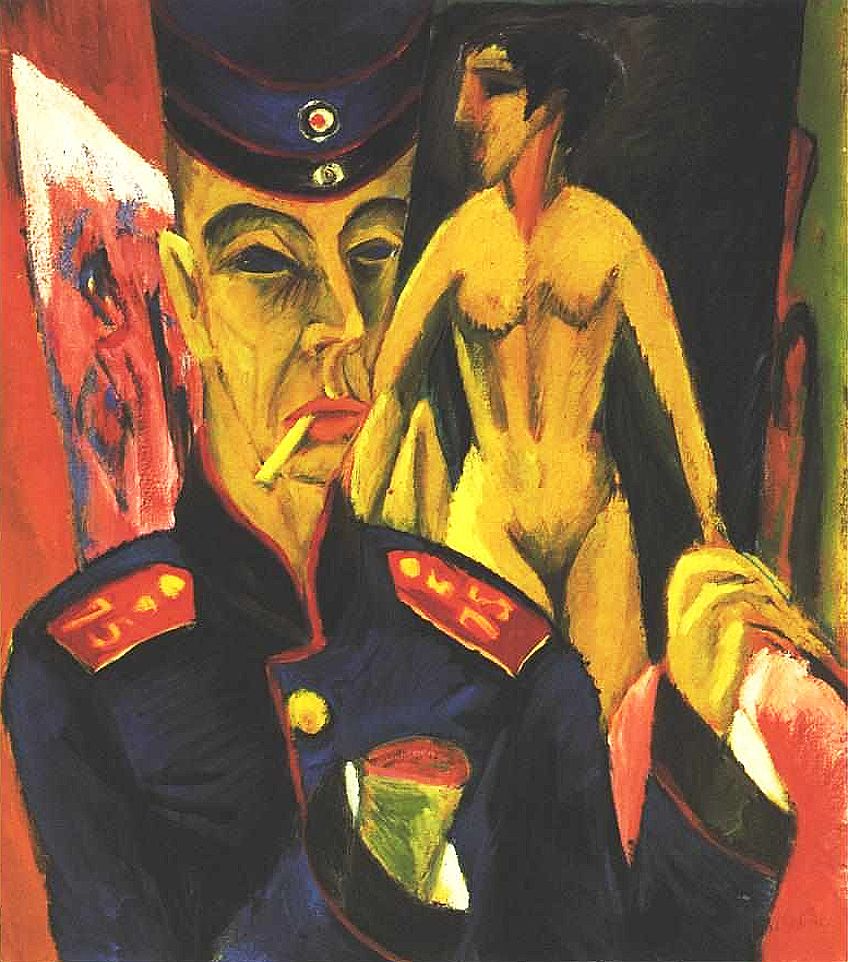 Self-portrait as a Soldier (1915) by Ernst Ludwig Kirchner, located at the Allen Memorial Museum in Ohio, United States; Ernst Ludwig Kirchner, Public domain, via Wikimedia Commons
Due to a series of health difficulties, he was soon declared unable to serve and was given a respite, much to his evident relief. Despite his brief service, the influence of his surroundings had a lasting imprint on his personality for the rest of his life, and this artwork is an indication of his inner conflict. He was also conscious of this impact and was anxious about how it would impair his prospective artistic efforts, which depended heavily on his emotional ties.
The naked lady behind him might be a sign of his previous projects, which have now been left in the past as a result of his recent experiences, which cannot be undone.
Ernst Ludwig Kirchner's Legacy
Ernst Ludwig Kirchner was a driving factor behind the German Expressionism movement. Since 1913, his art has acquired international acclaim, and its appeal has spread to the United States. His painting encapsulates German culture at a pivotal juncture in pre-World War I history.
Although his work is culturally distinct, his expressive ability as an artist and printer has affected generations.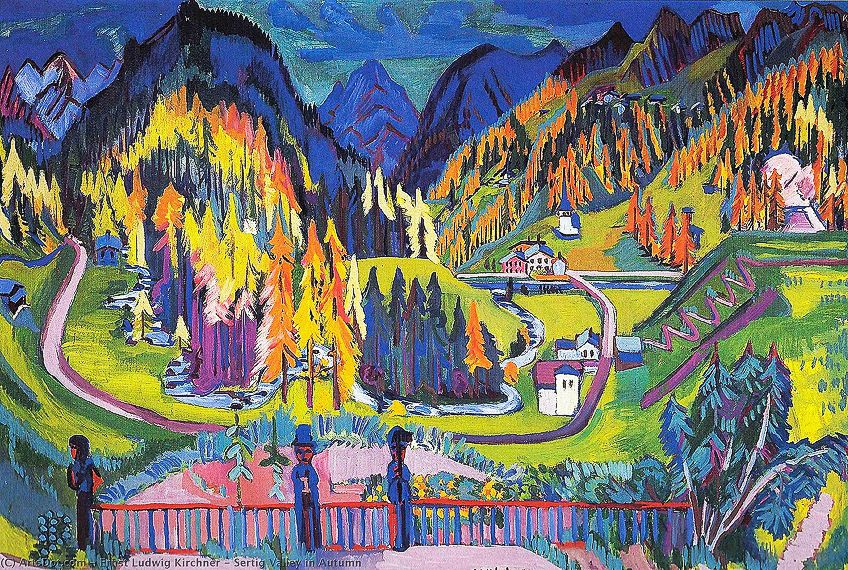 Sertig Valley in Autumn (1925 – 1926) by Ernst Ludwig Kirchner, located at the Kirchner Museum Davos in Davos, Switzerland; Ernst Ludwig Kirchner, CC0, via Wikimedia Commons
Many people try to mimic Kirchner's warped sense of perspective. The artist's geometric, frantic lines and highly-keyed color scheme are ageless and distinctive. Kirchner's art is still being shown and sold all over the world. It has also had a profound impact on future generations of Expressionist painters, most notably in the works of Jörg Immendorf and Georg Baselitz.
Recommended Reading
Did you enjoy learning about Ernst Ludwig Kirchner's biography and art? Maybe you would be keen on discovering even more about Ernst Ludwig Kirchner's paintings such as Group of Four Nudes, amongst many others. If so, simply check our pick of books on that exact subject!
Ernst Ludwig Kirchner: The Dresden and Berlin Years (2003) by Jill Lloyd and Magdalena Moeller
This catalog, the first large book on Kirchner in English in 30 years, complements the first major exhibition of this most brilliant and passionate originator of the Die Brucke school in Britain. A key theme of the book will be to evaluate how, perhaps more than any other artist of the early modern period, Kirchner was attentive to the undercurrent between environment and human civilization that captivated his generation, by displaying a concentrated showcase of the creator's best work from 1905-1915, his most innovative and creative era. Kirchner's obsession culminated in the Berlin street scenes, where he mixes beauty with a tribal rawness to highlight the crowd's latent wildness.
Accompanied the first major exhibition of Kirchner's in Britain
Focused display of the artist's best work between 1905 and 1915
Containing essays by leading Kirchner and Die Brücke scholars
View on Amazon
Ernst Luwig Kirchner: Mountain Life: The Early Years in Davos 1917 – 1926 (2003) by Gottfried Boehm
Kirchner arrived in Davos for the first time in 1917 on a rest treatment. Mountain living promised recuperation and was immensely beneficial creatively for his body and mind ravaged by the war. Kirchner's inner anguish quickly abated, yielding calmer and stronger bands of color and subsequently an elevated perception of nature, even if he confronted his new setting with the same anxious brushstrokes and perspectivist escalations seen in his Berlin street paintings. Kirchner's primary interest in landscapes was expanded to encompass interiors and a sequence of self-portraits and figure canvases of rural neighbors.
Explores Kirchner's state of mind when he arrived in Davos in 1917
A selection of paintings, works on paper, sculptures, and photographs
Focuses on the artist's works between 1925 and 1926
View on Amazon
Ernst Ludwig Kirchner was a key player in the Die Brücke collective, which flourished in Berlin and Dresden before World War I, and he has come to be considered as one of the most talented and significant figures in German Expressionism. Kirchner held opposing views on the old and new, motivated by the same concerns that gripped the group as a whole: doubts about humanity's purpose in the modern world, as well as its lost notions of holiness and sincerity. The human body was central to Ernst Ludwig Kirchner's artwork, such as Group of Four Nudes. Ernst Ludwig Kirchner's paintings were a strong reaction to the Impressionism that dominated German art at the time.
Frequently Asked Questions
Who Was Ernst Kirchner?
Ernst Ludwig Kirchner was an important figure in the German Expressionist movement. His painting has received international appreciation since 1913, and its popularity has migrated to the United States. His picture captures German society at a watershed moment in pre-World War I history.
What Was Special About Ernst Ludwig Kirchner's Artwork?
Despite the fact that his work is culturally different, his expressive skill as an artist and printer has influenced generations of people. Many individuals attempt to imitate Kirchner's distorted sense of perspective. The artist's geometric and frenzied lines, as well as his highly-keyed color scheme, are timeless and unique. Kirchner's work is continuously being shown and sold across the world. It also had a significant influence on subsequent generations of Expressionist artists, most notably Jörg Immendorf and George Baselitz.
Isabella studied at the University of Cape Town in South Africa and graduated with a Bachelor of Arts majoring in English Literature & Language and Psychology. Throughout her undergraduate years, she took Art History as an additional subject and absolutely loved it. Building on from her art history knowledge that began in high school, art has always been a particular area of fascination for her. From learning about artworks previously unknown to her, or sharpening her existing understanding of specific works, the ability to continue learning within this interesting sphere excites her greatly.
Her focal points of interest in art history encompass profiling specific artists and art movements, as it is these areas where she is able to really dig deep into the rich narrative of the art world. Additionally, she particularly enjoys exploring the different artistic styles of the 20th century, as well as the important impact that female artists have had on the development of art history.
Learn more about Isabella Meyer and the Art in Context Team.
Cite this Article