For as long as humans have painted, artists have captured the beauty of flowers. Stylistically, artists throughout the centuries have painted flowers in Dutch Realism, Impressionism, Modernism, and Pop Art, to name a few. We have gathered up some of the most famous paintings of flowers throughout history to give you an insight into the wonderful, fragrant world of florals.
Why Flowers?
The first question to pop into your head at this point may be What makes flowers such a popular subject? Flowers have inspired artists with their delicacy and vibrant life energy for centuries. Flowers can remind us of the beauty and variety of life that nature has to offer. The flower paintings we explore below evoke a timeless and powerful sense of joy that is relatable to all human beings, regardless of context.
Depending on the time, you can derive diverse cultural meaning from the paintings of artists who painted flowers. The lotus in Ancient Egyptian ceramics, jewelry, and papyrus paintings was believed to stand for the sun, while artists of the middle ages saw ivy as a symbol of marital commitment. Flower paintings bloomed in the fifteenth and sixteenth centuries as specialized botanical painters emerged. Floral paintings from this period often have deeply symbolic undertones with highly decorative imagery.
Our Top 15 Paintings of Flowers
Our list of famous flower paintings is arranged in chronological order. We hope that this will help you appreciate the development of floral painting styles across the centuries. Although this list only includes 15 paintings, there are countless artists who painted flowers, so we encourage you to look further if you are interested.
Flower Still Life – Ambrosius Bosschaert (1614)
As one of the first artists to specialize in floral paintings, Bosschaert was a pioneer of intricately detailed and vivid flower arrangements. This still life by Brosschaert stems from a growing fascination with botany in 16th Century Germany and the Netherlands. Bosschaert was himself a leading Dutch painter who specialized in flowers and fruit. As the head of a family of artists, Bosschaert laid the foundations for a generation of Netherlandish flower and fruit painters.
Most of Bosschaert's flower arrangements are painted on copper surfaces and, like this example, are symmetrical with detail that is so exact it is almost scientific. This painting features a yellow tulip, a pink carnation, and a white rose in the foreground of a basket full of vivid flowers. The flowers in the basket do not all stem from the same season. Lilies of the valley, hyacinth, roses, forget-me-nots, tulips, violets, and cyclamens stand together in scrupulous detail.
The astounding detail that Bosschaert achieves allows us to feel the prick of the rose thorns and the silky-smooth petals. You can find dainty insects crawling across flowers, perching on leaves, and alighting on the bouquet. The detail, and it cannot be stressed enough, is stunning. Bosschaert captures the tiny antennae of the butterfly and the transparency of the dragonfly's wing to perfection.
Many art lovers and historians understand this painting as a depiction of the fragility and brevity of life. Picked flowers capture the beauty of life on earth but are incredibly short-lived. The delicate insects portray the intricacies and fragility of life in a beautiful but melancholy way. Ambrosius Bosschaert is certainly one of the most famous flower artists.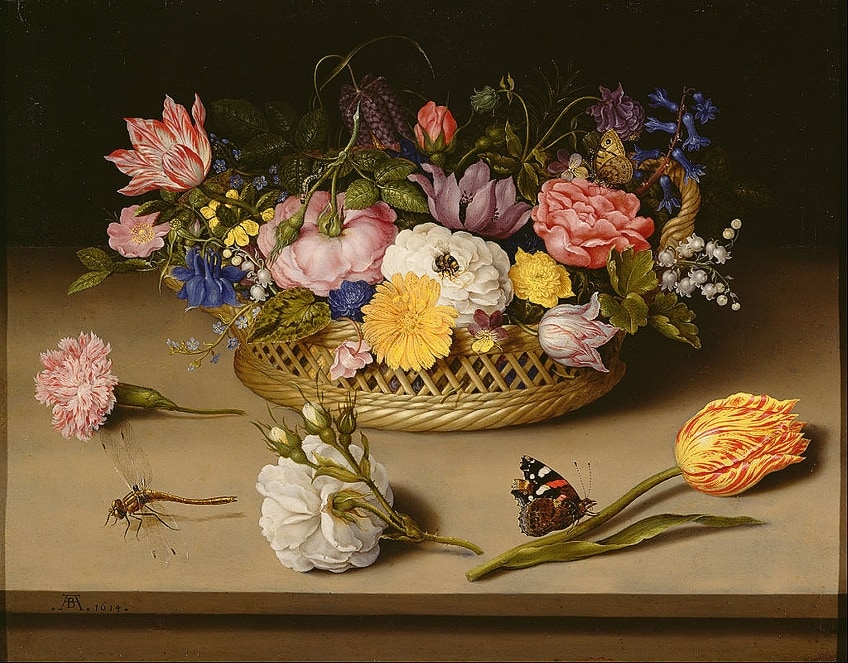 Flower Still Life (1614) by Ambrosius Bosschaert; Ambrosius Bosschaert, Public domain, via Wikimedia Commons
Bullfinch and Weeping Cherry Blossoms – Katsushika Hokusai (1834)
Katsushika Hokusai is hailed as one of Japan's greatest artists, and his stylistic influence has spread from Japan throughout the western world. Hokusai is the most famous practitioner from the Ukiyo-e school of Japanese art. Many of Hokusai's works feature birds and flowers like this one. Hokusai was a master of precise yet fluid linework, a skill that is evident in this color woodblock print. The Bullfinch and Weeping Cherry Blossoms woodblock print is part of Hokusai's series Small Flowers.
The print pictures a small bullfinch bird hanging upside down from the branch of a weeping cherry tree. The weeping cherry tree is a native Japanese tree, and the bullfinch is symbolic of protection against misfortune in Japanese culture. A New Year ceremony at Tenjin shrines across Japan features the bullfinch as people hope to guard off adversity for the coming year. We can see by the pink marking on the bulfinch's chest that it is male. The placement of Hokusai's cherry blossoms has a beautiful natural rhythm highlighted by dabbles of red.
To the right of the colorful and delicate print, there is a short poem by Raiban that reads:
One single bird, wet with dew,
Has come out;
The morning cherry
A work steeped in cultural significance and effortless natural beauty, this woodblock print by Hokusai is a perfect representation of Japanese art and the beauty of flower paintings.
Lilacs in a Window – Mary Cassatt (1880-1883)
Mary Cassat is a world-famous artist credited with being one of the original American Impressionist artists. Although most of her paintings feature the human figure, Cassatt also loved to paint gardens and bouquets. From the 1860s onwards, floral still lifes became increasingly popular with Impressionist artists. During the 1880s, when Cassatt created this vivid painting, Impressionist flower paintings really came into their own.
Although still life paintings like this one are rare in Cassatt's oeuvre, many of her paintings feature florals and landscape elements. Despite not being known as one of the famous flower artists of her time, this painting is evidence of Cassatt's skill.
This vivid painting features a vase of lilacs sitting on an opened windowsill. The work is a prime example of the height of Impressionist florals. The vase is a dark aubergine color that contrasts beautifully with the white and purple lilacs within. With her signature fluid brushstrokes, Cassatt manages to present this arrangement as a fleeting moment in time.
The angular window trusses add contrast to a floral arrangement that appears as if in the motion of life. The window frame complements the smooth curves of the vase. The painting has a relaxed air, as though you found it while wandering through the house of a friend.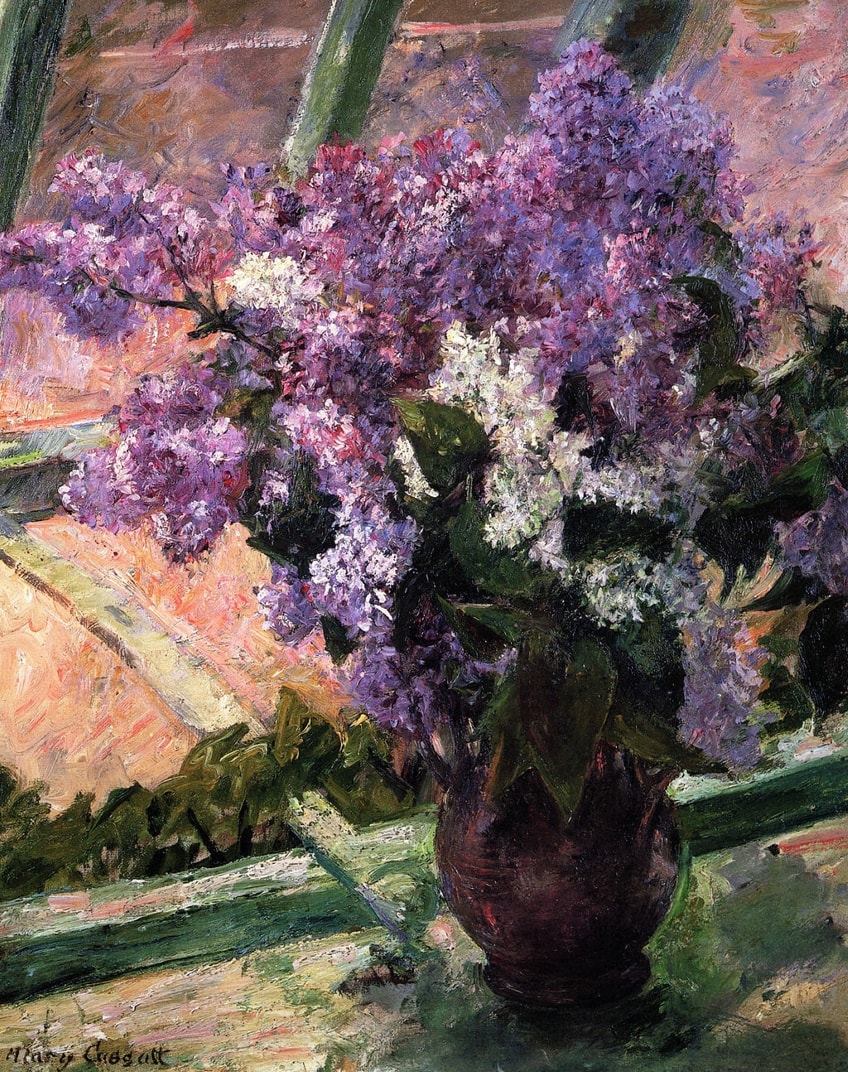 Lilacs in a Window (c. 1880) by Mary Cassatt; Mary Cassatt, CC BY 2.0, via Wikimedia Commons
Still Life Vase with Twelve Sunflowers – Vincent van Gogh (1888)
The talented and troubled Impressionist artist was clearly a lover of sunflowers. This still life featuring sunflowers is part of his Arles series, one of two series about sunflowers. Although according to the title, the vase holds twelve sunflowers, van Gogh reworked this painting at a later stage, and it actually features 15 flowers.
"Still Life Vase with Twelve Sunflowers" is one of the most famous depictions of flowers and his most well-known paintings.
Many consider this sunflower still life to be one of the most famous paintings created in this genre. This painting is also one of the most famous examples of Impressionist flower paintings. The yellow tones of the sunflower seep into every aspect of this glorious painting.
A light blue backdrop brings the flowers forward and effectively brings your focus to the differently angled sunflowers at the canvas' center. In this painting, van Gogh's sunflowers are in varying stages of life and death. Echoes of the futility, fragility, and brevity of life permeates this painting.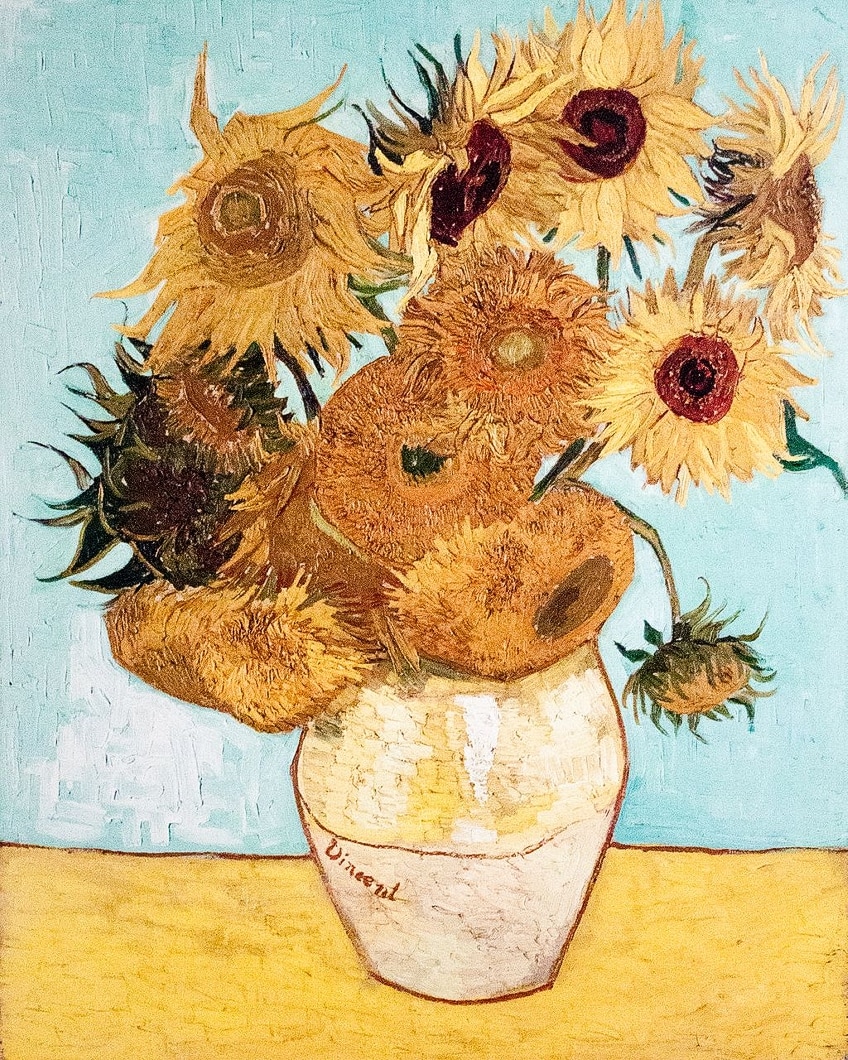 Still life: Vase with Twelve Sunflowers (1888) by Vincent van Gogh; Vincent van Gogh, Public domain, via Wikimedia Commons
Roses and Lilies – Henri Fantin-Latour (1888)
In contrast to the Impressionist floral paintings surrounding Henri Fantin-Latour both on this list and during his lifetime, Fantin-Latour took a more traditional approach. Fantin-Latour's floral paintings harken back to the golden age of Realism.
Against a light brown backdrop sits a tall glass vase of long white lilies to the right and a shorter vase of pink and white roses to the left. The relatively sized and shaped vases seem to mirror the shapes of the flowers they contain. The tall, straight, and thin glass vase holds the lilies with extended stems and long delicate white petals. In contrast, the round and luscious roses sit in a small, curved vase that is barely visible below the blossoms.
The composition is beautifully balanced, despite the difference in height between the two flower arrangements. The stems of the lilies extend naturally to the left over the roses, tying the piece together. Fantin-Latour captures the flowers and the water in the vase in exquisite realistic detail. The blush pink tones contrast with the dark brown table below and the highlighted white of the lilies. This stunning use of color makes for an incredibly romantic painting.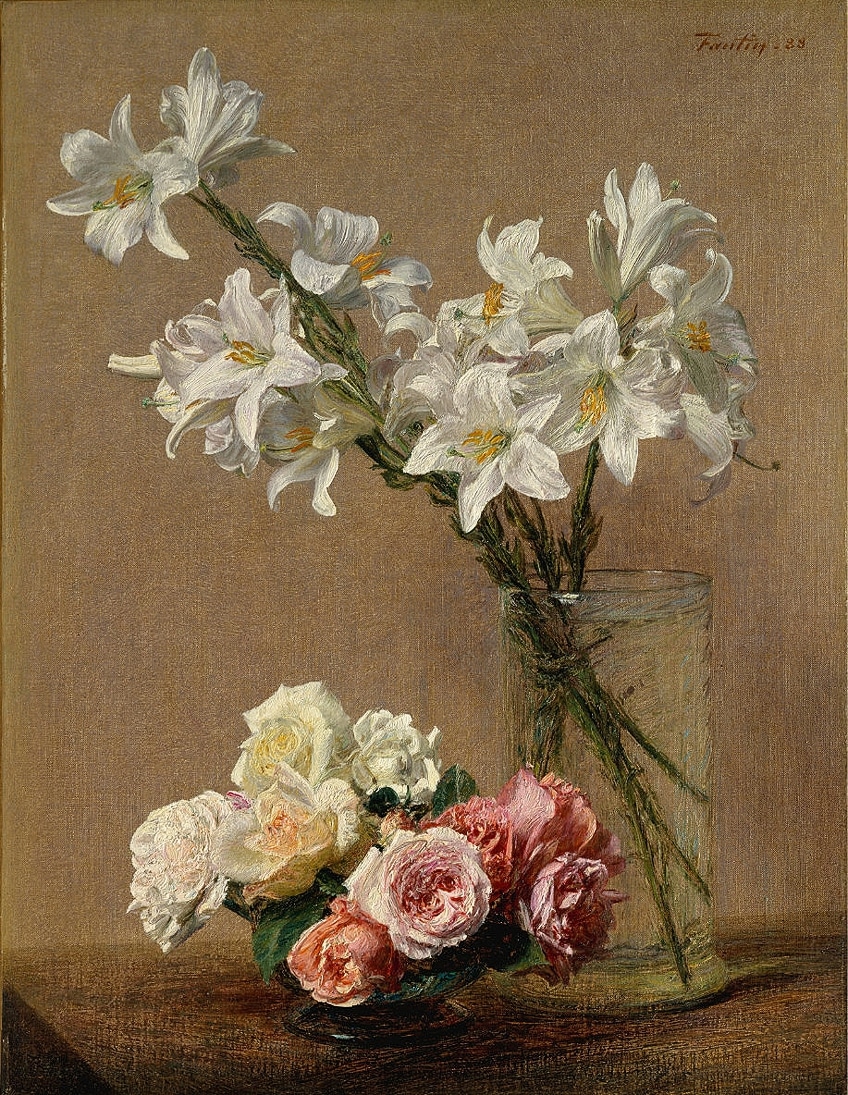 Roses and Lilies (1888) by Henri Fantin-Latour; Henri Fantin-Latour, CC BY 2.0, via Wikimedia Commons
Irises – Vincent van Gogh (1890)
The fact that flower paintings by van Gogh feature twice on this list is a testament to his incredible talent for capturing life's fragile beauty. There are two versions of this composition, one set against a soft and harmonious pink background and this much more pronounced version. Vincent van Gogh created this painting during his time at the Saint-Remy psychiatric hospital.
The vivid and seemingly frantic brushstrokes in the bright citron backdrop give this painting a sense of urgency and movement. Against this frenzied background sits a vase of bright violet irises, some erect and full of life, and others drooping onto the yellow table below. The contrast of bright complementary colors makes each seem even bolder and full of life.
Vincent van Gogh completed this painting in the psychiatric hospital a year before his death. He is said to have called it "the lightning conductor for my illness". It is likely that the vivid expression of moving life within this painting felt to him like hope for recovery and continued life. The link between creativity and insanity is beautifully melancholic. Today, we honor the pain behind van Gogh's soulful depictions of all life's beauty.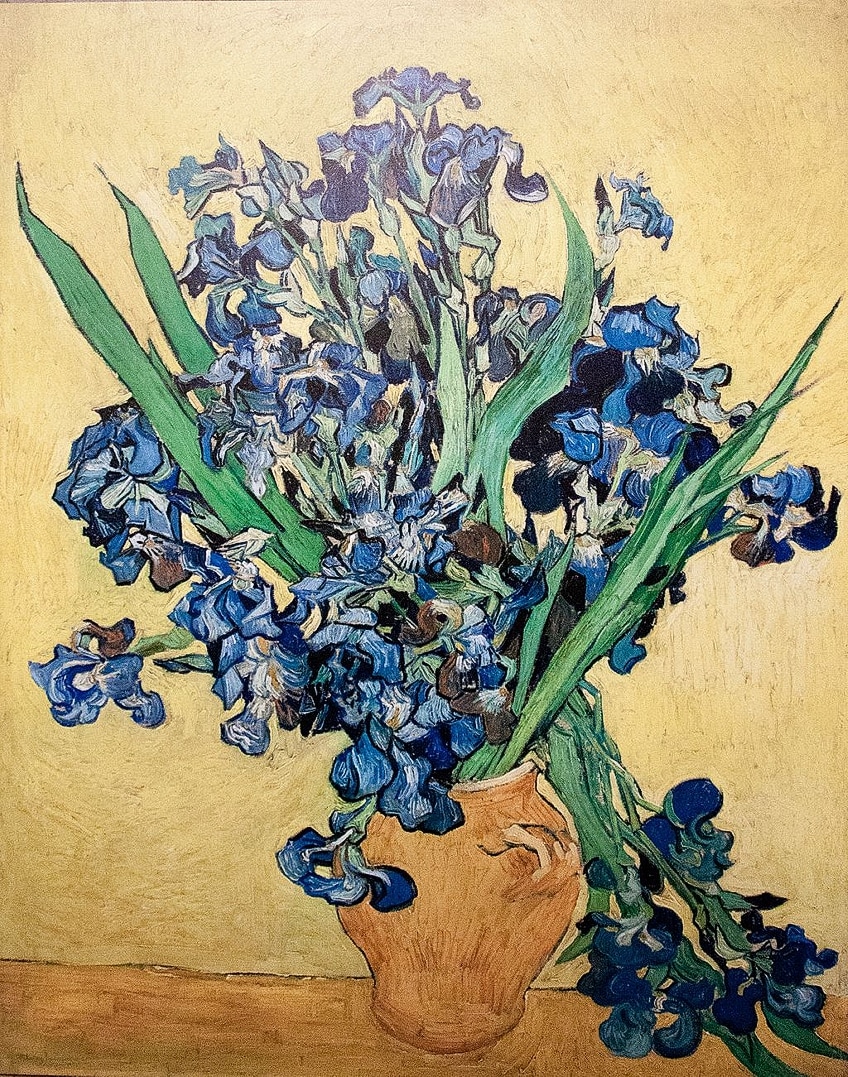 Irises (1890) by Vincent van Gogh; Vincent van Gogh, Public domain, via Wikimedia Commons
Bouquet of Roses – Pierre-Auguste Renoir (1890-1900)
The vibrant and voluptuous roses captured in this Impressionist painting by Pierre-Auguste Renoir almost jump off the canvas. Although Renoir only turned to paint flowers later in his life, roses were his favorite subjects.
This oil painting of a rose bouquet is incredibly sensual. Renoir's smooth and vivid brushstrokes capture the roses as if they were in the movement of life. The beautifully colored red and pink roses are crafted in varying stages of life. Full and voluptuous petals blossom out of the bouquet while a single wilted rose lies on the table below. The roses have an energy that seems to radiate from the canvas giving them a tactile quality.
Flower Garden – Gustav Klimt (1905)
Vibrantly colored flowers are a common feature in the paintings of Gustav Klimpt, and this painting is a perfect example of his work during his golden phase. This painting is part of a series of paintings inspired by the fields of flowers he saw in Litzleberg.
Art historians often regard this painting as one of Klimpt's best landscapes. The painting pictures a tumbling multitude of flowers that seem to continue off the canvas. Brightly colored flowers fill this frame in a beautiful celebration of the natural world. The lack of realism adds to the rustic charm of nature without human intervention. The natural beauty encapsulated in this painting echoes the symbolism of the harmony and regularity of nature.
Flowers – Henri Matisse (1907)
The vivid colors, abstraction, and relative two-dimensional quality of this painting are typical of Henri Matisse's style. Known as a prominent figure within Fauvism and one of the most influential modern era artists, Matisse favors art with serenity, balance, and purity. We can see the echoes of this sentiment within this bright and inviting painting.
Completed early in his career, we can see the bolder-than-natural use of color and emphasized brushstrokes typical of Fauvism in this painting. The bright green background compliments the white vase and bold yellow, orange, and red flowers it holds. A similarly bold and vivid table beneath the vase emphasizes the colors of the flowers.
Water Lilies – Claude Monet (1908)
We cannot speak about the most famous flower paintings of all time without mentioning Claude Monet. At the mention of Monet, flowers spring to mind. Famed for this beautiful series of Impressionist paintings captured en plein air in his garden in Giverny, Monet is a master of capturing the essence of nature.
Monet's loose brushstrokes blend the separate aspects of the painting, creating a harmonious and seemingly endless depiction of the natural world. In this famous work by Monet, flowers, the sky, plants, and water merge to form a dreamy and soft landscape. Monet manages to capture how the waterlilies and the water around them reflect and refract the sunlight. Some art historians believe this piece to be an essential anticipation of the Abstract Expressionist movement that would follow.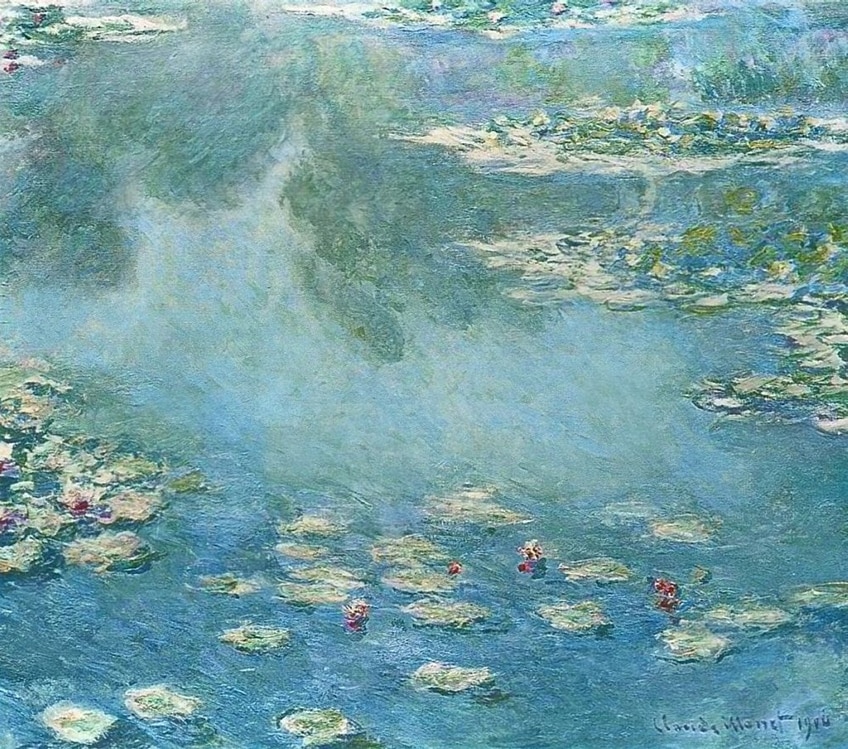 Water Lilies (1685) by Claude Monet; Claude Monet, Public domain, via Wikimedia Commons
Amaryllis – Piet Mondrian (1910)
As a Dutch painter, Piet Mondrian stemmed from an extensive line of flower artists. Despite the cultural traditions of Dutch realism, Mondrian touches this stunning red painting with his contemporary style. This still life is one of Mondrian's early paintings, crafted before his most famous abstract and geometric paintings.
This shocking red flower artwork has an air of Fauvism about it. Mondrian breaks down the composition into segments of bold colors. The effect of this compositional technique is that we see the flower in its most elementary form. Breaking away from impressionism, Mondrian uses watercolor to capture the balance between color and painterly qualities.
White Vase with Flowers – Odilon Redon (1916)
Although a pastel drawing rather than a painting, this vibrant still life of a bouquet of mixed flowers captures a movement towards the future in art. The solid and notable background and the surface of early Dutch still lifes fades away into a gradient of bright warm colors.
In front of the rich orange and pink-toned background is a white speckled vase with a bouquet of wildflowers. Some of Redon's blooms are crafted in intricate detail, while others are more abstract. The flowers command the composition, and we could sit and stare at the range of textures and colors for a whole afternoon.
Red Poppy – Georgia O'Keeffe (1927)
Known for her erotic renderings of flowers, Georgia O'Keeffe painted over 200 floral compositions in her career. O'Keeffe created stunning events from her still life scenes. Although she used watercolors in her early career, after 1918, O'Keeffe began to use oil paints almost exclusively. At this time, she also began to create large-scale paintings of flowers as if under magnification. This vivid and voluptuous red poppy is a prime example of her work at this time.
O'Keeffe saw a flower as an intricate and delicate world of its own, and she painted to share this world with others. The bright red and orange petals fill the composition and extend beyond it. The small and delicate flower is transformed into a big and powerful image. When we view O'Keeffe's flower paintings like the Red Poppy, we are invited to slow down and take our time observing that which we might normally overlook. As a founder of the modernist movement, O'Keeffe is a pioneer of modern flower paintings.
Flowers – Andy Warhol (1970)
Flowers were a common source of inspiration for Pop Artist Andy Warhol. In 1964 Warhol began a series of flower paintings where he captured the droopy hibiscus flower in vivid colors and interesting techniques. This series of paintings has a controversial story. Warhol used the pictures from a photographer as a basis for the flower series, and the photographer tried to sue him. Despite the controversy, this series of flower artworks continued to flourish in fame. This series is a stunning example of modern flower paintings.
Ready to Blossom in the Morning – Yayoi Kusama (1989)
Yayoi Kusama is a conceptual artist who takes inspiration from Surrealism, Abstract Expressionism, Pop Art, and Feminism. Her work is infused with psychological and sexual autobiographical content and is distinguishable by the patterns of polka dots and nets. As an artist who truly uses her art to process her internal world, Kusama's extensive use of polka dots stems from childhood hallucinations.
This lithograph is undoubtedly Kusama's work. The two single flowers in yellow and pink stand out on a background of dark red polka dots on a black surface. Kusama's style of flower painting is reminiscent of that of a child in a whimsical way. Yayoi Kusama is acknowledged as being the most influential living Japanese artist.
Floral paintings have a long and culturally colorful history. From Dutch Realism, through Impressionism, to Pop Art, flower paintings have always occupied a place in human expression. Perhaps it is the combination of beauty and the fragility of life that makes them a popular subject for so many artists. The variation in artistic style is as vast as this earth's collection of flowers, so if you have enjoyed learning about these beautiful paintings, we encourage you to explore further.