Famous Female Photographers – The Pioneers of Female Photography
As with any field of work, women have always had a harder time trying to break into the industry, and women photographers are no exception. Yet, there are exceptions where famous female photographers have been able to break the mold and gain worldwide recognition for their female photography. Today we will be exploring the feminist photographers who have astounded the world with their unique vision and creativity.
Famous Female Photographers
Women photographers have tackled everything from fashion photography to photojournalistic work in times of conflict, creating compassionate and innovative photographs deserving of recognition and respect. Some of these feminist photographers were concerned with precisely portraying reality, while others were inspired by creative expression and a desire for a connection with others through photography.
Here is our list of inspiring famous female photographers who have set the international stage of photography alight.
Julia Margaret Cameron (1815 – 1875)
| | |
| --- | --- |
| Nationality | British |
| Date of Birth | 11 June 1815 |
| Date of Death | 26 January 1879 |
| Place of Birth | Calcutta, India |
Julia Margaret Cameron, now regarded as one of the best photographers of the 19th century, lived in comparative obscurity for more than 80 years before she was rediscovered by historian Helmut Gernsheim in 1948. Cameron only performed fine art photography for around 11 years of her life, concentrating solely on non-commercial portraiture, which she endowed with a very spiritual sense and a pre-Raphaelite style.
Her singular style allowed her to produce an outstanding gallery of portraits that evoke Renaissance painting while still capturing the values of innocence, purity, devotion, and love associated with Victorian women.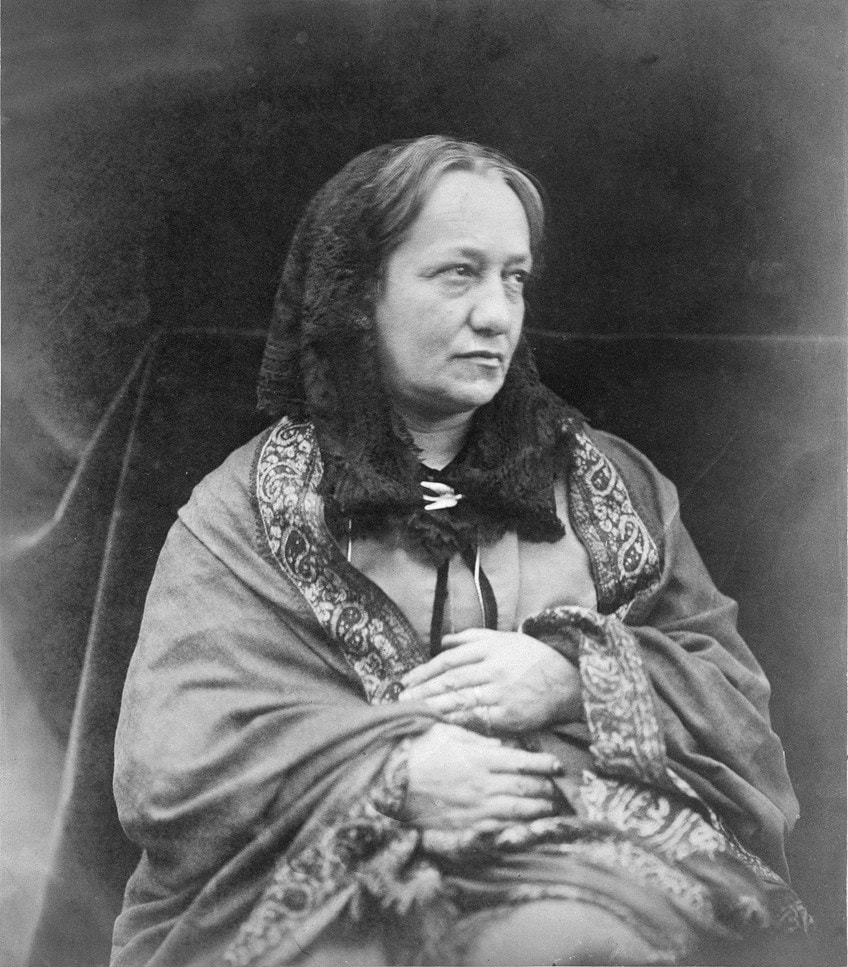 A photograph of Julia Margaret Cameron, 1870; Henry Herschel Hay Cameron, Public domain, via Wikimedia Commons
Cameron began photographing at the age of 48 and went on to make over 900 photos in her brief career, a remarkable achievement in an era when cameras were bulky and labor-intensive. There were two basic categories to her work. One category includes her uncommissioned portraits of famous people, such as Sir John Herschel, Charles Darwin, and Robert Browning, and the other category included photographs of peers, relatives, and domestic help, often dressing up and flamboyantly posed to represent Arthurian or Renaissance based themes.
Her female photography has led to her being re-evaluated as a significant component of early pictorialism, as well as a significant innovator in one of the newest types of Victorian craft in 19th-century England, despite the fact that she was not emulated by other 19th-century photographers.
Her portraits, most notably, are considered among the best interpretations of the medium's aesthetic capabilities.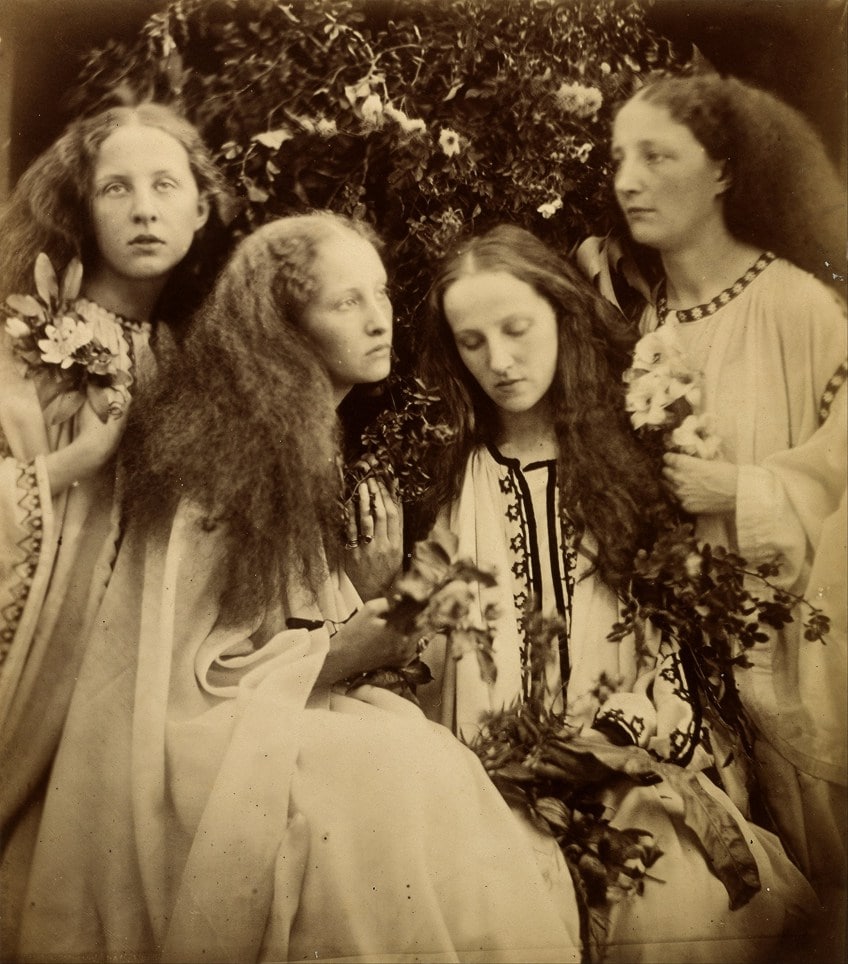 The Rosebud Garden of Girls (1868) by Julia Margaret Cameron; Indianapolis Museum of Art, Public domain, via Wikimedia Commons
Her images, on the other hand, were not universally praised: the photographic establishment, as well as various periodicals, criticized her allegedly weak technique. Her work, on the other hand, was highly regarded by her artist colleagues, a sentiment mirrored by modern art experts who praise her choice for beauty above technical excellence.
In retrospect, it is clear that Cameron possessed a unique ability to imbue her works with spiritual depth, a characteristic that was clearly lacking in many corporate portraits of the time.
Frances Benjamin Johnston (1864 – 1952)
| | |
| --- | --- |
| Nationality | American |
| Date of Birth | 15 January 1864 |
| Date of Death | 16 May 1952 |
| Place of Birth | Grafton, United States |
Frances Benjamin Johnston, a portraiture artist at the start of the twentieth century, is one of the earliest recognized notable woman photographers. She is most recognized for her photographs of historical people including Alice Roosevelt, Susan B. Anthony, and Mark Twain.
While her photographs are stunning, what is most intriguing about Johnston is that she freely worked as a freelance journalistic photographer for several U.S. periodicals and magazines during a time when males controlled the business.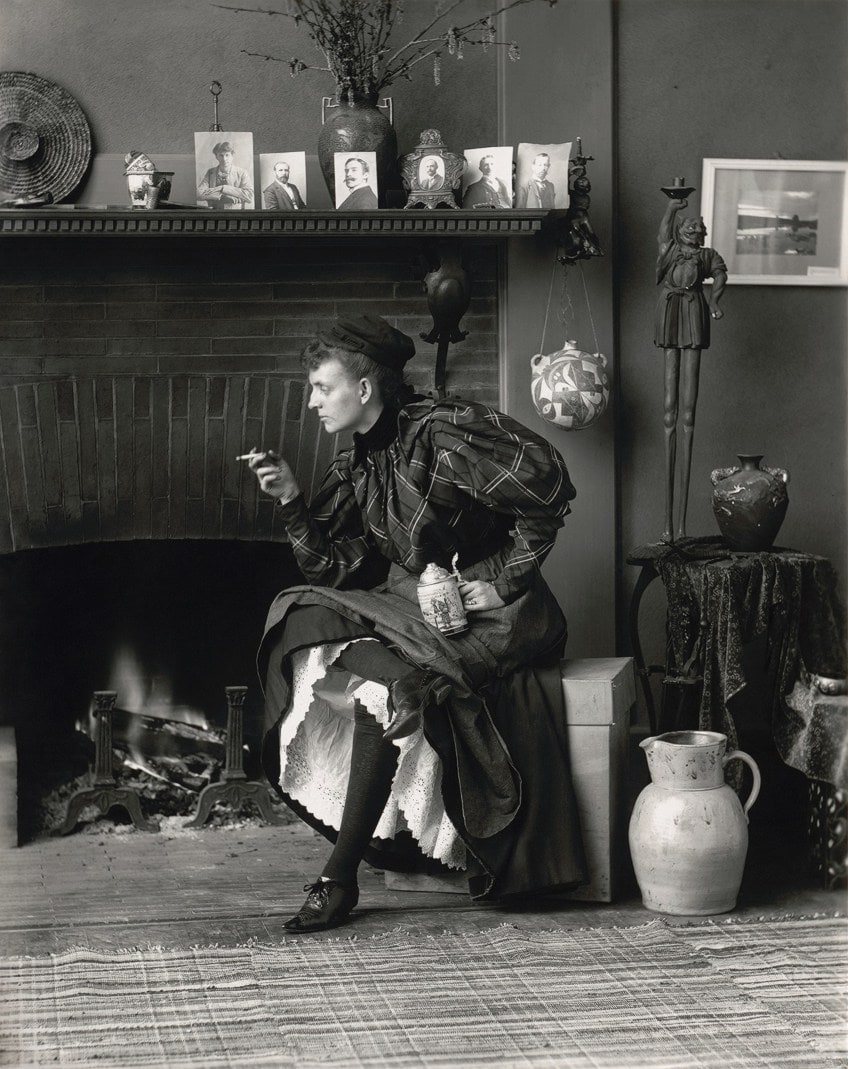 Frances Benjamin Johnston's Self-Portrait (as "New Woman"), a full-length self-portrait of her seated in front of fireplace, facing left, holding cigarette in one hand and a beer stein in the other, in her Washington, D.C. studio, 1896; Frances Benjamin Johnston, Public domain, via Wikimedia Commons
She also managed her own studio in Washington, D.C. with great success. "It is another pet belief with me that there is huge potential in photography as a successful and pleasurable vocation for women, and I feel that my accomplishment helps to illustrate this, and it is for this reason that I am delighted to have other women aware of my work," she said.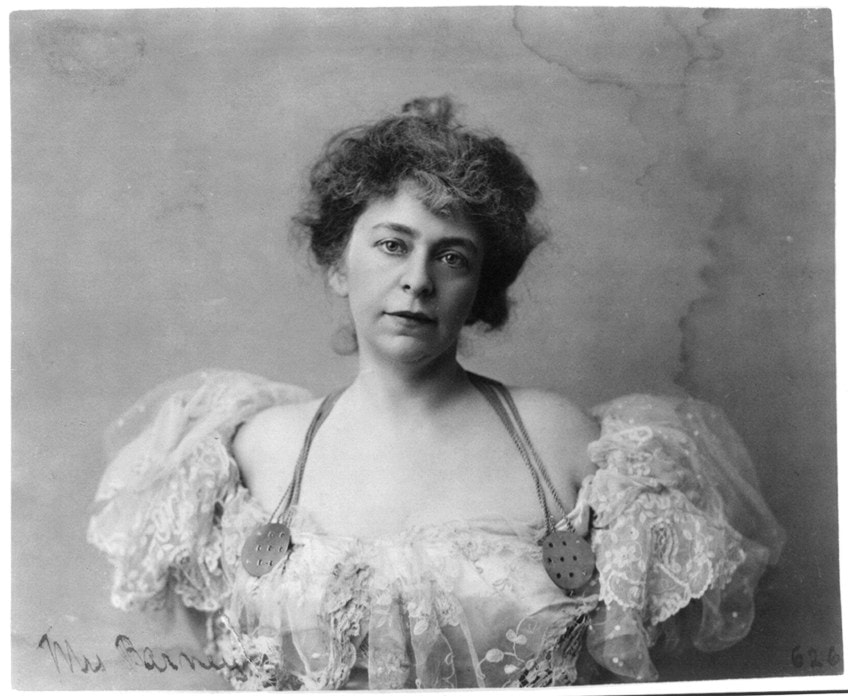 Alice (Pike) Barney, 1857-1931 (1890) by Frances Benjamin Johnston; Johnston, Frances Benjamin, 1864-1952, photographer, Public domain, via Wikimedia Commons
Imogen Cunningham (1883 – 1976)
| | |
| --- | --- |
| Nationality | American |
| Date of Birth | 12 April 1883 |
| Date of Death | 23 June 1976 |
| Place of Birth | Portland, Oregon |
Imogen Cunningham was one of the most talented and innovative photographers of the 20th century, with a career that stretched over seven decades, starting about 1906 and concluding only with her death in 1976. Her photographic topics were diverse: she readily transitioned from plant and nature studies to formal portraits and humans.
Her techniques and artistic approaches were so similar to those in the photographic arts as a whole that her career might be considered a chronicle of American photography.
Imogen Cunningham's father was a self-educated idealist who embraced vegetarianism, explored theosophy, and was a zealot against organized religion. He was a supermarket clerk turned farmer who tried unsuccessfully at community farming before relocating his family to Seattle in 1889 and finding work in the wood and coal industry. His progressive ideals, however, did not include women's emancipation. Imogen's mother was nearly illiterate and worked 14-hour days cooking, cleaning, and caring for her children.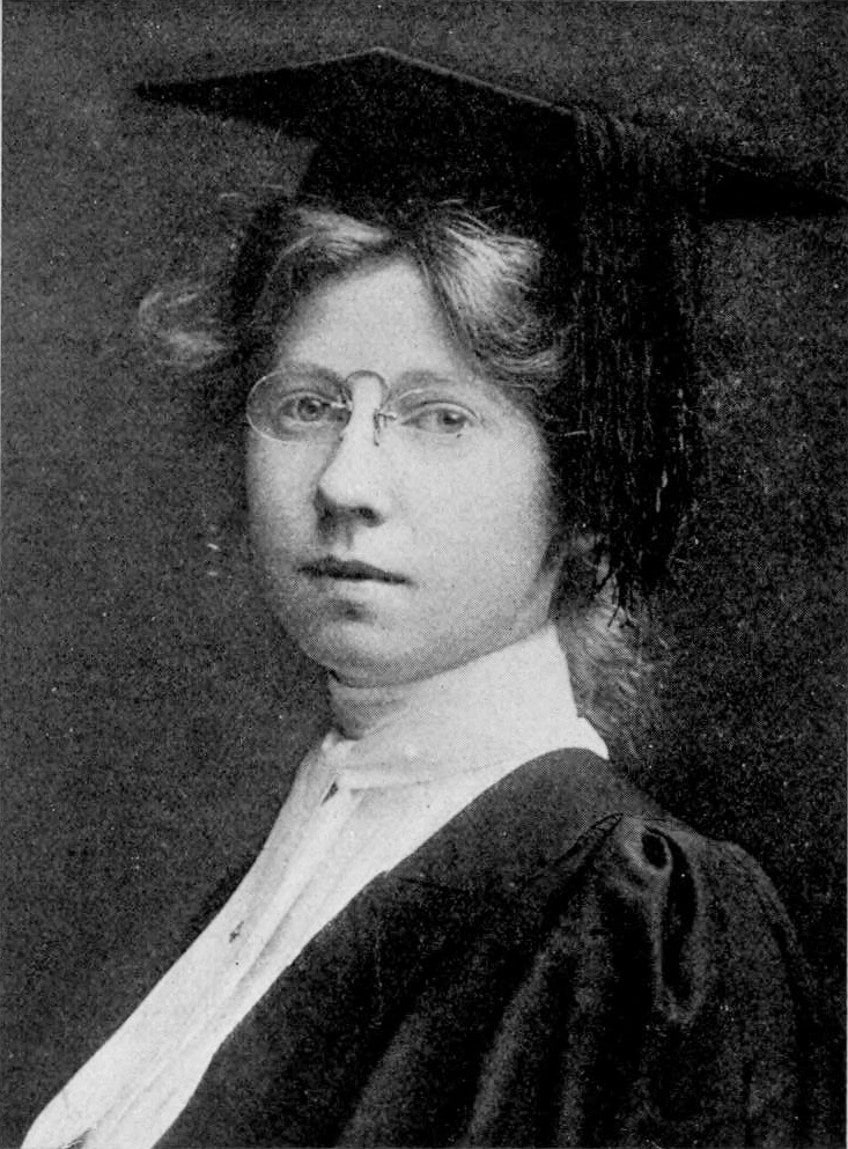 Portrait of Imogen Cunningham, 1907; Edward Curtis Studio, Public domain, via Wikimedia Commons
She was determined to avoid her mother's fate, and she set out to create a new life for herself. She chose to pursue a profession in photography in 1901, while still a high school student, after viewing reproductions of Gertrude Kasebier's images. Despite Isaac's reservations about her choice of profession, he built her a darkroom in the tool shed. Imogen started photographing after purchasing a camera and a program of training from a mail-in school course.
Her self-conscious efforts to transcend photography to the level of high art may be seen in the photographs she created.
She enjoyed dressing up her subjects and shooting them in soft-focus, dream-like stances as she recreated settings and figures from poetry and literature. She was never one to stress over the technical aspects of portraiture; instead, she focused on portraying the personality of the person she was capturing. She accomplished it in part by conversing freely with her subject during the picture session in an attempt to break down the sitter's self-consciousness so that the true person could be caught on film.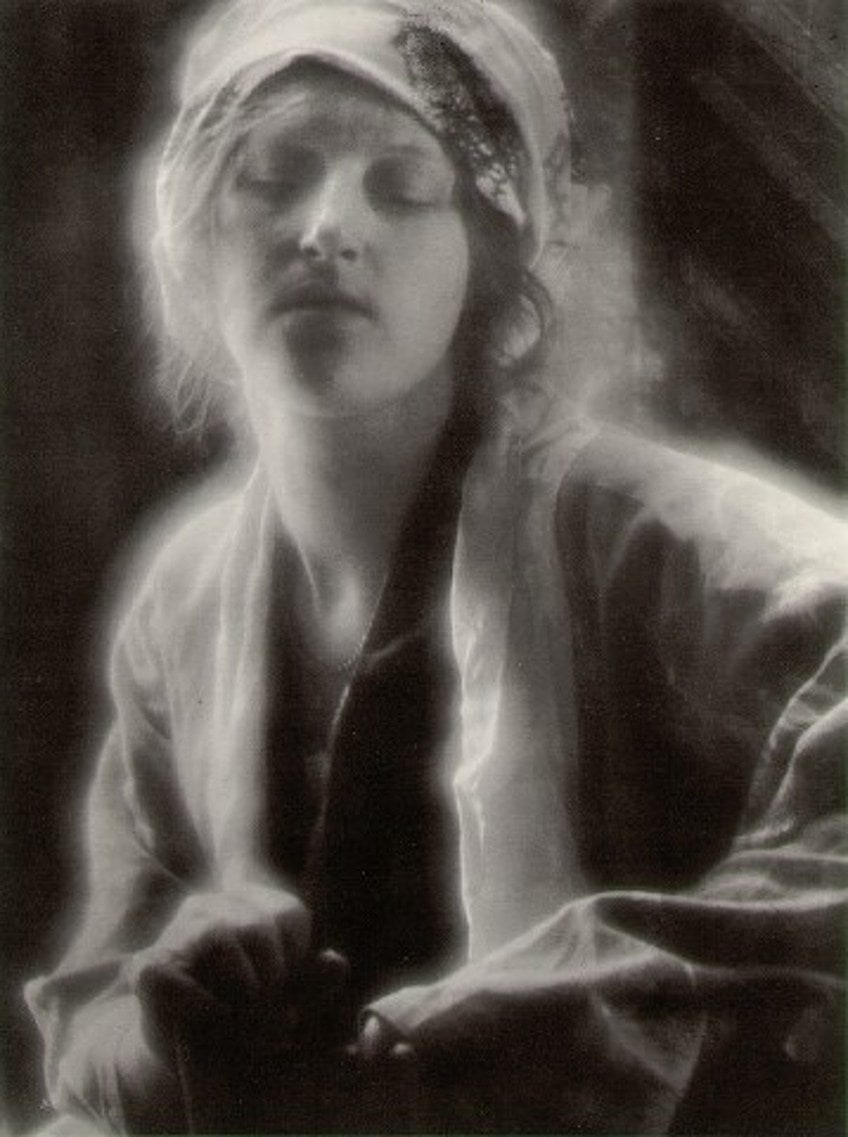 The Dream (1910) by Imogen Cunningham; Imogen Cunningham, Public domain, via Wikimedia Commons
Claude Cahun (1894 – 1954)
| | |
| --- | --- |
| Nationality | French |
| Date of Birth | 25 October 1894 |
| Date of Death | 8 December 1954 |
| Place of Birth | Nantes, France |
Claude Cahun was a Surrealist photographer, and author, best known for her striking self-portraits. Nonconformist photographers frequently explored questions of self-identity, sexuality, and the personal unconscious in their work. Cahun, who was born Lucy Schowb to a distinguished Jewish household, took on her gender-neutral nickname in her early 20s. She moved to Paris with her partner – and step-sister – the artist Marcel Moore.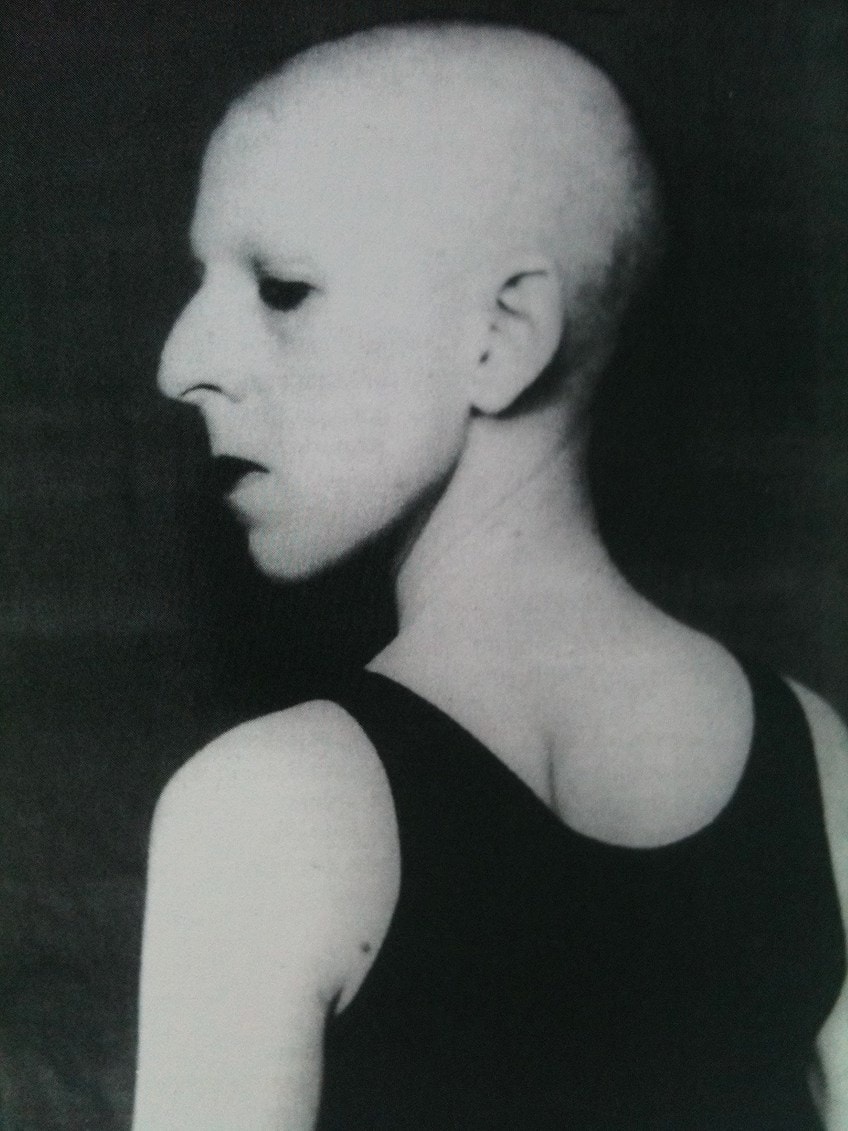 Claude Cahun, Self-Portrait, from Bifur, no 5 (1930) by Claude Cahun; lightsgoingon, CC BY 2.0, via Wikimedia Commons
There, Cahun worked with well-known Surrealist artists, including one of the movement's founders, André Breton. In 1937, the couple relocated to Jersey, on the coast of France. The artist was an activist and agitator here, but he had limited touch with the world outside. During WWII, Moore and Cahun created anti-German leaflets that criticized Nazi crimes. They intentionally put the flyers at German activities on their island, where the soldiers might readily locate them.
Both ladies were arrested and condemned to death in 1944, and the majority of their material was obliterated. Thankfully, the island was freed by the Allies a year later, and they were able to avoid the death penalty.
Cahun employed doubling and reflection methods in their work. Cahun challenges beauty and gender stereotypes in the majority of her self-portraits by standing with a shaven head and gazing unashamedly into the camera. Cahun's epicene look manifests itself via their art, which is often considered her intimate method of expression.
Several recurring themes appear in the artist's photos, including hair, hands, and, later in her life, organic components. Most of the time, this passes unnoticed, although Cahun and Moore cooperated often on their projects.
Tina Modotti (1896 – 1942)
| | |
| --- | --- |
| Nationality | Italian American |
| Date of Birth | August 1896 |
| Date of Death | January 1942 |
| Place of Birth | Udine, Italy |
Tina Modotti, an Italian-born photographer, model, actress, and political activist, was another female photography icon. She was not hesitant to experiment with diverse approaches in her work, preferring high-quality photographs and striking close-ups. Modotti went to Mexico City with her partner, photographer Edward Weston, in 1923 after immigrating to the United States. She started a studio and joined the Communist Party there.
She was intimately engaged with some of its leaders, by the way!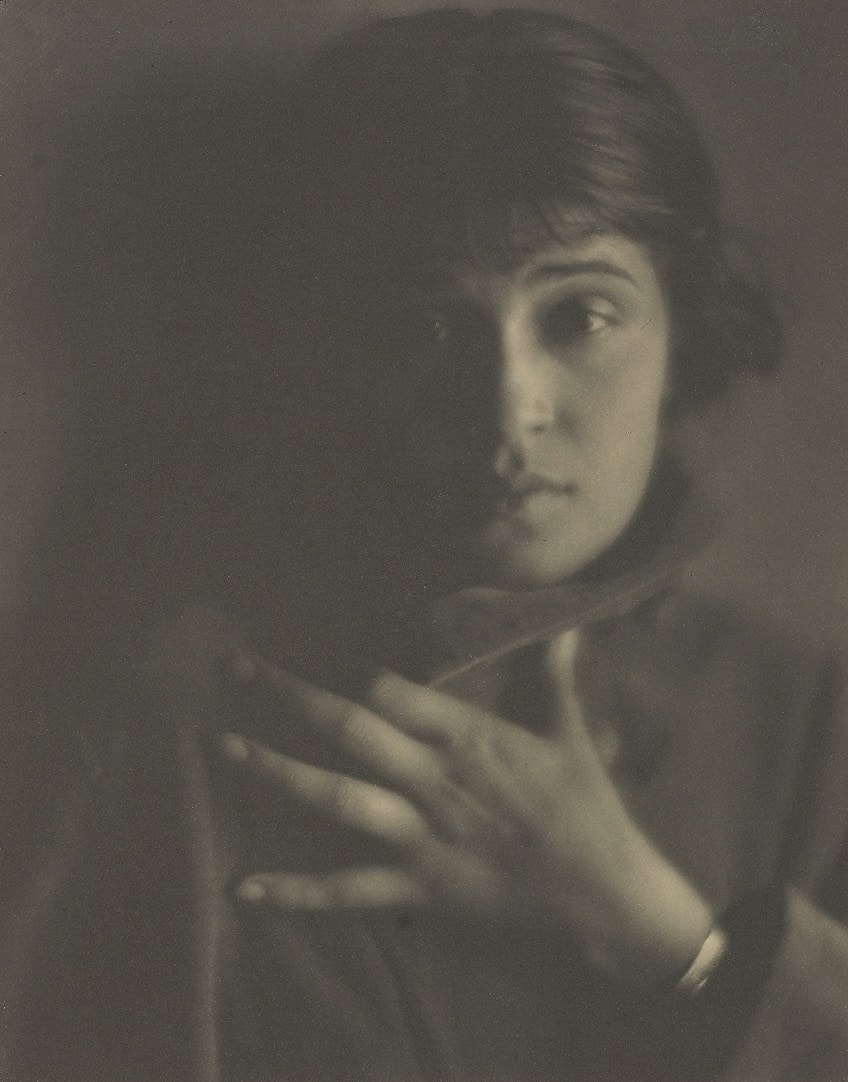 Tina Modotti, Glendale. Photograph by Edward Weston, 1921; Edward Weston, Public domain, via Wikimedia Commons
Modotti worked hard to capture the city and its inhabitants in all their glory. She photographed several famous people, including Diego Rivera and Frida Kahlo. Her images focus on indigenous cultures as well as working-class people. Modotti was expelled from Mexico seven years later due to her left-wing political opinions. Modotti finally became a member of the Soviet Communist Party in Moscow and retired from photography in 1931.
Unlike other creators, she was preoccupied with her political battle, which eventually triumphed over her creative pursuits.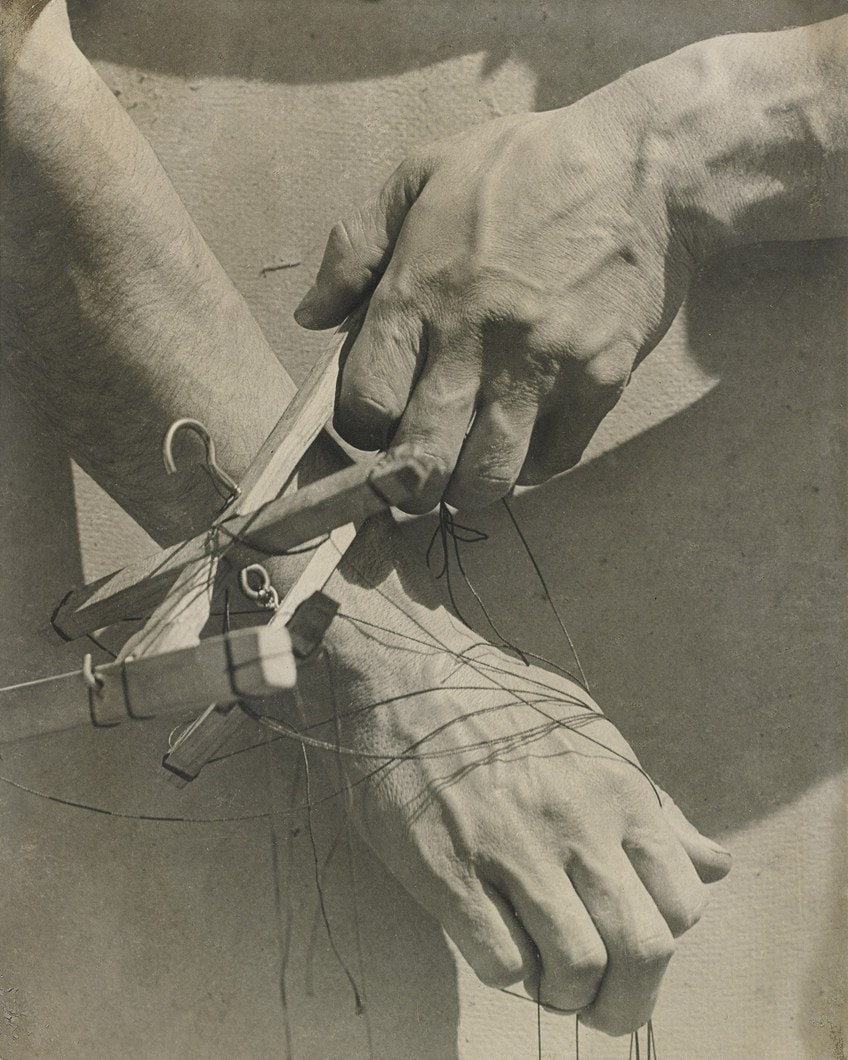 Hands of the Puppeteer, Mexico City (1929) by Tina Modotti; Minneapolis Institute of Art, Public domain, via Wikimedia Commons
Modotti was traveling on a limited visa that required her final destination to be Italy, so she first stopped in Berlin and then went to Switzerland. The Italian government undertook aggressive efforts to deport her as a subversive citizen, but she escaped fascist police imprisonment with the help of International Red Aid volunteers. She appeared to desire to travel to Italy and join the anti-fascist fight there. However, in reaction to the developing political situation in Germany and her own depleted resources, she took Vittorio Vidali's advice and relocated to Moscow in 1931.
Modotti stopped photographing after 1931. Reports of later images are unverified.
Germaine Krull (1897 – 1985)
| | |
| --- | --- |
| Nationality | German |
| Date of Birth | 29 November 1897 |
| Date of Death | 31 July 1985 |
| Place of Birth | Wilda, Poland |
Germaine Krull was a trailblazer in avant-garde photomontage and photojournalism, and she held both economic and artistic allegiances. Krull, who was born in Wilda-Pozna, East Prussia, in 1897, led an amazing life spanning nine decades and four continents—she was the archetype of the abrasive, sexually free New Woman, regarded as a modernism icon. Before her family moved to Munich in 1912, she had a nomadic upbringing.
She studied photography from 1916 to 1918, and in 1919, she launched her own portrait business.
Her early participation in left-wing political action resulted in her deportation from Munich. Krull's creative breakthrough came in 1928 when she was employed by the fledgling VU magazine, France's first big illustrated weekly. She pioneered a new kind of journalism based on free expression and intimacy with her subjects, resulting in intimate close-ups, all made possible by her portable camera.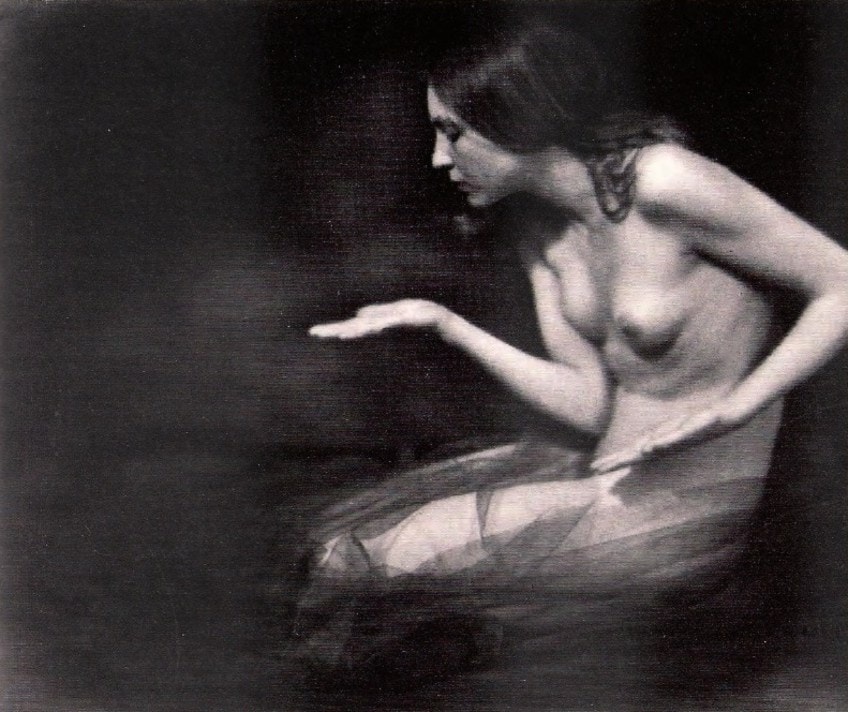 Erotische Fotografie (1890-1920) by Germaine Krull; Germaine Krull, Public domain, via Wikimedia Commons
During this time, she released Metal (1928), a portfolio of 64 images of modernist iron giants such as cranes, trains, electric generators, and the Eiffel Tower, taken in powerful close-ups and from dizzying angles. Krull was a part of the renowned Fifo exhibition. Fifo signaled the rise of a new critical philosophy of photography, putting Krull at the frontline of New Vision photography, a new approach founded on completely investigating the technical potential of the photographic medium via a plethora of unorthodox lens-based and darkroom procedures.
After WWII, she journeyed to Southeast Asia and then to India, where she opted to live as a hermit among Tibetan monks after a career dedicated to documenting some of the 20th-century's biggest upheavals.
Berenice Abbott (1898 – 1991)
| | |
| --- | --- |
| Nationality | American |
| Date of Birth | 17 July 1898 |
| Date of Death | 9 December 1991 |
| Place of Birth | Springfield, Ohio |
Berenice Abbott began her photographic career in the 1920s as an assistant to Man Ray in France. Man Ray began experimenting with a technique of placing items on photographic paper and subjecting them to light while working as an assistant.
Man Ray referred to this process as Rayograms, although it is now more often referred to as photograms.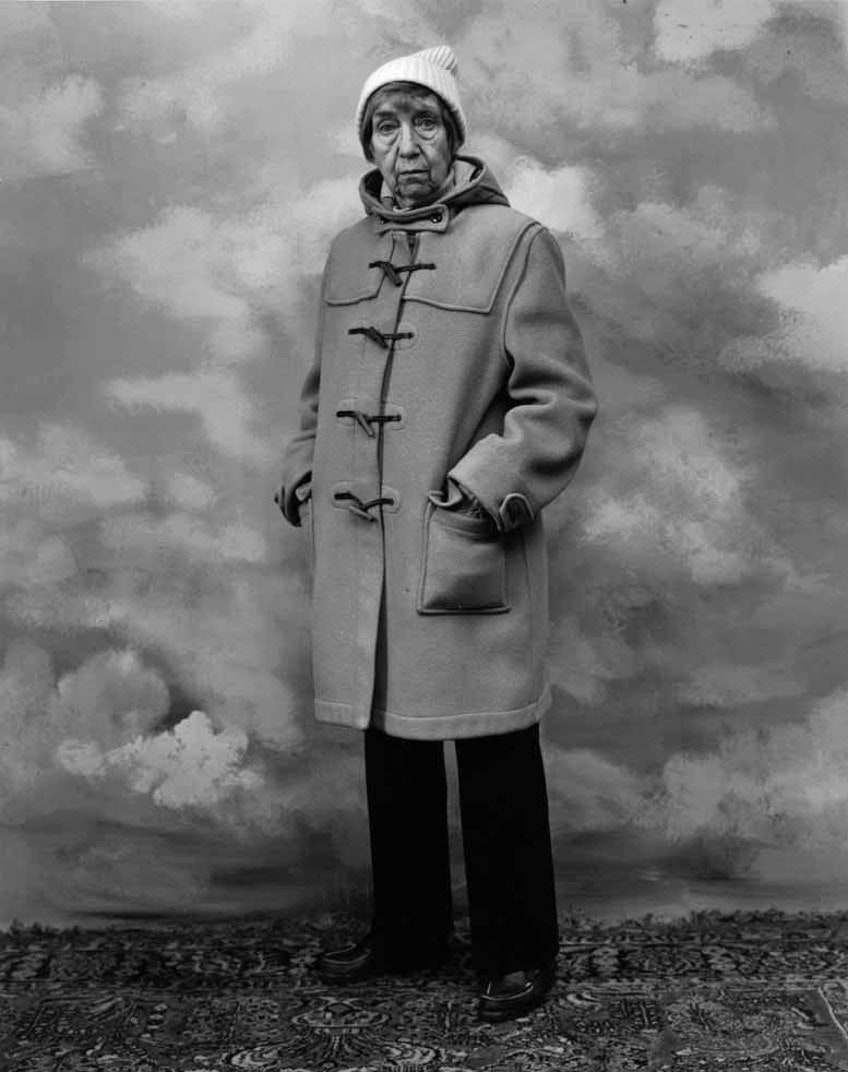 This photograph of Berenice Abbott was taken by Hank O'Neal at his Downtown Sound Studio in New York City, 18 November 1979; Hank O'Neal, CC BY-SA 3.0, via Wikimedia Commons
Despite her training with Man Ray, who is most renowned for his surrealist photos and experimental techniques, Abbott became enamored with the works of French documentarian and street photographer Eugène Atget. Her Changing New York (1935) series, which tracked the city's fast architectural evolution, is particularly popular.
Oak and New Chambers Streets, Manhattan (1935) by Berenice Abbott; Berenice Abbott, Public domain, via Wikimedia Commons
Ilse Bing (1899 – 1998)
| | |
| --- | --- |
| Nationality | German |
| Date of Birth | 23 March 1899 |
| Date of Death | 10 March 1998 |
| Place of Birth | Frankfurt, Germany |
Ilse Bing was born in the German city of Frankfurt. She began as a photojournalist for a German publication and, after abandoning her studies in Art History, traveled to Paris to focus solely on photography in 1930. Read the narrative of the next female photographer representative. Bing concentrated on her freelancing work for magazines such as Vogue and Harper's Bazaar.
Nonetheless, in addition to her professional work, she distinguished herself as an avant-garde artist and was highly motivated by the Bauhaus aesthetic, which led her to modernist photography.
Her camera was a hand-held Leica model. Thus, after a few years, Bing established herself as the "Queen of the Leica." When WWII started, Bing and her spouse were taken to different detention facilities in the south of France because they were Jews. They reunited in Marseilles, and with the assistance of a fashion editor from the United States with whom Bing cooperated, the pair was able to depart Europe in 1941 for New York City.
Some of her most valuable prints were lost as she couldn't pay the customs charge on them all when they came from France. She went to Paris a few times after the war, but she opted to abandon her career as a photographer in favor of poems, line drawings, and assemblages. Bing frequently picked metropolitan themes and photographed them from dizzying heights. She always developed her own negatives and worked with no supplemental illumination.
Her images all have an instinctive and spontaneous liveliness about them. Bing liked simplicity and worked gracefully with light and shadow in a variety of intriguing landscapes indicative of the locations and eras in which she lived.
Despite being influenced by the major aesthetic voices of her day, she was a pioneer in the field of photography, being among the first to employ methods such as solarization, electrical flash, and capturing nocturnal images.
Margaret Bourke-White (1904-1971)
| | |
| --- | --- |
| Nationality | American |
| Date of Birth | 14 June 1904 |
| Date of Death | 27 August 1971 |
| Place of Birth | Bronx, New York |
Margaret Bourke-White was the first female photojournalist in the United States. She traversed the world, immortalizing some of the most significant historical occurrences of her era. In Cleveland, she established her first workshop, where she dabbled with industrial photography.
Bourke-White was appointed as Fortune's first staff photographer in 1929.
She was given permission to photograph the Soviet industries while working there. Furthermore, she, like her predecessors, developed art about the human aspect of the Great Depression. LIFE magazine was still in its early stages at the time, and she was one of the first four photographers employed.
Photo of Margaret Bourke-White as a subject of the television program Person to Person, 1955; Bureau of Industrial Service. This was a division of advertising agency Young & Rubicam and was widely used for distribution of publicity materials in early television., Public domain, via Wikimedia Commons
For the journal, she covered the Korean War. During the German invasion of the Soviet Union in 1941, Bourke-White was the only Western photographer in Moscow to shoot the leader of the Communist Party, Josef Stalin. She watched the Air Corps bombing operations a year later. She documented the liberating of the Erla and Buchenwald prison camps in Germany towards the conclusion of the war, aiding Gen. S. Patton of the US Army. She did not, though, stop here. Bourke-White flew to Asia to shoot Indian icon Mohandas Gandhi during the Partition of India.
Bourke-White is one of the world's most talented and excellent photojournalists, always being in the right location at the right moment!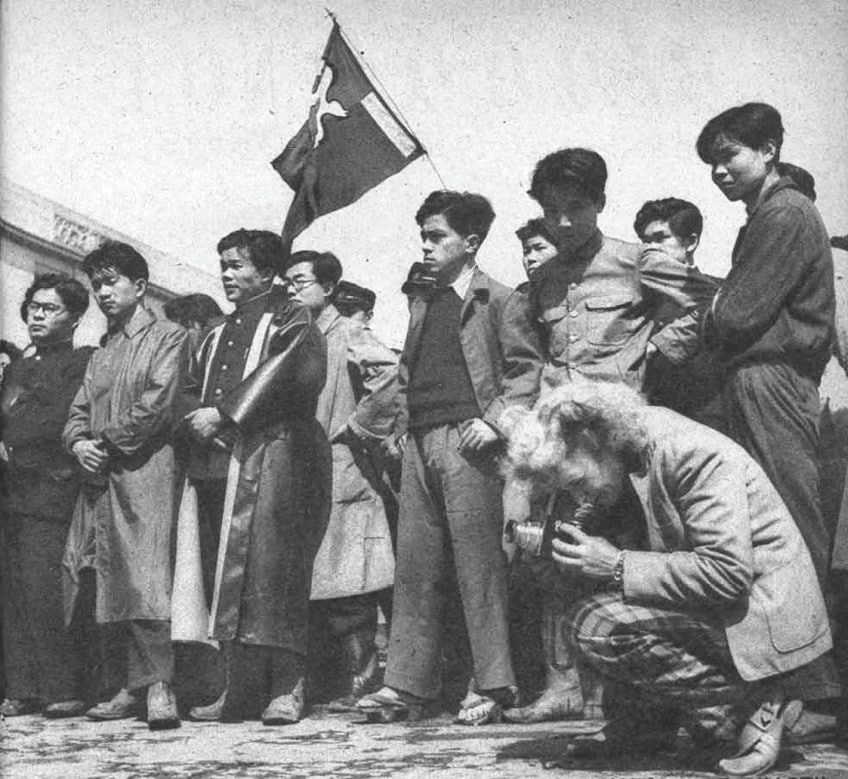 Margaret Bourke-White taking a photo of "Blood May Day". Photo: Jun Miki, 1952; 三木淳, Public domain, via Wikimedia Commons
Lee Miller (1907 – 1977)
| | |
| --- | --- |
| Nationality | American |
| Date of Birth | 23 April 1907 |
| Date of Death | 21 July 1977 |
| Place of Birth | Poughkeepsie, New York |
Lee Miller was a model and photographer who was well-known for her efforts at Vogue and throughout WWII. Miller had a lucrative modeling career in New York City in the 1920s before traveling to Paris and becoming Man Ray's aide, inspiration, and girlfriend. She planned to create her own workshop and work on Ray's projects in the near future. Miller was introduced to Surrealism and adopted many of her lover's tactics, such as solarization.
In 1932, Miller moved to New York City and launched her second workshop, earning a career in advertising photography and portraiture.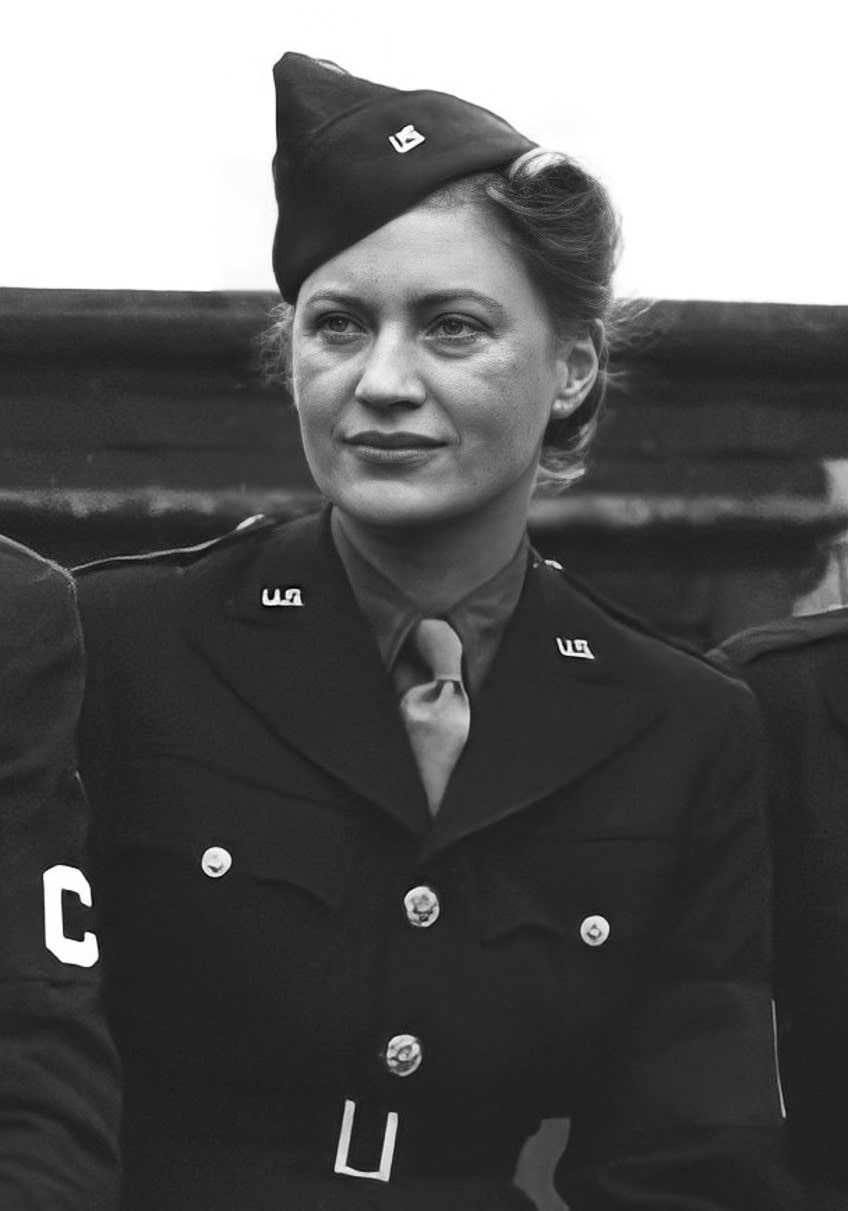 Female war correspondent Lee Miller who covered the U.S. Army in the European Theater during World War II (U.S. Army Center of Military History), 1943; U.S. Army Official Photograph, CC BY-SA 4.0, via Wikimedia Commons
She worked for Vogue as both a beauty and a photographer. Miller went around Europe and resided in London and Cairo in the years that followed. She documented the liberation of Paris, military hospitals in Normandy, Dachau death camps, and even Hitler's Munich residence as a war correspondent. Miller experienced depressed spells after the war and was classified with PTSD. She wedded her second husband Roland Penrose, in 1947. Miller assisted him in writing biographies of Pablo Picasso and Man Ray, both of whom she knew.
In fact, MI5 interrogated her for possibly working as a Soviet spy during the 1940s.
Diane Arbus (1923 – 1971)
| | |
| --- | --- |
| Nationality | American |
| Date of Birth | 14 March 1923 |
| Date of Death | 26 July 1971 |
| Place of Birth | Manhattan, New York |
Diane Arbus was one of the famous female photographers born in the United States, best known for her black-and-white portraiture and photographs of New York City's unusual residents. Arbus was born into an affluent family, which allowed her to develop her creative abilities while protecting her from the effects of the Great Depression. She participated in fashion and commercial photography for publications such as Harper's Bazaar and Vogue alongside her husband, actor Allan Arbus.
By the 1950s, Arbus had made the decision to concentrate on her own work.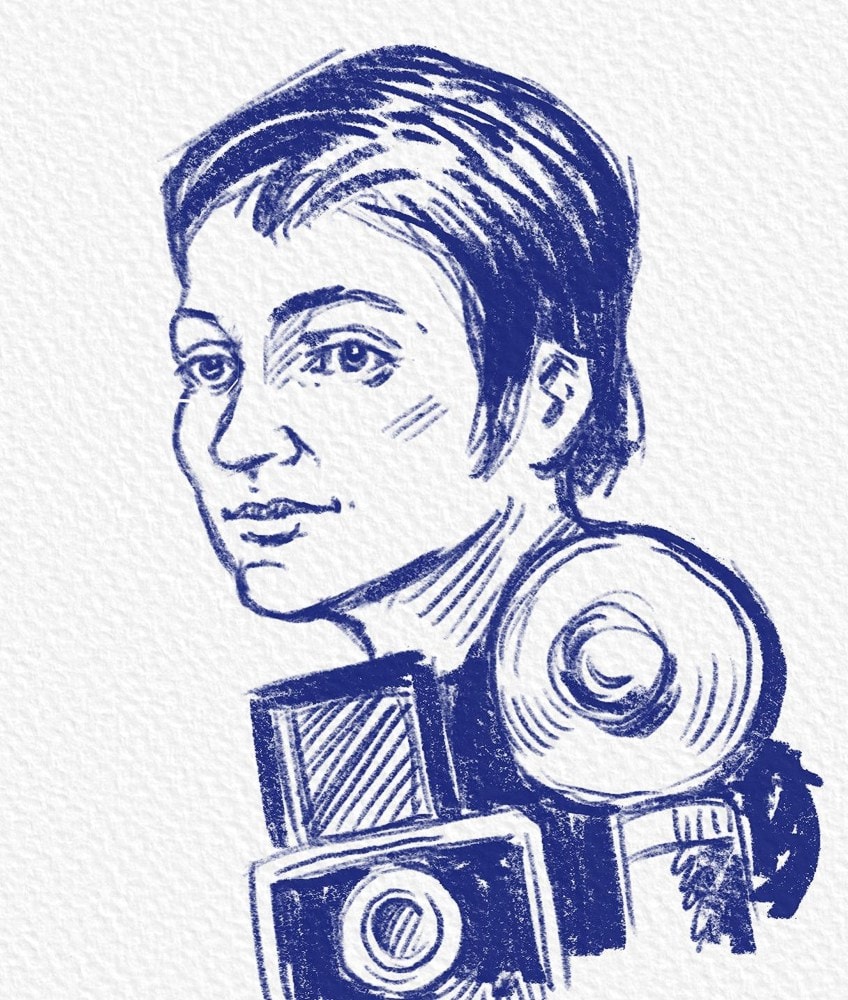 Picture of Diane Arbus after a photograph from Roz Kelly, late 60's; Fduriez, CC BY-SA 4.0, via Wikimedia Commons
She then took her camera throughout the streets of New York City, capturing the private lives of its residents in a variety of settings, including bars, hotels, and even the morgue! Typically, Arbus did not crop her shots, leaving some uneven borders around the images.
She let her subjects be themselves in front of her medium-format camera, loving their genuineness and self-assurance.
Diane Arbus was then included in the landmark show New Documents at MoMA, along with other well-known painters of the period. Unfortunately, she committed suicide aged 48, after struggling with depression her whole life.
Vivian Maier (1926 – 2009)
| | |
| --- | --- |
| Nationality | American |
| Date of Birth | 1 February 1926 |
| Date of Death | 21 April 2009 |
| Place of Birth | New York, New York |
For over 40 years, Vivian Maier was mistaken for a nanny. She was, in reality, one of the finest American street photographers. Her oeuvre, which included over 150,000 photos created throughout her lifetime, was uncovered in 2007 at an auction. Maier was enthralled by the architecture and people of the locations she visited. She is most known for her photographs of Chicago streets and New York City.
Maier, who has been likened to Diane Arbus for her inventiveness, captured images of seemingly insignificant subjects and converted them into artworks, fascinating moments frozen in time.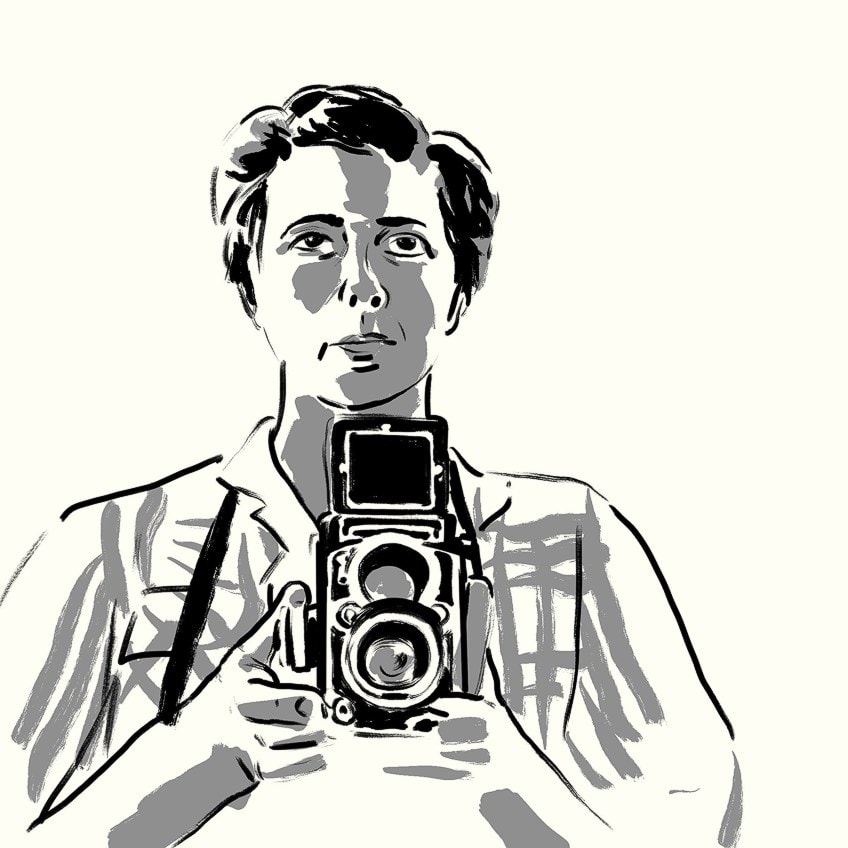 Portrait of Vivian Maier; Aureliamoz, CC BY-SA 4.0, via Wikimedia Commons
Many of her flaws were never explored. Maloof included Maier's pictures in one of his blog articles in 2009, and her work quickly garnered a reputation in art institutions throughout the world. Maier's tale is currently being told in the documentary Finding Vivian Maier. Her art is also on display at the Chicago History Museum in the multimedia exhibition Vivian Maier: In Color, which runs through the 8th of May, 2023.
Deborah Turbeville (1932 – 2013)
| | |
| --- | --- |
| Nationality | American |
| Date of Birth | 6 July 1932 |
| Date of Death | 24 October 2013 |
| Place of Birth | Stoneham, Massachusetts |
Deborah Turbeville existed before Annie Leibovitz.She was one of the first female fashion photographers; for many years, male photographers such as Cecil Beaton, Richard Avedon, and Helmut Newton dominated the field. Turbeville is well known for her dreamlike fashion female photography, which contrasted with the strong contrast photos of many of her contemporaries. She was also quite adventurous with her paintings.
She likes to overexpose her film and deface her negatives to give her photographs a rougher, almost disintegrative look.
While much of her work is well regarded, some of the most intriguing pictures she created are collages constructed by cutting and putting negatives together. Turbeville's art was heavily influenced by her childhood: "I am like a child, I must control it every hour of every day," she says. Turbeville's images are distinguished by their grain, pastel, sepia, or black and white hues, and image blurring.
With the assistance of her assistant and partner, Sharon Schuster, she occasionally reworks her images by scraping or taping them. These images, according to Pete Silverton, are "deliberately ruined commodities." Furthermore, Turbeville claims that "After creating the image, I obliterate it. Erasing a piece in such a way that it is never quite gone" "The theme of disintegration is truly at the center of my work," for example.
Turbeville's work of modification is one of the qualities that distinguish her as an artist since it prompts contemplation on the medium, and the medium is significant in and of itself.
Her photographs, "Scraped, distorted, erased, and purposely damaged to create the appearance of outdated clichés, these photos contrast the technological perfection that even an amateur photographer can achieve these days. Turbeville debunks the myth that an artist seeking to develop innovative material may achieve ambiguity by skill and dedication." "Yes, the apparent serenity of the photos conceals an undercurrent of violence. The artist reinforces this violence in her work: she abuses her own images."
Nan Goldin (1953 – Present)
| | |
| --- | --- |
| Nationality | American |
| Date of Birth | 12 September 1953 |
| Date of Death | N/A |
| Place of Birth | Washington DC |
Nan Goldin is a modern American woman photographer known for her intimate, honest images of her life and loved ones. Her work addresses timely themes such as the drug epidemic, the Aids crisis, and the LGBTQ+ communities. Goldin traveled to Boston in her late teens to live with her buddy, American photographer David Armstrong.
There, she encountered the city's lesbian and transgender communities. She is highly influenced by Diane Arbus, who used similar patterns and topics in her photography.
Goldin used to travel about with her camera, capturing "slices of life" and underground subcultures. In a 40-minute slideshow of 700 pictures put to music, Goldin summarized her existence in New York City in the 1980s. The timeless, very intimate document honors her friends and lovers, many of whom died as a result of the AIDS epidemic.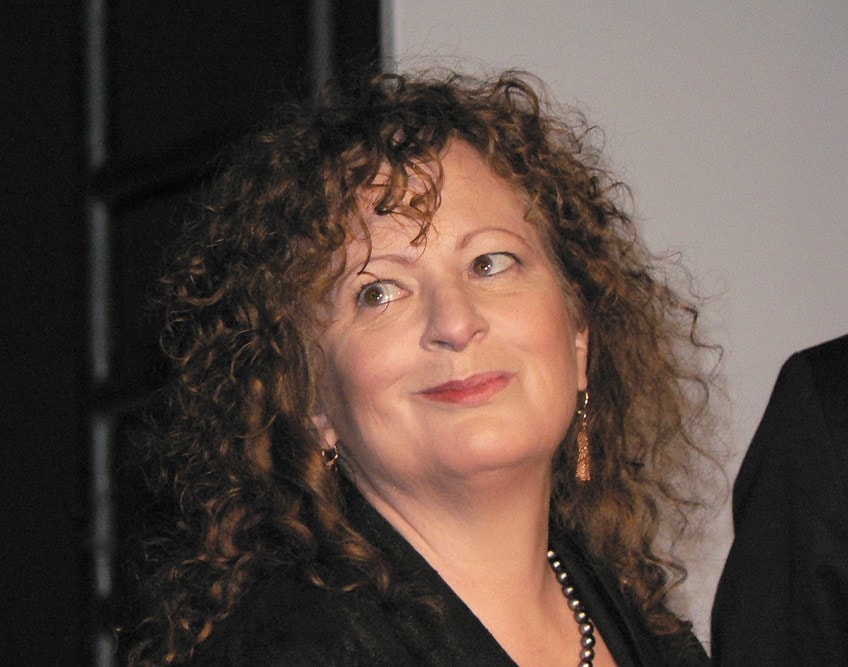 Photographer Nan Goldin in 2009; team art in berlin, CC BY-SA 2.0, via Wikimedia Commons
Goldin is an outcast by inclination and a nocturnal by habit, living on the outskirts of civilization by her own rules. She rose to prominence in the 1980s by photographing her own erratic life as well as the erratic lives of her acquaintances, who included junkies, hustlers, transvestites, and prostitutes.
As a result, she reimagined what photography might accomplish and be – a reflection of oneself as well as the world.
Her images are seductive, difficult, and honest. Goldin does not shy away from the harsh realities of life but instead confronts them with courage by showing the fragility that lies beneath the acts of love, aggression, and misery she chooses to photograph. Goldin stated a few years ago that she was suffering from an opiate addiction after being administered OxyContin for wrist pain.
That covers our article about the world's most famous female photographers. Almost everybody is aware of the great names in female photography, such as Annie Leibovitz and Dorothia Lange, but unless you've studied art history, there may be many photographers you've never heard of. Throughout the decades, these feminist photographers have paved the way for modern women photographers. Due to their effort, female photography today is alive and thriving.
Take a look at our female photographers webstory here!
Frequently Asked Questions
What Kind of Photographs Do Women Photographers Take?
Women photographers have addressed everything from fashion photography to photojournalism in times of crisis, producing sensitive and imaginative images that deserve credit and respect. Some of these feminist photographers were concerned with accurately depicting reality, while others were motivated by artistic expression and a desire to connect with people via photography.
Why Is It Important to Focus on Female Photographers?
Women have traditionally had a tougher difficulty breaking into the profession than males, and women photographers are no different. There are, however, occasions when prominent female photographers have broken the stereotype and gained international fame for their feminine photography. These women not only broke down boundaries in photography, but they also utilized their work to make powerful social commentary and to capture the world in ways that had previously gone unnoticed.
Jordan Anthony is a film photographer, curator, and arts writer based in Cape Town, South Africa. Anthony schooled in Durban and graduated from the University of the Witwatersrand, Johannesburg, with a Bachelor of Art in Fine Arts. During her studies, she explored additional electives in archaeology and psychology, while focusing on themes such as healing, identity, dreams, and intuitive creation in her Contemporary art practice. She has since worked and collaborated with various professionals in the local art industry, including the KZNSA Gallery in Durban (with Strauss & Co.), Turbine Art Fair (via overheard in the gallery), and the Wits Art Museum.
Anthony's interests include subjects and themes related to philosophy, memory, and esotericism. Her personal photography archive traces her exploration of film through abstract manipulations of color, portraiture, candid photography, and urban landscapes. Her favorite art movements include Surrealism and Fluxus, as well as art produced by ancient civilizations. Anthony's earliest encounters with art began in childhood with a book on Salvador Dalí and imagery from old recipe books, medical books, and religious literature. She also enjoys the allure of found objects, brown noise, and constellations.
Learn more about Jordan Anthony and the Art in Context Team.
Cite this Article