Nan Goldin – Chronicler at the Margins of Pride and Pain
The highest thing that art can do is to celebrate love. This is the unwavering belief of Contemporary photographer, Nan Goldin. Goldin's work is an intimate documentation of her life, and those of her close friends, who often fall under the LGBTQ+ subgroups. Her portraiture is honest, deeply personal, and gives voice to the lives of those around her who are so often overlooked or misunderstood.
Artist in Context: Who Is Nan Goldin?
| | |
| --- | --- |
| Date of Birth | 12 September 1953 |
| Country of Birth | Washington D.C., United States |
| Art Movements | Contemporary art |
| Mediums Used | Photography |
Nancy Goldin is an American photographer and activist, born in Washington D.C. in 1953. With a career spanning five decades, she is one of the most important contemporary photographers of our era. Her images are regarded as highly political, addressing issues around gender identity since the early 1970s. Her work explores moments of intimacy, with a specific focus on LGBTQ subcultures, the opioid epidemic, and the HIV/AIDS crisis.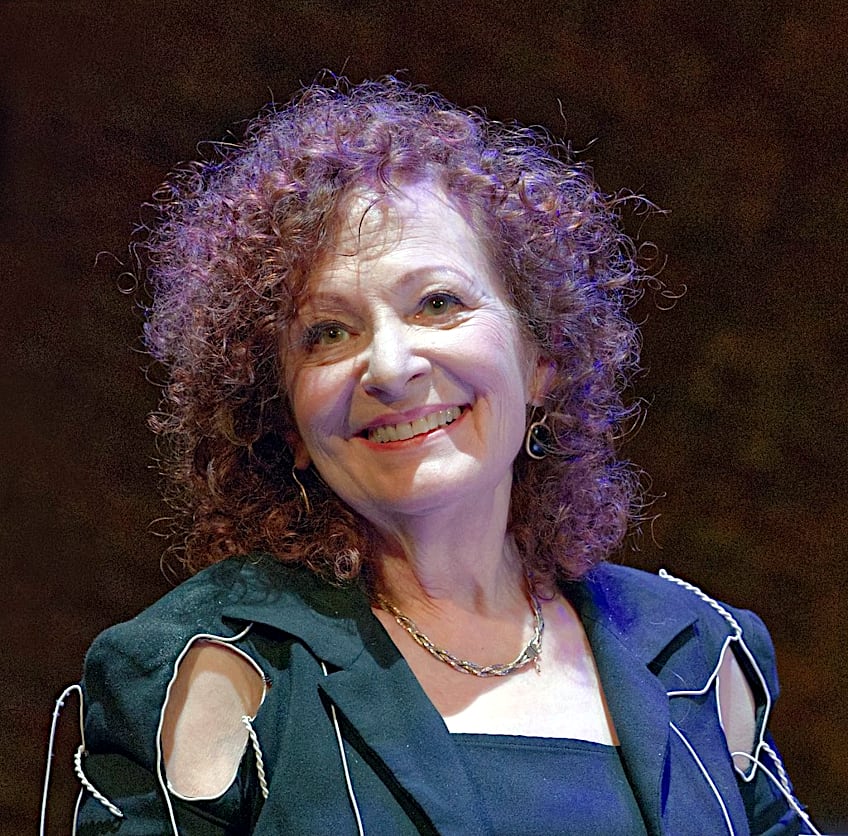 Photograph of Nan Goldin taken at the Käthe Kollwitz Prize 2022 ceremony in Berlin, 2023; Elena Ternovaja, CC BY-SA 3.0, via Wikimedia Commons
Goldin is one of the founding members of the activist group PAIN (Prescription Addiction Intervention Now). She continues to live and produce work in New York City, Berlin, and Paris.
Childhood and Early Life
Nan Goldin was into a middle-class Jewish family in 1953. She spent her childhood in Swampscott, a suburb of Boston, and moved to Lexington during her teenage years. A defining and tragic moment in Goldin's childhood happened when she was 11 years old. In 1965, Goldin's older sister, Barbara, who was then 18 years old, decided to lie down on train tracks and committed suicide. The suicide of Goldin's sister affected her for the rest of her life and caused significant amounts of tension in her family relationships.
After her sister's suicide, Goldin began relying on marijuana to help her cope. She also started dating older men and left home when she was only 13 or 14 years old.
Now living in Lincoln, Goldin enrolled at the Satya Community School when she turned 16. One of the staff members at the school introduced young Goldin to photography. Scarred by the sudden death of her sister, Goldin started photographing other people in her life as a way to preserve them and their shared moments through an image. She also started using photography as a political tool to visualize and capture intimacy and humanity in America's nonconforming subgroups.
Through her images, Goldin sought to remove the taboo linked to discussing important issues in our societies that are often ignored and overlooked.
Life and Work
Nan Goldin's photos resonated with people and she had her first solo exhibition in 1973 in Boston. The exhibition was an unfolding narrative of Goldin's documentation of the transgender and gay communities in Boston. Goldin explains that when she was 18 years old, she fell in love with drag queens. She was introduced to these communities by her friend David Armstrong and she decided to live with them whilst documenting the intimate moments of their daily lives.
Her relationship with the drag queens that she photographed was one of admiration. She explains that she was drawn to their bravery and the freedom of their sexual fluidity and that she wanted to portray them with love. An example of one of these early works is Ivy with Marilyn, Boston (1973).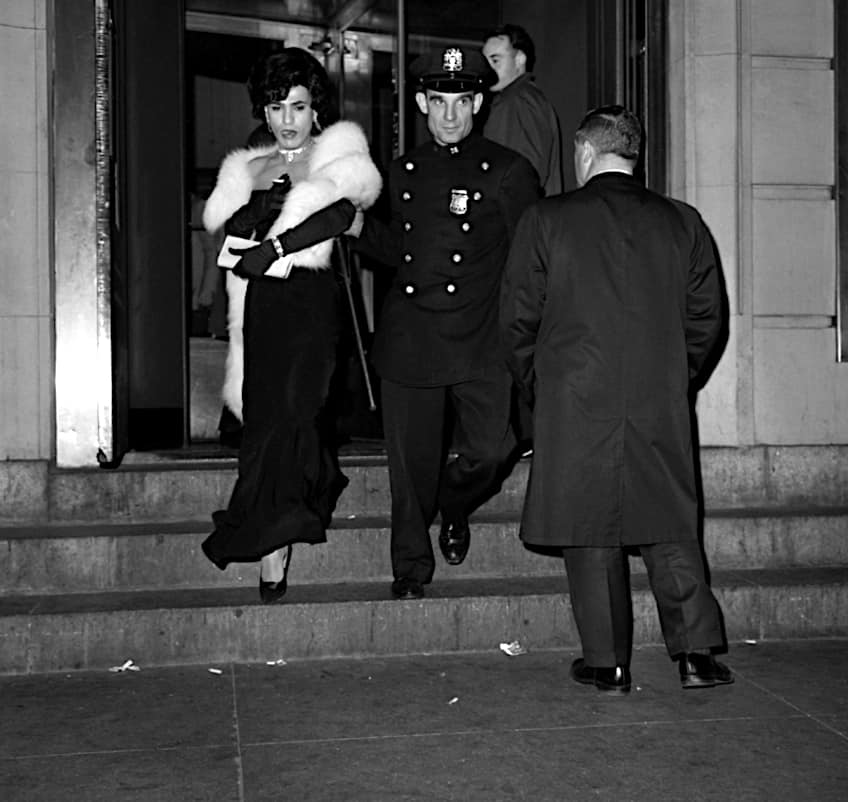 In the decades before Nan Goldin began photographing drag queens, impersonation was a crime which saw 44 attendees at the New York City Drag ball arrested in 1962; Associated Press, Public domain, via Wikimedia Commons
Around this time, Goldin attended the School of the Museum of Fine Arts from which she graduated in 1978. After her graduation, she moved to New York City, where she continued to photograph the subcultures of the city, along with the post-punk new-wave music scene.
The photographs she took during these years became the backbone of her famous project The Ballad of Sexual Dependency, which was published as a book in 1986. This series was also exhibited various times in a slideshow format and kept growing over several years.
Of her most photographed subjects at this time were Greer Lankton and Cookie Mueller. Nan Goldin's photos featured Mueller so many times that a separate publication was dedicated to them. The book Cookie Mueller was published in 1991. Mueller starred in various John Water films, and Goldin described her as "a cross between Tobacco Road and a Hollywood B-Girl". Many of Nan Goldin's photographs feature Mueller's wedding to Vittorio Scarpati, her relationship with her son, and her battle with HIV/AIDS.
Mueller eventually passed away in 1989 from AIDS-related pneumonia. One of Goldin's most famous photographs of Mueller is simply titled Cookie (1983).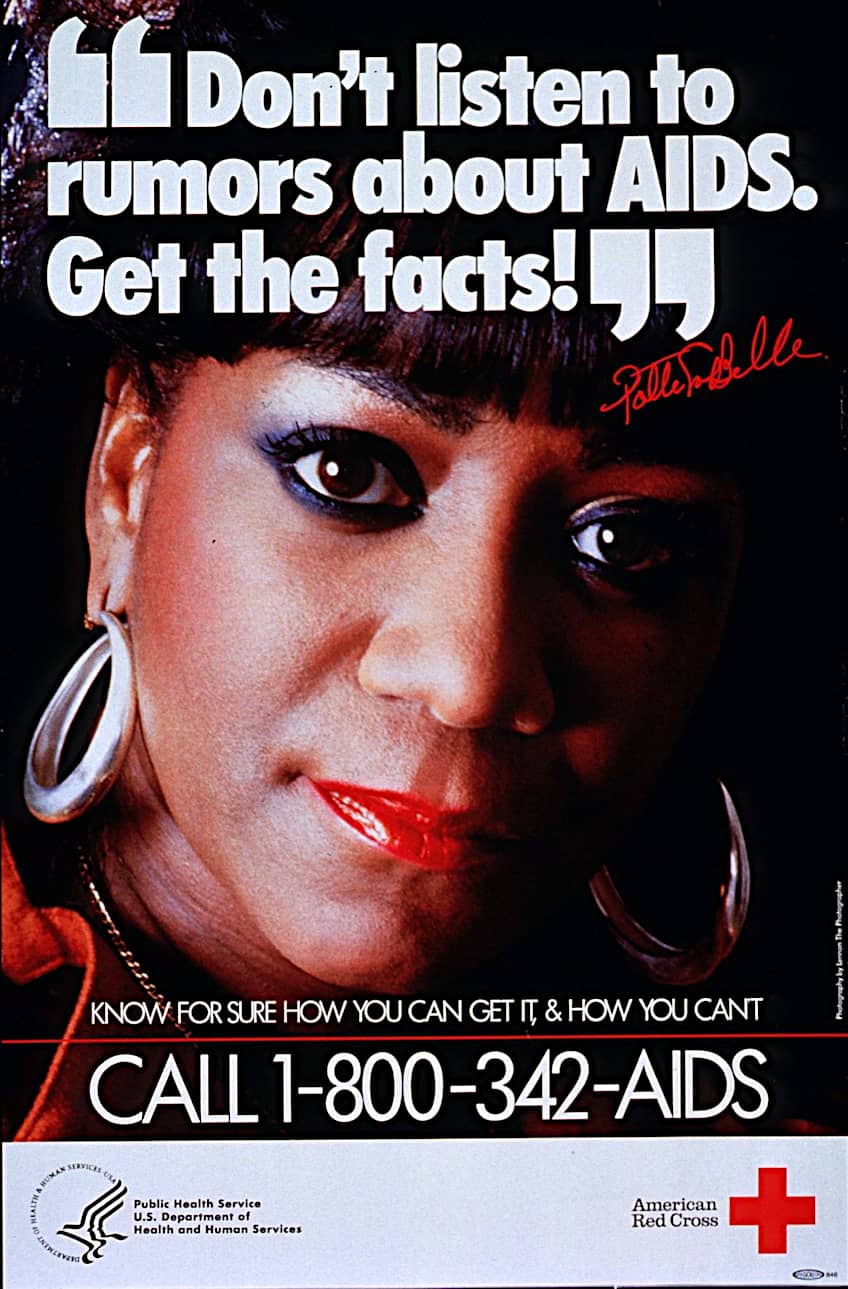 Patti LaBelle Aids awareness poster from the 1980's produced by the United States Public Health Service; Public Health Service, HHS, Public domain, via Wikimedia Commons
The images that Goldin took between 1978 and 1995 are all connected with themes of love, intimacy, and sexuality. She also documented her own relationship with her boyfriend, Brian, with images such as Nan and Brian in Bed, New York City (1983). Her relationship with Brian was one of codependency, passion, and sometimes, violence.
One of Goldin's most notable works is Nan one month after being battered (1984) in which she documented the end of their relationship after she suffered dramatic physical abuse. The iconic image marks Goldin's decision to reclaim her life, identity, and independence.
Goldin's work from 1995 onwards broadened to include multiple book collaborations, urban landscapes of the New York City Skyline, and intriguing images of people in the water. Goldin never married or had children of her own, but she started increasingly documenting domestic life, with multiple images of children, babies, and family life. The suicide of Goldin's sister and her tumultuous and traumatic childhood continued to plague Goldin. This can most notably be seen in her 2006 exhibition, Chasing a Ghost. The exhibition was an installation that included moving images and sound, marking a turn in Goldin's work to the more cinematic.
Goldin's work also increasingly became more focused on activism.
Activism
In 2000, Goldin injured her hand badly, which greatly impacted her work. She was prescribed to use OxyContin by her doctor to treat the pain in her wrist. This drug, however, led to serious addiction, and in 2017, during a speech in Brazil, Goldin announced that she was suffering from opioid addiction.
After admitting herself to rehab and battling to overcome her addiction, Goldin started a campaign called P.A.I.N. (Prescription Addiction Intervention Now). The campaign sought justice against the Sackler family, who donated large amounts of money to universities, museums, and art galleries, but was also involved with Purdue Pharma, the manufacturers of the highly addictive and dangerous drug.
The Serpentine Sackler Gallery photographed in 2014. Since then, major institutions like the British Museum and the Metropolitan Museum of Art have removed the Sackler name from all buildings and galleries; User:Geographer, CC BY-SA 3.0, via Wikimedia Commons
Goldin organized a protest in 2018 at The Metropolitan Museum of Art, urging them to remove the "Sackler Wing" plaque from the museum and urging other institutions not to accept money from the Sackler family. In 2019, Goldin arranged a protest at the Guggenheim in New York after the institution accepted a donation from the Sacklers. In the same year, she staged a protest outside of the Louvre in Paris, urging them to remove their plaques honoring the Sacklers. Goldin also threatened the National Portrait Gallery in London that she would not have her retrospective exhibition with them if they accepted a £1 million donation from the Sacklers.
The National Portrait Gallery agreed to not accept the donation and many other institutions, including all of the Tate galleries, followed suit.
Three Important Nan Goldin Photos
Looking at Nan Goldin's photography is like paging through the intimate moments of someone's journal. Her works are powerful in their sensual, honest, and brave portrayal of love among the subcultures of America at the time. Below, we discuss three seminal Nan Goldin photos in more depth.
Nan and Brian in Bed, New York City (1983)
| | |
| --- | --- |
| Artwork Title | Nan and Brian in Bed, New York City |
| Date | 1983 |
| Medium | Silver dye bleach print (printed 2006) |
| Size (cm) | 39.4 x 58.9 |
| Collection | Museum of Modern Art, New York City, United States |
Goldin met her lover, Brian, an ex-marine working as a bartender, at Tin Pan Alley in New York City. There, at the bar on West 49th Street, an intense romantic relationship began. Their tumultuous and passionate relationship was marked by drug addiction and physical infatuation. Many of Nan Goldin's photos feature Brian, but few are as intimate as this one.
Taken moments after making love, the image shows Goldin in bed, staring at Brian with a look of longing, and perhaps even resignation, as his back is turned slightly away from her.
The lighting of the image is sensual and soft with an intimate yellow hue suggesting that the sun might be setting. This could be symbolic of the waning of their relationship, which would end in the following year.
Nan one month after being battered (1984)
| | |
| --- | --- |
| Artwork Title | Nan one month after being battered |
| Date | 1984 |
| Medium | Photograph, dye destruction print on paper mounted on board |
| Size (cm) | 69.5 x 101.5 |
| Collection | Tate Collection, United Kingdom |
This large photograph is a self-portrait in which Goldin stares directly into the camera. Her eyes are swollen and bruised and her stare defiant. Despite her distressed state of trauma that her dark bruises communicate; Goldin appears groomed and dressed up for a night out. Her hair is neat with lush curls, pearls around her neck, and long sparkly jewelry dangles from her ears. The intense red shade of her lipstick matches the blood in her swollen eye.
The documentary and confessional style of this self-portrait are like the images she took of other people in her life, which are almost always raw, honest, and emotional, but glamorous. The photograph, Goldin claims, marks the end of a long-term abusive relationship with a man whom she loved deeply.
It also is the emotional final image used in Goldin's famous project, The Ballad of Sexual Dependency (1979-2004), a body of work that was first exhibited as a 43min slideshow in the 1970s and kept growing over years. The project was exhibited multiple times over the years in different locations and has even been published in book form. Goldin claimed to exhibit her works in slideshow form due to a lack of funds as she could not always afford to have her images produced in a dark room.
Misty and Jimmy Paulette in a taxi, NYC (1991)
| | |
| --- | --- |
| Artwork Title | Misty and Jimmy Paulette in a taxi, NYC |
| Date | 1991 |
| Medium | Photograph, dye destruction print on paper mounted on board |
| Size (m) | 69.5 x 101.5 |
| Collection | Tate Collection, United Kingdom |
This famous photograph features two of Goldin's friends, drag queens Misty and Jimmy Paulette, on their way to the New York City Pride March. The image is a close-up shot of the two sitting in a taxi, on their way to join their float at the march. The drag queens are sitting closely next to each other, their gaze directly into the camera.
Goldin was sitting in the front passenger seat of the taxi and turned to them to capture the moment. The flash from the camera highlights their shiny glamorous clothes, bright makeup, and colored wigs.
Goldin first started photographing drag queens in 1972 and fell in love with their free way of living. This image is part of a large series of photos that Goldin took in 1991 of drag queens in New York, Paris, and Berlin. This image, along with various others that celebrate gender fluidity, was later published in Goldin's third book, titled The Other Side (1993). In this publication, Goldin writes that she identifies as bisexual and that for her, "the third gender seems to be the ideal".
Book Recommendations
The book recommendations for Nan Goldin are unlike many others you will find in articles on artists. This is because, in many ways, the publications recommended below are the works of art themselves. Goldin often collaborated with publishers to create books that held entire series of her photographs taken over decades.
Most of these books are still in production and in high demand, and various publications circle the second-hand market as highly collectible books.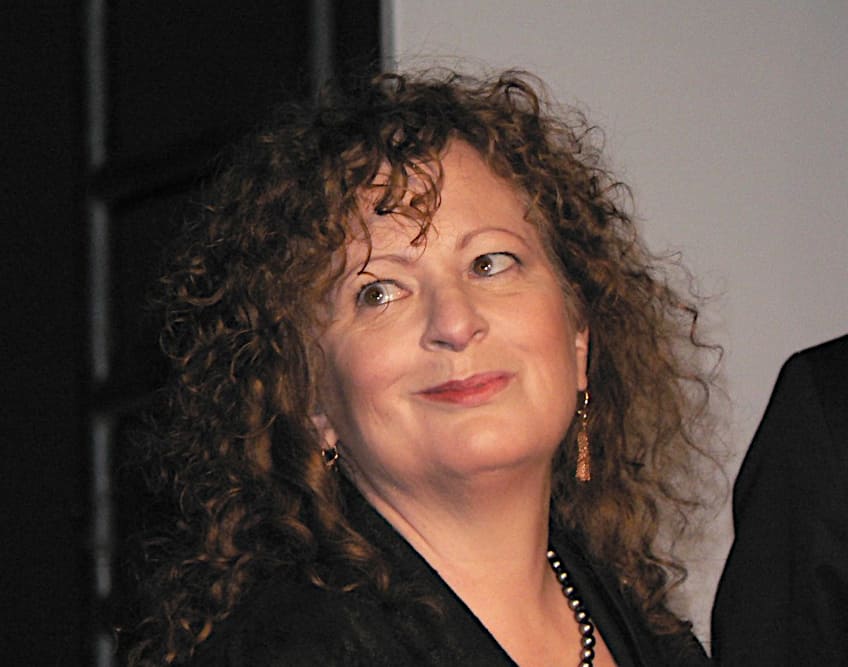 Photograph of Nan Goldin; team art in berlin, CC BY-SA 2.0, via Wikimedia Commons
The recommendations below are not an extensive list of publications by and about Nan Goldin, but are a good place to start for any admirer of Goldin's work or Contemporary photography lover.
The Devil's Playground (2003) by Nan Goldin, Nick Cave, and Guido Costa
Goldin's book The Devil's Playground is a major collection of her works. The book, published by Phaidon, is a significant and weighty book that is filled with Goldin's intimate and compelling images. Featuring snapshots of personal stories of herself and loved ones, the book touches on topics of relationships, violence, drug abuse, AIDS, identity, and love. Between the striking images are text, poetry, and lyrics by prolific authors such as Nick Cave, Cookie Mueller, Richard Price, and Catherine Lampert.
Features 460 full-color images mostly dating from 2000 to 2002
Images compiled in a diary-like sequence by Goldin herself
Provides rare insight into Goldin's work within the context of her life
View on Amazon
Nan Goldin: The Ballad of Sexual Dependency (2012) by Nan Goldin, edited by Mark Holborn, Marvin Heiferman, and Suzanne Fletcher
A must-have for any admirer of Goldin. This book was first published in 1986 and has had (and continues to have) a remarkable influence on the world of art photography. The book documents Goldin's most seminal body of photographs taken in the late 1970s and early 1980s. The book reads like an intimate visual journal of the lifestyles of people who are often seen as 'other'. In these images, Goldin portrays the subcultures of New York City in a way that celebrates their raw and brave appetite for life.
Anniversary edition of Goldin's influential 1986 masterpiece
Visual diary of the complex relationships within Goldin's "tribe"
Features new image separations using state-of-the-art technology
View on Amazon
Ballads: Aperture 239 (Aperture Magazine) (2020) by Nan Goldin
This issue of Aperture Magazine returned to Goldin's seminal body of work, The Ballad of Sexual Dependency. The magazine features an exclusive interview with the artist and a curation of Goldin's influences. The publication embodies everything that a ballad stands for: intimacy, love, friendship, care, hurt, despair, and music.
Commemoration of the 1986 publication of Ballads in Aperture
Features an exclusive and revelatory interview with Nan Goldin
Includes a section compiled by Goldin on her various influences
View on Amazon
Nan Goldin's photography explores the undercurrents of life experiences that most are blind to. Her images capture with an admiring glance the intimate world of her friends that are part of the LGBTQ+ communities. Through her photography, we see moments of love, pain, intimacy, and grief. The AIDS epidemic took away many of these friends through the years, but Goldin's photos are a testament to their lively memories. Despite our differences, Goldin's photography highlights the similarities in our shared humanity, our search for love, our moments of hurt, and our desire to freely express our unique selves.
Frequently Asked Questions
What Are the Themes of Nan Goldin's Photography?
Nan Goldin's photography includes themes of gender, identity, sexuality, abuse, dependency, addiction, and love. Her later works have a stronger focus on domesticity and childhood. Many of her images lovingly capture women staring into mirrors. For Goldin, her life and art could not be separated, which is why she only ever photographed people she knew and was friends with.
Who Influenced Nan Goldin's Photography?
Nan Goldin's early influences include Andy Warhol, especially his early video works. She was also influenced by filmmakers Jack Smith and Federico Fellini. Photographers that inspired her were Guy Bourdin and Helmut Newton. Goldin, however, was most heavily inspired by her friends and their interesting, daring, and free lives as non-conforming individuals.
Chrisél Attewell (b. 1994) is a multidisciplinary artist from South Africa. Her work is research-driven and experimental. Inspired by current socio-ecological concerns, Attewell's work explores the nuances in people's connection to the Earth, to other species, and to each other. She works with various mediums, including installation, sculpture, photography, and painting, and prefers natural materials, such as hemp canvas, oil paint, glass, clay, and stone.
She received her BAFA (Fine Arts, Cum Laude) from the University of Pretoria in 2016 and is currently pursuing her MA in Visual Arts at the University of Johannesburg. Her work has been represented locally and internationally in numerous exhibitions, residencies, and art fairs. Attewell was selected as a Sasol New Signatures finalist (2016, 2017) and a Top 100 finalist for the ABSA L'Atelier (2018). Attewell was selected as a 2018 recipient of the Young Female Residency Award, founded by Benon Lutaaya.
Her work was showcased at the 2019 and 2022 Contemporary Istanbul with Berman Contemporary and her latest solo exhibition, titled Sociogenesis: Resilience under Fire, curated by Els van Mourik, was exhibited in 2020 at Berman Contemporary in Johannesburg. Attewell also exhibited at the main section of the 2022 Investec Cape Town Art Fair.
Learn more about Chrisél Attwell and the Art in Context Team.
Cite this Article