Diane Arbus was an upcoming street and candid photographer of the mid-20th century, whose early death marked the beginning of her legacy, propelled by her many supporters who admired the artist's dedication to photography and her unique perspective of the world around her. In this article, we will explore a detailed account of Diane Arbus' biography, and review a selection of her best works that showcase her style and preferences in photography. Keep reading for more about the rich history and legacy of Diane Arbus!
Unveiling the Life of Postwar Photographer Diane Arbus
You may recognize Diane Arbus as one of the most influential photographers of the 20th century whose images presented the subcultures and realities of personalities of individuals who were marginalized by society in post-war America. Diane Arbus' work was initially misunderstood and criticized as "weird" and bordering on outright strange, however, after reviewing the works of Arbus, one can attest to her talent for photographing the unconventional aspects of society, which was beyond her time. Arbus herself once wrote that "a photograph is a secret about a secret" and that "the more it tells you, the less you know" about it. Arbus was known to be a shy, private, and emotionally open individual who demonstrated a passion for elements of society that were considered "strange" and uncanny.
Name
Diane Arbus
Date of Birth
14 March 1923
Date of Death
26 July 1971
Nationality
American
Associated Movements, Themes, and Styles
Modern art, street photography, candid photography, portraiture, identity, New York culture, and representation
Mediums
Photography, painting, and drawing
Famous Artworks
● Child with Toy Hand Grenade in Central Park (1962)

● A young man and his pregnant wife in Washington Square Park, NYC (1965)

● Identical Twins, Roselle, New Jersey (1967)

● Tattooed Man at a Carnival, MD (1970)
Diane Arbus Station SIgn (2022); Chabe01, CC BY-SA 4.0, via Wikimedia Commons
Her black and white portraits are among the most intriguing works from her career that exhibited her interest in capturing people from all walks of life, including performers, transgender individuals, circus workers, and people who were ostracized from society or mocked for expressing their individuality and simply existing. What made Arbus' practice so unique was that her work was original and offered cinematic and new perspectives that many people had not previously seen before. But who was Diane Arbus, and how did she become such a famous photographer? Below, we will dive into the details of her life and artistic career that shed more light on her inner world.
A Diane Arbus Biography
Born in 1923, Diane Arbus was known as Diane Nemerov, who was raised in New York in a wealthy Jewish family. Arbus engaged in the arts early on in her childhood and rarely spent time with her father's side of the family. As a child who grew up surrounded by wealth and success, Arbus later reminisced on her upbringing, which she identified as developing a sense of unreality, which was all she could feel. Arbus once described her career as her ongoing search for all things real and this is evident in her exploration of identity and photography of societal figures deemed "taboo".
Her family owned a chain of stores, and her future husband, Allan Arbus, worked in the art department. The two met when Allan was 19 and when Diane turned 18, she married him.
The two were married for around 19 years and had two children together, after which they separated and divorced to pursue their own interests. Allan continued to support Diane in the photography department and emotionally, until her death. Diane grew up with siblings, including a brother, Howard Nemerov, who later became a Pulitzer Prize winner and U.S. poet laureate. Diane's sister Renée Sparkia also immersed herself in art and became a designer and sculptor while their father, David Nemerov, became a painter after his retirement.
Artistic Education and Early Career
Diane Arbus was encouraged by her father to pursue painting since he displayed a talent for literature and art quite early in her childhood. Arbus studied art in high school and later renounced her ambitions to go to college and pursue art since she desperately wanted to marry Allen first. Arbus later recounted that she despised painting because she was always praised for her work and it was the attention that drove her to conclude that it was not worth pursuing.
The newlyweds visited Alfred Stieglitz's gallery in 1941 where Diane was exposed to the works of Paul Strand, Eugène Atget, and Mathew Brady, which inspired the two to later start their own commercial photography studio. In World War II, Allan took up a role as a military photographer while Diane was pregnant with her daughter, Doon. The Arbus studio contributed to campaigns for fashion magazines like Harper's Bazaar and Vogue and even converted their apartment bathroom in Manhattan into a dark room. For the next 10 years, the couple ran their commercial venture with Allan behind the camera and Diane behind the brainstorming, props, and conceptualization.
In 1954, Diane gave birth to her second daughter Amy and by the 1950s, she was entirely burnt out by her commercial career.
The couple was exhausted from the demands, stresses, and limitations of producing imagery strictly for fashion, which took a toll on their marriage. Diane wished to pursue her career as an artist while Allan yearned for a career in acting. During this period, Diane suffered from multiple depressive episodes, and in 1956, Diane quit her job in commercial photography while Allan continued to run under their studio Diane & Allan Arbus and pursue his career in theater. It was then that Arbus took to the streets of New York City with her camera to photograph all that she witnessed. Her photographs were later exhibited at the Museum of Modern Art in 1967.
Notable Events and Publications
In 1959, Arbus received her first magazine assignment for Esquire magazine, which included portraits of a sideshow performer known as Jungle Creep, an unknown corpse, a socialite, and a Skid Row eccentric, which encompassed a photo essay on New York City. Between the 1950s and 1960s, Arbus used a 35-millimeter camera and relied on natural lighting to shoot her black-and-white street images. Influenced by popular street photographers of her time, Arbus was also drawn to visual effects such as grainy textures and blurred media that disrupted the mainstream visual aesthetics of photography. Arbus' photography grew in popularity among magazine editors, especially after her first photo essay was published. Since then, Arbus went on to publish over 250 images in over a dozen different magazines. She also photographed recreationally and collected many published photos that were assigned but not selected.
Arbus also worked on many private commissions for celebrities and families across Manhattan and shot some of her best pieces in 1970. It was around this period that Arbus was gaining significant recognition from the fine art sector for her journalistic work, which showcased her style as more of an artist than just a magazine photographer. At her first MoMa exhibition in 1967, Arbus' work attracted more attention than works by Garry Winogrand and Lee Friedlander and was remarked on by New York magazine as "daring and revealing" as well as demonstrating a "crystal-clear generous vision of a poet" (Newsweek). Many publications on Arbus and her work were created posthumously, with the first in 1972 called Aperture and later in 2003 with the release of Diane Arbus Revelations.
Style and Influences
Diane Arbus' photography style was known to be daring, risky, and profound. Her work showcased the inner-city life of New York City's edgy personalities while exploring themes of social status, identity, sexual freedom, and money. Her photographs displayed an element of thrill-seeking, which was once described by Arbus as an act she considered "naughty". Arbus found her practice "perverse" due to the models and personalities she would capture. Arbus expanded her practice by photographing scenes from dance halls, wax museums, and flophouses, which she was motivated by and sought to go to places where she had never been.
A key influence on Arbus's style was the photographer August Sander, whose work in portraiture and identity captured the social structures of Weimar Germany.
Arbus studied his visual language and approach to composition, which informed her conceptions of identity as a social fact and the impact of self-presentation. Her photography took on an ambiguous nature and was sensitized toward the space between intention and effect. Arbus' photography was visually communicative and left viewers pondering over the notion of perception and how people try to communicate through their visual identities.
Arbus studied under Lisette Model in 1958 after quitting a workshop led by Alexey Brodovitch. Model went on to become Arbus' closest friends and mentor who assisted Arbus with the development of her subject matter and understanding of "the forbidden", which Arbus frequently explored in her work. Arbus was also led by Marvin Israel in 1959, who became a great inspiration to her practice. Israel pushed Arbus to develop her ideas and provided advice to her on the most impactful images that helped define her career. Israel also promoted Arbus' photography through Harper's Bazaar in the 1960s.
Fear as Praxis
Arbus often stated that she possessed a fear that was inherent in her photographic career as an artist and the attention that it drew in both the aftermath of having her work published and praised as well as in her process. She described photography as an adventure, which was driven by fear, and was later noted on by her biographer Patricia Bosworth who stated that her fear was what made her feel and shattered her depression. Photography helped Arbus conquer her fears one by one and develop the courage that she had not learned in her childhood. Led by both fear and curiosity, Arbus found herself in the company of the people whom she photographed at Hubert's Freak Museum, gay nightclubs, and Coney Island.
She viewed her practice as a Contemporary form of anthropology, which was certainly years ahead in thinking for her artistic practice at the time.
This shift in thinking and gradual attraction to that which she feared drove her practice and Arbus grew more skilled in her relationship-building techniques. Arbus used her curiosity to learn from her models, who would describe her as equally fascinating, with the ability to hypnotize people into comfort. Arbus' interests in philosophy, mythology, and religion also fueled her relationships and connections with people from all corners of the city, who expressed viewpoints that were far different from her inner world. In 1962, Arbus moved away from grainy textures and became obsessed with seeking clarity in her images through brilliant detail.
Death and Legacy
Diane Arbus suffered from intense depression, which she, unfortunately, succumbed to on 26 July 1971 when she committed suicide. Arbus was found in her apartment by Marvin Israel with the words "last Supper" written in her journal for that date. In the same year, she was selected to represent the United States at the Venice Biennale in 1972 as the first American photographer to be honored at the Biennale.
One year after her death, Arbus's work was included in a major retrospective at the Museum of Modern Art, which went on tour throughout the United States and Canada until 1975. Her inaugural show in New York City attracted crowds of people who admired the formal elements of her work and display of humanity. Her images also received mixed reviews from some who thought her work to be anti-humanist, as noted in Susan Sontag's criticism of her subjects, which she thought were "repulsive".
The Metropolitan Museum of Art acquired Diane Arbus' collection from the Estate of Diane Arbus in 2007, which included unique contact sheets, negatives, personal documents, and more than 7,500 rolls of film. A European retrospective of Arbus' photography was exhibited at the Jeu de Paume in Paris in 2011 and 2016, the Met Breuer held a landmark show of her work, which featured never-before-seen photographs from her early career.
The Smithsonian American Art Museum also organized a show in 2018 called Diane Arbus: A Box of ten photographs, which showcased the foundational aspects of Arbus' posthumous legacy. Today, Diane Arbus' photos are stored in many collections across America, Canada, and Europe, including the Moderna Museet, the Centre Pompidou, the Tate Gallery, and the Whitney Museum of American Art. In 2006, Diane Arbus was also the inspiration for the film Fur, which cast Nicole Kidman as Diane Arbus.
A Closer Look at Diane Arbus' Photos
Today, Arbus' legacy and photography remain crucial assets to the understanding of the role of the photographer and the nature of artists' relationships with their audience and models. Arbus' work stimulates one's interest in the ethics of vision, which is a critical point for any photographer to grasp.
Below, we will look at a few examples of Diane Arbus' photos that showcase her approach to photography.
Screaming Woman with Blood on Her Hands (1961)
| | |
| --- | --- |
| Date | 1961 |
| Medium | Gelatin silver print |
| Dimensions (cm) | 18 x 26.6 |
| Where It Is Housed | Metropolitan Museum of Art, New York City, United States |
Screaming Woman with Blood on Her Hands is a famous photo shot by Arbus in 1961 and was part of her series focusing on movie houses around Times Square. Arbus was captivated by the forms of entertainment in the city and most importantly, the faces and personalities behind entertainment. Arbus introduced elements of the grotesque and fantastical in her work, which she studied through the lens of unconventional personalities in society, including nudist groups and sideshow performers.
Diane Arbus was inspired by film and cinema and admired the forms of visual storytelling that can be seen in her dramatic works. Arbus referenced cinematic techniques frequently and used methods like staging to add a sense of theatricality to her portraits. Arbus enjoyed productions by European filmmakers Federico Fellini and Ingmar Bergman, who evoked the complexities of human emotion through unconventional characters.
Arbus mirrored the aesthetics of cinema in her sense of narrative and depth, which elevated her photos from documentation to emotionally deep photos.
Headless Woman, Palisades Park, N.J. (1961)
| | |
| --- | --- |
| Date | 1961 |
| Medium | Gelatin silver print |
| Dimensions (cm) | 21.9 × 15.3 |
| Where It Is Housed | Metropolitan Museum of Art, New York City, United States |
Headless Woman, Palisades Park, N.J. is part of a series called Horror Show, which Arbus described to her friend Walker Evans. The image of the headless dummy was a symbol of ambiguous mysteries made evident by the camera. Here, Arbus suggested that the camera was more a tool used to construct illusions rather than diving into the truth.
Albino Sword Swallower at a Carnival (1970)
| | |
| --- | --- |
| Date | 1970 |
| Medium | Gelatin silver print |
| Dimensions (cm) | 37.5 x 36.5 |
| Where It Is Housed | Feldschuh Gallery, New York City, United States |
This image of an Albino sword swallower was captured a year before Arbus died in 1971 and is an example of her preference for capturing circus performers and their unique personalities. Throughout her career, Arbus was drawn to individuals in society who were labeled as "freaks" in the eyes of society. Circus performers such as sword swallowers and contortionists were often treated with prejudice and discrimination.
As such, many built their lives around their identities as outcasts of society.
Book Recommendations
Diane Arbus' photography career was short yet profound in its impact and influence on the representation of New York City and its diverse cultures. Arbus' approach to photography was inspired by her ongoing willingness to discover new locations, different people, and interesting events that demonstrated a full picture of society, in both its gritty and romantic scenes.
Below are the top three book recommendations for learning more about the life, work, and process behind Arbus's career.
Diane Arbus: An Aperture Monograph: Fortieth-Anniversary Edition (2011) by Doon Arbus, Marvin Israel, and Diane Arbus
This famous five-star monograph details the complete breadth of Diane Arbus' achievements as a serious photographer of the 20th century. The publication was designed and edited by her mentor Marvin Israel and her daughter Doon Arbus. This photobook classic is a must-have for admirers of Arbus' work and legacy.
A famous monograph scanning the career of Diane Arbus
Take a deeper look at her work and personal life
Curated by her mentor and daughter with incredible insight
View on Amazon
Diane Arbus Revelations (2022) by Diane Arbus, Doon Arbus, Et al.
Revelations contain around 200 reproductions of Diane Arbus's photos, which reveal Arbus' creative vision and include a series of critical essays by prominent figures like Sarah Meister, Elisabeth Sussman, and Arbus' eldest daughter, Doon Arbus.
One can also expect to see accounts from Arbus' letters and notebook entries, which shed light on the artist's unique and controversial history.
Contains 200 reproductions of famous Diane Arbus photos
Explore Arbus' creative vision through critical essays
Includes more personal letters and notebook entries
View on Amazon
Diane Arbus Documents (2022) by Diane Arbus, Max Rosenberg, Lucas Zwirner, Et al.
This highly-rated publication is perfect for those seeking insight into the truth behind the work and life of Diane Arbus. The book features a carefully curated assemblage of articles and essays that details the reception of her work in the art world and illuminates her photographic discourse.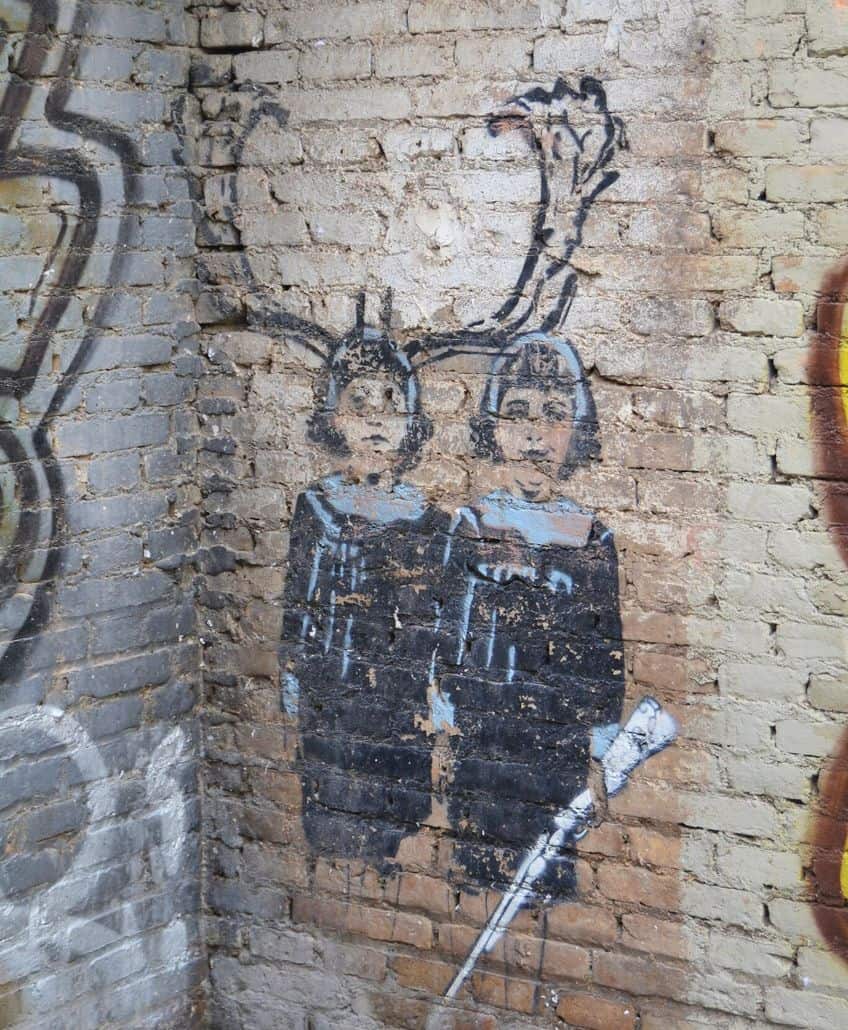 Graffiti of the twins by Diane Arbus in Carme, Valencia (2014); Joanbanjo, CC BY-SA 4.0, via Wikimedia Commons
A collection of articles, essays, and photographs
An unrivaled critical discussion of Diane Arbus' work
Offers insight into the life and career of the photographer
View on Amazon
The fascinating life and psychology of Diane Arbus' photos offer valuable lessons that many artists can benefit from. Arbus' ability to develop meaningful relationships with her sitters and explore identities that often evade polished magazine covers is admirable in her career as a photographer and photojournalist. Arbus' legacy continues to motivate many 21st-century photographers to keep pursuing their passions, and to never give in to fear when creating impactful works of art.
Frequently Asked Questions
Who Was Diane Arbus?
Renowned American photographer, Diane Arbus, was among the most influential portrait photographers of the 1960s, whose work was considered both controversial and unique. Arbus' photography captured the identities and personalities of many marginalized individuals in 1960s American society, including circus performers, transgender communities, eccentric individuals, nudists, and people who were ostracized in some form.
How Did Diane Arbus Die?
On 26 July 1971, Diane Arbus passed away by suicide at the age of 48.
What Was Diane Arbus' Photography Style?
Diane Arbus' approach to photography was largely shaped by her preference for intimate and unconventional portraiture, which explored themes of identity, vulnerability, beauty, empathy, and societal norms. Her style was raw and unapologetic, which referenced the true nature of humanity that many people in the mid-20th century did not witness. Arbus developed her style throughout her career, moving from grainy and blurred images to detailed photos that emphasized her desire for clarity.
Jordan Anthony is a film photographer, curator, and arts writer based in Cape Town, South Africa. Anthony schooled in Durban and graduated from the University of the Witwatersrand, Johannesburg, with a Bachelor of Art in Fine Arts. During her studies, she explored additional electives in archaeology and psychology, while focusing on themes such as healing, identity, dreams, and intuitive creation in her Contemporary art practice. She has since worked and collaborated with various professionals in the local art industry, including the KZNSA Gallery in Durban (with Strauss & Co.), Turbine Art Fair (via overheard in the gallery), and the Wits Art Museum.
Anthony's interests include subjects and themes related to philosophy, memory, and esotericism. Her personal photography archive traces her exploration of film through abstract manipulations of color, portraiture, candid photography, and urban landscapes. Her favorite art movements include Surrealism and Fluxus, as well as art produced by ancient civilizations. Anthony's earliest encounters with art began in childhood with a book on Salvador Dalí and imagery from old recipe books, medical books, and religious literature. She also enjoys the allure of found objects, brown noise, and constellations.
Learn more about the Art in Context Team.