The best still-life photographers present lifeless objects in a charming, imaginative, and striking manner. This skill allows the observer to appreciate the beauty and magnificence of the items depicted in contemporary still-life photography. Modern still-life photography is an art form, but it also has extensive applications in the publishing, printing, and web image industries. In this article, we will explore the most famous still-life photographers responsible for creating the most renowned still-life photographs.
Famous Still-Life Photographers
With contemporary still-life photography, an artist may communicate intellect, creativity, and aesthetic sense more powerfully than with any other photographic presentation, making it one of the most inventive kinds of art. Photographers now have the most effective and creative means of expressing their ideas through modern still-life photography. With the development of technology, the modern still-life photography genre evolved to its current form.
Since its inception, still-life photographs have seen several advancements, from the mobile camera obscura to the modern digital camera.
The most significant subgenre of photography that conveys inanimate subject matter—typically everyday things, whether created by nature or by man—lively and profoundly is still-life photography. Contemporary still-life photography has been greatly influenced by Greek, Roman, and Egyptian still-life art.
Ancient Egyptians decorated their temples and tombs with paintings. With those paintings, they wished to demonstrate their sacrifices to their gods.
The ancient Egyptian still-life artworks first gained popularity in the 15th century BC. Food-related paintings, including those of crops, shellfish, and meat, have also been discovered in old graveyards. In the Tomb of Menna, a noteworthy and ancient Egyptian still-life was found entwined with the particulars of their daily lives. However, contemporary still-life photographs and their actual content are currently considerably different from traditional methods. Both the subject content and the technology are up to date. Let's check out some of the best still-life photographers.
Olivia Parker (1941 – Present)
| | |
| --- | --- |
| Nationality | American |
| Date of Birth | 1941 |
| Place of Birth | Boston, Massachusetts |
| Notable Artwork | Core (2018) |
The year 1995 saw the end of Olivia Parker's view camera images due to a skiing mishap. Due to a broken leg that prevented her from using the darkroom for a year, she dabbled with digital software and PCs. Fine photographs and reliable prints developed as software and equipment advanced.
Parker misses producing silver prints, but using a digital camera in new ways has opened her to new possibilities.
"Using digital gives me complete flexibility to play without having to worry about using film or having a proper camera setup. However, view camera work was a far greater tutor for me in the beginning than digital would have been. It forced me to take my time, study the edges of the images, and evaluate the dynamics of what lies between the boundaries."
Paulette Tavormina (1949 – Present)
| | |
| --- | --- |
| Nationality | American |
| Date of Birth | 1949 |
| Place of Birth | Rockville Center, New York |
| Notable Artwork | Natura Morta (2008) |
Tavormina became a commercial photographer after relocating to Santa Fe, New Mexico, where she attended a course in black and white photography and darkroom technique. She now specializes in old Navajo jewelry and Indian ceramics.
She used her background in food design to operate as a prop and food expert for Hollywood movies including the 1999 feature, "The Astronaut's Wife" , where she was responsible for designing complex food sequences.
A photograph of Paulette Tavormina [2013]; Sicilian, CC BY-SA 3.0, via Wikimedia Commons
While visiting Santa Fe, Tavormina was exposed to the masterpieces of Old Master still-life artists Maria Sibylla Merian and Giovanna Garzoni as well as the still-life paintings of Sarah McCarty, a Santa Fe-based still-life painter. She frequently frequents one of the city's several farmers' markets in quest of ideally imperfect floral subjects for her photography, amidst the bustle that characterizes the city.
Her arrangements frequently evoke the lavish richness of Old Master still-life painters from the 17th century and act as very personal interpretations of ageless, universal tales.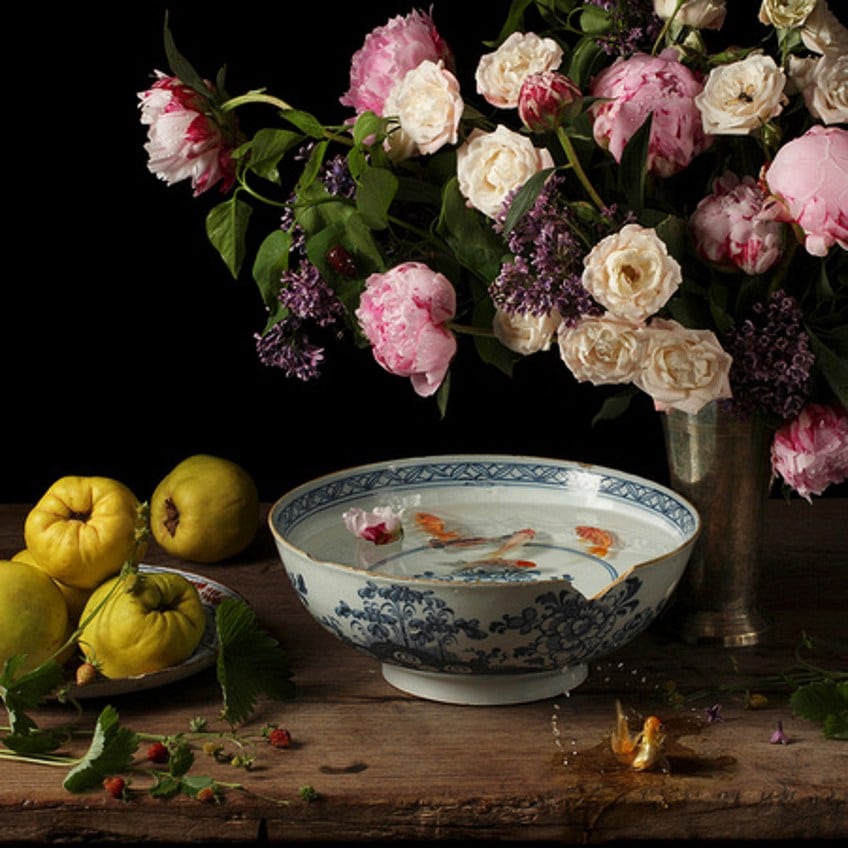 Flowers and Fish III, After J. V. H. (2012) by Paulette Tavormina; Sicilian, CC BY-SA 3.0, via Wikimedia Commons
Jonathan Knowles (c. 1952 – Present)
| | |
| --- | --- |
| Nationality | English |
| Date of Birth | c. 1952 – Present |
| Notable Artwork | Turbulence – Liquid (2014) |
| Place of Birth | Yorkshire |
Jonathan Knowles is known for his unique brand of liquid photography. Knowles is a science enthusiast with a very technical approach to image creation. His passion is creating visual communication that seems natural, whether it is macro liquid photography at one extreme or locale lifestyle at the other.
He believes that the beauty of a good picture comes from catching perfect moments on camera rather than relying on extensive post-production processes.
This attitude, along with the fact that he loves advertising, has resonated with the advertising industry. Whether they are working with customers or on personal projects, his attitude is radically different. With clients these days, there are so many stakeholders that everything must be meticulously prepared and agreed upon before the shoot.
He draws inspiration from art, graphic design, music covers, and periodicals, in addition to photography. He also has a large collection of photographic books, which he revisits from time to time at the studio.
Laura Letinsky (1962 – Present)
| | |
| --- | --- |
| Nationality | American |
| Date of Birth | 1962 |
| Place of Birth | Winnipeg, Canada |
| Notable Artwork | Untitled #43 (1998) |
Laura Letinsky has focused on the central issue of what precisely qualifies as a photograph throughout her career. Letinsky began his investigation of photography's link with reality by taking pictures of people, but he soon changed his approach to concentrate almost entirely on objects in the style of still life.
As she experiments with concepts of perception and the transformational powers of the picture, her meticulously constructed compositions frequently center on the leftovers of a dinner or party.
Letinsky utilized tableware, leftover food, and other items like vases or fruit bowls for one of her earlier series of photographs. Letinsky eventually turns this garbage into a subject deserving of study by seeing the images in this series as observations of neglected or forgotten features and leftovers of daily living.
Mat Collishaw (1966 – Present)
| | |
| --- | --- |
| Nationality | English |
| Date of Birth | 1966 |
| Notable Artwork | Dangerous Curves (2018) |
| Place of Birth | Nottingham, UK |
Photography and video are used in Collishaw's artwork. The photograph Bullet Hole (1988), which shows what looks to be a bullet hole wound in a person's scalp, is his best-known piece. Collishaw obtained the original illustration from a pathology textbook, which really depicted an ice-pick wound. In the last thirty years, he has participated in several solo and group exhibits. He attended Goldsmiths College.
His art is frequently upsetting, and it often takes a second glance to fully comprehend what is happening in his pictures.
For the same reason that Collishaw is a good religious artist and a good artist-artist, he is also a fine political artist. He does so because he respects the power of pictures. The abstract escape and the minimalist half-smile are not for him. He wants to strike your mind in the gut. He validates the art of feeling by demonstrating how its intensity may have depth.
Marcel Christ (1969 – Present)
| | |
| --- | --- |
| Nationality | Dutch |
| Date of Birth | 1969 |
| Notable Artwork | Fading Flowers (2020) |
| Place of Birth | Amsterdam |
Since Marcel Christ approaches still-life photography in such a distinctive way, his work is among the most identifiable in the field. Christ, who has researched both chemical engineering and photography, combines these two passions to produce his incredibly dynamic artwork. And it is precisely because of this background that he is an especially dynamic and creative photographer and cinematographer who enjoys pushing the limits of the effects and methods he employs. His artwork is the result of his fascination with the surprise and unpredictable nature of the substances he uses, yet in a strict studio atmosphere.
"Controlling coincidence," he refers to it as. He accomplishes this by using it to give life to inanimate objects and commemorate little periods of time. Nothing in his art is "still."
Krista van der Niet (1978 – Present)
| | |
| --- | --- |
| Nationality | Dutch |
| Date of Birth | 1978 |
| Notable Artwork | Butterflies (2013) |
| Place of Birth | Bathmen, Netherlands |
Dutch-born photographer and academic Krista van der Niet works in both fields. Her photography mostly concentrates on still life, an age-old subject that she intriguingly enriches with humor and modernity. Even in her busiest works, she manages to attain an almost mathematical sense of equilibrium, which makes her work crisp and aesthetically beautiful.
She fascinatingly blends commonplace items and raises them to the level of art, frequently in order to attack media clichés—and occasionally just to make us laugh.
Naturally, van der Niet enjoys creating beautiful images—she can't prevent herself from making everything look perfectly organized and beautiful. But it also becomes a little monotonous when it's just about aesthetics. She desired an unsettling undercurrent. She also appreciates comedy in pictures that makes you want to smile.
Jeroen Luijt (1978 – Present)
| | |
| --- | --- |
| Nationality | Dutch |
| Date of Birth | 1978 |
| Notable Artwork | Pronkstillife With Pheasant (2020) |
| Place of Birth | Amsterdam |
Jeroen consistently uses the abstract minimalist still life and the traditional still life in his artwork. His wide-ranging interest in painting, particularly the Old Dutch Masters, serves as an influence on his work. Additionally, it concerns both the substance and the aesthetic. The piece must have a specific connotation.
It takes a long time to create a still life, even an abstract piece.
Making the shot may be a labor-intensive task in addition to the idea and all the preparation. The level of post-processing of the photographs follows. As a result, taking a picture occasionally requires more than a week. Jeroen made the proper decision to pursue photography, as evidenced by the numerous awards his work has received.
Henry Hargreaves (1979 – Present)
| | |
| --- | --- |
| Nationality | New Zealander |
| Date of Birth | 1979 |
| Notable Artwork | Chinese Still Life (date unknown) |
| Place of Birth | New Zealand |
Hargreaves was raised in Christchurch, New Zealand, where he attended preschool through university. He never took photography classes, but it was always a pastime of his. He really went out and brought a camera and started playing to see if he could get this thing to shoot good images when he first started working in fashion in the early 2000s. He wanted to be the one pulling the strings behind the camera.
Despite shooting a wide range of subjects, he has learned many lighting methods and tactics, as well as an appreciation for the importance of balance in a composition.
He produces images that speak to him. Ideas can come from everywhere, but he typically believes he should try to build anything if it makes him laugh or continues popping into his head without being written down. The only obstacle when he makes a decision to act is his own drive.
Evelyn Bencicova (1992 – Present)
| | |
| --- | --- |
| Nationality | Slovakian |
| Date of Birth | 1992 |
| Notable Artwork | Artificial Tears (2018) |
| Place of Birth | Bratislava |
Evelyn Bencicova's effort never quite amounts to what it seems. Her images show well-planned arrangements with artistic sterility and poetic overtones of enduring need and longing. In her "fictions based on fact," Bencicova creates captivating narrative settings that straddle memory, fantasy, and reality.
She manipulates the viewer's vision to draw them into the hidden maze of her mind by using multidimensional symbolic representations as illusions.
Her photographs allow for a comprehensive investigation of the ideas that go much beyond what they initially show because of their unsettlingly gorgeous symbolic imagery and washed-out color palette, which are set inside weirdly symbolic situations. In order to create a distinctive aesthetic space where the conceptual and the visual come together, Bencicova's approach blends academic studies with an interest in modern culture.
That concludes our exploration of famous still-life photographers. The possibility to explore arrangement and lighting, possibly far more than the subject of a still life itself, is one of the most fascinating and difficult features of still-life photographs and the explanation why many of the best still-life photographers are drawn to it. With the subject matter being nearly unlimited, contemporary still-life photography allows the photographer to fully express their creativity.
Frequently Asked Questions
What Influenced Still-Life Photography?
The paintings made by the Dutch and Flemish Old Masters of the 17th century contain them frequently and prominently, and we can still see them in the works of still life photographers today. As one of the oldest instances of the genre in European painting, the Golden Age of Dutch and Flemish culture provided and continues to provide a plethora of Vanitas still-lifes, serving as an endless source of inspiration for modern artistic practices and still-life painters of all genres. Each of these pieces of art serves as a reminder to the audience of the fleeting nature of human existence, as well as the meaninglessness of all material possessions and accomplishments.
What Techniques Are Involved in Still-Life Photography?
This type of still life offers a huge area of technical exploration because photography is a medium that primarily depends on light. In the style of the Old Masters, still-life photographers produce the ideal contrast between deep shadows and piercing light that illuminates just particular things. Even though many of them are committed to the creative philosophy behind such a composition as well, their inventiveness is arguably best displayed in the fields of advertising and culinary photography. Given the significance of the Vanitas heritage in these nations and the fact that many of the best still-life photographers are from Belgium and the Netherlands, it should come as no surprise that the concept has also influenced numerous camera artists all over the world.
Jordan Anthony is a film photographer, curator, and arts writer based in Cape Town, South Africa. Anthony schooled in Durban and graduated from the University of the Witwatersrand, Johannesburg, with a Bachelor of Art in Fine Arts. During her studies, she explored additional electives in archaeology and psychology, while focusing on themes such as healing, identity, dreams, and intuitive creation in her Contemporary art practice. She has since worked and collaborated with various professionals in the local art industry, including the KZNSA Gallery in Durban (with Strauss & Co.), Turbine Art Fair (via overheard in the gallery), and the Wits Art Museum.
Anthony's interests include subjects and themes related to philosophy, memory, and esotericism. Her personal photography archive traces her exploration of film through abstract manipulations of color, portraiture, candid photography, and urban landscapes. Her favorite art movements include Surrealism and Fluxus, as well as art produced by ancient civilizations. Anthony's earliest encounters with art began in childhood with a book on Salvador Dalí and imagery from old recipe books, medical books, and religious literature. She also enjoys the allure of found objects, brown noise, and constellations.
Learn more about the Art in Context Team.