Famous German Photographers – Top 10 Well-Known Artists
Many famous German photographers arose during a period of considerable turmoil in the country's history. Therefore, many photos from that era feature imagery that documents this period. However, not every photographer from Germany focused on the war and its repercussions. In the article below, we will introduce you to several of the most famous German photographers and find out what made them so popular.
Introducing the Most Famous German Photographers
Among the most renowned photography schools from Germany was known as the Düsseldorf School, characterized by its impersonal vision, technical perfection, and large print format. The school was run by Hilla and Bernd Becher, regarded as 20th-century masters and many of their students grew to become famous German photographers.
To find out more about these influential figures in German photography, read more below!
Heinrich Zille (1858 – 1929)
| | |
| --- | --- |
| Artist Name | Heinrich Zille |
| Date of Birth | 10 January 1858 |
| Date of Death | 9 August 1929 |
| Place of Birth | Radeburg, Kingdom of Saxony |
Heinrich Zille was a highly-renowned illustrator and photographer from Germany who was most known for his funny and satirical sketches of working-class citizens of Berlin. Originally from Radeburg, his family moved to Berlin in 1858, after which he started to work as a lithographer's apprentice. Max Liebermann, the famous German Impressionist artist, encouraged Zille to focus on his drawings, many of which had already been published in a weekly satirical publication called Simplicissimus.
Beach life in Berlin (1901), by Zille; Heinrich Zille, Public domain, via Wikimedia Commons
It was towards the end of his life, during the Weimar Republic's golden age in the 1920s, that he reached the pinnacle of his career. It was only after his passing that it emerged that he was also an avid photographer. Many of the motifs present in his photography forecast what would later become known as street photography. His photography of everyday life appeared vibrant and lively.
Erich Salomon (1886 – 1944)
| | |
| --- | --- |
| Artist Name | Erich Salomon |
| Date of Birth | 28 April 1886 |
| Date of Death | 7 July 1944 |
| Place of Birth | Berlin, Germany |
Erich Salomon was a famous Jewish news photographer renowned for his images of the legal and diplomatic professions and the unique techniques he employed to obtain them. Salomon was born to a wealthy family in Berlin and his father was a banker. Up until World War I, he studied zoology, engineering, and law. He worked at the Ullstein publishing company's promotion department after the war, designing their billboard advertisements for them.
Erich Salomon (right) and his son Otto Salomon (Peter Hunter) (left), London 1935; Erich Salomon (camera cable release, see his left hand), Public domain, via Wikimedia Commons
He was already 41 years of age when he picked up a camera for the first time for the purpose of documenting legal disputes. In order not to be seen, he would hide his camera in his bowler hat, and place the lens close to a hole he had cut in the hat. He used this method to take photos of a police officer's murderer on trial in a criminal court in Berlin. It was his work with the illustrated publication Berliner Illustrirte Zeitung, that his popularity began to soar with the Europeans.
Heinz Hajek-Halke (1898 – 1983)
| | |
| --- | --- |
| Artist Name | Heinz Hajek-Halke |
| Date of Birth | 1 December 1898 |
| Date of Death | 11 May 1983 |
| Place of Birth | Berlin, Germany |
Hajek-Halke originally came from Berlin, spent 12 years in Argentina in his youth, then moved back to Berlin in 1915 to study graphics. During World War I, he served as a soldier, after which he returned to his artistic studies. He served as a soldier during World War I before subsequently returning to his artistic studies. His fields of expertise included illustrations, engravings, photo editing, and film posters, before he pursued photography full-time in 1924.
At this point, his focus was on experimental photography, playing around with novel techniques such as photo collages, light montages, and double exposures. He also played around with using multiple negatives to produce a single print. He decided to live a quiet and secluded life after refusing to make fake documentaries for the Nazis, so he moved to Lake Constance. He worked as a photographer for an aircraft company called Dornier during World War II.
In 1955, he was appointed as the Berlin Academy of Fine Arts' lecturer in graphic design and photography.
Anton Stankowski (1906 – 1998)
| | |
| --- | --- |
| Artist Name | Anton Stanowski |
| Date of Birth | 18 June 1906 |
| Date of Death | 11 December 1998 |
| Place of Birth | Gelsenkirchen, Germany |
Anton Stankowski was a famous graphic designer, painter, and photographer from Germany. Stankowski saw no distinction between applied and free art. There are many examples of his photographic and artistic works being incorporated into his utilitarian graphic design. Stankowski designs typically attempted to represent processes or actions rather than actual objects.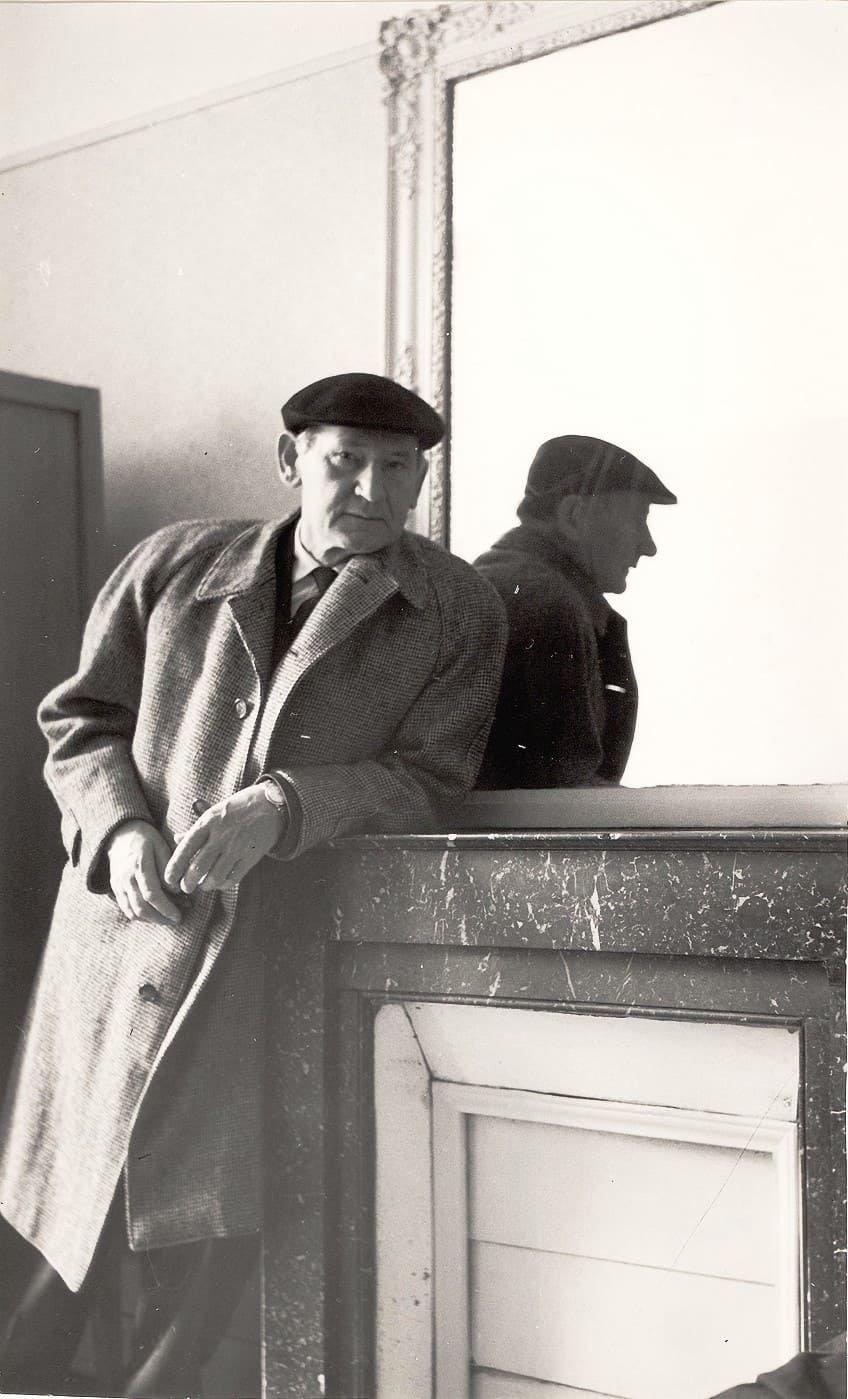 Anton Stankowski in Paris, 1958; Anton Stankowski, CC BY 3.0, via Wikimedia Commons
He also rose to prominence in Swiss Constructivist advertisement design as a result of his precisely composed montages of typography and photography. His focus is not on aesthetic formality in and of itself, but in determining the best way to express himself through the medium of photography. He represents the unification of several kinds of previously incompatible photographic applications. His work focuses on photograms, documentary photography, odd perspectives, montages, and experimenting with optical phenomena.
He has also produced a number of corporate designs that are still in use today.
Helmut Newton (1920 – 2004)
| | |
| --- | --- |
| Artist Name | Helmut Newton |
| Date of Birth | 31 October 1920 |
| Date of Death | 23 January 2004 |
| Place of Birth | Berlin, Germany |
Helmut Newton was born on the 31st of October, 1920. He already showed a keen interest in photography when he was 12 years of age after he bought his first camera, and he began working for the German photographer Yva at the age of 16. The family was forced to flee Germany due to the increasingly harsh restrictions imposed on Jews by the Nuremberg laws. He discovered that he could find work in Singapore after arriving there, initially as a photographer for a newspaper and subsequently as a portrait photographer. He was then interned by British authorities and sent to Australia.
Portrait of Laurel Martyn, 1952 by Helmut Newton; Helmut Newton, Public domain, via Wikimedia Commons
There, he worked as a fruit picker and truck driver until opening a studio in 1946. During the prosperous postwar years, he focused on fashion, theatrical, and industrial photography. His burgeoning reputation as a notable fashion photographer received recognition in 1956 when he was hired to capture fashion for a special Australian section in Vogue magazine. He went to work for the magazine in London for a while and then moved to Paris. There, he developed a distinct style characterized by stylized erotic scenes sometimes with fetishistic and sado-masochistic undertones.
Clemens Kalischer (1921 – 2018)
| | |
| --- | --- |
| Artist Name | Clemens Kalischer |
| Date of Birth | 30 March 1921 |
| Date of Death | 9 June 2018 |
| Place of Birth | Lindau, Germany |
Clemens Kalischer worked as an art photographer and photojournalist for almost 70 years. As the Nazi Party rose to power he and his family escaped to France through Switzerland, and then later to America via Morocco. In 1939, he was imprisoned in France and endured three years of hard labor in eight different detention camps. He was subsequently reunited with his father in the last camp, and they fled to the United States. In New York, he was taken on as a copy boy.
Clemens Kalischer; Ckalischer (talk) (Uploads), CC BY-SA 3.0, via Wikimedia Commons
When the photographer failed to come up for work one day, one of the editors gave Kalischer a camera and instructed him to take photographs of the SS Normandie, a large luxury ocean liner that had been turned into a troopship and consumed in a fire in 1942. He returned with a moody photograph that captivated his editor. The editor's support inspired him to pursue photography as a career and he grew to become one of the most famous German photographers.
Hilla Becher (1934 – 2015)
| | |
| --- | --- |
| Artist Name | Hilla Becher |
| Date of Birth | 2 September 1934 |
| Date of Death | 10 October 2015 |
| Place of Birth | Potsdam, Germany |
Hilla Becher was given her first camera when she was 13 years old. She started taking photos of her high school teachers and would then subsequently print them out in postcard size and sell them. Becher and her mother relocated to West Germany in 1954, where she started to work as a freelance photographer in Hamburg. She met Bernhard Becher in 1957 at the Kunstakademie Düsseldorf, where they were both studying at the time.
Hilla Becher, 2013; Elke Wetzig, CC BY-SA 3.0, via Wikimedia Commons
They collaborated on a project taking photos of the Siegerland region, and then got married two years later. Their work focused on a single subject: the demise of the industrial architecture of North America and Western Europe renowned for fueling the modern era. With precision and passion, they meticulously took photos of winding towers, blast furnaces, cooling towers, grain silos, and gas tanks.
Their objective style was reminiscent of predecessors from the 19th and early 20th centuries, but it also correlated with the serial approach of Conceptual art and Minimalism.
Candida Höfer (1944 – Present)
| | |
| --- | --- |
| Artist Name | Candida Höfer |
| Date of Birth | 4 February 1944 |
| Date of Death | Present |
| Place of Birth | Eberswalde, Province of Brandenburg, Germany |
Höfer began with black-and-white photographs, such as her photo-collage, Flipper (1973), which was made up of 47 different gelatin silver prints. All of the photographs feature various pinball machines in bars and arcades, sometimes depicted with players, other times simply on their own. She started her Turks in Germany series, which documents the lives of migrant Turkish families in their new homes in Germany, in 1973.
It was at this time that her interest in color began to develop as she believed it complemented her subject matter and style better, as well as more accurately presented interior spaces and their influence on the people who occupy them and vice versa. She has since then explored and documented the "psychological residues" left behind in empty institutional or public spaces.
She meticulously plans her photographs, placing herself symmetrically in the room's center or along a diagonal which most effectively displays the internal architecture of the particular space.
Thomas Struth (1954 – Present)
| | |
| --- | --- |
| Artist Name | Thomas Struth |
| Date of Birth | 11 October 1954 |
| Date of Death | Present |
| Place of Birth | Geldern, North Rhine-Westphalia, West Germany |
Thomas Struth originally exhibited a grid of 49 images taken from a centralized viewpoint on Düsseldorf's desolate streets when he took part in a student exhibition at the Academy in 1976, each of which conformed to a rigid central symmetry. These compositions were rather simple and the scenes were not staged in any way. He prefers the uninflected and grayish light of the early morning period and avoids strong contrasts of his shade and light. In 1977, he traveled to England for a couple of months and collaborated with a photographer to capture various kinds of housing found in East London's more urban areas.
These early attempts were mostly black-and-white images of streets. Another element of his work was skyscrapers, and many of his images tried to convey how people interact with their modern surroundings. He introduced an additional component to his photography in the mid-1980s when he began developing family portraits, some in black and white and others in color. He started working on his most well-known cycle, Museum Photographs, in 1989, dedicated to guests to some of the greatest museums and buildings in the world.
Andreas Gursky (1955 – Present)
| | |
| --- | --- |
| Artist Name | Andreas Gursky |
| Date of Birth | 15 January 1955 |
| Date of Death | Present |
| Place of Birth | Leipzig, East Germany |
Andreas Gursky is a photographer from Germany who specializes in large-scale digitally modified photographs. These images, which are similar in scope to early 19th-century landscape paintings, depict both man-made and natural surroundings on a huge scale. He splices together many photographs of the same location, which are often taken from a high vantage point. His urge to create abstractions has grown increasingly radical, and his frenzied repetition of various elements generates a feeling of surreal monumentality.
He believes that instead of presenting a report on reality, the visual arts should explore what lies behind things. Gursky was a student of Hilla and Bernd Becher in the 1980s, and their preference for using a systematic style of documentation as a conceptual framework had a significant influence on his photography. After initially emerging in the 1990s, Gursky went on to establish himself as an influential figure in contemporary German art.
That completes our list of famous German Photographers. As we have learned, every famous photographer in Germany is renowned for their own distinct style and subject matter. Yet, there are still certain unifying characteristics of German photography. German photography has a long history of technical excellence and precision. German photographers are usually renowned for their remarkable attention to detail, razor-sharp focus, and dedication to the profession of photography. Both black-and-white and color photographs from Germany exhibit this level of precision.
Frequently Asked Questions
What Characterizes German Photography?
German photographers have a long history of experimenting with social realism and documentary-style photography. As a result, many German photographers specialize in portraying the political and social aspects of German life. Germany was also at the cutting edge of innovative and avant-garde photography, and the avant-garde mindset continues to influence German photography today.
Who Are Some of the Most Famous German Photographers?
There are many renowned names when it comes to German photography. However, several German photographers have become particularly famous through the years. These include Heinrich Zille, Erich Salomon, Anton Stankowski, Helmut Newton, Hilla Becher, Thomas Struth, Andreas Gursky, Candida Höfer, and Heinz Hajek-Halke, among many others.
Isabella studied at the University of Cape Town in South Africa and graduated with a Bachelor of Arts majoring in English Literature & Language and Psychology. Throughout her undergraduate years, she took Art History as an additional subject and absolutely loved it. Building on from her art history knowledge that began in high school, art has always been a particular area of fascination for her. From learning about artworks previously unknown to her, or sharpening her existing understanding of specific works, the ability to continue learning within this interesting sphere excites her greatly.
Her focal points of interest in art history encompass profiling specific artists and art movements, as it is these areas where she is able to really dig deep into the rich narrative of the art world. Additionally, she particularly enjoys exploring the different artistic styles of the 20th century, as well as the important impact that female artists have had on the development of art history.
Learn more about Isabella Meyer and the Art in Context Team.
Cite this Article