Who was Vivian Maier, and why was this photographer so iconic in the history of 20th-century photography? Vivian Maier is a name synonymous with 1950s street photography and is recognized as a key asset in the documentation of American life in the late 20th century. Maier's role as a street photographer with an elusive personal history and a day job as a caretaker made her one of the most interesting figures in photography, backed up by her stash of over 100,000 negatives. Keep reading to learn more about the rich and fascinating life of Vivian Maier!
From Zero to 100,000: The Life of Vivian Maier
Vivian Maier is recognized as one of the pioneering American photographers of the late-20th century who was born in New York City and later traveled extensively across the United States and Europe. Vivian Maier's photography career was incredibly free-spirited since she traveled extensively and was able to capture the many cultural nuances of cities like Chicago and New York in the 1950s.
| | |
| --- | --- |
| Name | Vivian Dorothy Maier |
| Date of Birth | 1 February 1926 |
| Date of Death | 21 April 2009 |
| Nationality | American |
| Associated Movements, Themes, and Styles | Street photography |
| Medium(s) | Photography and film |
While not much is known about the photographer's personal life, her works were officially recognized after being uncovered at an auction house in 2007 by John Maloof, whose entire life changed after discovering Maier's portfolio of more than 100,000 negative images. Below, we will dive into the life and career of Vivian Maier, which will grant you insight into the artist behind the camera and her unique background.
Portrait of Vivian Maier, photographer (2021) by Aureliamoz; Aureliamoz, CC BY-SA 4.0, via Wikimedia Commons
The Mary Poppins of Photography: A Vivian Maier Biography
The details of Vivian Maier's biography are loaded with twists and turns that provide valuable insight into the artistic visions of the renowned street photographer and her work. Vivian Maier was born in the Bronx, New York in 1926 to a famous Austrian photographer Jeanne Bertrand and a French mother, Marie Maier. While the records of her real father suggest Bertrand as the head of the household, it is also speculated that her father was a man named Charles Maier.
Vivian Maier's photography career was unestablished and very much unpublished since her life was incredibly private and seemed to revolve around her day job as a caregiver, supporting others while supporting herself and later, her mother. Maier had an unstable childhood home lifestyle and moved between the US and France many times before settling in New York again, and then Chicago. By age four, Maier's father was no longer in the picture, leaving the young Maier and her mother to meet ends for themselves. By 25, Maier was employed at a sweatshop and later moved to Chicago to become a caregiver for the next 40 years.
In 1949, Maier's interest in photography was piqued as she picked up a simple Kodak Brownie camera and began photographing her second homeland, France.
In 1952, Maier was able to get her hands on a Rolleiflex camera, which became her go-to camera for the next few years and broadened the capacity for her artistic vision. With a private bathroom available to her with her new job, Maier was able to create a darkroom and process some of her black-and-white images. However, as her career progressed and the children grew up, Maier would move to different families, and along with her moves, her collection of unprocessed works would pile up. According to the children whom she cared for in the North Shore area, Maier was likened to the fictional character Mary Poppins, who did not share much about her personal life and was just as elusive and mysterious as Mary Poppins. Maier was known to wander the streets with the children, photographing the urban world around her.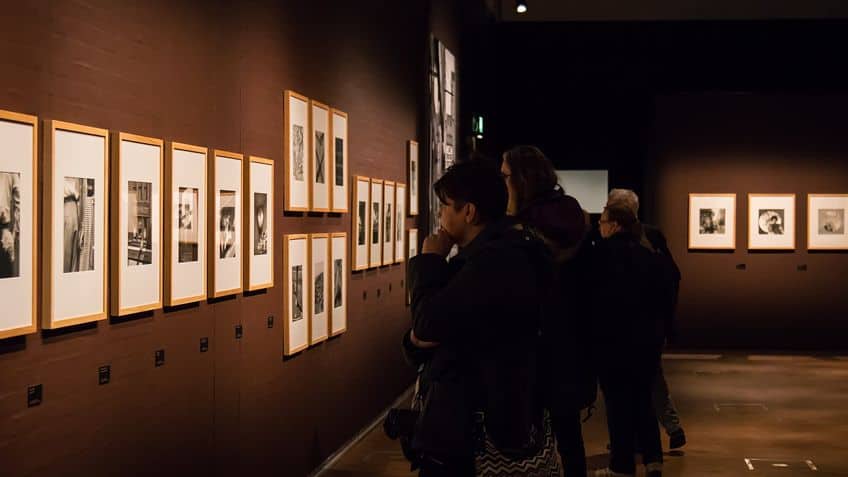 Vivian Maiers photography Exhibition at Dunkers Kulturhus in Helsingborg (2016); Susanne Nilsson from Trelleborg, Sweden, CC BY-SA 2.0, via Wikimedia Commons
Throughout the 1970s, Maier adopted multiple German SLR cameras as well as the Leica IIIc, which she used to shoot on Kodak Ektachrome 35mm film and enabled her to explore color. Over the years, her color film explorations became more abstract, and found her artistic visions focusing less on people and more on graffiti, collage, and found objects, which were in line with the progression toward Contemporary art. The 1980s saw Maier experience financial strains and instability that resulted in many of her works piling up, such that she had to place her collection in storage in the 1990s. Her turn toward homelessness also hindered her ability to photograph and process works that were eventually sold off to cover her rent and were purchased by several individuals, including John Maloof, who was to become a huge supporter and promoter of her work.
In 2008, Maier found herself in an unfortunate accident after she hit her head due to a fall on ice. Thereafter, her health declined, which forced her to find peace in a nursing home.
In April 2009, Maier passed away without having her work debut in the spectacular way that it probably should have been, given her artistic talents and potential for success. Fortunately, toward the end of her life, Maier was supported by the children whom she once cared for like a mother, who collectively arranged for her care. Along with more than 100,000 negatives that were auctioned off, Maier also created prints, films, and audio recordings that provided rich insight into her life and personality as a figure driven to always create.
Legacy and Influence
Upon the initial release of Vivian Maier's photos online, she did not receive significant recognition. It was not until one of the collectors of her work, John Maloof, decided to find and purchase more of her surviving works through auctions and create a book centered on the history of the Portage Park neighborhood. When he encountered her death notice on the internet, Maloof connected his blog to Maier's images that were uploaded on Flickr, and soon Maier's work was connected to a global audience, which went viral. Maloof currently owns approximately 90% of Vivian Maier's photos in his collection known as the Maloof collection, comprising around 150,000 negatives, 3,000 prints, and numerous tape interviews, recordings, paperwork, and film rolls that belonged to Maier and encompasses the majority of her creative output.
In 2013, a documentary film about Maier was released that showcased interviews with the children she took care of, who described her with varied descriptions of her behavior and manner ranging from abusive to inspiring.
Finding Vivian Maier (2013) was organized by Maloof who used the sales from Maier's prints to fund a scholarship for the School of the Art Institute of Chicago aimed at increasing the opportunities for female students in need of financial aid. While all subject to interpretation, Maier was best described through the images she shot, framing herself as a movie critic, socialist, and feminist in 1950s America. Maier's ongoing dedication to photography was evident in her physical existence. By the late 50s, Maier embarked on a solo journey around the world and was later recorded as being employed as a housekeeper for American media icon Phil Donahue.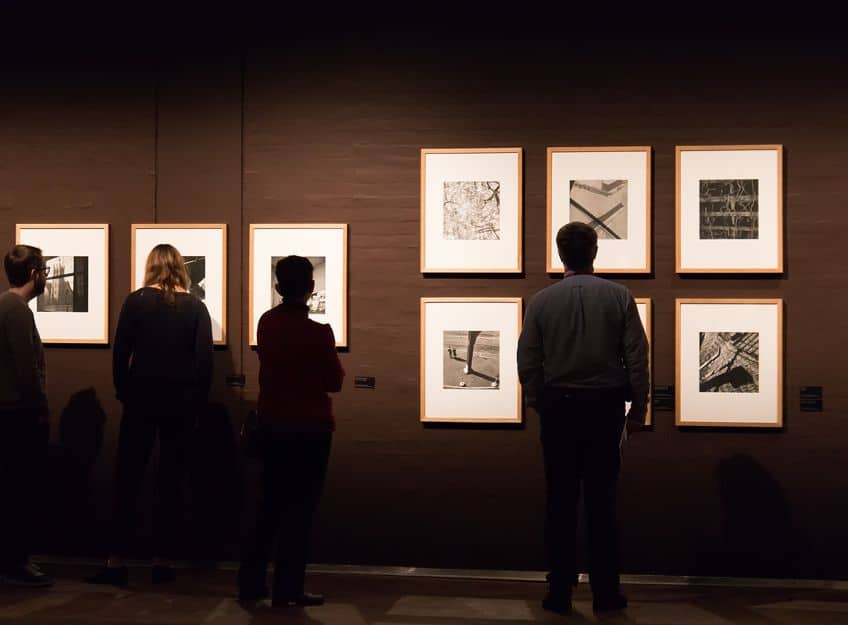 Vivian Maiers photography Exhibition at Dunkers Kulturhus in Helsingborg (2016); Susanne Nilsson from Trelleborg, Sweden, CC BY-SA 2.0, via Wikimedia Commons
According to notes from the Wall Street Journal, Vivian Maier's photos were shot with incredible detail that rivaled many street photographers of the day. Her collection also contained a high volume of self-portraits, indicating an interest in portraiture and exploration of herself as the subject of her career. Her skill was comparable to the legacies of Diane Arbus and Helen Levitt who were successful and prolific figures in street photography. Maier also photographed a variety of subjects and people, including children, members of society that were considered less fortunate, and different environments where she could explore notions of identity and transience.
Reviewing the Most Iconic Vivian Maier Photographs
Vivian Maier's portfolio includes numerous street images and self-portraits that are shot in playful and powerful ways that provide a snapshot of her life as a traveler, photographer, and Modern woman in the late 20th century.
Below are some of Maier's most powerful and iconic photographs from her collection that will catch your attention!
Self-Portrait; October 18, New York (1953)
| | |
| --- | --- |
| Date | 1953 |
| Medium | Film photography |
| Dimensions (cm) | Unavailable |
| Where It Is Housed | Maloof Collection, University of Chicago Library's Special Collections Research Center, Illinois, United States |
Vivian's photographer was Vivian herself. This iconic self-portrait is a power-posed portrait of Vivian Maier herself, shot in black and white film on her Rolleiflex camera on a sidewalk. The image, like many of her self-portraits, illustrates Maier with her gaze averted from the viewer and the camera. It was as though Maier removed herself from the role of the photographer while owning her role through her posture and self-portrait as an expression of her duality, which was further accentuated by the strong high-contrast shadow. Her image was shot with high focus and emphasized the contours of her suit jacket and the symmetry cast by the sunlight and the shadow on her body. She is presented as a modern woman in the street, photographing herself in broad daylight against the backdrop of a building and busy street. Additionally, the artistic intent also reflects that her environment is also her mirror image, made evident by the role of the camera and her confrontation with her reflection.
Couple in Carriage; New York, NY (1953)
| | |
| --- | --- |
| Date | 1953 |
| Medium | Film photography |
| Dimensions (cm) | Unavailable |
| Where It Is Housed | Maloof Collection, University of Chicago Library's Special Collections Research Center, Illinois, United States |
Shot on the streets of New York City, this iconic black and white photograph was taken in 1953 and illustrates a couple seated in a horse-driven carriage sharing an intimate moment of closeness. The clarity surrounding the couple was taken in such great detail and is emphasized against the stark black background of the interior of the carriage roof. Many of Maier's images of street activities were taken candidly yet perfectly at times in her presence at the site, which seems elusive to the subjects in the images. Maier's other street scenes of New York City showcase the diverse backgrounds of the communities and political activities in the city that shaped the environment.
From businessmen and dogs to children, the homeless, and loving couples, Maier photographed what she saw in ways that were otherwise irreplicable.
Fall; New York, NY (1953)
| | |
| --- | --- |
| Date | 1953 |
| Medium | Contact sheet |
| Dimensions (cm) | Unavailable |
| Where It Is Housed | Maloof Collection, University of Chicago Library's Special Collections Research Center, Illinois, United States |
This contact sheet is one of many black-and-white-shot contact sheets that focus on an injured man on crutches who seems to exit the back of a police van and is escorted by police officers into a building and on the street. It was possible that the man was involved in an investigation or was escorted by police to file a report related to his injuries. The photographs set up a narrative that perhaps Maier, who happened to pass by, took the opportunity to shoot.
Many of her other contact sheets group together photographs that tell particular stories around the images and people of the moment that Maier captured and are interesting mini photo-essays that illustrate the life of New Yorkers in the 1950s.
Audrey Hepburn; Chicago Premiere of 'My Fair Lady'; RKO Palace Theater (1964)
| | |
| --- | --- |
| Date | 1964 |
| Medium | Film photography |
| Dimensions (cm) | Unavailable |
| Where It Is Housed | Maloof Collection, University of Chicago Library's Special Collections Research Center, Illinois, United States |
Maier learned most of her English in her early childhood by watching films and theater performances, which were always a source of inspiration for her creative practice and can be seen in her photographic eye and style, which mimics cinematic film noir stills. Here, Maier photographed Audrey Hepburn in a fast-motion black and white still as she walked through the crowd at the premiere of My Fair Lady (1964), which aired at the Chicago RKO Palace Theater. The film went on to win eight Academy Awards and was a hit for its time.
Before the movie, the play aired on Broadway as an adaptation of the George Bernard Shaw play Pygmalion (1913), which was first introduced in 1956, and which Maier probably saw when she moved to the United States.
Book Recommendations
Vivian Maier was undoubtedly one of the most talented undiscovered artists of her time whose calm and experienced role in street photography provided us with a glimpse into the culture and society of late-20th-century America. A widely-traveled photographer, Maier photographed the portraits of many individuals that she met on her travels to Canada and across Asia and South America.
Below, you will find a few top recommendations for books on Maier, her life, photography, and her legacy.
Vivian Maier: Street Photographer (2011) by Vivian Maier, John Maloof, and Geoff Dyer
What makes a good street photographer? Vivian Maier's life and legacy in street photography as an undiscovered and unrecognized talent of the 20th century was the highlight of the mid-2000s, which saw the discovery of her massive collection at auction. This book includes many of Maier's unseen photographs acquired by John Maloof, who champions Maier's work on behalf of the deceased artist. As a collector or avid fan of Maier's street photography style, this book is a must-have!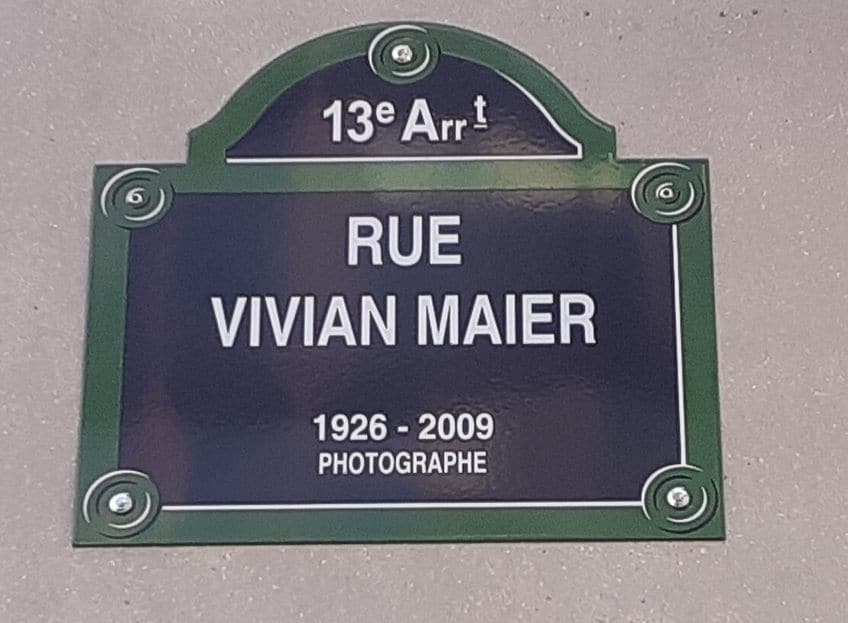 Rue Vivian Maier Paris plaque (2020); Cahtls, CC BY-SA 4.0, via Wikimedia Commons
Explore the life and legacy of Vivian Maier's street photography
Take a look at many unseen photographs by Maier
A must-have for any lover or collector of her work
View on Amazon
Vivian Maier: The Color Work (2018) by Colin Westerbeck
This five-star-rated book contains the most detailed account of Vivian Maier's biography that sheds light on her inner life as a nanny and professional photographer. The book features more than 150 full-color photographs taken by Maier as well as a foreword by global photographer Joel Meyerowitz and unseen images of other street photographers who were acquainted with Maier.
Vivian's photographer friends included figures like Lee Friedlander and Eugene Atget, who also featured in her portfolio.
A detailed and vivid Vivian Maier biography
A collection of more than 150 full-color photographs
Includes a selection of unseen images of other street photographers
View on Amazon
Vivian Maier Developed: The Untold Story of the Photographer Nanny (2021) by Ann Marks
For a more in-depth review of Vivian Maier's biography and unseen works, this book by Ann Marks will have you enthralled with a view of Maier's life as interpreted through the access granted by Ann Marks' vision. Ann Marks uses her knowledge of having reviewed Maier's 140,000 images to provide insight into the detailed aspects of Maier and the personal history of the photographer. From her struggle with parental rejection to a possible mental illness, Marks unpacks the secrecy behind Maier's life and the approach that governed her photography.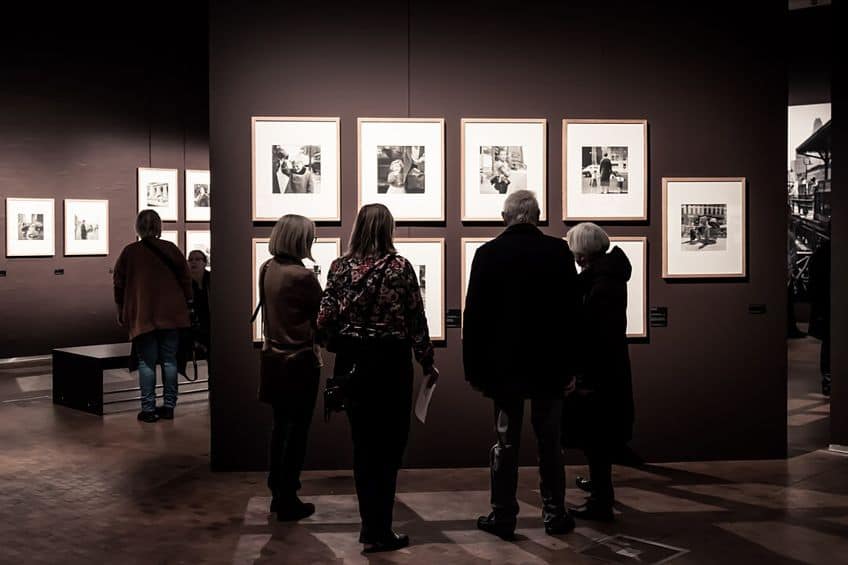 Vivian Maiers photography Exhibition at Dunkers Kulturhus in Helsingborg (2016); Susanne Nilsson from Trelleborg, Sweden, CC BY-SA 2.0, via Wikimedia Commons
An in-depth review of the life and art of Vivian Maier
Includes insightful remarks from Ann Marks
Discover the lesser-known secrets about Vivian Maier's life
View on Amazon
Vivian Maier was, by far, one of the most talented and experienced street photographers of the 20th century, whose legacy is preserved in her massive collection of over 150,000 photographs. Maier's dedication to photography is also unrivaled despite her private life and lack of fame during her lifetime, which was made up for posthumously through the Maloof Collection.
Frequently Asked Questions
Who Was Vivian Maier?
Vivian Maier was an undiscovered American street photographer of the 1950s who was only discovered after her collection of 150,000 negative photographs was found in an auction in 2007.
Why Is Vivian Maier So Famous?
Vivian Maier is considered to be a famous street photographer since her collection of over 100,000 images, including recordings, prints, and paperwork is considered the largest photographic discovery of the 21st century. Maier was nicknamed the Mary Poppins of photography since she also worked as a caregiver, which allowed her to practice over 40 years of photography.
Did Vivian Maier Have Children?
Vivian Maier did not marry or have children of her own, however, she did take on a mother-figure role for the children she looked after as a caretaker.
Jordan Anthony is a film photographer, curator, and arts writer based in Cape Town, South Africa. Anthony schooled in Durban and graduated from the University of the Witwatersrand, Johannesburg, with a Bachelor of Art in Fine Arts. During her studies, she explored additional electives in archaeology and psychology, while focusing on themes such as healing, identity, dreams, and intuitive creation in her Contemporary art practice. She has since worked and collaborated with various professionals in the local art industry, including the KZNSA Gallery in Durban (with Strauss & Co.), Turbine Art Fair (via overheard in the gallery), and the Wits Art Museum.
Anthony's interests include subjects and themes related to philosophy, memory, and esotericism. Her personal photography archive traces her exploration of film through abstract manipulations of color, portraiture, candid photography, and urban landscapes. Her favorite art movements include Surrealism and Fluxus, as well as art produced by ancient civilizations. Anthony's earliest encounters with art began in childhood with a book on Salvador Dalí and imagery from old recipe books, medical books, and religious literature. She also enjoys the allure of found objects, brown noise, and constellations.
Learn more about the Art in Context Team.