Paintings of American life have always exuded a certain pioneering spirit. Whether a symbolic representation of patriotism or an expression of individualism, famous American artworks depict the soul of a nation that has redefined itself continually over the centuries. From themes of alienation to integration, some of the greatest American painters have added to the complex tapestry of American culture.
The 15 Most Famous American Paintings
The great American painters all share one thing in common – their ancestors had all arrived from various other regions and settled in the States. With them, they brought their own traditions and cultures, yet America was also defining its own culture – a unique mixture of influences and styles from around the globe combined with something that was quintessential Americana. Through their historical struggles and hundreds of years of reformations and civil rights movements, the great American painters have been able to capture the zeitgeist of the era, as both individuals and society as a whole.
To gain a better understanding of the country as viewed by the greatest American painters of their time, let us explore the best American paintings that have been produced through the centuries.
Paul Revere (1770) by John Singleton Copley
| | |
| --- | --- |
| Date Created | 1770 |
| Medium | Oil on Canvas |
| Dimensions | 88 cm x 72 cm |
| Currently Housed | Museum of Fine Arts |
John Singleton Copley's only completed portrait of a craftsman clothed in shirtsleeves and depicted at labor is Paul Revere. Revere is depicted half-length, sat behind a beautifully cleaned tabletop, and dressed down. He cradles his head in his dominant hand and looks up at the spectator as though he's just glanced up from the pot in his hand; the teapot is completed but unadorned, and the etching instruments at Revere's elbow witness to the job yet to be done.
Copley's model was an experienced silversmith and artist of the rococo style, in both etching and objects such as pots, when he created Revere's picture.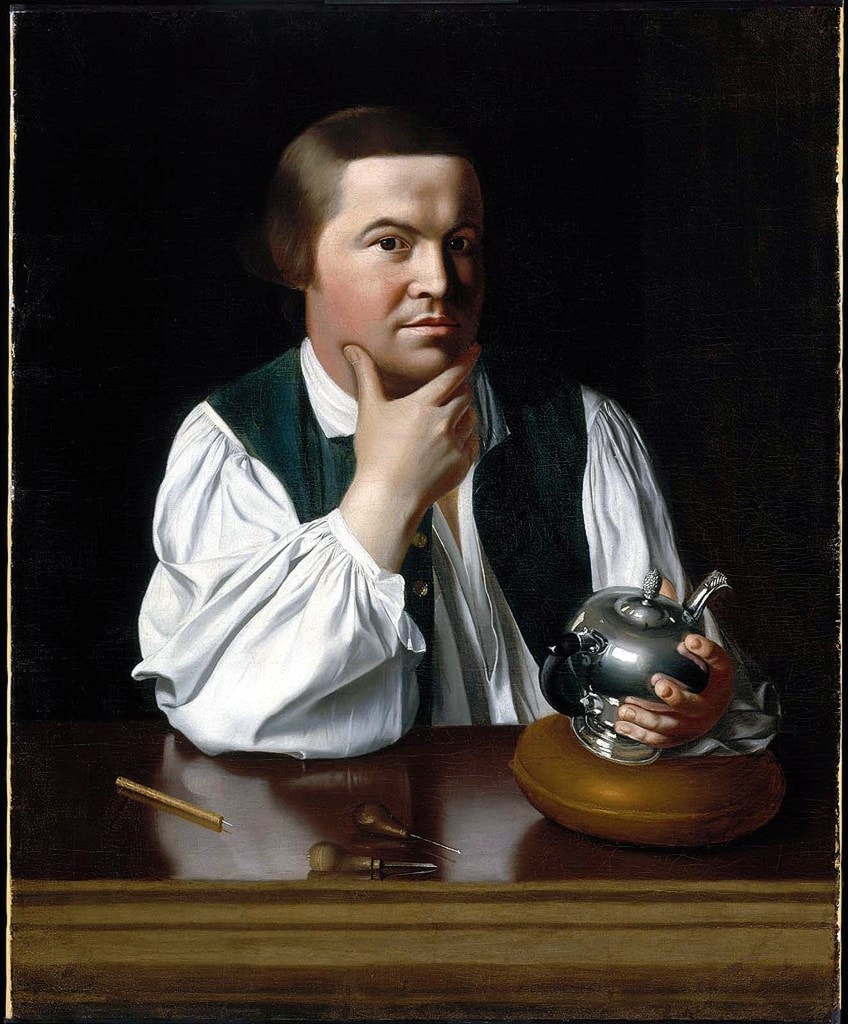 Portrait of Paul Revere (1768) by John Singleton Copley; John Singleton Copley, Public domain, via Wikimedia Commons
His portrait of Revere is unique not just in his career, but also in American colonial art. Copley's typical customers were priests, businessmen, and their spouses, despite the fact that he had painted a few images of artisans. One of his early pictures, Peter Pelham, dated around 1754, showed an artisan with the tools of his profession.
The Veteran in a New Field (1865) by Winslow Homer
| | |
| --- | --- |
| Date Created | 1865 |
| Medium | Oil on Canvas |
| Dimensions | 61 cm x 96 cm |
| Currently Housed | Metro Museum of Art, New York |
Few conflicts have had such a long-lasting impact on American society as the Civil War. This famous American artwork quickly gained popularity for its depiction of post-war existence in a modest, yet beautiful field of wheat. Homer depicts a tired trooper who has shifted his attention away from battle and back to cultivation in 1865, following Lee's defeat at Appomattox.
The nation was still severely fractured at the moment, but it was undeniably prepared to move on from one of its most painful periods.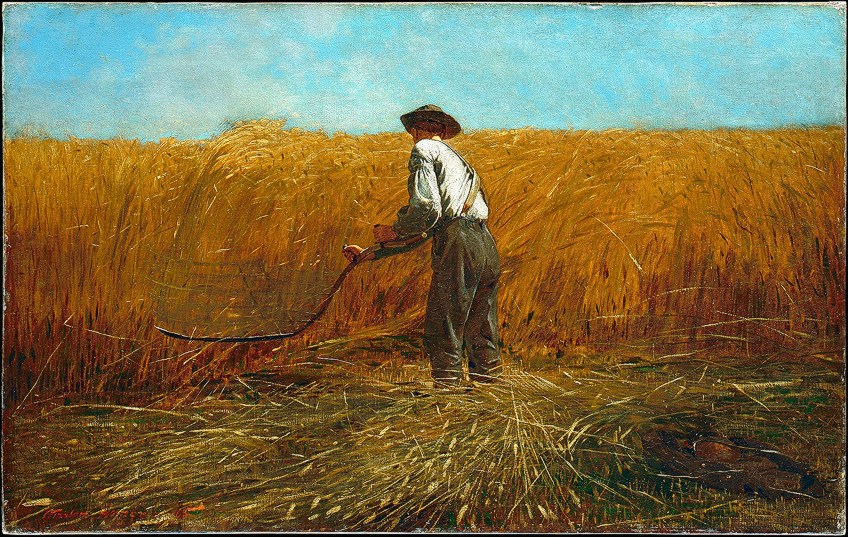 The Veteran in a New Field (1865) by Winslow Homer; Winslow Homer, CC0, via Wikimedia Commons
There are barely any shadows to be observed, the man can be seen laboring in the fields under the midday heat. The worker's jacket, which is laying in the front with his military-issued flask, suggests that the nation has lost its desire to fight. The farmer's use of sickle hints back to a time when the region was plagued by numerous fatalities.
Portrait of Madame X (1884) by John Singer Sargent
| | |
| --- | --- |
| Date Created | 1884 |
| Medium | Oil on Canvas |
| Dimensions | 2,35 m x 1,1 m |
| Currently Housed | Metro Museum of Art |
It's difficult to understand why John Singer Sargent's artwork of Madame X shocked and horrified Paris. Upon observing the painting, you'll notice a basic composition of a lady with a chignon posing against a brownish backdrop. She is dressed in a deep black skirt with a golden strap, with one hand grasping a fan while another is resting on a circular table. Her face is in profile, with the audience's gaze drawn slantwise out of the frame by the curve of her long nose.
Today, the picture appears to us as a graceful lady with a flawless complexion and aristocratic characteristics, dressed in what seems to be an exquisite, well-made gown.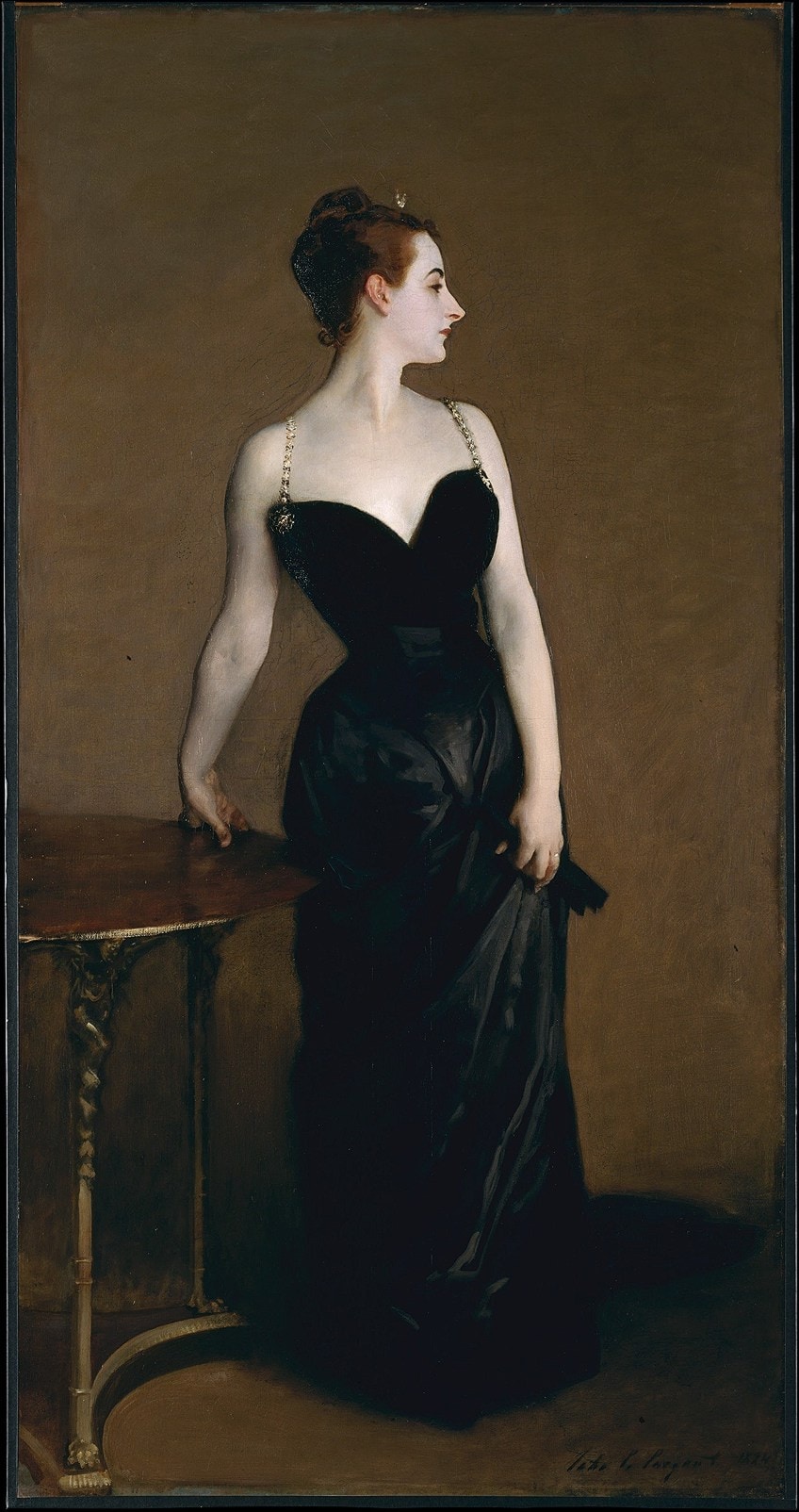 Portrait of Madame X (Madame Pierre Gautreau) (1883-1884) by John Singer Sargent; Metropolitan Museum of Art, Public domain, via Wikimedia Commons
That image contradicts the portrait's sitter, Virginie Amélie Avegno Gautreau, as well as the controversy revolved around its presentation at the Paris Salon. The mass outpouring of rage was so strong that the painter was forced to flee the nation, and his high-society sitter's image was eternally tainted.
The Grass Fire (1908) by Frederic Remington
| | |
| --- | --- |
| Date Created | 1908 |
| Medium | Oil on Canvas |
| Dimensions | 101 cm x 68 cm |
| Currently Housed | Carter Museum |
In this 1908 oil on canvas, Frederic Remington depicts a band of prairie Native Americans using an unconventional warfare method against an unseen opponent by setting fire to grasses. As per contemporaneous accounts, Native American fighters would use this method in a location where they believed their adversary would be downwind, enabling the fog from the controlled burn to drift towards the unseen enemy, obstructing their vision and generating disarray in their ranks.
Remington's ability with lighting shines through here, producing a somber picture as the Native American fighters are lit from underneath, giving their austere attitude an even more terrifying image.
The Grass Fire (1908) by Frederic Remington; Frederic Remington, Public domain, via Wikimedia Commons
The dense black field in the distance adds to that seriousness, allowing the viewer to ponder what may be lurking in that blackness, from which additional soldiers appear to arise in the distance. This makes for an engrossing bit of storytelling, depicting the events from one perspective while allowing much of the tale to the spectator to deduce depending on the cultural experience.
Stag at Sharkey's (1909) by George Bellows
| | |
| --- | --- |
| Date Created | 1909 |
| Medium | Oil on Canvas |
| Dimensions | 92 cm x 122 cm |
| Currently Housed | Cleveland Museum of Art |
Sharkey's Athletic Club, a rowdy bar with a backstage boxing ring situated near his studio, was no surprise to Bellows. The club was formed by Tom "Sailor" Sharkey, a former fighter who had previously worked in the US Navy, and it drew men who wanted to observe or engage in bouts. Since open fighting was banned in New York at the time, a private function was necessary in order for a fight to occur.
Attendance was typically restricted to members of a certain organization, but when a foreigner participated, he was granted provisional admission and became characterized as a "stag."
Stag at Sharkey's (1909) by George Bellows; George Bellows, Public domain, via Wikimedia Commons
Bellows created a blurry picture by using rapid sweeps, mimicking the two boxers in action. He also picked a low viewpoint to place the spectator in the midst of the throng witnessing the battle. He opts for "evocative participation" in the event. "I don't understand anything about fighting; I'm simply depicting two men intending to kill one another," he explained.
Black Iris (1926) by Georgia O'Keeffe
| | |
| --- | --- |
| Date Created | 1926 |
| Medium | Oil on Canvas |
| Dimensions | 91 cm x 75 cm |
| Currently Housed | Metro Museum of Art |
The iris is a well-known motif in Western art, widely utilized in Religious art; its sword-like blades were particularly used as a metaphor for Mary's agony, a visual analogy that Georgia O'Keeffe may have been aware of due to her Devout background and catholic education. For several years, her famed irises were a major source of inspiration; she preferred the black iris, which was only available at select florists in New York for roughly two weeks every spring.
Unlike the flower paintings of the Impressionists, such as Vincent van Gogh's "Irises", her enlargements and abstracts drawn from the bloom have frequently been described in reproductive terms, almost scientific in their accuracy.
Previously the domain of Freudian analysts, such explanations have subsequently been reproduced in feminist interpretations of the bloom. They consider Black Iris to be an anatomical analogy for female anatomy, claiming that the relationship is direct and clear, and also that the two definitions are nearly interchangeable.
American Gothic (1930) by Grant Wood
| | |
| --- | --- |
| Date Created | 1930 |
| Medium | Oil on BeaverBoard |
| Dimensions | 78 cm x 65 cm |
| Currently Housed | Art Institute of Chicago |
Grant Wood was one of the greatest American painters of the 20th century, and this is considered one of the best American paintings. The image portrays a middle-aged pair (typically regarded as a farmer and his daughter or wife) standing in front of their residence, a timber house constructed in the American Gothic style of architecture popular in the 1890s.
Due to the individuals being so near to the observer, very little of their surroundings are visible.
American Gothic (1930) by Grant Wood; Grant Wood, Public domain, via Wikimedia Commons
He modeled the home on Dibble House, a residence he observed in the little town of Eldon in Iowa, and dressed Nan, his sister, and his dentist, Dr. Byron McKeeby, as subjects for the pair. Many art reviewers saw the piece as a sarcastic reflection on small-town society because of its likeness to the traditional picture of Midwest country inhabitants, replete with dungarees and a pitchfork.
Nighthawks (1942) by Edward Hopper
| | |
| --- | --- |
| Date Created | 1942 |
| Medium | Oil on Canvas |
| Dimensions | 84 cm x 152 cm |
| Currently Housed | Art Institute of Chicago |
Nighthawks by Edward Hopper is among the most iconic paintings of American culture, serving as a virtual capture of the lifestyle in the 1940s. The piece is an oil painting depicting a late-evening scenario in which a few customers are still hanging around a diner.
On several levels, his work is a brilliant combination of light and shadow.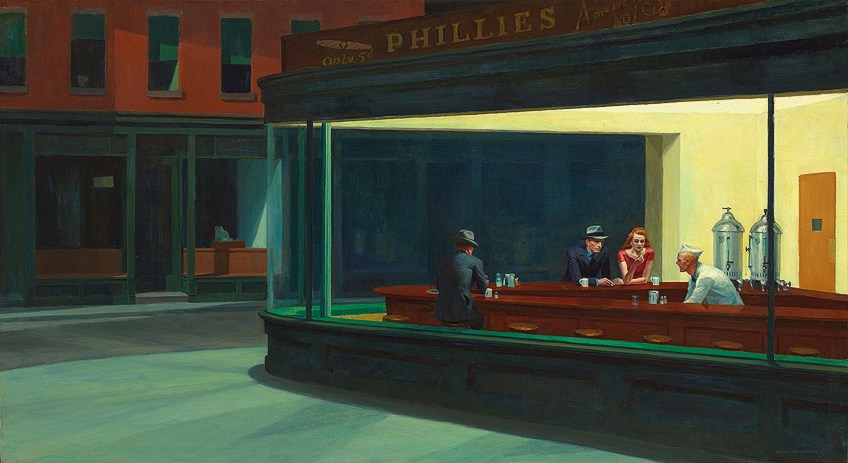 Nighthawks (1942) by Edward Hopper; Edward Hopper, Public domain, via Wikimedia Commons
The vibrant hues juxtapose with the light, which may be perceived as excessively intense in such a context, however, the shadows work with the striking intensity in a manner that defines the image as something which could be observed in a multitude of ways. The pair in the picture seems to be in lengthy stillness, while the server at the diner looks up momentarily as he performs his tasks. Another person sits in an equally calm manner, his back facing the observer.
Freedom from Want (1943) by Norman Rockwell
| | |
| --- | --- |
| Date Created | 1943 |
| Medium | Oil on Canvas |
| Dimensions | 116 cm x 90 cm |
| Currently Housed | Norman Rockwell Museum |
President F. D. Roosevelt's State of the Union address prompted Norman Rockwell to create this painting. Three more paintings by the painter were influenced by the same message. The USA was embroiled in World War II at the time the piece was completed, and the artwork is designed to demonstrate that, despite the hardships the nation was experiencing, classic American conservative principles remained extremely essential.
Freedom from Want (between 1941 and 1945) by Norman Rockwell; Norman Rockwell, Public domain, via Wikimedia Commons
The picture portrays three generations of people gathered around a Thanksgiving dinner. The husband is seated at the table's head, while the wife prepares to set a big turkey in front of the family. The abundance of turkey is offset by the lack of other meals on the table and the availability of water as the only source of refreshment.
Created in 1943, it is now housed at the Norman Rockwell Museum.
Christina's World (1948) by Andrew Wyeth
| | |
| --- | --- |
| Date Created | 1948 |
| Medium | Tempera on Panel |
| Dimensions | 81 cm x 121 cm |
| Currently Housed | The Museum of Modern Art |
Christina's World is set in the harsh environment of the coast of Maine and portrays a young lady observed from the back, dressed in a pink gown and reclining in a field of grass. Despite the fact that she seems to be in a state of relaxation, her body, supported on her wrists, is oddly attentive; her contour is rigid, practically fixed, creating the sense that she is fastened to the earth.
She looks at a faraway farmstead and a cluster of structures, old and gray in contrast to the parched lawn and gloomy skies. This famous American artwork portrays the artist's neighbor who was unable to walk due to polio and would drag herself around.
Wyeth wanted to capture a moment of the girl's daily life that others would consider an insurmountable hurdle.
Number 5, 1948 (1948) by Jackson Pollock
| | |
| --- | --- |
| Date Created | 1948 |
| Medium | Oil on Fiberboard |
| Dimensions | 2,44 m x 1,22 m |
| Currently Housed | Private Collection |
Instead of using an easel, Jackson Pollock would lay his work on the floor and walk around it, dropping color from stiffened paintbrushes, rods, and basting needles. He had just started exploring in this manner the year before the production of No. 5, 1948, yet his approach quickly became so distinctive that he was called "Jack the Dripper." Pollock's art was innovative on multiple counts. For ages, painters have planned out or tested larger paintings.
Pollock, on the other hand, was led by passion and instinct as he weaved around his fiberboard foundation, dripping and throwing paint as his inspiration required.
He eschewed brushwork in lieu of dripping and splashing, and his spontaneous masterworks lit up the art world. He began exploring synthetic gloss enamel paints, which were replacing old-fashioned, oil-based home paints. Despite the brilliant idea being lauded, he dismissed it as "a natural development out of a necessity."
Mountains and Sea (1952) by Helen Frankenthaler
| | |
| --- | --- |
| Date Created | 1952 |
| Medium | Oil and Charcoal on Canvas |
| Dimensions | 220 cm x 297 cm |
| Currently Housed | National Gallery of Art, Washington DC |
Helen Frankenthaler, an American abstract expressionist painter, created Mountains and Sea in 1952. It was her first publicly displayed piece, created when she was 23 years old. Mountains and Sea, though first criticized by reviewers, went on to become her most important and well-known work. She took a trip to Cape Breton Island in the summer of 1952, where she created vistas with portable easel apparatus.
The painting has been described as a light-struck, translucent impression of hillsides, boulders, and waters, and the creator herself subsequently stated that it looks to many folks like a big painting cloth, carelessly incidental and unfinished.
Mountains and Sea was created by Frankenthaler by laying an unprimed panel directly on the ground and staining it with colors by reducing oil paint with solvent and enabling the colors to flow. This was her first time using the staining method.
Campbell's Soup Cans (1962) by Andy Warhol
| | |
| --- | --- |
| Date Created | 1962 |
| Medium | Synthetic Polymer |
| Dimensions | 51 cm x 41 cm |
| Currently Housed | Museum of Modern Art |
Campbell's Soup Cans is one of the most famous American paintings consisting of thirty-two canvases, one for each of the 32 types produced by the business at the time. It is this masterpiece that helped Pop Art become a prominent art trend in the United States.
The artwork's non-painterly technique and corporate subject matter sparked outrage at the time because they challenged the techniques and ideology of Abstract Expressionism, America's prominent style at the time.
The ensuing discussions over the virtues and morals of such a piece, which did not possess the aesthetic and metaphysical tendency of Abstract Expressionist pieces, caused a commotion in the American art community. When questioned why he painted soup cans, Warhol replied dryly, "I had the very same luncheon each day, for twenty years, I think, the same thing repetitively."
WHAAM! (1963) by Roy Lichtenstein
| | |
| --- | --- |
| Date Created | 1963 |
| Medium | Oil and Acrylic Paint |
| Dimensions | 1,7 m x 4 m |
| Currently Housed | Tate Modern |
Pop Art celebrates modern culture above elite culture. It is distinguished by its use of vibrant hues and identifiable iconography from pop media, such as commercials, entertainers, and graphic novel figures. Roy Lichtenstein is among the greatest American painters of the style after Andy Warhol, and his most famous piece is Whaam!
The artwork is one of several by the artist depicting aerial warfare.
WHAAM! (1963) by Roy Lichtenstein; GualdimG, CC BY-SA 4.0, via Wikimedia Commons
From 1943 until 1946, he served in the US Military, and Whaam! was influenced by artwork by Irv Novick, a comic-book illustrator. The artwork, which was inspired by comic book imagery, depicts a jet fighter launching a projectile that hits a second plane, causing it to explode. Whaam! is known for mixing vivid color with a compelling story setting. It "records while gently parodying modern America's conventional hero images."
Untitled (1982) by Jean-Michel Basquiat
| | |
| --- | --- |
| Date Created | 1982 |
| Medium | Spraypaint, Acrylic |
| Dimensions | 183 cm x 173 cm |
| Currently Housed | Private Collection |
Wild, unfiltered, and breathtakingly beautiful, Untitled from 1982 is an almost unequaled masterpiece from Jean-Michel Basquiat's innovative oeuvre. Completed in January 1982, the emotional effect of the artist's painted scorching expression on the gigantic canvas is immediate and direct, engulfing the viewer's sight in an impermeable whirlwind of aggressive gestures, multicolored brightness, and sheer, unrestrained electric energy.
The tremendous aesthetic energy of this painting fiercely announced the presence of the talented, then largely obscure young painter into a society that his works would permanently alter.
Untitled epitomizes the irrepressible strength of his artistic revolution, which blasted ripples through lower Manhattan in the early days of the 1980s with a booming inferno of text, tone, and form and began a dramatic revival to figurative art. After it was first unveiled in 1982, it has never again been seen by the public due to having been sold to a private collector in 1984.
And that wraps up our list of famous American paintings. These paintings of America have long served to inspire, and sometimes shock, the American and international art communities. The great American painters have left behind their artistic legacy that expresses their unique view of American life. We hope you have enjoyed this list of the best American paintings that have been created throughout the years.
Take a look at our American paintings webstory here!
Frequently Asked Questions
What Made Great American Painters Stand Out From Others?
America is a country that is a melting pot of influences and cultural backgrounds. This means that there is a very unique style that cannot be found anywhere else on earth. The various historical events and civil movements have created a kind of artist that wishes to express their position within this multifaceted region.
When Were the Best American Paintings Made?
Art as a form of expression has been around in the States since its inception. Throughout its sometimes turbulent past, artists have arisen to reflect the contemporary culture back at itself. It is a tradition that has existed for centuries and will continue to do so far into the future in some form or another. The right to expression is an important thing for many Americans and art has always been a great medium to get a message across. Whether it is a political message, a religious message, or a philosophical one, the best American paintings have always managed to capture the zeitgeist of their time.
Isabella studied at the University of Cape Town in South Africa and graduated with a Bachelor of Arts majoring in English Literature & Language and Psychology. Throughout her undergraduate years, she took Art History as an additional subject and absolutely loved it. Building on from her art history knowledge that began in high school, art has always been a particular area of fascination for her. From learning about artworks previously unknown to her, or sharpening her existing understanding of specific works, the ability to continue learning within this interesting sphere excites her greatly.
Her focal points of interest in art history encompass profiling specific artists and art movements, as it is these areas where she is able to really dig deep into the rich narrative of the art world. Additionally, she particularly enjoys exploring the different artistic styles of the 20th century, as well as the important impact that female artists have had on the development of art history.
Learn more about the Art in Context Team.