Christina's World (1948) by Andrew Wyeth, who was an American artist, is a famous painting of a woman in a field and is recognized by many all over the world. However, who exactly was this woman and why did Wyeth paint her? This is what we will explore in this article.
Artist Abstract: Who Was Andrew Wyeth?
Andrew Newell Wyeth was born on July 12, 1917, and died on January 16, 2009. He was born in Chadds Ford, Pennsylvania, United States. He was taught and trained as an artist by his father, who was Newell Convers Wyeth, a well-known illustrator and the rest of his siblings were also creative in their own ways. Andrew Wyeth learned drawing when he was young as well as created illustrations like his father, but he eventually worked in watercolors.
In 1937, he had his first solo exhibition at Robert Macbeth's gallery in New York City. Wyeth was largely categorized as a realist or regionalist painter, depicting landscapes and people as his preferred subject matter. In 1940, he married Betsy James who also modeled for him from time to time in his paintings.
Wyeth became an important and influential American artist, and his artworks are frequently referenced in pop culture.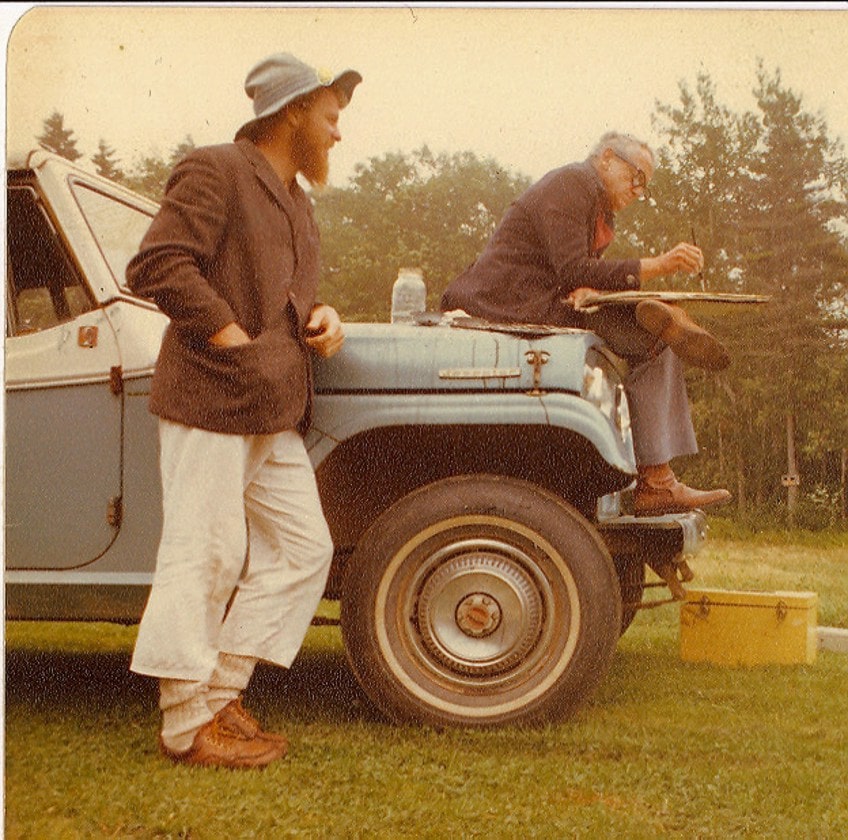 Andrew and Betsy Wyeth invited William Waterway Marks to visit them at the Cushing, Maine sheep farm in 1977. On several occasions, Wyeth invited William to drive around the farm while he painted various scenes en plein air. On one occasion, Wyeth gave William permission to photograph him while he painted. This is one of a series of photos William took of Andrew Wyeth painting en plein air [1977]; Williamwaterway, CC BY-SA 3.0, via Wikimedia Commons
Christina's World (1948) by Andrew Wyeth in Context
Below, we will provide a contextual analysis of when Andrew Wyeth created his Christina's World painting, who Christina was, and what motivated Wyeth to paint her. This will be followed by a formal analysis of the painting and how Wyeth utilized and applied art elements like color, texture, space, form, shape, and line.
| | |
| --- | --- |
| Artist | Andrew Wyeth |
| Date Painted | 1948 |
| Medium | Egg tempera on panel |
| Genre | Genre painting |
| Period / Movement | Regionalism / Realism |
| Dimensions (cm) | 81.9 x 121.3 |
| Series / Versions | N/A |
| Where Is It Housed? | Museum of Modern Art (MoMA), New York City, United States of America |
| What It Is Worth | Bought in 1948/1949 for $1,800 by Alfred Hamilton Barr Jr. |
Contextual Analysis: A Brief Socio-Historical Overview
Andrew Wyeth painted Christina's World when he was in Cushing, which is a town in the northeastern state of Maine in the United States. In 1939, Betsy James, who became Wyeth's wife, introduced him to one of her longtime childhood friends and neighbors Anna Christina Olson, as well as her brother Alvaro Olson, who lived at a farmhouse.
Wyeth also became good friends with Christina and her brother after Betsy introduced them, and reportedly spent a considerable amount of time with them as well as worked on his art in one of the upper rooms in the house.
Who Was Christina Olson?
Although we know Christina Olson was a well-known friend to Betsy James and later, Andrew Wyeth, she was a significant influence on Wyeth's art. She has a poignant history because she had a degenerative disease that disabled her from walking, and she lived out her life at the Olson farmhouse. Olson's disease became a topic of medical inquiry, and many sources say that her disease was muscular-related and possibly that it was polio, but according to medical sources, it could have been a variation of the Charcot-Marie-Tooth disease. The disease was for the most part undiagnosed.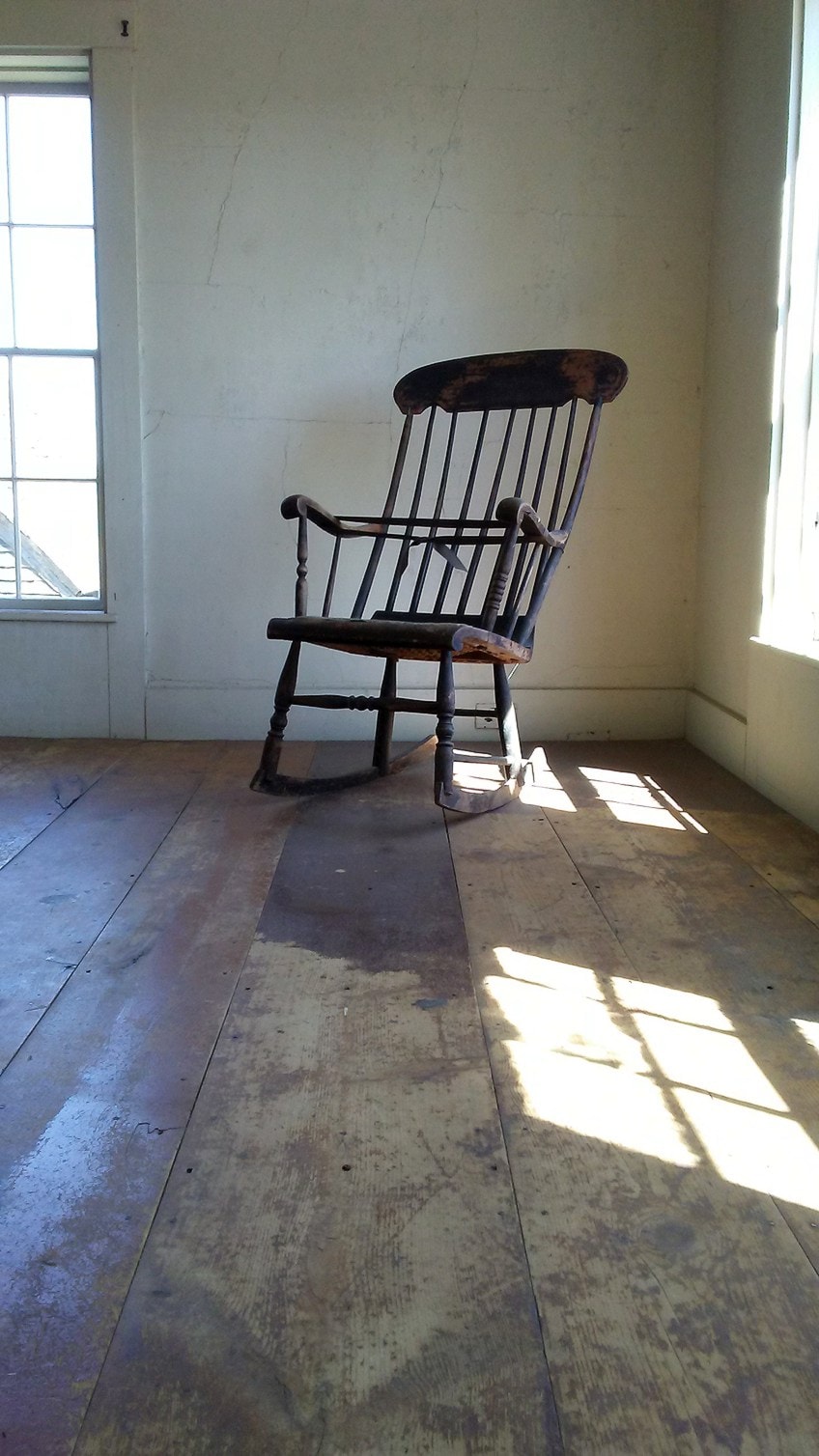 Interior of the Olson House in South Cushing, Maine. Artist Andrew Wyeth spent 30 summers in this house, which was a subject of his painting Christina's World (1948); Czymac, CC BY-SA 4.0, via Wikimedia Commons
Christina as Inspiration
The older Christina grew the less mobility she had, and she chose to crawl wherever she wanted to go; she did not choose to use a wheelchair. When she was reportedly 55 years old, Andrew Wyeth saw her crawl across the grass to the farmhouse from one of the upper-floor rooms he worked in. He is widely quoted as describing it as "crawling like a crab on a New England shore".
That moment stuck with Wyeth, and he reportedly walked out of dinner the evening of the same day he saw Christina crawl on the grass to sketch his concept for the painting. Thus, Christina became his inspiration for a scene that would become one of American art's most famous.

Wyeth's wife, Betsy, posed as the torso part of the main protagonist in Christina's World painting, and the arms and hands were depictions of Christina's, revealing the toll the disease took on her limbs. The pink dress was also Christina's dress. Therefore, Wyeth rendered Christina as a younger appearing woman and did not overtly highlight the physical severities of her disease.
Christina in Pop Culture
Christina has become the subject of numerous pop-cultural interpretations throughout the years; her spot on the grass has been appropriated by many other artful and parodying references. The painting itself has featured quite extensively in films, television series, and novels.
Examples include the film titled Forrest Gump (1994), the novel by Stephen King titled Wizard and Glass (1997) from The Dark Tower series, as well as the science fiction novel by Arthur C. Clarke titled 2001: A Space Odyssey (1968). Another example includes the artist and illustrator Daniel Garrow and artworks from his "Fine Art with Fish" series, which includes a rendering of Christina's World.
The only difference in Garrow's version is that it is a fish wearing a pink dress with hair in a bun, looking up at a house in the distance. There is also a river of water running down the hill between the fish and the house.
Formal Analysis: A Brief Compositional Overview
In the formal analysis below, we will take a closer look at the subject matter of Christina's World by Andrew Wyeth providing a visual description and discussing his artistic approaches in terms of his color scheme, texture, and others.
Visual Description: Subject Matter
The painting Christina's World by Andrew Wyeth depicts a vast open field with a weathered wooden house and barn perched in the hilly distance. This scene is seemingly lifeless in its emptiness, and the only life we see is the figure with her back to us, the viewers, gazing up at the house from her vantage point on the grassy slope.
If we look closer, in the foreground is the figure of Christina Olson, her back is to us and her whole body is on the grass. She is supporting her upper body with both her arms, which are scrawny in appearance; her left arm is outstretched before her – her fingers of her left hand are splayed out on the grass – and her right arm is behind her, slightly bent at the elbow.
She is wearing a light pink dress and what appears to be closed brown shoes. Her hair is a dark brunette color and held up in a bun that slightly touches her back as she rears her head up – several strands are gently billowing in the wind.
Christina is looking upwards at the landscape in front of her. The landscape depicts her house on the hill before her, which appears as a grayish structure against the blue sky behind it. We wonder what is on the other side of the hill.
The Olson House is placed in the right corner in the background of the composition. In front of it is a fenced-off area, possibly a garden of sorts, where there is another, smaller, wooden structure, or hut, reminiscent of a chicken coop.
To the left of the house – our left – there is a barn just walking distance away from the main house. There are also two parallel curving lines in the grass leading from the right side of the composition to the house, which indicates a driveway.
Almost two-thirds of the composition is grass, and the upper third is the blue sky with the house on the horizon line. There is a section of grass that appears cut or mowed shorter around the house and barn, which creates a distinguishable difference between the long grass, which occupies the foreground, and where Christina is placed too.
Color
The color palette of Christina's World painting depicts muted and soft hues of mostly greens, yellows, grays, and browns. The only color that stands out from the suggested rural landscape is Christina's pink dress as if she is the only flower in a sun-beaten and weathered field. The grass is often described as "tawny", which is a light brown or orange-brown color.
Texture
There are various textures in the painting Christina's World by Andrew Wyeth, and we notice implied textures like the thin slivers of grass throughout the field of the wood of the house and barn. Other textures are visible on Christina's dress, which appears soft and quite delicate over her body.
We see the frail texture of her skin on her arms, which shows her protruding bones underneath.
Line
Horizontal lines are created by the horizon line in the distance, which separates the sky and the landscape. Furthermore, this horizontal line is echoed by the line created from the mowed grass. Diagonal lines are created by the driveway to the right side of the composition, which is offset by the vertical lines of the poles in the garden in front of the house as well as the vertical structure of the house itself. Christina's body is also at a diagonal angle, and she is positioned as if in mid-action, which gives the composition a sense of movement as well as an emphasis on her as the main focal point.
Christina's posture appears intent on moving at any moment, which seemingly creates an implied line between her and her focus point, which is her house in the distance.
Shape and Form
The dominant shapes and forms in Christina's World are the geometric and angular shapes from the house and the barn, notably square, rectangular, and triangular shapes. There is a square shape created by the fenced-off area in front of the house. Organic shape and form are mostly evident in Christina's figure, which is the only form of life contrasted with the still-standing house in the distance.
Space
Andrew Wyeth utilized space to create a dramatic effect for the overall composition, heightening the emotional intensity of what Christina is facing and seemingly about to do, which is to crawl her way up to the house.
This emotional intensity is created by the large open space between Christina and the house in the distance. The open space between and around her and the house could be the negative space. Christina and her house compose the positive space, more so Christina, as she becomes the active focal point.
Furthermore, the composition is balanced by how Wyeth placed Christina at the bottom left corner and her house placed at the top right corner. Although there is empty space, it is equally filled with anticipation and a sense of isolation and hardship, but also strength and resoluteness.
Andrew Wyeth and Magic Realism
Although Andrew Wyeth's artistic style was categorized as Realist – we will see his detailed and naturalistic renditions not only in Christina's World but in many of his other paintings – his art has also been described as Magical Realist because of the sense of something beyond what is real permeating his subject matter.
Magical Realism was an art style that depicted naturalistic subject matter, true to nature or representational if you will, but there was usually a bit of fantasy to it to convey deeper ideas or concepts. For example, other famous artists who painted in this style were Frida Kahlo and Edward Hopper.
In Christina's World, Wyeth portrayed a seemingly everyday scene, an outside landscape, a farmhouse, and what appears to be a girl on the grass. However, as we become more engaged with the subject matter, there is more than meets the eye.
Through Wyeth's detailed brushstrokes, we are given tell-tale signs of Christina's disability, for example, her arms and hands. This causes us to think beyond what we are seeing – she is not just a girl on the grass anymore, but a subject of deeper inquiry, causing us to ask why is she on the grass looking up at the house?
Christina's Limitless World
Christina's World by Andrew Wyeth raises numerous questions about who Christina was as well as the deeper meaning of her portrayal. Widely described as a "psychological landscape", it is a visual portrayal of a seemingly solitary journey, a dive into the emotional depths of not only Christina's world but a metaphorical world we all face as human beings in our own ways.
The "Christina's World" painting is by no means a rendering of a sad and destitute human being, but according to Wyeth, his challenge was to do "justice to her extraordinary conquest of a life which most people would consider hopeless". Wyeth further explained that if he was able to convey to us, the viewers, that Christina's world "may be limited physically but by no means spiritually" then he "achieved" what he wanted for the painting.
Frequently Asked Questions
What Is the Painting of a Woman in a Field?
The famous painting of a woman in a field refers to the egg tempera painting by the American artist Andrew Wyeth titled Christina's World, which he painted in 1948 in Cushing in Maine. It depicts Anne Christina Olson, who had a degenerative disease and could not walk.
Who Is Christina in Andrew Wyeth's Painting?
Andrew Wyeth's painting Christina's World (1948) depicts Anna Christina Olson, who was a close friend of Wyeth, whom he met through Betsy James who became his wife. Betsy knew Christina when she was a young girl and lived near one another.
Where Is Christina's World by Andrew Wyeth?
Christina's World (1948) was exhibited in 1948 at the Macbeth Gallery in New York City and bought for $1,800 by Alfred Hamilton Barr Jr., who was the then director of the Museum of Modern Art (MoMA) also in New York City, which is where the painting is currently housed.