Roy Lichtenstein – Pioneer of the Pop Art Movement
Roy Lichtenstein's paintings broke boundaries, and he was among the very first American artists to embrace the movement and gain worldwide fame. Roy Lichtenstein's art was initially very varied in both subject material and style, and his works exhibited a thorough knowledge of modernist painting. Yet, when Roy Lichtenstein's Pop art emerged in the early 1960s, he encountered allegations of mediocrity, an absence of innovation, and, subsequently, even plagiarism. In this article, we will explore Roy Lichtenstein's biography and answer questions such as "What commercial technique did Roy Lichtenstein imitate in his paintings?"
Roy Lichtenstein's Biography
| | |
| --- | --- |
| Nationality | American |
| Date of Birth | 27 October 1923 |
| Date of Death | 29 September 1997 |
| Place of Birth | New York City |
Throughout the 20th century, art has held allusions to popular culture, but in Roy Lichtenstein's artworks, the techniques, source material, and reproduction processes ubiquitous in popular culture seemed to permeate the art totally.
This was a significant departure from Abstract Expressionism, whose frequently melancholy subjects were considered to spring up from the painters' souls; Roy Lichtenstein's Pop art ideas came from society as a whole and reflected nothing of the artist's own sentiments.
Through parody, Roy Lichtenstein's paintings developed the notion of pop art. Clearly influenced by the cartoon strip, Lichtenstein created exact designs that were chronicled while parodying, sometimes in a tongue-in-cheek fashion.
Roy Lichtenstein, 1966; Kunststiftung Poll, CC BY-SA 3.0 DE, via Wikimedia Commons
Early Years
Lichtenstein was Jewish, despite the fact that he tried to downplay his background and didn't talk frequently about his Jewish background. His family belonged to the upper-middle class. Milton, his father, was a property dealer, and Beatrice, his mother, was a housewife. He grew up on the Upper West Side of New York City and went to public school until he was 12 years old. He then studied at the Dwight School in New York, where he graduated in 1940.
He developed his creative talents as a youngster by attending watercolor lessons at Parsons School of Design, and when attending high school, he formed a jazz band.
As a student, Lichtenstein grew interested in painting and design as a pastime. He was a huge jazz aficionado, frequently attending shows at Harlem's Apollo Theater. He drew pictures of bands playing their equipment on a regular basis. He joined summer sessions at the Art Students League of New York during his final year of high school, where he studied under Reginald Marsh, in 1939.
Career
Lichtenstein subsequently departed New York to attend Ohio State University, which provided studio classes as well as a bachelor's degree in fine arts. His education was disrupted by a three-year tour in the Army from 1943 until 1946.
He worked as an assistant, draftsman, and illustrator whilst in training courses for linguistics, engineering, and flight training, all of which were abandoned.
Lichtenstein came home to see his sick father and was released from the Army with G.I. Bill eligibility. He returned to Ohio to study under the guidance of one of his instructors, Hoyt L. Sherman, who is typically acknowledged as having had a substantial influence on his subsequent work. His first solo show was in 1951 at the Carlebach Gallery in New York.
Roy Lichtenstein exhibition at the Stedelijk Museum, with the artist standing in front of one of his paintings, 1967; Eric Koch, CC0, via Wikimedia Commons
That same year, he relocated to Cleveland, where he resided for six years, though he regularly returned to New York. During this period, he worked as a draftsman and a window stylist in between phases of painting. Roy Lichtenstein's art at the time was a mix of Expressionism and Cubism. His first child, David Hoyt Lichtenstein, who is now a composer, was born in 1954. In 1956, Mitchell Lichtenstein, his younger son, was born. In 1957, he returned to New York and resumed his teaching career. He embraced the Abstract Expressionism approach during this period, being a late follower of this painting technique. In 1958, he started lecturing at the State University of New York.
Around this period, he started incorporating concealed imagery of animated characters like Bugs Bunny and Mickey Mouse into his abstract paintings.
Rise to Fame
He began lecturing at Rutgers University in 1960 when he was significantly inspired by Allan Kaprow, who was also a professor at the time. This setting rekindled his fascination with proto-pop iconography. Lichtenstein created his initial pop artworks in 1961, employing cartoon figures and methods inspired by the look of printing technology. This period lasted until 1965, and it incorporated the use of commercial images that suggested materialism and homemaking. Look Mickey (1961) was his first large-scale usage of hard-edged characters and Ben-Day dots.
This painting was inspired by a request from one of his boys, who gestured to a Mickey Mouse comic series and remarked, "I bet you can't paint like that, right, Father?"
During the same year, he created six more paintings featuring figures from cartoons and bubble gum wrappers. Leo Castelli started to exhibit Roy Lichtenstein's Pop art at his New York gallery in 1961. In 1962, Lichtenstein held his first solo exhibit at the Castelli gallery; the whole collection was purchased before the exhibit even opened by famous collectors.
Between 1961 and 1962, a series of paintings centered on lonely domestic objects such as shoes, burgers, and golf balls.
He went on a break from his faculty post at Rutgers' Douglass College in September 1963. Roy Lichtenstein's paintings were influenced by comic books depicting battle and romance. "At the time," Lichtenstein later explained, "I was interested in whatever I could utilize as an emotionally intense topic – generally love, warfare or whatever was extremely heated and emotive subject matter to be opposed to the detached and purposeful painting approaches."
Highest Profile Period
It was during this period that Lichtenstein started to gain not just national but also international acclaim. He returned to New York to be among the art scene and withdrew from Rutgers University in 1964 to focus on his artwork. In his most well-known works, such as Drowning Girl (1963), which was adapted from the feature tale in Secret Hearts No. 83 by DC Comics, Lichtenstein employed oil and Magna paint. Drowning Girl likewise has strong outlines, bright colors, and Ben Day spots, as if generated by photocopying.
Lichtenstein considers his own work to be among the Abstract Expressionists who "laid things down on the surface and reacted to what they'd done, the color locations and sizes. My style is really different, but the process of drawing lines is very similar; mine just don't seem as calligraphic as Kline's or Pollock's. Rather than attempting to replicate his topics, Roy Lichtenstein's Pop art focused on how the media depicts them. "I believe my artwork is distinct from comic strips – but I wouldn't call it metamorphosis; I don't think whatever is meant by it is vital to art," he says.
When Roy Lichtenstein's artwork was originally shown, several art reviewers questioned its originality. His art was scathingly panned for being filthy and vacuous.
In 1964, the headline of a Life magazine story posed the question, "Is He the Poorest Artist in America?". Lichtenstein replied to such allegations by saying the following: "The more closely my work resembles the source, the more frightening and severe the topic becomes. However, my job has been completely revolutionized in the sense that my objective and vision have shifted. I believe my works have been critically changed, but any reasonable line of argument would be impossible to show."
In a discussion with Mimi Thompson and April Bernard in 1986, he addressed his experiences with harsh criticism. "I don't question when I'm really painting," Lichtenstein stated, implying that it was sometimes tough to be critiqued. "It's the judgment that leaves you wondering, it does." Whaam! (1963), one of the first known instances of pop art, was derived from a comic-book scene produced in a 1962 edition of All-American Men of War by DC Comics.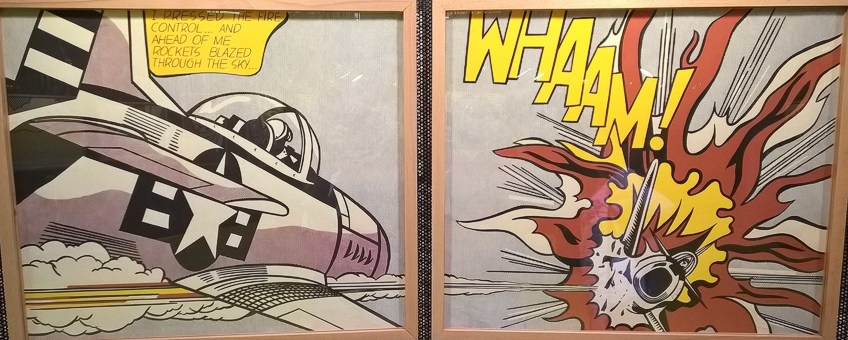 Whaam! (1963) by Roy Lichtenstein; GualdimG, CC BY-SA 4.0, via Wikimedia Commons
The picture portrays a fighter plane launching a rocket at an adversary plane, which explodes in a yellow and red flash. Whaam! continues the comic-book-inspired motifs of several of his earlier works and is a component of a corpus of work on war made between 1962 and 1964. It's one of two enormous war-themed artworks he's known for. Around 1964, Lichtenstein started dabbling with sculpting, displaying a talent for the form that contrasted with the relentless uniformity of his canvases. He cooperated with a ceramicist who molded the shape of the head out of clay for Head with Red Shadow (1965) and Head of Girl (1964).
After that, Lichtenstein utilized a glaze to produce the same graphic patterns he used in his canvases; the treatment of black lines and Ben-Day dots to 3D items culminated in a flattening of the shape. The majority of Lichtenstein's best-known paintings are near but not precise replicas of comic book strips, a topic he mainly renounced after 1965, though he would periodically incorporate cartoons into his artwork in various ways in the following decades. These strips were initially developed by Jack Kirby and artists from DC Comics like Tony Abruzzo, Russ Heath, Irv Novick, and Jerry Grandenetti, who were rarely credited.
According to Jack Cowart, "Roy Lichtenstein's artwork was a wonder of the graphic formulas and the encoding of feeling that had been figured out by someone else."
The panels' size, coloring, presentation, and connotations were altered. There is no identical copy." Even so, a few have criticized Lichtenstein's utilization of comic-book visuals, particularly insofar as that utilization has been interpreted as the art mainstream's approval of a condescending view of cartoons; comic artist Art Spiegelman stated that "Lichtenstein did no more or less for cartoons than Andy Warhol did for soups." Roy Lichtenstein's paintings, which were based on enlarged strips from comic books, sparked a heated dispute regarding their artistic qualities.
"I am technically duplicating, but I am really reiterating the copied idea in other words," Lichtenstein said. As a result, the original has a completely distinct texture. It's not about thick or thin brushstrokes; it's about dots, flat colors, and inflexible lines." "Lichtenstein took a little picture, smaller than the back of the hand, reproduced in four-color inks on newspaper, blew it up to the normal size at which 'art' is created and shown, and completed it in paint on canvas," Eddie Campbell said on his blog.
In reference to Lichtenstein, Bill Griffith once stated, "There is great art and bad art. Then there's high art, which can take low art and place it in a high art setting, usurp it, and transform it into something new."
Later Work
The Los Angeles County Museum of Art contracted Lichtenstein to create a video in 1970. Three Landscapes, a video depicting sea landscapes, was planned and produced by the artist with the assistance of Universal Film Studios and is closely tied to a sequence of collages with environmental themes he produced between 1964 and 1966. While Lichtenstein had hoped to make 15 feature videos, the three-screen display – created in collaboration with New York-based indie filmmaker Joel Freedman – proved to be the artist's lone foray into the genre.
Little Big Painting (1965) by Roy Lichtenstein; Tim Evanson from Cleveland Heights, Ohio, USA, CC BY-SA 2.0, via Wikimedia Commons
Near 1970, Lichtenstein bought an old coach house in Southampton, Long Island, established a workshop there, and spent the rest of the decade in relative isolation. His technique began to relax and he built on what he had done previously in the 1970s and 1980s. In 1969, Lichtenstein initiated a process of Mirrors paintings.
By 1970, he had begun work on the subject of entablatures while still working on the Mirrors series. The Entablatures began with a number of canvases from 1971 to 1972, then the second series from 1974 to 1976, and the production of a sequence of relief prints in 1976. He created a series of "Artists Workshops" that included components from his earlier work. From 1979 through 1981, he created a large series of Surrealist-Pop paintings based on American Indian motifs.
Amerind Figure (1981), a stylized life-size statue in black-patinated bronze suggestive of a sleek totem pole, to the massive wool fabric Amerind Landscape (1979). The "Indian" paintings, like the rest of the Surrealist collection, drew inspiration for their topics from modern art and other influences, particularly books on Native American designs from Lichtenstein's tiny collection.
From 1972 until the early 1980s, Roy Lichtenstein's paintings of still-lifes, his sculpture, and sketches encompass a wide range of motifs and topics, including the most conventional, such as fruits, florals, and vases.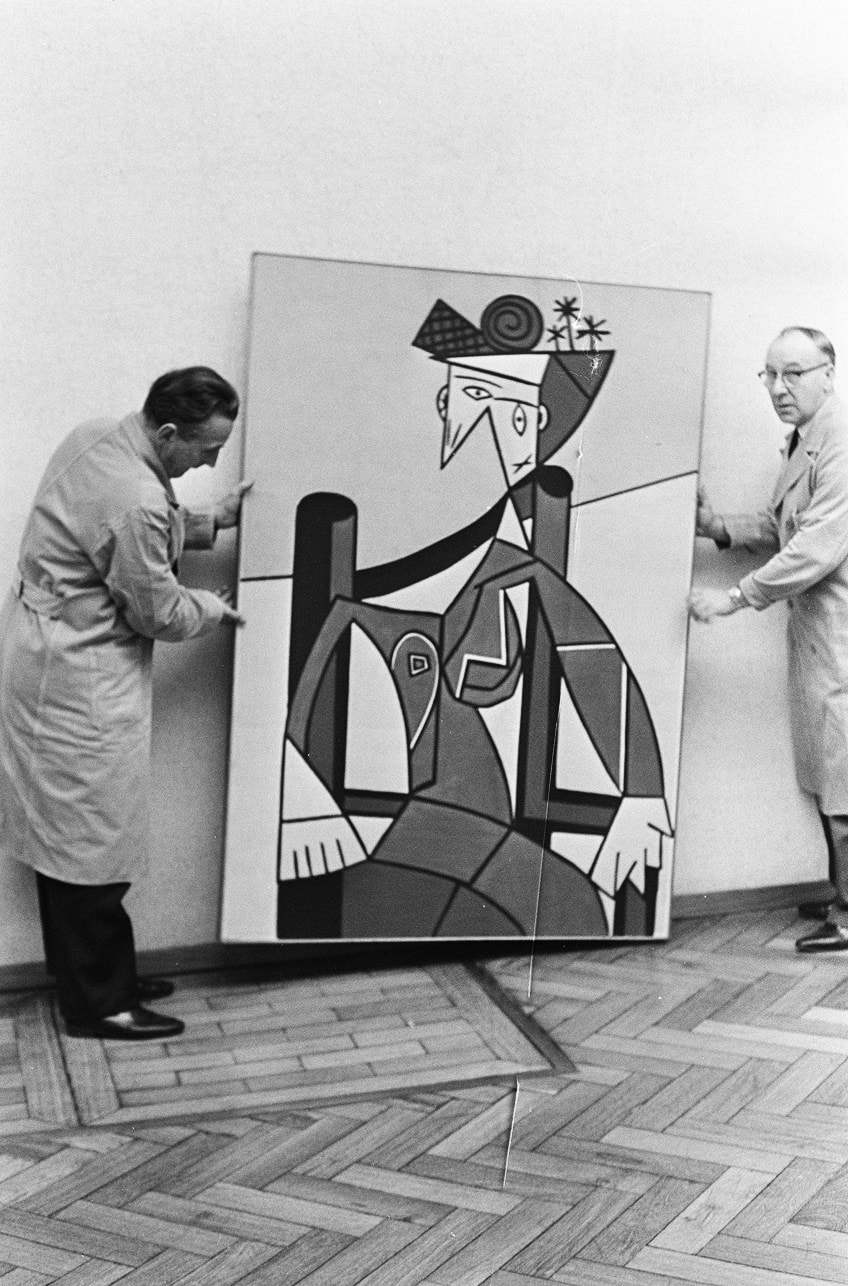 Setting up the paintings at the Roy Lichtenstein exhibition in the Stedelijk Museum, 1967; Ron Kroon / Anefo, CC0, via Wikimedia Commons
In 1983, Lichtenstein created two anti-Apartheid billboards titled simply "Against Apartheid." Lichtenstein repurposed elements from past paintings in his Reflection series, which he created between 1988 and 1990. Interiors (1991–1992) is a series of paintings representing mundane residential settings influenced by furniture advertisements seen in phone books or on posters.
The themes of his scenery in the Chinese Style sequence are created with virtual Benday dots, rendered in solid, vibrant colors, with all remnants of the hand removed, after being inspired by the monochromatic reproductions of Edgar Degas displayed in a 1994 showcase at the Metropolitan Museum of Art in New York. The nude appears often in Lichtenstein's 1990s art, including in Collage for Nude with Red Shirt (1995).
Roy Lichtenstein's Art Style
Art has made allusions to popular culture throughout the 20th century, but in Roy Lichtenstein's works, the methods, source material, and replication processes that are prevalent in popular culture seemed to pervade the art completely. This was a notable break from Abstract Expressionism, whose sometimes sorrowful topics were said to originate from the artists' souls; Roy Lichtenstein's Pop art concepts were derived from society as a whole and did not represent the artist's personal thoughts.
Despite the fact that Lichtenstein was sometimes accused of just duplicating cartoons in the early 1960s, his process entailed significant reworking of the original imagery.
Setting up the paintings at the Roy Lichtenstein exhibition in the Stedelijk Museum, 1967; Ron Kroon / Anefo, CC0, via Wikimedia Commons
The extent of those changes, as well as the artist's reasoning for them, has long been a point of contention in discussions of his work, as it appears to indicate whether he was more concerned with creating pleasurable, creative compositions, or shocking his audiences with the tacky looking influence of popular culture. One of the core lessons of Pop art is that all methods of communication, all signals, are processed through languages or codes. Lichtenstein's focus on tactile reproduction methods – especially his trademark use of Ben-Day dots – illustrated these core lessons. His initial work, which relied on an eclectic variety of modern art, is thought to have taught him the significance of codes.
This admiration may have eventually led him to create work influenced by modern art masterpieces; in these works, he asserted that high art and mainstream art are the same in that they both rely on code.
Roy Lichtenstein's Artwork
Lichtenstein was pivotal in undermining the Abstract Expressionists' suspicious attitude toward commercial forms and concerns. By embracing "low" art forms such as comic strips and popular graphics, Lichtenstein established himself as a pivotal player in the Pop Art world.
While his canvases of comics are his most well-known works, he had a productive and rather diverse career that included Surrealism, Cubism, and Expressionism.
His re-imagining of mainstream culture through the perspective of conventional art history, however, has maintained a vital impact on subsequent generations of artists, since Pop art went on to greatly shape Postmodernism. Here is a selection of his most renowned artworks.
Popeye (1961)
| | |
| --- | --- |
| Year Completed | 1961 |
| Medium | Oil on Canvas |
| Dimensions | 106 cm x 142 cm |
| Current Location | Estate of Roy Lichtenstein |
Popeye was among Roy Lichtenstein's very first Pop paintings, made in the summer of 1961. He would subsequently revert to the generic human forms seen in period cartoons, but at first, he picked instantly familiar characters such as Popeye and Mickey Mouse.
The piece is also noteworthy for being among the very last in which he signed his name on the surface of the image; critic Michael Lobel has acknowledged that in this item, he essentially did so with growing uncertainty, incorporating it with a copyright logo that is reiterated in the shape of the open tin can above it. Some have speculated that Popeye's strike was meant as a subtle retort to one of the dominant beliefs in modern art critique that an image's design should have an immediate visual effect.
Where most people thought this could only be accomplished through abstract art, Lichtenstein proved that it could also be accomplished through appropriating from low culture.
Drowning Girl (1963)
| | |
| --- | --- |
| Year Completed | 1963 |
| Medium | OIl and Polymer on Canvas |
| Dimensions | 171 cm x 169 cm |
| Current Location | Museum of Modern Art |
Lichtenstein rose to prominence as a renowned Pop artist in the early 1960s for works based on comic books, notably DC Comics. Although creators such as Jasper Johns and Robert Rauschenberg have previously included popular iconography into their artworks, no one had before focused solely on cartoon images as Lichtenstein had. His artwork, along with Andy Warhol's, signaled the start of the Pop art style and, by extension, the demise of Abstract Expressionism as the prevalent form.
Lichtenstein did not merely duplicate comic pages; he used a complicated approach that entailed cutting pictures to create totally new, dramatic compositions, such as Drowning Girl, whose original image had the woman's lover standing on a boat above her.
Lichtenstein also compressed the wording of the comic book strips, positioning language as the other, vital visual component; re-appropriating this symbolic part of commercial artwork for his canvases challenged prevailing notions of "high" art.
Yellow Landscape (1965)
| | |
| --- | --- |
| Year Completed | 1965 |
| Medium | Rowlux and Oil on Paper |
| Dimensions | 42 cm x 49 cm |
| Current Location | Kunstmuseum, St. Gallen, Switzerland |
Lichtenstein's use of bright colors and Ben-Day dots extended beyond the representational iconography of comic book panels, as he experimented with a broad range of elements; his landscape paintings are a particularly good illustration of this approach. Lichtenstein created a variety of collages and multimedia pieces that used motors, metal, and typically a shimmery plastic sheet called Rowlux that simulated movement. Lichtenstein exhibited his deep knowledge of art history and highlighted the closeness of low and high art forms by reappropriating the classic artistic subject of landscape and portraying it in his Pop idiom.
Because of his passion for modern art, Lichtenstein created several pieces that explicitly referenced painters such as Picasso, Cézanne, and Matisse.
House I (1966)
| | |
| --- | --- |
| Year Completed | 1966 |
| Medium | Painted Aluminum |
| Dimensions | 290 cm x 450 cm |
| Current Location | National Gallery of Art |
Beginning with a fresco produced for the 1964 World's Fair in Queens, New York, public and outdoor artworks, including painting and sculpture, comprise a substantial percentage of Lichtenstein's oeuvre. House I, a large-scale sculpture, experiments with perception and the unreal: depending on where the observer stands, the building's corner appears to move forward or backward inside space.
House III (2002) by Roy Lichtenstein resides outside of the High Museum of Art in Atlanta, GA; Greysanatomylabtech, CC BY-SA 4.0, via Wikimedia Commons
Despite Lichtenstein's usual use of flat hues and the fact that this artwork is actually a flat sheet of metal, the shape of the framework creates a feeling of dimension. He created multiple House sculptures, all of which may be linked to Lichtenstein's fascination with building interiors, a subject he explored most overtly in his later work.
Brushstrokes (1967)
| | |
| --- | --- |
| Year Completed | 1967 |
| Medium | Color Screenprint on Paper |
| Dimensions | 56 cm x 76 cm |
| Current Location | Art Institute of Chicago |
Lichtenstein was a prodigious printer during his career, and his prints were important in developing printing as a significant art form in the 1960s. Brushstrokes, for example, displays his fascination with the significance of brushwork in Abstract Expressionism. The brushstroke had become a vehicle for communicating directly emotions for Abstract Expressionist artists; Lichtenstein's brushstroke derided this ambition, suggesting that, while they loathed commercialization, they were not invulnerable to it; after all, many of their works of art were formed in series, repeating the same motifs over and over.
"The genuine brushstrokes are as pre-determined as the comic brushstrokes," Lichtenstein observed.
Mirror I (1977)
| | |
| --- | --- |
| Year Completed | 1977 |
| Medium | Painted Bronze |
| Dimensions | 152 cm x 121 m |
| Current Location | San Francisco Museum of Art |
The abstract manner in which cartoonists portrayed mirrors, employing diagonal lines to indicate a reflecting surface, intrigued Lichtenstein. He once said, "Well, you see those lines and know they mean mirror, despite the fact that there are no such lines in reality. It's a habit that we unknowingly follow." The mirror became a recurrent theme for Lichtenstein in the 1970s, but the creator had previously experimented with the visual illustration of reflection in previous works, motivated in part by an emphasis on the relationship between mirrors and ladies – both in historical works of art and in popular society.
Despite the fact that the series was inspired by the presence of mirrors in cartoons, Lichtenstein obviously sought to deal with issues of replication and reflection, which have piqued the imagination of artists since the Renaissance.
Recommended Reading
What did you think of Roy Lichtenstein's biography and art? Perhaps you want to learn more about his art. You can simply check out our list of the suggested books regarding the artist if you wish to do so.
Whaam! The Art and Life of Roy Lichtenstein (2008) by Susan Goldman Rubin
Susan Goldman Rubin poignantly examines Roy Lichtenstein's artwork and life, as well as his innovative effect on the art world, in the latest of Abrams' line of picture book biographies of creators. Throughout Roy's lengthy career as a teacher, artist, and inventor, he challenged people to perceive familiar places through fresh eyes. Roy, who was classically educated in drawing and painting, found inspiration in comics, newspaper cartoons, and children's books images that most people did not consider "real" art. He also opted to paint in minute detail the building elements of painting, such as a single brushwork or the back of a canvas, to call attention to how painters employ these tools.
The life of the great Pop Art painter Roy Lichtenstein
Illustrated with the artist's most famous artworks
Includes a bibliography, an index, and a list of museums
View on Amazon
Roy Lichtenstein: History in the Making (2020) by Elizabeth Finch
This book is part of the first major museum exhibition dedicated to the early work of one of America's most well-known 20th-century artists. The show will feature roughly ninety pieces from the artist's productive and influential early career, many of which have never been seen by the audience before, and will be co-organized by the Colby College Museum of Art and the Nasher Museum of Art at Duke University. The exhibition and publication will feature paintings, drawings, sculptures, and lithographs, exposing an artist with a deep fascination for visual culture, culling—with a critical eye—from a variety of sources, even early in his profession. These sources of inspiration were crucial but little-known for the artist's subsequent usage of comic books and commercials.
First major museum exhibition to investigate Lichtenstein's works
Includes approximately 90 works from the artist's early career
The show and catalog include paintings, drawings, and more
View on Amazon
Roy Lichtenstein's paintings defied convention, and he was one of the first American painters to embrace the trend and achieve international acclaim. Roy Lichtenstein's art was initially quite diverse in terms of subject matter and technique, and his works demonstrated a profound understanding of modernist painting. However, when Roy Lichtenstein's Pop art first appeared in the early 1960s, he was accused of mediocrity, a lack of inventiveness, and, later, plagiarism.
Frequently Asked Questions
What Commercial Technique Did Roy Lichtenstein Imitate in His Paintings That Made Him Famous?
Throughout the 20th century, art has made allusions to popular culture, but in Roy Lichtenstein's works, the methods, source material, and reproduction processes that are ubiquitous in popular culture seemed to infect art completely. This was a significant departure from Abstract Expressionism, whose sometimes somber subjects were claimed to come from the artists' souls; Roy Lichtenstein's Pop art conceptions came from society as a whole and did not represent the artist's personal views. Despite the fact that in the early 1960s, Lichtenstein was frequently accused of just reproducing cartoons, his approach required extensive reworking of the source images.
Who Was Roy Lichtenstein?
Lichtenstein had a critical role in eroding the Abstract Expressionists' skepticism toward commercial forms and concerns. Lichtenstein established himself as a vital actor in the Pop Art field by embracing so-called low art genres such as comic strips and popular graphics. While his comic-book paintings are his most well-known works, he had a long and varied career that includes Surrealism, Cubism, and Expressionism. His re-imagining of common society through the lens of traditional art history, on the other hand, has had a lasting influence on following generations of artists, as Pop art shaped post-Modernism.
Isabella studied at the University of Cape Town in South Africa and graduated with a Bachelor of Arts majoring in English Literature & Language and Psychology. Throughout her undergraduate years, she took Art History as an additional subject and absolutely loved it. Building on from her art history knowledge that began in high school, art has always been a particular area of fascination for her. From learning about artworks previously unknown to her, or sharpening her existing understanding of specific works, the ability to continue learning within this interesting sphere excites her greatly.
Her focal points of interest in art history encompass profiling specific artists and art movements, as it is these areas where she is able to really dig deep into the rich narrative of the art world. Additionally, she particularly enjoys exploring the different artistic styles of the 20th century, as well as the important impact that female artists have had on the development of art history.
Learn more about Isabella Meyer and the Art in Context Team.
Cite this Article