"Black Iris" Painting by Georgia O'Keeffe – "Black Iris III"
"I'll paint what I see – what the flower is to me, but I'll paint it big and they will be surprised into taking time to look at it". This is what Georgia O'Keeffe once explained about her flower paintings, which she certainly painted "big" for all to see. This article will discuss her black Iris flower painting from 1926 entitled Black Iris.
Artist Abstract: Who Was Georgia O'Keeffe?
Georgia O'Keeffe was born in Wisconsin in the town called Sun Prairie in November 1887, and she died in March 1986. She was an artist from an early age and moved on to study at the School of the Art Institute of Chicago (SAIC) from 1905 to 1906. In 1907 she studied at the Art Students League in New York City. She studied with and under several reputable artists and taught art. Her husband was Alfred Stieglitz, who also supported O'Keeffe financially. She was part of his group called the Stieglitz Circle.
She has become known as the Mother of American Modernism and impacted the Feminist art movement artists like Judy Chicago, among others.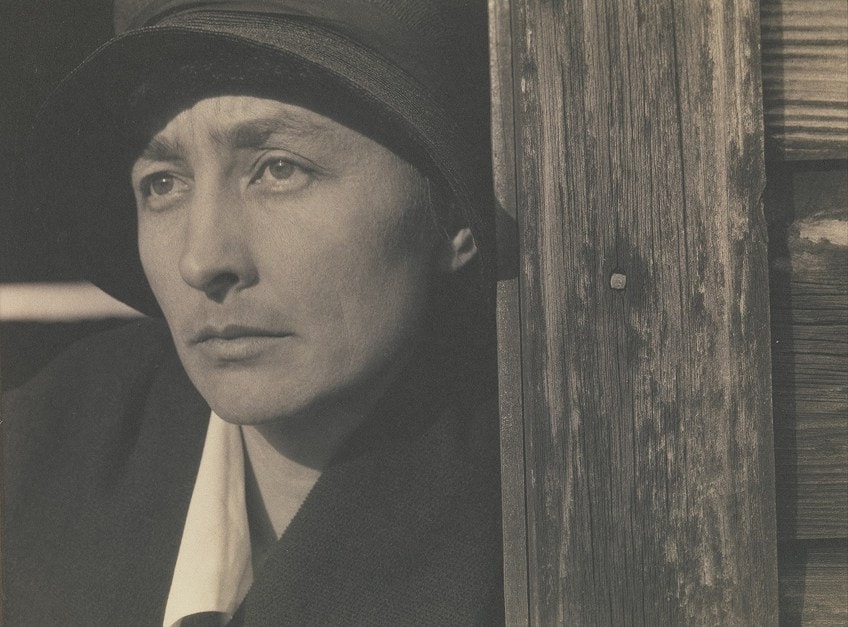 Georgia O'Keeffe in a black hat against a wooden doorjamb, photographed by Alfred Stieglitz, 1922; Alfred Stieglitz, CC0, via Wikimedia Commons
Black Iris (1926) by Georgia O'Keeffe in Context
Below we will provide a brief contextual analysis of Georgia O'Keeffe's famous black Iris flower painting and what inspired her to create it. This will be followed by a formal analysis, discussing the subject matter and artistic style in terms of several art elements.
| | |
| --- | --- |
| Artist | Georgia O'Keeffe |
| Date Painted | 1926 |
| Medium | Oil on canvas |
| Genre | Flower painting, Still Life painting |
| Period / Movement | American Modernism, Precisionism |
| Dimensions | 91.4 x 75.9 centimeters |
| Series / Versions | N/A |
| Where Is It Housed? | Metropolitan Museum of Art, New York City |
| What It Is Worth | Donated to the Metropolitan Museum of Art |
Contextual Analysis: A Brief Socio-Historical Overview
The Black Iris painting by Georgia O'Keefe has also been called Black Iris III. It was part of the American artist's depictions of Iris art, which was only one among many flower paintings; O'Keefe reportedly made around 200 flower paintings.
Flowers were a large part of O'Keeffe's interests, and she reportedly painted this subject matter from the 1910s onwards.
She has been widely quoted from her text in an art exhibition catalog from 1939, describing a flower as small and that "nobody sees a flower" because "it is so small" and that there is not enough time. O'Keeffe continues to explain that "to see takes time", similar to how it takes time to make a friend.
O'Keeffe put the flower on display, so to say, for all to see its intricate beauty and painted it "big". The black Iris was also reportedly one of her favorites, which was available only at a certain time of year at florists in New York. There has been a lot said about this black Iris flower painting too; numerous art critics and historians have described it within the realm of sexuality and that it depicts female genitalia.
One such was the renowned Linda Nochlin, writer, and art historian, who described it as a "morphological metaphor".
O'Keeffe has also been widely quoted from her 1939 text as stating the opposite; she did not intend for her paintings to appear sexualized in any way and she explained that while she showed others what she saw they "hung" their own "associations with flowers" on her flower. She continued to explain that what others see is not what she sees.
Formal Analysis: A Brief Compositional Overview
Let us now take the time to look at O'Keeffe's Black Iris flower painting, discussing the formal arrangement in terms of elements like color, shape, and form, among others. We will start with a visual description.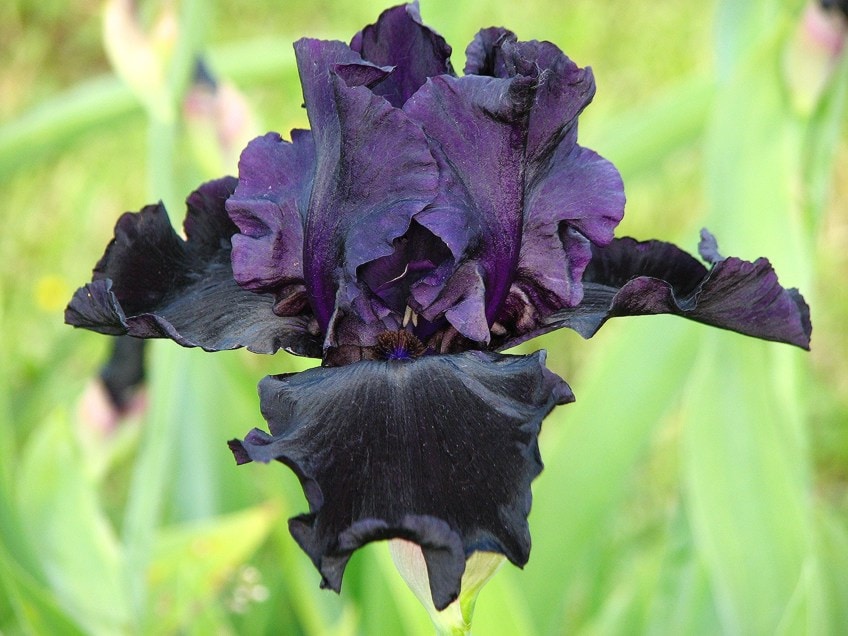 A "Dark Passion" iris flower, similar to that of Georgia O'Keeffe's Black Iris III (1926) painting; Kor!An (Андрей Корзун), CC BY-SA 3.0, via Wikimedia Commons
Subject Matter: A Visual Description
In the Black Iris painting by Georgia O'Keeffe, we are face to face with the image of a black Iris flower. The entire composition is filled with its unfolding petals and the center is depicted as a blackened or dark opening as it inevitably leads to the stem of the flower. We cannot see the stem in this composition.
Color and Light
The colors in the Black Iris painting add a contrasting effect, and we can look at it in two parts, namely the upper and lower pars. The upper part of the petals are combinations of soft lighter colors like white, pink, and gray.
The background petals appear lighter and whiter, and the foremost petal's outer folds are shaded in a darker color, leading us inwards to its center, where there is an apparent luminosity inside depicted in pinks.
It is almost as if we can see through the petal, highlighting its inherent delicacy and softness.
The lower part of the black iris flower is depicted in darker colors, like purple, maroon, and black. The foremost petal is darker and sticks out at us almost like a tongue. It appears attached to the central darker spot, which has two smaller maroon folds.
Texture
There is an implied texture created by O'Keeffe's utilization of brushstrokes, furthermore, she transitions different colors by carefully "blending" them, which gives the flower petals a smooth and soft appearance, as well as a vibrancy from one shade to the next.
This adds to the overall color harmony of the composition.
Line, Shape, and Form
The Black Iris painting by Georgia O'Keeffe is filled with a rhythmic flow of curved lines and circular shapes. Color works together with form, as the shading on the petals' parts provides the appearance of depth and three-dimensional form.
Black Iris: A Picture Painting a Thousand Words
The Black Iris painting by Georgia O'Keeffe is multifaceted with many meanings given to it. The black Iris flower itself has roots in Christian and Greek mythological symbolism. Whatever meaning or symbolism this flower portrays, it was nonetheless a beautiful botanical subject for O'Keeffe.
The beauty of the black iris becomes prominent by O'Keeffe's deliberate enlargement of it, bordering on abstract, it is as if she gives us a visual dissection of the black Iris flower and the canvas becomes the laboratory, so to say, where we can take the time to study the "big" and "small" of this iris art.
Frequently Asked Questions
Who Painted the Black Iris?
The American Modern artist Georgia O'Keeffe painted the Black Iris oil on canvas in 1926. It has also been titled Black Iris III. This was one of many other floral paintings she created, and she started exploring this theme in the 1910s.
What Is the Black Iris Painting Meaning?
Many art sources have described Georgia O'Keeffe's Black Iris painting as being a symbol of female sexuality and genitalia. However, the artist has attested that this was not the end goal of her unique floral depictions.
Where Is the Black Iris Painting by Georgia O'Keeffe Housed?
The Black Iris painting by Georgia O'Keeffe is now housed at the Metropolitan Museum of Art in New York City, United States.
Alicia du Plessis is a multidisciplinary writer. She completed her Bachelor of Arts degree, majoring in Art History and Classical Civilization, as well as two Honors, namely, in Art History and Education and Development, at the University of KwaZulu-Natal, South Africa. For her main Honors project in Art History, she explored perceptions of the San Bushmen's identity and the concept of the "Other". She has also looked at the use of photography in art and how it has been used to portray people's lives.
Alicia's other areas of interest in Art History include the process of writing about Art History and how to analyze paintings. Some of her favorite art movements include Impressionism and German Expressionism. She is yet to complete her Masters in Art History (she would like to do this abroad in Europe) having given it some time to first develop more professional experience with the interest to one day lecture it too.
Alicia has been working for artincontext.com since 2021 as an author and art history expert. She has specialized in painting analysis and is covering most of our painting analysis.
Learn more about Alicia du Plessis and the Art in Context Team.
Cite this Article