Why were the Campbell's Soup paintings created and what year did Warhol complete Campbell's Soup Cans? Campbell's Soup by Andy Warhol is not only a well-known piece of Pop art but probably one of the most iconic images in the world of art. Today, we shall discover all there is to know about the Campbell's Soup paintings, as well as introduce you to its artist, Andy Warhol.
Campbell's Soup by Andy Warhol
These soup cans were a milestone in Pop Art when they were first produced in 1962 as a set of 32 canvases. In that year, the paintings were initially presented in a grouping similar to grocery store merchandise. The white and red Campbell's Soup cans were replicated, with each can representing a distinct taste and looking much like the real thing. The artist's workmanship was visible in the little variances in the wording and the hand-stamped fleur-de-lis emblems on each can, even though they looked just like the well-known grocery goods.
The series is all the more fascinating because of this contrast between meticulous imitation and the artist's hand.
An Introduction to Andy Warhol
| | |
| --- | --- |
| Nationality | American |
| Date of Birth | 6 August 1928 |
| Date of Death | 22 February 1987 |
| Place of Birth | Pittsburgh, Pennsylvania |
Andy Warhol is a key figure and founding member of the Pop art movement. He relocated to New York City and found success as a commercial illustrator after graduating from the Carnegie Institute of Technology in 1949. When Glamour Magazine asked him to design a piece, he finally received his big break. He kept creating advertisements and drawings, and by 1955, he was New York's most well-known and copied commercial artist.
He created the first of his artworks in 1960, which used larger comic strip pictures originally intended for a window display.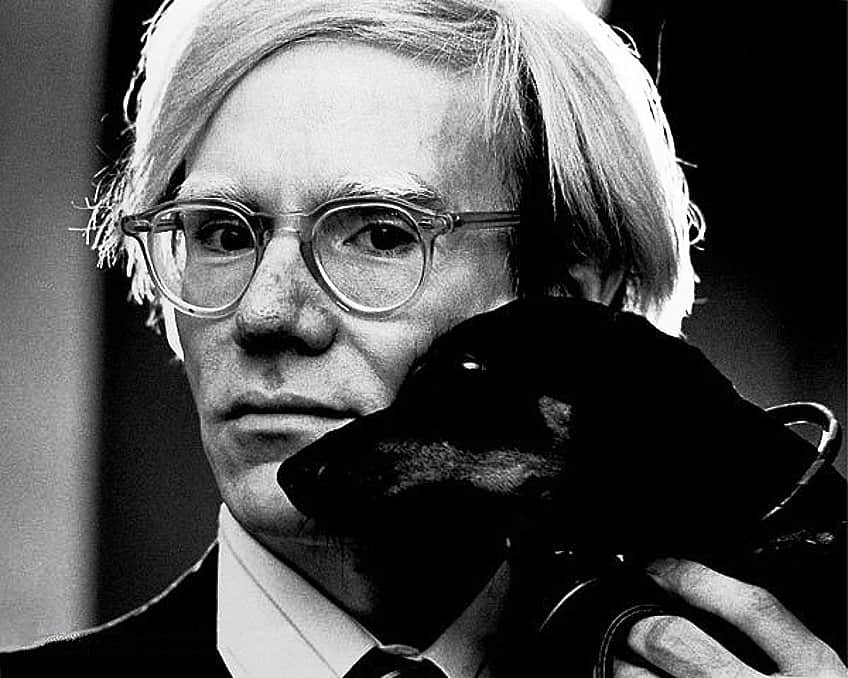 Photograph of Andy Warhol in 1973, taken by Jack Mitchell; Jack Mitchell, CC BY-SA 4.0, via Wikimedia Commons
He helped pioneer the technique wherein an enlarged photographic picture is converted to a silkscreen, which is then put on a canvas and inked from the back. This method was used for each Warhol silkscreen, allowing him to create the sequence of repeating but slightly different pictures for the media that he started in 1962.
It is possible to interpret these renowned Andy Warhol images, which include objects like Campbell's Soup cans, dollar notes, Coca-Cola bottles, and celebrity faces, as critiques of the harshness, dullness, and ambivalence of American culture.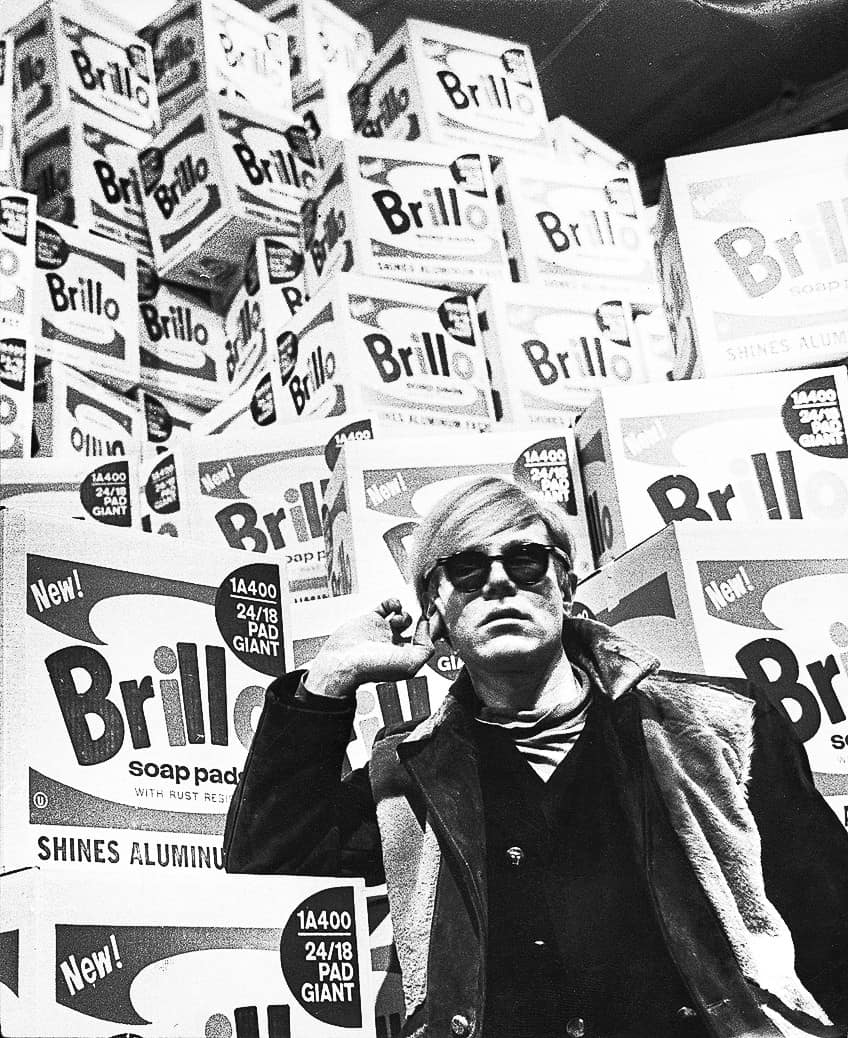 Photograph of the American artist Andy Warhol in Moderna Museet, Stockholm, before the opening of his retrospective exhibition on the 9th of February, 1968. Brillo boxes in the background; Lasse Olsson / Pressens bild, Public domain, via Wikimedia Commons
Later in the 1960s, Warhol produced several experimental movies exploring concepts like repetition, monotony, and time. Valerie Solanis, a celebrity who had been passed over, entered The Factory on the 3rd of June, 1968, and shot Warhol thrice in the chest.
He was taken urgently to the hospital, where doctors declared him dead.
Nevertheless, he recovered after getting his chest sliced open and receiving a heart massage. That evening, Valerie Solanis handed herself in and was admitted to a psychiatric hospital. Later, she received a three-year jail term. Andy Warhol resumed his job after becoming well.
The Campbell's Soup Paintings (1962)
| | |
| --- | --- |
| Date Completed | 1962 |
| Medium | Synthetic Polymer Paint |
| Dimensions | 51 cm x 41 cm |
| Current Location | Museum of Modern Art |
Throughout three separate eras of his career, Warhol created a wide range of artworks with Campbell's Soup cans. He also created other pieces employing a variety of imagery from the business and media worlds.
The term "Campbell's Soup cans" is now often used to apply to both the initial set of artworks and the subsequent Warhol artworks that also included Campbell's Soup cans.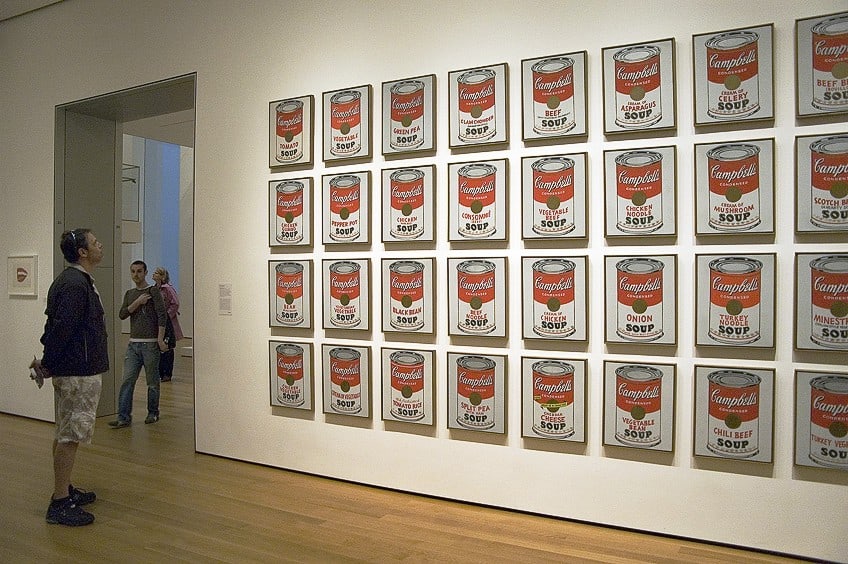 Campbell's Soup Cans (1962) by Andy Warhol, located at the Museum of Modern Art in New York City, United States; Gorup de Besanez, CC BY-SA 4.0, via Wikimedia Commons
Warhol's notoriety increased to the point that he was not only the most well-known American artist but also the priciest living American artist, thanks to the ultimate success of the complete series of related pieces.
The Motivation Behind the Campbell's Soup Paintings
Warhol's decision to use Campbell's Soup cans as the primary subject of his pop art is purportedly explained by several anecdotal tales. One explanation is that he wanted a fresh subject after giving up on comic strips, a decision influenced in part by his admiration for Roy Lichtenstein's sophisticated artwork.
Both the soup cans and Warhol's early US-dollar paintings were the brainchild of Muriel Latow.
She was the owner of the Latow Art Gallery in Manhattan's East 60s at the time and an ambitious interior decorator. She instructed Warhol to create "anything you encounter daily and something everyone would recognize." One of Warhol's associates said that the artist went to the store the next day and purchased a container of "all the soups," which the acquaintance claimed to have seen when he visited Warhol's residence the following day. Warhol said, "I used to consume it, I used to have the same meal every day, for 20 years."
Another story about how Latow influenced Warhol claims that when she questioned him about what he liked most, and he said "money," she recommended he paints U.S. dollar notes. This account claims that Latow afterward urged him to paint something else extremely straightforward, like Campbell's Soup cans, in conjunction with painting money.
According to a number of reports, Warhol's preference for soup cans was a reflection of his fervent loyalty to Campbell's soup as a patron.
Once, Robert Indiana said: "Andy and I were good friends. He enjoyed soup, which is why he painted soup cans." He was said to have concentrated on them since they were an essential part of his daily diet. Others said that Warhol only painted subjects that were dear to his heart. He adored money, drank Coca-Cola, ate Campbell's soup, and looked up to Hollywood stars. They all ended up being his subjects as a result.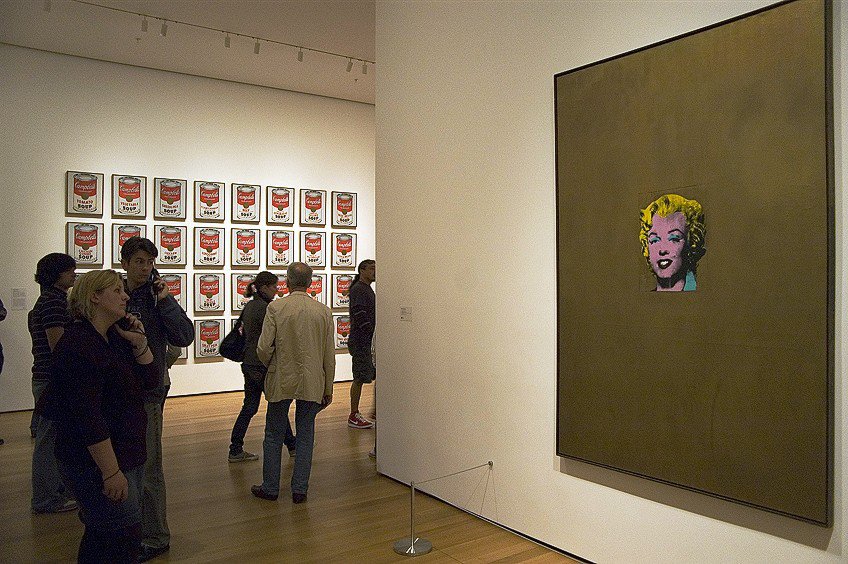 Andy Warhol's Campbell's Soup Cans (1962) in the background, with his Gold Marilyn Monroe (1962) on the right. Both are located at the Museum of Modern Art in New York City, United States; Gorup de Besanez, CC BY-SA 4.0, via Wikimedia Commons
Yet another tale suggests that his everyday meals in his workshop consisted of Campbell's Soup and Coke, and therefore, his inspiration came from watching the empty cans and bottles accumulating on his desk. Even though the corporation at the time accounted for four out of every five containers of canned soup sold in the country, Warhol preferred that it stay out of the project because "any form of commercial tie-in would lose the whole meaning."
But by 1965, the business had gotten to know him well enough that he was able to persuade them to provide him with real can labels to serve as exhibit invites. They even ordered a painting.
The Message and Meaning of Campbell's Soup by Andy Warhol
Warhol had a good opinion of common society and believed the abstract expressionists had gone to tremendous pains to ignore the magnificence of modernity. Along with his previous series, the Campbell's Soup Can series gave him a platform to share his favorable opinion on contemporary society.
He made an effort, nonetheless, to keep his deadpan demeanor free of sentiment and social criticism. The piece was meant to lack any sort of individuality or expression.
Warhol's stance is summarized in the Time magazine description that "a group of artists has come to the shared conclusion that the most commonplace and even crass trappings of contemporary civilization might, when transferred to canvas, become art". His pop art was distinct from serial works by painters like Monet, who utilized series to symbolize discerning perception and demonstrate how a painter could accurately capture changes in time, lighting, season, and climate with hand and eye. The current period of consumerism and excessive "sameness" is today seen as being represented by Warhol.
Campbell's Soup advert for their tomato soup, published in June 1923; Campbell's Soup Co., Public domain, via Wikimedia Commons
It was not "realistic" until Warhol ultimately displayed variance. His subsequent color changes virtually made fun of selective vision. He rejected using a series to show nuance by adopting the faux-industrial silkscreen technique.
By making it look as though his work had been printed, and by purposefully recreating flaws, Warhol aimed to reject innovation and nuance. He was able to escape Lichtenstein's encroaching shadow thanks to his series of work.
The commonplace Campbell's Soup Cans sent chills through the art world when compared to Caravaggio's sensuous fruit baskets, Chardin's velvety peaches, or Cézanne's brilliant arrangements of apples. Additionally, the notion of isolating instantly recognized pop culture icons was considered so absurd by the art world that the work's morality and qualities could be debated by people who had never even seen it.
In that it aims to depict items in their most straightforward, instantly recognized form, Warhol's Pop art might be considered as having a connection to minimal art. Pop art does away with the undertones and overtones normally connected with representations. Warhol unmistakably transformed the idea of appreciating art. He opted for mechanical adaptations of commercial illustration with a focus on packaging rather than harmonious three-dimensional arrangements of objects.
His variants on many soup cans, for instance, made the repetition approach well-liked: "You are not concerned in the retinal picture if you replicate a Campbell's Soup can 50 times. Marcel Duchamp claims that your attention is piqued by the idea of painting a canvas using fifty Campbell's Soup cans." The specifics of the regulated multiplicity may representations nearly resemble an abstraction, with the panoramic taking precedence over the details.
The representation itself was, in a way, more significant than the thing it depicted.
The American paper dress, titled Souper Dress, was created in 1967 and was based on Andy Warhol's Campbell's Soup Cans paintings. Part of the Peloponnesian Folklore Foundation collection in Greece; Peloponnesian Folklore Foundation, CC BY-SA 4.0, via Wikimedia Commons
People in the art world, whose value structure was challenged by mechanization, misread Warhol's interest in machinelike manufacturing during his initial Pop art days. Audiences in Europe viewed his work extremely differently. Many thought it was a Marxist parody of American capitalism that was subversive. It was at least regarded as a Marxist criticism of popular culture, if not subversive. This is probably not the intended message, given Warhol's generally apolitical perspective.
His use of pop art may have just been an effort to draw attention to his writing.
Artwork Premiere
Warhol was not there when the show debuted on July 9, 1962. The 32 single soup can canvases were arranged in a single line, each positioned on a little individual ledge, much like items on shelves. The historical impact is now seen as having been a watershed, although the immediate effects were unremarkable. The gallery's visitors weren't sure how to interpret the display.
Few people actually saw the paintings at the Los Angeles exhibition or at Warhol's workshop, but news of them quickly spread because of the outrage and controversy surrounding the apparent attempt the paintings made to mimic the look of manufactured goods.
Special edition of multicolored Campbell's Soup cans by Andy Warhol; Foto: Jonn Leffmann, CC BY 3.0, via Wikimedia Commons
Long-running discussions about the virtues and ethics of concentrating one's energies on such a banal commercial lifeless model kept Warhol's work in the public eye. The critics couldn't believe an individual would compare their medium to a trip to the neighborhood grocery store. Warhol's talk did not result in financial success.
Pop art had only just begun to take off when Warhol's exhibition debuted in 1962. People were unsure of how to interpret work that defied all preconceived notions of what art should be. After the initial shock subsided, the general public and the critics began to appreciate Warhol's soup cans. Warhol soup cans are still a popular culture staple today, appearing on everything from skateboards to dinner plates.
Frequently Asked Questions
What Year Did Warhol Complete Campbell's Soup Cans?
They were completed in 1962. The paintings were grouped together on shelves, much like the items in a grocery aisle, for his 1962 debut exhibition of Campbell's Soup Cans. The canvases emphasize the consistency and universality of the product's packaging by repeating the almost similar picture. Warhol drew the contour of a soup container onto his white canvas using a projector.
How Were the Campbell's Soup Cans Received by Critics?
Even though Blum and Warhol had great expectations for the program, it did not enjoy the early success they had hoped for. The youthful artist will either be a soft-headed idiot or a hard-headed con artist, according to one critic who seized the chance to poke fun at the idea and its supporters. A cartoon that appeared in the Los Angeles Times depicted an art lover saying to another that they did not enjoy the cream of asparagus flavor, but they loved the chicken noodle counterpart. Blum ultimately sold five of the series' paintings. He did, however, end up purchasing these back.
Isabella studied at the University of Cape Town in South Africa and graduated with a Bachelor of Arts majoring in English Literature & Language and Psychology. Throughout her undergraduate years, she took Art History as an additional subject and absolutely loved it. Building on from her art history knowledge that began in high school, art has always been a particular area of fascination for her. From learning about artworks previously unknown to her, or sharpening her existing understanding of specific works, the ability to continue learning within this interesting sphere excites her greatly.
Her focal points of interest in art history encompass profiling specific artists and art movements, as it is these areas where she is able to really dig deep into the rich narrative of the art world. Additionally, she particularly enjoys exploring the different artistic styles of the 20th century, as well as the important impact that female artists have had on the development of art history.
Learn more about the Art in Context Team.