Ai Weiwei – Discover the Artworks of the Influential Chinese Artist
Ai Weiwei is currently the most well-known Chinese artist alive. Ai Weiwei's art redefined what creative expression could encompass outside of the traditional mediums, such as provocatively smashing a 2,000-year-old ceremonial vase as a symbolic gesture of his disdain for the Chinese civilization and its history. Ai Weiwei's artworks are viewed as anti-patriotic by the Chinese state and he has been detained, beaten up, and placed under house arrest because of them. The following look at Ai Weiwei's biography will provide greater insight into what motivated this iconic Chinese artist.
Ai Weiwei's Biography
| | |
| --- | --- |
| Nationality | Chinese |
| Date of Birth | 28 August 1957 |
| Date of Death | N/A |
| Place of Birth | Beijing, China |
| Style | Conceptual Art, Installation Art |
Although we are all aware of the many revolutionaries who reshaped Europe and the Americas in the Western world, few of us know much about the anti-authoritarian dissidents in Eastern countries such as China, who also fought against extremely oppressive governments. Ai Weiwei can be counted among these free-thinking revolutionaries and is regarded as a threat to the idealized version of society as envisioned by those in authority due to his shocking and politically driven art installations.
Ai Weiwei's art was used as a medium to convey his messages to the outside world and was one of the first artists to embrace social media as a way of sharing his message.
Childhood
Ai Weiwei was born into a family of free-thinking individuals. His father, Ai Qing, was a very popular writer in China and had himself been detained by the government for anti-authoritarian leftist behavior before Ai Weiwei had even been born. However, after the regime change, he was detained once again and accused of supporting the opposition on the right.
Due to the constant suspicions of treason from the state, the family was eventually exiled when Weiwei was barely one years old.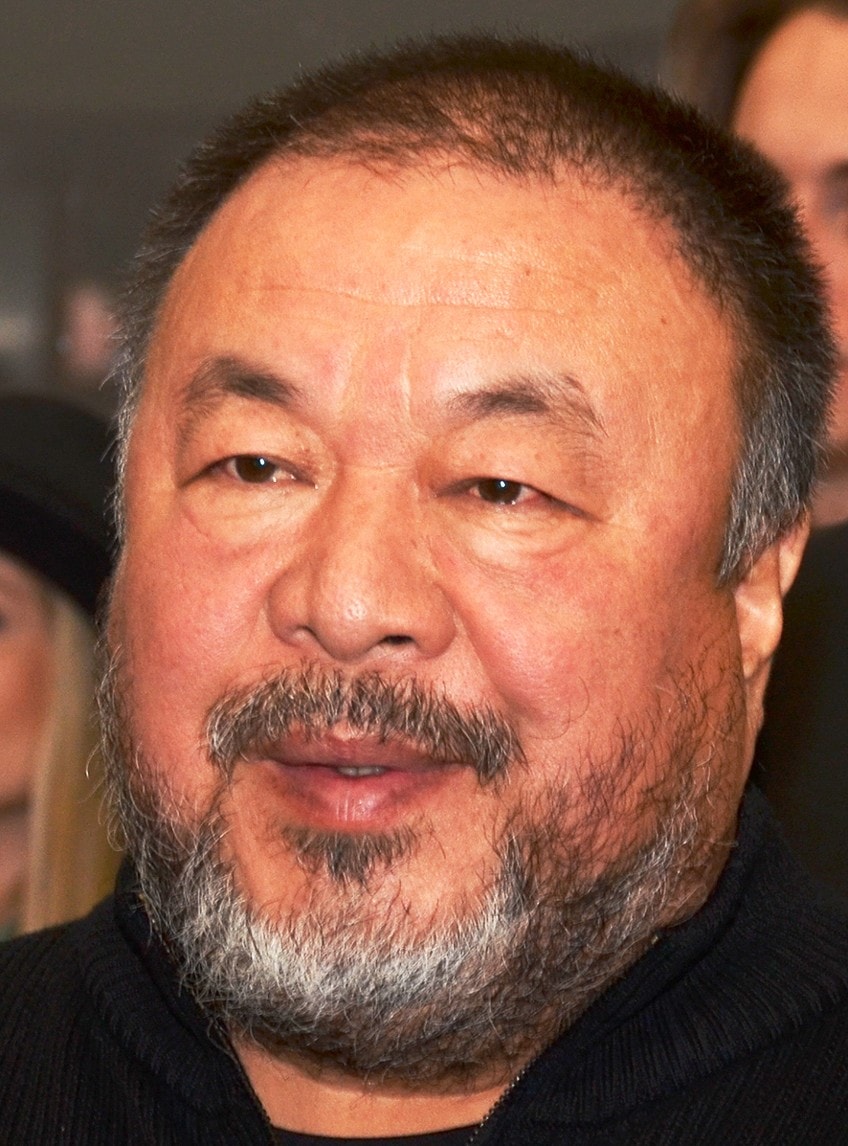 Photograph of Ai Weiwei in 2017; Jindřich Nosek (NoJin), CC BY-SA 4.0, via Wikimedia Commons
This constant threat from authoritarian states, as well as his father's writings, would both have a lasting impact on the Chinese artist. The Weiwei family spent 20 years living in exile, moving from one small North Korean village to another, where his father was compelled to take jobs that involved hard labor and disgusting conditions, such as cleaning the village's communal toilets.
During this time, the young boy had to do whatever he could to help the family survive.
He learned how to make bricks and furniture – both skills that would later be applied in the creation of Ai Weiwei's artworks. It was a life of destitution, and the young Weiwei received no form of formal education. The family only owned a single book – a massive encyclopedia that was his only source of information for many years.
Early Training
After the death of Mao in 1976, the Weiwei family was able to return to China. Ai Weiwei was 19 years of age at the time and decided to study animation at Beijing's Film Academy. While there he was introduced to the underground art scene of Beijing and was one of the first participants in a politically motivated group of artists known as "The Stars". After a long period of conservative control under the Mao regime, this group of emerging artists wanted to promote the idea of self-expression with their artworks.
Weiwei moved to the US in 1981, studying at various institutions and trying to get a better grasp of the English language.
He then enrolled at the Parsons School for Design in New York in 1982, however, he left after 6 months and attempted to make money doing odd jobs and working as a street artist. He would stay in New York for 11 years, taking photos of the city and immersing himself in the New York art scene. Those photos would later be published in a book titled New York Photographs (1983 – 1993).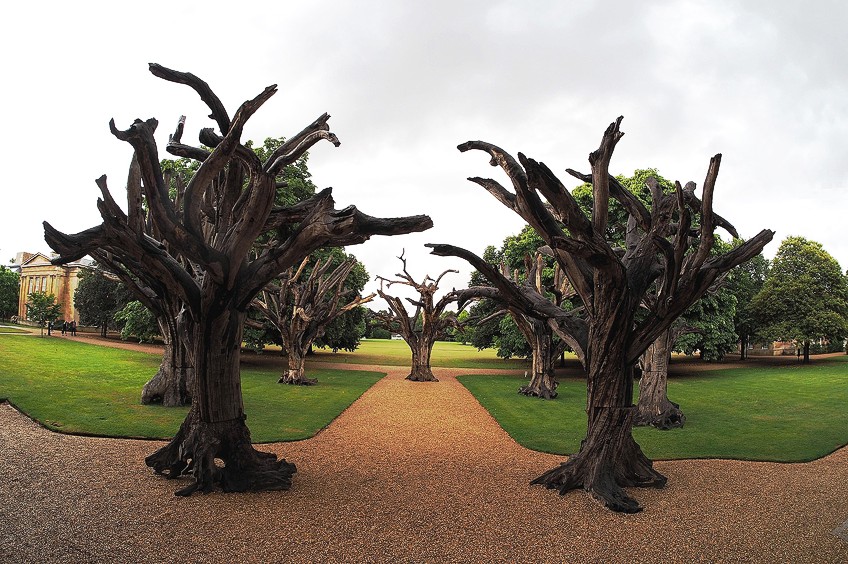 Trees (2010) sculpture by Ai Weiwei, installed in Downing College in Cambridge, 2016; Verbcatcher, CC BY-SA 4.0, via Wikimedia Commons
While in New York he also became friends with Allen Ginsberg, the famous beat poet, who had previously met Weiwei's father when he was in China. Weiwei spent much of this time exploring the US and fell in love with blackjack which was played in the casinos he had visited on his travels.
He eventually became so good at the game that there are people in the US who know him as a professional blackjack player and not a famous Chinese artist.
Mature Period
Weiwei held his debut exhibit in 1988 in New York's Ethan Cohen Gallery. The Chinese artist then returned to Beijing five years later after hearing that his father had fallen ill. While in Beijing, Weiwei published three books that contained interviews with Andy Warhol, Jeff Koons, Marcel Duchamp, and other artists who were among his favorite from the West.
For Weiwei, there were many parallels between the works of these artists and Ai Weiwei's art, as well as the art of his peers who were emerging at the time.
Ai Weiwei's father passed away in 1996, upon which the artist stated that his father had been the most significant and influential figure in his life. At this time, Ai Weiwei's artworks reflected his father's passion for traditional furniture design and production, spending the next five years creating pieces of furniture. Weiwei designed and constructed a studio and home for himself in 1999, despite not having any formal architectural training. Four years later he founded FAKE Design, his own architectural practice.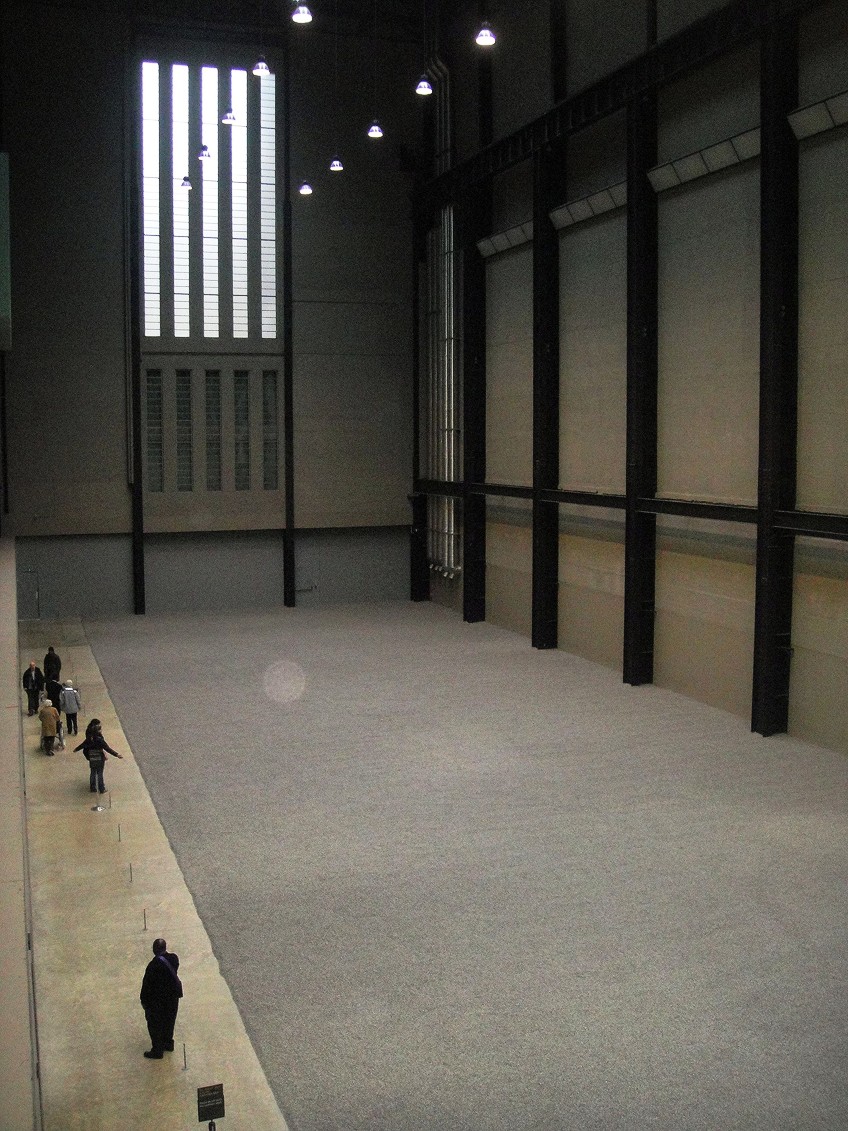 Sunflower Seeds (2010) by Ai Weiwei, located in the Tate Modern Turbine Hall in London, United Kingdom; Анна Астахова, CC BY-SA 3.0, via Wikimedia Commons
Ai Weiwei was selected to represent China at the prestigious cultural and political exhibition called the Venice Biennale. He then curated F**k Off, an exhibition that caught the attention of the Chinese authorities. Art was state-regulated and Chinese artists were expected to follow certain guidelines involving the themes of their works. Art was meant to be representational of the Communist principles, respectful of the state and authority, and presented in a Socialist Realism manner.
Therefore, Ai Weiwei's art and the art of others who exhibited their works at "F**k Off" were displaying art that was in direct violation of those guidelines.
Not only did they not follow the pre-approved traditional style of Chinese propaganda art, but they created works that directly opposed the state's ideologies, naming the exhibit in a manner that left little room for ambiguity as to their true feelings.
Current Work
Although the Chinese artist had always been considered politically active, it wasn't until 1999 that he started to become known by the population at large, and this visibility and potential influence on the public was seen by the Chinese state as a threat to their sense of control.
They tried every method possible to limit the artist's accessibility to a larger audience, however, this backfired.
It drove Weiwei to establish several initiatives aimed at addressing topics concerning state censorship and regulations, such as their draconian internet restrictions which limit citizens to having access to only a few sites that have been deemed safe by the government. In 2005, the Chinese company Sina invited Weiwei to share his views via an online blog that would be hosted on their website.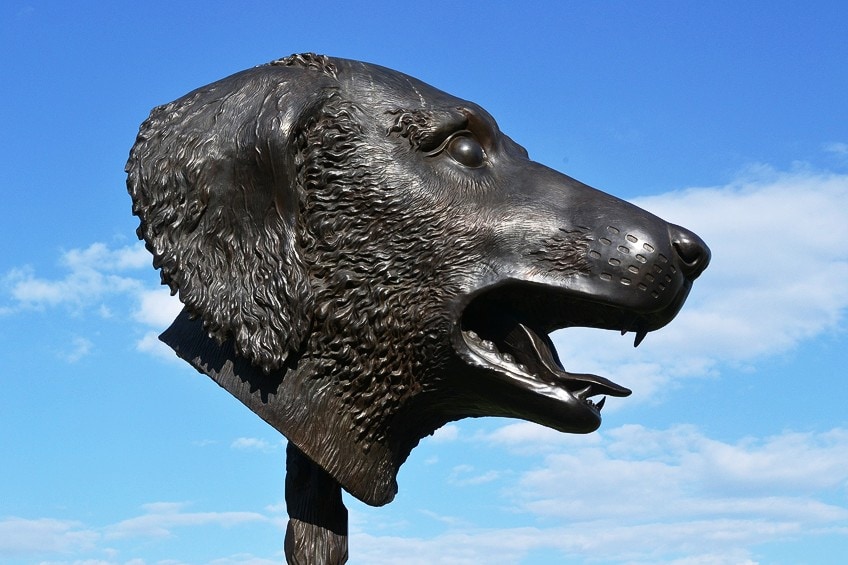 Dog's head sculpture titled Circle of Animals/Zodiac Heads (2011) by Ai Weiwei; Pixabay.com, CC0, via Wikimedia Commons
Four years later, the site was getting more than 100,000 views every day, which prompted the authorities to clamp down on what they felt were anti-patriotic sentiments. He would continue to share his views on international sites such as Twitter, where he quickly gained the attention of many people around the world and was able to convey his message about the integral connection between artists and their audiences, and the importance of keeping such channels of information and dialogue open for all to access.
Ai Weiwei's artworks and architectural designs were often commissioned for commercial use, such as his design for the Beijing Olympics stadium in 2008.
It was designed in collaboration with Herzog and de Meuron, the Swiss architects, and was meant to encourage a sense of unity and fairness. However, to the international media, he expressed concerns that the games would only be used as another means of control by the government. His work on the stadium brought international acclaim, but also further strained his relationship with the Chinese state.
They found themselves in the difficult situation of trying to curb the actions of a man who was also one of their most celebrated figures internationally. Despite their restrictions on their citizens, the Chinese state still wanted to present the perception of democracy to their Western counterparts, as good ties between the two countries were essential to the growth of China. In 2008, thousands of Chinese schoolchildren died when numerous schools collapsed during an earthquake that occurred in 2008.
He blamed their death on the badly designed and cheap construction practices of the local government responsible for building them, sharing his views through a series of Twitter posts.
State officials refused to publicly release the total number of deaths, and the Chinese artist took it upon himself to investigate the matter personally, revealing that more than 5,000 children had perished due to sub-par construction. Since the state was not able to stop him through regulations, they decided to take a far harsher approach, breaking into his hotel room and beating him to the point that he suffered massive cerebral hemorrhaging and had to be rushed to hospital.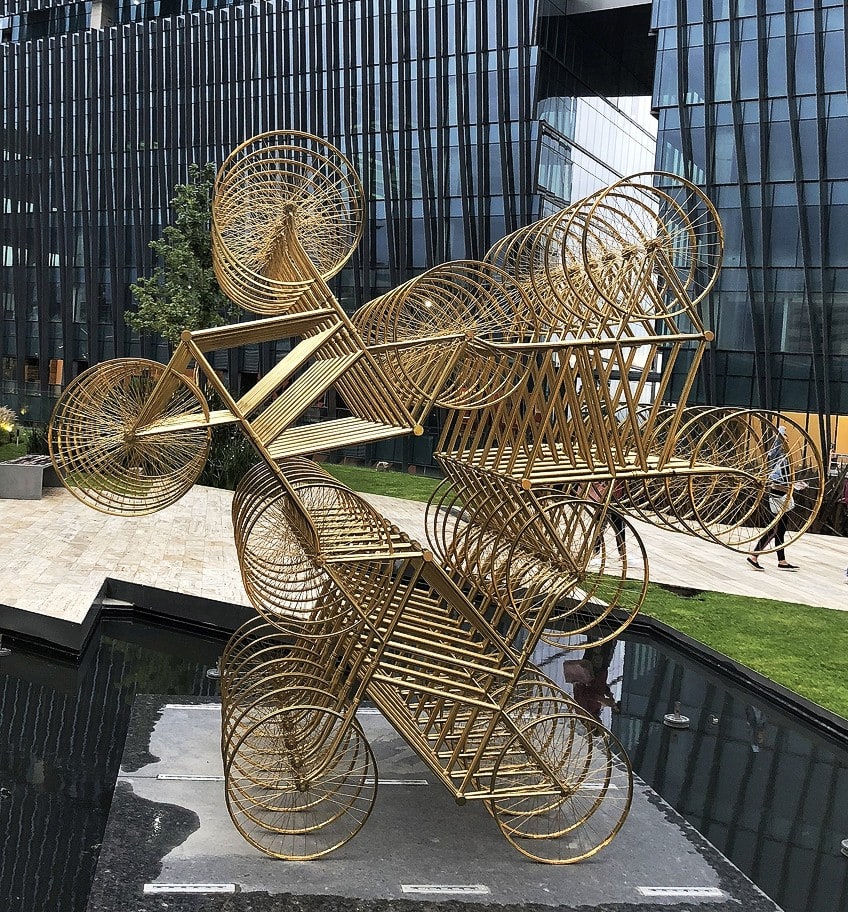 Forever (2018) by Ai Weiwei, located in Mexico City; Ai Weiwei (sculpture) / Keizers (photograph), CC BY-SA 4.0, via Wikimedia Commons
This was the start of continuous efforts on their part to heavily curtail his communications and movements both within and outside of China. He was even placed under house arrest in 2010 and denied access to Twitter the following year. Police also installed surveillance cameras inside his home.
He was then arrested and detained with no formal charges laid against him at the Beijing International Airport in 2011. This caused a huge uproar internationally, sparking a worldwide attempt to engage human rights groups to rise to his defense.
Weiwei was released after 81 days with a fine of $1.5 million imposed on him by the state. Supporters from across the world and within China raised the amount required and paid the government. He would only be provided with an international passport four years later. Although being internationally recognized did not prevent him from receiving harsh punishments and fines, it did help raise awareness of his situation globally, which resulted in growing pressure from Western countries which sought to uphold his human rights.
Legacy
Despite his role in trying to expose Chinese citizens to the harsh regulations that were imposed on them by the government, his work potentially impacted the West more than it did the East. In Europe and the U.S, he is respected as both an activist for freedom of expression and as an artist, opening the doors for a greater understanding of the modern culture and politics of China within the global community.
Many of his most recent performances were produced to bring attention to various humanitarian crises around the world, such as in 2015 when he posed as the dead baby who had been found washed ashore in Turkey.
On another occasion, he brought a piano to a Syrian girl who was staying in a refugee camp in Greece and was missing her piano, and he recorded her performance. Ai Weiwei's art performances continue to bring global attention to situations that require humanitarian aid, and give voice to those who cannot speak for themselves.
Because of Ai Weiwei's artworks and political efforts on the global stage, he is regarded as an inspirational figure, an example of how art can be used to transform individuals as well as entire nations. He continues to have many supporters across the world who regularly interact with his Twitter posts and share their artistic performances in response to those he uploads to Instagram. In 2015, the artist requested that the Lego company ship a large number of blocks so that he could create an art installation from them, but they declined, stating that they did not support politically based artworks.
Weiwei's followers then organized a campaign on social media which gathered blocks from fans around the world and sent them to China.
Several other artists have been inspired by Ai Weiwei's artworks, such as Huang Rui, an artist known for his performances that cover subjects such as the relationship between China and the Western world. Many modern artists tend to steer away from political art though, feeling it belongs to an older generation that had experienced more severe restrictions. However, regulations in China are still very restrictive, and perhaps Ai Weiwei's art and the works of other Chinese artists are needed now more than ever.
The Free Ai Weiwei Street Art Campaign
When Weiwei was placed under detention for 81 days, artists and supporters started a campaign to protest his arrest. The campaign involved stenciling pictures and slogans regarding his arrest on the walls, pavements, and bridges of cities across the world. Many people had assumed that despite ever-present threats from the state, Weiwei would never be arrested as he was such a well-known figure around the world, knowing the authorities were not keen on gaining too much negative attention from the West.
His arrest was therefore a carefully considered move to send out a warning to all creatives that none of them were immune from the state's will and power.
During his detainment, Weiwei's family was not even notified of his location, and various global human rights groups and international governments put increasing pressure on the Chinese government to release the artist.
"Free Ai Weiwei" sign on the roof of the Kunsthaus Bregenz in Austria on the occasion of an exhibition by the artist; Plani, CC BY-SA 3.0, via Wikimedia Commons
Many observers from outside of China stated that it was only a matter of time before the government would do something to curb Weiwei's performances, as they were created to provoke the authorities and encourage others to rebel against the norms of Chinese society. Several newspapers in China sided with the state, and many of them printed stories that he had actually been arrested for tax reasons and for posting indecent pictures online in the name of art.
To his supporters, though, this was just another example of state propaganda meant to discredit the artist and discourage citizens from following him or adopting his views.
Accomplishments
The 1990s in New York was a time of rebellion and anti-authoritarianism in art, and the more a statement was aimed at evoking a strong response, the better its reception within art circles. This meant that artists were always trying to outdo each other in creating the most sensational performances and installations that would grab the attention of the public, or better yet, shock them. This was a rather different environment from the one the young Chinese artist was accustomed to, yet he readily and eagerly embraced the scene's desire to promote self-expression.
Upon returning to China, he found it hard to fit back into the extremely conservative and restrictive cultural environment, realizing that the West and China had vastly different ideas about what their citizens should be allowed to do or say.
It was not only a difficult adjustment to make in his life, but practically impossible, and he refused to inhibit his creative expression to appease the will of the state. Ai Weiwei's artwork was about pushing boundaries and testing the limits of expression and personal freedom.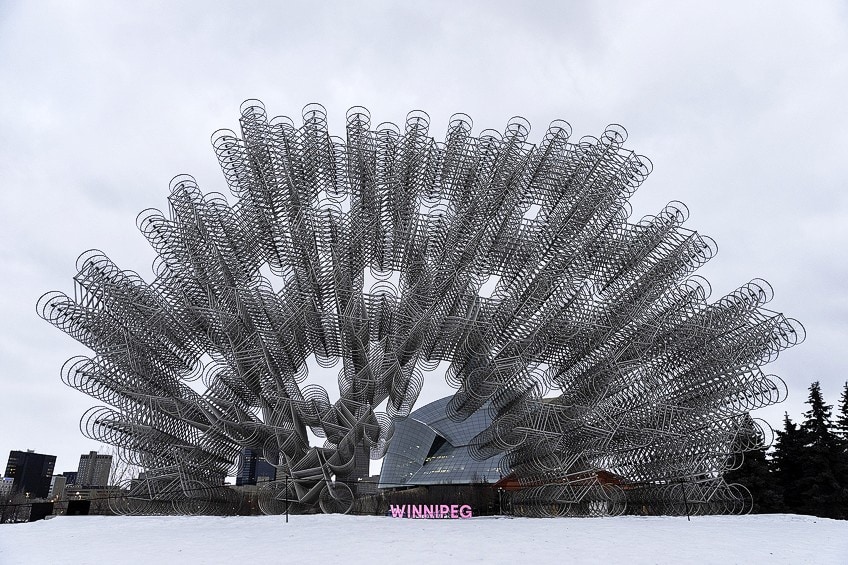 Forever Bicycles sculpture by Ai Weiwei, located in Winnipeg Manitoba, Canada; Lorie Shaull from St Paul, United States, CC BY 2.0, via Wikimedia Commons
The Chinese artist constantly put his life on the line with his controversial performances, acting as a constant reminder to other artists that one had to take risks with their art. Perhaps his inclination for high-risk activities explains his love for blackjack. For Weiwei, concerns about intrusive surveillance were not a fictional topic from a dystopian novel, but rather something he had experienced in his real life, and he wished to express the dangers of state interference in individuals' lives with his artistic statements.
Many Minimalist and Conceptual principles are evident in Ai Weiwei's art – styles he picked up during his many years living and studying in the States.
The Chinese artist was not as concerned with aesthetics as he was with the expression of a specific statement that was intended to spark awareness of various humanitarian concerns, similar to Robert Grober, Dorsi Salcedo, David Hammonds, and other activist artists.
Ai Weiwei's Art Style and Significance
Ai Weiwei's artworks were created as a way to express his desire to transform the Chinese political landscape and promote freedom of expression. He would often juxtapose traditional Chinese artifacts with symbols of modernization such as can be observed in his work Han-Dynasty Urn with Coca-Cola Logo (1994).
Ai Weiwei's art style is a form of Conceptual or Performance art, often performing a simple action with a deeper meaning.
An example of this is when he made a video where he read out the name of every single school child who had died due to governmental negligence and corruption during an earthquake in 2008. He created another installation in memory of the same incident called Remembering (2009), which involved sticking 9,000 school backpacks to the Haus der Kunst's facade in Munich.
For one of his installations, he displayed photographs of flower baskets. Each day he would fill his bike's front basket with different flowers during his international travel ban. He had been banned for more than 600 days from leaving China, and the exhibit featured photos of the flowers as well as the actual bike he used.
He would also post the flower photos on social media daily as a continuous digital installation.
The bike was parked outside of his house, and he placed a new bunch of flowers daily, often under the surveillance of police positioned outside of his residence, and their presence was very much a part of the message he tried to impart through his installation.
Important Artworks
Ai Weiwei's artworks were politically significant and acted as statements of creative freedom. Due to living in a very restrictive country, art became a platform for young Chinese artists to raise awareness of the ever-increasing multiple restrictions that they were all subjected to. Here are a few of his most important artworks.
| | | | |
| --- | --- | --- | --- |
| Artwork | Date | Medium | Current Location |
| Dropping a Han Dynasty Urn | 1995 | Photograph | Mulitple prints |
| Study of Perspective Tiananmen Square | 1995 | Gelatin silver print | The Museum of Modern Art, New York |
| Ton of Tea | 2008 | Tea leaves | Ai Weiwei Studio |
| Straight | 2012 | Steel reinforcing bars | The Royal Academy of Arts, London |
| Sunflower Seeds | 2010 | Porcelain | The Royal Academy of Arts, London |
| Surveillance Camera | 2010 | Marble | The Royal Academy of Arts, London |
| He Xei | 2011 | Porcelain | The Royal Academy of Arts, London |
Recommended Reading
Throughout Western and Eastern history, certain artists have taken it upon themselves to question and defy the status quo of the authoritarian states that they were born into. The Chinese artist Ai Weiwei was one of these individuals.
Without people such as Weiwei, most folk would simply accept that the life they lead is the only one possible.
People are unaware that a potentially better reality is available to those willing to powers that sought to dictate their every action and thought. Ai Weiwei's biography is full of examples of situations where he was forced to risk his life and freedom to fight for the freedoms of his fellow Chinese citizens. If you would like to learn more about Ai Weiwei's art and life, here are a few books that will give you further insight.
Weiwei-isms (2012) by Ai Weiwei
This book offers readers a deeply insightful glimpse into the inner thoughts of Ai Weiwei, the world-renocanse artist, and activist. It contains a collection of quotes that demonstrate the clarity and elegance of the artist's views on politics, art, and life in general. Weiwei can take complex or nuanced concepts and present them in an easily understood and simple manner. This is a trait that has served him well on social media, where concise bite-sized bits of information is easier for viewers to digest when scrolling through social sites.
The thoughtfully selected quotes were sourced from various interviews, tweets, and articles featuring the acclaimed activist. They have been grouped into six categories such as chapters on morality, power, freedom of expression, and artistic activism.
Collection of quotes from Weiwei
Organized into six categories of quotations
Quotes span some of the most revealing moments of Weiwei's career
View on Amazon
Ai Weiwei (2016) by Hans Werner Holzwarth
Ai Weiwei is a name that is recognized globally in both activist and artistic circles. Due to the tumultuous nature of his work, his life seems to be in constant flux, with extreme ebbs and flows that have turned him into a cultural magnet of sorts, attracting both positive and negative reactions from those around him. This book traces Ai Weiwei's art career through the various stages of his life by examining examples of works that embody each of these stages, from Weiwei's early works in New York in the 1990s, right up to his most contemporary works.
This book features photographs taken behind the scenes of his performances that have not been seen by the public before, as well as excerpts from various interviews and articles which all offer a greater understanding of this iconic Chinese artist.
Visual material traces Weiwei's artistic development
Behind-the-scenes studio pictures and production shots
Explores his career phases until his release from Chinese custody
View on Amazon
Ai Weiwei – 1000 Years of Joys and Sorrows (2021) by Ai Weiwei
There is no better way to fully grasp the incredible experiences that Weiwei has had to endure throughout his career than by hearing the story told by the artist himself. This book tells the story of Weiwei's life as well as that of his father, a celebrated poet in China in his lifetime. It reveals a life of determination, courage, risk, and triumph. It paints a picture of an individual who refused to be confined creatively by the past and those who sought to uphold the old systems of control.
In his own words, he recounts the events and people who served as sources of inspiration or motivation that helped form his beliefs and drove him to become an activist and artist.
A must-read about Ai Weiwei and his family's life
Includes a detailed account of his father's life
Written by the artist himself
View on Amazon
Art can play many different roles in society. Sometimes it is simply created for aesthetic beauty, while other times it is created to convey a hidden meaning. There are also certain occasions where the meaning is blatantly obvious. Ai Weiwei's art did not try to hide any meanings – his messages were always upfront and clear. They also did not adhere to any of the guidelines set out by the Chinese state that required all art to be created in celebration of the Socialist nation, and in no way encourage any sort of rebellion amongst its citizens. His years in New York exposed him to a culture that was free to express itself how it saw fit, and upon returning to China, he found that he was not able to conform to the manner expected of him. This would lead to a lifetime of art created in the name of activism – using the medium to share his message of freedom with a global community of supporters.
Frequently Asked Questions
Who Is Ai Weiwei?
Ai Weiwei is a Chinese artist who is often regarded as the most significant artistic figure in China today. Growing up in very poor circumstances due to a childhood lived in exile, he experienced firsthand how the government would attempt to crush anyone they saw as a potential threat such as Weiwei's father, an influential poet in China. Following his years in the U.S, he returned to China determined to create art in the same rebellious and outspoken manner that he was able to in the West. This drew the attention of the authorities who tried to make the artist's life as difficult as possible by constantly trying to censor, beat, and detain him, even taking away his passport. However, all of these actions would simply make him more adamant to share his story with the world through his artistic statements and performances.
What Do Ai Weiwei's Artworks Involve?
Weiwei is a Conceptual and Performance artist. He uses his art as a medium to express his feelings about certain social and political topics visually to create a narrative. He will often take objects such as traditional ancient artifacts and devalue them in some way, either by branding them with modern corporate logos or smashing them. These performances were meant to represent his feeling toward tradition and authority. His works are often created to draw attention to specific human rights violations and governmental corruption.
Isabella studied at the University of Cape Town in South Africa and graduated with a Bachelor of Arts majoring in English Literature & Language and Psychology. Throughout her undergraduate years, she took Art History as an additional subject and absolutely loved it. Building on from her art history knowledge that began in high school, art has always been a particular area of fascination for her. From learning about artworks previously unknown to her, or sharpening her existing understanding of specific works, the ability to continue learning within this interesting sphere excites her greatly.
Her focal points of interest in art history encompass profiling specific artists and art movements, as it is these areas where she is able to really dig deep into the rich narrative of the art world. Additionally, she particularly enjoys exploring the different artistic styles of the 20th century, as well as the important impact that female artists have had on the development of art history.
Learn more about Isabella Meyer and the Art in Context Team.
Cite this Article