Damien Hirst – Poster Boy of Controversial Contemporary Art
Damien Hirst was one of the late-20th century's biggest subversives and a contentious figure in contemporary art history. Damien Hirst's artwork both repulsed and wowed viewers. Art critics were also not huge fans of Damien Hirst's paintings, as they were often extremely disgusting. Let us delve into the life and art of this controversial artist.
A Damien Hirst Biography
| | |
| --- | --- |
| Nationality | British |
| Date of Birth | 7 June 1965 |
| Date of Death | N/A |
| Place of Birth | Bristol, England |
Exactly why is Damien Hirst famous? Hirst created a foolproof technique for capturing the notice of the public and reviewers from the start of his work. Decaying carcasses horrified and drew museum guests, who perceived it as a challenge. Critics were likewise astounded, not so much by the work as by the exorbitant amounts demanded of it.
This left Hirst at the forefront of the art world and increased the worth of his works, which continues to fetch some of the industry's greatest prices.
Childhood
The controversial artist Damien Hirst was born in 1965 in Bristol, England. His family relocated to Leeds shortly after his birth, where he spent most of his youth. He was reared alone by his mother after his parents divorced when he was 12 years old.
He was a wild adolescent who was jailed twice for theft and was not a good student, but he showed potential in painting and finally chose to attend university.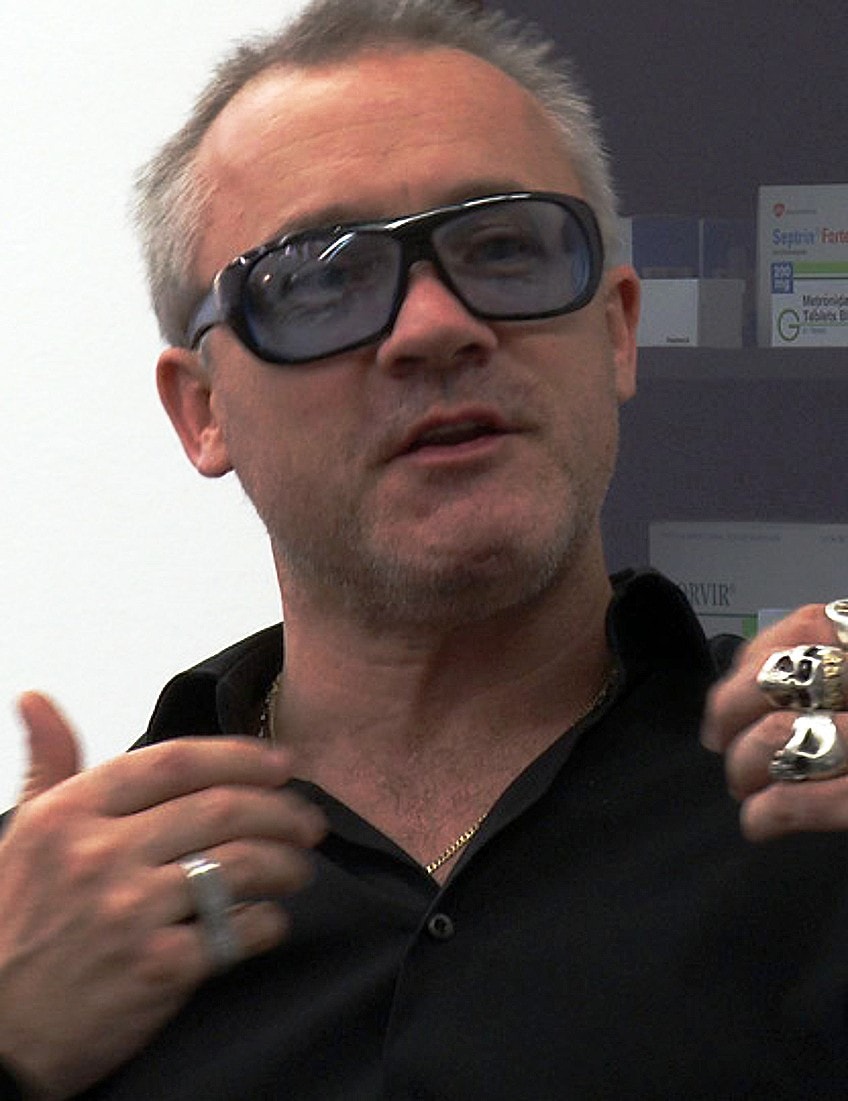 Still image of English artist Damien Hirst from the 2010 documentary "The Future of Art" by Erik Niedling and Ingo Niermann; Christian Görmer, CC BY-SA 3.0, via Wikimedia Commons
As a teenager in the late 1970s and early 1980s, Hirst was drawn to the punk rock and social milieu that was gaining traction in British society, leaning toward its defiance of convention and aggressive, harsh subject matter. He was a big fan of the punk band the Sex Pistols, even though his mother reportedly melted one of their Albums into a fruit dish, and he referred to them a lot in his later work.
Early Training
From 1986 until 1989, Hirst studied Art at the University of London, however, he was denied the first time he enrolled. He got engrossed in his studies and swiftly rose to prominence in the Goldsmiths student community, engaging in various groups and organizing student-run events.
During his summer vacations, he worked part-time in a morgue in Leeds, an encounter that influenced the ideas and materials he eventually used as an artist. He sketched samples and corpses on occasion (a common habit among western painters), and the work also supplied him with the technical expertise he would later employ to convert biological material into sculptures.
He was the principal organizer of a collective show named Freeze during his second year at Goldsmiths. The show would be a watershed moment in his career. In addition to his work, the exhibition included work by 16 schoolmates, notably Sarah Lucas, Fiona Rae, and other young postmodernist artists.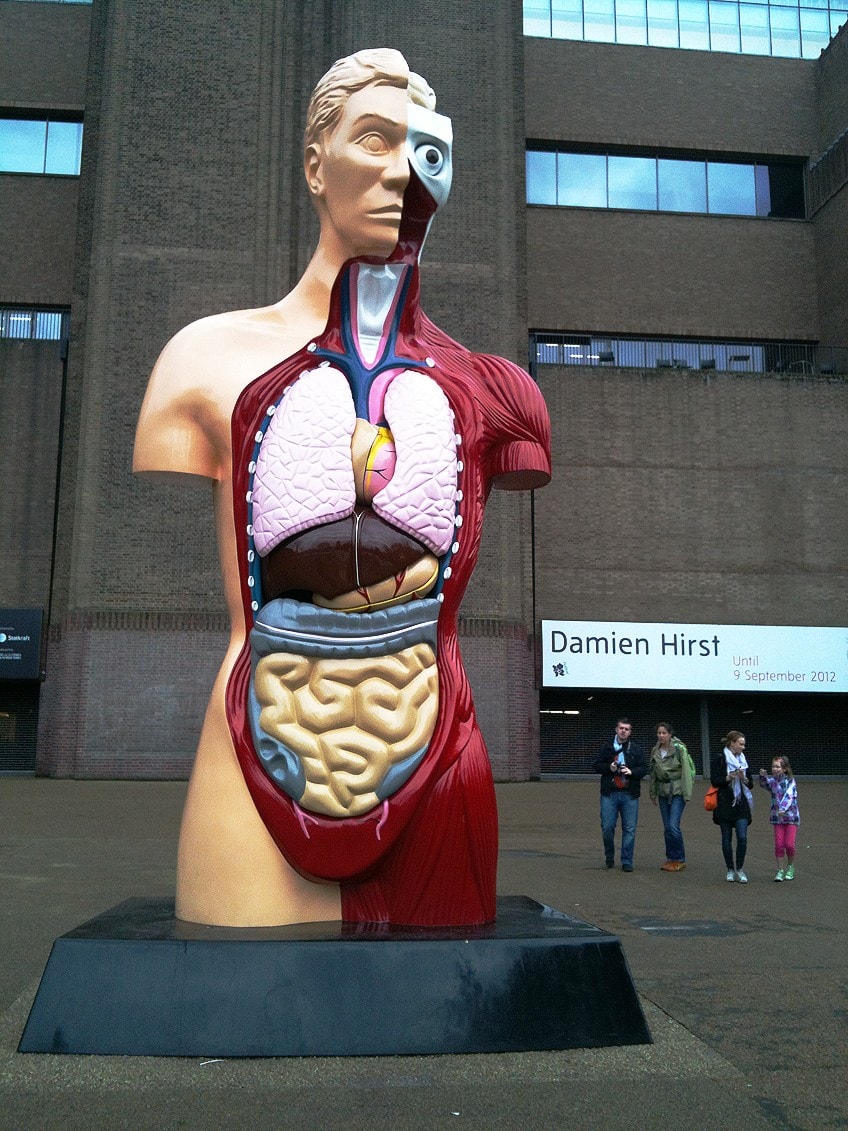 Hymn (1999) by Damien Hirst; Jack at Wikipedia, CC BY-SA 2.0, via Wikimedia Commons
They would become recognized as a group for their no-holds-barred approach to art, using astonishingly unorthodox materials and creating notions that questioned the meaning of art. Freeze was hosted at a low-cost warehouse facility in London's Docklands, which was then an unpopular and out-of-the-way district. Hirst contacted a multitude of corporate galleries at first, but there was little enthusiasm in the proposal.
One of Hirst's instructors, Michael Craig-Martin, convinced a number of significant figures in the British arts community to visit the exhibition.
Following warehouse displays by Freeze and Hirst, Saatchi was inspired to sell most of his considerable inventory of modern American art and invested in the next wave of British artists. He scouted works from student exhibits and experimental gallery locations, resulting in a sequence of shows titled Young British Artists that ran throughout the 1990s.
Mature Period
Saatchi became Hirst's benefactor in 1991, offering to support whatever the artist desired. The two men's plan was soon to yield fruit. Hirst received worldwide notice and praise following Saatchi's inaugural Young British Artists exhibition in 1992.
His first Saatchi-funded piece was a big installation piece named "The Physical Impossibility of Death in the Mind of Someone Living", which featured a mummified tiger shark in a large glass display. Hirst was nominated for the Turner Prize, which is awarded to emerging British painters under the age of 50.
While he didn't win, he did get the prize in 1995. Almost instantly, he distinguished himself as a contentious and provocative personality in the world of contemporary art. His artworks of mummified, animal carcasses are his most renowned and contentious works.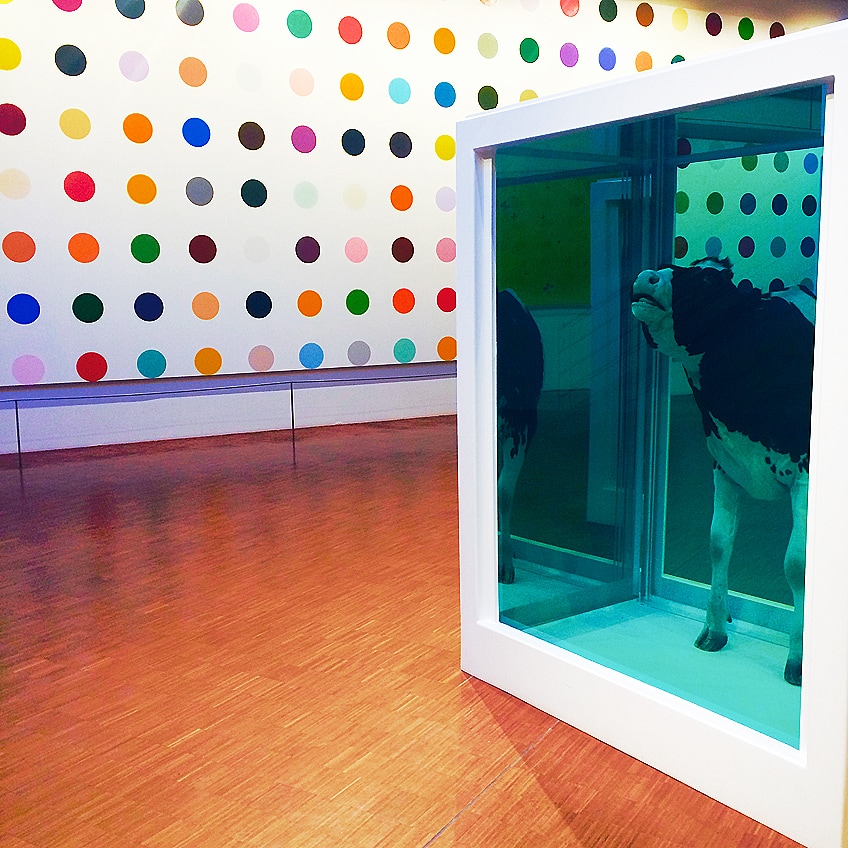 Photograph of Hirst's work featuring Love's Paradox (Surrender or Autonomy, Separateness as a Precondition for Connection) (2007) on the left and 2-Amino-5-Bromobenzotrifluoride (2011) on the right, located in the Damien Hirst Room at Arken Museum of Modern Art, Denmark; Jonathan Deamer, CC BY 4.0, via Wikimedia Commons
For example, in 1995, New York public health regulators prohibited Two Fucking and Two Watching, a work involving a decaying cow and bull, citing "nausea among the attendees." He continued to work on surprising and hard creations, eliciting intense, love-hate responses from the art community.
He was inspired by his time in the mortuary, and he also identified Francis Bacon as a big influence. Bacon is a British painter noted for his uncompromising, often grotesque images of torture, misery, and deformities. Bacon, for his part, saw the exhibit and waxed poetic about it in a letter to a friend. He would go on to be one of Hirst's most fervent defenders. By the late 1990s, Hirst had established himself as a major presence in British art and culture.
He filmed the music video for Blur's "Country House," and he developed and produced a shorter movie featuring comedian Eddie Izzard. His elevated standing in modern British art was solidified by the Sensation exhibition at London's Royal Academy in 1997, which commentators have since considered as the YBAs' formal admittance into the establishment.
Current Work
Several of the Young British Artists became popular superstars in their own right beginning in the late 1990s, noted for their bravado, cursing, and rock 'n' roll mentality. Hirst, the Sid Vicious of the group, was notorious for his drunken drug binges and outlandish conduct, including visiting a director nude.
Hirst realized that celebrity and scandal were inextricably linked for him, and he acted the character admirably. When Hirst's commercial connection with Saatchi terminated in 2003, he sparked even more controversy.
Hirst was dissatisfied with the way Saatchi displayed his works at his new gallery location and was especially outraged that a Mini Cooper adorned in the manner of one of his spot canvases was being shown as a serious piece of art. He withdrew all of his paintings from the exhibition, prompting Saatchi to cancel a large Hirst exhibition at the Tate Modern. The artist ended his ties with his long-time sponsor, purchasing several early pieces for a large fee and informing the British reporters, "I'm not Charles Saatchi's monkey – he only perceives artwork with his cash."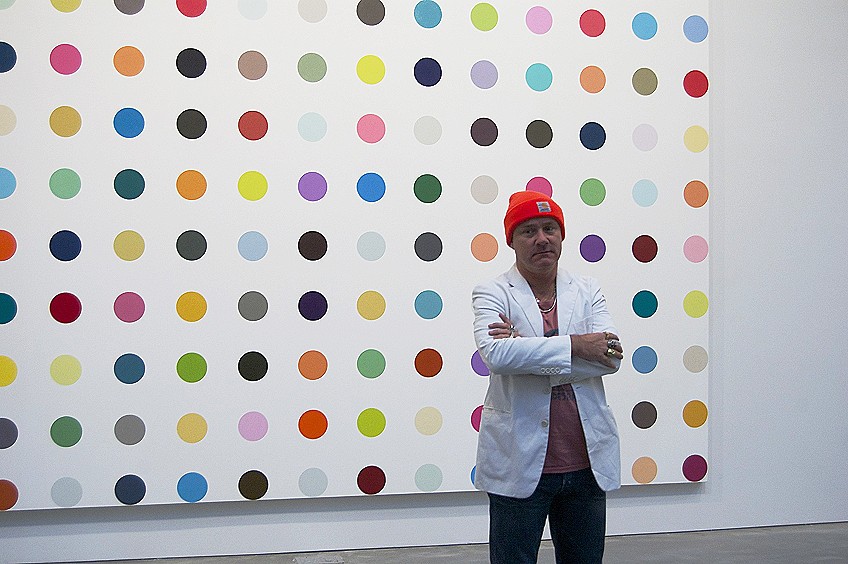 Damien Hirst at his exhibition, Damien Hirst: The Complete Spot Paintings 1986-2011, which took place in 2012 at the Gagosian Gallery in New York City; Andrew Russeth from New York, New York, CC BY-SA 2.0, via Wikimedia Commons
Hirst has had little trouble finding customers and viewers for his work after parting ways with Saatchi. While appreciating the intrinsic importance of public spectacle, he was astute enough to see that using provocative shock as a technique was not viable, and while his work remains extremely contentious, he adjusts and reinvents to meet the needs of audiences that requires him to take a risk.
Today, Hirst exhibits no indications of slacking at this point.
He has been a prominent participant in the cuisine in the United Kingdom, supporting and constructing a selection of restaurants, many of which have been more profitable than others. He also founded Other Criteria, a store that sells cheap, limited-edition collector's goods.
Legacy
For Hirst, conflict, and prosperity are inextricably linked, raising concerns about the connection between artwork and wealth that are difficult to be answered anytime soon. Hirst, a savvy businessman, has converted himself into a brand image. He can sell anything to virtually anyone. For those who don't want to dwell with a dead shark, he has "spot paintings," which are simple abstract canvases based on the molecular patterns of regulated medications. Consumers may purchase replicas of the infamous diamond-encrusted skull in a variety of budgets and dimensions.
He has also developed his own skateboard line. Hirst's trajectory is closely connected with that of contemporary art star Jeff Koons, who has mentioned him as an inspiration, in his ruthlessly ambitious, shamelessly commercial approach to art.
For the Love of God (2007) by Damien Hirst, which is made out of a platinum cast of an 18th-century human skull encrusted with 8,601 flawless diamonds; Aaron Weber, CC BY 2.0, via Wikimedia Commons
Hirst's influence on the work of Sarah Lucas, Cindy Sherman, and Tracey Emin has also been highlighted. Hirst, unquestionably one of the most recognized artists of his time, helped to set the circumstances for the formation of Tate Contemporary in 2000, which has since become the world's most-visited modern art museum.
Critics have also criticized Hirst's blatant intent to capitalize on his talent and his reliance on assistance in the creation of his work, notably his "spot paintings."
He is open about the fact that he did not create the bulk of these artworks, telling an interviewer, "Rachel Howard was the finest person that ever created spots for me. She's a genius. This is just great. Rachel's spot artwork is the nicest one you can get from me." His techniques and topics are contentious, yet the influence of Hirst's ingenuity as a painter, curator, and business will most certainly be felt for many years to come in the art world.
Damien Hirst's Artworks
Hirst's method, as contentious as it is, is solidly founded in historical and present materials. Its emphasis on death harkens back to memento mori motifs in European still life. In employing biological substances, he joins other late-20th century creators such as Robert Rauschenberg, who used taxidermized creatures, Carolee Schneemann, who coated herself in meat, and Joseph Beuys, who built Fat Chair as well as other fat creations.
Hirst distinguishes himself from his historical and present contemporaries by displaying complete bodies as visual spectacles. Hirst is a fantastic performer. You don't have to be an art expert to enjoy the thrill of viewing a dead shark up close.
These are appealing not only to art industry insiders but also to many first-time museum visitors, introducing them to the issues of modern art in an engaging and direct manner. Whether you like him or despise him, Hirst was a forerunner in predicting the requirements of the Modern art market. One may argue, as some have, that this is a type of art in and of itself.
With Dead Head (1991)
| | |
| --- | --- |
| Date Completed | 1991 |
| Medium | Black and white photo |
| Dimensions | 76 cm x 57 cm |
| Current Location | Tate, the United Kingdom |
With a wide grin on his face, the artist poses next to a decapitated head in a mortuary. Hirst chose and enlarged the shot for one of his early solo exhibits in 1991, even though it was taken some years earlier. He stated of the photos, "I wanted to show my pals, but I couldn't bring everyone to the mortuary in Leeds. I'm frightened to death. I'm smiling, but I'm expecting the eyes to open and the words to come out: "Argh!" This early work is brutal, sarcastic, and frightening, expressing the mixed sentiments of disgust and attraction that many people have when presented with the physical reality of death.
In this sense, Hirst's work pays homage to the 17th century Cabinets of Curiosities (natural world specimens, including corpse parts, put for public exhibition), while acknowledging the timeless attraction of unpleasant, even disgusting biological topics.
In and Out of Love (1991)
| | |
| --- | --- |
| Date Completed | 1991 |
| Medium | Installation |
| Dimensions | 152 cm x 152 cm |
| Current Location | Yale Center for British Art |
Hirst's first solo show, staged in London in 1991, expanded on his already well-established reputation for utilizing real animals in his work. The artist put pupa onto white canvases, whereupon they emerged into butterflies, ate fruit bowls, bonded, and perished.
When asked what the project was about, he said, "love and reality, aspirations, ambitions, symbolism, death and life," as well as "the way the symbol lives aside from the real thing. Or the butterflies remaining gorgeous long after they have died." He confessed it was "a ridiculous thing to do when it's all art in the end."
The preceding year, Hirst had shown A Thousand Years (1990), a glass case with larvae feasting off a gory cow's head, which drew the notice of Charles Saatchi, who then became his most crucial financial supporter. While A Thousand Years cemented Hirst's name, he and his financier may have sensed that the audience was not yet ready for such a piece. Hirst returned to the idea of butterflies in a 2012 exhibit at the Tate Modern.
Two windowless chambers were loaded with live butterflies hauled in daily by a butterfly specialist from the Natural History Museum in London and swept away by museum employees as they died. While some viewers were upset that the butterflies were not in their native environment, and animal rights advocates were outraged, others welcomed the chance to reflect on the fragility of life. "There's a tremendous poignancy about them since their life is so brief and they are sensitive and delicate," one observer said.
The Physical Impossibility of Death in the Mind of Someone Living (1991)
| | |
| --- | --- |
| Date Completed | 1991 |
| Medium | Tiger Shark in Formaldehyde |
| Dimensions | 152 cm x 152 cm |
| Current Location | Yale Center for British Art |
This is the piece that cemented Hirst's place in the art world. This installation, which features a 14-foot tiger shark retained in formaldehyde, is similar to the art world's variant of the 1975 film Jaws in that it thrives on the viewer's strong reaction, a spine-tingling adrenaline rush one undergoes in the presence of a great horror film, understanding one is securely excluded from the danger.
Both the sculpture and the show were sponsored by Charles Saatchi, who was roundly denounced by art industry purists from London to Fresh York while being hailed by crowds ready for something new.
Hirst claimed that the vitrines "originally arose from a dread of everything in life being so delicate," and that he wanted to "create a sculpture where the vulnerability was contained and existed in its own realm." Although some critics derided it as a "pickled shark," it became a symbol of 1990s British art.
The shark was substituted in 2006 due to the degradation of the previous specimen.
Abalone Acetone Powder (1991)
| | |
| --- | --- |
| Date Completed | 1991 |
| Medium | Paint on Canvas |
| Dimensions | 53 cm x 53 cm |
| Current Location | Damien Hirst and Science Ltd |
Damien Hirst has been creating so-called "spot paintings," also known as The Pharmaceutical Paintings, since 1988. Aside from his animal sculptures, this series is his most famous and iconic work. Nobody knows how many there are, although estimates put the number in the thousands.
While the artist created the first ones, later spot paintings are still being done by assistants under his supervision, raising concerns about their worth. The joyous effect of these works may appear at first to contradict Hirst's obsession with mortality.
They are, in fact, pretty consistent with it. Hirst's dot compositions each replicate the molecular structure of an intoxicating, perhaps dangerous narcotic that can only be obtained with a doctor's permission. As a result, these artworks are a funny, biting critique of a multibillion-dollar pharmaceutical sector that distributes medications like candies.
They also pay homage to previous colorists Hirst admires, such as Gerhard Richter and Mark Rothko.
According to Hirst, "I've always been a colorist, simply moving color about on its own. So that's where the spot paintings came from: to build that structure in order to do those colors while doing nothing. I received what I desired all of a sudden. It was simply a means of capturing the delight of color."
Pharmacy (1992)
| | |
| --- | --- |
| Date Completed | 1992 |
| Medium | Various Pharmaceutical Objects |
| Dimensions | 53 cm x 53 cm |
| Current Location | Damien Hirst and Science Ltd |
This work, which was first seen at the Cohen Gallery in 1992 and is now permanently on exhibit at the Tate Modern, is a realistic copy of a drugstore. The art is similar to the spot paintings, which are named after medications, but the impact is vastly different.
Hirst was inspired to create this piece after entering a drugstore and marveling at its capacity to "provoke a notion of confidence." The artist is perfectly aware that the fake pharmacy disrupts the usual sensation of trust in this familiar location, creating a type of free-floating unease.
With all of the trappings but no employees, the room appears potentially menacing. This impact was heightened by the inclusion of a dimension to the original display in 1992. Insects were able to enter the space through holes cut into the walls and feed on honeycomb distributed throughout the area. The insecto-cuter shocked them as they flew into the light.
Their presentation was a symbol of the certainty of death – the inevitable conclusion to which we all must come at some time – and the eventual failure of modern medicine's attempts to avert it.
Mother and Child (1993)
| | |
| --- | --- |
| Date Completed | 1993 |
| Medium | Cow and Calf, Formaldehyde |
| Dimensions | 208 cm x 322 cm x 109 cm |
| Current Location | Tate, United Kingdom |
This floor-based artwork is made up of four glass containers, each containing one-half of a cow and calf. Each tank's white wood frames echo the clear, clean forms of classic Minimalist sculpture. Their contents, on the other hand, would be neither elegant nor minimalistic. Each animal is hung over the tank's bottom, its front legs hanging limply, heightening the sensation of death. The calf's tongue lolls out of its mouth.
The tanks are arranged in pairs, with the calf in front of the mother, with enough room between each pair for a guest to walk directly down the interior of each animal, as if via a corridor, The impact is disturbing, to say the least, transforming a hallowed motif in art – that of the mother and child – into a horrible, gruesome, literal autopsy. This was Hirst's first international exhibition, which was shown at the Venice Biennale.
The influence of Hirst's friend and key backer, Francis Bacon, is seen in the choice of subject and relentless attention to grisly detail, examining the pale and detailed internal organs and skeletal system on each side. The painting harkens back to another time-honored motif in western art, that of the memento mori, a class of pictures dedicated to informing audiences of the reality of death. Hirst's art possesses both of these characteristics.
While the bodies are a symbol of death, they are floating in a liquid that renders them weightless. When viewed from the side, the segmentation is invisible, and the mother and infant appear to climb in profile side by side.
The effect of the sculpture, like with all of Hirst's installations, is based on the audience's position in the room and ability to wander about it.
Aubade, Crown of Glory (2006)
| | |
| --- | --- |
| Date Completed | 2006 |
| Medium | Butterflies on Canvas |
| Dimensions | 244 cm x 294 cm |
| Current Location | Gagosian Canvas |
Winged bugs have played an important role in Damien Hirst's artwork since the start. He has spent the last decade focusing on butterflies, both as symbols and real materials. This painting is the size and proportions of a huge stained-glass window and is made up of hundreds of beautifully colored butterflies.
The figure physically stretches for the heavens, suggesting religious imagery.
Butterflies, historically a symbol of Christ's resurrection, take on a larger meaning in Hirst's work, where they represent ascension, a motif also evident in the animal installations, in which bodies appear suspended in midair. Hirst's preserved corpses make us more conscious of the transience of life and the potential of anything beyond it.
By emphasizing beauty, the piece differs from Hirst's more contentious early works' openly brutal presentation, while retaining many of its essential processes and concepts.
Recommended Reading
We hope you enjoyed this look at our Damien Hirst biography. It has been quite interesting learning about Damien Hirst's paintings and view of life and reality. If you would like to learn even more about Damien Hirst's prints and lifetime, we can recommend these books.
Damien Hirst: Cherry Blossoms (2021) by Damien Hirst
Damien Hirst's career-long examination of the physical link between artist and canvas, which started with his spot paintings in 1986, continues with Cherry Blossoms. The series marks a transition in Hirst's profession away from minimalism and "the envisioned mechanical painter" forward towards a picture that relishes in the medium's inherent haphazardness, as well as the artist's personal frailty as a creative. Hirst's Cherry Blossoms are both exploitation and a homage to the visual art of the 19th and 20th centuries, rich in color and startling in number.
Hirst's exploration of the relationship between artist and canvas
Complete with 107 new works and 18 gatefold spreads
A glorious oversize volume
View on Amazon
Damien Hirst: End of a Century (2021) by Jason Beard
End of a Century was a significant exhibition of some of Damien Hirst's prints and early sculptures from the 1980s and 1990s displayed at Newport Street Gallery in London. Full-color reproductions of the exhibited sculptures and paintings are accompanied by a selection of sketches and preparatory drawings, providing insight into the evolution of some of the artist's most recognizable works. There is also an original work by writer Harry Thorne that is part essay, half short fiction, and several comments by Hirst himself on the issues that have engaged him throughout his career: science, religion, life, and death.
Paintings and sculptures from the first two decades of Hirst's career
Collects all works featured in End of a Century

, an exhibition of Hirst's

Sketches and drawings accompany full-color reproductions
View on Amazon
Damien Hirst, the most acclaimed artist Britain has produced in years, was immediately recognized as a young artist with a bright, sordid, and uncompromising imagination. He is the indisputable leader and inventor of the dominating trend in visual art, and his renowned shark and pickled sheep are now so ingrained in the popular consciousness that even people with merely a casual interest in art are familiar with them.
Frequently Asked Questions
Why Is Damien Hirst Famous?
Hirst's technique, as problematic as it is, is firmly rooted in historical and contemporary sources. Its stress on death is reminiscent of memento mori elements seen in European still life. He joins many other 20th century innovators in using biological ingredients.
What Art Does Damien Hirst Make?
His works, for the greatest part, have focused on two types. Spot paintings are an arrangement of color dots with titles that relate to medicinal substances. Hirst's Spin paintings, on the other hand, are formed by centrifugal force, in which he lays his canvases on a spinner and pours paint over them while they spin. He also creates art out of organic and biological components.
Isabella studied at the University of Cape Town in South Africa and graduated with a Bachelor of Arts majoring in English Literature & Language and Psychology. Throughout her undergraduate years, she took Art History as an additional subject and absolutely loved it. Building on from her art history knowledge that began in high school, art has always been a particular area of fascination for her. From learning about artworks previously unknown to her, or sharpening her existing understanding of specific works, the ability to continue learning within this interesting sphere excites her greatly.
Her focal points of interest in art history encompass profiling specific artists and art movements, as it is these areas where she is able to really dig deep into the rich narrative of the art world. Additionally, she particularly enjoys exploring the different artistic styles of the 20th century, as well as the important impact that female artists have had on the development of art history.
Learn more about Isabella Meyer and the Art in Context Team.
Cite this Article