How to Make Brown Paint – A Guide on Mixing Brown Tones
Brown is one of the most important colors to be able to mix properly. When painting, different brown tones are needed for things like wood and trees, hair, skin tones, animals, and for creating light effects and transitions in paintings. To really bring your artwork to life, knowing how to make brown paint is essential. Unfortunately, knowing how to make brown paint is a bit more complex than most colors. We will explore what colors make brown paint, and how to get various shades of this versatile color.
What Colors Make Brown?
To mix brown, combine equal parts of the primary colors red, blue, and yellow, or mix complementary colors such as orange and blue or red and green, adjusting the ratios to achieve various shades of brown.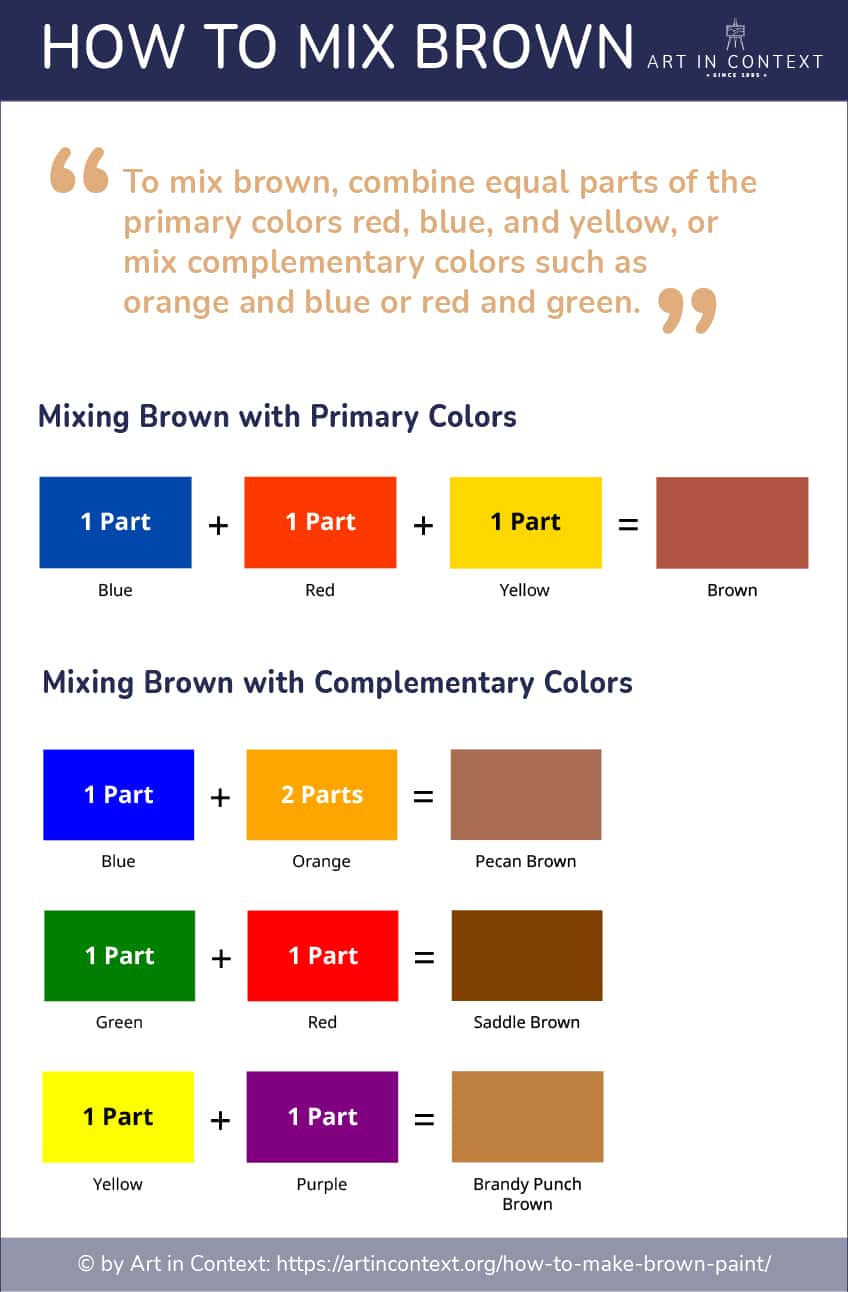 Mixing Brown Primary Colors
If you want to mix a basic brown, simply mix an equal amount red, yellow and blue to reach a brown shade.
If you do this, but want the brown to be a lighter shade, then you can mix in some white. If you change the ratios of the paints, you will achieve different brown hues and shades. Even f this is very slight, a red-brown and a blue-brown will have very different effects.
Additionally, using different shades of primary colors can alter the natural warmth of the brown shade you are creating. For example, cadmium red, ultramarine blue, and cadmium yellow will create a cooler brown than scarlet, royal blue, and lemon yellow.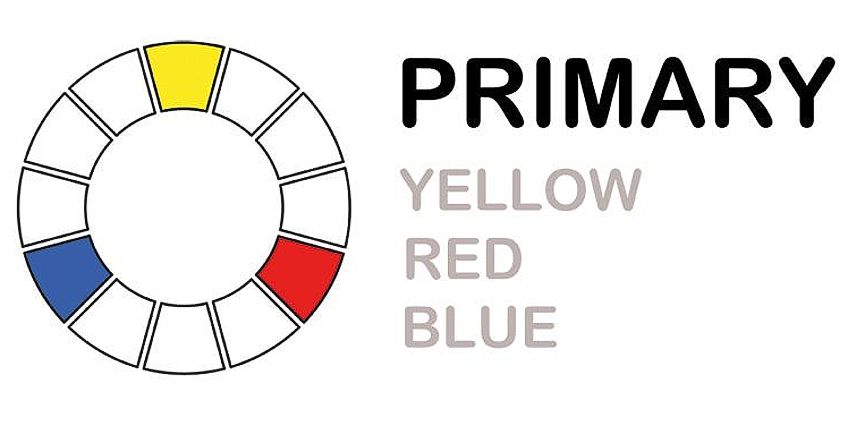 Secondary Colors
Secondary colors are a result of two primary colors being mixed together. Orange and blue can make brown, and red and green can also make brown. The secondary colors can also be used to add variations to the brown shade created by the three primary colors. For example, you can make a brown with underlying purple colors if you use a warm purple and a warmer orange.
Complementary Colors
Complementary colors are the different shades directly opposite each other when looking at the color wheel. When learning how to make brown paint, you can mix together two complementary colors. Doing this allows you to open up an even wider range of brown shades and hues. You can also tweak the brown a bit by adding slightly more and less of each color. When you start to mix brown by using complementary colors, you will realize just how diverse brown can be.
Complementary colors for the primary colors are:
Green and red
Blue and orange
Purple and yellow
A combination of each pair produces a different shade of brown. The secondary color complementary colors are: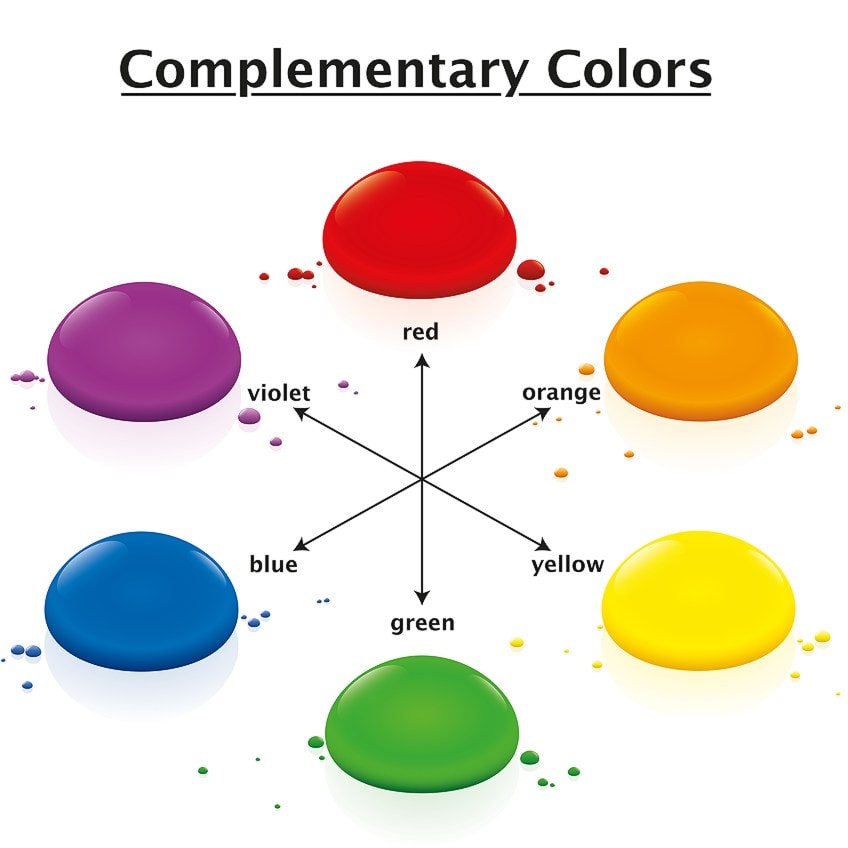 What Two Colors Make Brown?
If you do not have such a wide range of colors available, it is possible to mix brown paint from two secondary colors. As long as you have a good understanding of colors, this can be achieved. If you do not want to mix brown from the three primary colors, then you can mix a secondary color with its complement. So, what colors make brown?
Yellow + purple = brown
Green + red = brown
Blue + orange = brown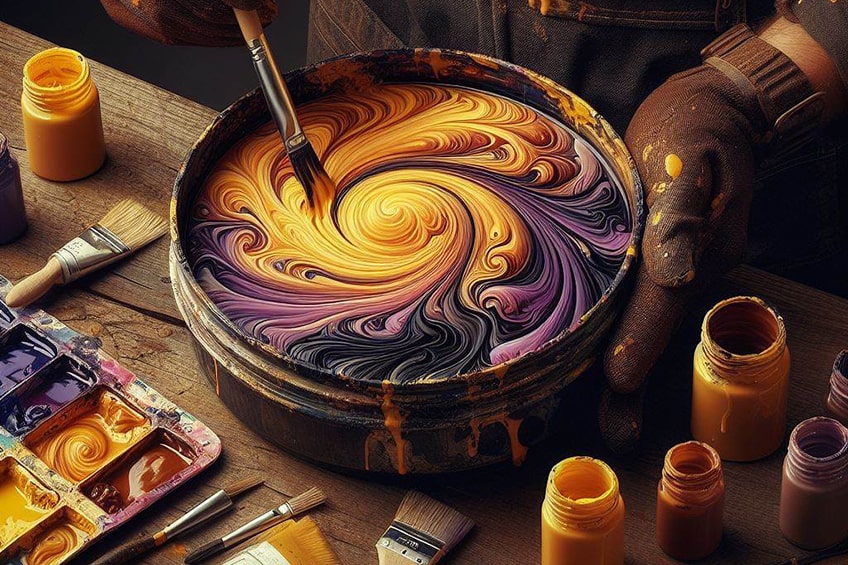 If you want to make a light brown color, you can simply add some white. Just be careful when doing this, as you can always add more white but taking out white can be a bit more tricky.
Mixing Recipes for 25 Popular Color Shades of Brown
| Color Name | Mixing Recipe |
| --- | --- |
| Burnt Sienna | Pure Burnt Sienna |
| Saddle Brown | 2 parts Burnt Umber, 1 part Ultramarine Blue |
| Tan | 2 parts Yellow Ochre, 1 part Burnt Sienna, 1 part White |
| Burlywood | 1 part Burnt Sienna, 2 parts Yellow Ochre, 2 parts White |
| Sandy Brown | 1 part Burnt Sienna, 1 part Cadmium Yellow, <1 part White |
| Chocolate | 2 parts Burnt Umber, 1 part Cadmium Red |
| Dark Red | 1 part Alizarin Crimson, 1 part Burnt Umber |
| Sienna | Pure Sienna |
| Peru | 1 part Burnt Sienna, 1 part Yellow Ochre, <1 part White |
| Goldenrod | 2 parts Yellow Ochre, 1 part Burnt Sienna |
| Dark Goldenrod | 2 parts Yellow Ochre, 1 part Burnt Umber |
| Rosy Brown | 1 part Burnt Sienna, 1 part Alizarin Crimson, 1 part White |
| Mahogany | 1 part Burnt Umber, 1 part Cadmium Red |
| Red Brown | 1 part Burnt Sienna, 1 part Cadmium Red |
| Pinkish Brown | 1 part Burnt Sienna, 1 part Cadmium Red, 2 parts White |
| Mauve Brown | 1 part Burnt Sienna, 1 part Ultramarine Blue, 1 part White |
| Maroon | 1 part Alizarin Crimson, 1 part Burnt Umber |
| Medium Brown | 1 part Burnt Sienna, 1 part Burnt Umber |
| Chestnut | 1 part Burnt Sienna, 1 part Burnt Umber, <1 part Cadmium Red |
| Raw Sienna | Pure Raw Sienna |
| Brick Red | 1 part Cadmium Red, 1 part Burnt Sienna |
| Kobicha | 1 part Raw Umber, 1 part Burnt Sienna |
| Fawn | 1 part Raw Sienna, 1 part Yellow Ochre, 1 part White |
| Ochre | Pure Yellow Ochre |
| Cinnamon | 1 part Burnt Sienna, 1 part Cadmium Orange |
Making a Dark or Light Brown Color
To make light brown, start with a base brown by mixing equal parts of the primary colors red, blue, and yellow. Gradually add small amounts of white to lighten the brown to the desired shade. For dark brown, cautiously add black in very small increments, being mindful that black paint may contain multiple pigments and can alter the brown's color.
Alternatively, increase the proportion of the darker primary color in the mix, such as adding more blue to an orange and blue combination, or use purple to deepen the brown without affecting its hue as drastically as black might.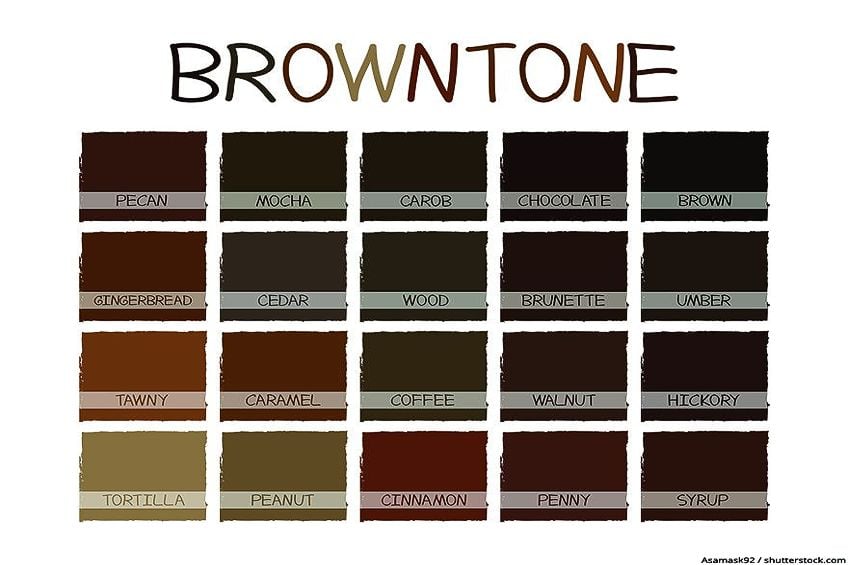 How to Add Warmth to Brown
Colors help to capture moods and emotions in painting. When looking at brown, there are various levels of depth that you can achieve. Warm colors include tones like yellow, red, and orange. If you add some of these colors to brown, it will provide a greater level of warmth and depth. These tones are often used for sunny, natural, and bright scenes.
You also get cool colors, which are blue and green. These can be used to create a cooler, dark brown color. Mix these colors slowly and carefully, knowing that you can always add more but may struggle to take the color out.
If you do add too much of one spectrum, you can always balance it out with the other. For example, red can be balanced out with blue paint.
How to Make Brown Paint With Acrylics
When painting with acrylics, brown is an important color to have in your palette. One of the benefits of painting with acrylics is that these paints can easily mix and blend with each other. This gives you a good platform for experimenting with different brown shades and mixes. If you have the primary colors in your acrylic set, you can use them to create brown paint and customize the shade with different color additions and ratios.
Mixing the Brown:
Place equal amounts of blue, red, and yellow paint on your palette.
Use the palette knife to mix the colors thoroughly until a muddy brown is formed.
Adjust the shade of brown by adding very small amounts of white paint to lighten and extend the mixture if needed.
Testing the Color:
Apply the mixed brown paint onto the test surface to evaluate its appearance.
Allow the test swatch to dry, as the color may change slightly from its wet state.
Experimentation:
Experiment with different combinations and ratios of primary colors to achieve various brown shades.
Note that some browns may dry differently, such as burnt umber potentially resembling raw umber or burnt sienna when dry.
How to Make Brown Paint With Watercolors
Mixing watercolor paints can be done on a plate or on a tray. Make a small puddle of water on the surface that you will mix, then add the color. You can mix a number of different colors into this water puddle. You will first need to wet the area that you will paint with water.
Mixing watercolors takes some practice, so just try to experiment and get a feel for it. Always only mix the colors as you need them because they will dry up quickly.
You can also mix watercolor paints directly on the paper without having to mix them before painting. This is only done by experienced artists, though, because if you get the color mix wrong the whole painting will be affected.
When learning how to make brown paint, you could use orange mixed with blue as a good base. However, there are many different varieties and versions of brown that you can paint. If you use a light blue or a dark blue, you will end up with a very different result. If the brown is not right, you can always add in more yellow or red, or purple to balance out the exact shade. With experience, you will soon learn how to make brown paint in various different shades and tones.
Understanding the Brown Color Palette
Nuances: Brown encompasses a range of shades from light beige to dark, cool to warm, and may include tints of yellow or orange.
Color Palette: Recognizing the full spectrum of brown is crucial due to its varied intensities and shades.
Color Aspects:
Hue: The main color from which the brown derives, such as red, blue, or yellow.
Intensity/Saturation: The level of brightness or dullness in the color.
Color Value: The lightness or darkness of the color, ranging from light to dark brown.
Altering Brown:
Color Value: Use white to lighten or black to darken the shade.
Intensity: Mix with the complementary color to adjust the vibrancy.
Complexity: Crafting brown shades involves balancing hue, intensity, and color value.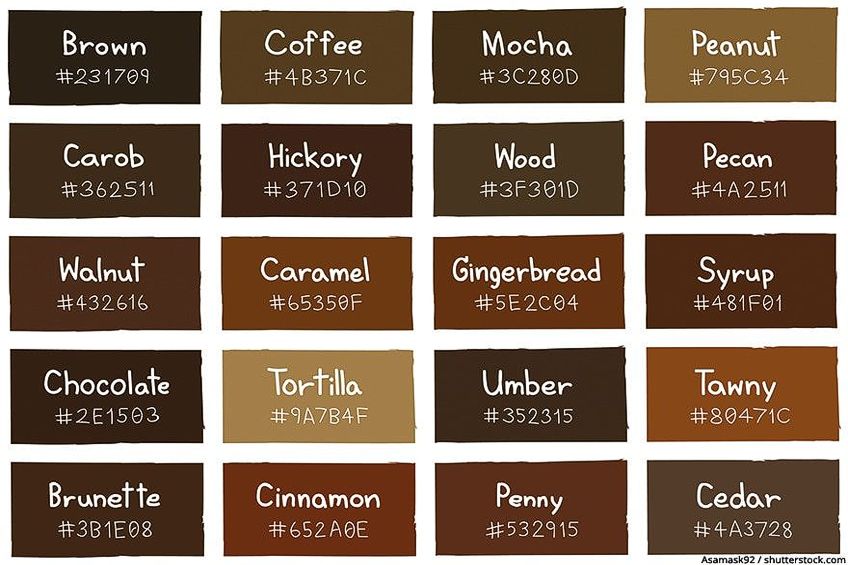 Why is Mixing a Brown Color Palette Important?
A large part of learning to paint revolves around trial, error, and luck. Many new artists simply mix paints and hope for the best. However, if you learn the proper techniques and have a good foundation of color theory, then you will be able to enjoy all kinds of advantages.
It allows you to get a wider range of colors out of a smaller color set, which can save you money on buying paints.
You will waste less paint when you know the proper mixing techniques.
In order to create realistic paintings, you will need to have a strong knowledge of how to mix colors.
You may not always be able to find the exact color shade you want available in a tube.
Learning how to mix colors properly will help you to become a better painter and artist.
Being able to mix paints efficiently is a good problem-solving skill for everyone to have.
One of the best resources that you can have when learning how to make brown paint and mix colors is a color wheel. These can be found online and in apps, or you can buy a physical color wheel from an art store.
Learning how to make brown color paint is an essential skill for any artist. Brown is found all over the place in the natural world, and there are all kinds of different shades of brown available. If you are new to mixing colors, the best way to get good is to experiment and try new techniques until you get a good grasp of color mixing.
Frequently Asked Questions
How Can I Make Brown Paint?
Making brown paint will require you to blend different colors together. There are various methods to go about doing this. The most common is to combine equal portions of each primary color. Alternatively, you can mix together secondary colors with their complementary color.
Is Brown a Warm or Cool Color?
There are various shades of brown, allowing the color to take either direction. Some browns have undertones of yellow, red, or orange, making them a warm color. Other browns contain more blue or purple, making it a cool color.
Can a Caramel Brown Become Dark Brown?
Yes. Do this by making a separate dark brown color out of red and green. You can then slowly add little bits of this to the caramel brown until you reach the desired shade.
Can You Turn Grey Into Brown?
Take the grey paint and add a small bit of yellow, red, and blue to it. Mix this up until you reach brown. Grey is a very neutral color, so it can mix into brown. It is best to experiment a bit to find the perfect shade.
How Can You Make a Light Tan Color?
Start by making a regular brown color. Then lighten it up with some yellow and white until you reach the desired shade.
In 2005, Charlene completed her Wellness Diplomas in Therapeutic Aromatherapy and Reflexology from the International School of Reflexology and Meridian Therapy. She worked for a company offering corporate wellness programs for a couple of years, before opening up her own therapy practice. It was in 2015 that a friend, who was a digital marketer, asked her to join her company as a content creator, and this is where she found her excitement for writing.
Since joining the content writing world, she has gained a lot of experience over the years writing on a diverse selection of topics, from beauty, health, wellness, travel, and more. Due to various circumstances, she had to close her therapy practice and is now a full-time freelance writer. Being a creative person, she could not pass up the opportunity to contribute to the Art in Context team, where is was in her element, writing about a variety of art and craft topics. Contributing articles for over three years now, her knowledge in this area has grown, and she has gotten to explore her creativity and improve her research and writing skills.
Charlene Lewis has been working for artincontext.org since the relaunch in 2020. She is an experienced writer and mainly focuses on the topics of color theory, painting and drawing.
Learn more about Charlene Lewis and the Art in Context Team.
Cite this Article