Famous Portrait Photographers – Chroniclers of Humanity
Anyone can shoot a portrait with a camera. Capturing friends, family, or even oneself, most people are familiar with portrait photography today. It takes special skills, however, to portray the human face for what it really is – a labyrinth of depth and mystery that only the brightest and eventually most famous portrait photographs could explore.
Famous Portrait Photographers
Below is our list of famous portrait photographers who left everlasting impacts. This list includes a diverse range of portrait artists but could not cover them all. Check out our honorable mentions section for more of the best portrait photographers.
Julia Margaret Cameron (1815 – 1879)
Nationality
British
Lifetime
1815-1879
Famous Artworks
Sir John Herschel (1867)

The Kiss of Peace (1869)

Idylls of the King (1874)

Camera
Unknown; wood with glass negative (15×12)
Julia Margaret Cameron is accepted as one of the most famous portrait photographers in history. Born in India (then under British colonial rule), Cameron lived an aristocratic life. She always enjoyed the arts, but never envisaged herself an artist. This all changed suddenly at age 48, however.
Cameron was interested in photography ever since the first official photographic process was announced in France. But this interest only materialized 20 years later when Cameron's daughter gifted her a camera, hoping to allay her aging mother's boredom.
The hobby quickly became an obsession and profession, and within a year, Cameron was hosting exhibitions.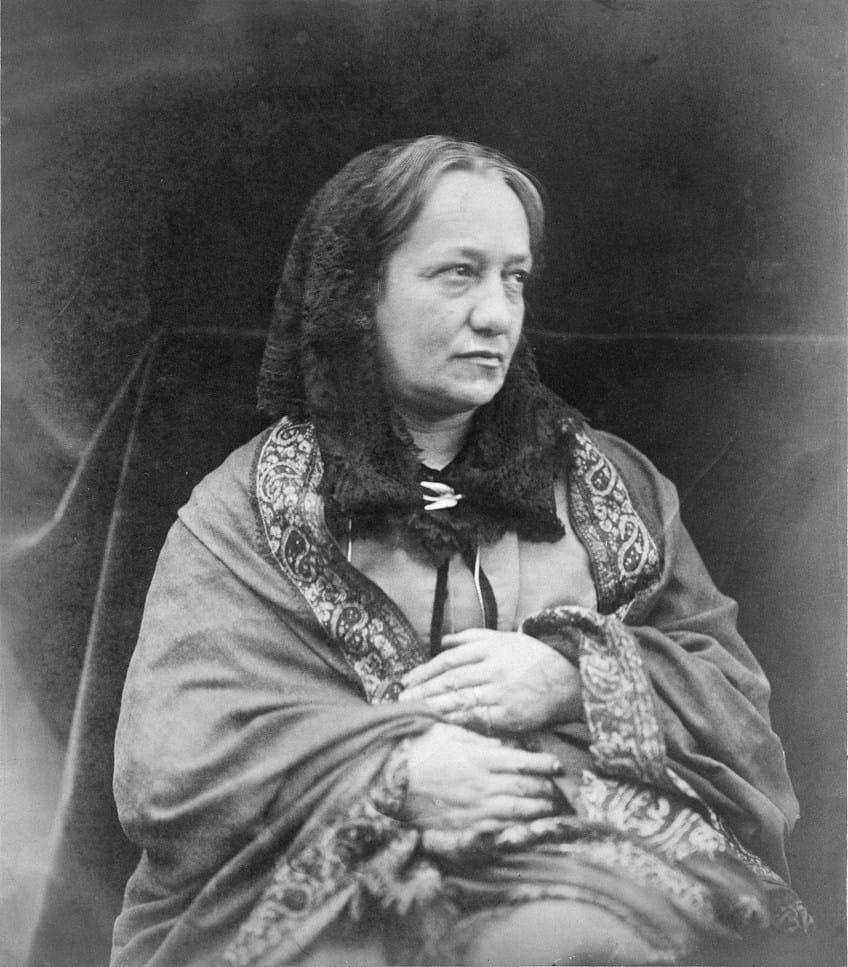 Julia Margaret Cameron, 1870; Henry Herschel Hay Cameron, Public domain, via Wikimedia Commons
Cameron portrayed various subjects. Her male portraits included some of the most important figures of the Victorian era, like Charles Darwin. Sitters in her portraits of women and children were often family members or friends. Knowledgeable in art history, Cameron was highly influenced by the Renaissance and the Old Masters.
This inspired her use of chiaroscuro lighting and the religious portraits she painted later in her career.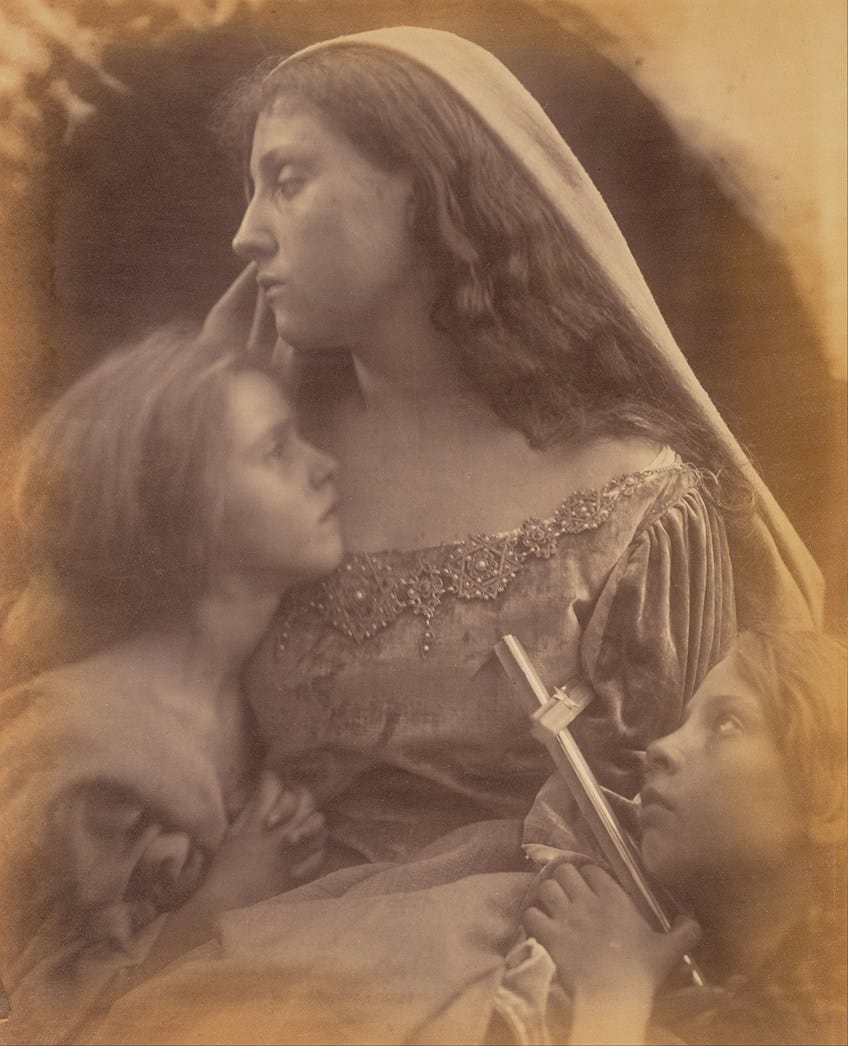 A Holy Family (1872) by Julia Margaret Cameron; Julia Margaret Cameron, Public domain, via Wikimedia Commons
Cameron was a maverick of soft-focus photography, an intentional blurring of a photograph that softens details but maintains edges. It produces a dreamlike glow, unmissable in Cameron's works. She also rarely edited or retouched her photos.
Studio photographers of her era criticized her for these techniques, deeming her work unprofessional. But for Cameron, beauty lay in the moment of capture, not in the sharpness of the image.
Félix Nadar (1820 – 1910)
Nationality
French
Lifetime
1820-1910
Famous Artworks
Charles Baudelaire (1855)

Eugène Delacroix (1858)

Sarah Bernhardt (1864)

Camera
Unknown
Sometimes overlooked outside of his own country, Gaspard-Félix Tournachon (known as Nadar) is considered one of the best portrait photographers of the 19th century. He is revered in France for his celebrity portraits, alongside his inventiveness. He began his career as a cartoonist but soon shifted to photography. At his studio in Paris, Nadar worked as a celebrity photographer.
The finest artists and most influential politicians had their portraits captured by Nadar, with most of whom he was already close friends.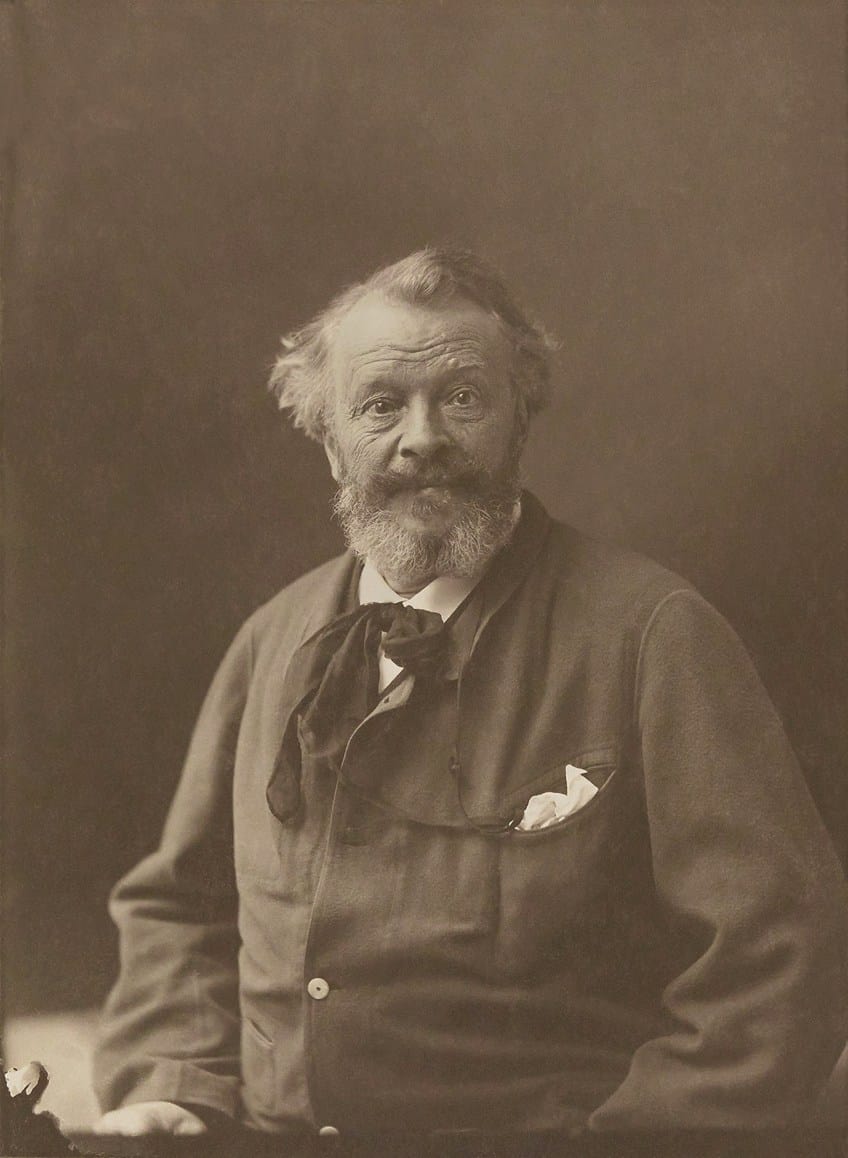 Self-portrait of Félix Nadar, bearded, half sized, frontward (between 1900 and 1910); Nadar, Public domain, via Wikimedia Commons
In these early stages, portrait photography revolutionized daily, and Nadar only looked forward. He preferred realism, working in daylight when possible and excluding additional decorations, common in earlier portraits.
He is credited with the first aerial photograph (for which he commissioned his own air balloon) and the first photo interview.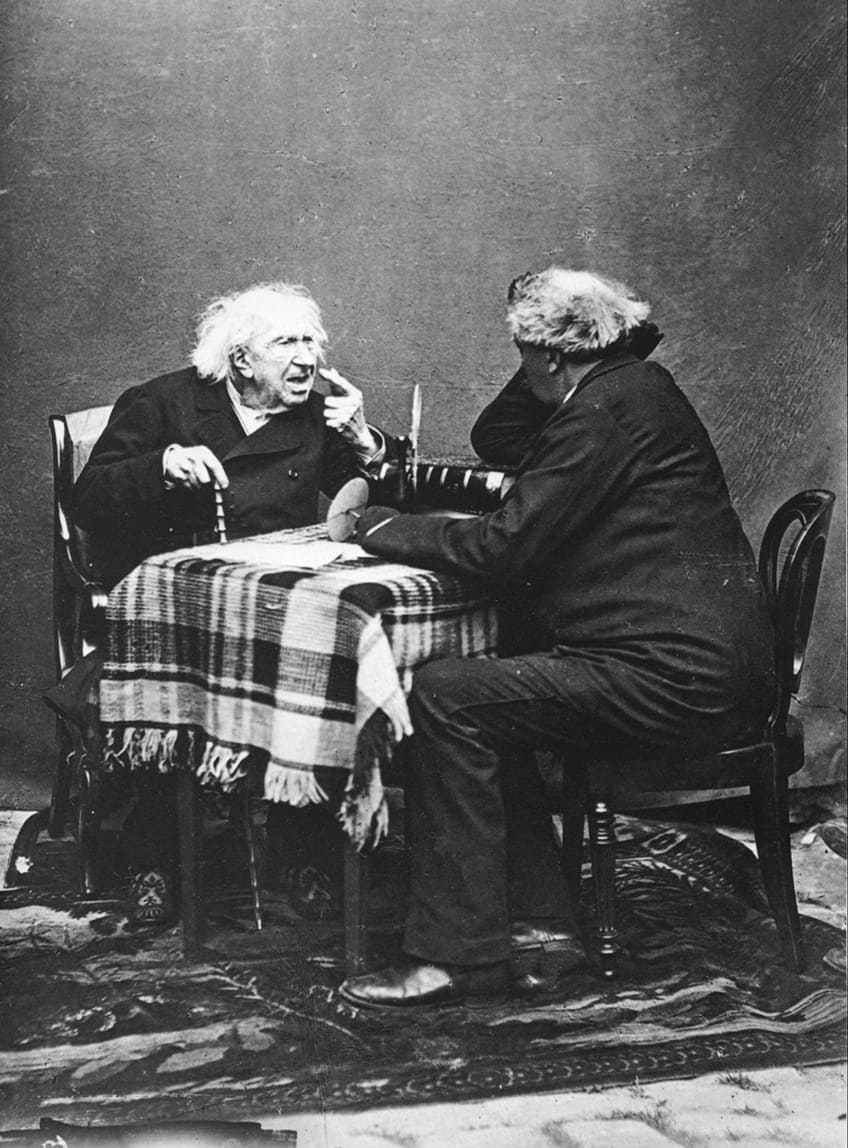 Photograph of Michel Eugène Chevreul during the world's first photo interview, by Félix Nadar, 1886; Nadar, Public domain, via Wikimedia Commons
In 1874, Nadar's studio hosted the first Impressionism exhibition. Nadar offered his venue because of the interest he had in this new art movement, led by young painters. You can read more about the Impressionists here.
Edward Sheriff Curtis (1868 – 1952)
Nationality
American
Lifetime
1868-1952
Famous Artworks
Princess Angeline of the Duwamish (1896)

The Vanishing Race (1904)

The North American Indian (1907-1930)

Camera
Reversible-back Premo camera
The son of an injured Civil War veteran, Edward Sheriff Curtis grew up in poverty. Curtis attended school until grade six, and soon after leaving built his own camera, beginning his career. After gaining experience, Curtis got into studio photography, winning prizes and boosting his popularity. Around this time, Curtis became interested in Native American culture, his main focus.
After befriending a group of lost scientists in the mountains, Curtis was able to learn widely about Native American society.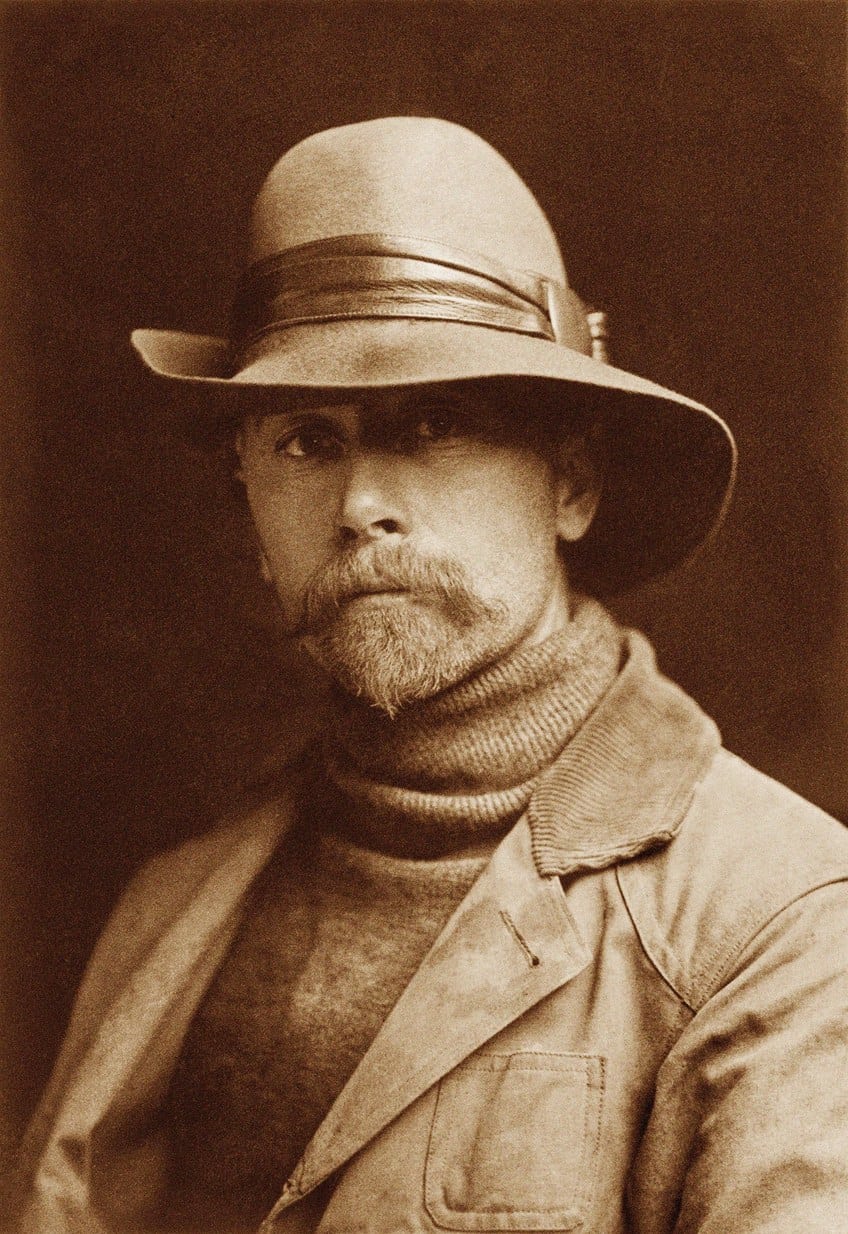 Self-Portrait of Edward S. Curtis (c. 1889-1899); Edward S. Curtis, Public domain, via Wikimedia Commons
In 1906, he was commissioned by J. P. Morgan to produce a collection on Native American life. Curtis dedicated himself to the project, spanning 25 years. He became an archivist of Native American culture, preserving artifacts and information. His work included not only photographs (over 40,000) but also writings and recordings of Native American language and music. His studies took a toll on his finances and love life, and after his death, his popularity faded.
This was until the 1960s when the history and rights of Native Americans became a major public debate. Thereafter, he became one of the most famous portrait photographers.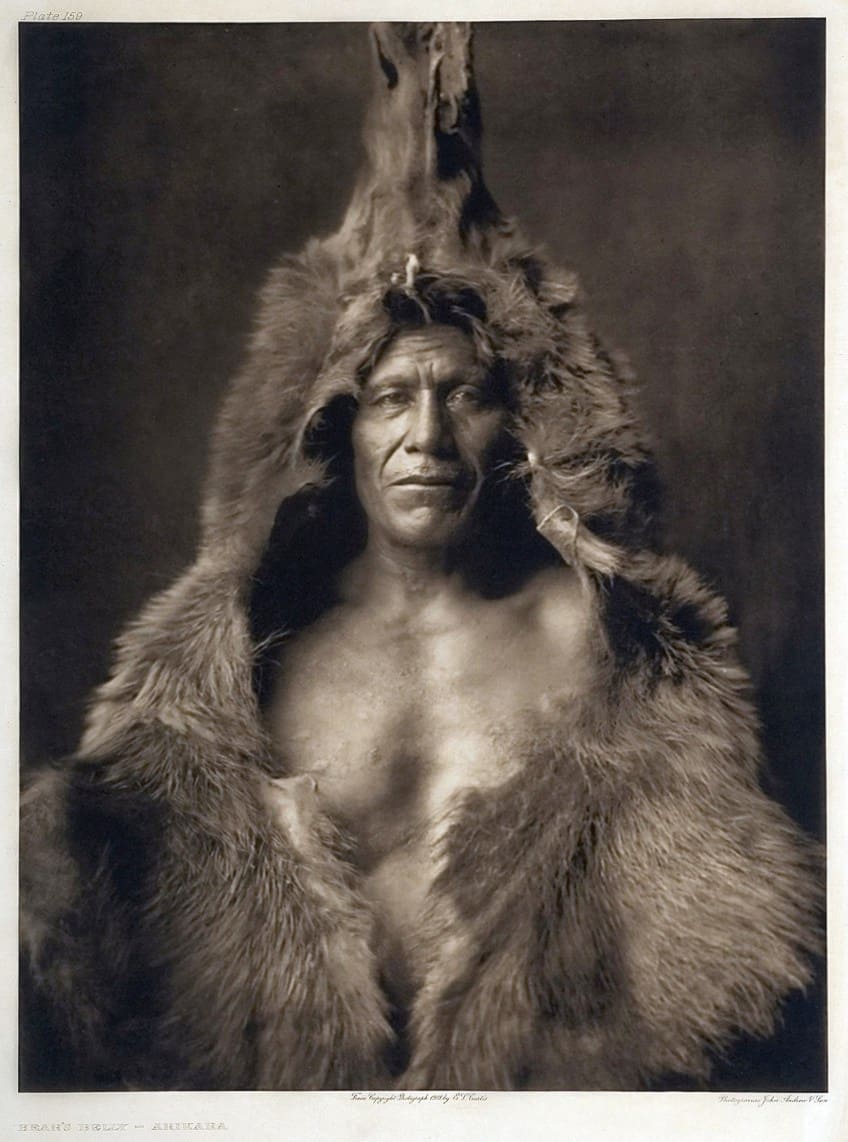 Bear's Belly (1908) by Edward S. Curtis; Edward S. Curtis, Public domain, via Wikimedia Commons
Curtis faced some criticism for romanticizing his subjects, portraying them as disappearing, exotic people. In doing so, he overlooked the lived realities of Native Americans, particularly the difficult experience of integrating into U.S. society.
Historians do note, however, that his cultural understanding and sensitivity were ahead of their time.
James Van Der Zee (1886 – 1983)
Nationality
American
Lifetime
1886-1983
Famous Artworks
Marcus Garvey (1924)

Paul and Thelma Meers (1932)

Daddy Grace (1938)

Camera
Unknown
James Van Der Zee is a portrait photographer from the U.S. Although not originally from New York, and not originally a photographer, Van Der Zee's work in Harlem in the early 1900s remains unparalleled, as both a historical and artistic artifact.
A trailblazer, Van Der Zee was talented in piano, violin, and photography. After working as a musician, he moved to Harlem in 1916 as a photographer.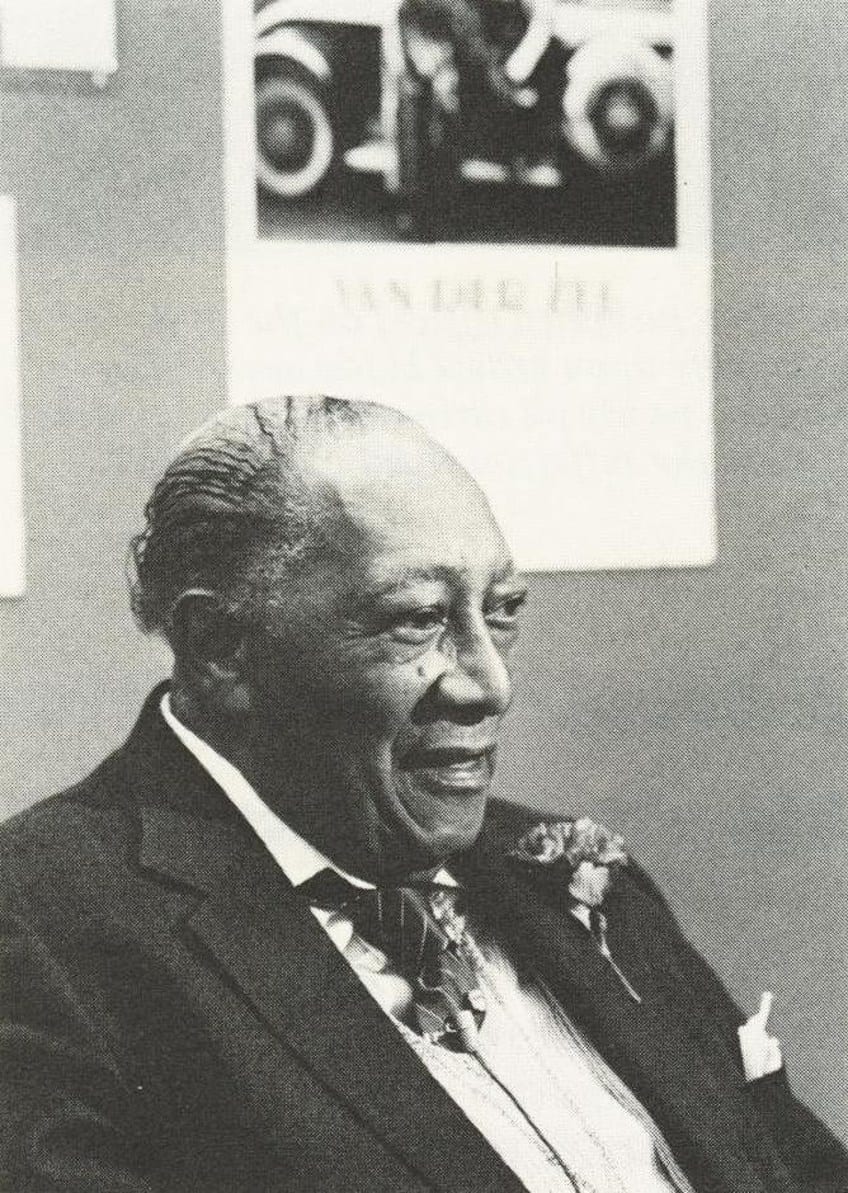 A portrait photograph of James Van Der Zee from News and Events, a newsletter published by the Rochester Institute of Technology (RIT), 1981; Rochester Institute of Technology, Public domain, via Wikimedia Commons
The area had recently experienced an influx of African American migrants as part of the Great Migration, leading into the creative Harlem Renaissance period. He was set up by his sister, Madame E. Touissant, who ran an art conservatory nearby. Her company produced one million portrait postcards of African American soldiers in World War I. This was a popular genre, and Van Der Zee followed suit, taking on soldiers' portraits and becoming hugely successful.
Over the years, he became Harlem's most famous photographer.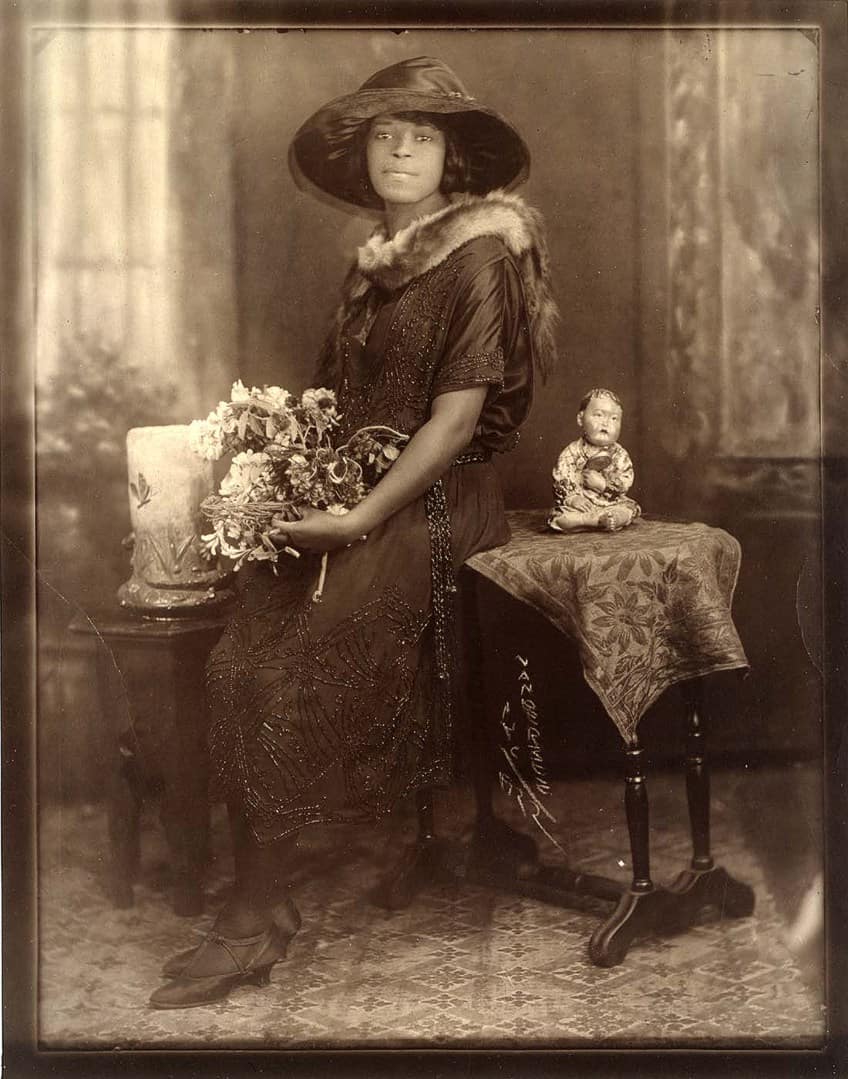 Evening Attire (1922) by James Van Der Zee; Smithsonian American Art Museum, Public domain, via Wikimedia Commons
His portraits, coveted by residents, are now intimate glimpses into Harlem social life. He was also gauged towards social justice, photographing Marcus Garvey and doing work for his organization. His portraits upheld a traditional tableau-vivant style. Unlike many photographers then implementing realism, Van Der Zee maintained the glamor of 1800s portraits, using props, costumes, and elaborate backgrounds.
Ahead of his time, he held visionary skills for post-production editing, experimenting with negatives long before digital photography.
Dorothea Lange (1895 – 1965)
Nationality
American
Lifetime
1895-1965
Famous Artworks
White Angel Breadline (1933)

Migrant Mother (1936)

Pledge of Allegiance (1942)

Camera
5×7 Graflex Super D
Dorothea Lange was a U.S. photographer best known for her accounts of the Great Depression. She is heralded as a pioneer of documentary photography, capturing historical moments and creating moving portrayals of challenging realities. Growing up in a lively and diverse New York, Lange developed her observation skills. After studying at Columbia, she opened a portrait studio in San Francisco, becoming her family's bread and butter.
When the Great Depression struck in 1929, Lange's photographic inspiration shifted focus.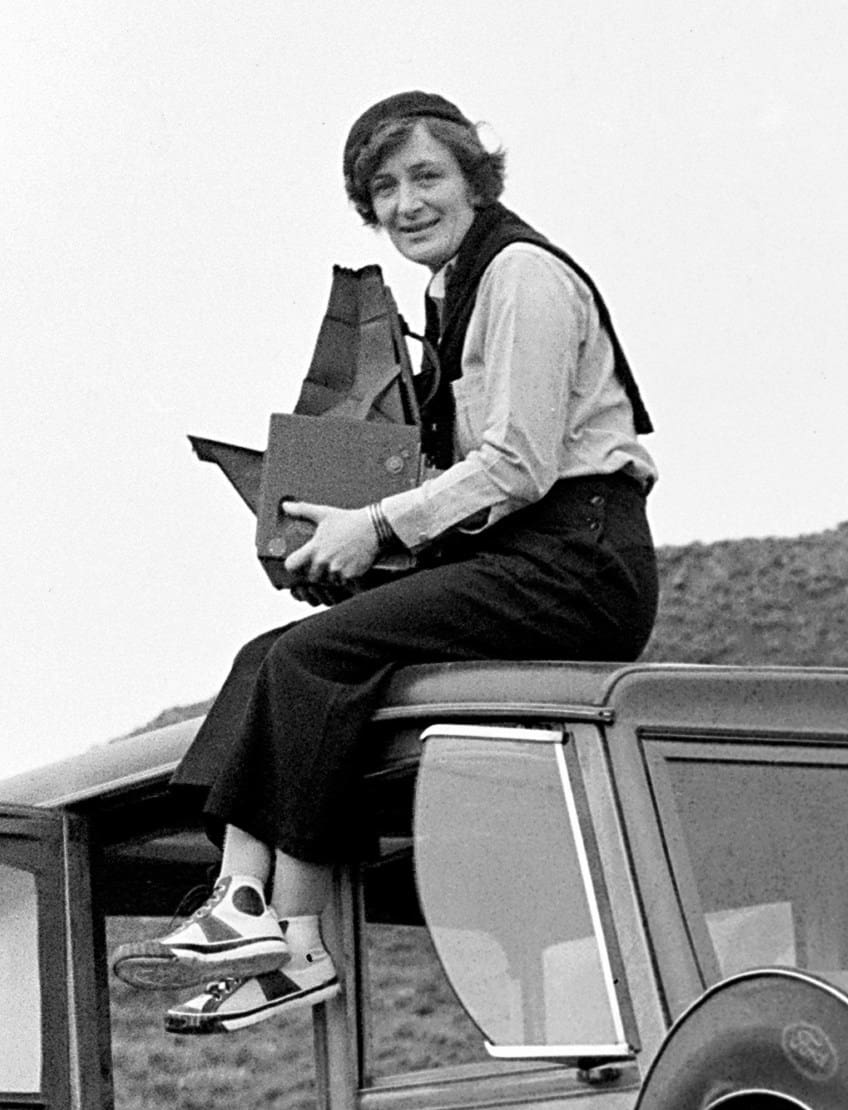 Dorothea Lange, 1936; Dorothea_Lange_1936.jpg: Dorothea_Lange ???derivative work: Svajcr, Public domain, via Wikimedia Commons
The Depression oversaw mass unemployment and strife, displacing millions of Americans. Compounded with several droughts in the 1930s, countless souls drifted aimlessly across the Midwest seeking work or fertile land.
Lange photographed these people, moved by their battles to survive. She sidelined her studio and replaced upper-class subjects with the forgotten and hungry. She combined her childhood ability to observe with her established, emotive portrait skill.
Her work brought attention to the struggles of the Depression, landing her a job in government.
During World War II, Lange photographed Japanese internment. Lange's characteristic sensitivity is best displayed in her most famous piece, Migrant Mother (1936). It is one of the most famous portrait artworks of all time, and it reveals Lange's unbelievable ability to merge documentary and portrait photography.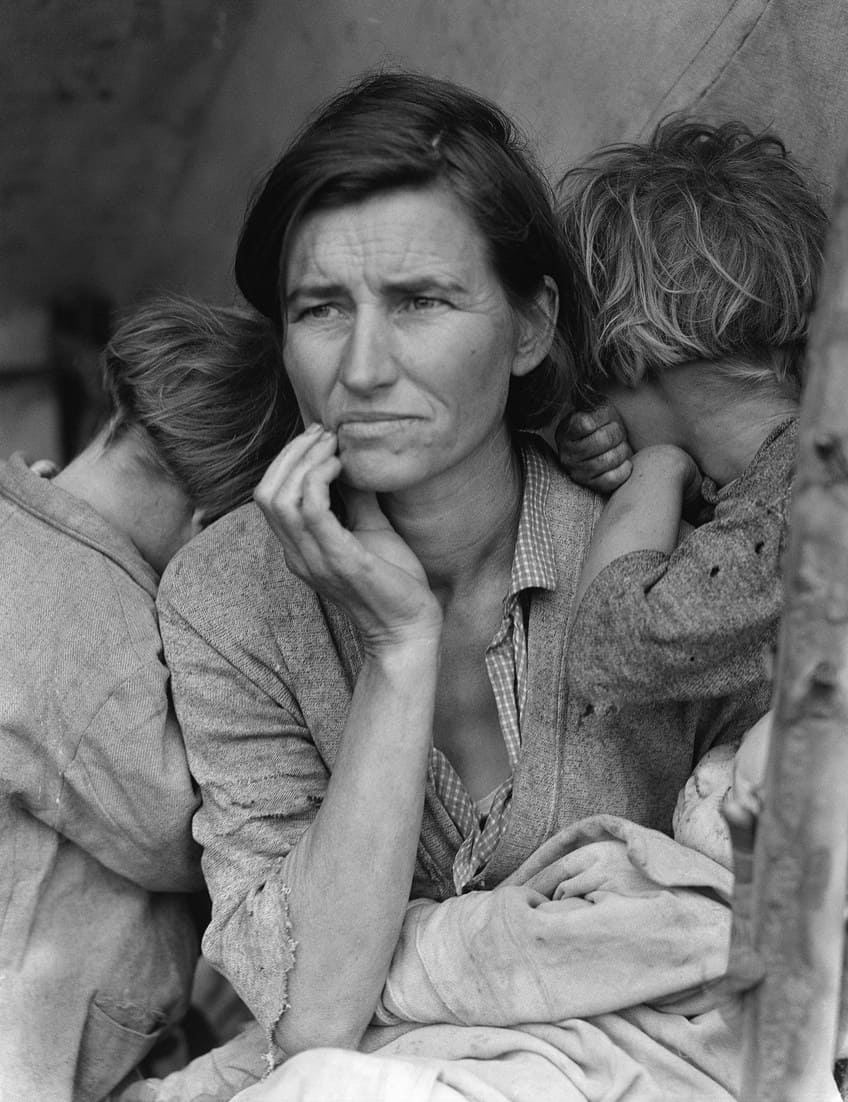 Migrant Mother (1936) by Dorothea Lange; Dorothea Lange, Public domain, via Wikimedia Commons
Philippe Halsman (1906 – 1979)
Nationality
American / Latvian
Lifetime
1906-1979
Famous Artworks
Dali Atomicus (1948)

Dali's Skull (1951)

Brigitte Bardot (1955)

Camera
Rolleiflex TLR

Hasselbad 500
Phillipe Halsman stands amongst the best portrait photographers in history. He was born in Latvia but lived and worked in the U.S. At 22, he was accused of his own father's murder while hiking in Austria. This was influenced by antisemitism, and Halsman spent two years in prison before relocating to France.
Here, he returned to his teenage passion, photography. His fame exploded, and he was quickly amongst the best portraitists in France.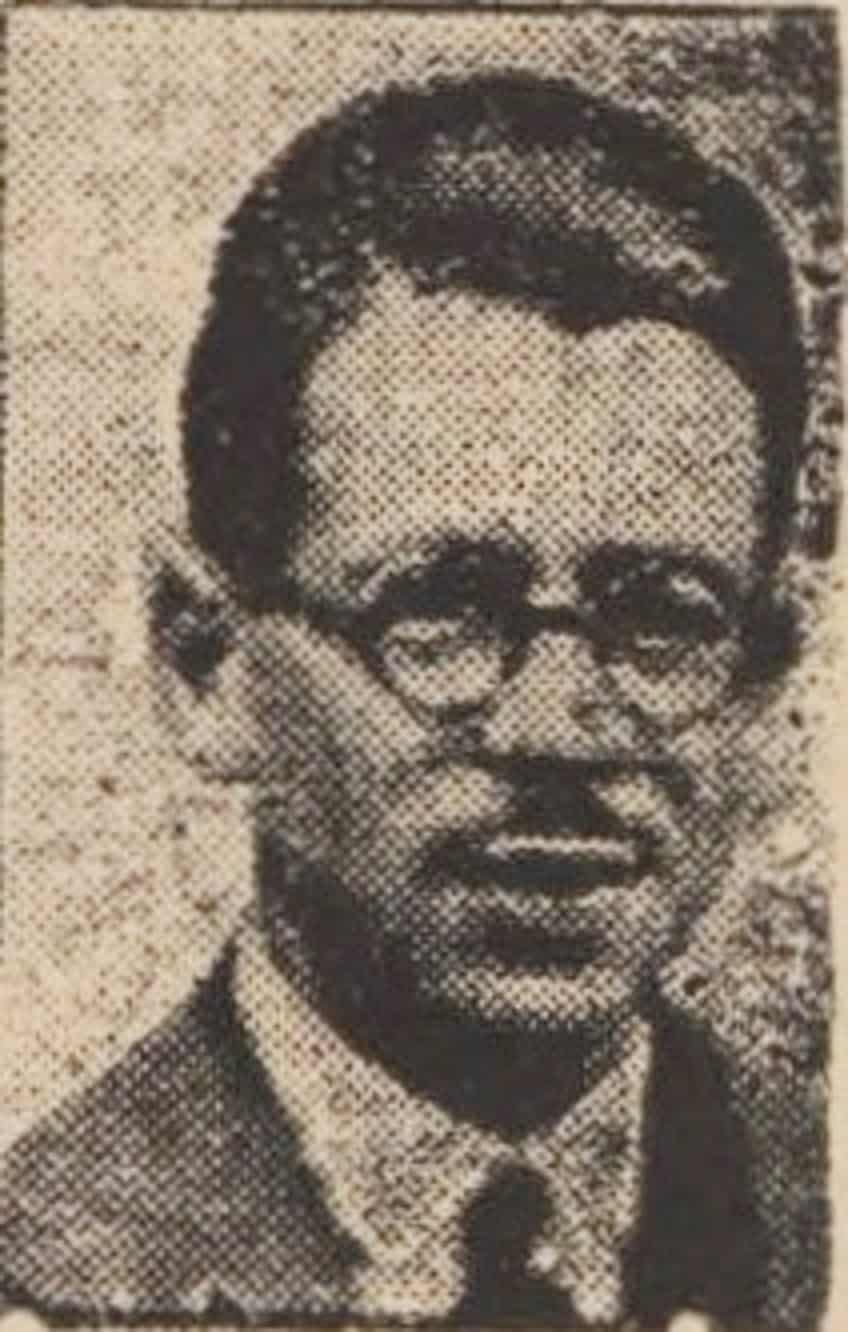 A cropped newspaper clipping from Gazeta Polska w Brazylji, 17 July, 1930 depicting Philippe Halsman; Unknown author Unknown author, CC BY-SA 4.0, via Wikimedia Commons
He emigrated to the U.S. in 1939, following the Nazi invasion. His productivity was not dented and he impressed audiences across the Atlantic with his clear, realistic, and sharp images. He worked for magazines in both countries, including Vogue and Life. In the U.S., Halsman began to explore the depths and possibilities of portrait photography.
His companion in these explorations was Surrealist artist Salvador Dalí, and the pair produced some stunning collaborations, including "Dalí Atomicus" (1948).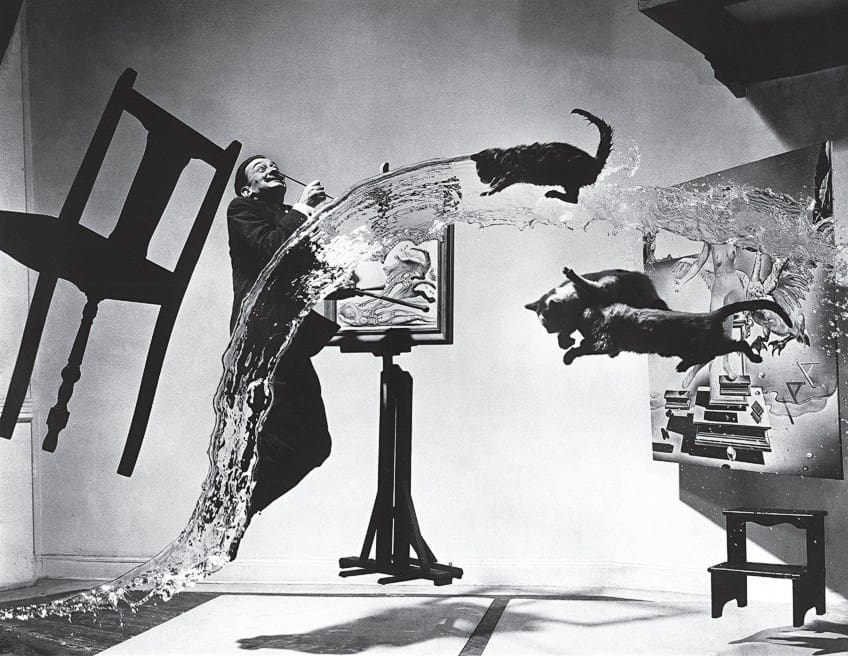 Dalí Atomicus (1948) by Philippe Halsman; Philippe Halsman, CC BY-SA 2.0, via Wikimedia Commons
His portraits were rich in honesty, something Halsman searched for in his subjects. He managed to reveal innocence behind the familiar faces of celebrities. He later perfected this by making his subjects jump. This led to a collection of 178 portraits, ranging from Richard Nixon to Marilyn Monroe, all caught in mid-air.
Yousuf Karsh (1908 – 2002)
Nationality
Armenian-Canadian
Lifetime
1908-2002
Famous Artworks
The Roaring Lion (1941)

Albert Einstein (1948)

Muhammad Ali (1970)

Camera
8×10 Calumet with bellows
Yousuf Karsh is often considered the most famous portrait photographer. Photographing the history-makers of his era, Karsh himself is regarded as an important figure of the 20th century. Karsh endured a difficult childhood, living through the Armenian genocide.
After escaping, Karsh went to live in Canada with his uncle, who was incidentally a portrait artist. He struggled to transition, but was lucky to secure an internship at a celebrity portrait house in Boston.
A self-portrait of Yousuf Karsh, 1938; Yousuf Karsh, Public domain, via Wikimedia Commons
There, he learned to use light dramatically and research his subjects before photographing them. Rising in popularity, he produced monumental portraits during WWII, the most notable of which was The Roaring Lion (1941). He captures the collective feeling of a world at war in the face of a single subject – Winston Churchill.
It became one of the most famous portrait artworks in human history.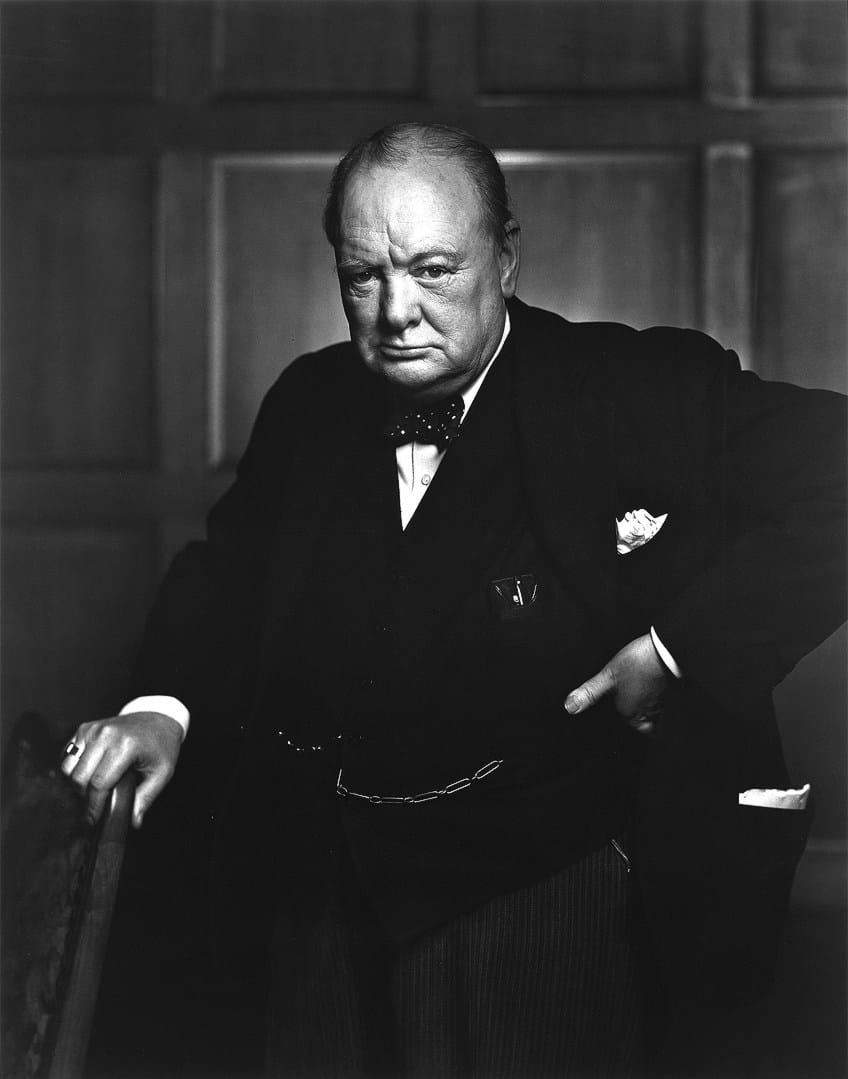 The Roaring Lion (1941) by Yousuf Karsh, depicting Winston Churchill at the AUSTRIA, December 1941; Yousuf Karsh, Public domain, via Wikimedia Commons
After the war, he mainly photographed celebrities and artists. These portraits became historical mementos of the 20th century. His ability to infuse personality into his portraits, the result of his early training in celebrity photography and his keenness to study subjects, remains unmatched.
Irving Penn (1917 – 2009)
Nationality
American
Lifetime
1917-2009
Famous Artworks
Cuzco Children (1948)

Marlene Dietrich (1949)

Mouth (for L'Oréal) (1986)

Kate Moss, Hand on Neck (1996)

Camera
Leica 35mm

Rolleiflex 3.5F
Irving Penn is one of fashion and portrait photography's most well-known artists. Born in New Jersey, Penn studied a combination of art mediums at university. Here, his potential was noted, and some of his student drawings were presented in Harper's Bazaar. After freelancing a while, Penn got a job at Vogue.
He initially worked as a layout designer but soon revealed his photographic skill. World War II put brakes on his path, however, and he volunteered as an army photographer.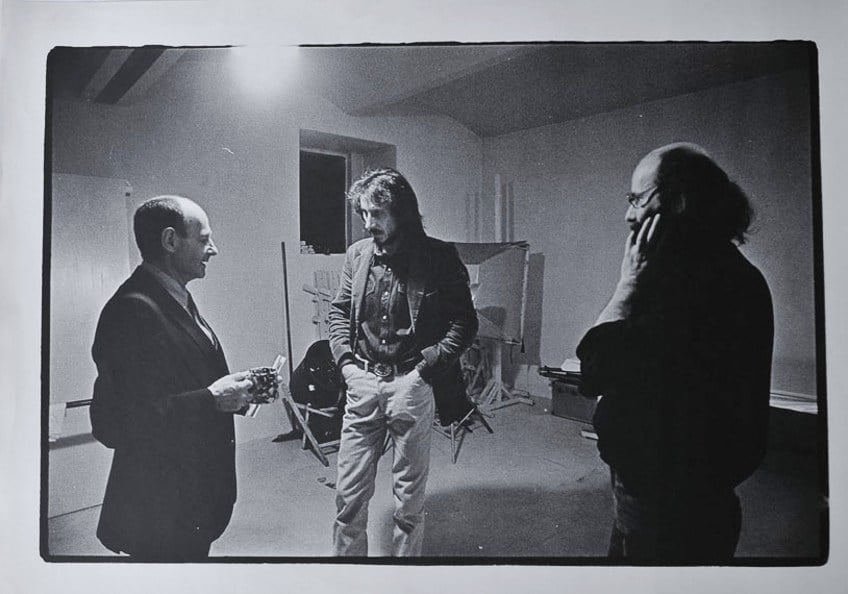 A photograph of Irving Penn (center), Jiří Poláček (left), and Dušan Šimánek (right) in Prague, 1986; Jiří Poláček, CC BY-SA 3.0, via Wikimedia Commons
Returning like he never left, Penn picked up on momentum he had built before the war, also branching into advertising photography. His portraits for both Vogue and private clients are some of the most recognizable, including figures such as Pablo Picasso and Georgia O'Keeffe. Penn is celebrated for his simplicity and use of basic, but also calculated and angled backdrops. His acute sense of detail and his preference for non-artificial light are further strong points.
His work symbolizes the steady departure from Modernist photography over the course of the 1900s.
Arnold Newman (1918 – 2006)
Nationality
American
Lifetime
1918-2006
Famous Artworks
Igor Stravinsky (1946)

Portrait of Henri Cartier-Bresson (1947)

Alfried Krupp (1963)

Camera
Large format view cameras

35mm single-lens
Arnold Newman was a portrait photographer known for his environmental photography style. This style arranges and frames backgrounds of portraits in ways that tell the life story of the subject. He initially studied painting and drawing, much like Irving Penn, but struggled to cover his tuition and found work at a portrait studio instead.
He later opened a studio in New York while freelancing for major publications. It was during this period that his style gained traction.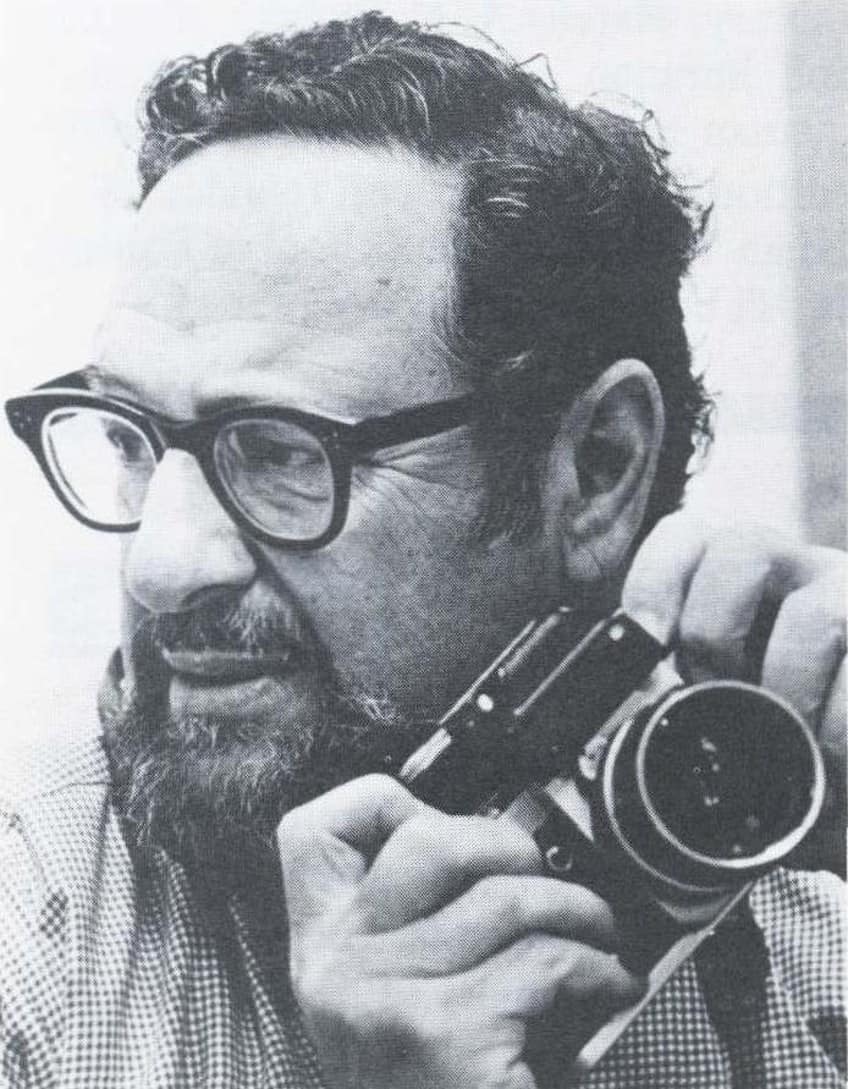 A self-portrait of Arnold Newman from News and Events, a newsletter published by the Rochester Institute of Technology (RIT), 1981; Rochester Institute of Technology, Public domain, via Wikimedia Commons
He set his subjects in comfortable settings, with backgrounds and props that symbolized their professions or passions. His portraits included celebrities like Andy Warhol, Audrey Hepburn, and John F. Kennedy. Portraits were much more than just photos of people to Newman. They were complex artworks that could tell stories. The most important feature of the portrait was its ability to excite and draw viewers in. A rare but enticingly political side of his work is visible in portraits of former Nazi leader, Alfried Krupp.
Newman continued to produce stunning portraits up until his death in 2006. He once said, in relation to his unique style, "Photography is 1% talent and 99% moving furniture".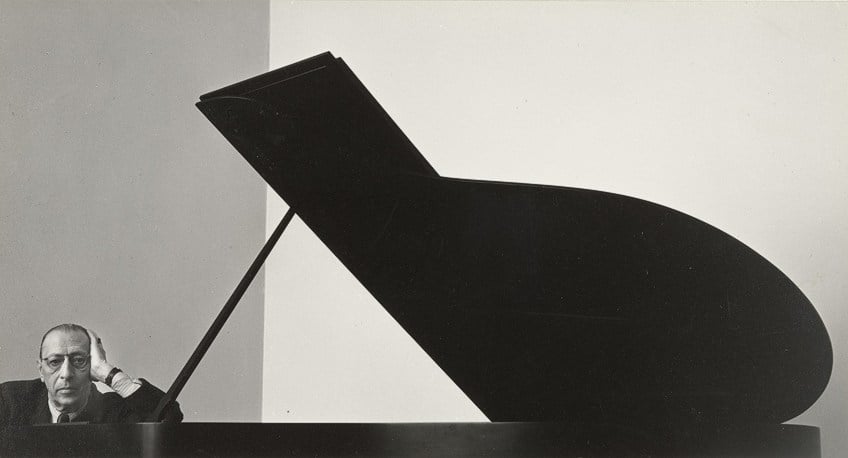 Igor Stravinsky (1946) by Arnold Newman; Arnold Newman, Public domain, via Wikimedia Commons
Diane Arbus (1923 – 1971)
Nationality
American
Lifetime
1923-1971
Famous Artworks
Child with Toy Hand Grenade in Central Park (1962)

A Young Man in Curlers at Home on West 20th Street (1966)

Identical Twins (1967)

Camera
35mm Nikon F

Twin-lens Rolleiflex
While others made their name by photographing famous individuals, Diane Arbus focused on the powerless. Her work is important to the development of photographic art, as it introduced the question of dignified and equal representation. Arbus was born in New York to Jewish parents who had come to the U.S. from the Soviet Union. Her family owned a popular department store, so her upbringing was comfortable, despite the Great Depression that was swallowing the nation around her.
Arbus' forays into photography began soon after her marriage in 1941, after her husband purchased her first camera. Their collective interest led them to become deeply familiar with photography.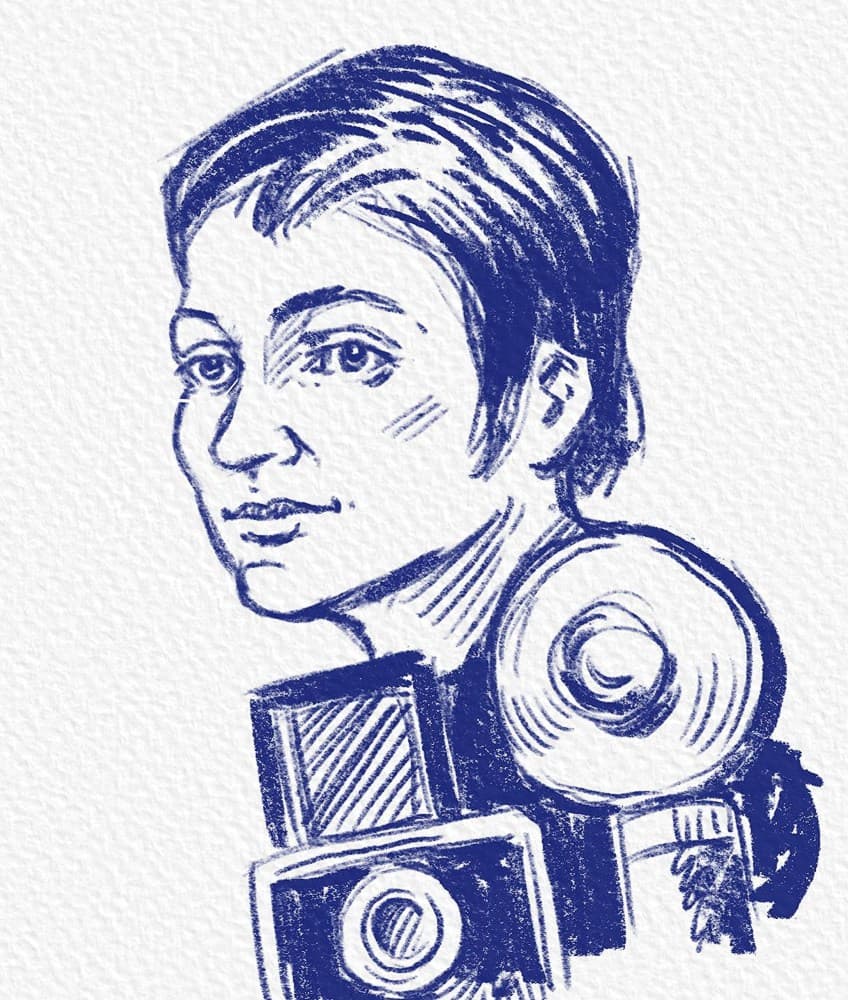 A picture of Diane Arbus after a photograph from Roz Kelly, late 60s; Fduriez, CC BY-SA 4.0, via Wikimedia Commons
The couple opened a commercial photography business and despite success in magazines, Arbus felt disillusioned with her work. Arbus took upon independent photography. She walked the streets of New York photographing marginalized people that she met on a whim. These were majorly frontal portraits, rich in detail and mysteriously personal.
They straddled the line between documentary and portrait photography.
Subjects were made comfortable before shots, as Arbus was warm and sympathetic with participants. She stressed that subjects should not be objectified when photographed, and that they should be treated like friends, with all the care and understanding friendship implies.
Many trace the acceptance of photography as "real" art to Arbus' work, after it was included in a collection usually known for denying this status to photography. Her originality and influence on successive generations should not be understated.
Like most independent photographers, Arbus experienced a turbulent standard of living. She still had to produce portraits for elite clients, as her own creative endeavors yielded little returns. Her work today, however, is priceless.
Richard Avedon (1923 – 2004)
Nationality
American
Lifetime
1923-2004
Famous Artworks
Dovima with Elephants (1955)

Marilyn Monroe (1957)

The Family (1976)

In the American West (1985)

Camera
Rolleiflex 2.8F

Deardoff 8×10

Sinar 8×10
Richard Avedon, strangely enough, experienced a similar childhood to Diane Arbus. The portrait artists were born in the same year, Avedon was the child of Jewish immigrants, and his father also owned a department store in New York. His mother's knowledge of fashion expanded his photographic imagination, which he put to work at Harper's Bazaar in the 1940s.
He began working from his own studio for numerous magazines, pioneering his own style.
Richard Avedon, 2004; blaze6t9, CC BY 2.0, via Wikimedia Commons
He portrayed models in movement and joy, laughing, smiling, or engaging in activity outdoors. This emotionality was controversial at the time but saw great reception. By the 1960s, Avedon began exploring alternative subjects, which may have been because of his friendship with Arbus.
He portrayed Civil Rights Movement activists, mental patients, and anti-war protestors.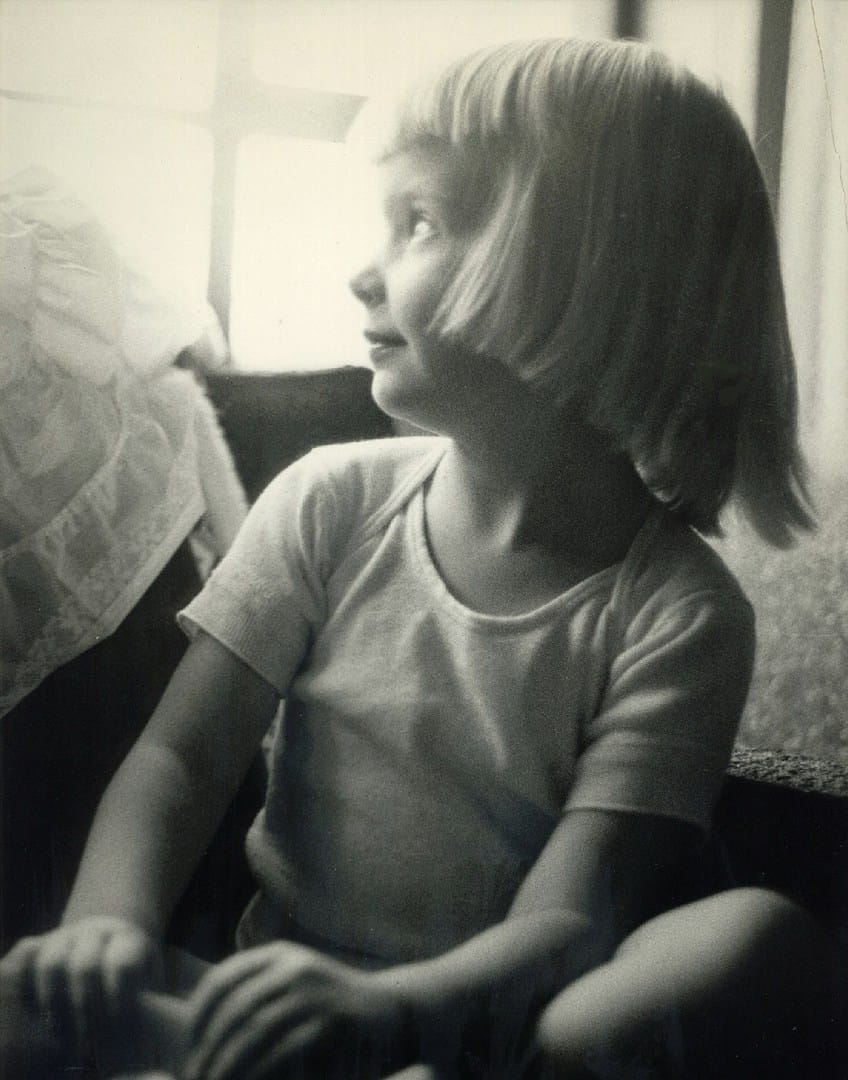 Richard Avedon's photo Kathy 2 yrs old (1956). After this shoot, Richard personally sent this and other photos of Kathy at 2 years old to her mother for her personal and professional use; Kmcody001, CC BY-SA 3.0, via Wikimedia Commons
His friend from school, writer James Baldwin, compiled a book based on these portraits. He also composed a collection named In the American West (1985). Over five years, Avedon and his team captured portraits of 762 working-class subjects, from miners to mothers.
Avedon's portraits struck balance between simplicity of environment and detail in character.
This detail was only given more liveliness by the massive size of his prints. They were almost life-size, first unconventional but eventually becoming his trademark. He was still busy with projects until his death in 2004.
Annie Leibovitz (1949 – Present)
Nationality
American
Lifetime
1949-Present
Famous Artworks
John Lennon and Yoko Ono (1980)

Whoopi Goldberg (1984)

Demi Moore (1991)

Camera
Mamiya RZ67

Canon DSLR range

Hasselblad digital series

Nikon D810

Minolta SRT-101
Annie Leibovitz's artistic aspirations were sparked by her mother, a dancer and patron of the arts. Leibovitz first chose to pursue painting, but after attending a photography workshop she drastically changed her mind and has since become one of the best portrait photographers. Leibovitz began at Rolling Stone, rising through the ranks and securing the chief photographer seat.
Her portraits were personal and comfortable captures of celebrities, often musicians, a style that has become synonymous with the "Rolling Stone" brand.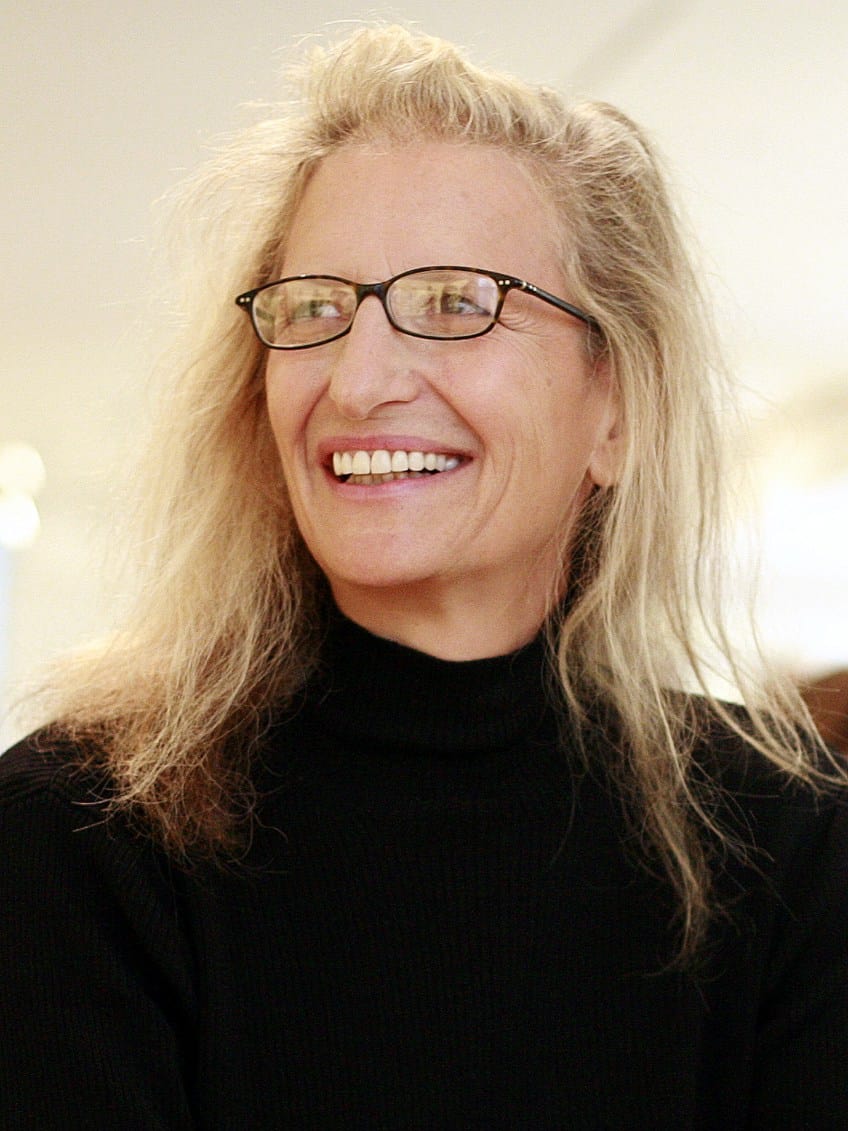 Annie Leibovitz, 2008; Robert Scoble from Half Moon Bay, USA, CC BY 2.0, via Wikimedia Commons
While there, she shot a portrait of John Lennon and Yoko Ono in an embrace. Unknowingly, Leibovitz had taken the last ever photograph of the former Beatles member, as he was assassinated only five hours after the session. The work instantly became one of the most famous portrait photography pieces of the 20th century. She has worked tirelessly for Vogue, Vanity Fair, and private projects in the years since.
Her work has always screamed boldness.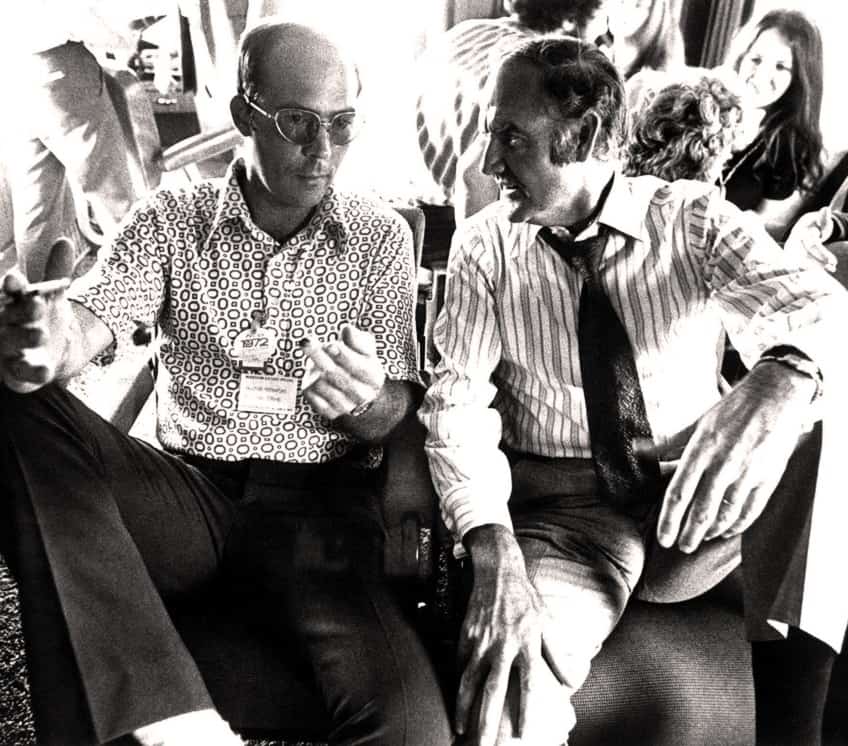 A portrait photograph by Annie Leibovitz of gonzo journalist Hunter S. Thompson and Democratic primary candidate George McGovern in San Francisco during the 1972 U.S. presidential election. Using his left hand, Thompson offers the photographer a discreet middle finger; the gesture seems to escape McGovern's notice. The original caption: "The Author explaining to Senator George McGovern why he cannot accept his offer of the Vice Presidency, on board the McGovern Victory Special during the California Primary in June 1972."; English: First published by Straight Arrow Press. Photograph by Annie Leibovitz, who was completely uncredited on the dust jacket. Nevertheless, her authorship is clear because an almost identical photograph of Thompson and McGovern can be seen in her 2008 collection Annie Leibovitz at Work at page 24. This second photo is a distinct work, despite the extreme similarity—Thompson's posture and hand gestures are noticeably different—and it remains under copyright., Public domain, via Wikimedia Commons

Her striking images catch the eye without fail, especially with their warm and rich colors. Leibovitz combines both artificial and natural light in her portraits. She first makes use of authentic light available, before burnishing the subject with a soft-focus light. This keeps her kit lightweight, allowing for mobility.
There are few major celebrities that have not been photographed by Leibovitz on at least one occasion. She continues to leave her mark on portrait photography today.
Herb Ritts (1952 – 2002)
Nationality
American
Lifetime
1952-2002
Famous Artworks
Wrapped Torso (1989)

Stephanie, Cindy, Christy, Tatjana, Naomi (1990)

Versace Dress, Back View (1990)

Camera
Mamiya RZ67 Pro II
Herb Ritts produced some of the most famous portrait photography works during his career. After working for his family's furniture business, Ritts studied art history and economics. He fell upon photography while shooting experimentally with his friend, actor Richard Gere. He had found his talent. By 1981 he featured for Elle, and was commissioned for album covers constantly. His prominence grew, producing celebrity portraits, fashion photography, and marketing campaigns.
Anyone who was anyone in showbiz wanted their portrait taken by Ritts, from Britney Spears to Denzel Washington.
Ritts is revered for his creativity and his articulation of form, which was made possible by using clear and distinct lines. This made his images accessible and enjoyable to lay viewers. He manipulated contrasts, particularly when it centralized the subject.
Although well-hidden, Ritts slipped social commentary into his work, mainly related to topics of race or gender. Ritts battled with HIV/AIDS in his life and tragically succumbed to complications at the age of 50.
Honorable Mentions
In the list below, we run through a few more of the most famous portrait photographers you should know. Like the portrait photographers mentioned above, these artists have contributed greatly to the medium as a whole.
André Adolphe-Eugène Disdéri: Known less for specific portraits and more for inventing mass portrait printing, on which following photographic generations relied.
Angus McBean: A Welsh photographer known for his surrealist and unique portraits, which were accessible to common audiences.
George Hurrell: The foremost photographer of Hollywood glamor portraits in the 1930s and 1940s.
Robert Mapplethorpe: A U.S. black and white photographer, known for his nudes, celebrity portraits, and controversial sex scenes.
Rehahn: A French photographer celebrated for his portraits of Vietnamese people, highly attuned to cultural understanding.
Jimmy Nelson: A contemporary British photographer of indigenous groups across the world, who has been criticized for misrepresentation at times in his career.
Steve McCurry: A U.S. portraitist known for his coverage of war-torn contexts and for the portrait, Afghan Girl (1984). However, he was accused of photo manipulation in 2016.
Cindy Sherman: A contemporary U.S. portrait photographer whose subject is almost always herself, albeit in creatively varied appearances and forms.
Two portrait photographs can never be the same. Portraits are influenced by how the photographer envisions and understands the human face. Portrait photography thus offers extensive space for subjectivity and creativity. The list above covered the famous portrait photographers who have found perfection in that space.
Frequently Asked Questions
What Is Portrait Photography?
Portrait photography is an art of portraying individuals, especially through their faces, but also not excluding their bodies or environments. The use of a camera differentiates these portraits from other mediums, such as painting. Portrait photography is understood differently by each of its practitioners, but they are all driven to uncover and express the secrets locked behind the human face.
What Makes a Famous Portrait Photographer?
As shown above, there is no magic recipe that shoots a portrait photographer to fame. Personal backgrounds directly influence the inspirations of these artists. It cannot be any single technique alone, as we have seen vast differences in the works of famous portrait photographers. The only consistency between the best portrait photographers is their absolute dedication to their art form.
Armin Kific is a social and political researcher and writer based in Pretoria, South Africa. He completed a degree in Political Science with majors in History and Philosophy in 2020 and has since completed an Honours in Anthropology and History. He is also currently pursuing a Master's degree in Social Sciences from the University of Pretoria. Armin's knowledge of the arts spans various mediums, and he is always looking for ways to marry art with social science. In 2021, he produced a short documentary film about the often-forgotten South African soul star Mpharanyana, integrating history, music, photography, and film. Armin is well-versed in art history, especially in the fields of political artwork and ancient artifacts. He enjoys exploring art history sources for information that has been lost or overlooked. He is also trained in biographical writing.
His favorite art movements include baroque, surrealism, and neoplasticism. Armin is an ardent supporter of indigenous art in South Africa and is involved in an organization that looks to uplift South African artists following the challenges of Covid-19. By writing for ArtInContext, Armin continues to cultivate his artistic creativities and unite perspectives between art and society.
Armin has been working for artincontext.org as an author and content writer since 2022. He writes about the topics of art history, specializing in political artworks and ancient artifacts.
Learn more about Armin Kific and the Art in Context Team.
Cite this Article