Francesca Woodman – Discover This Influential Photographer
From the young age of 13, Francesca Woodman made photographs that were regarded as universally compelling and meaningful. Born into an artistic family, she was exposed to an abundance of exceptional creative individuals, as well as innumerable literary, historical, and theoretical sources of inspiration. The settings featured in Francesca Woodman's photography ranged from small interior areas to the great outdoors, but Woodman was always present in the image. Join us as we learn more about Francesca Woodman's photography and biography.
The Biography of Francesca Woodman
| | |
| --- | --- |
| Photographer Name | Francesca Woodman |
| Nationality | American |
| Date of Birth | 3 April 1958 |
| Date of Death | 19 January 1981 |
| Place of Birth | Denver, Colorado, United States |
Mass culture did not interest Woodman. During the late 1970s, artists like Richard Prince and Cindy Sherman reinterpreted and subverted modern cinema stills and commercial symbols, while Francesca Woodman maintained a more timeless perspective focused on classical mythology, everyday objects, and studies of the self and nature. Woodman tends to be the only subject in her photos, and she often appears naked.
She can often be seen intertwined in a landscape or slipping out of the camera frame. The artist's body is usually cropped, and thus never fully captured because she is interested in defining the limits of depiction. Francesca Woodman was profoundly aware of the ephemeral character of existence and of living on the verge of death. She portrays the self as being too infinite to encompass, presenting identity as a fragmentary concept.
Childhood
Francesca Woodman was born in 1958 in Denver, the child of two well-known American artists in their own right, George and Betty Woodman. Woodman was close to her elder brother Charles, who was an aspiring video artist. Growing up in Boulder, she was constantly in the company of artists, filmmakers, and critics. As a child, her family home served as a social and creative hub for the town's art scene, and art was viewed as the family's religion.
As a result, art creation constituted a way of life for the Woodman family, both socially and individually, making it almost inevitable that the young Francesca Woodman would one day become an artist.
Education and Early Training
Francesca Woodman started going to a public school in Boulder in 1963, and her education was only disrupted in 1965 when the Woodmans relocated to Italy for a year. During this period, the family fell in love with Italy and European culture in general, and consequently, they purchased a home in Antella in 1968, a little town in the neighboring regions of Florence, where they lived every summer from that point onwards. At the age of 13, she attended high school at Abbott Academy, taking the camera her father had given her to the boarding school. Woodman took a photography class there, where she learned the fundamentals of photography and developed her own projects.
Wendy Snyder MacNeil, one of her professors, was said to have provided her with invaluable guidance. Francesca Woodman subsequently stated that she was always in need of encouragement from a boyfriend or a teacher. She relocated to Providence in 1975, to study at the Rhode Island School of Design, considered to be one of the oldest and greatest art institutions in the country, where she was taught by the respected photographer Aaron Siskind.
Doug Prince, an instructor whose own work centered on the complicated printing of composite negatives, was also a big inspiration for her while studying here. She was living in an industrial studio at the time and was entirely committed to her photography. During her summers in Italy, Woodman grew obsessed with Florence's Museum of Natural History, forging friendships with the security personnel so she could be permitted to take photographs when the museum was closed to the public.
As part of the School of Design's Rome Honours Programme, she spent a year in Rome after graduating in 1978.
One of her professors, Edith Schloss, an American artist, was also based in Rome at the time. Schloss's art was shown in an exhibit at the Libreria Maldoror, a Surrealist bookshop and gallery that became another favorite hangout for Woodman in the city. Francesca Woodman has been said to have detested the label 'self-portrait' and was recognized for taking her art both playfully and seriously. She was described by critics as being self-absorbed, headstrong, and incredibly driven, and the nuance of her works revealed an expression of her openness.
Mature Period
Francesca Woodman arrived in New York in 1979 and lived in a number of different locations, including with her parents. She worked as a photographer's assistant part-time and thought about starting a career in fashion photography. During this time, Woodman was depressed after a broken personal relationship and concerned that her professional life was not receiving enough attention. She received a summer scholarship as an artist in residence at the MacDowell Colony in Peterborough in 1980. She relished the opportunity to work alone, with her very own studio and darkroom, and created some remarkable work, usually outside, engrossed in the new world she was discovering. She saw the publication of one of her notebooks, which she had been working on since 1976, at the beginning of 1981.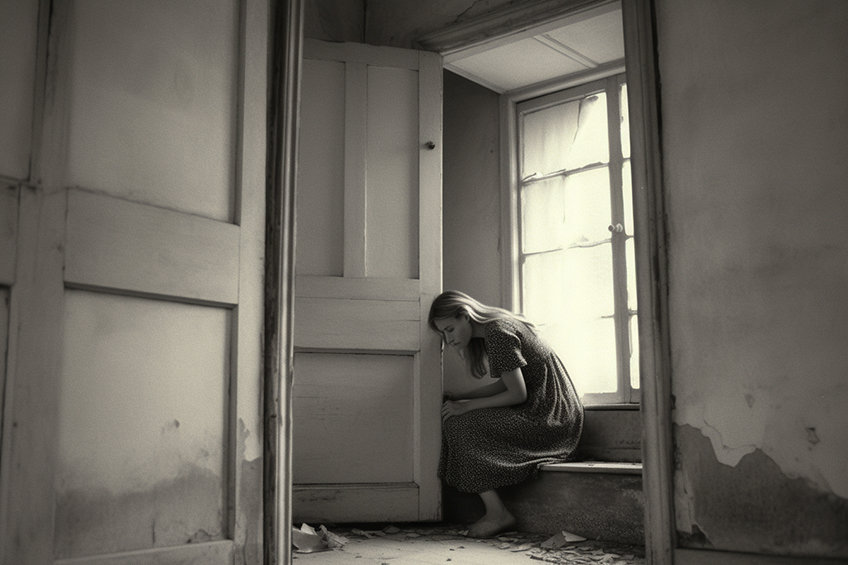 Death
Francesca Woodman took her own life by jumping from a New York City East Side building's loft shortly after the publication of her first book, at the young age of 22. At the time of her suicide, nobody knew about the extraordinary body of work Woodman had produced except her family, close friends, fellow students, and teachers. Her father stated that her suicide was motivated by a failed application for an arts grant and that his daughter was terrified and concerned by the competitive aspect of the art industry. Her mother maintains that things were not always sunny and lovely for the artist, identifying her depressive inclinations as the cause of her death.
The choice to end her life was most likely the consequence of a combination of different factors, though.
Legacy
After observing Francesca Woodman's photos at the home of her parents a year after her passing, the director of the Wellesley Art Museum, Ann Gabhart, decided to organize an exhibition of her works. The exhibition premiered a few years later, in 1986, and was attended and evaluated by prominent art critics such as Rosalind Krauss and Abigail Solomon-Godeau. Woodman's oeuvre has received increasing attention since then, particularly since the early 1990s.
Despite the fact that just one-fourth of her 800 images have been made public to date, she is widely regarded as a creative young genius whose work communicates immense emotional depth and keeps challenging preconceptions regarding identity and the medium of photography to this day. It is widely assumed that Woodman's suicide has an impact on how her artwork is seen since this awareness prompts an almost instinctual search for signs of her imminent self-destruction in her potent and often disturbing self-portraiture.
The cultish romanticism that arose in the aftermath of her suicide for a long time obscured meaningful assessments of her work.
In such a case, Francesca Woodman may be misinterpreted as a victim. However, it is critical to move past the temptation to categorize such an enigmatic body of work. The increasing interest in her work, fueled by solo exhibits, movies, and books created in both Europe and the United States, promotes a more sensitive and outward-looking perspective on such complex images.
Francesca Woodman's Photography
Although Francesca Woodman's work had nothing in common with conventional straight photography in the United States at the time, it is vital to keep in mind that other kinds of European and American modernist practice profoundly influenced and affected her style. Woodman had studied Surrealism extensively and was familiar with the experimental photos of Duane Michaels as well as those of other photographers from the United States that were intrigued by an alternative tradition. Below, we shall explore some of the most well-known examples of Francesca Woodman's photography.
Self-Portrait at Thirteen (1972)
| | |
| --- | --- |
| Date Taken | 1972 |
| Medium | Photograph, gelatin silver print |
| Dimensions (cm) | 20 x 25 |
| Location | The Estate of Francesca Woodman |
In one of Francesca Woodman's early self-portraits, she depicts herself turning her head away from the viewer, a rebellion against traditional portrait photography in which one would anticipate seeing the subject's face. Francesca Woodman uses a rod to open the shutter, which, after being purposefully blurred and out of focus, morphs into an unearthly dark shard.
Her hair conceals her face, and the area surrounding her is made up of fragmentary elements, such as a door, the dimly illuminated bench on which she sits, as well as an empty chair.
The piece already contains many of the characteristics that define her output in general. By adding the camera cable, she makes it evident that she is the artist of her image, and by using long exposures, a peculiar low perspective, and the juxtaposition of extreme light and dark, she demonstrates that she is not attempting to create straight photography. Interestingly, Woodman demonstrates her interest in classic 19th-century image-capturing and printing processes by using a square format. This photo, as with many of her works, depicts a transitional period between youth and maturity, exploring aspects of both absence and presence.
Untitled, Boulder, Rhode Island (1976)
| | |
| --- | --- |
| Date Taken | 1976 |
| Medium | Photograph, gelatin silver print |
| Dimensions (cm) | 20 x 25 |
| Location | The Estate of Francesca Woodman |
This photograph, shot near Boulder, Rhode Island, shows the artist entwined with tree roots. The artist's horizontal nude body is provided with support by the undergrowth while submerged in water. Her long hair floats and her beautiful complexion stands out against the dark shadows projected all around. Gravestones in the backdrop indicate that the tree is on the outskirts of a burial mound. Her hair, her legs, and the tree's roots all curl in serpent-like patterns.
As a result, the image is reminiscent of the Christian creation account, and Woodman is connected with Eve.
She, as with the biblical first woman, is a driving force of change, pursuing the forbidden fruits of knowledge to both beneficial and detrimental ends. The piece combines life and death, with an allusion to birth as Woodman emerges from an aquatic environment, but we also envision life ending when submerged beneath the surface. As such, we are reminded of Daphne, the Greek goddess who, while being attacked, changed her body into a tree. Additionally, the female body suspended in water is suggestive of Ophelia, the Shakespearean figure who fell from a tree spanning the river and died there.
From Space2 series, Providence (1976)
| | |
| --- | --- |
| Date Taken | 1976 |
| Medium | Photograph, gelatin silver print |
| Dimensions (cm) | 20 x 25 |
| Location | The Estate of Francesca Woodman |
This black-and-white photograph shows the artist standing nude against a wall between two enormous windows, her body completely merged with the surrounding surroundings by covering sections of herself with old wallpaper. She is portrayed in a decrepit building and historians believe the piece was prompted by the Victorian story The Yellow Wallpaper (1892), in which a female character is brutally imprisoned in a room by her husband.
As a result, Francesca Woodman highlights the concept of silencing and concealing women in a domestic context.
Francesca Woodman, like Louise Bourgeois' "femme maison" artworks, seemed to derive power from her own dissolution. If we think of the house as a protective living space, it may be regarded as a substitute for our original home, the womb. Thus, the themes of confinement, growth, and sustenance are all intertwined. A home, as with a woman's body, is a space of memories; a derelict house has both haunting relics of the past and future possibilities for what might grow. Francesca Woodman's Space series also contains photographs of her body stuck inside a glass vitrine, as well as images of her body disintegrating inside an empty room.
On Being an Angel #1, Providence, Rhode Island (1977)
| | |
| --- | --- |
| Date Taken | 1977 |
| Medium | Photograph, gelatin silver print |
| Dimensions (cm) | 20 x 25 |
| Location | The Estate of Francesca Woodman |
Francesca Woodman disrupts the viewer's typical way of seeing the world with the simple motion of leaning her head back and then totally flipping the image around. She reclines backward, naked, revealing her chest and shoulders as she stares straight into the camera in this shot. The darkness surrounding her creates a stark contrast to her highlighted figure. The artist seems to be floating in space when framed upside down, completely disrupting our normal sense of perspective.
It is her first image of a wider series that examines Woodman's ongoing desire in being an angel.
The angel is an intermediary persona, a celestial entity who spends time on Earth, and it is in this place, sandwiched between two opposing forces, that she often finds herself. Francesca Woodman is quoted as saying that she loathed the term "self-portrait", and that she only used herself as a subject for convenience, emphasizing that the significance of the work is always in her selected themes. This work contains strong overtones of frustration as an angel unable to return to the sky. Indeed, when the artist writhes and yells in front of a paint-splattered wall in subsequent pictures from the Angel series, her exasperation turns to aggressiveness.
Untitled, Rome, Italy (1977)
| | |
| --- | --- |
| Date Taken | 1977 |
| Medium | Photograph, gelatin silver print |
| Dimensions (cm) | 20 x 25 |
| Location | The Estate of Francesca Woodman |
This image, like many of the artist's photos, remains untitled and is only identified by date and place. She, like philosophical and theoretical literature, does not softly guide the spectator into understanding but instead demands a certain amount of active participation to comprehend what Francesca Woodman is attempting to accomplish. She creates her own wings out of white sheets in this piece. The wings are stretched from the roof of a huge warehouse, and she leaps into the air ahead of them, captured as she moves and attempts to fly.
She continues to delve into the idea of the angel, someone who comes from heaven to earth, an idea that evokes the spirit worlds, prophecy, and assistance.
Following her early attempts on the topic in the United States, this photograph and all subsequent photos in the series were created in Rome. Francesca Woodman went to Rome after graduating and resided there for a year as a part of the Rome Honours Program at the Rhode Island School of Design. While in Italy, she was influenced by Baroque fountains, Italian architecture, and, in particular, Symbolist and Surrealist works she discovered in the Maldoror bookshop.
Untitled, Rome, Italy (1978)
| | |
| --- | --- |
| Date Taken | 1978 |
| Medium | Photograph, gelatin silver print |
| Dimensions (cm) | 20 x 25 |
| Location | The Estate of Francesca Woodman |
This picture is disturbingly Christ-like, hanging from a doorframe with her head turned and her arms uplifted. The door itself is symbolic of a crucifix, and she hangs there as if crucified.
In this way, she frames herself as a martyr, like other artists have done before her, residing on earth and spreading a message while suffering as a result of her efforts.
Overall, Francesca Woodman addresses the liminal themes of the visible and unseen, the achievable and the impossible, and the point of no return between life and death in this work. An image of geometrical forms hangs next to the doorframe as if attempting to inject a tough emotional setting with a slight touch of mathematical order.
Self-Portrait, Birch Sleeves (1980)
| | |
| --- | --- |
| Date Taken | 1980 |
| Medium | Photograph, gelatin silver print |
| Dimensions (cm) | 20 x 25 |
| Location | The Estate of Francesca Woodman |
In this photo, the artist is wearing a dress with a design suggestive of tree bark, while looking coyly downward at the beautiful birch tree cuffs that cover her arms. As with previous works, Francesca Woodman transforms into a tree to further explore her fascination with metamorphosis. Francesca Woodman depicts a high-low conflict between experience and innocence, the transcendent and the sensual, the demonic and the angelic while accentuating dualities and conflicting emotions. The tree bark on her arms is also achingly suggestive of bandages, and so offers an alternate natural covering for possible slit wrists. Francesca Woodman glances down, optimistic, as if harnessing nature's powers is the only way to repair her damaged psyche.
That completes our look at Francesca Woodman's photography and life. Although she died very young and was relatively unknown before her death, Francesca Woodman's photography has since become widely appreciated around the world. Due to her success having occurred after taking her own life, many people have looked into her works for signs of her impending demise and confirmation from her works that she was planning to do so. However, it is important to view her works outside of the context of her suicide, as she had many other topics worth noting concealed within her works.
Frequently Asked Questions
Who Was Francesca Woodman?
Francesca Woodman was an American photographer that was most well-known for her self-portrait photos. Francesca Woodman's photography was not regarded as straight photography, but rather as artistic representations of symbolic messages that she wanted to impart, relating to her experience as a woman. Francesca Woodman, however, did not really like the idea of her works being labeled as self-portraits, as she stated that the only reason she so often used herself as the subject of her photos was that it was convenient to do so.
What Defines Francesca Woodman's Photography?
Francesca Woodman primarily specialized in self-portraiture, often using herself as the main subject in her images. She examined topics of identity, self-expression, and the link between the body and its surroundings via her photos. Francesca Woodman's photography has a dreamlike and surreal aspect to it. To achieve spooky and ethereal images, she experimented with extended exposure times and blurred movements. Her works typically incorporated symbolism and metaphors, blurring the border between truth and illusion. Francesca Woodman's naked or partially clad figure was regularly included in her photos. Her approach, though, was not intended to be blatantly sexual. Rather, she utilized her body to show her vulnerability.
Jordan Anthony is a film photographer, curator, and arts writer based in Cape Town, South Africa. Anthony schooled in Durban and graduated from the University of the Witwatersrand, Johannesburg, with a Bachelor of Art in Fine Arts. During her studies, she explored additional electives in archaeology and psychology, while focusing on themes such as healing, identity, dreams, and intuitive creation in her Contemporary art practice. She has since worked and collaborated with various professionals in the local art industry, including the KZNSA Gallery in Durban (with Strauss & Co.), Turbine Art Fair (via overheard in the gallery), and the Wits Art Museum.
Anthony's interests include subjects and themes related to philosophy, memory, and esotericism. Her personal photography archive traces her exploration of film through abstract manipulations of color, portraiture, candid photography, and urban landscapes. Her favorite art movements include Surrealism and Fluxus, as well as art produced by ancient civilizations. Anthony's earliest encounters with art began in childhood with a book on Salvador Dalí and imagery from old recipe books, medical books, and religious literature. She also enjoys the allure of found objects, brown noise, and constellations.
Learn more about Jordan Anthony and the Art in Context Team.
Cite this Article