Ellen von Unwerth – A Leading Light in Fashion Photography
An icon in fashion and advertising photography, Ellen von Unwerth is one of the best female photographers in the fashion industry who moved up the ranks from a model to a prolific fashion photographer. Taking control of her creative vision and production process, Von Unwerth has a remarkable and inspirational background, which inspires many women to pursue their dreams in art and regain control of their own worlds. In this article, we will explore the life and photography of Ellen von Unwerth, as well as a few highly-rated books that will shed light on some of her best projects!
From the Circus to the Runway: The Life of Ellen von Unwerth
Ellen von Unwerth is among the leading Contemporary fashion photographers whose unique history will have you inspired and fascinated with the trajectory and accomplishments of this talented fashion photographer. Ellen von Unwerth is a highly-respected name in fashion photography who has contributed to many iconic commercials, creative editorial shoots, and special campaigns, which ran in magazines like Vanity Fair, Vogue, and Playboy.
Artist Name
Ellen von Unwerth
Date of Birth
17 January 1954
Nationality
German
Associated Movements, Themes, and Styles
Fashion photography, editorial photography, pinup photography, beauty, the female gaze, women empowerment, and advertising
Mediums
Photography
Famous Artworks
● Claudia Schiffer (1990)

● The Mask, Paris (1991)

● David Bowie and Kate Moss (2003)

● Madonna (2014)

● Curve View, Zita Vass, Los Angeles (2020)

● Hot Cat on Tin Roof, Zoe Kravitz, Los Angeles (2020)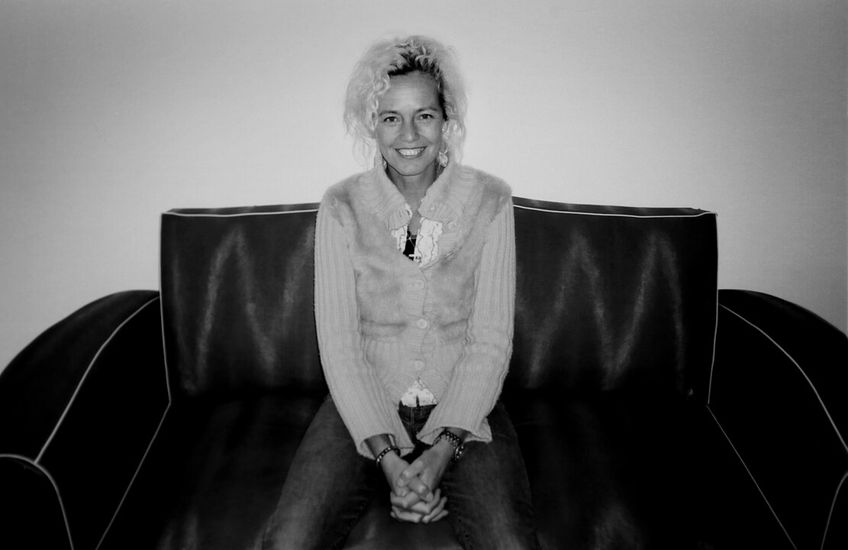 Ellen von Unwerth (2003); Filip Naudts, http://www.filipnaudts.be, Copyrighted free use, via Wikimedia Commons
Ellen von Unwerth has published several photography books and centers her photography on the non-objectification and empowerment of women in the fashion industry There is no doubt that her unique history and ever-so-crucial philosophy in her creative practice have contributed to her success. Below, we will dive into the life of Ellen von Unwerth and explore the details of her style, accomplishments, and approach to fashion photography.
Ellen von Unwerth: From Muse to Artist
Ellen von Unwerth's photography career across fashion and the fine arts displays her distinct style and approach to photography that is informed by her previous career as a fashion model. With her unique background, Von Unwerth's photographs demonstrate a refined understanding of what it takes to be both in front of the lens and behind it to reveal an awareness of the subject and context that is rarely seen in fashion photography. Von Unwerth played a vital role in spotting and developing many emerging talents, including 90s supermodels like Claudia Schiffer.
Through her seamless fusion of provocative aesthetics, the female gaze, and a keen eye for storytelling, Von Unwerth's photography is unparalleled.
Early Life and Career
Ellen von Unwerth has photographed many A-list icons, including Drew Barrymore, Rihanna, and Madonna, in visually profound and striking manners that elevated her work beyond fashion and into art. Von Unwerth's eye for visual storytelling was developed in her experiences as a woman in Germany. Ellen von Unwerth was born in 1954 in Frankfurt, where her creativity led her to her first career in the circus as a magician's assistant. Von Unwerth was an orphan who regularly circulated in the foster care system, however, this did not discourage her ambitions to pursue the creative path. Von Unwerth performed alongside other creative individuals in several performances as a teenager at the circus for three years. In her twenties, Ellen von Unwerth was noticed by a street photographer who encouraged her to take up modeling, and soon she relocated to Paris where she pursued a career as a fashion model.
For the next 20 years, Von Unwerth remained a fashion model and eventually earned a feature on the cover of Cosmopolitan magazine. Von Unwerth had, of course, been associated with many excellent fashion photographs of her day, which perhaps motivated her to explore her talents and venture into photography. It was her ambition and drive to extend her services beyond the static universe of a model and pursue freedom from behind the lens. Her boyfriend gifted her a camera, which sparked her photographic development and artistic style. Von Unwerth's first shoot was conducted in Kenya on an impromptu project and featured some of her model colleagues. Her photography was published, and soon, Von Unwerth realized where her true passion was.
Notable Projects and Publications
Ellen von Unwerth gained significant attention in 1989 after she was hired by Guess to photograph a series of branded images for the soon-to-be glamorous and famous model Claudia Schiffer. Von Unwerth's images of Schiffer were a hit and the series piloted both the model and Von Unwerth further into the industry. Von Unwerth also went on to direct a few music videos and produce more publications in the 1990s, which featured her eclectic style and approach to photographing advertising and media images for famous pop bands and musicians, including Duran Duran and Bananarama.
Among other well-known covers shot by Von Unwerth included The Velvet Rope by Janet Jackson in 1997, Life for Rent by Dido in 2003, and Christina Aguilera's Back to the Basics, Keeps Gettin' Better: Decade of Hits.
Her publication projects played a major role in establishing her name in the field and included her first book published in 1994 called Snaps, which was later followed by Wicked in 1998, and many other captivating photo books in the 2000s. In 2018, Von Unwerth held a 30-year show of women she photographed at Fotografiska Stockholm, which also debuted in New York in 2020, and later in Fotografiska Tallinn. It was also in 2018 that the monographic magazine VON was launched both online and physically across the globe.
Photography Style and Influences
Ellen von Unwerth was influenced by figures like Guy Bourdin and Helmut Newton, without nuances of the male gaze. Von Unwerth's major theme in most of her photographs of women includes the power of the female gaze and its ability to leverage eroticism, beauty, and provocative imagery to fuel women's empowerment, ownership, and a sense of control for many women who are often photographed from the vision and narratives projected by men. Von Unwerth's style focuses on evoking a sense of glamor, with both quiet and loud visual elements, which make her work stand out in fashion. Von Unwerth's photography aims to empower her models and shift the lens from objectifying women to showcasing their strengths. Her photography is shot in black and white and color, the former of which was used to shoot portraits of celebrities such as Christina Aguilera, Britney Spears, Milla Jovovich, Rihanna, and Monica Bellucci, all captured in timeless and classical compositions.
Ellen von Unwerth's career as a model herself has also influenced the way she approaches her style and shoot. Her practice is therefore deeply informed of the psyche of a model and artist, which resulted in a new shift in the culture towards models and portraying their personalities. The progression in her compositions can be seen in her playful images that showcase movement and a sense of dynamism in the way her models pose. Von Unwerth's photography offers a much-needed and refreshing perspective of icons and models from the female gaze, which tests the boundaries of feminine sexuality in fashion photography.
Film and Music Contributions
Throughout her career, Von Unwerth has produced many impactful ensembles and editorial features, including commercial films and music videos, which enhanced her career as a photographer and artistic director of women and eroticism. Ellen von Unwerth directed many short films and music videos for fashion designers, brands, and celebrities. These include contributions made to commercial films for Revlon, Equinox, and Clinique, as well as short productions for musicians and actors.
Von Unwerth's success in creating special campaigns across fine art, editorials, music, and short films has resulted in successful advertising campaigns for many brands, including John Galliano, Chanel, Dior, and Ralph Lauren.
Special Awards and Recognition
In 1991, Von Unwerth won her first award at the International Festival of Fashion Photography and went on to be featured in numerous prestigious fashion publications. In 1998, Ellen von Unwerth was listed in the American Photo Magazine as one of the most important photographers of the year. Her ability to capture women through the female gaze made her one of the best photographers of sensuality, which was also fueled by her knowledge and personal experience of modeling and the experience of being in front of a camera.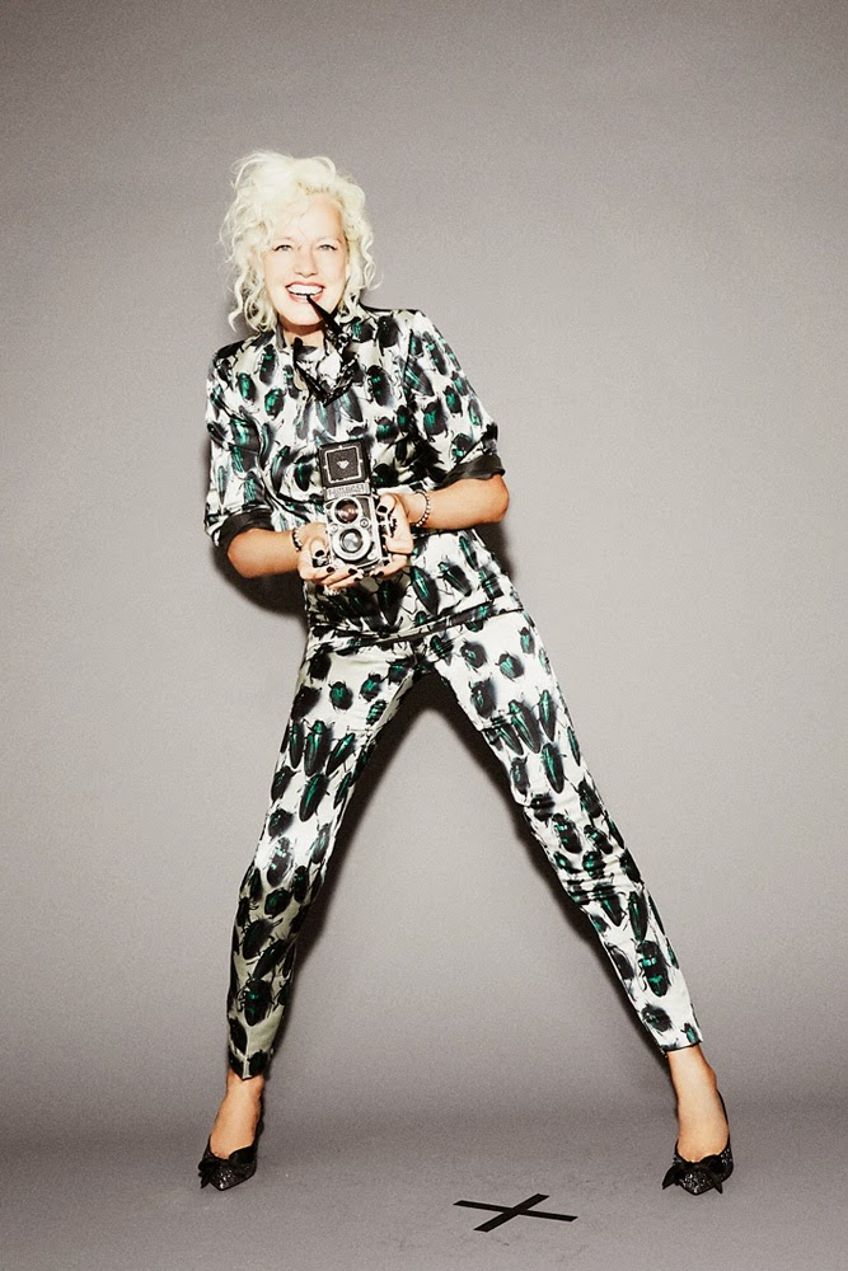 Self Portrait for Ponystep magazine (2013) by Ellen von Unwerth; Ellen von Unwerth, CC BY-SA 4.0, via Wikimedia Commons
Von Unwerth's photos have been featured in magazines such as Vanity Fair and Vogue and exhibited globally at shows held by the Metropolitan Museum of Art and the Museum of Modern Art. Other awards include the LUCIE award in 2019, the Royal Photographic Society Award in 2020, and the Iconic Photographer Influencer Award in 2021. Her works have continued to be included in exhibitions worldwide, with a major retrospective held in 2019 and 2020 at the Fotografiska Museum in New York. Today, Von Unwerth remains a significant contributor to global fashion magazines, including Elle, The New York Times, Egoïste, and multiple international editions of Vogue.
Iconic Photos by Ellen von Unwerth
Ellen von Unwerth's photography is best known for her playful approach, which puts her sitters at ease and fosters a positive attitude on set. Her photography explores themes of fetishism, sexuality, and femininity while portraying her models in a variety of ways that highlight their personalities.
Her photographs also introduce viewers to a unique world where fashion meets fantasy using the female gaze.
Claudia Schiffer for Guess (1989)
| | |
| --- | --- |
| Date | 1989 |
| Medium | Archival pigment print |
| Dimensions (cm) | 101.6 x 76.2 |
| Where It Is Housed | Preiss Fine Arts, Vienna, Austria |
The shoot that propelled Von Unwerth's name into the fashion industry, as well as helped establish Claudia Schiffer as a beauty in fashion, was the Guess jeans shoot of 1989. The black and white series was the beginning of an iconic collaboration between Guess, Von Unwerth, and Claudia Schiffer, all of whom went on to produce some of the best campaigns in the industry. Claudia Schiffer was photographed in a domestic kitchen scene, in a bra and Guess jeans while holding a recipe book. The photograph appears classic and yet familiar and comfortable with Claudia Schiffer's shot with a candid expression and an averted gaze.
Adriana Lima for 'Wicked' (1997) (1999)
| | |
| --- | --- |
| Date | 1999 |
| Medium | Fine art offset lithograph |
| Dimensions (cm) | 45 x 34 |
| Where It Is Housed | [FEUTEU], Los Angeles, United States |
This playful photo was shot by Von Unwerth for her photo book Wicked, which featured the famous supermodel Adriana Lima in a series of high-contrast black and white portraits published in 1998.
Von Unwerth described her approach to photographing her models by using strong compositions that highlight her models in the most beautiful way possible.
Heimat, Art Edition A, Tête-à-tête (2017)
| | |
| --- | --- |
| Date | 2017 |
| Medium | C-print on high-reflection Fujiflex paper |
| Dimensions (cm) | 45 x 35 |
| Where It Is Housed | TASCHEN, New York City, United States |
Tête-à-tête is part of a series of playful and quirky photos by Von Unwerth that featured in Heimat. The series was shot in Von Unwerth's hometown and included a shoot of many beautiful women who evoke the fantastical myths of Bavaria and its mysterious forests. The women in the series were portrayed as fun-loving and attractive heroines, who were captured striding amid pristine pastures and munching on pretzels, which fused a rebellious and edgy aesthetic with the old-world allure of the land to evoke erotic themes.
Von Unwerth's images also accentuate the themes of fantasy, sexuality, and rebellion with the use of varied textures, bold pops of colors, and seductive angles that make her visual language impactful.
Book Recommendations
Ellen von Unwerth has made significant contributions to the world of photography and the narratives of projected visions onto female models and their ability to be themselves on camera.
You can discover more about her artistic journey and compelling visual languages in these top recommended books below.
Revenge (2011) by Ellen von Unwerth
Revenge presents an exploration of sexual obsession through a sadomasochistic narrative portrayed brilliantly in the photography of Ellen von Unwerth. The book introduces three women who arrive at a Baroness's estate for the weekend and paints a completely different scenario than expected.
Explore sexual obsession through the photographs of von Unwerth
A sadomasochistic narrative story about three women
Enjoy a story that takes you in a completely unexpected direction
View on Amazon
The Story of Olga (2013) by Ellen von Unwerth
Described as a "French fetish novel", The Story of Olga is among Ellen von Unwerth's best-selling publications, which is considered a masterpiece by those who appreciate her ability to challenge existing traditions through a series of black and white erotic images.
Von Unwerth's striking visuals present sensuality and sexuality in juxtaposition to the heightened sense of texture, freedom, and allure that she uses to draw attention to the character of Olga.
One of the best-selling publications by Ellen von Unwerth
A striking presentation of sexuality and freedom
Described as a French fetish novel full of texture
View on Amazon
Fräulein (2021) by Ellen von Unwerth
Fräulein is a collection of stunning photographs and portraits of some of the fashion world's most loved women, including Dita von Teese, Eva Mendes, Eva Green, and Kate Moss, whose faces and personalities were immortalized through Von Unwerth's gaze. The book contains both Von Unwerth's color and black-and-white photography, which reveal her talent for portraying kitsch humor, romance, and sexual intrigue without objectifying her models.
Ellen von Unwerth at Paris Fashion Week RTW Spring/Summer (2018); Myles Kalus Anak Jihem, CC BY-SA 4.0, via Wikimedia Commons
A collection of portraits of the most famous women in fashion
Contains black and white and color photographs
Explore her talent for capturing humor, romance, and sex
View on Amazon
Ellen von Unwerth's special talent for photographing women through an experienced female gaze to generate a sense of strength and empowerment is remarkable at the very least. Von Unwerth's images remain relevant to the understanding and development of how women in entertainment and fashion are represented, and how brands can become more conscious of the way women are photographed and how their brand can influence the narratives shaped around women.
Frequently Asked Questions
Who Is Ellen von Unwerth?
Fashion photographer Ellen von Unwerth is a globally-renowned photographer and former fashion model, who is widely regarded for her ability to capture her sitters through storytelling that is accustomed to the female gaze and the empowerment of women. Ellen von Unwerth has photographed icons such as Madonna, Lana Del Ray, Rihanna, and Lady Gaga, among many other fashion models of the 90s and 2000s.
What Is Ellen von Unwerth's Photography Style?
Ellen von Unwerth approaches her photography style playfully and positively to promote the empowerment of women through narratives that were previously portrayed through a male gaze. Von Unwerth leverages a sense of energy, rebellion, spontaneity, and allure to capture images that provoke and inspire a sense of mystery, sexual intrigue, fetishism, eroticism, and feminine beauty.
What Influenced Ellen von Unwerth's Photography?
The development of Ellen von Unwerth's photographic style was informed by the works of Guy Bourdin and Helmut Newton, which helped shape Von Unwerth's grainy black-and-white visual language and pin-up style.
Jordan Anthony is a film photographer, curator, and arts writer based in Cape Town, South Africa. Anthony schooled in Durban and graduated from the University of the Witwatersrand, Johannesburg, with a Bachelor of Art in Fine Arts. During her studies, she explored additional electives in archaeology and psychology, while focusing on themes such as healing, identity, dreams, and intuitive creation in her Contemporary art practice. She has since worked and collaborated with various professionals in the local art industry, including the KZNSA Gallery in Durban (with Strauss & Co.), Turbine Art Fair (via overheard in the gallery), and the Wits Art Museum.
Anthony's interests include subjects and themes related to philosophy, memory, and esotericism. Her personal photography archive traces her exploration of film through abstract manipulations of color, portraiture, candid photography, and urban landscapes. Her favorite art movements include Surrealism and Fluxus, as well as art produced by ancient civilizations. Anthony's earliest encounters with art began in childhood with a book on Salvador Dalí and imagery from old recipe books, medical books, and religious literature. She also enjoys the allure of found objects, brown noise, and constellations.
Learn more about Jordan Anthony and the Art in Context Team.
Cite this Article