Few pieces of art have aroused as much public discussion about artistic freedom and sensuality as Robert Mapplethorpe's photography has. Robert Mapplethorpe's nudes were lauded in New York City for their seductive black and white imagery, although his creative abilities span various mediums. The formalist approach to Robert Mapplethorpe's art allowed him to approach themes first via aesthetics and composition, and only secondarily through substance.
Robert Mapplethorpe's Art and Life
| | |
| --- | --- |
| Nationality | American |
| Date of Birth | 4 November 1946 |
| Date of Death | 9 March 1989 |
| Place of Birth | Floral Park, New York |
It is simple to see his work's documentary worth, but it is the yearning for creative expression with which he was most engaged, constantly seeking new degrees of self-expression. Many people still regard Robert Mapplethorpe's photography to be controversial, even though he is one of America's most famous photographers.
Mapplethorpe was intrigued with universal qualities such as proportion and beauty, and he addressed all of his topics with the same discriminating eye, using magnificent arrangement, contrasting color, and dramatic lighting to achieve this.
Childhood
Robert Mapplethorpe was raised in a quiet Queens neighborhood in a rigid Catholic family. Despite the fact that his father, a hobbyist photographer, had a darkroom in his basement, Robert Mapplethorpe had little enthusiasm for photography at a young age. Mapplethorpe graduated from high school in just a couple of years.
At the age of 16, he attended the Pratt Institute in Brooklyn. Ignoring his father's opposition to studying art, he enrolled in college and majored in designing.
College, for him, was a period of personal inquiry and freshly discovered freedom from his religious background, as it was for many other college kids. He proceeded to participate in male pursuits such as rifles, but started to doubt his sexual orientation after reading homosexual erotica magazines and saving cut-outs from them; several of these appeared in early instances of Robert Mapplethorpe's art.
Mapplethorpe withdrew from college in 1969, and it was at this time that he met Patti Smith, his lone female girlfriend and longtime companion. They shared a home in Brooklyn, then subsequently at the Chelsea Hotel, where they attempted to swap artworks for rent. They frequently experimented with drugs and assisted each other in developing their creative talents. Their relationship was strong and frequently turbulent, yet they remained close friends.
Smith was a frequent subject for Mapplethorpe, who claimed, "she was an extraordinary subject, there's so many sides to Patti, so many facets that revolutionized my world perspective." Smith matched Mapplethorpe's passion and determination to become a well-known creative and she went on to become one of the most respected female musicians.
Early Period
After being impressed by Andy Warhol's innovative underground movie Chelsea Girls (1966), which was set at the Chelsea Hotel, the couple moved into the same hotel in 1969. Interview magazine recruited him as a photographer to cover worldwide personalities, intellectuals, and artists.
Mapplethorpe, like many other ambitious young creators on the edges of society, began living a hedonistic lifestyle and was, at times, a hungry young artist. He and Smith created their artwork with inexpensive materials such as magazine cutouts, board, newspaper, and other found items on the street.
It wasn't until their next-door neighbor, Sandy Daley, loaned Mapplethorpe her Polaroid camera that he began photographing himself and Smith. He liked the closeness and speed of replication that Polaroid provided, which fit Mapplethorpe's impatient and impulsive nature "I'd lose interest if I had to produce anything that took two weeks to complete. It would become a labor of love, and the love would be lost."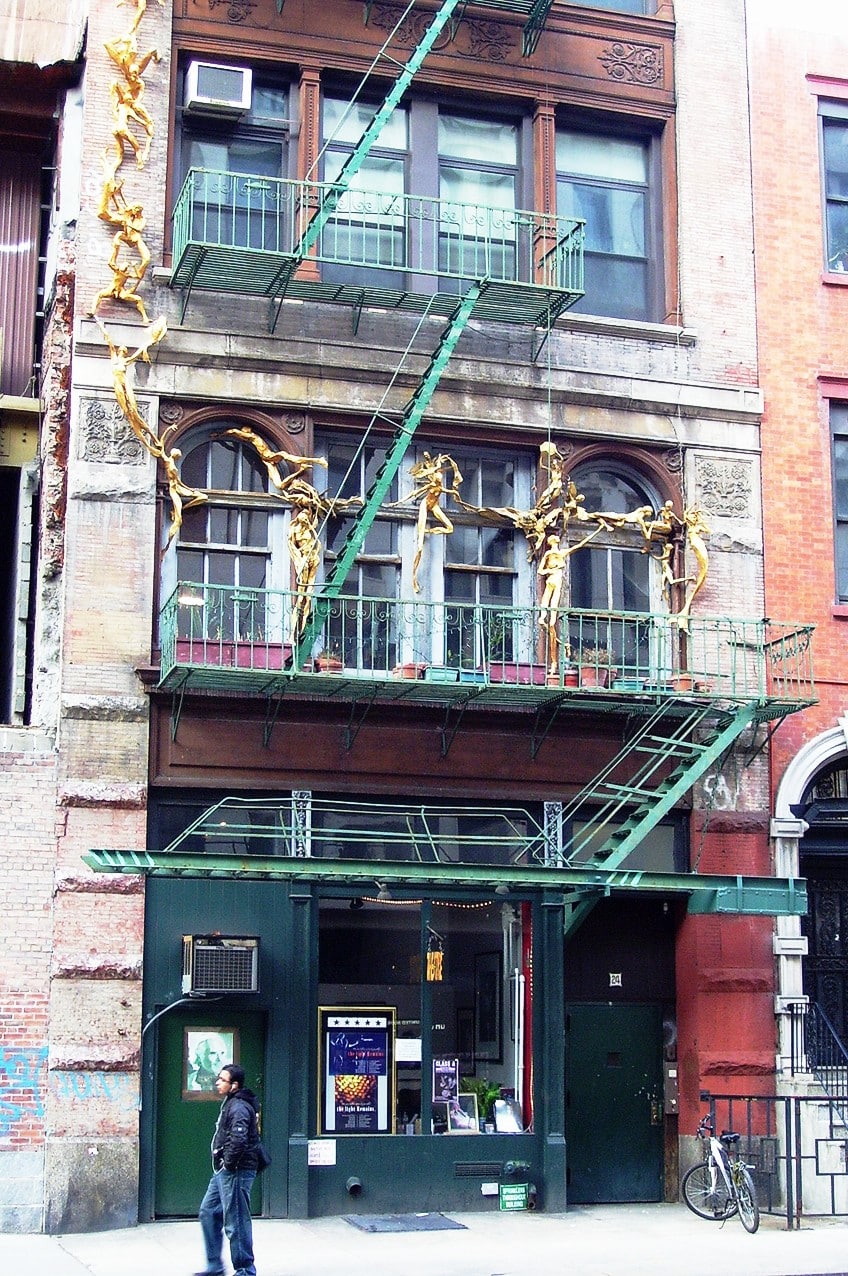 Photographer Robert Mapplethorpe's studio at 24 Bond Street in the NoHo neighborhood of Manhattan, later kept by him for use as a darkroom; Beyond My Ken, CC BY-SA 4.0, via Wikimedia Commons
Daley recalls Mapplethorpe purposefully avoiding purchasing meals to acquire additional film while he experimented with the Polaroid. Surviving Polaroids show him removing emulsification from one piece of paper, putting new ink, and then re-applying it to another.
Mapplethorpe met the immensely important Metropolitan Museum of Art's curator, James Mckendry, during a dinner party in 1971. Within a span of a few months, meeting McKendry altered the path of his creative career. McKendry welcomed Mapplethorpe to the museum to examine his collection of antique photographs.
Photography had not previously been regarded as a serious fine art form, but the collection of photographs motivated Mapplethorpe to pursue photography as an artistic medium. McKendry later bought him a camera for Christmas to encourage his burgeoning interest in photography. McKendry had become profoundly in love with Mapplethorpe as a result of their friendship. McKendry's love was unrequited, resulting in depressed mood swings.
Mature Period
The mid-1970s represent the pinnacle of Mapplethorpe's career, with his prolific portraits of close acquaintances and fashionistas, as well as his photographic explorations into the darker aspects of sexual desire. Mapplethorpe shot Smith for her debut solo record, Horses, in 1975. Mapplethorpe displayed his mature black and white approach in Wagstaff's penthouse.
The image depicted an androgynous person dressed in pristine black pants, a tucked-in white shirt, and an undone tie hanging over her neck. A jacket is casually draped across her shoulder, evoking images of bygone music greats such as Frank Sinatra.
The critically praised record and album cover catapulted Mapplethorpe and Smith to prominence, something they had aspired to for many years. Mapplethorpe began to earn more jobs as well as further exposure from "Interview" magazine.
When Warhol learned that Mapplethorpe was meeting Wagstaff, he became more open to the notion of Mapplethorpe becoming a more vital member of the magazine. He became a member of the "right circle," and was frequently commissioned to picture the rich in the United Kingdom, France, and Spain. Private gay nightclubs were locations for men to participate in bondage and leather play, which included role-playing and fetish. These were safe havens for men to indulge in fantasies while also finding freedom and safety in their sexual inclinations.
This was in sharp contrast to the outside world, where homosexuality was still considered illegal since gay rights were yet in their nascent stages. He would encounter men who would eventually become his photography inspirations in these nightclubs. Many of the men in his "X Portfolio", which was released in 1978, were friends and partners he met at these secret clubs.
The portfolio included thirteen notorious pictures, including a self-portrait with a bullwhip put into his rectum, two lovers engaged in anal fisting, a guy placing his pinkie finger into his urethra, and a man standing subserviently in a latex attire, among others. Even among modern audiences, this portfolio has its shock value and would eventually characterize a period of creative and sexual liberation. One year later, Mapplethorpe developed a new fascination with a female bodybuilder called Lisa Lyon.
Mapplethorpe's controversial X Portfolio, released in 1978; AlbertRA, CC BY-SA 4.0, via Wikimedia Commons
Mapplethorpe was drawn to her powerful yet feminine appearance. "It's the first time I've seen such a shape. It's uncharted terrain. It was difficult for me to imagine that this small child could have this figure when I first saw her undraped." She also reminded him of his classical inspirations, such as Michelangelo's Renaissance sculptures: "Lisa Lyon reminds me of Michelangelo's themes since he produced muscular ladies." Lady: Lisa Lyon (1983) was one of the numerous projects on which the two worked together.
Lyon's portfolio assisted Mapplethorpe in demonstrating that he was more than just a photographer of men or a pornographer, but also a rigorous master of the body as sculpture. Mapplethorpe's experiments with new shapes prompted him to experiment with new photographing processes. In 1983, he dabbled with silver-dye bleach, platinum prints on canvas, gigantic platinum prints, and other sophisticated approaches.
The high-quality and detailed platinum print aided in breaking down the barrier between sculpture, drawing, and photography that he set out to break down at the start of his career. Mapplethorpe recruited staff assistance for his darkrooms, such as Tom Baril, who rose through the ranks to become a master printer while employed with Mapplethorpe. Mapplethorpe was more engaged in the shooting of the image than in the printing procedure. Despite this, he was preoccupied with attaining his own vision and admitted to being a perfectionist.
Late Period
Around 1980, Mapplethorpe abandoned S&M photographs in favor of a more formalist approach to classic themes such as flowers and nudes. He liked Ed Ruscha's ability to isolate a subject from its background and aspired to create photos in this rigorous formal aesthetic language. Thomas (1986), Leaf (1989), and others emotionally distance themselves from his prior outspoken approach. Mapplethorpe was sent to the hospital for pneumonia in 1986 when he was detected as having contracted AIDS. Wagstaff died of AIDS-related illnesses just one year later.
With Wagstaff gone and his new diagnosis, Mapplethorpe worked tirelessly to finish all of the work required to become a household brand – despite his admission that he would not be able to enjoy his achievement.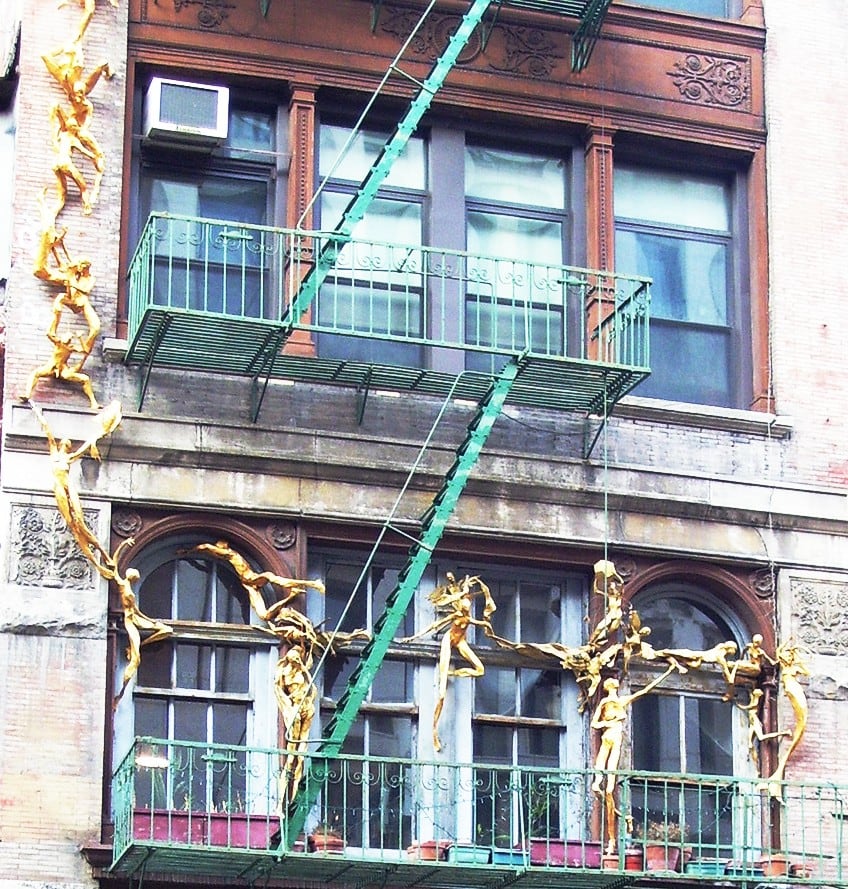 Close-up photograph of Mapplethorpe's studio in NoHo, Manhattan, with gold dancers on the outside of the building by sculptor Bruce Williams added in 1998. The Gene Frankel Theater has occupied the street floor since 1986; Beyond My Ken, CC BY-SA 4.0, via Wikimedia Commons
When word of his diagnosis spread, there was a surge in demand for his images. "He didn't stop photographing until he literally couldn't get out of bed," claimed one of his aides, Tom Baril. In July 1988, Mapplethorpe was taken to the hospital once more.
A week later, the Whitney Museum of American Art staged a mid-career exhibition of his work, which was a huge triumph and a remarkable honor for a photographer at the time. Recognizing that he was ailing and that his final moments were approaching, he arranged his farewell show, Robert Mapplethorpe: The Perfect Moment.
Mapplethorpe died of AIDS in a Boston hospital eight months after the show premiered.
Legacy
"He is renowned not for his floral photos, he is recognized for his repulsive sexual portrayal," Louise Bourgeois stated of his art. Mapplethorpe was more than just a chronicler of the hypersexual lifestyle of the 1970s. There is little question that he had an impact on the art world as a whole, as well as LGBT advocacy and censorship legislation.
Many credit his enormous effect on photography for transforming it into a respected aesthetic medium as before him, photography was deemed utilitarian.
His singular contributions to photography have substantially enriched the medium's history. Not only has Robert Mapplethorpe's photography had an indelible influence on the world of art, but Mapplethorpe's message of homosexual rights and AIDS awareness continues to resonate.
Robert Mapplethorpe's Photography
Mapplethorpe was drawn to universal principles like geometry and attractiveness, and he addressed all of his topics with the same discriminating eye via magnificent composition, color contrasts, and dramatic lighting. For his sculptural-like photography, he is considered a formalist, and he frequently cited Michelangelo as a key influence. Robert Mapplethorpe's nudes were a means to an end in his quest for unique self-expression. His practical application of the medium resulted in a revolution in art photography. Photography was not as appreciated as it is today during Mapplethorpe's lifetime.
Throughout his career, he was able to introduce photography to major museums. Some of his art was deemed too provocative, bordering on sexual or racist.
His early 1980s work, in particular, contained vivid images of homoerotic imagery, as well as his preoccupation with black naked male bodies. This art was not created with an ideological or political framework in mind; rather, he just photographed what he felt was attractive and regarded all subjects the same way, whether they were genitalia or blossoms.
Untitled (Blue Underwear) (1970)
| | |
| --- | --- |
| Date Completed | 1970 |
| Medium | Fabric, Wood, Paint |
| Dimensions | 33 cm x 33 cm |
| Current Location | J. Paul Getty Trust, and the Los Angeles County, Los Angeles |
This early example examines Mapplethorpe's fascination with the use of sexualized, ready-made items, which foreshadowed his photographic career. This artwork is one of the few remaining pieces from his first show outside of school, titled Clothing as Art, which took place at the Chelsea Hotel in 1970.
The artist made a sculpture out of two simple items: a wood frame often used to extend canvas and a private pair of plain blue briefs. The briefs are flipped inside out, revealing the stitch work and the most personal part of the garment to the observer.
For Mapplethorpe, style and fashion were inextricably related to personal identity, and straining this sexually objectifying clothing to the point of stress on the fibers provides insight into the artist's concept of clothes as entry to hidden desires. Instead of utilizing a frame, Mapplethorpe deliberately exposes the frame as part of the artwork. This is important to the piece since he is reflecting the act of producing art by leaving the wood exposed while elevating a personal object into a public ready-made design for an art audience.
Mapplethorpe recognized the importance of clothes in expressing one's sexual identity and freedom, and he utilized art to give a backdrop for sensual expression.
Self Portrait (1975)
| | |
| --- | --- |
| Date Completed | 1975 |
| Medium | Photograph mounted on Board |
| Dimensions | 35 cm x 35 cm |
| Current Location | Robert Mapplethorpe Foundation, New York |
This is a portrait of Mapplethorpe as a young man posing shirtless on a white background. His torso is mostly out of frame, despite his boyishly fun smile and extending arm across the background wall. The position of his arm and relaxed hand has a passing similarity to the crucifixion and may indicate his interest in spirituality.
Mapplethorpe's move from collage, mixed medium, and assemblage to focusing only on photography is marked by "Self-Portrait". This shot also marks the start of Mapplethorpe's commitment to self-portraiture as a prominent motif in his work.
He went on to make a wide range of self-portraits that explored the relationships between spirituality, nudity, and sensuality. This is a unique Mapplethorpe portrait in which he portrays himself as an innocent, cheerful young person; his curiosity stands out from any image in his future portfolios.
He had a variety of identities that he caught on film, ranging from overtly sexual to solemn and austere, with no human feeling or expression.
This shot pales in comparison to his later work, which was taken before he honed his studio skills. Mapplethorpe's studio photographic legacy is comparable to that of Irving Penn, with the greatest love and consideration taken to capturing the spirit of the subject on film through highlights and shadows manipulation.
Patti Smith (1978)
| | |
| --- | --- |
| Date Completed | 1978 |
| Medium | Gelatin Silver Print |
| Dimensions | 35 cm x 35 cm |
| Current Location | Los Angeles County Museum of Art |
Young Patti Smith trims her hair reverently in a normal domestic situation. She faces the camera, peering directly into the lens, unafraid of the camera's stare. Smith's strained, unyielding look is channeled by the cat sitting next to her. Smith returns the camera's look in the same way as the camera follows her. Mapplethorpe catches Smith's personality, unconstrained, confident, and unconcerned even during what appears to be an unplanned event.
He depicts Smith directly, as is his manner, but with a new and different attitude than seen in his homoerotic images.
The environment isn't a bedroom or a shiny black background, but rather a basic household with a housecat. She was Mapplethorpe's long-time companion and lover, and they lived together for many years in the early stages of their careers.
Smith recognizes her disobedience of tradition with this move, in which she cuts her tresses into a less feminine hairstyle sans precision.
Smith claims she did not "want to traipse around New York dressed as a folk singer. I enjoy rock 'n' roll. So I purchased hundreds of images of Keith Richards, stuck them up, and then just clipped away until I had a true Rolling Stones hairstyle."
Lisa Lyon (1982)
| | |
| --- | --- |
| Date Completed | 1982 |
| Medium | Gelatin Silver Print |
| Dimensions | 35 cm x 35 cm |
| Current Location | Multiple |
Lisa Lyon exemplifies Mapplethorpe's devotion to formalism, in both masculine and feminine forms, near the end of his career. The composition shows his skill in lighting, staging, and decoration to create a fascinating portrayal of Lyon.
Mapplethorpe frequently cropped his portraits at the torso or concealed their identification to draw attention to the subject's physical characteristics while maintaining their privacy.
Lyon has a dramatic white curtain drawn over her head in this image to cover her feminine attractiveness, and she stands confidently with her arms raised, flexing her biceps. In this contrast, she allows the observer to objectify her without the option of returning the look.
Lyon not only appealed to Mapplethorpe's appreciation of sculptural bodies, but she also questioned conventional aesthetic norms, allowing the artist to investigate gender lines that promoted the intriguing interplay of gender and disguise.
She became one of Mapplethorpe's most important inspirations because she admired the juxtaposition of traditional feminine beauty and masculine power.
Recommended Reading
Are you interested in learning even more about Robert Mapplethorpe's nude photography? Here are some books that delve further into Robert Mapplethorpe's artworks and lifetime. They will give you even greater insight into the artist's mind.
Altars (1995) by Robert Mapplethorpe
Despite being one of America's most recognized photographers, many people still consider Robert Mapplethorpe's photography to be controversial. This definitive, full-color depiction of Mapplethorpe's geometric formality and underlying religion offers insight into the artist's art and career that earlier black-and-white volumes cannot. Edmund White's accompanying article places Mapplethorpe in a historical, social, sexual, and aesthetic context.
Provides an insight into the art and career of Mapplethorpe
Definitive, full-color reflection of Mapplethorpe's geometric formality
Comes with 100 color and duotone plates, with three gatefolds
View on Amazon
Mapplethorpe x 7 (2011) by Robert Mapplethorpe
Since his tragic death in 1989, Robert Mapplethorpe's significance as an artist has increased significantly. In his honor, seven exceptional modern artists studied Mapplethorpe's complete collection of work over seven years, selecting those that especially connected with them. As a result, the innovative series of shows recounted in this book also includes extensive interviews done by Richard Flood.
Explores the artist's lasting impact on contemporary art
Features intensive interviews conducted by Richard Flood
Beautiful presentation offers bold insights into Mapplethorpe's genius
View on Amazon
Mapplethorpe is most known as a classic black and white photographer, but he also dabbled with sculpting, collages, and film, and was also commissioned to photograph celebrities for magazines. It is increasingly typical for artists to experiment with many mediums in order to discover the one that best matches their message. For Mapplethorpe, photography was a quick way to create a sculptural piece.
Frequently Asked Questions
Why Was Robert Mapplethorpe's Passing So Important?
The terrible conclusion of Mapplethorpe enacts the symbolism of the artist as a cultural hero. He has been recognized as one of the first celebrity AIDS casualties. His memory is frequently used to symbolize the battle for homosexual rights.
Why Were Robert Mapplethorpe's Nudes Significant?
Some of his art was thought to be excessively edgy, bordering on overtly sexual or racist. His early 1980s work, in particular, contained vivid images of S&M-based imagery, as well as his interest in black naked male bodies. This art was not created with an ideological or political framework in mind; rather, he just photographed what he believed was attractive and treated all subjects equally.