The world of contemporary photography has much to offer in terms of showcasing the development of artistic practices in the 21st century. Since the democratization of photography and image-making, including the advancements of modern technology, there have been countless opportunities for artists to explore and experiment with photography. In this article, we will review the top 15 most famous contemporary photographers of all time, whose works expand on the dynamic possibilities of photography and shed light on pressing concepts and themes relevant to our current context. Keep reading to learn more about these remarkable contemporary photographers!
Tracing the Developments of Contemporary Photography
When did contemporary photography commence? Contemporary photography is said to have begun around the 1980s and has since developed rapidly with the help of technological advancements and the various shifting cultural paradigms that have redefined the way artists approach photography. Artists have gained access to innovative forms of technology to help expand artistic expression and produce diverse themes, styles, and approaches to capture the essence of the contemporary world we live in today. To help you fully appreciate the most famous contemporary photographers and their contributions, we will briefly cover some of the most significant developments in contemporary photography.
Opening of the exhibition Indigenous Peoples: Nature and Justice, by photographer Sebastião Salgado (2023); Superior Tribunal de Justiça STJ from Brasil, CC BY 2.0, via Wikimedia Commons
First and foremost, with the rise of contemporary photography, also came the democratization of photography itself. Since the invention of digital cameras and smartphones, many artists have access to high-resolution sensors, which has elevated the process of image creation and broadened our ability to distribute images to the masses. With the help of social media platforms, photographers of all kinds and levels can participate in sharing their works and exhibiting their works using virtual galleries. Today, it is easier than ever to connect with other visual storytellers and global communities from all walks of life using social media platforms. Furthermore, the distribution of images using digital devices has become so common such that it has shaped our perception of current social issues, events, and personal experiences.
The democratization of photography has also given voices to those who were previously marginalized to voice their concerns on social media platforms and engage in traditional narratives that offer new perspectives on current pressing issues.
The Impact of New Technology on Contemporary Photography
Through contemporary photography, artists have been able to bridge the gap between various artistic disciplines and engage in collaborations with other mediums such as performance, art, video installation, and immersive art forms that create multi-sensory experiences. The emergence of new technologies has also helped to enhance the development of photographic techniques, for example, high dynamic range imaging emerged to enable photographers to capture a wider range of light and shadow within a single shot, thus enhancing the visual impact of the photograph. The invention of image editing software and its development have also enabled artists to reinterpret and manipulate images while engaging audiences to question the authenticity of photography itself. In the 21st century, one cannot ignore developments in technology such as machine learning and artificial intelligence, which have provided photographers with new generative forms of technology.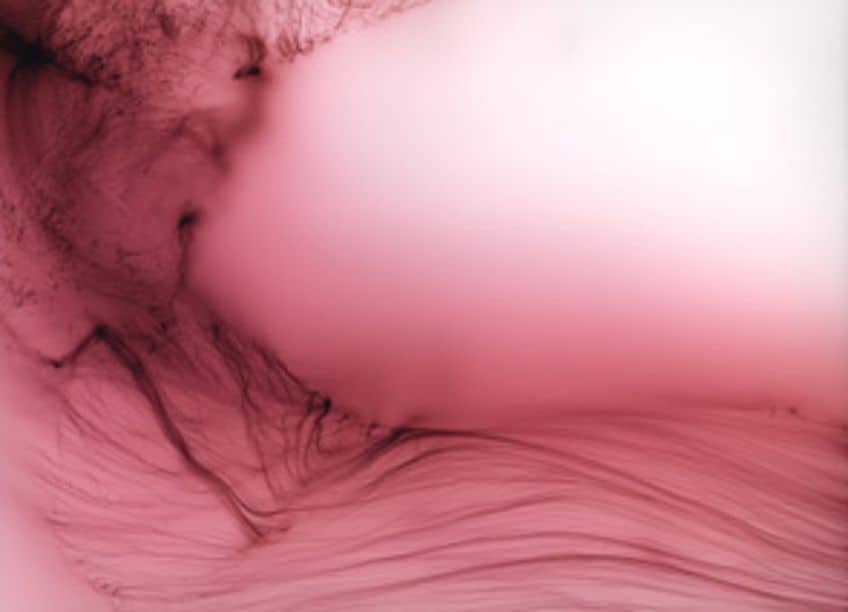 Free Swimmer 26 (2014) by Wolfgang Tillmans; Wolfgang Tillmans, CC BY-SA 3.0, via Wikimedia Commons
AI-generated art and photography have also been combined through AI-driven algorithms, which draw from massive data sets to enhance existing images. Such developments provide interesting debates on the notions of authorship and the role of the artist in an age of artificial intelligence. Advancements in printing technology have also changed the way that photographs are displayed in museums and galleries. The development of high-quality inkjet printers also enables artists to create state-of-the-art prints, which lower one's reliance on darkroom techniques. Large-scale printing is also achievable and has redefined the physical presence of photography as a fine art.
Authenticity and Social Politics
Artists also need to understand that contemporary photography has also responded to various social and political issues and has played a major role in generating awareness and fostering empathy among global audiences. Contemporary photography has played a significant and impactful role in addressing concerns related to various socio-political issues. These include issues surrounding migration, racial justice, climate change, and gender equality, which through photojournalism and documentary photography, have brought a sense of immediacy to social issues.
Finally, one of the main points that one needs to consider when reviewing contemporary photography is to question the role of the artist and the permanence of a digital image in an ever-increasing digital era.
It is important to generate conversations about the authenticity of digital images in contemporary photography and how the role of digital manipulation and developments such as deep fake technology challenge the world's trust in art authenticity. Photographers thus have much to consider when it comes to the ethics and the role of photography in shaping existing narratives.
The Top 15 Most Famous Contemporary Photographers
Now that you have a fuller picture of the developments in contemporary photography, you can now appreciate our selection of the top 15 most famous contemporary photographers to date. From icons like William Eggleston to fashion industry photographers like David LaChapelle, you can be sure to learn a lot from these talented luminaries!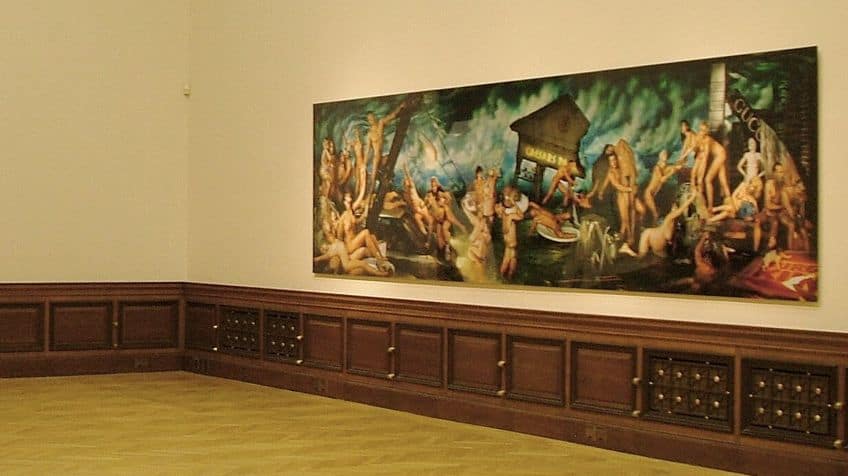 David LaChapelle, exhibition So Said LaChapelle, Galerie Rudolfinum, Prague, (2011); svajcr, CC BY-SA 3.0, via Wikimedia Commons
Robert Frank (1924 – 2019)
Name
Robert Frank
Date of Birth
9 November 1924
Date of Death
9 September 2019
Nationality
Swiss
Associated Movements, Themes, and Styles
Modern art, Contemporary art, American life, and civil rights
Medium
Photography
Famous Artworks

Car accident – U.S. 66, between Winslow and Flagstaff, Arizona (1956)
Pablo's Bottle, Monica's Car (1973)
Memory, Mabou (1993)
The Americans (2009)
Robert Frank was one of the best Modern photographers of the mid-20th century, who was most famous for his depictions of American life and its many ironic nuances. Robert Frank was one of the best Swiss photographers, whose legacy forms part of photographic history. Frank began his photography practice in 1941 and spent the next six decades honing his skills while working with graphic design studios and commercial photography agencies across Basel, Geneva, and Zurich.
His passionate quest for artistic expression led him to engage in fashion photography at Harper's Bazaar, where he was supervised by Alexey Brodovitch.
During the Civil Rights Movement, Frank also captured the political and social tensions of the time through images that displayed the racial inequalities rife in America through candid photos. His contemporary photos from The Americans became one of his most celebrated works that portrayed the trolleys of New Orleans, which was captured around the pivotal period when Rosa Parks refused to give up her bus seat in the autumn of 1955.
William Eggleston (1939 – Present)
Name
William Eggleston
Date of Birth
27 July 1939
Nationality
American
Associated Movements, Themes, and Styles
Modern art, Contemporary art, color photography, Photorealism, and Pop art
Mediums
Photography
Famous Artworks

Untitled [From The Seventies Volume One] (1968)
En Route to New Orleans (1971)
The Red Ceiling (1973)
Yellow Flowers, Hillside, California (1978)
William Eggleston is an iconic Contemporary and Modern photographer, who is praised for his contribution to color photography. Eggleston's work began with his exploration of monochrome works, which by the mid-20th century, transitioned to color photography.
A pioneer of color transparency film in art, Eggleston's practice embodies the photorealistic styles of the early 21st century that explore the beauty of the ordinary.
Eggleston is essentially the first photographer to pioneer color photography as a fine art form. His practice began with the use of Kodachrome slides, which was a popular medium for many amateur photographers in the late 20th century. Eggleston's style has been described as both evocative of the garish and unique in the credible color combinations that are enhanced by his use of the dye transfer process, which propelled color photography as a real art form.
Sebastião Salgado (1944 – Present)
Name
Sebastião Ribeiro Salgado Júnior
Date of Birth
8 February 1944
Nationality
Brazilian
Associated Movements, Themes, and Styles
Contemporary art, photojournalism, animal photography, landscape photography, and documentary photography
Medium
Photography
Famous Artworks

Untitled, Serra Pelada, Brazil (1990)
Sea Lions at Puerto Egas in James Bay, The Galapagos from Genesis (2004)
A leopard (Panthera pardus) in the Barab River Valley, Damaraland, Namibia (2005)
Hailing from Aimorés, Brazil, Sebastião Salgado is one of the best Contemporary photographers, who specializes in documentary photography and photojournalism. His origins in economics informed his introduction to photography during the early 1970s, after which he secured his PhD from the University of Paris in 1971.
Salgado's collaboration with the International Coffee Organization enabled him to explore Africa and re-spark his interest in photography.
Today, his works showcase the spectacular black-and-white images of his travels and sharp high-contrast style, which was inspired by luminaries such as Henri Cartier-Bresson, George Rodger, and Robert Capa. Salgado's most compelling contemporary photos include his series Other Americas (1986) and Workers (1993), which explores the erosion of manual labor around the world. Since then, his contribution as a Modern photographer earned him many awards, including the Erna and Victor Hasselblad Award, the Eugene Smith Award, and ICP Infinity Awards.
Photographic exhibition by Sebastião Salgado at the Museum of Image and Sound of Alagoas (2020); Ajmcbarreto, CC BY-SA 4.0, via Wikimedia Commons
Jeff Wall (1946 – Present)
Name
Jeffrey Wall
Date of Birth
29 September 1946
Nationality
Canadian
Associated Movements, Themes, and Styles
Contemporary art, postmodernism, industrial featurelessness, genre photography, natural beauty, urban decay, and pictorial art
Medium
Photography
Famous Artworks

Picture for Women (1979)
Mimic (1982)
A Sudden Gust of Wind (after Hokusai) (1993)
Jeff Wall is perhaps the most influential Contemporary photographer of the last decade, whose contribution to photography has resulted in many uniquely staged photos that draw attention to the need for pictorial representations in art. Wall's photography incorporated digital technology to create photographic montages using multiple negative images, combined to create a single image.
Another signature aspect of his recent work is the use of traditional silver gelatin prints and large transparencies, which he mounts in lightboxes.
His most celebrated contemporary photos include his genre scene images and cinematographic compositions, which he explored in works such as A Sudden Gust of Wind (after Hokusai) (1993). Wall has exhibited works across the globe with a retrospective at the Palais des Beaux-Arts in 2011, where he exhibited 25 of his images alongside selected works by his favorite artists. Wall has also received many prestigious awards, including the Hasselblad Award in 2002 and the Audain Prize for Lifetime Achievement in 2008.
Hiroshi Sugimoto (1948 – Present)
Name
Hiroshi Sugimoto
Date of Birth
23 February 1948
Nationality
Japanese
Associated Movements, Themes, and Styles
Contemporary art, Modern art, dioramas, seascapes, metaphysics, and interior spaces
Medium
Photography
Famous Artworks

Canton Palace, Ohio (1980)
Metropolitan Palace, Los Angeles (1993)
Schindler's House, Los Angeles – RM Schindler (1997)
Faraday Cage (2010)
Constructing Worlds (2015)
Hiroshi Sugimoto is one of the most intriguing Contemporary photographers of all time, whose works traverse decades of sublime interior spaces, seascapes, natural history dioramas, and movie theater spaces.
Through black and white photography, Sugimoto's practice also reflects his artistic influences informed by the works of Marcel Duchamp in terms of concept and his approach to highlighting themes of temporal existence and metaphysics.
Sugimoto's seascapes are also incredibly profound in their use of the horizon to provide balance to the composition while exposing the tonal variations of the subject. Today, his works remain in the collections of many global institutions, including the Tate Gallery, the Metropolitan Museum of Art, and the National Gallery of Art.
Hiroshi Sugimoto Exhibition in Barcelona (2016); Kippelboy, CC0, via Wikimedia Commons
Annie Leibovitz (1949 – Present)
Name
Anna-Lou Leibovitz
Date of Birth
2 October 1949
Nationality
American
Associated Movements, Themes, and Styles
Contemporary art, fashion photography, celebrity portraiture, Modern art, conceptual photography, and portraiture
Mediums
Photography
Famous Artworks

Bob Marley Rolling Stone Magazine photo session for cover photo (1978)
John Lennon and Yoko Ono (1980)
Whoopi Goldberg, Berkeley, California, 1984 (2019)
David Byrne, Los Angeles, 1986 (2023)
An icon of Modern and Contemporary photography, Annie Leibovitz is perhaps the most famous Contemporary photographer to date, who is also well-respected in the fashion industry for her innovative and creative approach.
Leibovitz is most famous for her iconic photo of Yoko Ono and John Lennon, which was shot hours before Lennon was murdered.
Leibovitz is also highly skilled in portraiture and a major contributor to Rolling Stone magazine, which many claim that the magazine would not be what it is today without her work. Since then, Leibovitz has collaborated with many major brands, celebrities, and magazines to produce many iconic images that continue to inspire current-day digital photographers.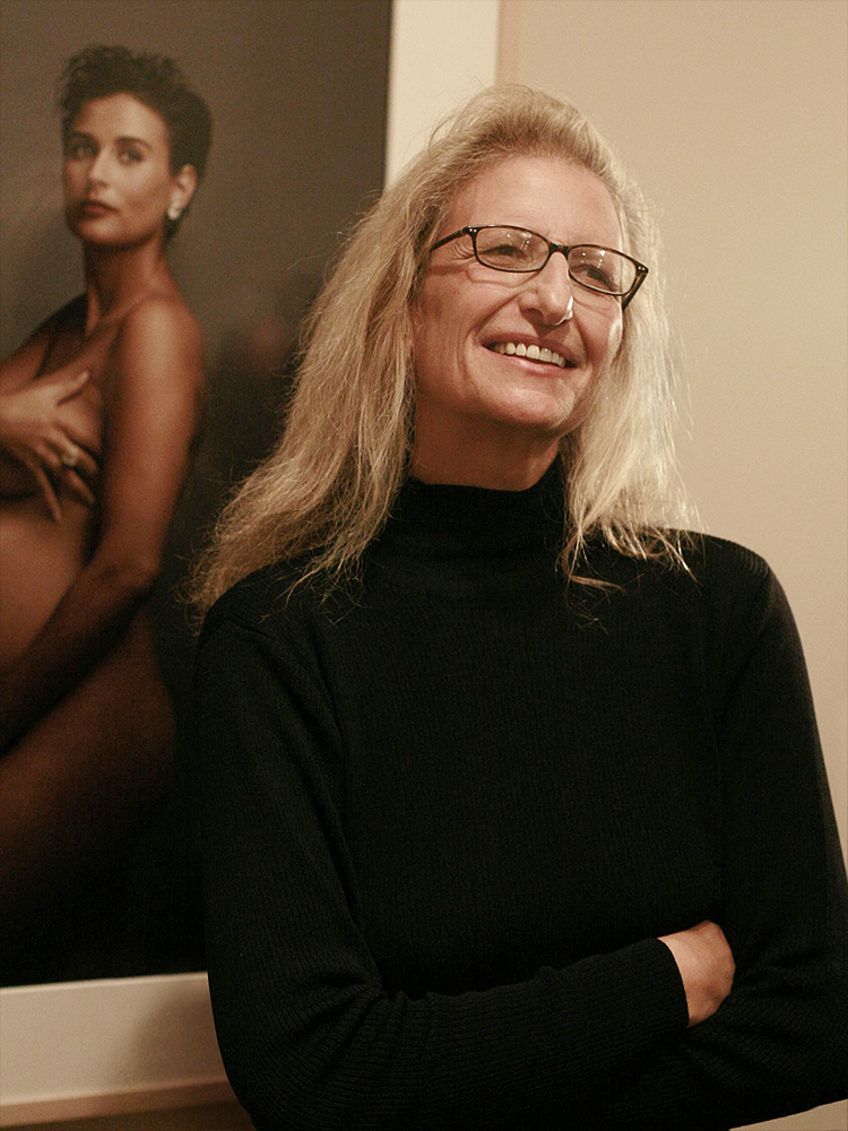 Annie Leibovitz at her SF Exhibition (2008); Marc Silber of www.silberstudios.com Carmel, CA, CC BY 2.0, via Wikimedia Commons
Steve McCurry (1950 – Present)
Name
Steve McCurry
Date of Birth
23 April 1950
Nationality
American
Associated Movements, Themes, and Styles
Contemporary art, portraiture, documentary photography, conflict, beauty, marginalized communities, and photojournalism
Medium
Photography
Famous Artworks

Afghan Girl (Portrait of Sharbat Gula) (1984)
Mujahideen Stand Atop a Mountain in the Hindu Kush, (1984)
Camels under a Blackened Sky (1991)
Red Boy, Holi Festival, Mumbai (Bombay), India (1996)
Globally renowned Contemporary photographer Steve McCurry is one of the most famous portrait photographers of the current era. McCurry is widely recognized for his iconic portrait of Afghan Girl (1984), which earned him significant recognition and he has since published many books that showcase his best works in photojournalism and documentary photography.
McCurry's practice explores the diverse cultures of the world and draws attention to the unseen beauty of individuals from countries like Afghanistan and India, which also highlight the unique faces of those affected by war.
McCurry has also worked with National Geographic on various projects and has won numerous awards for his contributions to portraiture and photojournalism, including the Magazine Photographer of the Year and the Centenary Medal, awarded by the Royal Photographic Society.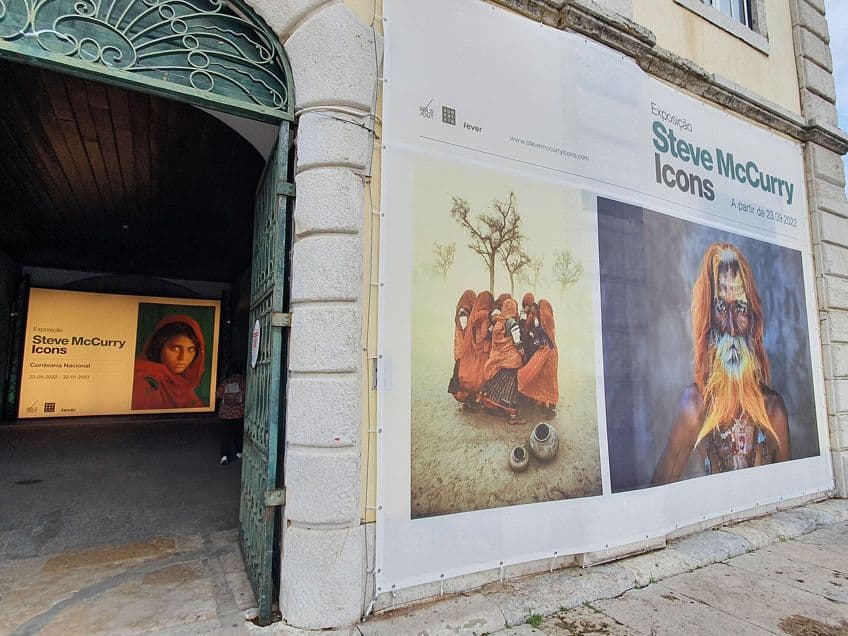 Steve McCurry Icons Exhibition at Cordoaria Nacional, in Lisbon (2022); GualdimG, CC BY-SA 4.0, via Wikimedia Commons
Nan Goldin (1953 – Present)
Name
Nancy Goldin
Date of Birth
12 September 1953
Nationality
American
Associated Movements, Themes, and Styles
Modern art, Contemporary art, LGBT subcultures, sexuality, 1970s New York culture, HIV/AIDS, the opioid crisis
Mediums
Photography
Famous Artworks

Ivy wearing a fall, Boston (1973)
Jimmy Paulette & Misty in a Taxi, NYC (1991)
Joey in my mirror (1992)
Red Sky From my Window, NYC (2000)
Contemporary photographer Nan Goldin is another prolific figure of late 20th-century photography. Nan Goldin is most famous for capturing the vast and rich subcultures of New York City in the 1970s and 1980s. Nan Goldin's photography practice encompasses her exploration of bohemian city culture, as well as the LGBTQ community.
Goldin has also had her works exhibited in many prestigious institutions such as the Whitney Museum of American Art, and has won many awards, including the Hasselblad Award and the Englehart Award, among many more.
One of Goldin's most famous series was The Ballad of Sexual Dependency, which draws attention to the beauty of the various personalities whom she encountered in her travels across New York and the various social movements that captured New York society at that time. Goldin's photography has also been described as gritty and captured in carefully posed manners, especially her self-portraits, which draw attention to the relationships between the gazes that occur between the subject, photographer, and viewer. She's also best known for her use of color film and strategic illumination, using flash to capture the bold colors and deep hues of her subjects.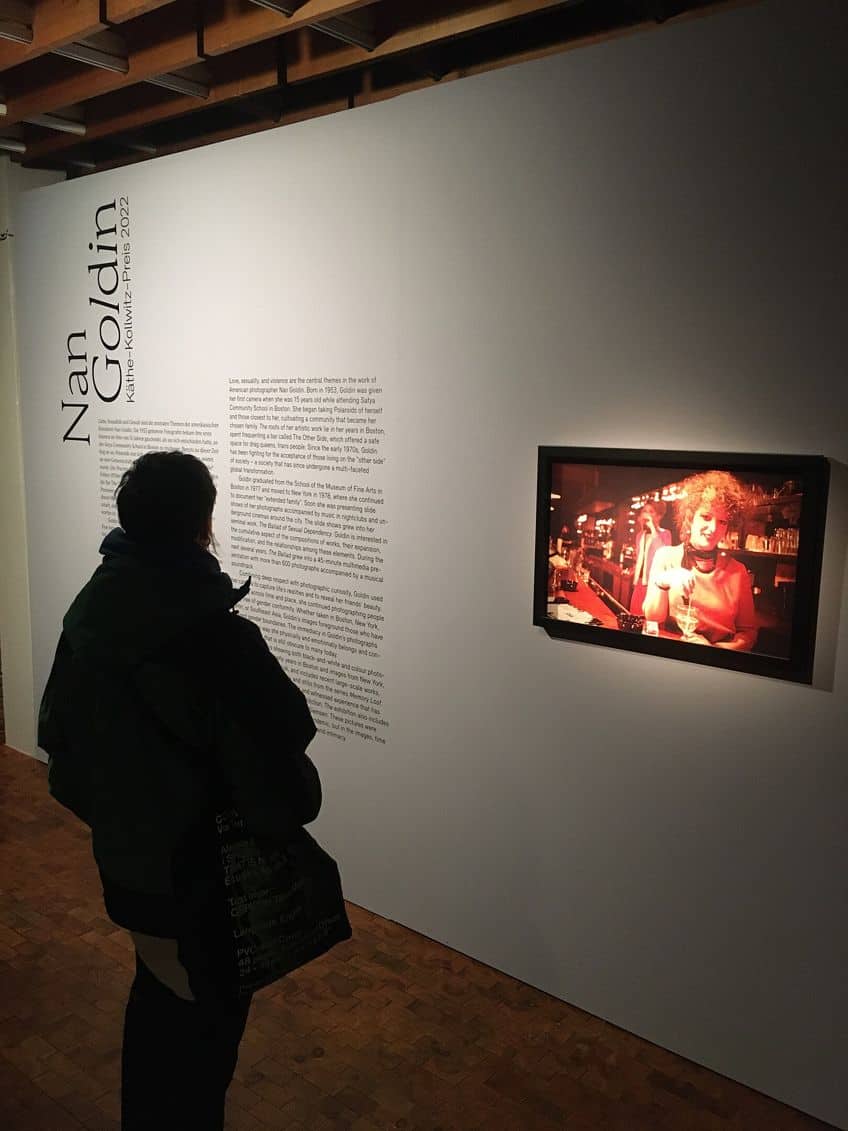 Nan Goldien Exhibition at the Academy of Arts (2023); Zblace, CC BY-SA 4.0, via Wikimedia Commons
Cindy Sherman (1954 – Present)
Artist Name
Cynthia Morris Sherman
Date of Birth
19 January 1954
Nationality
American
Associated Movements, Themes, and Styles
Contemporary art, late-Modern American art, social criticism, self-portraiture, identity, gender roles, stereotypes, and celebrity portraiture
Mediums
Photography
Famous Artworks

Untitled (Marilyn) (1982)
Untitled #408 (2002)
Untitled (Self-Portrait with Sun Tan) (2003)
Untitled, from Merce Cunningham Dance Co. 50th Anniversary Photography portfolio (2003)
The Skateroom X Cindy Sherman; Untitled #414 (Clown) (2022)
Another world-famous Contemporary photographer is Cindy Sherman, whose exploration of identity and the male gaze has left us with some of the most unforgettable images of the late 20th century.
Sherman's practice explored the traditional cinematic stereotypes found in film and Hollywood in the 1970s by engaging with such stereotypes and photographing her own body in performative scenarios.
Sherman's self-portraits directly confront the idea of gender roles as assigned to women by men and the way such tropes dominate mass media. One of her best contemporary photos was from her series Untitled Film Stills (1977-1980), is recognized as an important postmodern work in feminism and is made up of 69 stills that mimic stills from a movie.
Untitled Film Still 23 (1980) by Cindy Sherman; Viola Renate, CC BY 2.0, via Wikimedia Commons
Andreas Gursky (1955 – Present)
Name
Andreas Gursky
Date of Birth
15 January 1955
Nationality
German
Associated Movements, Themes, and Styles
Photojournalism, landscape photography, architecture, urban photography, and Contemporary art
Medium
Photography
Famous Artworks

Schiesser, Diptych (1991)
Times Square, New York (1997)
99 Cent (1999)
Stockholder Meeting (2001)
Bahrain I (2005)
Andreas Gursky is a globally renowned digital photographer who is most famous for his surreal digital montages and large-scale prints. Gurksy is among the world's most expensive photographers, whose works have sold for millions on auction, alongside the likes of Cindy Sherman and Man Ray.
His photography practice revolves around themes such as familiar spaces, aerial view perspectives, multi-faceted landscapes, and architecture, as well as hyper-focused scenes.
What makes Gursky's photography stand out is his innovative use of digital manipulation to establish altered views of familiar spaces and structures, with many of his finest works emerging from the 1990s. His work was also influenced by figures such as John Davies, whose photographic style of using high vantage points, inspired Gurksy's approach to aerial and bird's-eye perspective to monumentalize common spaces and heighten the emotional intensity of structures. Today, Gursky's works are highly valued and sought out by many collectors.
Shirin Neshat (1957 – Present)
Name
Shirin Neshat
Date of Birth
26 March 1957
Nationality
Iranian
Associated Movements, Themes, and Styles
Contemporary art, identity, culture, self-portraiture, Islam, and women
Medium
Photography
Famous Artworks

Unveiling (1993)
Fervor Series (Crowd from Back, Woman Leaving) (2000)
Faezeh (2008)
Shirin Neshat is one of the most famous contemporary photographers who is based in New York City. The Iranian photographer studied at the University of California, Berkeley around the same period when the Iranian Revolution commenced.
Upon her return to her home country, Neshat found that conservative Islamic systems had transformed the landscape, which left her with much room to explore the relationships between women and the religious systems of Islam.
Her work explores the cultural Islamic implications of veiled women in Iran, as well as the physical and emotional nuances, which assert the female presence in the very much male-dominated culture of Iran. Neshat was also prevented from returning to her country after she left for the United States to finish her education. Due to the Islamic Revolution of 1979, she could not return to Iran for more than a decade and had thus been living in exile, which further inspired her practice.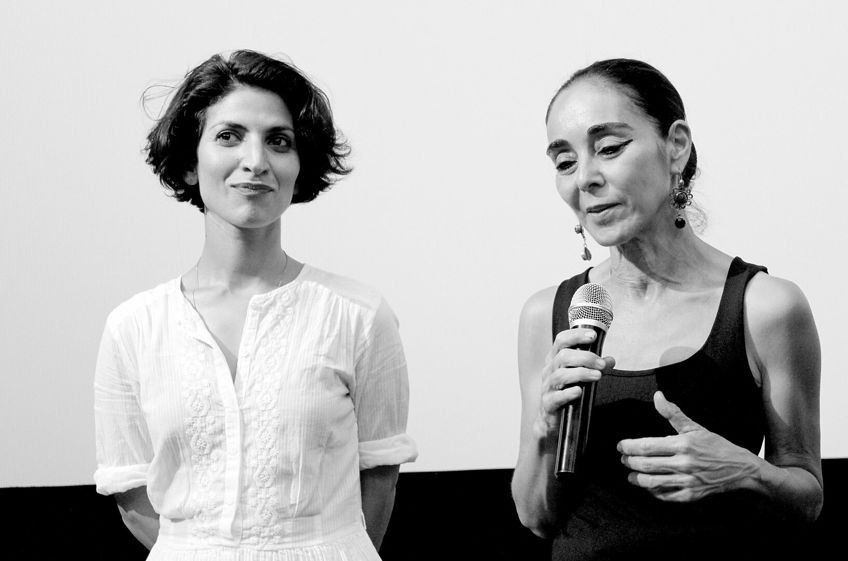 Shirin Neshat (right) at the screening of her film In Search of Oum Kulthum in Dusseldorf (2018); Colling-architektur, CC BY-SA 3.0, via Wikimedia Commons
David LaChapelle (1963 – Present)
Name
David LaChapelle
Date of Birth
11 March 1963
Nationality
American
Associated Movements, Themes, and Styles
Contemporary art, Surrealism, celebrity portraiture, fashion photography, portraiture, Pop art, and conceptual art
Mediums
Photography
Famous Artworks

Archangel Uriel (1985)
Eminem: About to Blow (1999)
Pamela Anderson: Voluptuous Attentions (2001)
Rebirth of Venus (2009)
David LaChapelle is a world-famous digital photographer that many will do well to remember. LaChapelle has collaborated with many celebrities and professionals in the fashion industry while incorporating his unique surrealist approach to photography.
LaChapelle is widely renowned for his contribution to commercial fashion portraiture and his integration of Renaissance themes in photography that were first discovered by Andy Warhol, who employed Lachapelle at Interview Magazine in the 1980s.
Furthermore, his rise to fame and development of photographic style has been described as "Kitsch Pop Surrealism", with many of his works being exhibited in international galleries and institutions across the globe.
David LaChapelle, exhibition So Said LaChapelle, Galerie Rudolfinum, Prague, (2011); svajcr, CC BY-SA 3.0, via Wikimedia Commons
Wolfgang Tillmans (1968 – Present)
Name
Wolfgang Tillmans
Date of Birth
16 August 1968
Nationality
German
Associated Movements, Themes, and Styles
Contemporary photography, portraiture, color photography, nightclubs, identity, illness, socio-political movements, and the LGBTQ community
Medium
Photography
Famous Artworks

Doing Well (2001)
Freischwimmer 54 (2004)
Glyptothek Munich (2007)
Freischwimmer 152 (2010)
Freischwimmer 155 (2010)
Wolfgang Tillmans is one of the world's most famous Contemporary photographers, whose experimental color photography and playful compositions have established him as the first non-English photographer to bag the Turner Prize in 2002.
Tillmans is widely admired for his uninhibited approach to capturing social movements and intimate portraits that amplify his role as a photographer and observer.
His experimentation with producing images in innovative ways has also worked superbly with his exploration of forging connections, which captured many unique scenes of nightlife, youth, and Contemporary still-life. Tillmans' photography also traverses various social and political movements that impacted the LGBTQ community and continues to navigate his own identity while undergoing more than 17 years of HIV treatment.
Paper Drop (Window) (2006) by Wolfgang Tillmans; Wolfgang Tillmans, CC BY-SA 3.0, via Wikimedia Commons
Lynsey Addario (1973 – Present)
Name
Lynsey Addario
Date of Birth
13 November 1973
Nationality
American
Associated Movements, Themes, and Styles
Contemporary art, photojournalism, conflict, human rights violations, war, and documentary photography
Mediums
Photography
Famous Artworks

Afghan Refugee Camp Portrait (2000)
Sudanese Liberation Army, Darfur, August (2004)
Of Love And War (2008)
Another important photographer, whose works have made a profound impact on photojournalism is Lynsey Addario. Addario began her photographic career with no formal training; however, she began working for Buenos Aires Herald in 1996 in Argentina. Lynsey Addario's contributions to photography and photojournalism culminated in one of her most famous series produced in 2008 titled Of Love and War, which documented the many effects and harsh realities of war that went unseen by the media and portrayed the various conditions of people affected in the Middle East and Africa.
Addario's photography practice has been one of the most significant contributions to Contemporary photography since it shed light on the underreported realities of people around the world.
Her work has since been featured frequently in The New York Times and National Geographic, while the artist herself also faced kidnapping two times in her career. The famous photographer has covered almost all themes related to conflict and war in the Contemporary era, including humanitarian crises and wars across the Congo, Somalia, Lebanon, Afghanistan, Sudan, Iraq, and Libya.
Pieter Hugo (1976 – Present)
Name
Pieter Hugo
Date of Birth
29 October 1976
Nationality
South African
Associated Movements, Themes, and Styles
Contemporary art, portraiture, marginalized communities, and documentary photography
Medium
Photography
Famous Artworks

Bodies Covered in Lime to Preserve the Evidence of the Mass Killing at Murambi Technical College 1 (2001)
Steven Mohapi, South Africa (2004)
Abdullahi Mohammed with Gumu, Ogere-Remo, Nigeria, from the series: 'Gadawan Kura' – The Hyena Men (II) (2007)
Peter Hugo is another famous Contemporary photographer based in Cape Town, South Africa. The famous portrait and documentary photographer has received global attention for his striking approach to capturing marginalized communities and the various personalities that represent albino, blind, and AIDS-afflicted individuals. The multi-award-winning photographer has held numerous solo exhibitions around the world, including features at the Hague Museum of Photography, the Ludwig Museum in Budapest, and MAXXI in Rome. Hugo's works have also been collected and represented by various international art museums and galleries, including the J. Paul Getty Museum, the Victoria and Albert Museum, and the Centre Pompidou, among many others.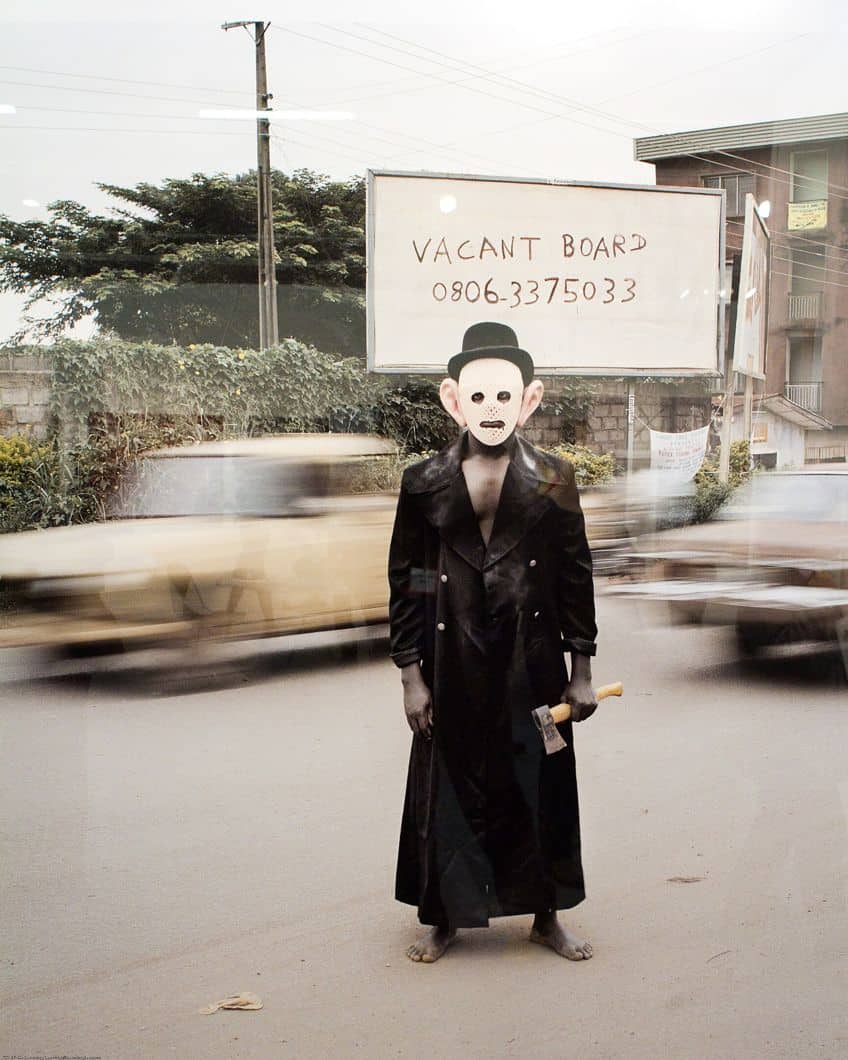 Nollywood Escort Kama, Enugu, Nigeria, (2008) by Peter Hugo; See-ming Lee from Hong Kong SAR, China, CC BY-SA 2.0, via Wikimedia Commons
As a photographer, it is incredibly important to explore the creations of other contemporaries who shed light on different perspectives about the world that mirror the human experiences of our time. By exploring the works of these famous contemporary photographers, you can foster a deeper and more meaningful understanding of the contemporary issues that enhance our visual literacy, and provoke further thought on how photography can be used to address pertinent issues.
Frequently Asked Questions
Who Is the Most Famous Contemporary Photographer?
Andreas Gursky is celebrated as the most famous contemporary photographer of the 21st century. Gursky appears frequently in many reviews of the most famous contemporary photographers, and is recognized as one of the most expensive photographers in the world. Gursky's photography explores digital manipulation and photo montages of surreal and digitally altered landscapes, which have sold for millions of dollars on auction.
What Are the Most Famous Styles in Contemporary Photography?
Today, there are a variety of art styles in contemporary photography. These include abstract photography, architectural, and landscape photography, among the many other styles that are commonly practiced today. Arguably, there are two major subgenres in photography that many contemporary photographers still practice. This includes documentary photography and photojournalism, which draw attention to pertinent issues and events of our time.
When Did Contemporary Photography Emerge?
The origins of contemporary photography in fine art have been traced back to 1980, as it was a period when artists began to adopt photography as a means of self-expression. Previously, photography was regarded as a medium for exploring the realities of the world, predominantly through photojournalism and documentary photography. It is also important to note that since the 1970s, photography has been redefined through new technology, formats, and the advent of color photography, large-scale printing, and digital manipulation.
Jordan Anthony is a film photographer, curator, and arts writer based in Cape Town, South Africa. Anthony schooled in Durban and graduated from the University of the Witwatersrand, Johannesburg, with a Bachelor of Art in Fine Arts. During her studies, she explored additional electives in archaeology and psychology, while focusing on themes such as healing, identity, dreams, and intuitive creation in her Contemporary art practice. She has since worked and collaborated with various professionals in the local art industry, including the KZNSA Gallery in Durban (with Strauss & Co.), Turbine Art Fair (via overheard in the gallery), and the Wits Art Museum.
Anthony's interests include subjects and themes related to philosophy, memory, and esotericism. Her personal photography archive traces her exploration of film through abstract manipulations of color, portraiture, candid photography, and urban landscapes. Her favorite art movements include Surrealism and Fluxus, as well as art produced by ancient civilizations. Anthony's earliest encounters with art began in childhood with a book on Salvador Dalí and imagery from old recipe books, medical books, and religious literature. She also enjoys the allure of found objects, brown noise, and constellations.
Learn more about the Art in Context Team.