David LaChapelle is a famous photographer and film and music video director from America. David LaChapelle's photography has been characterized as subversive and hyper-real. David LaChapelle's artworks have featured in galleries around the world and he has done work for international publications. In this article, we will look at the life of this renowned modern photographer, as well as David LaChapelle's most famous artworks.
David LaChapelle's Photography and Life
| | |
| --- | --- |
| Nationality | American |
| Date of Birth | 11 March 1963 |
| Date of Death | N/A |
| Place of Birth | Hartford, Connecticut, United States |
David LaChapelle is a filmmaker and photographer who specializes in the fields of fine art, advertising, and fashion. David LaChapelle's photography is known for its hints at sensuality, surrealism, individuality, and humor.
David LaChapelle's artworks are distinctive and powerful because they are witty, and they demonstrate how socially and politically aware he is of his environment.
Early Life
David LaChapelle was born in the Connecticut town of Hartford. His mother was a Lithuanian immigrant who landed at Ellis Island in the early 1960s. His family resided in Hartford until he was nine years old. He was believed to have liked Connecticut's schools and flourished in its art program as a youngster and adolescent, despite dealing with bullying as a child.
He then relocated with his family to North Carolina, where he remained until the age of 14, before returning to Connecticut.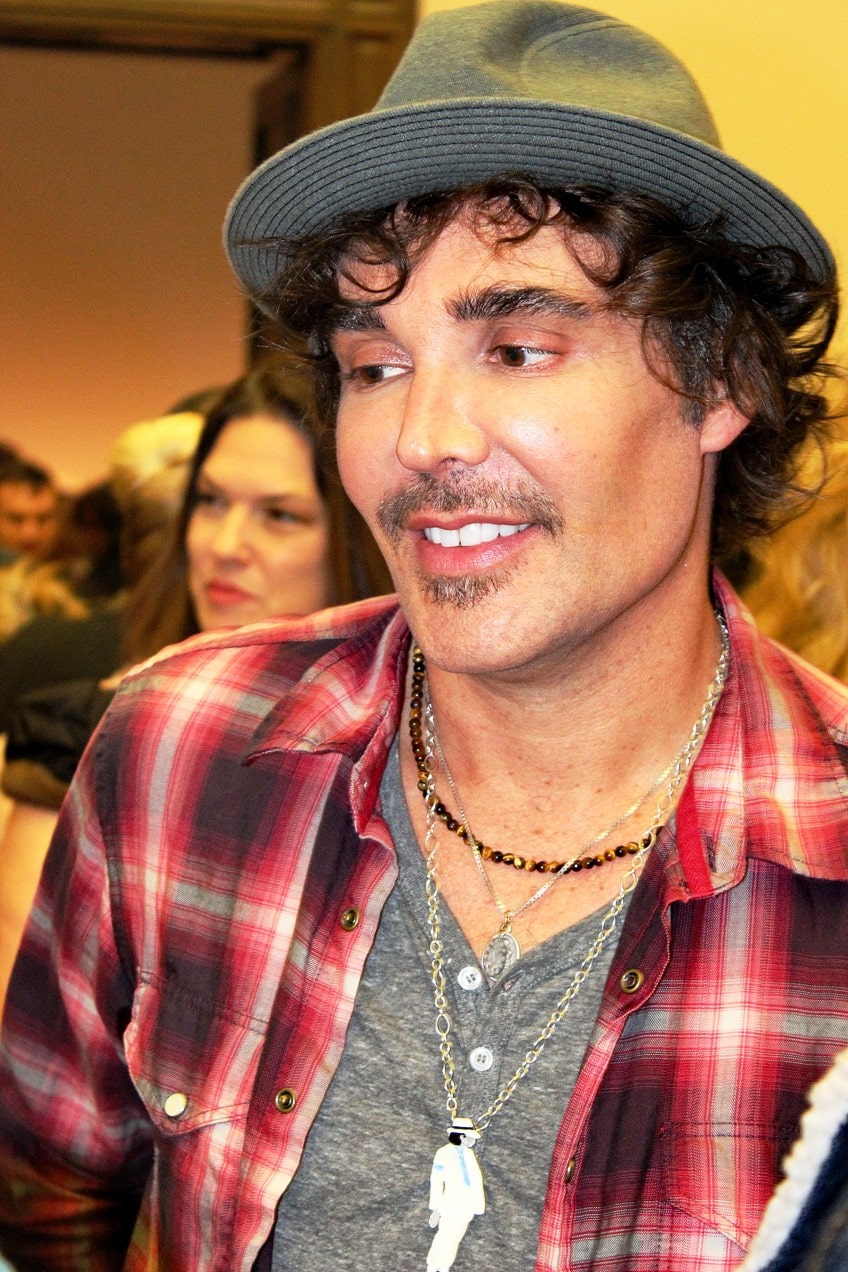 Artist David LaChapelle in 2011; Gampe, CC BY 3.0, via Wikimedia Commons
He was bullied at his North Carolina high school because of his sexual orientation. He ran away from home at the age of 15 to work as a busboy at New York City's Studio 54. He eventually moved back to North Carolina to attend North Carolina's School of the Arts. His first photo was of his mother when the family was vacationing in Puerto Rico.
LaChapelle attributes his mother's influence on his visual style to the way she would set up backgrounds for family portraits when he was a child.
Early Photography
In the 1980s, LaChapelle was associated with 303 Gallery, which also included artists like Doug Ait. LaChapelle was offered employment with Interview magazine after representatives from the magazine noticed his art on exhibition. LaChapelle met Andy Warhol when he was 17 years old, and he recruited him as a photographer for the magazine while he was still only in high school. According to LaChapelle, Warhol said "You may do whatever you want. Just make sure everyone is looking great."
That's where the adolescent photographer polished his unique neon dream imprint, which is loaded with contentious, thought-provoking, and occasionally hilarious social criticism.
LaChapelle's photographs have since graced the covers and inside of publications such as GQ, The New York Times Magazine, Details, Rolling Stone, Vanity Fair, The Face, and Vogue Paris. David LaChapelle's artworks have been described as painstakingly produced in a hyper-realistic, color-popping manner, and they are considered to spark with rebellious – or at least amusing – ideas, harsh intensity, and humor.
They are brimming with vibrant vitality. David LaChapelle filmed the iconic Kissing Sailors advertising for Diesel in 1995. It was performed during World War II's peace celebrations and was one of the first promotional adverts depicting a homosexual couple kissing. Much of its notoriety stemmed from its publication during the peak of debates which resulted in the States government banning openly homosexual people from serving in the military.
The commercial was commended for its underlying theme of heavy-handed sarcasm and irony in a lengthy piece published in 1996.
When President Barack Obama eventually repealed the statute in September 2011, the president of Diesel, who had initially authorized and advocated for the advertising, remarked "People couldn't stop talking about this commercial 16 years ago. It is now legally recognized."
Fine Art Photography
David LaChapelle's photography, which he created at his Maui residence, explores themes such as redemption, salvation, utopia, and materialism. LaChapelle's move in this new path demonstrates his interest in and comprehension of both modern practice and the history of art.
LaChapelle's odd and beautiful photos have established a distinct style that is original, creative, and completely recognizable.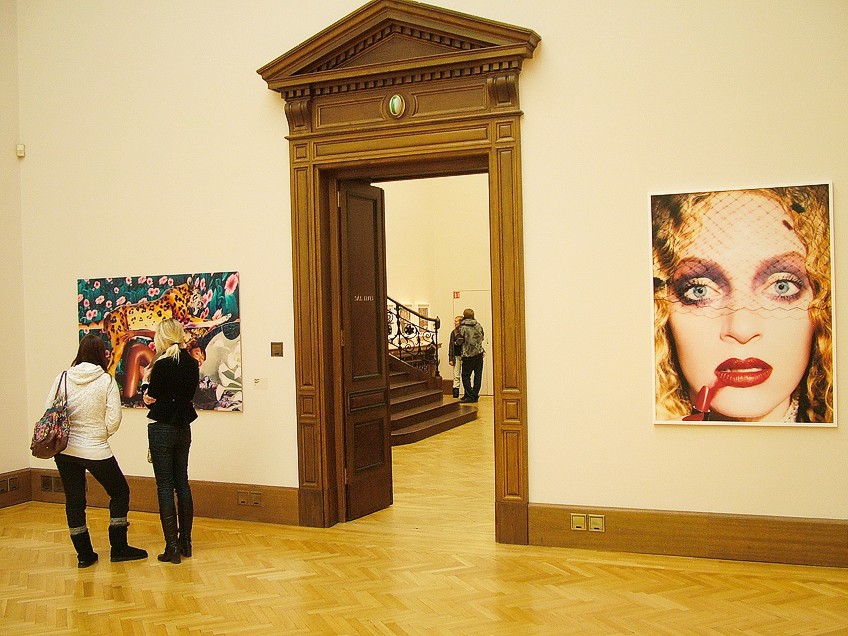 David LaChapelle's exhibition at the Galerie Rudolfinum in Prague, 2011; svajcr, CC BY-SA 3.0, via Wikimedia Commons
His images have been published in several books. Collectors regard LaChapelle Land (1996) as one of the 100 essential photography books of the 20th century. Hotel LaChapelle (1999) has been regarded as a flamboyant, sensual, and magical journey.
LaChapelle switched to concentrate on fine art photography in the previous decade once again, exhibiting his work in a number of galleries and institutions.
Artistic Influences
Several artists have affected LaChapelle's photography, he said in an interview, naming Caravaggio and Andrea Pozzo as two of his favorite Baroque artists. David LaChapelle's artwork has been impacted by Jeff Koons, Salvador Dali, Cindy Sherman, Andy Warhol, and Michelangelo, according to one reviewer. According to one critic, LaChapelle can be the genre's Magritte, out of all the photographers creating surreal photos.
LaChapelle is a devout Catholic who frequently employs religious iconography in his art.
Personal Life
David LaChapelle suffers from bipolar disorder, but he is mindful to maintain his mental health because he believes medicines do not work for him. LaChapelle's then-boyfriend died of AIDS in the mid-1980s. He escaped to London, where the city's subculture had a huge influence on the formation of his aesthetic. "I thought I'd seen everything. When I visited London, the degree of innovation and craziness was on another level".
He was particularly intrigued by that culture's emphasis on uniqueness rather than imitation, as Los Angeles had been "the precise reverse" for him.
David LaChapelle on the red carpet for the Life Ball in 2014, in Vienna, Austria; Manfred Werner/Tsui – CC by-sa 3.0, CC BY-SA 3.0, via Wikimedia Commons
He wedded the female promoter of Marilyn, a Pop star from the United Kingdom while residing in London; the relationship lasted a year. LaChapelle unexpectedly departed Los Angeles in 2006. He relocated to this jungle in a remote area of Hawaii. It was fully off the grid and solar-powered, they grew their food, and it was perfectly sustainable.
LaChapelle's new path finally brought him closer to his roots.
While in Hawaii, a long-time colleague urged him to shoot for a gallery, something he hadn't undertaken since his days as a budding photographer in New York. He was astounded: he was so well-known as a commercial photographer, as well as a well-known style and superstar photographer, that he didn't imagine a gallery would take his work seriously. It was like being reincarnated for him; it was like a rebirth; it was like beginning anew.
The Art Style of David LaChapelle's Photography
His unique aesthetic – loud, exuberant, rich, and carpe diem – was formed in part in response to the 1980s HIV/AIDS epidemic's quicksand pessimism. So many of his colleagues, including LaChapelle, lived in the shadow of that unexplained sickness, which was viewed as a death sentence at the time. He has stated that he fully anticipated being one of the fatalities in his creative circle.
With the expectation that the angel of death will arrive sooner rather than later, LaChapelle chose to utilize his photographs as an elevating, soul-elevating remedy for his friends, but also to avoid wasting his skill.
Style
David LaChapelle considered what he might individually offer to the world to improve it in an attempt to make the best of what time he had left on this plane of life. That is how he came up with the driving force that still drives his artwork today: producing visual exhilaration that makes people feel engaged, emotionally moved, and permanently changed. Thankfully, he avoided the fate of far too many of his creative peers. If you've ever wondered what it's like to be bestowed the rare gift of a life extension, look no further than LaChapelle's whole collection.
To say it is stunning would be an understatement. Life-affirming and breathtaking are considerably more apt descriptions.
Many of his images appear to celebrate, highlight, or somehow highlight exceptional specimens of the human form. In our culture, such images are seen as a tantalizing gratification supply technique. To be sure, most of LaChapelle's commercial work is profoundly rooted in the music, fashion, and pop culture realms, where flawless bodies are a component of the marketing package.
However, there is a far deeper layer to his own art photography adventure.
Themes
LaChapelle noted that he has long worked to dispel the perception that the nude person in photography is an erotic instrument. In line with his strong devotion to the Catholic religion, he discussed how our bodies are precious vessels for our souls. This quickly transforms his images – and many of his blatantly sensual editorial endeavors – from lip-smacking eye pleasure to an ecstatic examination of the human condition, the significance of existence, and what may lie in the mystery of the great beyond.
Many of LaChapelle's religious upbringing's theme aspects – compassion, spirit, potential, redemption, and so on – definitely play a key part in the aesthetic of his portfolio.
However, his themes, as well as the intricate allegories that erupt around them, are not designed to praise flesh as a sexual delight. The paintings are intended to bring awareness to a faith-based reality that was once humanity's beacon of light but has now been obscured by an unquenchable lust for material possessions.
A David LaChapelle exhibition; shihwa yeh from Taipei, Taiwan, CC BY-SA 2.0, via Wikimedia Commons
He argues that our culture's consumeristic engine has effectively steamrolled over our capacity to set value in what counts – the value of our internal compass. This heady philosophy may appear strange coming from an individual who has made millions of dollars creatively hyper-sexualized over-the-top extravagance.
David LaChapelle, on the other hand, has had a lot of time since leaving the public glare in 2007 to contemplate, refocus, and go even deeper into his original and still deepest love – fine art photography.
Much of that spiritual journey may be seen in his five-book picture collection, which spans his whole career. David LaChapelle's enormous talent as a narrator, weaver of profound meditations, and all-around art master is confirmed in each glossy edition. He has no plans to issue any more compilations. With his stirring, inspirational, and emotionally satisfying images, it is evident that an encore is unnecessary.
Significance
David LaChapelle's undeniable continuing significance in the art landscape since the 80s is a rare and desirable achievement. Look to multi-decade creatives like Madonna, Cher, and the unparalleled David Bowie for wonderful instances of how – in a universe infinitely spilling over with increasingly more attractive young people – keeping afloat and even flourishing as a highly experienced imaginative visionary is entirely doable. Our society is firmly ingrained in the constant pursuit of the latest and best.
That, according to LaChapelle, was one of the most annoying and hence draining facts that pushed him to produce to excess during the 1980s, 1990s, and beyond.
Creatives who want to last must have an ever-evolving, inventive vision as well as a rigorous work ethic, which LaChapelle has in spades. Because of his continual effort to produce "super unique" images that the world had never seen before, he established a reputation as a demanding, highly motivated artist.
Furthermore, he wished to create a visual tale that connects with his viewers on a deeper level, much like music has the ability to move the soul.
David LaChapelle's Most Famous Artworks
Now that you have learned about the history of David LaChapelle's photography, you are probably keen to get stuck in and see some of his work for yourself. But where do you begin Well, here is a list of some of David LaChapelle's most famous works to get you started.
| | | | |
| --- | --- | --- | --- |
| Artwork Title | Year | Medium | Location |
| Britney Spears: Portrait of a Pop Star on the Verge of Success | 1999 | Digital C-Print | Multiple prints |
| Naomi Campbell: Fruit | 1999 | Digital C-Print | Multiple prints |
| Angelina Jolie: Lusty Spring | 2001 | Digital C-Print | Staley-Wise Gallery, New York |
| Rebirth of Venus | 2009 | Digital Print | Victoria and Albert Museum, London |
| In Truth and Love | 2015 | Digital C-Print | Alex Daniels – Reflex, Amsterdam |
| Mary Magdalene Receives the Holy Spirit | 2019 | Pigment Print | Alex Daniels – Reflex, Amsterdam |
Recommended Reading
In this article, we have covered the life and art of David LaChapelle. However, only so much can be covered in a single article. If you would like to learn even more about this fascinating photographer, why don't you check out one of these books that we can recommend?
David LaChapelle (2004) by Davide Ficcioli
This book is a wild and crazy ride into the psyche of David LaChapelle. It's all a lot of hyper-reality and amusement park Americana which has gone surrealistically and completely wrong yet in such a good way. Celebrities are depicted in colorful and surreal settings, such as Pee-WeeHerman as an alien that has crash landed, or Pamela Anderson hatching out of an egg.
A look into the psyche of LaChapelle through his photography
Captions accompany each of LaChapelle's photography
Great quality book
View on Amazon
David LaChapelle. Lost + Found. Part I (2017) by Taschen
Lost + Found, Part I is a visual chronicle of our times and the difficulties we confront, conveyed via David LaChapelle's particular perspective. It recounts LaChapelle's finest photographs as a visionary to date while capturing our period in history, with a colossal selection of photos that have never previously been published in book form. This fourth book also includes a decade of previously unpublished work from LaChapelle's creative resurgence, in which he provides viewers a gateway into utopia and the sublime, bringing them into volume two.
The fourth volume of LaChapelle's works
Leading viewers into volume two, Good News, Part II
A decade of unseen work from LaChapelle's creative renaissance
View on Amazon
David LaChapelle. Good News. Part II (2017) by Taschen
Part II of Good News chronicles David LaChapelle's intellectual renaissance as he renounces mortality, pushing beyond the material world in search of heaven. It is a stunning and striking new collection of images that seeks to shoot the unphotographable. It has a massive curation of photographs that have never previously been released in book form. It concludes LaChapelle's story in a series of novels that have enthralled a generation of viewers all over the world.
Follows LaChapelle's creative renaissance
A curation of images that have never been published in book form
The final chapter of LaChapelle's narrative in a collection of books
View on Amazon
Examine LaChapelle's comprehensive fine art images and you'll quickly realize why he has earned a place in the annals of aesthetic admiration. His color-saturated style combines pop-surrealistic motifs, religious subtexts, lavish settings, and precisely organized Technicolor objects. When LaChapelle emerged on the stage, such a jumble of components in a single photographic composition was not present. As a result, delving into any of his works is like a tour through Willy Wonka's chocolate factory and the land of Oz combined.
Frequently Asked Questions
Who Is David LaChapelle?
LaChapelle is a photographer from the United States with a very distinctive visual style. From the age of 17, his talents as a photographer were already noticed. He worked as a commercial and fashion photographer for many years, and his photos have been featured on the covers of many international magazines. However, it's his fine art photography that stands out.
What Is Unique About David LaChapelle's Photography?
David LaChapelle's artworks have a very unique visual aesthetic that feels like a mixture of pop components composed in a surreal manner. Many people consider his work to be extremely sexualized, but for the artist, it was a commentary about how the human body was often used as part of the marketing of people in the world of celebrity. Although his work screamed of hedonism, he was himself a catholic and his works often acted as social commentary for how he felt about the industry in general.
Isabella studied at the University of Cape Town in South Africa and graduated with a Bachelor of Arts majoring in English Literature & Language and Psychology. Throughout her undergraduate years, she took Art History as an additional subject and absolutely loved it. Building on from her art history knowledge that began in high school, art has always been a particular area of fascination for her. From learning about artworks previously unknown to her, or sharpening her existing understanding of specific works, the ability to continue learning within this interesting sphere excites her greatly.
Her focal points of interest in art history encompass profiling specific artists and art movements, as it is these areas where she is able to really dig deep into the rich narrative of the art world. Additionally, she particularly enjoys exploring the different artistic styles of the 20th century, as well as the important impact that female artists have had on the development of art history.
Learn more about the Art in Context Team.