Andreas Gursky – A Deep Dive into Gursky's Photography
This Contemporary photographer is a creator of alternate and new realities, whose life and work in photojournalism, landscape photography, and industrial typologies will have you intrigued and inspired. In this article, we will provide you with a complete history of the life and art of Contemporary German photographer Andreas Gursky, along with some of the top book recommendations where you can discover more about this famous artist!
Montage Manipulation: The Life and Art of Andreas Gursky
| | |
| --- | --- |
| Name | Andreas Gursky |
| Date of Birth | 15 January 1955 |
| Nationality | German |
| Associated Movements, Themes, and Styles | Photojournalism, montage, landscape photography, architecture, urban photography, nature, and Contemporary art |
| Medium | Photography |
Renowned for his remarkable ability to create new worlds from familiar elements, Andreas Gursky is a globally-celebrated Contemporary German photographer whose impact on the contemporary art world is unparalleled. From myriads of crowds to surreal city montages and hyper-focused scenes, Andreas Gursky's art presents an experience of the material and three-dimensional world from unique perspectives through large-format photography. Gurksy's contribution to photojournalism and technological innovation has transformed the genre of photomontage and provided us with some of the most spectacular angles that one can imagine, crafted from elements of architecture.
His work reveals multiple birds-eye views of human occupation while making evident the structures around us that shape the way we view and engage with space.
Seen at the De Young Museum in San Francisco, California (2007); Marshall Astor, CC BY-SA 2.0, via Wikimedia Commons
Gurksy's most critically acclaimed work refers back to his urban landscapes, which have attracted international collectors and enthusiasts who admire his ability to craft unreal worlds constituted by real-world elements that define our humanity and highlight the ever-growing human population. Below, we will delve into the history of Andreas Gursky by examining some of the key moments in his life and career.
Early Life and Education
Andreas Gursky was born in 1955 in Leipzig, East Germany, and spent his childhood in Essen and Düsseldorf. Gurksy studied visual communication in Essen at the Folkwang Universität der Künste until 1980 and resumed his studies at the Kunstakademie Düsseldorf.
It was at the Kunstakademie Düsseldorf where the young Gursky was taught by the photographer pair Bernd and Hilla Becher, who introduced Gursky to the documentary style of photography.
Early Career
Andreas Gursky photographed images of landscapes and infrastructure in the early 1990s that showcased factories, airports, and highways that revealed his tendency toward aerial viewpoints and patterns in architecture, crowds, and occupied settings. Gursky is best known for his digital manipulation of images and photo montage style that is not only surreal but establishes an altered view of reality that can only be achieved through manipulation. Gursky did photograph work before the 1990s that was not digitally edited, however, his best works emerged in the mid-1990s.
Gursky's approach to photography was methodical and depicted a larger-than-life enlarged and duplicated form of reality portrayed through nature, architecture, and detailed imagery. One of the key influences on Gurksy's style was the work of John Davies, who photographed using high detail and high vantage points. Gursky's exploration of the photograph as a document was exemplified through his use of montage and digital editing, which enabled him to capture events and moments that could heighten a viewer's emotional response. By the mid-1990s, Gursky was experimenting with deadpan frontal angles and minimalist elements, which can be seen in his Prada series, which he shot between 1996 and 1998.
Photographic Style
Andreas Gursky's photography is characterized by high-rise facades and enigmatic, deadpan shots of structures and spaces that do not require endless explanations. In the early 2000s, Gursky's work was described as straightforward as he managed to capture the essence of occupied spaces such as office lobbies and stock exchanges. Over the years, Gursky's style evolved in montage and he began adopting classical patterns in representation while referencing styles from Renaissance composition techniques. Gursky explored multiple subjects and included informal gatherings and formal performances.
Additionally, Gursky also explored landscape imagery and turned his attention to sites like the Chao Phraya and the Rhine to capture the realities of the planet.
His aerial shots also employed satellite imagery as he constructed images to portray oceanic expanses. Through photography, Gurksy was able to highlight the extremities of the present moment and leverage social phenomena and occupied sites to present a thought-provoking perspective on the realities of the Contemporary world. In some cases, his images appear dystopian as they present observations that are digitally amplified and appear fictitious in their magnanimity.
Andreas Gursky's art progressed as he traveled across the globe to photograph work in Singapore, Cairo, and Hong Kong. He was also commissioned to photograph many Siemens-owned factories, which was completed over several years. Gursky turned his digital montages into large-scale prints with many of his images reaching up to 15 feet in length. Images such as Stockholder Meeting (2001) also demonstrated his development by working with technology and editing software, which was created entirely on the digital spectrum.
Awards and Exhibitions
Gursky's first show was held in 1985 in Germany with his inaugural solo at the Galerie Johnen & Schöttle in 1988. Andreas Gursky's first solo museum show was held abroad at the Milwaukee Art Museum in 1998 and in 2001, was included in a retrospective curated by the Museum of Modern Art. Gursky's images have received international acclaim and recognition throughout the 1980s and 1990s and have been exhibited at the Venice Biennale, the Internationale Foto-Triennale in Esslingen, and the Biennale of Sydney.
Today, his works are housed in many public art collections, including the collections of institutions like the Centre Pompidou in Paris, Tate Modern in London, the National Galleries of Scotland, and the Stedelijk Museum.
Gursky was also represented by Gagosian Gallery since 2010 and has held the record for the most expensive auction sold photograph, which sold for $4,338,500 in 2011 at Christie's. In the mid-2000s, Andreas Gursky's art became more focused on complex landscape and architecture, which included hordes of crowds photographed in various locations. In 2007, his work was exhibited on tour and included in two major exhibitions, which placed him at the forefront of Contemporary photography. After showing twice at the Venice Biennale, Gursky was awarded the Infinity Award for Art in 2001.
Reviewing Andreas Gursky's Photography
When looking at Andreas Gursky's photography, one can easily get lost in the visual intricacies of his montages and landscapes. Below, we will examine a few interesting Andreas Gursky photos that will have you in awe of his digital manipulation techniques and the many interesting sites he has photographed.
Times Square, New York (1997)
| | |
| --- | --- |
| Date | 1997 |
| Medium | Chromogenic print |
| Dimensions (cm) | 186 x 250.5 |
| Where It Is Housed | Museum of Modern Art, New York City, United States |
Times Square, New York presents a magnified scene that presents the subject against the viewer and among other works. Shot in 1997, this image presents vibrant bands of color and intimate details of the Marriott Marquis Hotel, which was constructed in 1985 in New York Times Square. Gursky's emphasis on the scale in his work, witnessed through height, detail, and distance, is part of his invention of seamless images that are sourced from photos and reconstructed in the digital space.
His unreal images evoke a sense of the artificial world constructed with the aid of technology and computers and remain one of the most talked about topics of our era.
Madonna I ( 2001)
| | |
| --- | --- |
| Date | 2001 |
| Medium | Chromogenic print |
| Dimensions (cm) | 282.26 x 207.01 x 6.35 |
| Where It Is Housed | The Broad, California, United States |
Madonna I is a complex image that portrays a moment in 2001 that became an impromptu concert and tribute to the victims of the 9/11 attacks. Andreas Gursky's photos often portray crowds from unique angles and distances to incorporate scale and scope into his composition and help the viewer recognize patterns and elements of disarray.
The photo was shot on September 13th and presents a view of a concert held by Madonna who wore an American flag on stage.
The representation of her performance and the organization and order within the image draws one's attention to themes of the ordinary as seen in the rows of seating and structured layout of the concert. The image is symbolic and is a reminder of the incomprehensible atrocities of the 9/11 attacks and its impact on citizens who lost their loved ones that week.
Bahrain I (2005)
| | |
| --- | --- |
| Date | 2005 |
| Medium | Chromogenic print |
| Dimensions (cm) | 301.9 x 219.7 |
| Where It Is Housed | Museum of Modern Art, New York City, United States |
Bahrain I is among the most popular Andreas Gursky photos to date that portray the twists and turns of the Bahrain International Circuit across the desert. Gursky photographed the track from a high vantage point to exaggerate the arcs of the raceway and create a gestural effect. The photograph is compared to the work of Franz Kline and likened to that of a painting that towers above the ground when mounted. Visible details of the track are seen in the lights, directional markings, and logos on the raceway with no element of human presence.
The image was digitally manipulated and spliced together using multiple photos to eliminate certain elements and create a seamless image.
Important Book Recommendations
Andreas Gursky's photography truly sheds light on constructed realities and artificial elements in society that are incredibly relevant to the 21st century. Below, you will find the top three book recommendations for learning more about Andreas Gursky and key moments in his photographic career.
They will also help you explore the themes and ideas in today's contemporary photography.
Andreas Gursky: Photographs from 1984 to the Present (2001) by Marie Luise Syring, Lynne Cooke, Et. Al
From vast panoramic scenes to huge factory corridors and multi-storied office blocks, this monograph is one of the first books published since 1984 that gives one an in-depth review of Andreas Gursky's photographs. The famous birds-eye view Contemporary photographer incorporated many formal elements in his work that have been compared to styles found in abstract and expressionist paintings. This book is perfect for anyone interested in the visual languages embedded in Andreas Gursky's photos, which reflect his interest in interior and exterior spaces as well as a critique of humanity's role in nature, society, technology, and art.
One of the most in-depth collections of Andreas Gursky
Understand the exploration of inner and outer spaces in our world
Perfect for exploring the visual critique of technology and culture
View on Amazon
Andreas Gursky (2008) by Andreas Gursky, Beate Söntgen, Et. al
This Andreas Gursky biography is perfect for fans of the renowned photographer's works, which showcase his creations of the mid-2000s. This book offers a glance at Gursky's representation of excessive information in culture, which he successfully achieved through digital manipulation and image curation. The book features some of Gursky's best images with complex architecture, crowdy rooms, and natural landscapes captured in extreme detail.
Gursky's photos of Formula One races and other choreographed spectacles across North Korea's capital of Pyongyang can be seen in this publication and draw one's attention to the sublime nature of technology and its use in constructing new visual realities.
An inexpensive way to discover some of Gursky's famous works
Explore the key photographs from the mid-2000s
An informative discussion of excessive information in this age
View on Amazon
Andreas Gursky: Bangkok (2012) by Andreas Gursky
This niche Andreas Gursky photo book showcases his series shot in Bangkok, which features the dark and mystical waters of Thailand's Chao Phraya River. The publication offers a remarkable view of Gursky's photographs, which demonstrate many abstract gestural qualities that remind one of a form of Modern Abstraction. The publication also alludes to the environmental and ecological issues that jeopardized Bangkok amid devastating flooding disasters that occurred across Thailand shortly after the images were taken.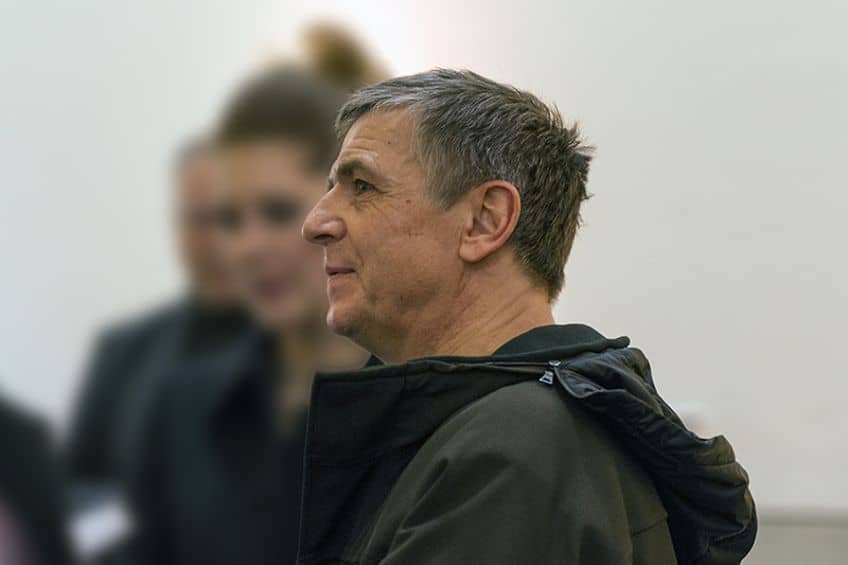 German photographer Andreas Gursky at museum K21, Düsseldorf (2013); Hpschaefer www.reserv-art.de, CC BY-SA 3.0, via Wikimedia Commons
A more niche collection of photographs from the Bangkok series
Discover the key abstract qualities of Andreas Gursky's work
Explore issues of environmental and ecological change
View on Amazon
Andreas Gursky is no doubt one of the most famous contemporary photographers of the 21st century, whose work on constructed realities and the digital manipulation of real-world images offers one much to think about. Through the complex display of occupied spaces and unique visual perspectives, Gursky's photography remains influential and relevant in today's society, which witnesses the use of technology as a crutch in many functions of human life.
Frequently Asked Questions
Who Is Andreas Gurksy?
Contemporary photographer Andreas Gursky is a globally renowned German artist who is famous for creating large-scale photographic prints of complex and constructed landscapes and urban spaces. Gursky's photography explores the relationships of technology in art and society, while examining the complexities of human occupation and the nuances of modernity, capitalism, and globalism.
What Is the Most Expensive Andreas Gurksy Photograph?
Rhine II (1999) is considered to be the most expensive photograph by Andreas Gurksy that sold on auction for $4.3 million in 2011.
What Is Andreas Gursky's Photography Style?
The photographic style seen in Andreas Gursky's photography can be described as an observation of man-made spaces that visit the complexities of constructed spaces and amplify them through the digital manipulation of images from reality. Gursky's style is straightforward and has been described as deadpan, meticulous, and engaging in their presentation of unique perspectives.
Jordan Anthony is a film photographer, curator, and arts writer based in Cape Town, South Africa. Anthony schooled in Durban and graduated from the University of the Witwatersrand, Johannesburg, with a Bachelor of Art in Fine Arts. During her studies, she explored additional electives in archaeology and psychology, while focusing on themes such as healing, identity, dreams, and intuitive creation in her Contemporary art practice. She has since worked and collaborated with various professionals in the local art industry, including the KZNSA Gallery in Durban (with Strauss & Co.), Turbine Art Fair (via overheard in the gallery), and the Wits Art Museum.
Anthony's interests include subjects and themes related to philosophy, memory, and esotericism. Her personal photography archive traces her exploration of film through abstract manipulations of color, portraiture, candid photography, and urban landscapes. Her favorite art movements include Surrealism and Fluxus, as well as art produced by ancient civilizations. Anthony's earliest encounters with art began in childhood with a book on Salvador Dalí and imagery from old recipe books, medical books, and religious literature. She also enjoys the allure of found objects, brown noise, and constellations.
Learn more about Jordan Anthony and the Art in Context Team.
Cite this Article