Famous Art Deco Artists – The Greatest Art Deco Names of the Movement
The Art Deco movement proved to be an incredibly popular one within art history. Beginning in 1925 in Paris, Art Deco emerged as an avant-garde and decorative style that focused on the concepts of splendor, dynamism, sophistication, movement, and the growth of machinery. Today, many notable Art Deco names are still spoken about in connection to their celebrated artworks. Below, we will be discussing the top 10 most famous Art Deco artists to come from the movement.
What Was the Art Deco Movement?
At the end of the 19th century, many artists, architects, and designers demonstrated boredom with the prevailing Art Nouveau movement, which they thought to be quickly going out of fashion. With the Industrial Revolution also taking hold at that time, the influence of machinery became very powerful.
The new development of contemporary life suddenly looked very different from what it was years earlier, with Art Deco appearing as a fresh style of art that helped guide these features into the new era.
The Art Deco style gained its reputation in the time between the two greatest international conflicts to occur, World War I and World War II. Seen as one of the most stylish and appealing styles in modern art history to occur during these years, Art Deco went on to be embraced by many artists at the time. Irrespective of the different creative fields that they were previously working in, Art Deco designers branched out into painting, sculpture, furniture-making, jewelry making, fashion, interior design, and even architecture.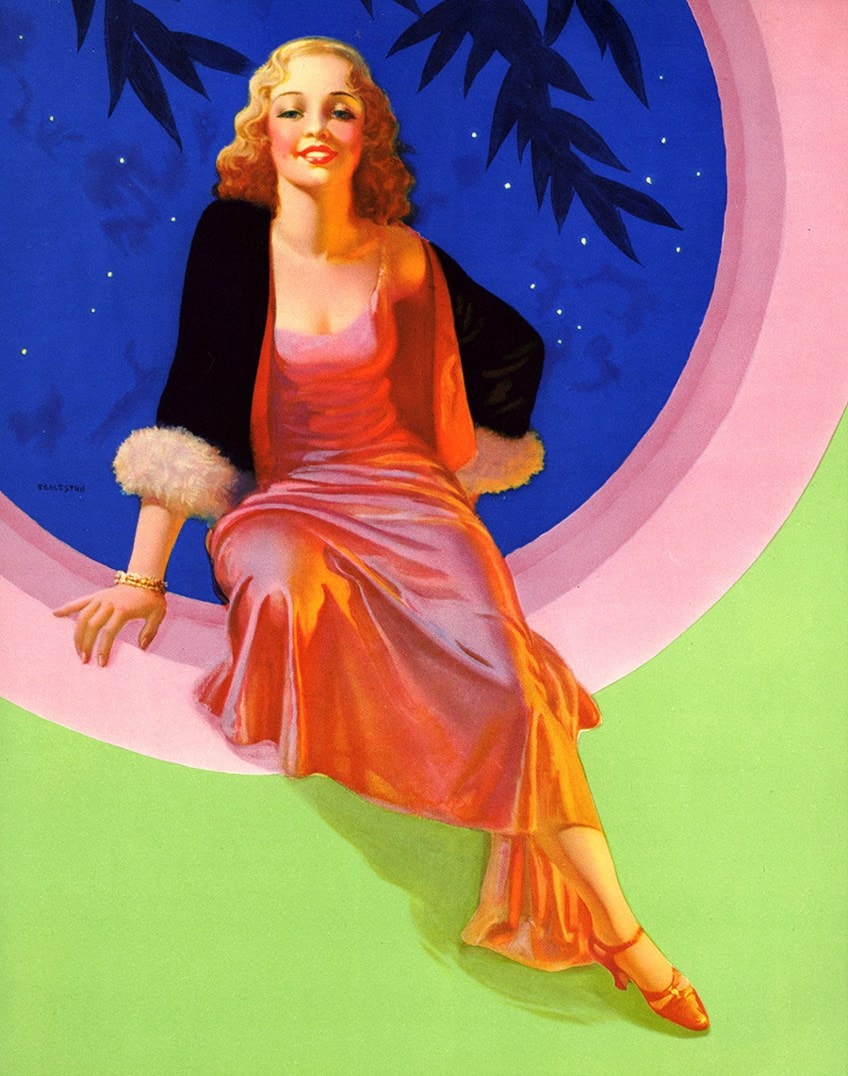 Smiling Through (1932) by Edward Mason Eggleston; Edward Mason Eggleston (1882-1941), Public domain, via Wikimedia Commons
Characterized by its use of angular, symmetrical, and geometric forms, the Art Deco style went on to create beautifully streamlined artworks that proved to be very in demand. Combining geometric shapes with exquisitely completed surfaces helped to define the whole concept of Art Deco art. As Art Deco depended on its ability to create beautiful pieces, artists aimed to use the most minimalist and modernist designs to capture the attention of viewers and potential buyers.
Throughout its popularity, Art Deco patterns were seen as the best representation of the modernist beliefs of progress that were developing. The Art Deco period was regarded as a truly hopeful celebration of life, with this passion being seen in all of the artworks that were created. Before World War II, Art Deco promoted the lavish lifestyles of the younger generation who were all coming of age after the First World War. With the start of the Great Depression in 1929, Art Deco went through a series of transitions as it attempted to survive.
Interestingly, the term "Art Deco" only started to be used in the 1960s, when it was adopted as the most fitting term to describe the style of decoration.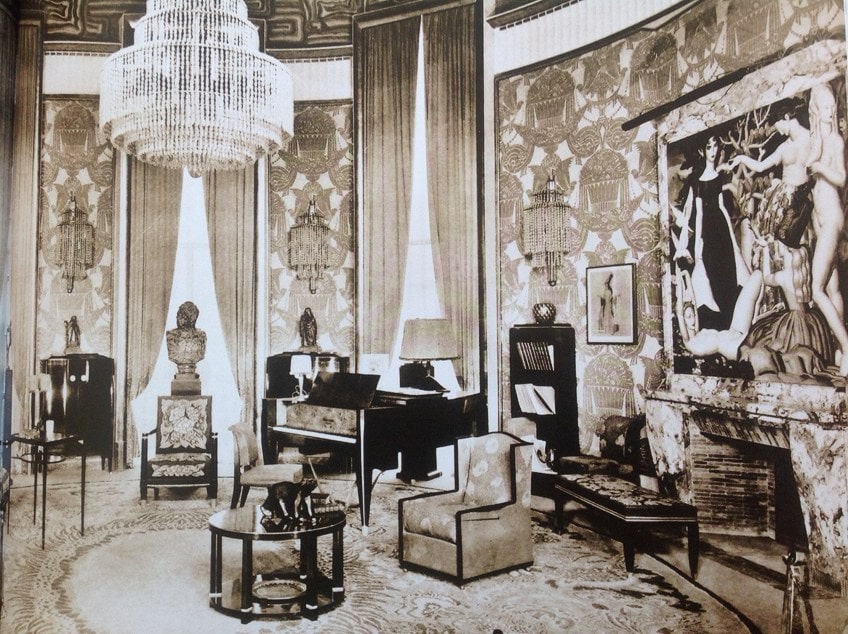 The Salon of the Hotel du Collectionneur at the 1925 Paris International Exposition of Decorative Arts, designed by Emile Jacques Ruhlmann; SiefkinDR, CC BY-SA 4.0, via Wikimedia Commons
However, reference was already made to this movement as early as the 1910 Futurist Manifesto, which gave readers a glimpse of what the future Art Deco era would hold. Inspired by a variety of other art movements including Fauvism, Cubism, Futurism, Dadaism, Surrealism, and Bauhaus, these styles all proved to have a profound influence on the later development of the Art Deco style.
Existing as an essentially modernist response to the Art Nouveau style, Art Deco expressed the "vortex of modern life – a life of steel, fever, pride, and headlong speed" in all of the subsequent artworks that materialized.
This was a key characteristic of the Art Deco movement, which has enabled its aesthetic to be nostalgically revived and brought back to life in today's artistic society.
Our Top 10 Most Famous Art Deco Artists
Throughout the Art Deco movement, several artists were incredibly well-known. This was because they were able to accurately capture the Art Deco style in more detail than other avant-garde creatives within their artworks. As time has passed and the Art Deco style has made its comeback, many artists have built their reputation over the past few years. Below, we will be taking a closer look at our top 10 most influential and famous Art Deco artists to emerge from the movement, along with some of their notable art pieces.
René Lalique (1860 – 1945)
Nationality
French
Where Artist Lived
France
Art Movements
Art Deco, Modern Art, Art Nouveau, Aestheticism
Most Famous Artworks
Pendentif Quatre libellules (1903 – 1905)

Victoire (1928)

Statuette Côte d'Azur (1929)
One of the Art Deco names that are considered to be synonymous with the entire movement is René Lalique. Seen as a master jeweler of his time, Lalique is remembered as one of the world's most notable glass art designers to ever exist. His legacy is still going strong today and his pieces are very in demand by collectors. Celebrated for his talents in both jewelry and glass making, Lalique's style has become instantly recognizable over time.
His work has been named as having a big impact on the development of both Art Nouveau and Art Deco.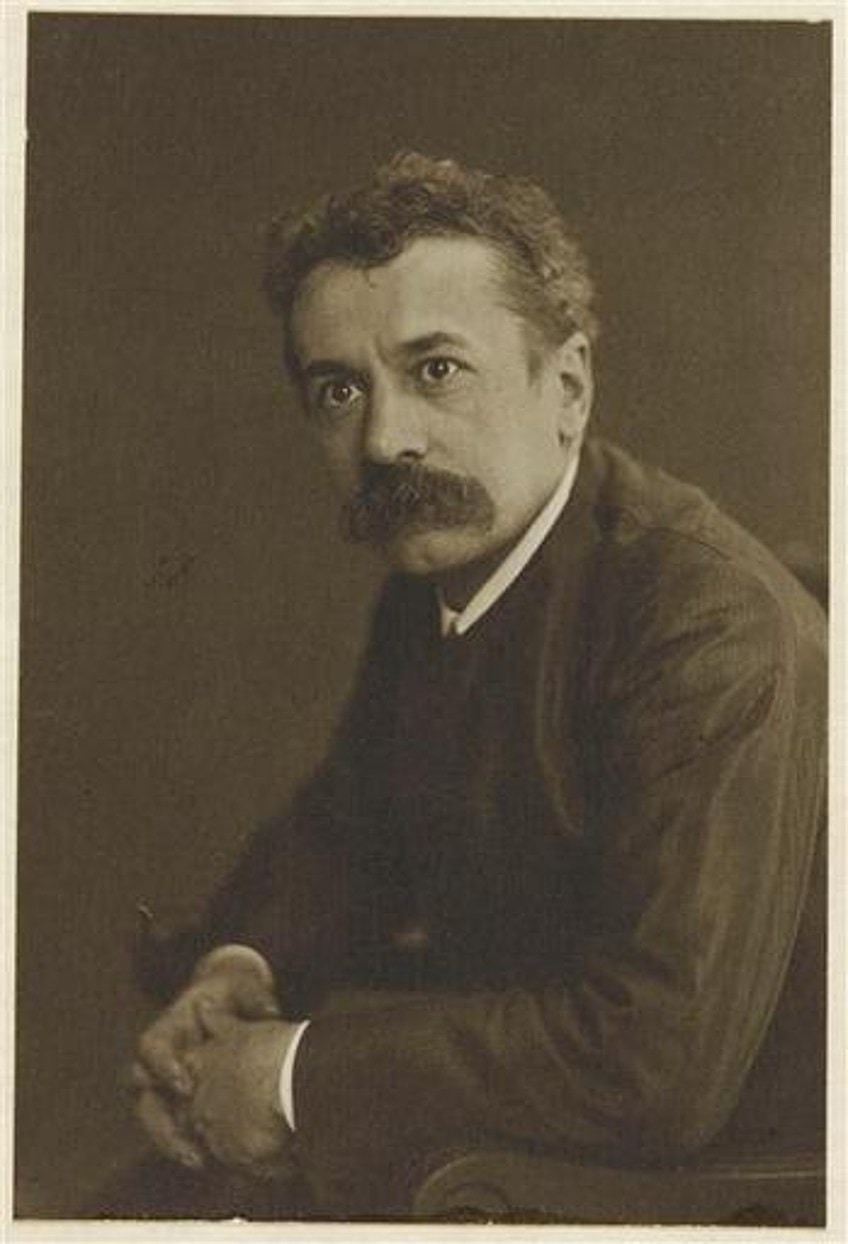 Portrait of René Lalique, 1906; Aaron Gerschel, Public domain, via Wikimedia Commons
Born in France, Lalique's mother recognized his artistic talent from a young age and when he was 16 years old, he began an apprenticeship with the infamous Parisian jeweler, Louis Aucoc. After learning the skills of the goldsmith trade from Aucoc, Lalique traveled to London to continue his studies. Upon his return to France, Lalique practiced as a freelance artist and went on to design exquisite jewelry pieces for leading French jewelers like Cartier, Boucheron, and many others.
In the 1920s, Lalique abandoned his interest in the Art Nouveau style and focused his attention on the emerging Art Deco movement. It was only in his mid-50s that Lalique decided to experiment with glassmaking in addition to jewelry and went on to subsequently create some of the most iconic glasswork art pieces in art history.
Lalique quickly became a significant glassmaker, especially noted for his beautiful creations which included vases, perfume bottles, jewelry, chandeliers, clocks, and car bonnet ornaments.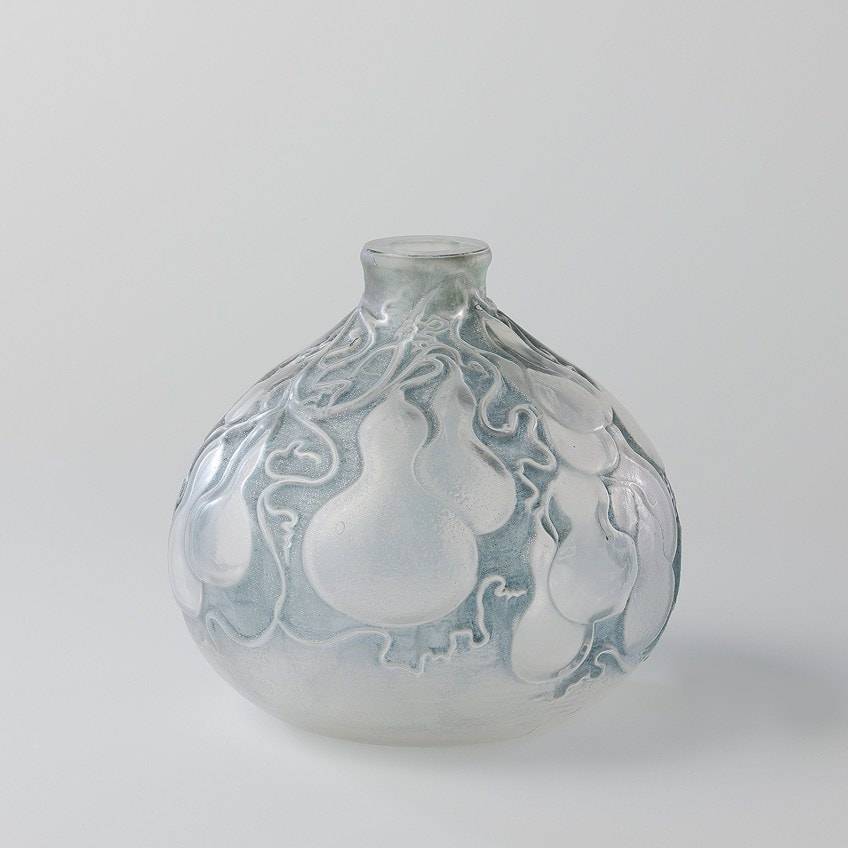 Gourdes vase by René Lalique, 1914; Rijksmuseum, CC0, via Wikimedia Commons
Lalique's glassworks helped catapult his career and gain him the international acclaim that continues today. As he aimed to bring art into ordinary life, Lalique adopted the techniques of mass production so that his glassware pieces were available to everyone and not just the wealthy. The glass company that Lalique founded in 1885 still operates today and produces stunning pieces of glass art. His works are also highly sought after by collectors, with a Lalique perfume bottle fetching an astonishing price of $80 000 at a 1990 auction.
Léon Bakst (1866 – 1924)
Nationality
Russian
Where Artist Lived
Russia, France
Art Movements
Art Deco, Modernism, Orientalism
Most Famous Artworks
Terror Antiquus (1908)

Set Design for Scheherazade (1910)

Narcisse – Nymph Eco (1911)
Russian artist Léon Bakst was another important figure during the early stages of the Art Deco movement. Born Leyb-Khaim Izrailevich, Bakst took on the pseudonym "Bakst" after his first exhibition in 1889, yet it still remains unclear as to why he did so. Working as a painter, scene, and costume designer, Bakst went on to completely transform these fields through the pieces of art he produced.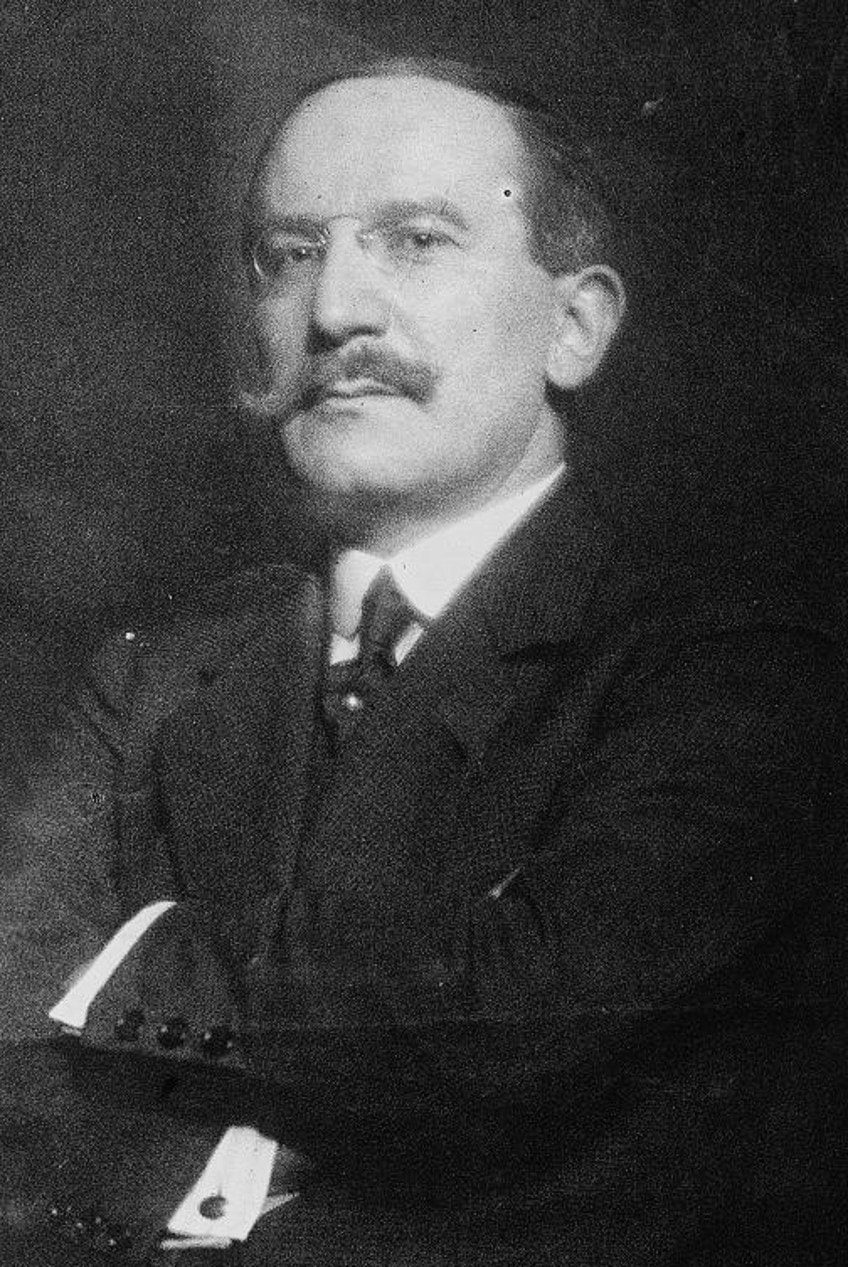 Léon Samoilovitch Bakst, 1916; Bain, Public domain, via Wikimedia Commons
He came to prominence in the art world after he became involved with the World of Art group, which was edited by art critic Sergei Diaghilev at the time. Diaghilev eventually founded the Ballets Russes, with Bakst becoming the designer for the company and quickly rising in prominence. Art Deco was defined by its wide-ranging choice of styles, with the Ballets Russes capturing this feature through its avant-garde stage and costume designs that were made.
As Bakst was among the most influential designers to work at the ballet company, his designs were seen as some of the primary sources of inspiration for other Art Deco designers at the time.
Working at the company between 1909 and 1921, Bakst added his own personal style to the creation of the initial Art Deco aesthetic. When considering Bakst's set and costume designs, they were typically eye-catching and vividly colored. Some of the most well-known set designs were for Carnaval (1910) and Spectre de la rose (1911), among others.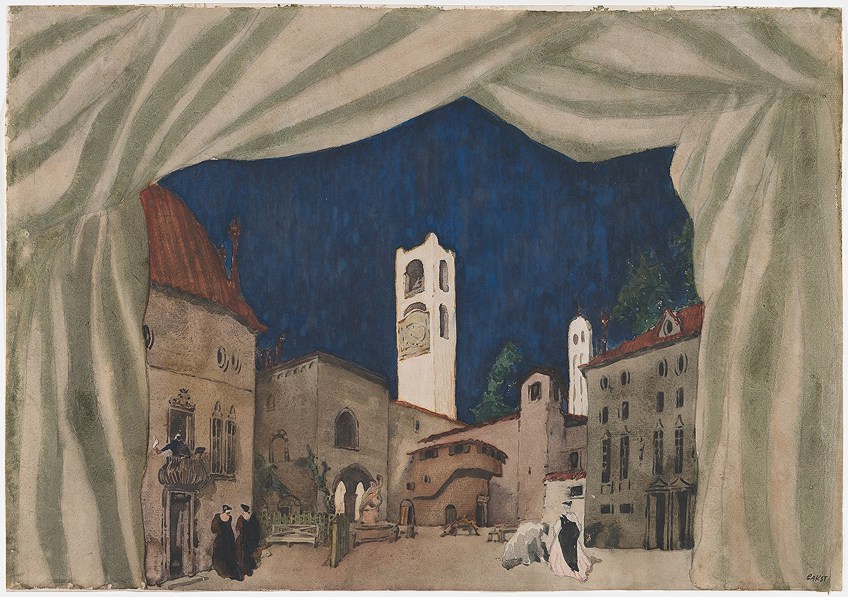 Léon Bakst's design for a stage set for the Ballet Le Donne de Buon Umore ("The Good Humored Ladies"), premiered in Rome, April 12, 1917; Léon Bakst, CC0, via Wikimedia Commons
In the years following the Ballets Russes craze, Bakst joined the Mir Iskusstya Russian magazine group, which helped to revolutionize European art at the start of the 20th century. By working on costumes, décor, and theatrical design, Bakst helped to influence the visual style associated with dance by adding elements of Art Deco. This allowed the majority of his works to be vibrant, exciting, and full of energy, with Bakst's bold compositions going on to inspire a new generation of emerging Art Deco designers and artists.
Jean Dunand (1877 – 1942)
Nationality
Swiss-French
Where Artist Lived
Switzerland, France
Art Movements
Art Deco
Most Famous Artworks
Fortissimo (1924 – 1926)

"Ailette" vase (1926)

Interior of the Normandie cruise liner (1935)
Among the prominent Art Deco names is Jean Dunand, who was regarded as an important lacquer artist of the Art Deco movement. Experimenting as a painter, sculptor, metal craftsman, and even an interior designer, Dunand went on to be incredibly well recognized for his exquisite lacquered screens and furniture pieces. At the age of 14, he studied sculpture in Geneva and demonstrated a great interest in copper sculpture work.
However, after 1910, his interest shifted to lacquer when he apprenticed for Japanese artist Seizo Sugawara.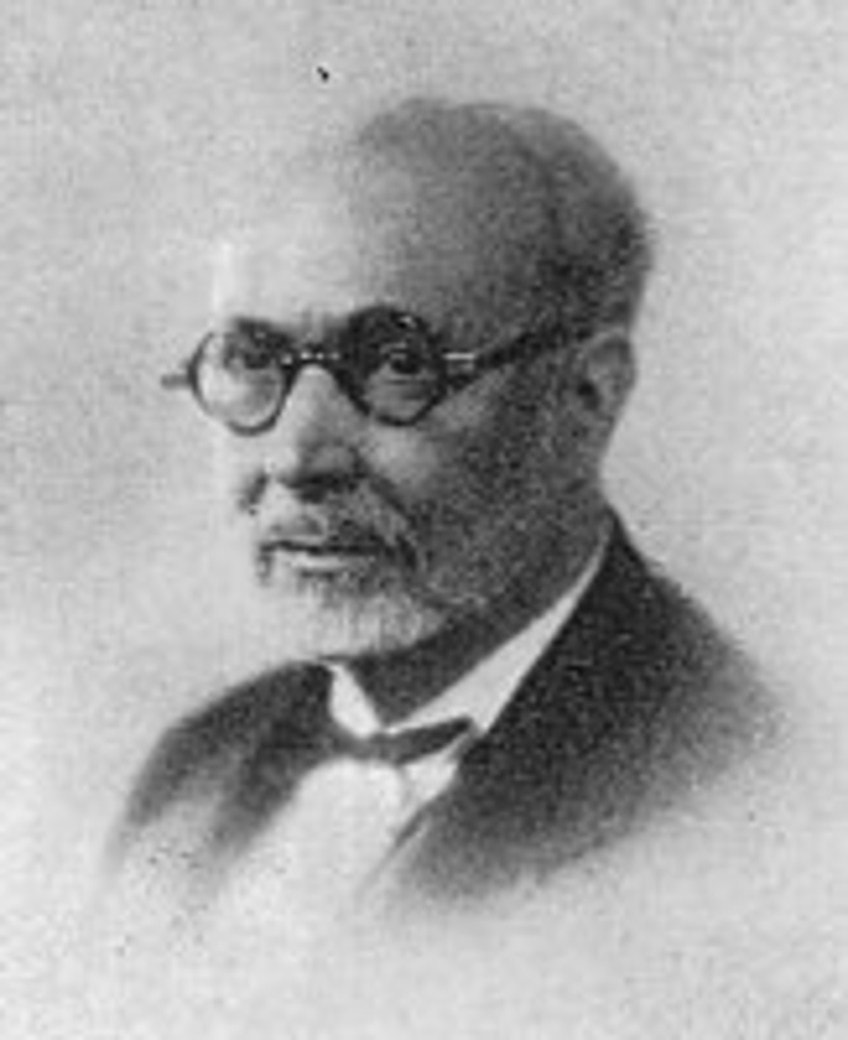 Photo of Swiss/French Art Deco artist Jean Dunand, before 1942; Unknown author Unknown author, Public domain, via Wikimedia Commons
Considered to be a very fast learner, Dunand quickly mastered this time-consuming and almost-forgotten technique in his own artworks. Dunand also used the "coquille d'oeuf" technique, which involved adding crushed eggshells into the lacquer layers and helped him to create some truly breathtaking patterns. When he first started with these techniques, his works were mainly inspired by Japanese cultural heritage and motifs that were typical of Art Nouveau designs.
He soon abandoned these ideals for the more modern Art Deco concepts.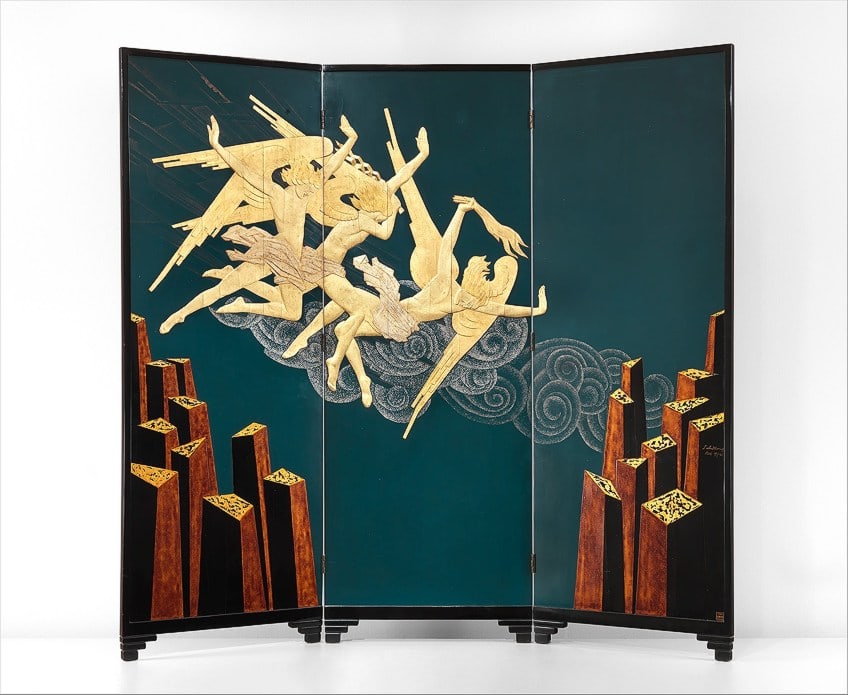 Jean Dunand's Fortissimo screen (1925-1926); Metropolitan Museum of Art, CC0, via Wikimedia Commons
Despite beginning his artistic career as a sculptor who produced decorative objects, Dunand is most remembered for his lacquered works which included panels, interiors, and furniture pieces. Dunand applied lacquer to a variety of objects and even decorated the works of other famous Art Deco artists like Émile-Jacques Ruhlmann. Dunand's furniture and decorative works have proven to be valuable collector pieces, with his Ailette vase being auctioned off for the staggering price of $596 000 in 2019.
Émile-Jacques Ruhlmann (1879 – 1933)
Nationality
French
Where Artist Lived
France
Art Movements
Art Deco
Most Famous Artworks
"Tibattant" desk (1923)

Corner Cabinet (1923)

The Salon of the Hôtel du Collectionneur (1925)
One of the most flamboyant Art Deco furniture designers to emerge from the movement was French designer Émile-Jacques Ruhlmann. Considered to also be one of the most important figures in the entire movement, Ruhlmann went on to trademark his elegant designs, costly and sometimes outlandish materials, and impeccable craftsmanship. This led to him eventually becoming the symbol of luxury and modernity within Art Deco, as all of his furniture pieces were thought to encompass all of the ideals of the movement.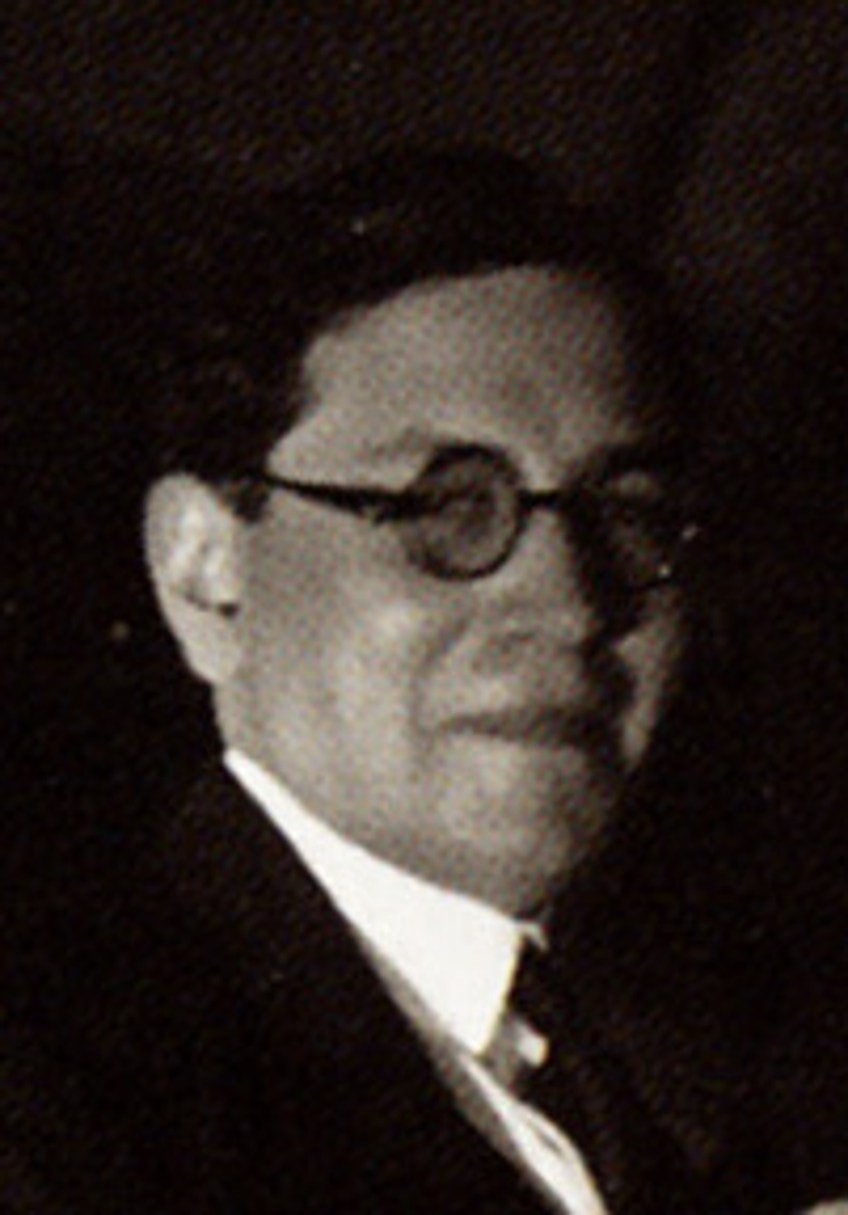 Jacques-Émile Ruhlmann, 1930s; Olivier Old, CC BY-SA 3.0, via Wikimedia Commons
Ruhlmann started his career in his father's decorating business in 1900, which focused largely on interior design. His first experience of furniture design came in 1910 when he began designing personal furniture pieces for his apartment. Ruhlmann believed that style and design trends were controlled by the wealthy, as they were the only ones who could afford such decadent pieces.
This led to most of his designs catering specifically for a more affluent class, with Ruhlmann going on to use lavish materials like ebony and rosewood.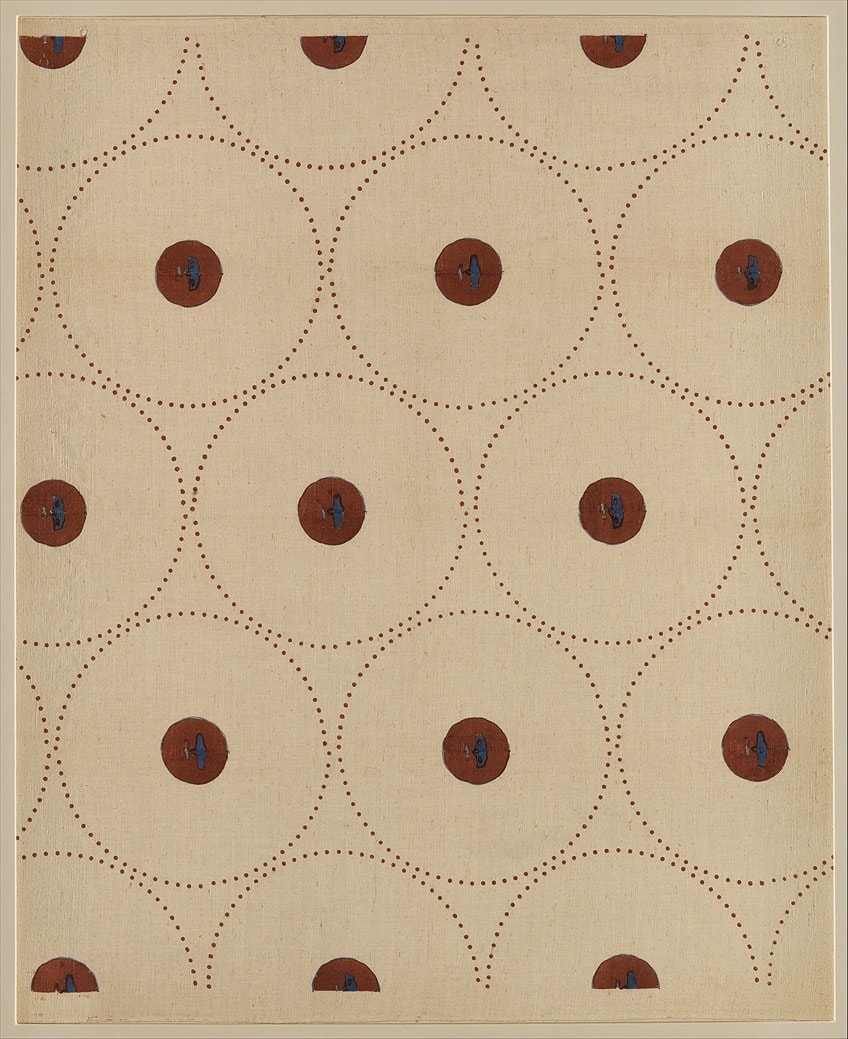 "Sarrazin" textile (c. 1917) by Émile-Jacques Ruhlmann; Jacques-Émile Ruhlmann, CC0, via Wikimedia Commons
With Ruhlmann's influence on Art Deco occurring a century before big furniture stores appeared with affordable but mass-produced products, the creation of one-of-a-kind pieces that were able to capture the decadence of the time were typical of Ruhlmann's style. However, his ability to effortlessly combine classical style with modern elements cemented him as an important forerunner who helped define the Art Deco movement, with it continuing to inspire artists today.
Sonia Delaunay (1885 – 1979)
Nationality
Ukrainian-born French
Where Artist Lived
France
Art Movements
Art Deco, Orphism
Most Famous Artworks
Electric Prisms (1914)

Simultaneous Dress (Three Women, Forms, Colors) (1925)

Rhythm (1938)
Born in Ukraine, French artist Sonia Delaunay was one of the most prominent abstract fashion pioneers to emerge from the Art Deco movement. Known for her matching of primary and secondary colors together to create some form of geometric and visual vibration, Delaunay was also seen as one of the notable Art Deco painters who used the themes of modernity and structure in their paintings. Focusing on textiles, fashion, and set design in addition to painting, Delaunay greatly explored the element of color in her works.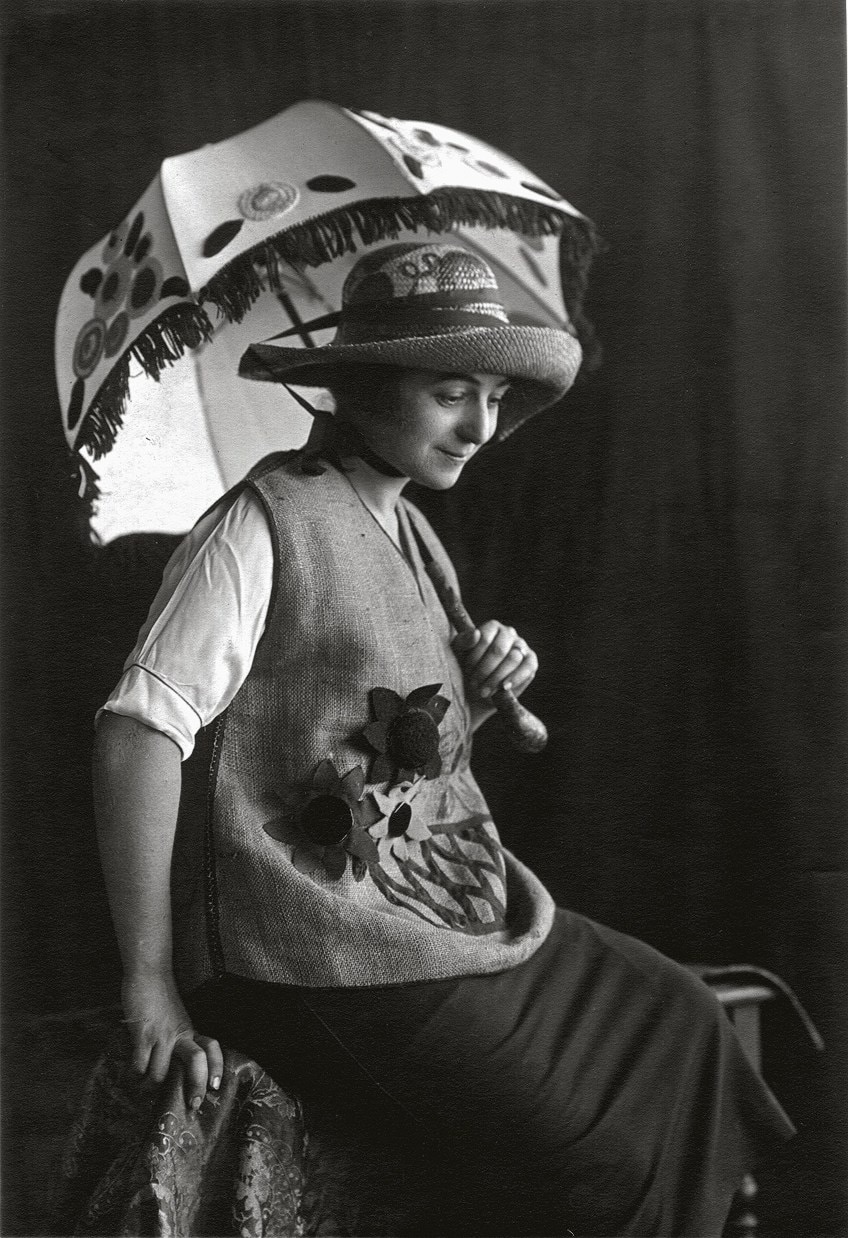 Sonia Delaunay wearing Casa Sonia creations, Madrid, c. 1918-1920; Anonymous Unknown author, possibly by Zockoll, Public domain, via Wikimedia Commons
As the first designer to introduce abstract-inspired works into the world of high fashion, Delaunay was known to heavily influence fashion trends throughout her career. Delaunay took inspiration from Cubism, Fauvism, Dadaism, and Surrealism while she worked to perfect her own abstracted geometric designs in the fashion world.
During the 1920s and 1930s, the idea of including geometric designs into clothing was relatively new, which allowed Delaunay's unique pieces to make a very big impact.
It was during this time that Delaunay produced some of her best fashion pieces ever, with her daring combinations of color and textiles garnering much attention at the 1925 International Exhibition of Modern Decorative and Industrial Arts in Paris. After marrying the infamous Cubist painter Robert Delaunay, who introduced her to the concept of Orphism, Sonia became one of the primary users of this technique. Both Delaunay and her husband felt that color could be used in the same way as a composer used notes to create harmonies.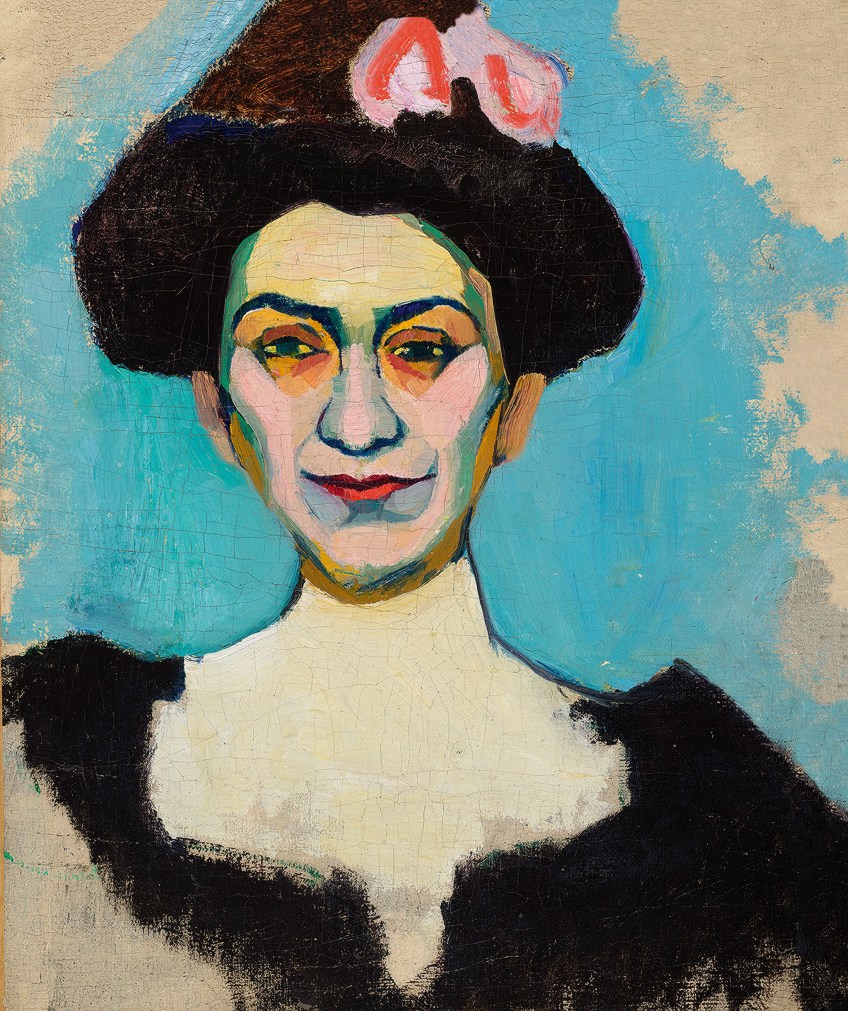 Portrait of L.N. Vilkina-Minskoy (1907) by Sonia Delaunay; Sonia Delaunay, Public domain, via Wikimedia Commons

When considering Delaunay's career, she is mostly known for her influence on style trends after she achieved fame as a designer of modern fashions. As one of the most important Art Deco designers, she created cutting-edge waistcoats for the infamous Surrealist poets Tristan Tzara, Louis Argon, Rene Crevel, among others. After her husband died in 1941, Delaunay focused her efforts on painting again and became one of the first women to ever have her artworks on display at the Louvre museum while she was still alive.
Le Corbusier (1887 – 1965)
Nationality
Swiss-French
Where Artist Lived
Switzerland, France
Art Movements
Art Deco
Most Famous Artworks
Villa Savoye (1929 – 1931)

Unité d'Habitation (1945 – 1952)

Chapelle Notre-Dame-du-Haut (1950 – 1955)
The man behind the "Art Deco" term was said to have been architect and designer Charles Édouard Jeanneret, who went by the alias of Le Corbusier. Seen as one of the loudest participants within decorative arts, Le Corbusier was recorded as the initial artist to use the term "Art Deco" for the first time in the art world. Despite the term only formally entering art history's vocabulary in the 1960s, Le Corbusier became inseparable from the Art Deco context throughout his entire career.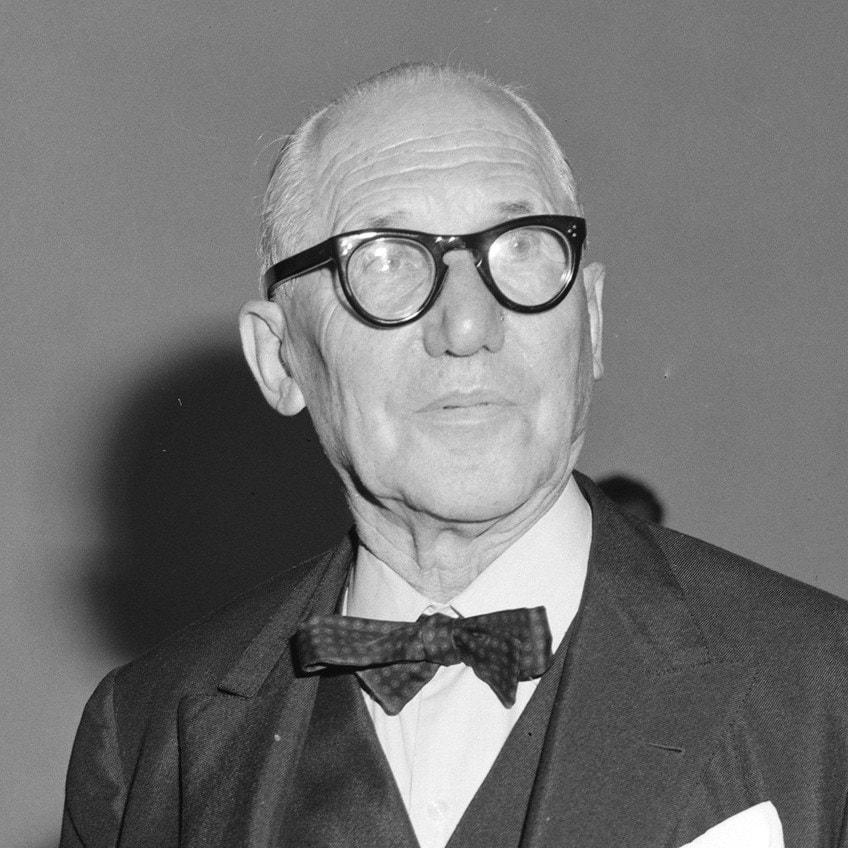 The French-Swiss architect Le Corbusier in 1964; Joop van Bilsen / Anefo, CC0, via Wikimedia Commons
Le Corbusier was and still remains a highly controversial figure in the development of modern architecture. Despite being seen as a pioneer of the Art Deco style, his architectural works went against decoration and were quite disproving of the opulent and costly materials promoted by other Art Deco artists. In fact, Le Corbusier's style leaned more towards the Bauhaus movement than anything else.
However, as Le Corbusier's earlier works as a decorator displayed modernist aesthetics, he became an essential part of the Art Deco style.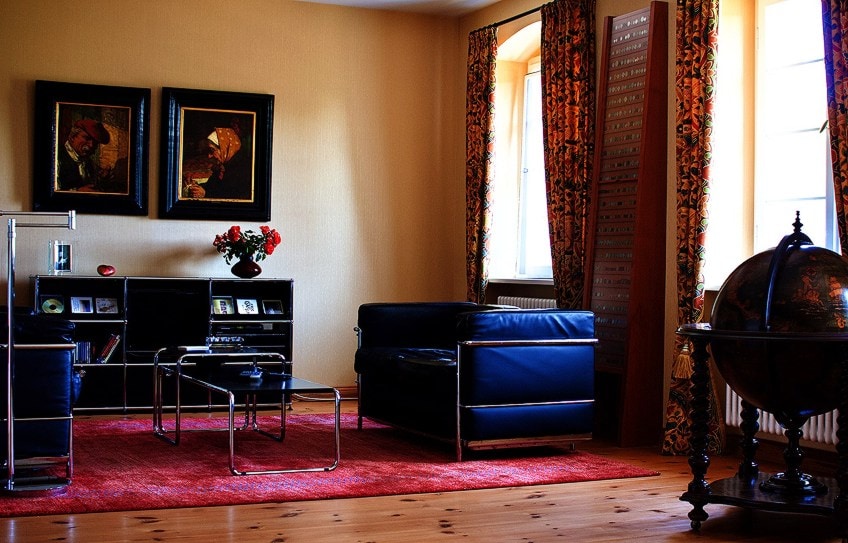 Private Library with Le Corbusier LC3 Sofa, Charles Eames Storage Unit, and the Globe/Bar from West Wing; Karl Oblique, CC BY-SA 4.0, via Wikimedia Commons
Few architects have proven to be as eccentric as Le Corbusier. His unconventional and outlandish style went as far as using his deceased pet schnauzer's skin and hair as the binding for his copy of Don Quixote. By developing truly modern and avant-garde ideas about architecture during the interwar period, Le Corbusier's streamlined conceptions of cities both shocked and impressed the world. His revolutionary ideas about the political and sociological nature of architecture have, and will be, the topic of discussion for many years to come.
Georges Lepape (1887 – 1971)
Nationality
French
Where Artist Lived
France
Art Movements
Art Deco
Most Famous Artworks
Gazette du Bon Ton (1913)

Les Choses de Paul Poiret II (1920)

L'Entracte (1929)
The Art Deco designers group also included French poster artist, illustrator, and fashion designer Georges Lepape. Possibly one of the most underappreciated yet still famous Art Deco artists, Lepape created extraordinary pieces of painted portraiture that depicted the breakthrough moment in the relationship between fashion and visual arts at the time. Unlike other Art Deco painters, Lepape's artworks were heavily influenced by the qualities of Orientalism, which saw his artworks imitating aspects of the Eastern world.
Lepape started his art career as an illustrator working for fashion designer Paul Poiret.
Georges Lepape's "Dancing. Manteau de Soir de Paul Poiret" (1920) fashion plate from Gazette du Bon Ton, illustrating a coat by Paul Poiret; Georges Lepape, Public domain, via Wikimedia Commons
He was known for introducing the unusual ideas of movement and story into fashion illustration, which he did through portraying some of his models as leaving the pictorial frame and turning their backs to viewers. By 1920, Lepape was at the top of his profession and was known to be one of the few influential fashion illustrators of the time. This led to him working at both Vogue and Harper's Bazaar magazine, where his works became truly iconic.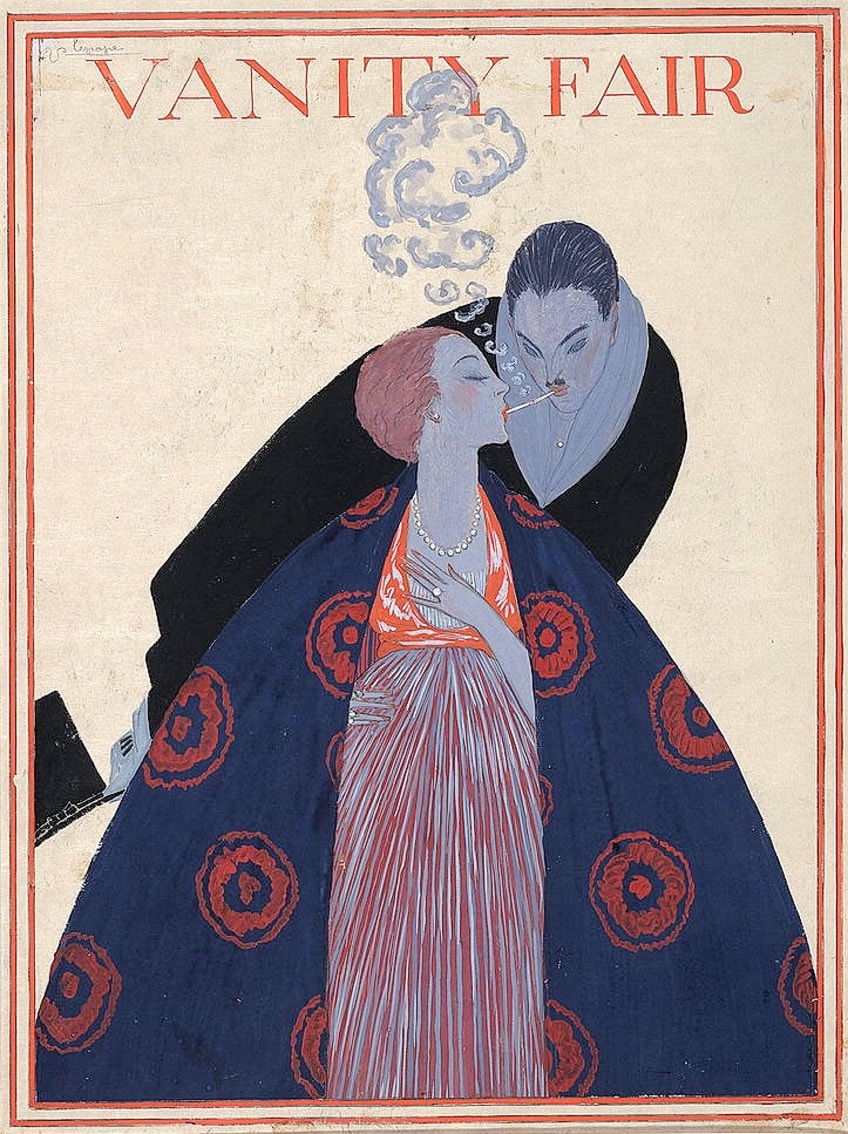 December 1919 Vanity Fair cover by French illustrator Georges Lepape; Georges Lepape, Public domain, via Wikimedia Commons
Remembered as one of the most famous fashion magazine illustrators in history, Lepape's works were seen as crucial Art Deco pieces as they were able to seamlessly blend fashion and artistic expression. As his portraits were characterized by bold colors, smooth lines, and graphic stylization, Lepape injected an air of elegance that gave his works an appealing aesthetic.
Despite a quiet start to his career, Lepape secured his long and successful relationship with Vogue and remained an in-demand illustrator until his death.
Jean Després (1889 – 1980)
Nationality
French
Where Artist Lived
France
Art Movements
Art Deco
Most Famous Artworks
Art Deco "Modernist" Brooch (1930)

Striking Art Deco Brooch (c. 1940)

Pair of Cufflinks (1945)
When discussing the jewelry industry of the early 20th century, one of the Art Deco names that cannot go unmentioned is French designer Jean Després. Known for his celebration of the technological developments that happened during the Industrial era, Després embodied the concept of modernity in his art pieces. Before World War Two, Després was an apprentice at a metal workshop in Paris, where he learned the skills needed to continue his family's jewelry business.
Després was best known for his elaborate Art Deco jewelry pieces that he made using metal, semi-precious stones, machine parts, and enamel.
The general aesthetic of his art pieces was inspired by his friendships with other revolutionary artists, such as Georges Braque, Pablo Picasso, and Amedeo Modigliani. His fascination with geometric shapes, influenced by Cubism and the industrial era, could clearly be seen in his jewelry designs, which were very different and quite unusual when compared to other conventional pieces.
Additionally, Després' style was further influenced by his work for the government, as he designed parts for airplanes during World War I.
This led to his jewelry mirroring the functional approach that he saw in the factories through the materials and shapes he chose. Seen as one of the most innovative Art Deco artists to emerge from the 1920s and 1930s in the jewelry design field, Després modified his approach to jewelry making until his style was viewed as both peculiar and progressive.
Érte (1892 – 1990)
Nationality
Russian-born French
Where Artist Lived
Russia, France
Art Movements
Art Deco
Most Famous Artworks
Harper's Bazaar February cover (1922)

Miss Tapsy (c. 1940)

Symphony in Black (1983)
One of the most extravagant costume designers from the early 20th century was Romain de Tirtoff, who was famously known as Erté throughout his career. Experimenting in several fields, Erté is best known for his designs within fashion, jewelry, costumes, graphic arts, set design, and interior décor. Born in St. Petersburg, Erté moved to Paris to start his art career, where he became the most prominent fashion designer and illustrator from the 1920s.
Erté gained worldwide recognition for his cosmopolitan and very stylized fashion illustrations.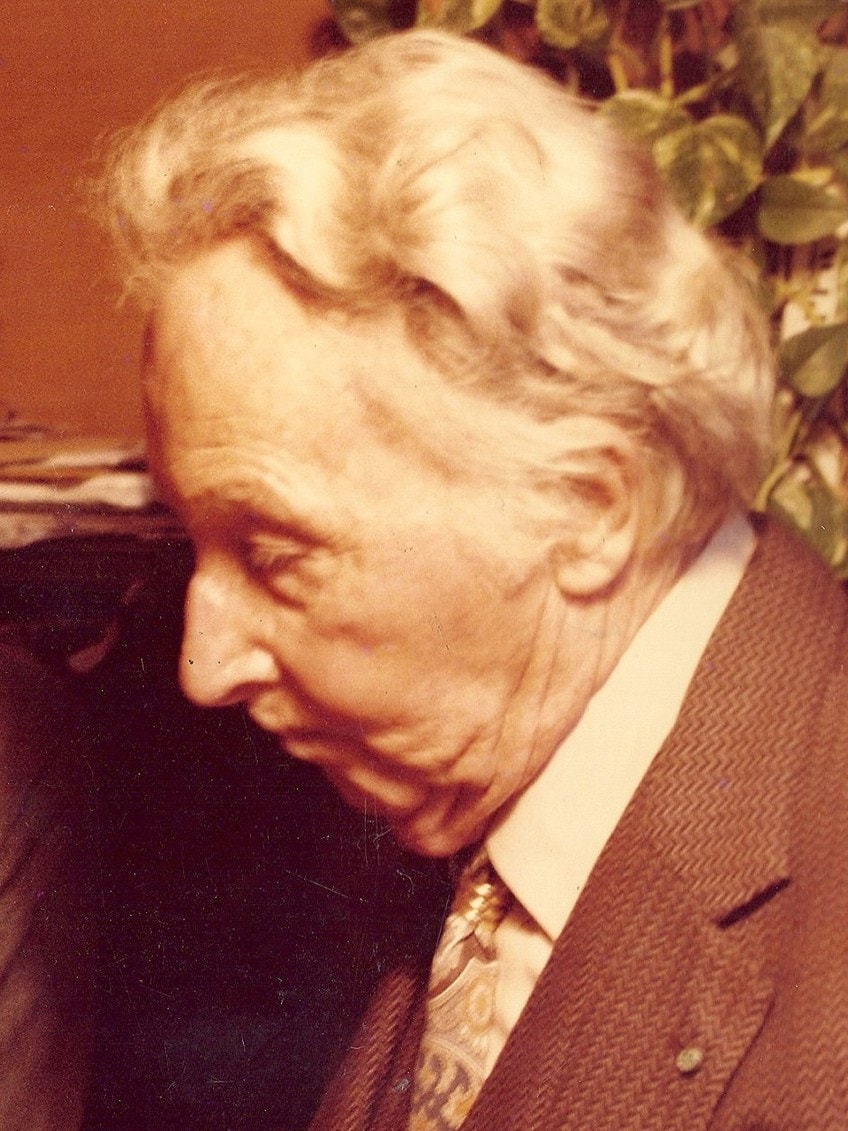 Photograph of Erté; Masterpiece Inc, CC BY-SA 4.0, via Wikimedia Commons
In 1915, Erté landed his first significant contract with Harper's Bazaar magazine, which helped launch his career as a distinguished costume and set designer. For the next two decades, until 1937, Erté designed over 200 covers for Harper's Bazaar, with his designs also appearing in other prominent fashion magazines like Cosmopolitan, Ladies' Home Journal, and the iconic Vogue. His prominence as a designer also led to his collaboration with French fashion designer Paul Poiret.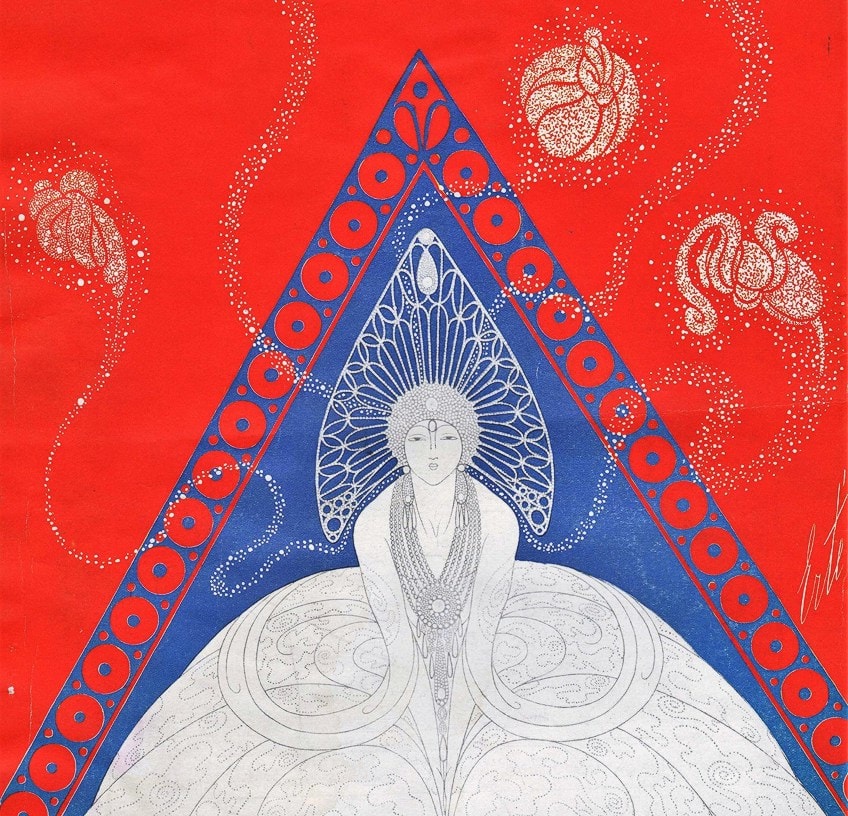 Harper's Bazaar cover for February 1916 by Erté, before 1922; Erté, Public domain, via Wikimedia Commons
Since most Americans were more likely to read magazines and go to the movies as opposed to an art gallery or museum, Erté's growing reputation in pop culture made it possible for the Art Deco movement to spread further than just the wealthy elite. His exquisite sets and costume designs were also featured in the Ziegfeld Follies, the Folies Bergère, and several other silent films produced by Louis B. Mayer.
Erté's entry into the film industry through his designs earned him critical acclaim as an Art Deco artist and also furthered the style itself.
Tamara de Lempicka (1898 – 1980)
Nationality
Polish
Where Artist Lived
Russia, France, the United States
Art Movements
Art Deco
Most Famous Artworks
Self-Portrait in the Green Bugatti (1929)

Young Lady with Gloves (1930)

Woman with Dove (1931)
Possibly one of the most famous Art Deco painters was Tamara de Lempicka, who paved the way for other female artists who emerged after her. Nicknamed "The Baroness with a Brush", Lempicka is well-known by art collectors for her instantly recognizable Art Deco paintings due to her specific style. Best known for her portraits of aristocratic individuals, Lempicka generally focused on the wealthy class. She occasionally painted some nudes in her highly stylized and distinct way.
As a highly admired Art Deco artist, Lempicka quickly gained popularity, fame, and wealth thanks to her portraits of prominent figures.
Despite settling into a very bohemian lifestyle in Paris during the 1920s, Lempicka's painting style still existed as the perfect representation of her lifestyle of wealth and glamour. When considering her bold artworks, Lempicka has been thought of as a true enigma by feminist art historians, as she freely defied her sexual freedom at a time where this concept was only just coming into fashion.
Lempicka's artworks are seen as the manifestation of female independence, freedom, strength, and increasing themes of sexuality during the Roaring Twenties and Thirties. Frequently depicting her female lovers and other women in pairs or groups, Lempicka was thought to embody aspects of proto-feminism in her paintings.
As a female painter, Lempicka was only thought to get away with such daring displays of sexuality because she was a prominent member of the aristocratic society.
Despite being inspired by the widespread movement of Cubism, Lempicka's individual approach to Art Deco was more delicate than the Cubist style. Using elegant and clean lines when painting, her addition of vibrant colors and geometric shapes went on to dominate her compositions, which existed as important characteristics of the Art Deco style. A firm favorite of the wealthy socialites of her time, Lempicka's works are still very popular today, with celebrities like Madonna and Barbra Streisand expressing their enjoyment of her style.
When considering the famous Art Deco artists of the movement, many painters, sculptors, designers, and architects were well known for their contributions to the style. As the movement spanned the interwar years and faced a revival in the 1960s, many other Art Deco names can be added to this list. If you have enjoyed learning about these influential artists, we encourage you to take a further look at the iconic artworks that they produced and to read up about their creations.
Take a look at our Art Deco artists webstory here!
Frequently Asked Questions
What Is Art Deco Art?
Art deco is a type of style that can be applied to architecture, design, and the visual arts. It first originated in France shortly before the First World War, although it quickly spread to other parts of the world. Art Deco affected design everywhere in the 1920s and 1930s, from architecture and furniture to fashion, jewelry, radios, cars, and even vacuum cleaners.
Who Created Art Deco?
The first Art Deco show took place in Paris in 1925, which was organized by the French artist association called La Societe des Artistes Decorateurs ("Society of Decorator Artists"). This association was founded by Hector Guimard, Paul Follot, Raoul Lachenal, Emile Decour, Eugene Grasset, and Maurice Dufrene, many of whom were previously associated with the Art Nouveau movement.
Isabella studied at the University of Cape Town in South Africa and graduated with a Bachelor of Arts majoring in English Literature & Language and Psychology. Throughout her undergraduate years, she took Art History as an additional subject and absolutely loved it. Building on from her art history knowledge that began in high school, art has always been a particular area of fascination for her. From learning about artworks previously unknown to her, or sharpening her existing understanding of specific works, the ability to continue learning within this interesting sphere excites her greatly.
Her focal points of interest in art history encompass profiling specific artists and art movements, as it is these areas where she is able to really dig deep into the rich narrative of the art world. Additionally, she particularly enjoys exploring the different artistic styles of the 20th century, as well as the important impact that female artists have had on the development of art history.
Learn more about Isabella Meyer and the Art in Context Team.
Cite this Article