Titian Tiziano Vecellio – The Famous Renaissance Artist
Titian Tiziano Vecellio was a highly influential Venetian Renaissance artist. If you have never heard of Titian the artist before, you may be asking yourself: "what is Titian known for?" The Renaissance artist was revered as one of the most versatile of his Italian peers and was equally proficient at producing all kinds of paintings, whether it be Titian's landscapes or Titian's portraits. The methods applied in Titian's art (especially his use of color) had a great impact on the artists of the late Renaissance period in Italy, as well as many generations of Western artists that followed.
The Life and Art of Titian Tiziano Vecellio
Titian's Renaissance artworks gained favorable attention right from the beginning, and he was popular among many patrons. Throughout his artistic career, Titian's art underwent many drastic changes in style. Titian the artist was a co-founder of the Italian Renaissance's Venetian School, along with Giorgione. Despite the fact that his later works might seem to lack some of the luminosity of Titian's Renaissance masterpieces, their subtly applied tones and non-rigid brushstrokes were unprecedented in Western art's history.
But, to get a proper understanding of the man behind the art, let us begin at the start of his life.
The Early Years of Titian
The precise date and time of Titian's birth are unknown. He stated in correspondence with the King of Spain when he was elderly that he was born in 1474, but this appears quite doubtful. Most contemporary experts agree that a birthdate around 1489 is most plausible. Titian was the child of Gregorio and Lucia Vecellio. Gregorio was the administrator of the palace of Pieve di Cadore, as well as the manager of the surrounding quarries for their proprietors. Gregorio was also a well-known council member and veteran. Many of Titian's family, including his grandfather, worked as notaries, and the line was well-established in the territory governed by Venice.
Self-Portrait (c. 1562) by Titian; Titian, Public domain, via Wikimedia Commons
Titian was sent to an uncle in Venice at around eleven years of age to establish an apprenticeship with an artist. Sebastian Zuccato, a lesser artist whose children became well-known mosaicists and who also may have been an acquaintance of the family, organized for Titian and his brother to attend Gentile Bellini's workshop, from which they eventually moved to Giovanni Bellini's studio.
The Bellinis, particularly Giovanni, were the city's finest painters of the period.
Titian met a number of youthful men of a similar age there, including Sebastiano Luciani, Giovanni Palma da Serinalta, and Giorgio da Castelfranco. Titian's older brother went on to become a well-known artist in Venice.
One of Titian's early works is believed to be a Hercules fresco on the Morosini Palace. A Man with a Quilted Sleeve is among the earliest of Titian's portraits and was created in 1509. Scholars formerly thought it portrayed Ludovico Ariosto, but now believe it depicts Gerolamo Barbarigo. Rembrandt used the same arrangement in his self-portraits.
A Man with a Quilted Sleeve (1500s) by Titian; Titian, Public domain, via Wikimedia Commons
Titian worked as an assistant to Giorgione, although many contemporaneous reviewers thought Titian's work was more remarkable, for instance, in external frescoes (now almost completely destroyed) that they cooperated on for the Fondaco Dei Tedeschi. Their partnership clearly had a competitive aspect to it. Differentiating their contributions during this time period is still a source of academic debate. In the 20th century, a sizable proportion of attributions shifted from Giorgione to Titian, with very little movement in the opposite direction.
The pair of young painters were also acknowledged as the pioneers of their new style of "Arte Moderna", which is distinguished by paintings that are more fluid, devoid of proportion, and the traces of hieratic norms that can still be observed in Giovanni Bellini's pieces.
Around 1508, the state commissioned Giorgione to paint frescoes on the reconstructed Fondaco dei Tedeschi. Titian and Morto da Feltre collaborated with him, and certain pieces of the artworks, most likely by Giorgione, still exist. Fontana's engravings have helped to popularize some of their works. Titian proceeded to paint Giorgione-esque themes after Giorgione's untimely demise in 1510, yet his technique acquired its own characteristics, notably powerful and emotive brushwork.
An example of Titian's Arte Povera work, The Legend of Polydorus (1505-1510); Titian, Public domain, via Wikimedia Commons
Titian moved from Padua to Venice in 1512, and in 1513 he received La Senseria (a lucrative concession highly sought after by painters) at the Fondaco Dei Tedeschi. He was appointed supervisor of government projects, with the specific task of finishing the artworks left incomplete by Bellini in the ducal palace's great council hall. He established a studio on the Grand Canal at S. Samuele, the exact location of which is now unclear.
It wasn't until 1516, after Giovanni Bellini's death, that he was able to use his patent. At around the same moment, he signed an exclusive artistic contract. The patent provided him with a nice income of 20 crowns as well as exemption from several taxes. In exchange, he was obligated to paint portraits of the consecutive Doges of his period for a predetermined fee of eight crowns apiece.
In actuality, he ended up painting five of the chief magistrates.
The Growth of Titian's Art
During the era from 1516 to 1530, considering his period of mastery and maturation, the artist progressed from his initial Giorgione-esque manner to larger, more complicated themes, and tried a colossal form for the first time. Giorgione perished in 1510, and Bellini died in 1516, leaving Titian as the unmatched master of the Venetian School. He was the unquestioned maestro of Venetian paintings for 60 years.
In 1516, he finished his renowned masterwork, the Assumption of the Virgin, created for the Basilica di Santa Maria Gloriosa Dei Frari's high altar, where it is still shown today. This work of colorism, performed on a huge scale seldom encountered in Italy, caused quite a stir.
The Signoria took notice and recognized Titian's disregard of his job at the Great Council Hall, but then in 1516, he surpassed his mentor Giovanni Bellini in getting a stipend from the Congress.
Assumption of the Virgin (1516-1518) by Titian; Titian, Public domain, via Wikimedia Commons

The visual framework of the Assumption – that of combining two or three sequences overlaid on various levels, earth and afterlife, temporary and endless – was continued in a sequence of pieces such as the retable of San Domenico in Ancona, the retable of Brescia, and the retable of San Niccol in the Vatican Museums, each time achieving a greater and more ideal conception. He eventually arrived at a definitive model with the Pesaro Madonna, for the Frari church. This is undoubtedly his most researched work, with a meticulously prepared plan presented with great order and flexibility, uniqueness, and flair.
Titian presented a fresh interpretation of the conventional sets of benefactors and holy people moving in airborne space, with the designs and various degrees established in a structural context.
Titian was at the peak of his reputation at the time, and after producing a figure of St. Sebastian for the cardinal legionnaire in Brescia (of which there are countless reproductions), buyers rushed for his works. The Death of St. Peter Martyr, previously in the Dominican Church of San Zanipolo and damaged by an Austrian bomb in 1867, dates to this era.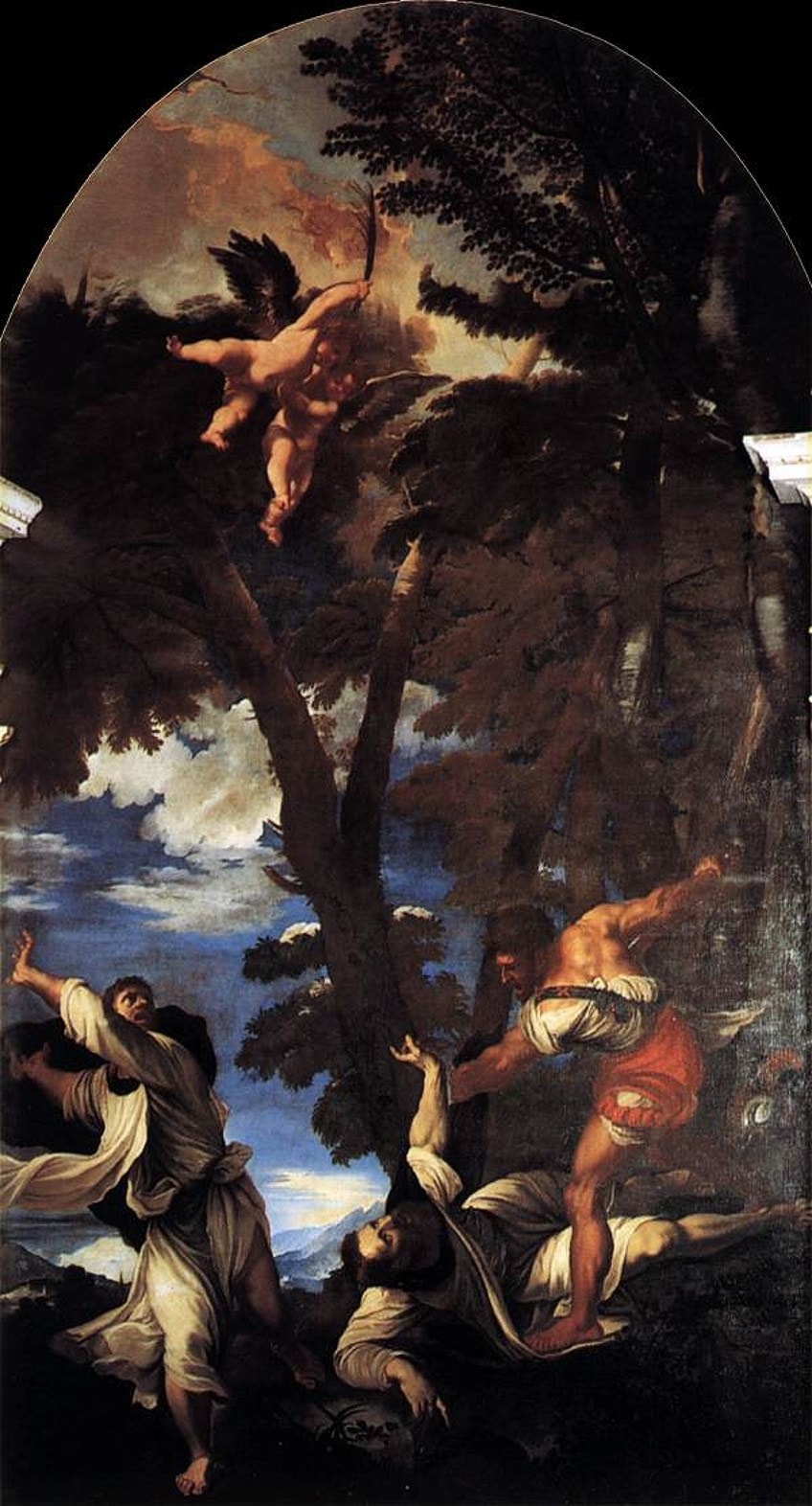 Reproduction of The Death of St Peter Martyr (1527-1529) by Titian; Titian, Public domain, via Wikimedia Commons
Only reproductions and prints of this proto-Baroque painting have survived. It mixed tremendous brutality with a landscape, largely comprised of a large tree, that pushed into the foreground and seemed to amplify the tragedy in a manner that foreshadowed the Baroque.
Concurrently, the artist produced a sequence of miniature Madonnas, whom he set in magnificent landscapes in the style of genre paintings or lyrical pastorals.
The completed version of these paintings is The Virgin with the Rabbit, which can be found at The Louvre. The Entombment is another piece from the same time that is also housed at the Louvre. It was also the era of the three massive and renowned mythical scenes for Alfonso d'Este's Camerino, recognized as one of the most magnificent achievements of the Renaissance's neo-pagan culture, much emulated but never equaled. Furthermore, at this time, Titian created half-length portraits and statues of young ladies, most likely noblewomen, such as Woman with a Mirror and Flora.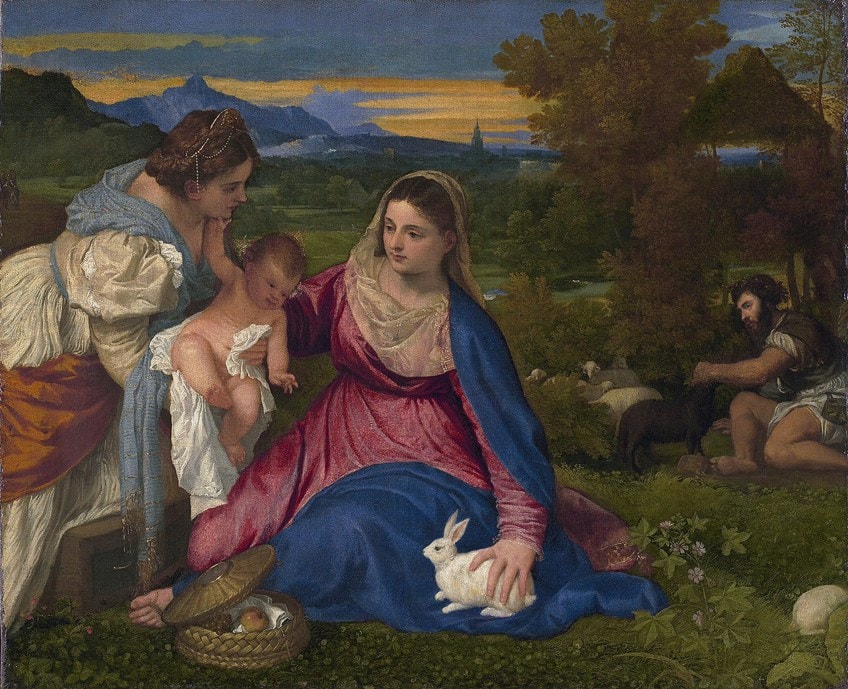 The Virgin with the Rabbit (1525) by Titian; Titian, Public domain, via Wikimedia Commons

Titian the Artist's Maturity
Titian's mastery of color is demonstrated by Danaë, one of numerous mythical works or "poems" as the artist referred to them. This picture was created for Alessandro Farnese, but a subsequent version was created for Philip II, for whom Titian created several of his most notable mythological works.
Although Michelangelo deemed this painting to be weak in terms of design, Titian and his workshop created multiple replicas for various clientele.
Another well-known artwork is Bacchus and Ariadne, which depicts Theseus, whose vessel can be seen on the horizon and who has just departed from Ariadne at Naxos, when Bacchus comes, leaping from his carriage pulled by a couple of cheetahs and instantly falling in love with Ariadne. Bacchus took her to paradise. Her symbol can be seen in the sky.
Bacchus and Ariadne (1520-1523) by Titian; Titian, Public domain, via Wikimedia Commons
Titian refined the style presented by his tragic Death of St. Peter Martyr throughout the ensuing era from 1530 to 1550. Displeased with Titian's disregard of his project for the ducal castle, the Venetian authorities instructed him to reimburse the funds he had collected, and Il Pordenone, his current opponent, was appointed in his stead. Nevertheless, Pordenone passed at the close of the year, and Titian, who had been tirelessly creating the Battle of Cadore in the hall in the meantime, was reinstalled.
This epic combat scene, along with numerous other notable pieces by Venetian painters, was burned in the 1577 fire that devastated all of the historic paintings in the great apartments of the Doge's Palace.
It represented in life-size the instant Venetian commander d'Alviano struck the adversary, with cavalry and soldiers collapsing into a river. Titian's most significant effort at a chaotic and heroic picture of motion to match Raphael's Battle of Constantine. Today, there is just a substandard etching by Fontana and a bad, partial duplicate in the Uffizi.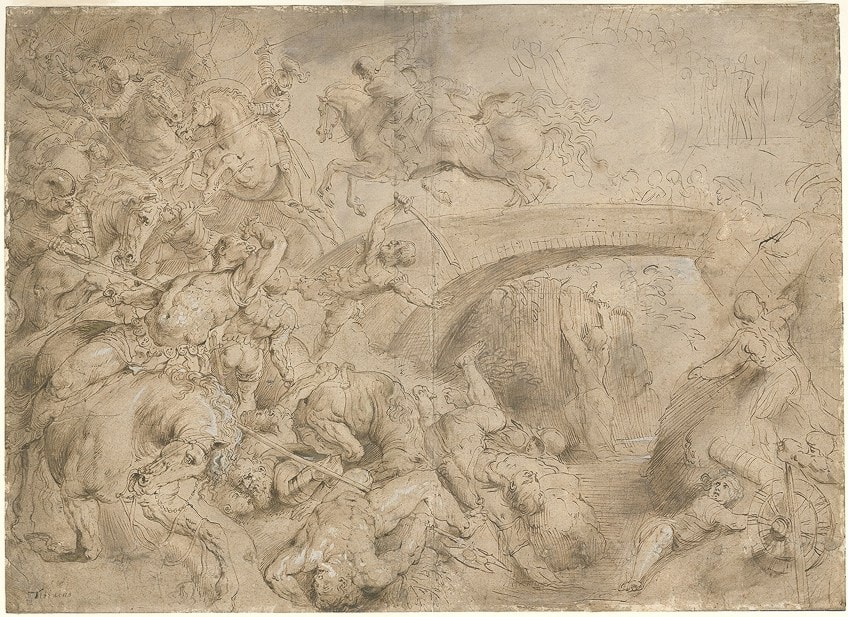 Rubens made this drawing in Italy after a copy of a painting of Titian sometime between 1500 and 1550. The original painting was destroyed by fire in 1577; after Peter Paul Rubens, CC BY 4.0, via Wikimedia Commons
The Marquis del Vasto's Speech was also partially destroyed by fire. This phase of the master's art, however, is still highlighted by the Presentation of the Blessed Virgin. Considering its loss, the picture had a significant impact on Rubens and Bolognese art, both in the treatment of elements and the overall impression of cavalry, troops, lictors, intense rumblings of masses at the base of a stairway lighted by flames with flags flying against the sky. The pendentives of the dome of Santa Maria Della Salute were less effective.
These horrific incidents, seen from below, were, by definition, in undesirable settings. Despite this, they were much praised and emulated, with Rubens, for example, employing this style in his 40 ceilings (of which only drawings exist) of Antwerp's Jesuit Church.
During his tour to Rome at the same time, the painter created a sequence of reclined Venuses: Titian's Venus of Urbino, Venus and Love, and Venus and the Organ-Player, demonstrating the effect of interaction with classical sculptures. Giorgione had already worked with the theme in his Dresden painting, which Titian completed, but here a purple curtain replaced a landscape backdrop, transforming the entire meaning of the image by its harmonized coloring. Titian was a skilled portrait artist from the start of his career, as evidenced by Titian's portraits such as La Bella.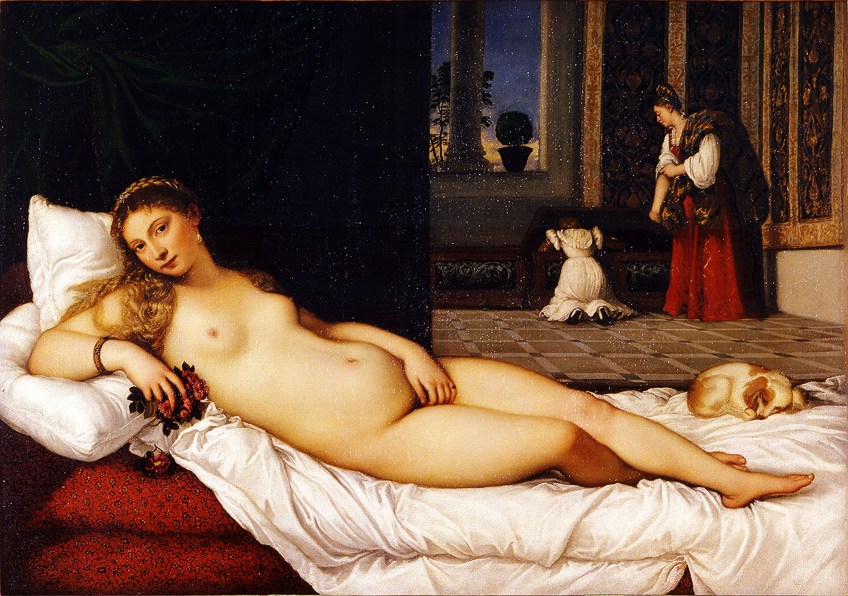 Venus of Urbino (1538) by Titian; Titian, Public domain, via Wikimedia Commons
He created portraits of kings or Doges, cardinals or clergy, painters or authors. No other artist was claimed to have been as accomplished in obtaining from each person's physical features so many qualities that were both distinctive and lovely.
Titian is likened to Velázquez and Rembrandt among portraiture artists, with the latter's internal life and the former's clarity, surety, and definiteness.
Titian's portraits, such as the Equestrian Portrait of Charles, pioneered a new style, being the great equestrian portrait. The arrangement is rich in both the Roman traditions of horse sculpting and middle age depictions of an idealized Holy crusader, yet the tired form and expression have a nuance few such depictions approach. After producing a portrait of Emperor Charles V in 1532, he was appointed a Knight of the Golden Spur. His sons were also appointed nobility of the Kingdom, which was a rare accolade for an artist.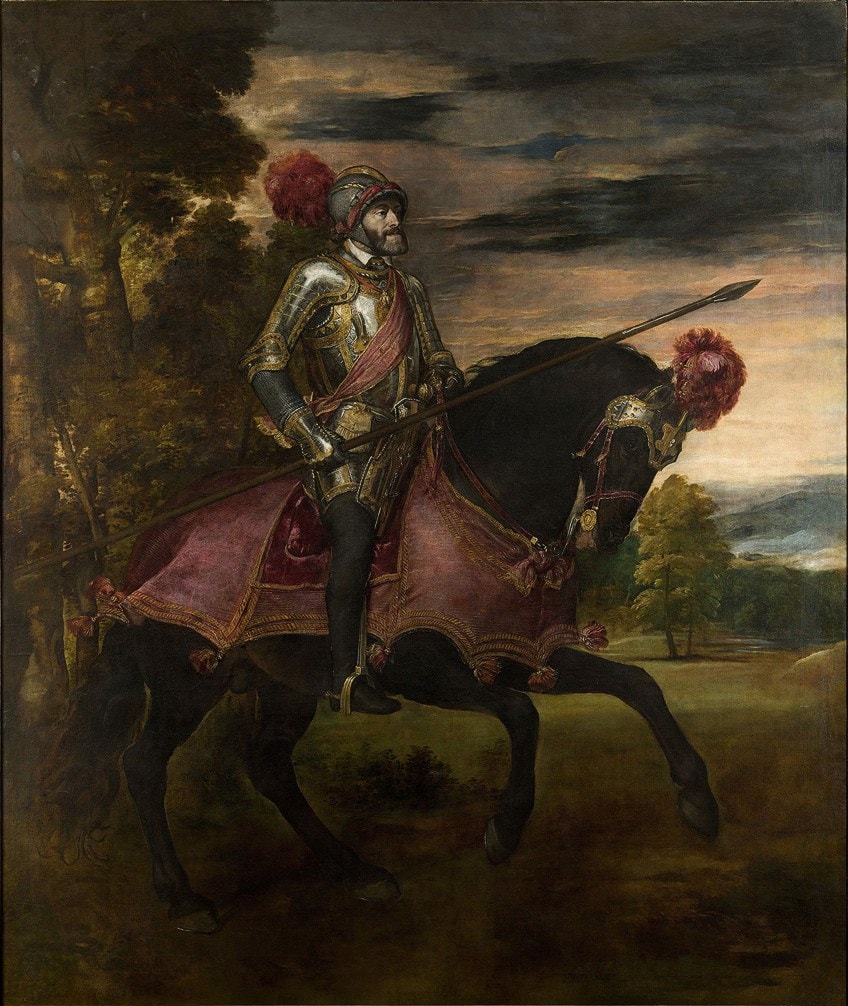 Equestrian Portrait of Charles V (1548) by Titian; Titian, Public domain, via Wikimedia Commons
In terms of academic and worldwide achievement, his standing during this period is considered to be only second to that of Michelangelo, Raphael, and, subsequently, Rubens. In 1540, he got a pension from the marquis del Vasto, and an income of 200 crowns (later increased) from the treasury of Milan. Another avenue of income for him, because he was constantly mindful of finance, was a concession won in 1542 for delivering grain to Cadore, where he traveled almost annually and had great impact.
The artist had a favorite home adjoining Manza Hill from where he made his main studies of environmental shape and effects.
Titian's mill, which is continually visible in his works, is located in Collontola, near Belluno. In 1546, he toured Rome and was granted the city's freedom; his nearest competitor in that distinction had been Michelangelo in 1537. He could have followed the artist Sebastiano del Piombo in his financially rewarding position as bearer of the Papal seal, and he was willing to take Holy Orders for the intent; however, the proposal was thwarted when he was called to Venice in 1547 to create portraits of Charles V and many others in Augsburg. He returned in 1550 and completed the picture of Philip II, which was sent to England and was crucial in Philip's petition for Queen Mary's hand in marriage.
The Final Years of the Renaissance Artist
Titian spent the remaining 26 years of his life mostly working for Philip II and as a painter of portraits. He grew more self-critical, an obsessive perfectionist, storing some works in his workshop for 10 years, revisiting them and altering them, continuously adding new emotions that were more polished, succinct, and delicate. He also completed several duplicates of his older masterpieces done by his students. This produced provenance and precedence issues among variations of his works, which were also frequently reproduced and imitated outside his workshop during his career and later.
For Philip II, he created a series of massive mythic works known as the "poems," largely from Ovid, which are considered among his best works by experts.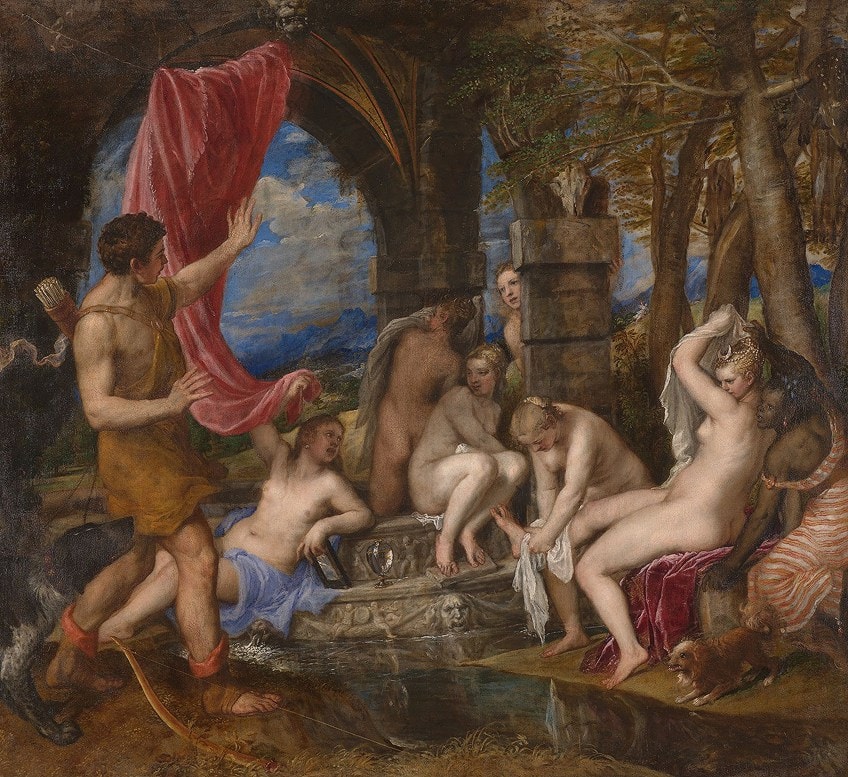 Diana and Actaeon (1556-1569), one of Titian's poësie (poems) for Philip II; Titian, Public domain, via Wikimedia Commons
Because of the foresight of Philip's heirs, these were largely presented as presents, and just two are now at the Prado. At the same time, Titian was creating holy paintings for Philip, some of which are known to have been lost during the Lisbon Earthquake in 1755.
He provided a new and more flawless method for each issue he tackled.
He never matched the feeling and tragic tone of The Crowning with Thorns; in the articulation of the intriguing and transcendent, he never matched the grace of the Pilgrims of Emmaus; and in magnificent and courageous audaciousness, he never matched The Doge Grimani Adoring Faith or the Trinity of Madrid. However, in terms of skin tones, his most emotional paintings are those from his later years, such as the Poesie and Jupiter and Antiope. He even tackled chiaroscuro issues in magnificent night effects.
Jupiter and Antiope (1535-1540) by Titian; Titian, Public domain, via Wikimedia Commons
Titian had married Cornelio Sarcinelli of Serravalle to his daughter Lavinia, a lovely girl whom he adored and painted several times. She had supplanted her aunt Orsa, who had died, as the controller of the residence, which, together with Titian's princely wealth at the moment, put her on a comparable basis. The marriage of Lavinia and Cornelio occurred in 1554. In 1560, she died during delivery.
In 1555 Titian attended the Council of Trent, and there is a full portrait of him in the Louvre.
Titian traveled to Cadore in September 1565 to prepare the decoration for the cathedral at Pieve, which was partially realized by his students. He accepted assignments to the point of death. Titian's final work, the Pietà, is a dark, nighttime image of anguish, as are many of his later paintings. He seemed to have planned it for his own burial chamber. He had chosen the Crucifix Chapel at the Basilica di Santa Maria Gloriosa Dei Frari, as his final resting place.
Pietà (c. 1576) by Titian; Titian, Public domain, via Wikimedia Commons
Titian succumbed to a fatal fever on the 27th of August, 1576, as the plague was raging in Venice. Depending on his unclear birthday, he might have been in his late 80s or possibly closer to 100 years old. Titian was buried in the Frari, as originally planned, and Palma il Giovane completed his Pietà. He is buried beside his most renowned work, the Madonna di Ca' Pesaro. There was no monument at his tomb. Titian's child, helper, and only successor, Orazio, perished of the plague not long after his father, which complicated the disposal of his inheritance because he had written no testament.
Many years later, the Austrian lords of Venice ordered Antonio Canova to build the enormous memorial that now stands in the cathedral.
The Artist's Legacy
Titian is credited with over 400 works, around 300 of which remain. In 2008, two Titian paintings in private ownership were put up for auction. Diana and Actaeon, one of them, was acquired for 50 million pounds by London's National Gallery.
The galleries were given until the 31st of December, 2008, to make the acquisition before the piece was made available to private buyers, however, the timeframe was prolonged. The sale sparked debate among legislators, who felt that the funds could have been better used during a growing recession.
Sacred and Profane Love (1514)
Assumption of the Virgin (1518)
Bacchus and Ariadne (1523)
Venus of Urbino (1534)
Equestrian Portrait of Charles V (1548)
Diana and Actaeon (1559)
Sacred and Profane Love (1514) by Titian; Titian, Public domain, via Wikimedia Commons
Titian Tiziano Vecellio's Workshop and Family
Titian's spouse, Cecilia, was the child of a barber in Titian's birthplace of Cadore. She had been his domestic and lover for five years as a young woman. Cecilia had already given birth to Titian's two magnificent boys, Pomponio and Orazio when she became critically ill in 1525. Titian married her in order to legitimize the children.
Cecilia healed, the relationship was joyful, and they had a daughter who passed when she was a baby. Cecilia died in August 1530. Titian married again, although nothing is known about his new wife, who may have given birth to his daughter Lavinia. Titian's second daughter, Emilia, was the product of an extramarital romance, possibly with a domestic worker. Titian relocated his two boys and baby daughter to a new residence in August 1530 and persuaded his sister to come from Cadore and take command of the family.
The home, which is currently difficult to discover, is in the Biri Grande, a prestigious area at the far end of Venice, on the coast, with lovely grounds and an outlook of Murano.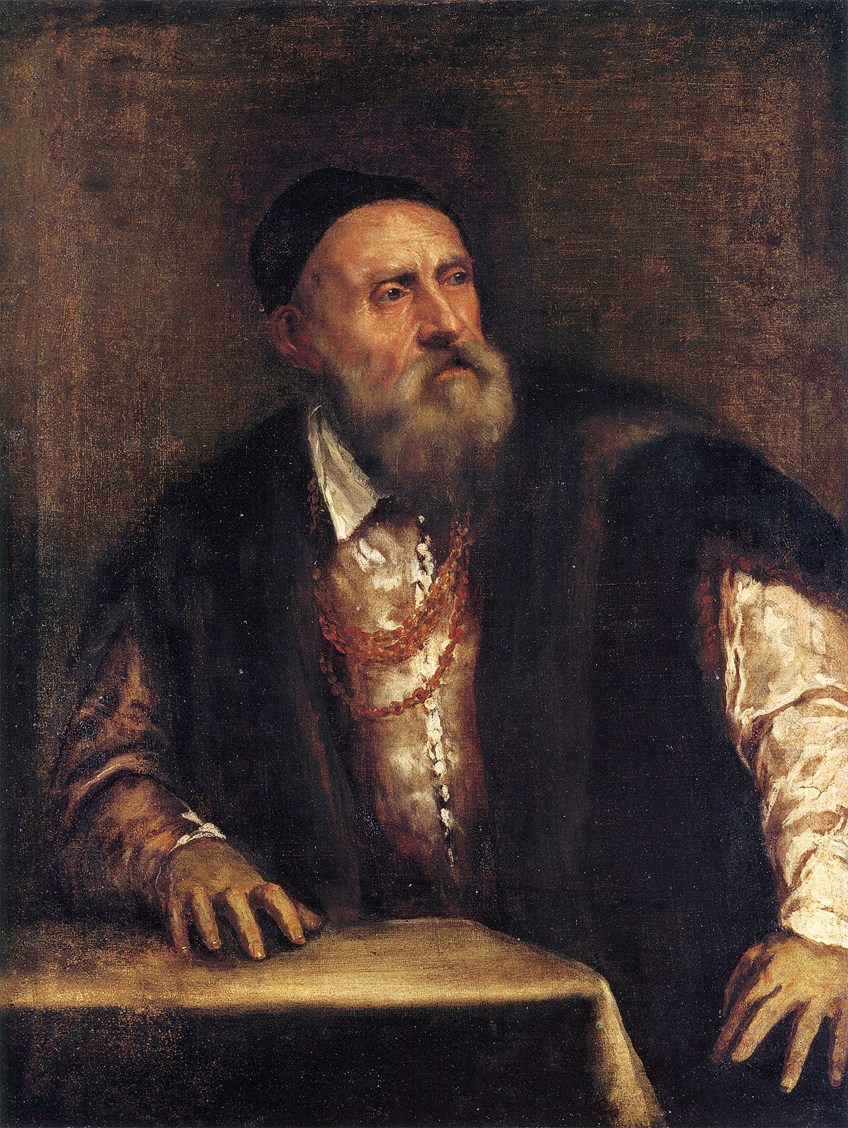 Self-Portrait (1550) by Titian; Titian, Public domain, via Wikimedia Commons
Around 1526, he met and quickly became good friends with Pietro Aretino, the powerful and brazen character who appears so weirdly in the records of the period. Titian painted a painting of him and gave it to Gonzaga, Duke of Mantua. Tintoretto, the famous Italian artist, was introduced to Titian's workshop by his father when he was a child. This was apparently about 1533, when Titian was (according to popular belief) around 40 years old.
Tintoretto had barely been in the workshop for 10 days when Titian ordered him back home permanently since the great master noticed some highly vivid drawings, which he later realized were the work of Tintoretto; it is assumed that he got immediately envious of such a bright student.
This, though, is simply supposition; maybe it is more accurate to assume that the sketches had such freedom of method that Titian assessed that young Jacopo, while he might emerge an artist, would never be genuinely a student. Tintoretto was a declared and enthusiastic fan of Titian, but never a comrade, and Titian and his supporters turned a cold face to him from that time onward. There was also aggressive condemnation, but Tintoretto ignored it.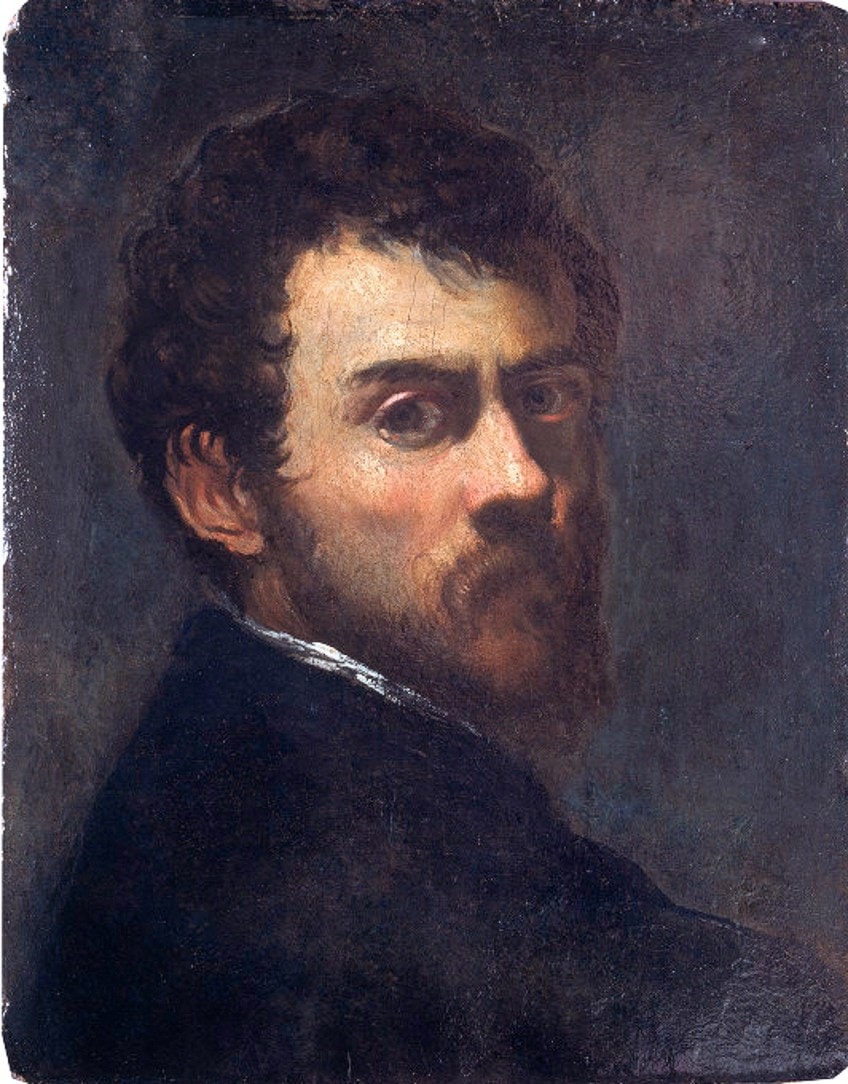 Self-portrait as a Young Man (c. 1548) by Tintoretto; Tintoretto, Public domain, via Wikimedia Commons
Titian was followed by a number of other Vecelli family painters. Francesco Vecellio, his eldest sibling, was exposed to art by Titian (at the age of 12, but chronology does not support this) and produced a portrait of the titular figure in the chapel of S. Vito in Cadore. This was a notable display, of which Titian (the typical tale goes) was envious; as a result, Francesco was sidetracked from art to military service, and then to commercial life.
Few of Titian's students and helpers were famous in their own right; for some, working as his helper was likely a lifetime job. At some time in their lives, Bonifazio Veronese and Paris Bordone worked as his aides. Titian, according to Giulio Clovio, used El Greco in his latter years. Titian's disciple or student is reported to have been Polidoro di Lanciano.
Others who followed him were Damiano Mazza, Gaspare Nervesa, and Natalino da Murano.
Titian's nephew, Marco Vecellio, also known as Marco di Tiziano, was born in 1545 and was continuously working with the teacher in his advanced age, learning his ways of painting. He has left several beautiful works in the ducal palace, such as the Meeting of Charles V. Fabrizio di Ettore, an artist who died in 1580, descended from a distinct line of the family. Cesare, his brother, also left some images. Another relation, Girolamo Dante, was a student and Titian's helper. Several of his paintings were cleaned up by the master and are hard to tell apart from the original versions.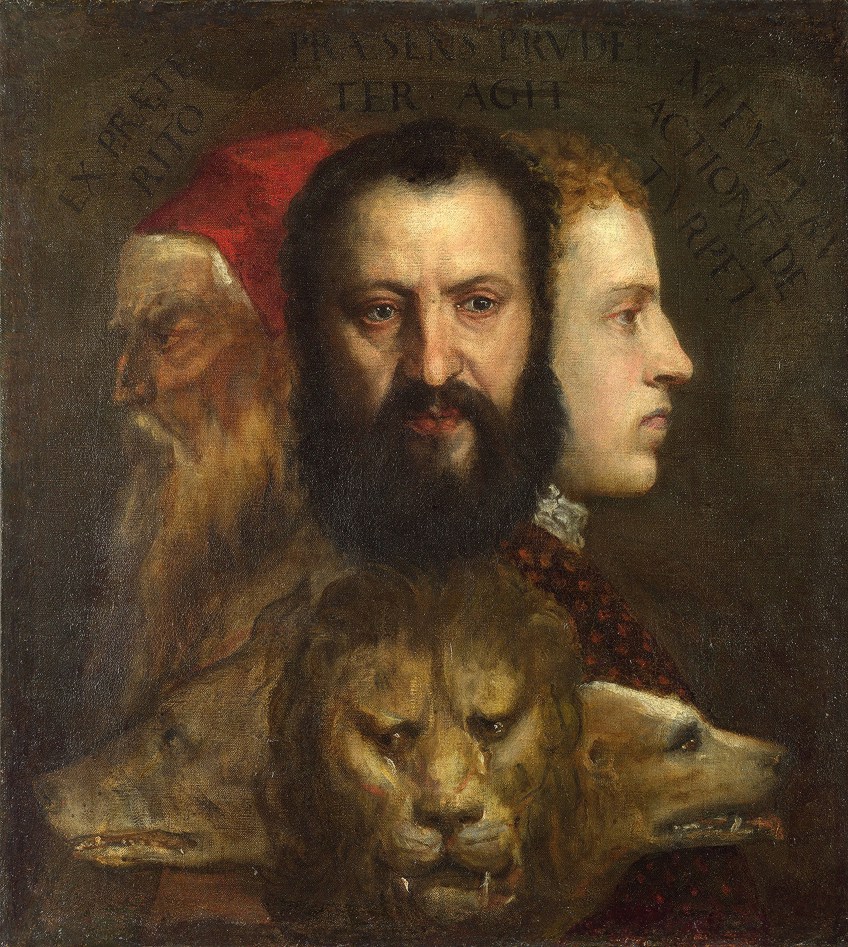 An Allegory of Prudence (c. 1550) by Titian, depicting three heads that allude to the three ages of man: youth, maturity, and old age. Pictured are Titian at old age (left), his son Orazio (middle), and his cousin and heir, Marco Vecellio (right); Titian, Public domain, via Wikimedia Commons
Further Reading
Titian the artist had a very interesting life. It is hard to fit everything about the artist into a single article. Sometimes one can find an article or subject so fascinating that it requires further examination and enjoyment. If you would like to read more about the artist, we can recommend the following books:
Late Titian and the Sensuality of Painting (2008) by Sylvia Ferino-Pagden
Historians have long discussed Titian's latter paintings' enigma. His palette is so evocative that one wonders if his works can be regarded as a visionary accomplishment or merely as incomplete works. Taking into consideration his cultural context and supplemented by research on Titian's sponsors and patrons as well as his colleagues (especially Tintoretto, and Jacopo Bassano), this edition provides conclusive answers to many issues while digging further into the brilliant master's career.
A volume with definitive answers to questions about Titian's life
Unravel the long-debated mystery of Titian's later works
With reference to Titian's cultural milieu and enriched by studies
View on Amazon
Titian: Sacred and Profane Love (2000) by Frederico Zeri
This hardback edition, published in 2000, examines Titian's key works and topics, along with an examination of "Sacred and profane love," as well as background on his lifestyle and cultural circumstances. The late author and respected art critic Federico Zeri's fascinating vigor and skill are cast effortlessly into the reach of even a novice. This series will be tremendously valuable for parents who want to teach their adolescent children about the world's finest works of art.
Examines the major paintings and themes of Titian
Includes an analysis of "Sacred and profane love"
Information about his life and cultural surroundings
View on Amazon
And that brings to a close our in-depth look at the life and art of Titian Tiziano Vecellio. The famous Venetian artist was renowned for being adept at many kinds of paintings, such as Titian's landscapes and mythological paintings such as Titian's "Venus of Urbino". The methods applied in Titian's art, especially his use of color, had a great impact on the artists of the late Renaissance period in Italy, as well as many generations of Western artists that followed.
Take a look at our Titian paintings webstory here!
Frequently Asked Questions
What Is Titian Known For?
Titian is well recognized for his masterful use of color. His artistic approach influenced artists far into the 17th century. Titian made significant contributions to all main fields of Italian renaissance art, creating altarpieces, portraiture, myths, and pastoral landscapes with humans. He was acknowledged as a very skilled artist early in his own career, and his renown has never dwindled through the ages. In 1590, the art historian Giovanni Lomazzo referred to him as "the sun among little stars not only among Italian artists but also among all artists of the globe."
What Work was Titian Known For?
Titian was a Venetian Painter during the Italian renaissance. He produced Assumption of the Virgin for the church's high altar, a masterpiece that helped Titian identify himself as one of the region's premier artists. He was well-known for his adept use of colors and beautiful portrayals of the human figure. He was also known for his series of Venus-themed artworks, such as Titian's Venus of Urbino.
Isabella studied at the University of Cape Town in South Africa and graduated with a Bachelor of Arts majoring in English Literature & Language and Psychology. Throughout her undergraduate years, she took Art History as an additional subject and absolutely loved it. Building on from her art history knowledge that began in high school, art has always been a particular area of fascination for her. From learning about artworks previously unknown to her, or sharpening her existing understanding of specific works, the ability to continue learning within this interesting sphere excites her greatly.
Her focal points of interest in art history encompass profiling specific artists and art movements, as it is these areas where she is able to really dig deep into the rich narrative of the art world. Additionally, she particularly enjoys exploring the different artistic styles of the 20th century, as well as the important impact that female artists have had on the development of art history.
Learn more about Isabella Meyer and the Art in Context Team.
Cite this Article