Early American Modernist painter John Marin is most well-known for his abstract watercolor landscapes. As one of the first American artists to explore abstraction techniques, Marin was a pioneer. Alongside Georgia O'Keefe, Marsden Hartley, and Arthur Dove, Marin was an integral pioneer of a new aesthetic model for painting in America. Although he only began to paint in his late thirties, Marin is one of the most well-known Modernist American painters.
A John Marin Biography: The Life and Times of an American Modernist
In 1870, John Marin was born in New Jersey's city of Rutherford. Following his mother's death only days after his birth, Marin went to live in Weehawken with his two aunts in his grandparents' house. Marin's aunts raised him for his entire childhood, and Marin would stay at this house for 30 years of his life. It took Marin a long time to figure out what he wanted to do with his life, but when he finally did, the world was very grateful for it.
Education: Struggling to Find his Path
Marin's father sent him to study business at the Stevens Institute of Technology, but this only lasted a year. Following this, Marin was an architect's apprentice, but he hated it. Knowing he wanted to study art, Marin's aunts pressured his father into letting him attend art school.
Marin finally began studying in Philadelphia at the Pennsylvania Academy of Fine Arts when he was already 29 years old. Marin studied alongside artists like William Merritt Chase, Hugh Henry Breckenridge, and Thomas Pollock Anshutz in Philadelphia. Marin also spent some time studying in New York at the Art Students League.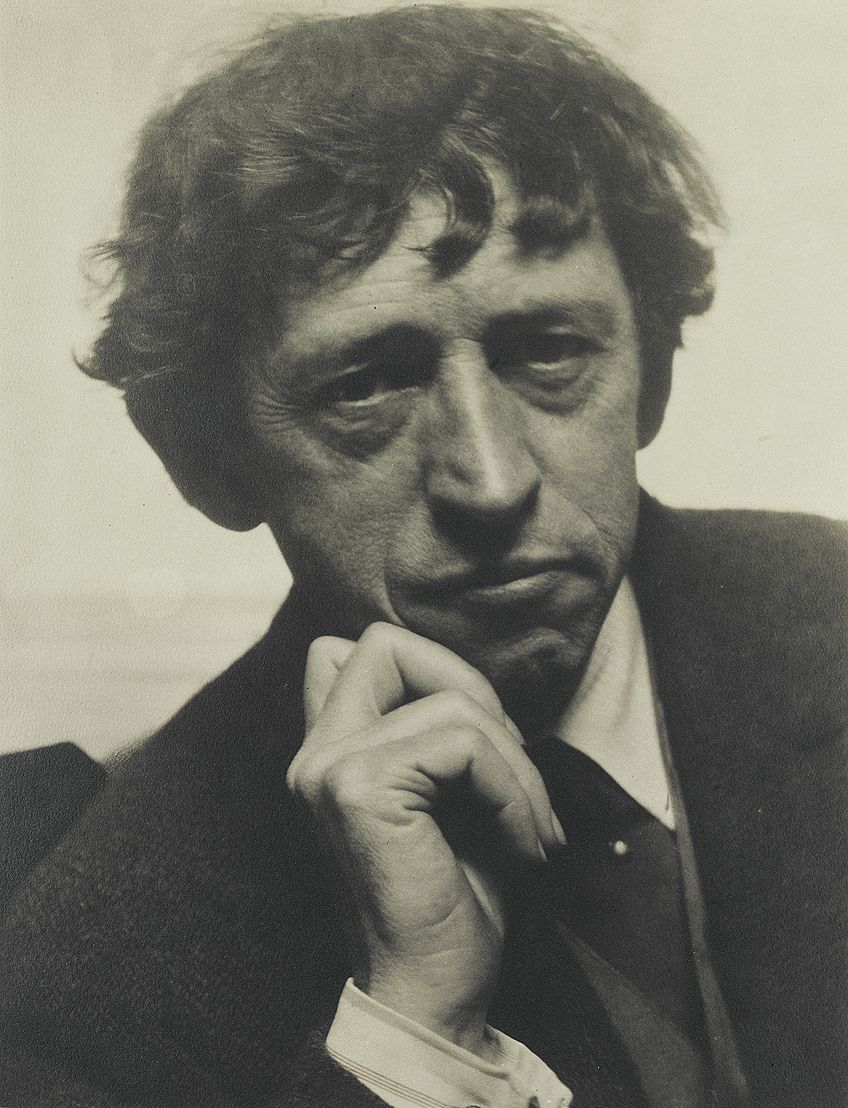 A photograph of John Marin in 1922; Alfred Stieglitz, Public domain, via Wikimedia Commons
Europe: The Beginning of Great Things for John Marin
Following his studies, Marin went to Europe, beginning with Paris in 1905. Many American artists were traveling to Europe to soak up the history and artistic culture. At the Salon in Paris, Marin had his first exhibition. Marin was also exposed to modern art for the first time here. For six years, Marin traveled throughout Europe, visiting Italy, Belgium, the Netherlands, and England.
It was during his time in Europe, exploring the styles and techniques of artists like Cezanne and Robert Delaunay, that Marin mastered his watercolor technique. With this technique, Marin could create an ambiance with almost pure abstraction. This abstraction featured a range of translucent to transparent colors, linear elements, a lot of opacities, and a unique sense of freedom.
Marin's distinctive watercolor style carries over into his other mediums.
While he was in Paris, Marin met photographer Edward Steichen, who was working for Arthur Stieglitz as an art scout. Stieglitz was married to Georgia O'Keefe and was the owner of a New York art gallery showcasing Avante-Garde art. After seeing examples of Marin's work, Stieglitz invited Marin to host his first solo exhibition at Gallery 291 in New York.
The association between Marin and Stieglitz would continue for almost 40 years. The financial and philosophical support that Stieglitz provided would prove essential for Marin. Stieglitz's galleries showed Marin's paintings almost every year until his death. Although many did not consider watercolors to be as substantial and important as oils, Stieglitz supported Marin's use of this medium. Marin was also honored to exhibit his paintings in the Armory Show in 1913, a landmark exhibition.
Returning to the United States: A Change of Scenery
Marin returned to America permanently in 1911 and began to focus on his painting thanks to a stipend from Stieglitz. Marin spent a lot of time painting in various locations throughout the United States, including New York, Maine, and New Mexico. In each of these locations, Marin created distinctive landscape paintings and drawings.
New York
When he first returned to America, Marin's first stop was New York City. First returning briefly in 1909 and then fully in 1911, Marin established himself as a Modernist artist on the cutting-edge. Marin's distinct style was a combination of the rich and spare watercolor techniques of Cezanne and elements of Orphic cubism and futurism. Marin's initial watercolors in this style are energetic and bold depictions of the Brooklyn Bridge and New York skyscrapers.
Starting in 1910, Marin created watercolor investigations of New York City, characterized by brilliant color and radically animated lines. Marin's highly expressionist New York watercolors remain some of the most iconic depictions of the city. These early watercolors are also valued contributions to the growing American Modernist movement.
Marin found great appeal in the vibrant energy and drama of the cityscape, and he manages to capture these feelings in his etchings and watercolors. During his time in New York, Marin also produced many sketches of buildings. His architectural training is clear in the accuracy of many of these sketches.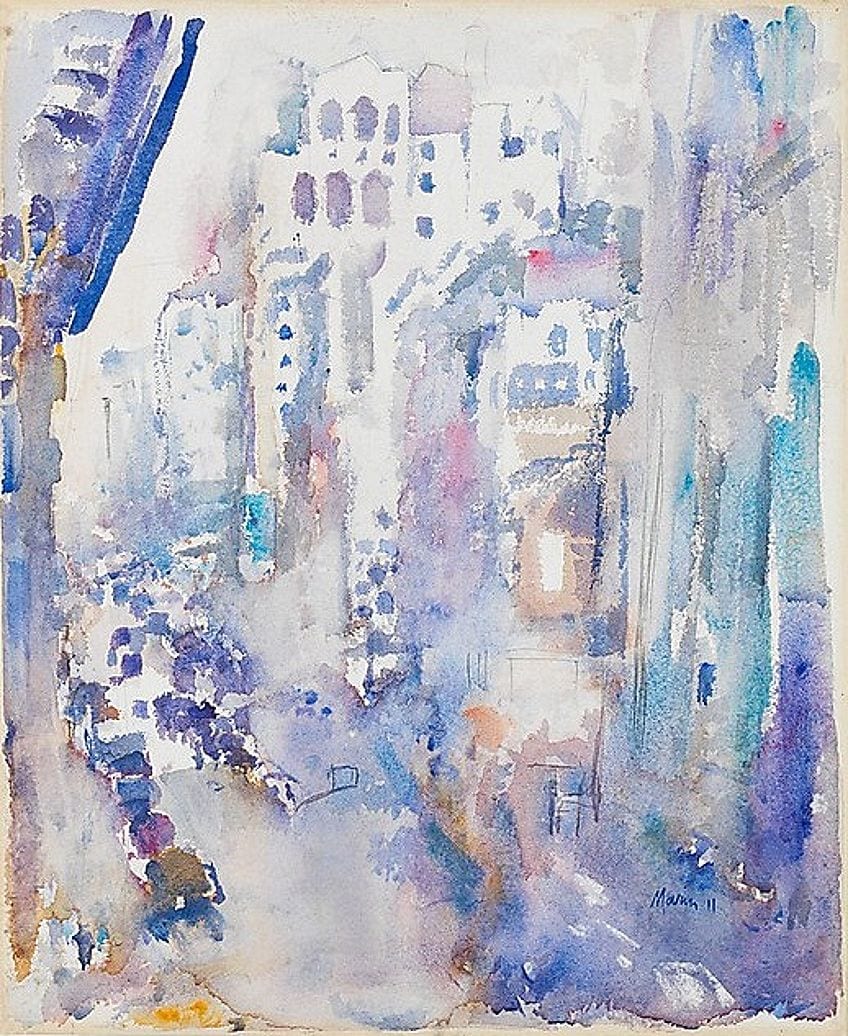 New York City from the Window of 29 Looking Down Fifth Avenue (1911) by John Marin; John Marin, Public domain, via Wikimedia Commons
Maine
In 1912, John Marin and Marie Hughes were married. Following the wedding, the pair settled down in Cliffside, New Jersey. During most of the year, Marin worked out of his studio in Cliffside. In 1914, Marin, his wife, and his son began to spend their summers in Maine. The rocky coastline captured Marin's heart. Throughout his life, Marin became increasingly familiar with the changing moods of the Maine sky and sea and these were by far two of his favorite subjects.
Marin was particularly adept at capturing the movement of the ocean in his watercolors. In a letter to an admirer in 1933, Marin said that he moves his hand in the same way that the ocean moves. Marin was particularly adept at capturing movement in the landscapes he paints.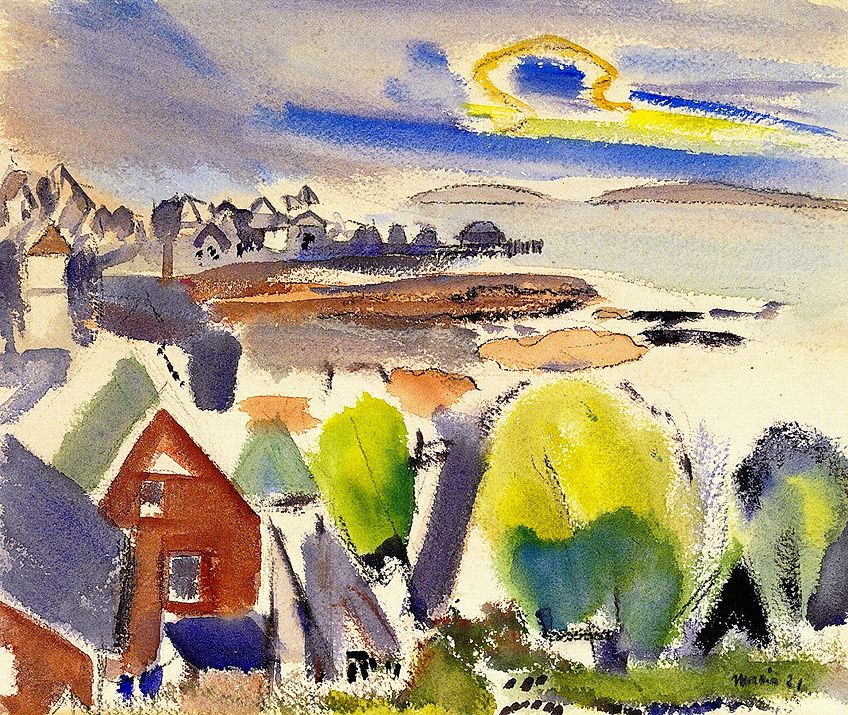 Stonington, Maine (1921) by John Marin; John Marin, Public domain, via Wikimedia Commons
New Mexico
While Marin spent most of his summer seasons in Maine, he spent the summers of 1929 and 1930 in New Mexico. Staying on land owned by Mabel Dodge Luhan in Taos, he found the looming mountains and vast empty prairie attractive and challenging. Marin found that the New Mexican landscape played into his love for geometric abstraction. The watercolors that Marin created in New Mexico range from overwhelmingly torrential to lyrical and tender.
Marin produced around 100 watercolors in these two summers alone. Shown at An American Place, one of Stieglitz's galleries, these watercolors were received with much acclaim. At the time, Marin stated that these watercolors were to be his last. He did begin to work more extensively with oil paints from 1930 onwards, but he never gave up on watercolors.
Reaching New Heights of Fame
At this point in his career, Marin was widely regarded as a prominent American Modernist artist. A retrospective exhibition in 1936 at the New York Museum of Modern Art displayed many of Marin's paintings. By the late 1940s, Marin's fame was at an all-time high. Another prominent retrospective exhibition was held at the Boston Institute of Modern Art in 1947. Another influential exhibition was held at the M. H. de Young Memorial Museum in 1949.
Following this exhibition, Marin was declared the number one American artist by Look magazine. Around the same time, the University of Maine and the Yale University both awarded Marin with an honorary doctorate of fine arts.
Death and Obscurity
Following the death of his wife and Stieglitz, Marin was deeply depressed. In 1953, John Marin passed away in his Maine summer house just before his 83rd birthday. Marin's son John Marin Jr. gave the many remaining works to the National Gallery of Art.
At the time of Marin's death, the art world's center stage was occupied by large-scale abstract expressionist oil paintings. Marin and his abstract watercolor paintings had faded into relative obscurity. Art critics offer a few explanations in hindsight.
The first is that the delicacy of the watercolor medium could not live up to the emerging large-scale action paintings. Secondly, Marin's work was primarily rooted in the natural world, while complete abstraction had grabbed the market. Finally, the fragility of the watercolor paint meant that many curators could not exhibit Marin's work permanently.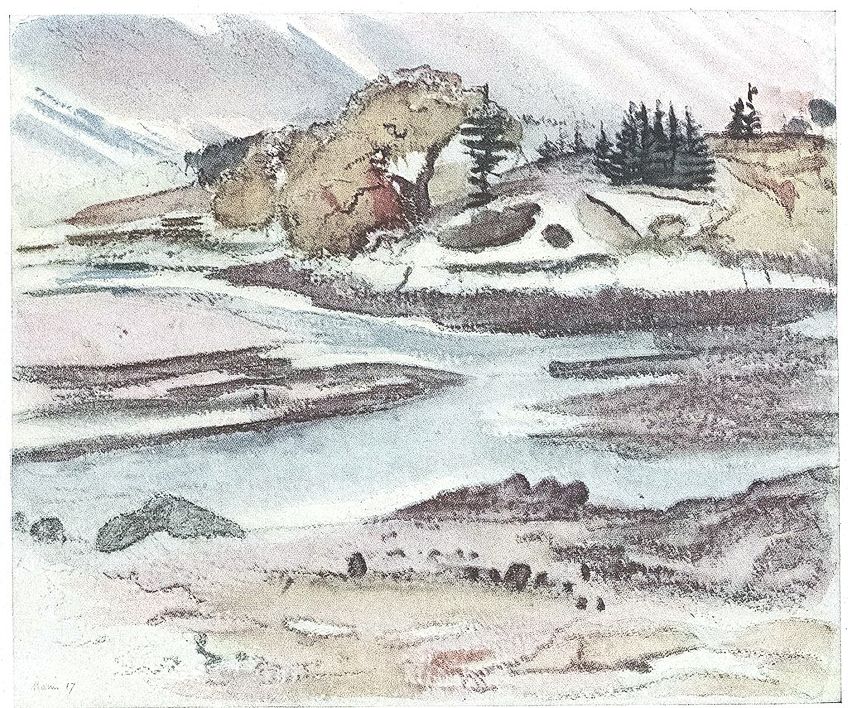 Marine Island, Small Point, Me. (1921) by John Marin; John Marin, Public domain, via Wikimedia Commons
The Works of John Marin, Painter of the Land
Throughout his life, John Marin created countless works in charcoal, watercolor, and oil paint. Like many others, we believe that John Marin artist extraordinaire should be celebrated for his pioneering style and technique. As we explore his different methods and mediums, we give you some of our favorite examples.
John Marin Watercolors
John Marin watercolors are celebrated throughout the world for their vibrancy. With his incredible command of the watercolor medium, Marin was able to capture the many emotions of the rocky Maine coastline and the power of the New York skyline with equal brilliance. Many John Marin watercolors capture the motion and force of the natural world. Although Marin's abstraction can make it hard to identify the objective reality of the subject, he never fails to capture the feeling of a place.
Movement is a central focus in Marin's watercolor paintings. From the bustling New York streets to the windy Maine coastline, Marin captures the world in motion. For Marin, the emphasis on movement represented the fast-paced progression of modern life at the beginning of the 20th century.  Marin felt uncomfortable with complete abstraction, although he experimented extensively with non-objective compositions. The gestural quality and energy of Marin's watercolors were influential for the Abstract Expressionists.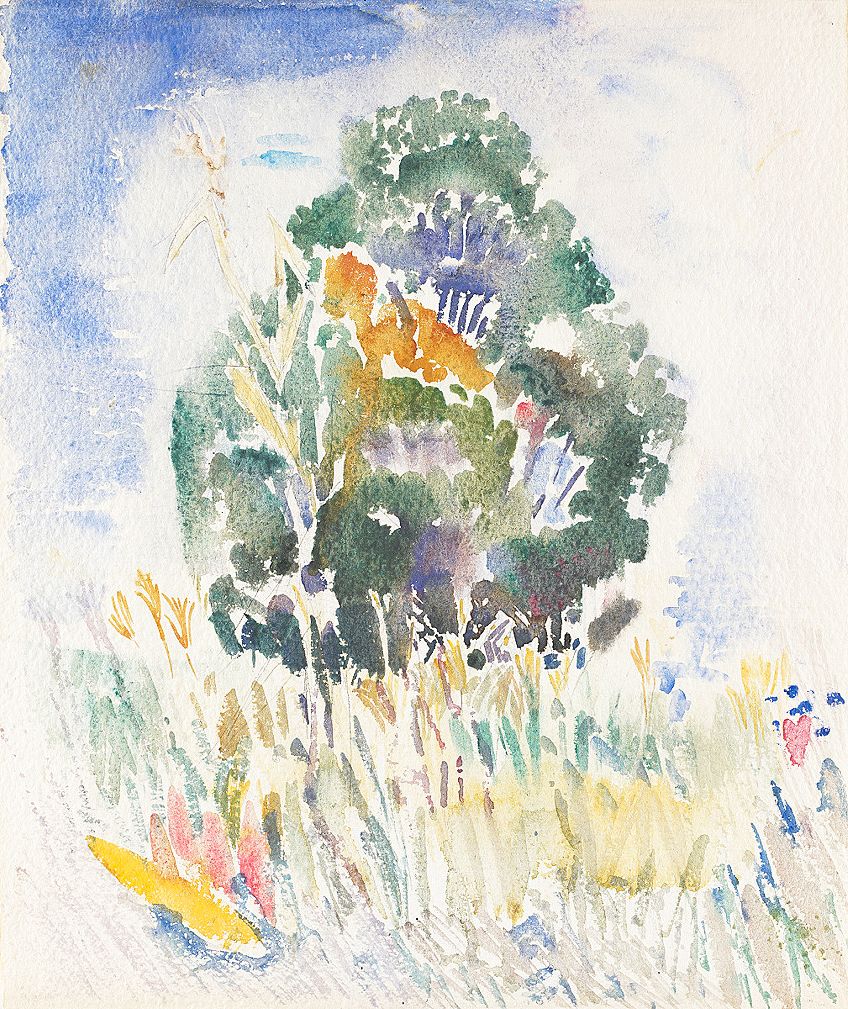 The Tree (1917) by John Marin; John Marin, Public domain, via Wikimedia Commons
The Pine Tree, Small Point, Maine (1926)
This painting, like many of Main's works, is a combination of watercolor, charcoal, and black pencil. Painted on woven paper, this work depicts a pine tree, rendered in bright and bold complementary colors. The use of blue and yellow give the painting the impression of sharp focus. This focus is emphasized further by the method of blotting and wiping away paint that Marin used to suggest the blurring of peripheral vision. This vivid painting represents the epitome of Marin's Maine studies.
Valley of the Hondo, New Mexico (1930)
Painted during his second summer in New Mexico, this watercolor painting with black crayon captures the deep Hondo valley. The sketch-like blocks of color in the dark blue sky give the appearance of a storm. The use of the same color scheme in the mountains on the skyline creates harmony between land and sky.
The whole painting is quite geometrical in its abstraction. Trees and fields are rendered with what appears to be a single stroke of a large flat brush. This painting is typical of Marin's distinct watercolor style. Although at the first glance, it may be tricky to see the composition, the atmosphere, and feeling of the place jumps off the paper.
The Blue Sea (1921)
A watercolor and charcoal piece was painted looking down the steep ledges of the Maine coastline. The painting seems rather chaotic. Painted with overlapping transparent washes and little blotting, rewetting, or reworking, this painting captures the ferocity and movement of the ocean perfectly. A hazy frame, created by painting clear water into the adjacent washes, surrounds the composition. A superimposed structure of forceful diagonal, vertical, and horizontal lines is painted in blue watercolor with a wide brush.
Many historians believe that Marin was perhaps painting on the top level of a dock or a railed porch, looking down onto the water.
John Marin Oil Paintings
For John Marin oil paintings only became part of his oeuvre towards the end of his career. Even when he began to use oil paint increasingly after 1930, John Marin oil paintings are not as plentiful as his watercolors. One of the most prominent features of John Marin oil paintings is the way he manages to use oil paints just like he uses watercolors. By dragging an almost dry brush across the canvas, Marin manages to achieve a transparent and light effect with heavy oil paints.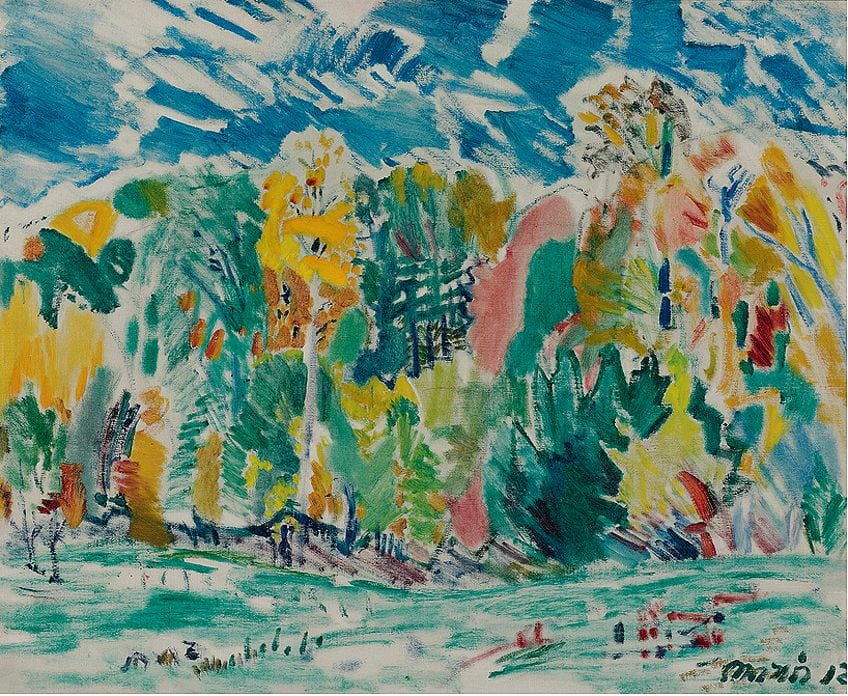 Castorland, New York (1913) by John Marin; John Marin, Public domain, via Wikimedia Commons
Tunk Mountains, Maine (1945)
You can tell immediately that this is a John Marin painting. The vivid colors and sharp distinct brushwork are distinctive. Although the appearance of this is similar to John Marin's watercolor landscapes, the paint is much more opaque. This painting is characteristically chaotic, you can feel the energy of the landscape. With a lot more abstraction than some of his earlier paintings, this piece is very non-objective in composition. Vivid reds contrast with the touches of green in the landscape and they immediately draw your eyes to the bottom of the painting.
John Marin Artist Drawings
Whether he was painting with watercolor or oils, or sketching with a charcoal pencil, John Marin captures the energy and movement of the world around him. In his early years in New York City, Marin sketched extensively. Although Marin's drawings have appeared in some exhibitions, many of them were simply informal sketches, part of his creative process.
It was on the bustling New York sidewalks, where he found the most joy in sketching. He created many of his urban drawings quickly while wandering the streets of the city. Many of these drawings are on cheap writing pads so that Marin could afford to buy them in bulk. Piles of these sketchbooks were kept in his studio and used as an artistic reference for later paintings.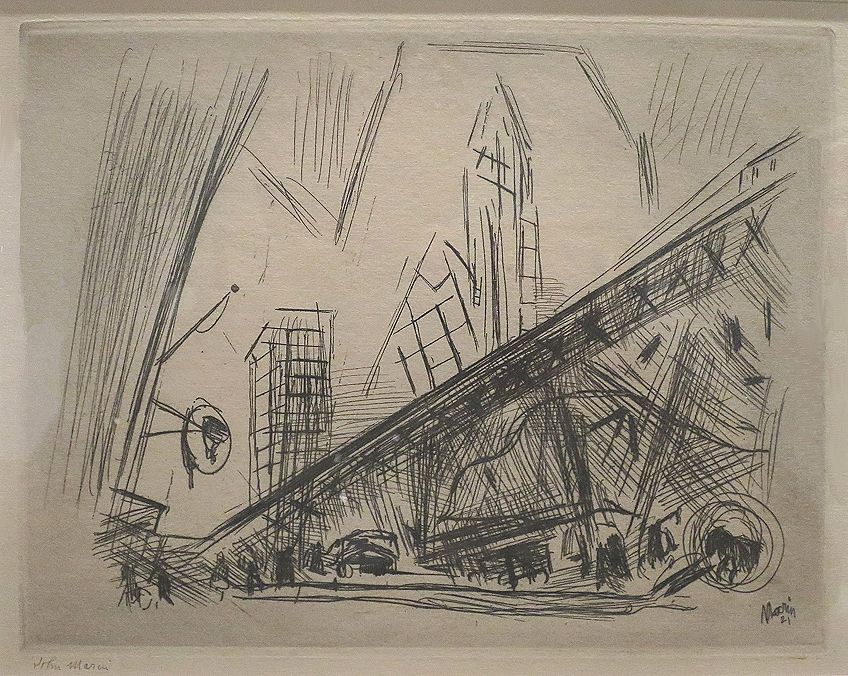 Downtown, the El (1921) by John Marin; John Marin, Public domain, via Wikimedia Commons
Brooklyn Bridge (Upright) (1911)
Marin drew this sketch shortly after returning to the United States from Europe. Finding the familiar Brooklyn Bridge surrounded by new skyscrapers, Marin began to favor it as a vantage point. From the Bridge, Marin was able to capture the ever-changing cityscape in drawings, etchings, and watercolors.
You can see Marin's architectural experience in this stunningly accurate charcoal drawing. The proportions are spot-on, despite the speed at which he likely created the piece. Despite the proportional accuracy, you can see Marin's distinct style seeping through. The sketching lines manage to capture the movement of the city as if it were growing in front of his eyes.
Suggested Further Reading: Becoming John Marin: Modernist at Work
If you have enjoyed learning about the life and artwork of John Marin, we encourage you to read further. This hardcover illustrated book by Ann Prentice Wagner follows Marin throughout his artistic career, from New York City to Maine and New Mexico. This wonderful book gives you a deeper insight into Marin's foundational drawings and how he became one of the most celebrated pioneers of American Abstract Modernism.
In this book, you are invited to peer over Marin's shoulder as he perfected his distinct style and techniques throughout his career. Take a deeper look into his watercolor process, from preparatory drawings to the final, stunningly vivid landscape scenes.
Book of essays and images focusing on Marin's art throughout his life
Exploring Marin's most famous subject matter and lesser-known works
An invitation for readers to look over this artist's shoulder through his art
View on Amazon
John Marin, painter of abstract landscapes, is without debate one of the most important artistic figures in the American art scene during the 20th century. With a commitment to capturing the feeling of the landscape around him, Marin was a pioneer of American Abstract Modernism and his techniques went on to inspire many American Expressionist artists.