Unité d'Habitation by Le Corbusier is French for "Housing Unit", which already speaks a great deal about what these buildings are all about. Yes, plural buildings. Unlike Le Corbusier's other projects, Unité d'Habitation was not a singular brief, but instead can rather be seen as a building typology created by Le Corbusier. The content of this article will touch on the different buildings where this building typology was made use of, with an especially in-depth discussion of the most popular of these buildings, which can be found in the south of Marseille, in France.
History of Unité d'Habitation by Le Corbusier
Unité d'Habitation architecture is a result of the housing shortages after World War II ended. The brief directed to Le Corbusier stated that he was to design and build a family housing project for the people of Marseille that were left homeless after the bombings that were a result of the war.
The 1600 residents that occupied the building were to have sufficient resources and amenities to be able to live, shop, entertain, be entertained, and interact with each other.
Le Corbusier made use of the term "vertical garden city" when pitching his idea for Unité d'Habitation. Instead of building horizontally, which most architects and town planners were inclined to do when it came to accommodating such a vast amount of people, Le Corbusier decided to build vertically, creating a modern high-rise building for living. Ideally, the goal was for the inhabitants to never have to leave the building.
About Le Corbusier
Born Charles-Edouard Jeanneret, in 1887 Le Corbusier was a Swiss-French writer, urban planner, painter, designer, and architect who was one of the founding fathers of modern architecture. He is known for his five points of architecture which included pilotis, free flowing facade, a roof terrace, a free plan, and ribbon windows.
Le Corbusier was dedicated to designing and providing sufficient living conditions for residents in overcrowded cities during the post-war period when housing shortages were at their worst.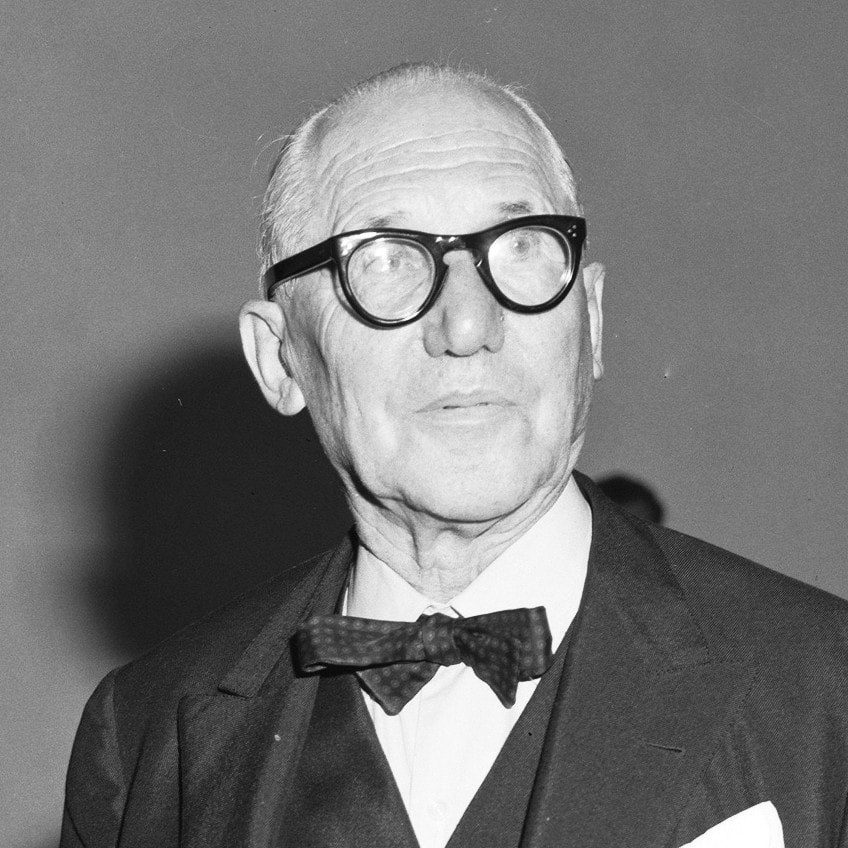 Photograph of architect Le Corbusier in 1964; Joop van Bilsen / Anefo, CC0, via Wikimedia Commons
Analysis of La Cite Radieuse
Architect
Year Built
Location
Architectural Style
Le Corbusier
(1887 – 1965)
1952
280 Bd Michelet, 13008 Marseille, France
Modernist/Brutalist
The La Cite Radieuse, in Marseille, was not only the first development that formed part of Unité d'Habitation but it is also considered the most successful example by far. The building was erected between 1947 and 1952 and named by Le Corbusier as the "La Cite Radieuse", which translates to "The Radiant City".
Le Corbusier collaborated with George Candilis and Shadrach Woods on the Marseille building which consists of a total of 337 apartments and spans over 12 stories.
The roof terrace of La Cité Radieuse in Marseille; Fred Romero from Paris, France, CC BY 2.0, via Wikimedia Commons
These apartments have a total of 23 different layouts. The entire building rests on large pilotis, which Le Corbusier was known for incorporating into the designs of his buildings. The interior of the Marseille building consists of the following services:
A restaurant named "Le Ventre de l'Architecte", which translates to "The Belly of the Architect";
A hotel that is accessible to the community;
Various educational amenities; and
An architectural bookstore.
The La Cite Radieuse has been claimed by UNESCO as a world heritage site because of its significance in the expansion of modern architecture throughout Europe. The French Ministry of Culture also designated the building as a historical monument.
In 2012, a fire broke out in the building, which was a result of a heating problem. It took hundreds of firefighters about a day and a half to put out the fire.
Unfortunately, the damage caused by the fire to the building proved to be quite severe: Four hotel rooms were destroyed together with eight residential units. As many as 35 Residential units were left severely damaged.
Unité d'Habitation Architecture
The Unité d'Habitation by Le Corbusier sits in the middle of a park and rises 184 feet to the top, stretches 542 feet sideways, and is 79 feet wide. The Unité d'Habitation architecture consists of two main elevations that rise far above the treetops and face east and west.
Designing a vertical living structure for 1600 inhabitants created a great need for planning and reinforcement of the building.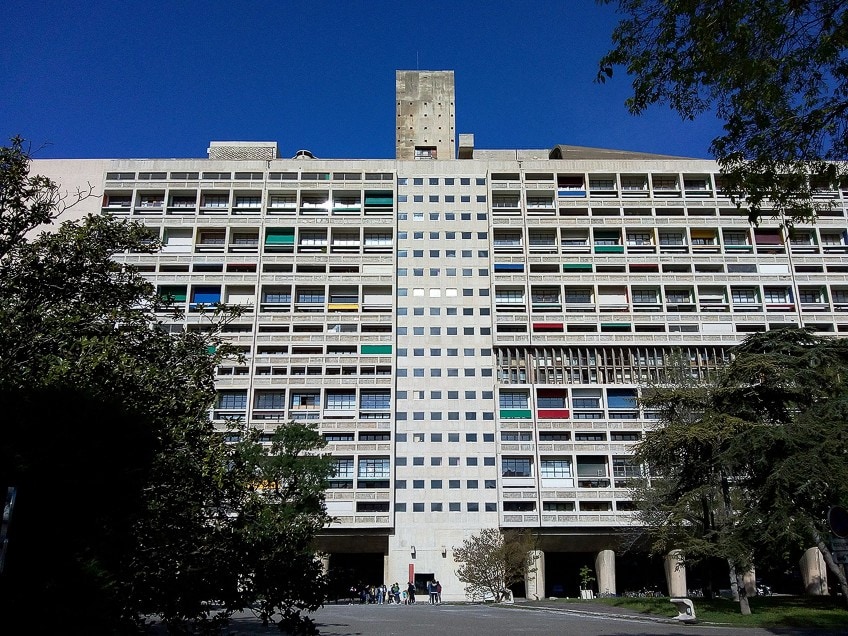 East elevation of the Unité d'Habitation by Le Corbusier; Iantomferry, CC BY-SA 4.0, via Wikimedia Commons
Taking into consideration the mental health of the occupants, Le Corbusier made sure to design most of the communal facilities on the rooftop of the building, ensuring fresh air and community interaction at various points throughout their day. The following spaces were incorporated into the garden roof terrace of the building:
Running track
Kindergarten
Splash pool
Gymnasium
A club
Nursery
On the roof itself, other amenities were incorporated into various enclosures such as the medical facilities, shops, and a small hotel that is open to the public. The grid on which the facades were designed was developed by referencing Le Corbusier's Modular Man.
This was a concept that took the ergonomics of a six-foot-tall human figure into consideration in combination with the golden ratio.
The Exterior of Unité d'Habitation
When first gazing at the finishing of the exterior of the Unité d'Habitation by Le Corbusier, it is evident that Le Corbusier's signature white façade is missing. Instead, we are faced with a building that was constructed from Beton brut concrete that must have been heavily reinforced. Beton brut concrete is a rough cast concrete that has visible marks of the wooden molds that were used to form the concrete.
This material became popular to use for buildings during the Brutalist period.
There are two speculations for the use of exposed Beton brut in the place of white plastered walls. The first speculation is a literal interpretation, through the realization that Beton brut was simply the most cost-effective option during post-war Europe. The second speculation is that of a more figurative nature, which considers that Le Corbusier might have wanted to emphasize the harsh nature of post-war living.
Exterior of the Unité d'Habitation by Le Corbusier; Velvet, CC BY-SA 4.0, via Wikimedia Commons
Aside from the different choices in exterior finishes, Le Corbusier still made use of his five points of architecture. We see this through the addition of pilotis which support the massive vertical build, the rooftop garden, and the emphasis on horizontality through the use of the patio on the facade, even though the building is more vertically oriented. Looking at the elevations, the deep-set windows make it clear that each unit has its own balcony.
The side walls enclosing the balconies were each painted with very pigmented colors such as yellow, blue, red, and green, which is also a characteristic that Le Corbusier made use of in most of his buildings.
For this specific building typology, Le Corbusier collaborated with Nadir Afonso, who was a Portuguese abstract architect-painter. Another characteristic, closely related to most of Le Corbusier's work, is the reference to a steamship, which can be seen when referring to the smaller shapes that he made use of on the rooftop. Le Corbusier was fascinated by the design of steamships his entire life, and by incorporating it into his buildings, he also referenced the modern Machine age.
The Interior of Unité d'Habitation
The spatial layout of the residential units in the Unité d'Habitation building is one of the most interesting aspects. Instead of having a corridor on every floor with units spanning on either side of the corridors, Le Corbusier designed the top part of each duplex unit to span entirely from one side of the building to the other, while having double-volume living spaces.
This concept reduces the number of corridors that would have been required to one corridor on every three floors.
A full-size model of a salon and terrace of the Unité d'Habitation by Le Corbusier; SiefkinDR, CC BY-SA 4.0, via Wikimedia Commons
With traditional design typologies, a corridor would have been required on every floor. In total there are only eight corridors throughout the entire building. Each corridor is connected to a battery of four elevators, as well as a service elevator and three staircases which were only to be used in the case of emergencies.
There are 23 different types of living units in the building and each of these units varies from small bachelor residences to large family-oriented units. Each unit has at least one balcony.
Each kitchen is fitted with an electric cooker, rubbish chute, storage racks, and a refrigerator. Sufficient ventilation and air conditioning systems were installed throughout each unit in the kitchens and bathrooms.
Unité d'Habitation Today
Today the Unité d'Habitation by Le Corbusier is still used mostly to inhabit people. 900 people currently occupy the building. The main difference being the hostel, where residents invited guests to stay over, has now been converted into a hotel.
Most of the shops have been replaced with more consultation-related practices such as architects and medical physicians.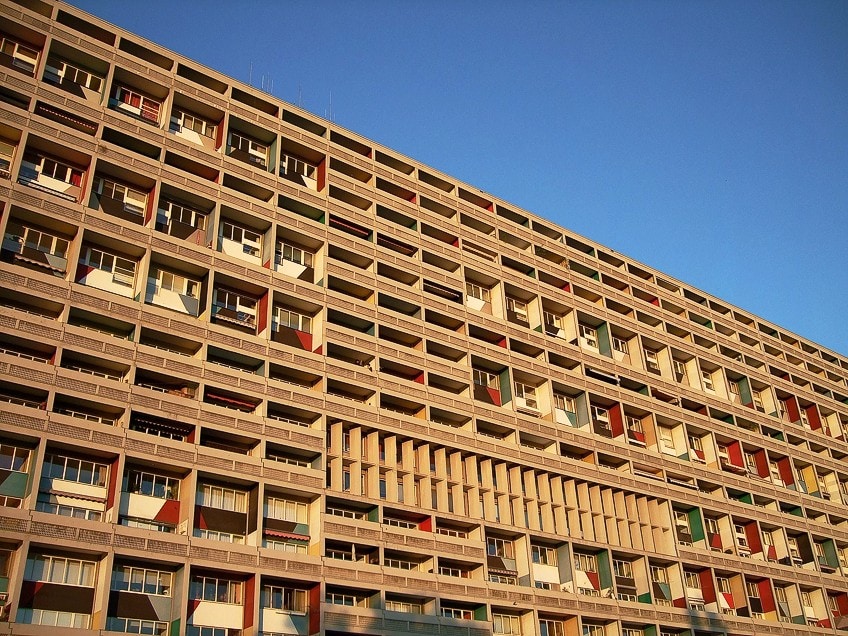 Le Corbusier's Unité d'Habitation in Berlin, Germany; David Pachali, CC BY-SA 3.0, via Wikimedia Commons
The Unité d'Habitation by Le Corbusier is by far one of his most successful projects. His unique response to the brief with the space-saving interlocking system that he used has been used as a reference for the design of public housing all over the world. Aside from the functionality, the clear symbolism in respect to the war, integrated with his five-point architectural points, results in a feast for the eyes, especially at such a magnificent scale. Once again, Le Corbusier stayed true to his philosophy: a house is a machine for living, and once again it paid off.
Frequently Asked Questions
Is Unité d'Habitation Still Standing?
The Unité d'Habitation by Le Corbusier not only still stands, but it is still being used as Le Corbusier intended for it to be used. 900 people currently occupy the building. It was the first building of the Unité d'Habitation architecture typology to be built and is also the last standing one.
How Many Unité d'Habitation Buildings Are There?
There are five Unité d'Habitation buildings in total.
What Is the Purpose of Unité d'Habitation?
The purpose of the Unité d'Habitation by Le Corbusier concept was to create communal living buildings as an answer to the post-war housing shortages. The buildings were to supply the residents with sufficient spaces for living, shopping, playing, and coming together.
Kylie Deyzel is an interior designer and sustainability enthusiast from Cape Town, South Africa. She has a passion for writing and educating others on various interior design topics. Her favorite interior design topics include interior design theory, interior design history, and most of all: sustainable interior design.
She received her B-tech degree in interior design from the University of Johannesburg in 2018 and has worked at various interior design firms since and had a few of her own freelance interior design clients under her company name binnekant.
Learn more about the Art in Context Team.