"Don Quixote" by Pablo Picasso – A Detailed Painting Analysis
Think of a world of possibilities that seem to veer on insanity. This is exactly what the tale of Don Quixote, the knight in question, is all about. This was also the inspiration behind one of Pablo Picasso's famous drawings, titled Don Quixote (1955). Read more about the work in the Don Quixote analysis below.
Artist Abstract: Who Was Pablo Picasso?
Pablo Ruiz Picasso was born in Málaga in Spain on October 25, 1881, and died in Mougins in France on April 8, 1973. He was widely known for his pioneering work as a Cubist, but his style was ever-changing throughout his art career, including several "periods", namely his Blue Period, Rose Period, African Art/Primitivism, Cubism, which included Analytic and Synthetic Cubism, Neoclassicism, Surrealism, and the War period. His artworks often explored human nature, and socio-political issues, and ranged between themes from poverty, and portraits, to playfulness. He was proficient as a painter, printmaker, sculptor, collage maestro, and theatre designer. Examples include The Old Guitarist (1903), Portrait of Gertrude Stein (1906), Les Demoiselles d'Avignon (1907), and Guernica (1937).
Pablo Picasso (1962) Revista Vea y Lea; Argentina. Revista Vea y Lea, Public domain, via Wikimedia Commons
Don Quixote (1955) by Pablo Picasso in Context
In the article below you will read more about the drawing Don Quixote by Pablo Picasso and its dubious origins. This will include a discussion of what the subject matter consists of, which will be described through a formal analysis with a mention of the elements of art.
| | |
| --- | --- |
| Artist | Pablo Ruiz Picasso |
| Date Painted | 1955 |
| Medium | Ink and paper |
| Genre | Drawing |
| Period/Movement | N/A |
| Dimensions (cm) | 65 x 60 (measurements according to the Musée d'Art et d'Histoire in Saint-Denis. 43 x 35 (measurements according to the Musée Picasso in Paris) |
| Series/Versions | N/A |
| Where Is It Housed? | Part of a private collection/Believed to be at the Musée d'Art et d'Histoire in Saint-Denis, Paris, France |
| What It Is Worth | Uncertain |
Contextual Analysis: A Brief Socio-Historical Overview
The ink drawing titled Don Quixote by Pablo Picasso, which was created in 1955 is based on the adventures and misadventures of the characters in the Spanish novel by Miguel de Cervantes titled Don Quixote.
This was published in two parts, namely part one in 1605 and part two in 1615.
What Is the Novel Don Quixote About?
The tale is about the main character, described as an "anti-hero", and around 50 years old, Alonso Quixano. He was inspired to be a knight after immersing himself in and reading about knights in numerous stories. The romance and allure of it caused him to set out on a journey to be a knight errant, and he changed his identity, naming himself Don Quixote de la Mancha.
He traveled with his horse Rocinante and carried his weapons, reportedly his lance and sword, seeking opportunities where he could help others, or save them, as a true knight would. He eventually met Sancho Panza who became his squire, or companion, on the journeys, although Panza rode on his donkey named Dapple.
The Ingenious Gentleman Don Quixote de La Mancha (1615) by Miguel de Cervantes; Miguel de Cervantes, Public domain, via Wikimedia Commons
Quixote also had a romantic interest in the peasant girl Aldonza Lorenzo who became known as Dulcinea del Toboso. However, she did not know about this love interest and did not appear in the novel but was alluded to.
Quixote's somewhat perilous imagination led the two companions on various (mis) adventures that often left them worse for wear. The novel brings to light the main character's mental instabilities and fantasies while his squire, Sancho, has been described as more realistic than his traveling counterpart.
The novel Don Quixote has been described as one of the first "modern novels" and explores themes around chivalry, heroism, ideas of reality versus fantasy, madness versus sanity, morality, and more.
The Dubious Origins of Picasso's Don Quixote
There are several theories about when the original Don Quixote by Pablo Picasso was made. One theory has postulated that Picasso made the Don Quixote painting in March 1947 for a pilot who helped him transport goods to Picasso's mother during the Spanish Civil War, which was a thank-you gift.
Pablo Picasso in his Montmartre studio (1908) by Franck Gelett Burgess; Franck Gelett Burgess, Public domain, via Wikimedia Commons
However, the pilot reportedly sought to sell his Don Quixote painting several years after Picasso's death, but his efforts were rejected on the grounds that his version was fake. After the pilot's death, it was reportedly authenticated by scientific tests, but the validity of its originality is still in question. This leads to the Don Quixote drawing from 1955, and the version discussed in the formal analysis below.
It was an ink drawing created for the cover of the French magazine Les Lettres Françaises (1941 – 1972), notably the August edition of 1955, to celebrate Miguel de Cervantes' novel's 350th anniversary.
Formal Analysis: A Brief Compositional Overview
The formal analysis will explore the Don Quixote by Pablo Picasso in further detail by discussing and describing the subject matter and answering questions like, what exactly is the drawing composed of? It will then discuss the art elements and how they are the compositional elements of the artwork.
Subject Matter: Visual Description
The Don Quixote drawing by Pablo Picasso depicts four central figures sitting and standing in the foreground, namely the characters Don Quixote, to the right, who sits on his horse named Rocinante, and Sancho Panza, to the left, who sits on his donkey named Dapple.
Don Quixote is the largest figure and appears to be in profile view, which is from the side. He is depicted as thin and sits on his equally thin and tall horse. Both are towering over their counterparts Sancho Panza and his donkey. He is either looking ahead of him or down towards Sancho Panza.
Quixote appears to be holding a round shield in his left hand, along with his horse's reins that are taught as he holds them.
In his right hand is a long lance towering just above his head. On his head is a helmet, believed to be a Mambrino's helmet, and he has a long thin beard/goatee. Sancho Panza appears to be gazing up towards Quixote and his donkey's head is drooped, looking at the ground. Both are considerably shorter and rounder than Quixote and his horse and appear to be in a frontal view.
All four figures, human and animal, are standing on what appears to be a hilly ground. The distant landscape in the lower portion of the composition depicts four structures that appear to be windmills. One is closer to the two figures and three are placed along the horizon line further into the distance.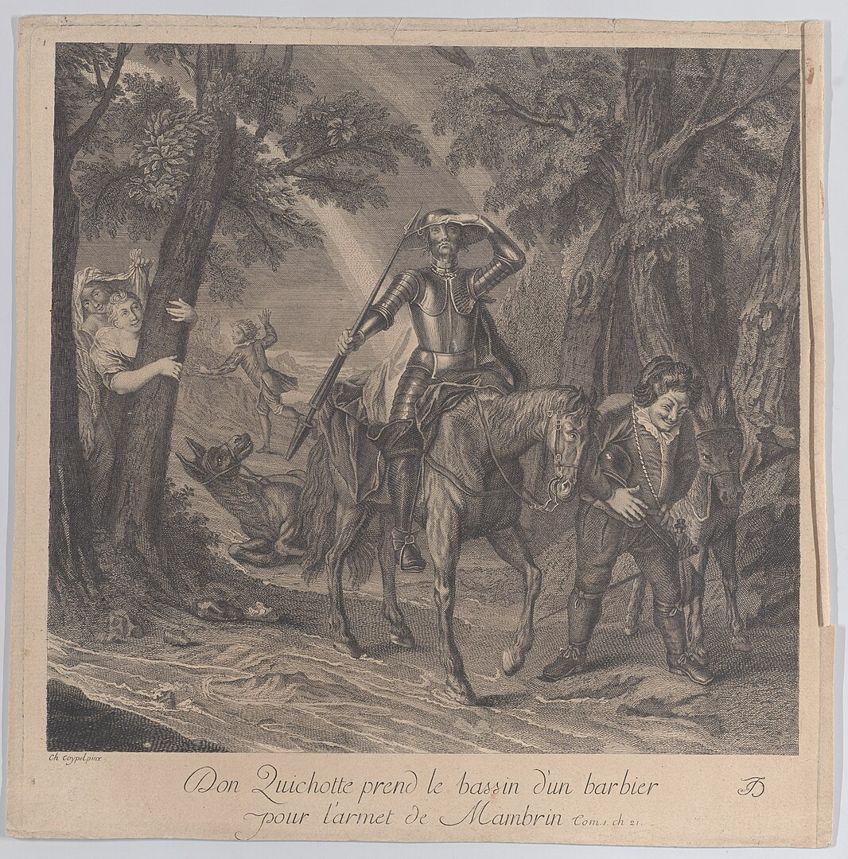 Don Quixote on horseback with a barber's bowl on his head as a hat (1724) by Louis Surugue; Louis Surugue, CC0, via Wikimedia Commons
The rest of the background depicts a shining sun in the top left corner, and with no other objects in the middle and upper portions of the background, which is also completely white, it is assumed that it is the vast expanse of sky.
Windmills and Giants
An interesting point to note, in Chapter Eight of Don Quixote, Quixote and Panza found themselves in a "plain" where there were around 30 windmills. To Quixote's astonishment, the windmills were giants, and to Panza's realism, the windmills were just windmills.
But Quixote proceeded to kill the giants atop Rocinante and bravely started attacking them, however, his lance was caught in one of the windmill's sails and broke while Quixote fell off his horse.
In the Don Quixote drawing by Pablo Picasso, several windmills are evident in the background, which provides us with a clue as to what scene from the novel the artist depicted.
Texture
The texture in Don Quixote by Pablo Picasso is evident in the medium the artist utilized, which consists of black areas of ink. These also imply the texture of the surroundings through the patterns of black squiggles of line in a seemingly rushed and rudimentary manner, for example, the grass and ground on the hill in the foreground or the emanating lines around the sun to imply its light and shining nature.
Color
The color scheme in Don Quixote by Pablo Picasso is minimalistic and only in black and white. The subject matter, the figures, and the objects are black, and the rest of the space is white.
Shape and Form
There are irregular shapes and forms in Pablo Picasso's Don Quixote drawing, which can be due to the expressive and free-flowing application of how the artist applied the ink. Geometric shapes are also evident, for example, the circle for the sun, the somewhat oval shape of Quixote's shield, and the rectangle of the windmill's structure closer to the foreground.
Line
Don Quixote by Pablo Picasso consists of a variety of lines that create the subject matter. The lines appear almost squiggly as they delineate the figures and objects around them, as a sketch would appear. Furthermore, these create a sense of movement and dynamism in the subject matter. Some of the lines are long, short, curved, angled, and mainly thick in size; the sun's rays and lance appear somewhat thinner in size. There is a verticality created by the tallness of Quixote's horse's legs, which are also echoed by the long lance.
The horizon line in the distance creates a contrasting horizontal line, however, it does not appear to overpower the figures in the foreground.
Space
Picasso created a sense of depth in his Don Quixote drawing, through overlapping his subject matter and varying the sizes and scale. For example, the windmills in the distance appear smaller and less defined compared to the windmill in the near foreground, which is larger and clearly defined in its shape.
Imagine That!
While Pablo Picasso was well-known for his contributions to the Cubism art movement, his multi-faceted style should not be overlooked, which is what his sketch Don Quixote reminds us of. It has often been described as wholly different from his other artistic styles throughout his art career.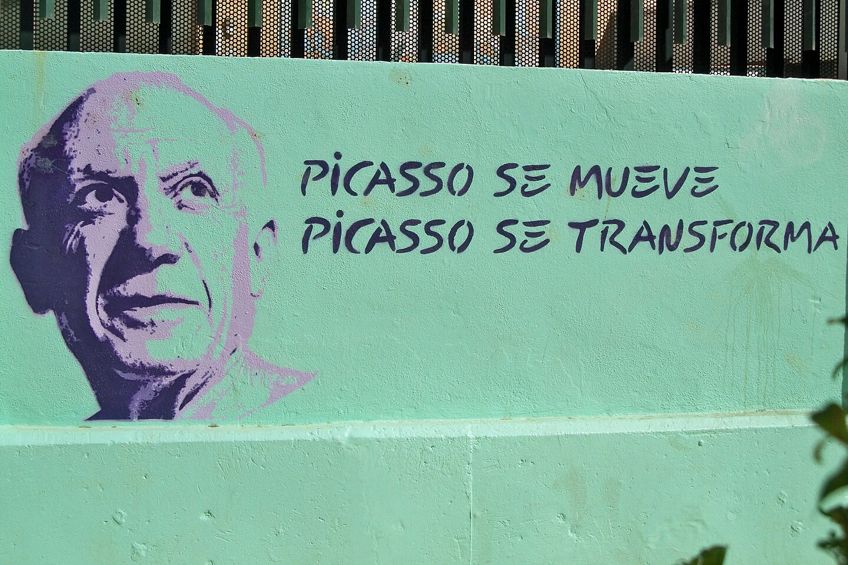 Mural in Pablo Picasso High School (2023); Daniel Capilla, CC BY-SA 4.0, via Wikimedia Commons
The Don Quixote analysis explored the imagination of this knightly character as told through Picasso's hand. It also briefly touched on the often-questioned validity of this artwork's origins, which holds a rich history in and of itself, and is one that is worth delving into.
Frequently Asked Questions
Who Made the Don Quixote Drawing?
The Spanish artist, Pablo Ruiz Picasso, drew Don Quixote (1955) as an ink-on-paper artwork. It is reportedly part of a private collection, although the exact details of its provenance are unclear. Some sources state that the original drawing from 1955 is also said to be held at the Musée d'Art et d'Histoire in Saint-Denis, Paris, France.
Why Did Pablo Picasso Draw Don Quixote?
The ink-on-paper drawing titled Don Quixote (1955) by Pablo Picasso was created to celebrate the fiction novel, Don Quixote (Part One in 1605 and Part Two in 1615), by Miguel de Cervantes. It was on the cover for one of the editions of the magazine titled Les Lettres Françaises (1941 – 1972) that celebrated the novel's 350th anniversary.
Who Was Don Quixote?
Don Quixote de la Mancha was the main protagonist of the novel by the Spanish writer, Miguel de Cervantes, titled Don Quixote (Part One in 1605 and Part Two in 1615). The novel was about the adventures of a striving knight, Don Quixote, and his squire, Sancho Panza.
Alicia du Plessis is a multidisciplinary writer. She completed her Bachelor of Arts degree, majoring in Art History and Classical Civilization, as well as two Honors, namely, in Art History and Education and Development, at the University of KwaZulu-Natal, South Africa. For her main Honors project in Art History, she explored perceptions of the San Bushmen's identity and the concept of the "Other". She has also looked at the use of photography in art and how it has been used to portray people's lives.
Alicia's other areas of interest in Art History include the process of writing about Art History and how to analyze paintings. Some of her favorite art movements include Impressionism and German Expressionism. She is yet to complete her Masters in Art History (she would like to do this abroad in Europe) having given it some time to first develop more professional experience with the interest to one day lecture it too.
Alicia has been working for artincontext.com since 2021 as an author and art history expert. She has specialized in painting analysis and is covering most of our painting analysis.
Learn more about Alicia du Plessis and the Art in Context Team.
Cite this Article