Amedeo Modigliani the artist was an Italian sculptor and painter who spent most of his career working in France. Modigliani's portraits were distinguished by a bizarre extension of the subjects' features, necks, and bodies. While Modigliani's paintings are a large part of his work, it was Modigliani's sculptures that would be his main focus from 1909 until 1914. Modigliani had limited recognition while living, however, after his passing, he became extremely popular.
An Introduction to Amedeo Modigliani the Artist
Modigliani updated two of art history's most lasting narratives: portraiture and the naked figure. Modigliani's portraits are both particular and intensely exaggerated, each uniquely reflecting its sitter's inner existence, with a feeling of sadness, exaggerated proportions, and mask-like faces inspired by influences such as African art and Constantin Brancusi.
But where is Amedeo Modigliani from and what is his story?
The Early Life of Amedeo Modigliani
Modigliani was born in Livorno, Italy, into a Jewish family. Livorno, a port city, has long acted as a haven for individuals oppressed for their faith, and it was host to a sizable Jewish population. His ancestors came to Livorno as fugitives in the 18th century. Eugénie Garsin, Modigliani's mother hailed from an educated, academic family that had resided along the Coastline of the Mediterranean for centuries. Her forebears were Talmudic scholars who were proficient in several languages and built a Talmudic institution.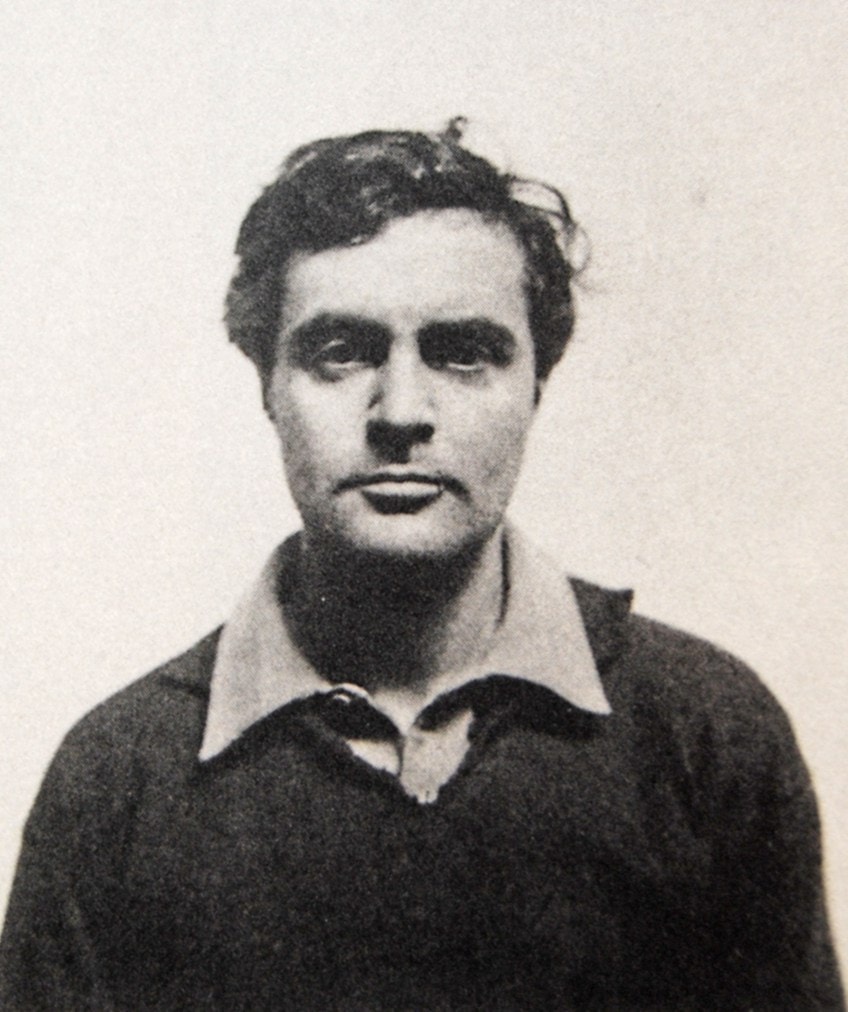 A photo of Amedeo Modigliani made for identification in Nice, dated 1918; Unknown author Unknown author, Public domain, via Wikimedia Commons
According to family lore, the family ancestry may be traced back to the Dutch scholar, Baruch Spinoza. Although their wealth waxed and waned, the family firm was a credit bureau with offices in Tunis, London, Marseille, and Livorno. Flaminio Modigliani, Amedeo Modigliani's father, was born into an Italian Jewish family of prominent traders and businessmen. While they were not as socially adept as the Garsin's, they understood how to reinvest in and establish successful commercial ventures.
Flaminio was a rich youthful mining technician when the two families declared their children's engagement. He was in charge of the mine in Sardinia as well as the family's large forest. In 1883, the family's fortunes were turned upside down. The Modigliani family was forced to declare bankruptcy due to a drop in metal prices. Modigliani's mother, ever enterprising, utilized her societal ties to start an academy, which she and her two sisters turned into a lucrative business. Amedeo Modigliani was to be the fourth child born to the couple, and his birth corresponded with his father's commercial interests' tragic financial downfall.
The arrival of Amedeo rescued the family from bankruptcy; lenders could not confiscate the bedding of a pregnant lady or a mother with an infant, as per old custom.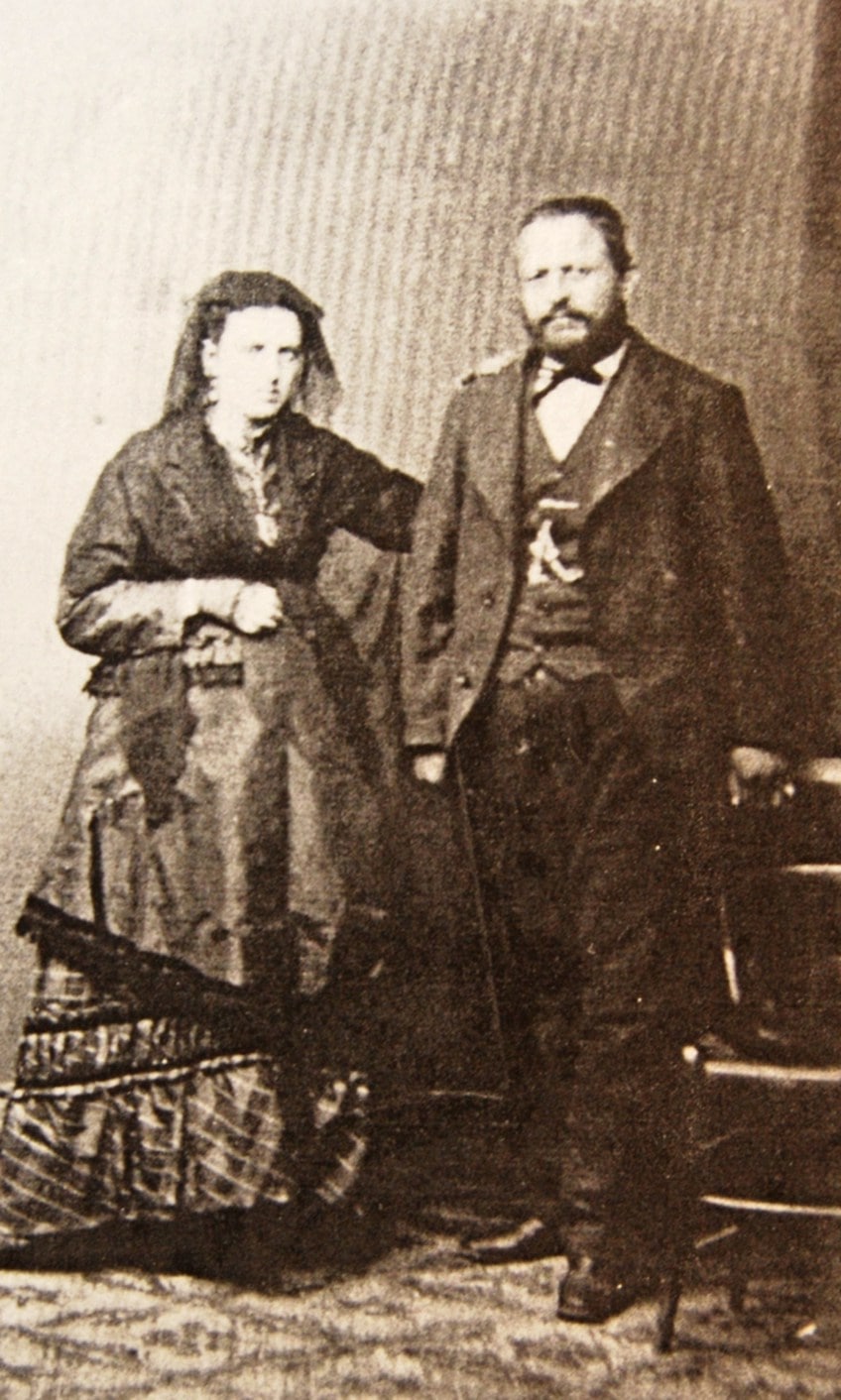 Eugene Garsin and Flaminio Modigliani, parents of Amedeo Modigliani, c. 1884; Unknown author Unknown author, Public domain, via Wikimedia Commons
The debt collectors broke into the family's house just as Eugénie went into labor; the family defended their most precious items by heaping them atop of her. Modigliani was close to his mother, who schooled him from home until he was 10 years old. After suffering from pleurisy when he was around 11 years old, he acquired typhoid fever just a couple of years later. When he was 16, he became poorly again and developed TB, which ultimately took his life. His mother took him on a trip to southern Italy when he recuperated from the second attack of pleurisy. In many respects, his mother was essential in his capacity to explore artwork as a career.
She had written in her notebook when he was 11 years old: "I can't express what I think of the boy's temperament since it's still so nascent. He acts like a pampered child, but he is not stupid. We'll have to wait to find out what's within this cocoon. Maybe an artist?"
Amedeo Modigliani's Years as an Art Student
Modigliani's drawings began at a young age, and he considered himself an artist, according to his mother, even before completing official studies. Despite her concerns that enrolling him in an art program might interfere with his other academics, his mother supported Amedeo Modigliani's paintings and his desire to learn more about the art form.
While afflicted with typhoid disease at the age of fourteen, he raged in his insanity that he wished to witness the masterpieces at Florence's Palazzo Pitti and Uffizi above everything else.
Because the local museum only stored very few works of art by the masters of the Italian Renaissance, the stories he'd heard about the masterpieces held in Florence piqued his interest, and it was a matter of significant sadness to him, in his diseased state, that he could perhaps not ever obtain the opportunity to see them in person.
His mother vowed to accompany him to Florence personally as soon as he healed. She not only kept her word, but she also enrolled him in the greatest art instructor in the city, Guglielmo Micheli. Around this time, Modigliani began creating sketches such as the Portrait of the Brother of Painter Micheli (1899) and The Tuscan Road (1899).
The Tuscan Road (1899) by Amadeo Modigliani; Amedeo Modigliani, Public domain, via Wikimedia Commons
Micheli's Art School
His first official creative training took place here, in an environment entrenched in studying the forms and subjects of 19th-century art in Italy. Remnants of this effect, as well as his study of Renaissance art, can still be found in his early Parisian works.
Modigliani exhibited remarkable potential when studying under Micheli, and he only stopped studying when he was driven to by the beginning of the disease.
Modigliani loved the works of Domenico Morelli, a creator of intense ecclesiastical and literary subjects, in Rome in 1901. Morelli had been an influence for a group of reactionaries known as "the Macchiaioli," and Modigliani had previously been introduced to the Macchiaioli's influence. This regional landscape school was a reaction to the scholarly genre artists' bourgeois aesthetic. While closely related to the French Impressionists in many ways, the Macchiaioli did not have the same influence on worldwide cultural history as Monet's peers and successors and are now mostly unknown beyond Italy.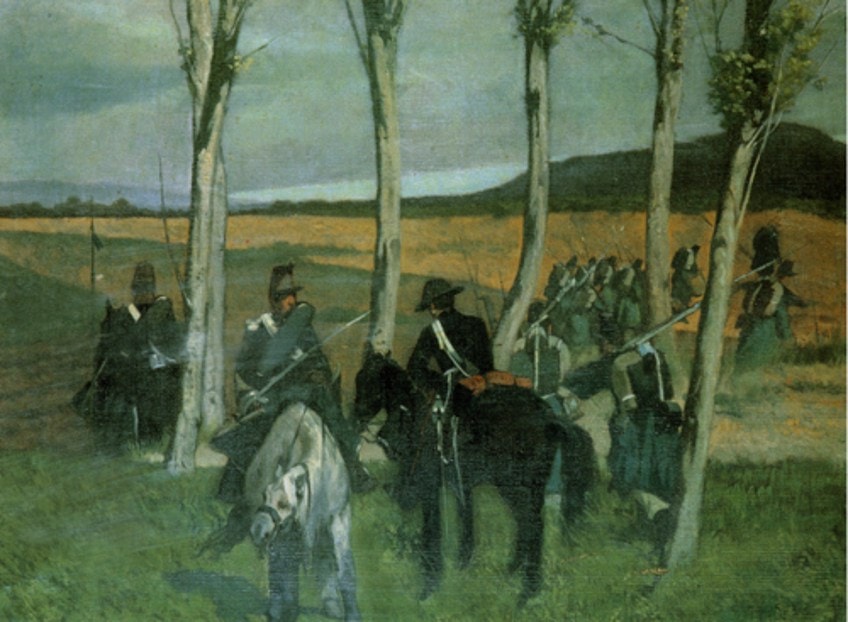 Carabineer and Soldiers (1860) by Macchiaioli member Giovanni Fattori; Giovanni Fattori, Public domain, via Wikimedia Commons
Guglielmo Micheli, Modigliani's first painting instructor, originally introduced him to the style. Micheli himself was not just a Macchiaiolo, but also a student of the group's originator, Giovanni Fattori. Micheli's art, on the other hand, was so trendy and the style so conventional that the youthful Modigliani rebelled against it, choosing to disregard the fixation with landscapes that marked the genre, as it did French Impressionism.
Even when obliged to paint landscapes, Modigliani selected a proto-Cubist style more reminiscent of Cézanne than Macchiaioli. Modigliani explored landscapes, portraits, still-lifes, and nudes while studying under Micheli.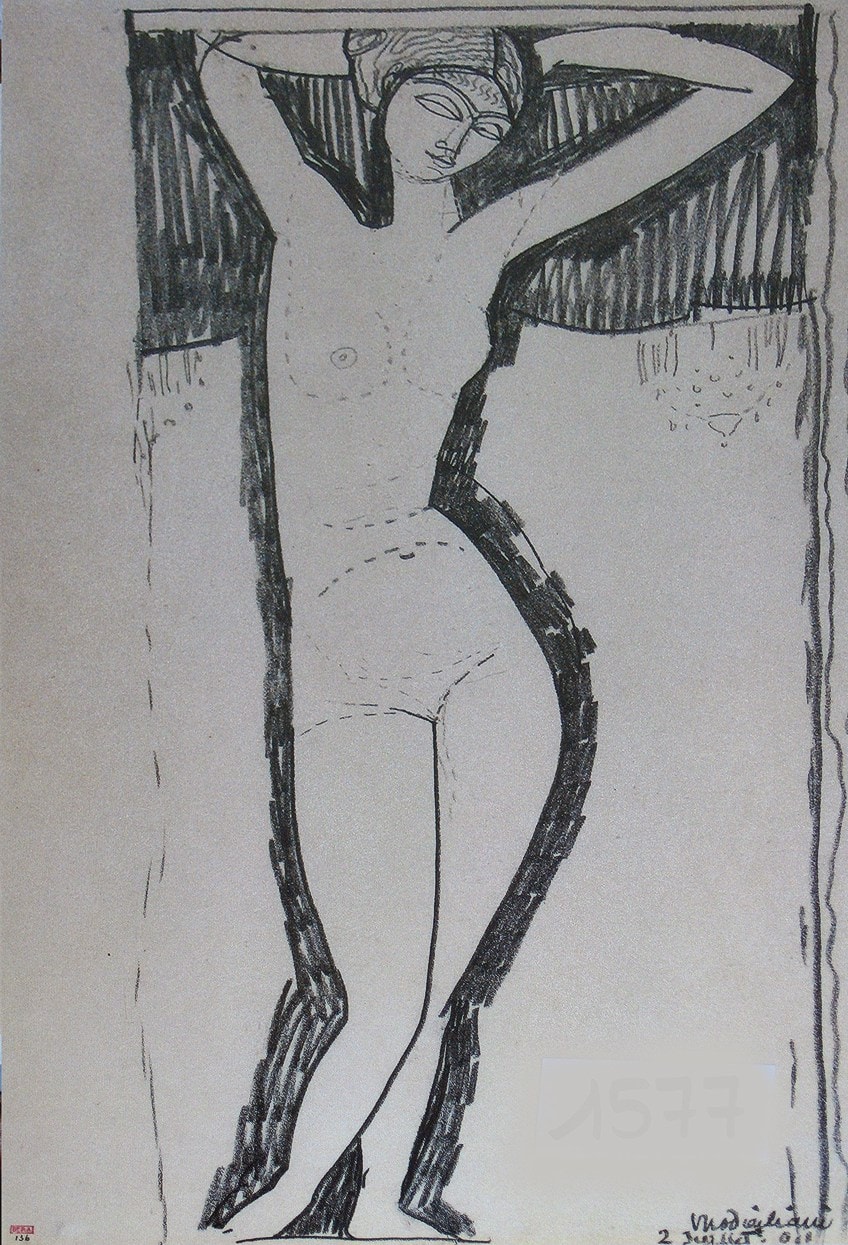 A nude drawing by Amadeo Modigliani; Amedeo Modigliani, Public domain, via Wikimedia Commons
His classmates recollect that nudes were where he demonstrated his finest aptitude, and evidently, this was not an exclusively scholarly endeavor for the adolescent: when he wasn't producing nudes, he was trying to court the domestic servant. In 1902, Modigliani began what would become a lasting obsession with life drawing by participating in the free classes of nude study. He traveled to Venice a year later, still suffering from TB, and enrolled in the Regia Accademia ed Istituto di Belle Arti.
He initially used hashish in Venice and, instead of studying, started to waste hours in the city's seedier areas.
The implications of these lifestyle decisions on his developing visual style are unknown, but they appear to be much more than straightforward adolescent defiance or the clichéd self-indulgence that was nearly anticipated of creatives at the time; his search of the grubbier realities of humanity appears to have origins in his admiration of revolutionary ideologies, such as those of Nietzsche.
Literary Influences of the Artist
Having been subjected to astute metaphysical literary works as a small child under his grandfather's tutorship, he proceeded to read and be impacted by the texts of Baudelaire, Nietzsche, Carducci, and others throughout his art studies and established the conviction that the only way to genuine inventiveness was via disobedience and defiance.
Lautréamont's work was very important during the time.
Les Chants de Maldoror became a fundamental piece for Modigliani's era of Parisian Surrealists, and the volume remained Modigliani's favorite to the point where he memorized it. Lautréamont's poetry is distinguished by the combination of fanciful components with cruel images; the fact that Modigliani was so fascinated with this book in his early adolescence reveals a lot about his maturing interests.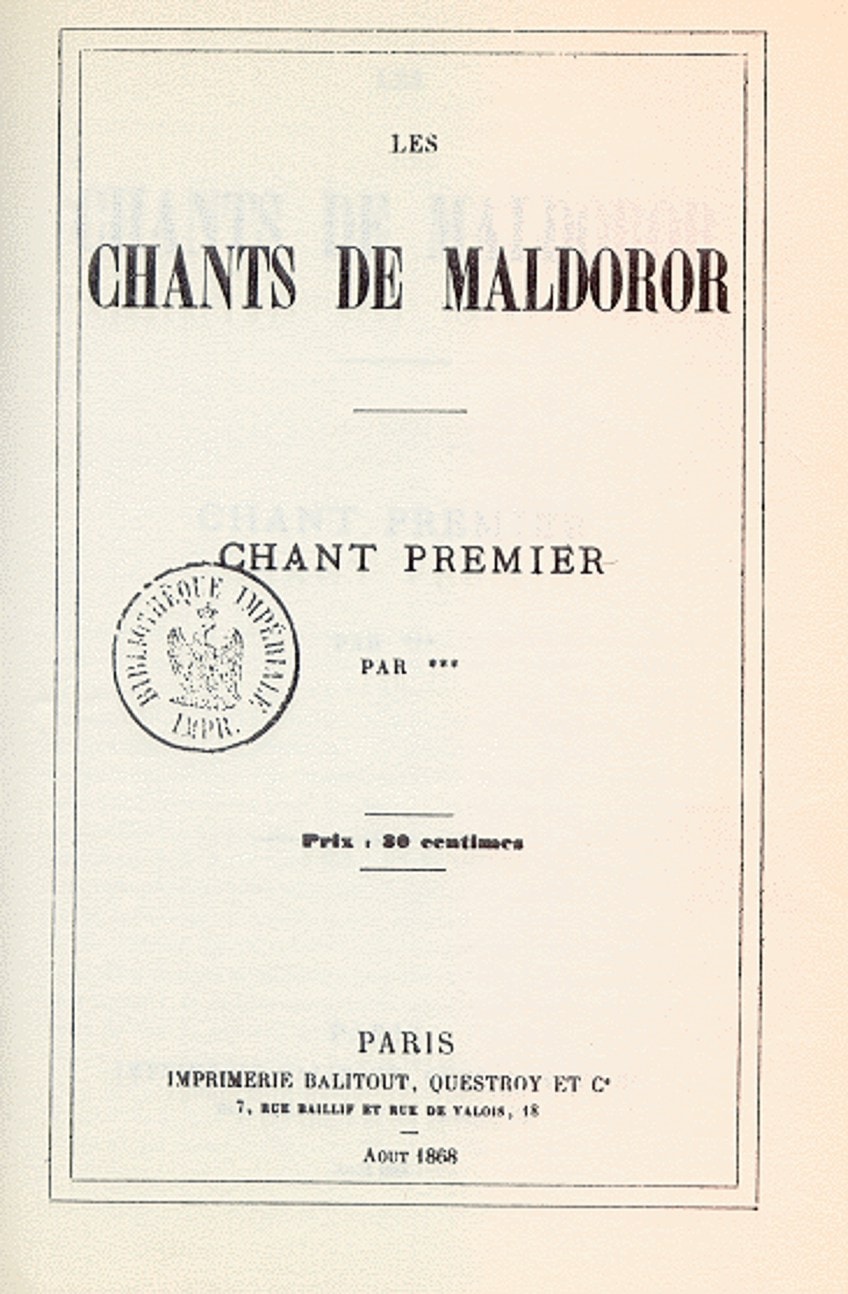 Les Chants de Maldoror (1868); Isidore Ducasse (plus tard connu sous le pseudonyme Comte de Lautréamont), Public domain, via Wikimedia Commons
With their concern for damaged perfection and the representation of that knowledge through Symbolist images, Baudelaire and D'Annunzio alike attracted the youthful artist. Modigliani corresponded regularly with Ghiglia from Capri, where his mother had transported him to help him recuperate from TB.
These letters serve as a springboard for Modigliani's growing ideas.
Ghiglia was seven years older than Modigliani', and it's possible that he demonstrated to the young man the limitations of his possibilities in Livorno. Modigliani, like other bright youths, liked the companionship of older people, and Ghiglia's function in his youth was to be a receptive ear while he sorted himself out, mostly through the complicated messages that he wrote on a frequent basis and which have survived to this day.
Arrival in Paris
Modigliani relocated to Paris, the avant-garde's epicenter in 1906. Indeed, his presence in the hub of creative innovation overlapped with the emergence of two additional outsiders who would also make their impressions on the world of art: Juan Gris, and Gino Severini. He subsequently got to know Jacob Epstein, with whom he intended to establish a workshop with a common vision of creating a Chapel of Beauty for all to enjoy.
Modigliani's drawings of the "Pillars of Compassion" would be used to support the envisioned monument.
Modigliani resided in a Montmartre community for destitute painters while leasing a workshop. Despite the fact that this creatives' portion of Montmartre was distinguished by broad sweeping destitution, Modigliani conveyed himself – at least initially – as one would assume the son of a household attempting to sustain the looks of its misplaced financial status.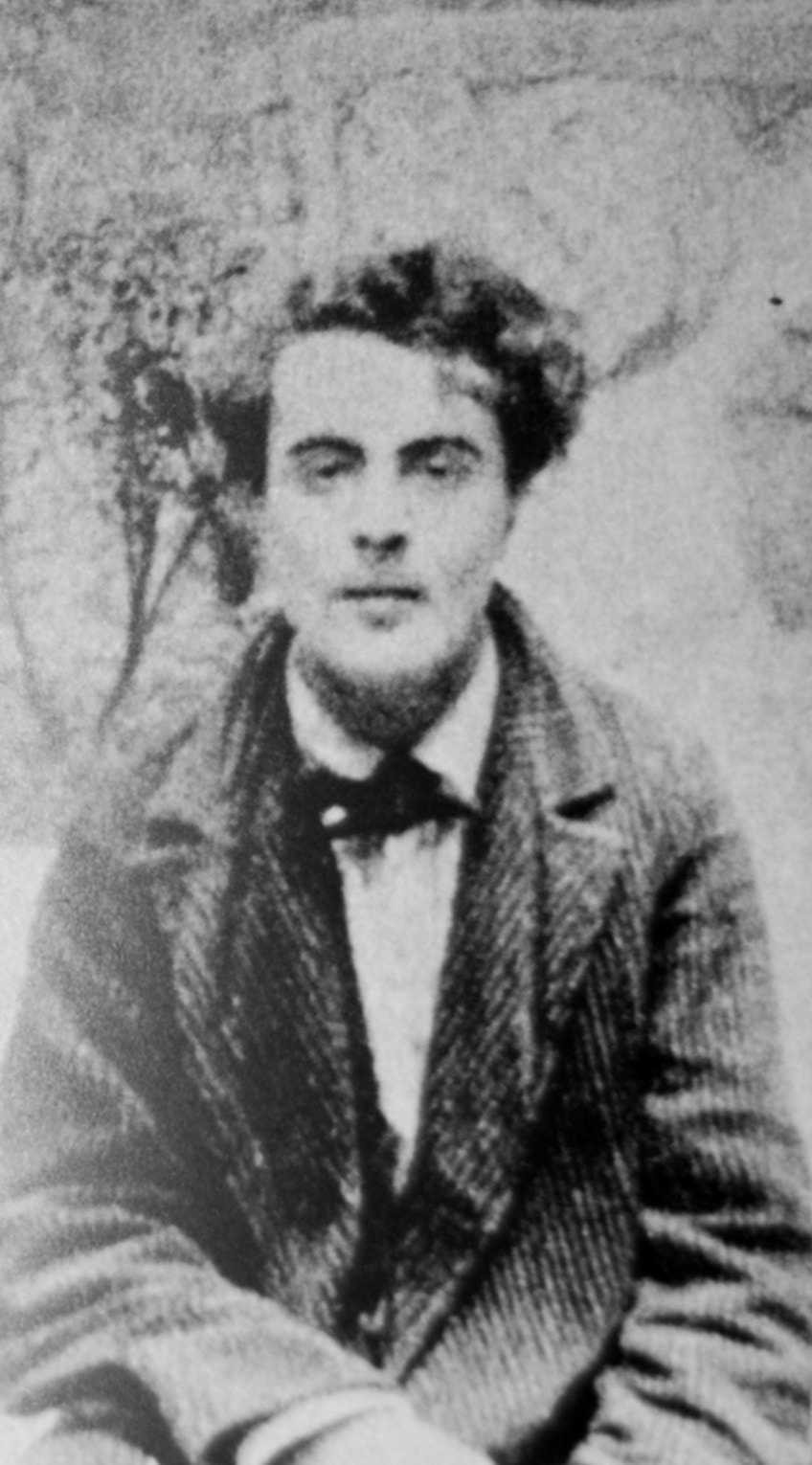 Amedeo Modigliani at the garden of La Ruche in Paris, 1906; Unknown author Unknown author, Public domain, via Wikimedia Commons
Subsequently, his attire was dashing without extravagance, and the workshop space he rented was designed in a style suitable to someone with a uniquely tailored preference in plush fabric and Renaissance recreations. He quickly attempted to acquire the persona of a liberal painter, but even with his chocolate corduroys, red scarf, and enormous hat, he still looked destitute.
When he initially came to Paris, he corresponded with his mother on a routine basis, drew his nudes, and drank alcohol in restraint.
Those who encountered him at the time thought he was a little reticent, bordering on anti-social. He is said to have remarked to Picasso, who was sporting his signature workmen's clothing at that stage, that even if the person was a prodigy, his vulgar look did not exonerate him. It was around this time that he created the Portrait of Maude Abrantes (1907).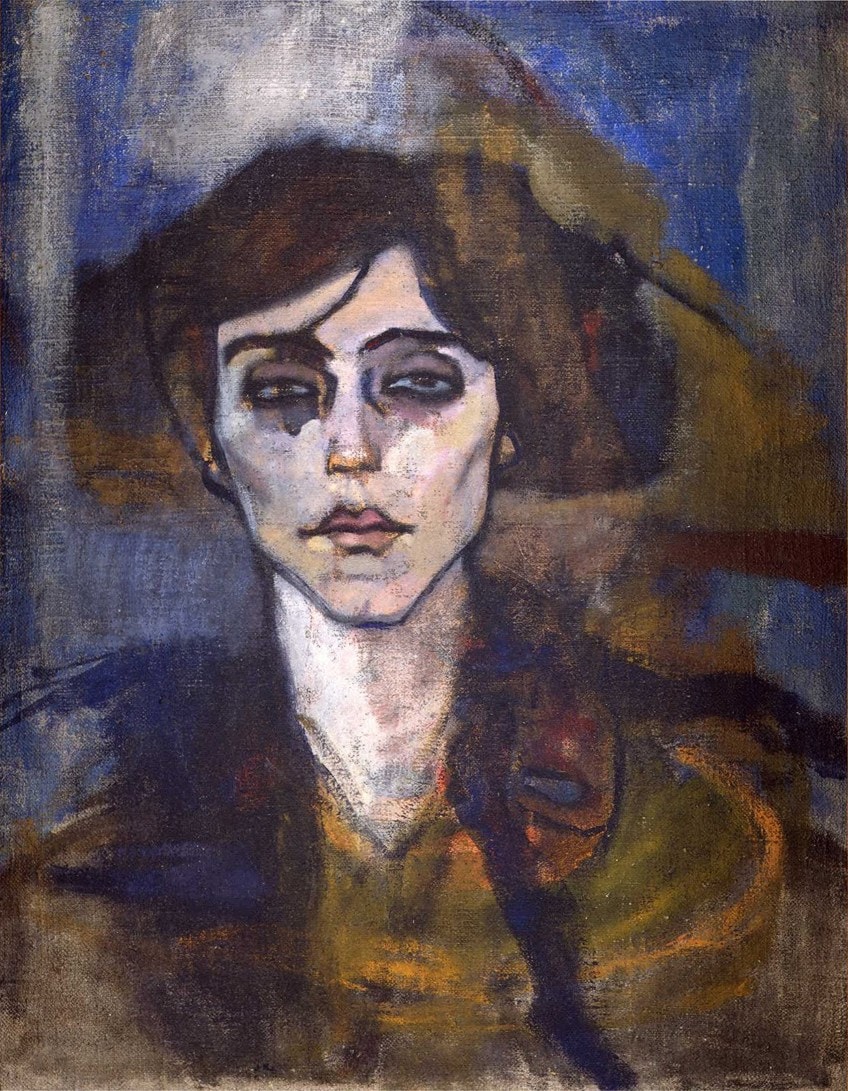 Portrait of Maude Abrantes (1907) by Amadeo Modigliani; Amedeo Modigliani, Public domain, via Wikimedia Commons

Transformation in Paris
However, his demeanor and image had altered radically within a year of his arrival in Paris. He turned himself from a stylish academic painter to a vagrant prince. When Louis Latourette visited the artist's formerly well-appointed workshop following his change, he found it in chaos, with Renaissance replicas thrown from the wall and sumptuous draperies in disorder. By this time, Modigliani was a drunkard and a drug abuser, and his workshop mirrored this.
Modigliani's conduct during this period gives some insight into his evolving manner as an artist, in that the workshop had practically become a ceremonial altar for everything he despised about the scholarly artwork that had dominated his life and education up until that point.
He not only removed all traces of his bourgeois upbringing from his workshop, but he actively set out trashing virtually all of his initial studies, which he regarded as "Childish trinkets, produced when I was a nasty capitalist." The motive for the aggressive denunciation of his former self has sparked much debate. Modigliani actively created a fake character for himself and fostered his image as a desperate alcoholic and ravenous drug addict from the moment he arrived in Paris. Modigliani's increasing use of alcohol and drugs may have been a way for him to conceal his TB from his friends, most of whom were unaware of his illness. The first painting that he sold after arriving in Paris was The Jewess (1908).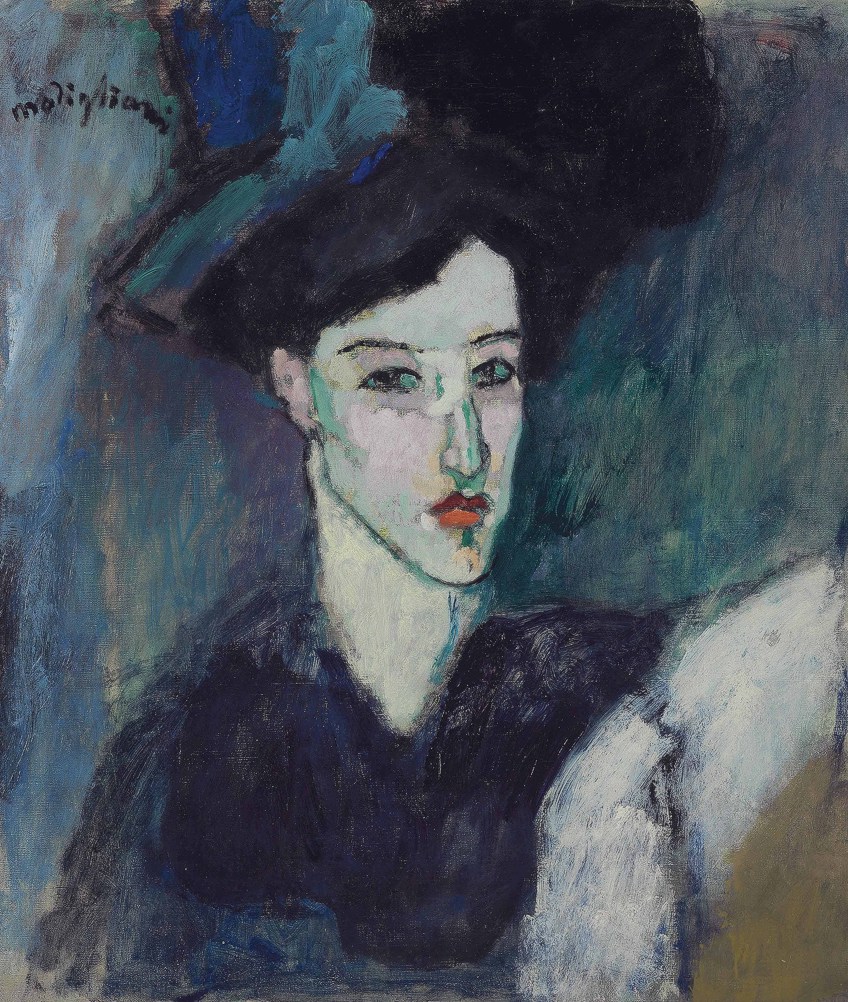 The Jewess (1908) by Amadeo Modigliani; Amedeo Modigliani (1884 – 1920), Public domain, via Wikimedia Commons
Tuberculosis, which was the main cause of mortality in France by 1900, was extremely contagious, there was no treatment, and individuals who had it were dreaded, shunned, and despised. Modigliani lived on companionship and refused to be alone and was treated as an invalid. He utilized alcohol and narcotics as temporary solutions to alleviate his physical discomfort, allowing him to preserve a false sense of vigor and continue to make artworks. Modigliani's usage of alcohol and narcotics increased about 1914. After periods of recovery and return, this was the time when his TB symptoms intensified, indicating that the illness had progressed to an advanced state.
During this period, he created works such as "Portrait of Frank Burty Haviland" (1914).
He sought the companionship of other artists, notably Soutine and Utrillo, in order to get approval and reinforcement for his works from his peers. Even in those liberal settings, Modigliani's conduct stood out: he had many relationships, drank frequently, and abused alcohol and hashish. He would occasionally strip nude on social occasions when inebriated. He died at the age of 35 in Paris. He became the sad artist's embodiment, producing posthumous mythology almost as widely recognized as Vincent van Gogh's.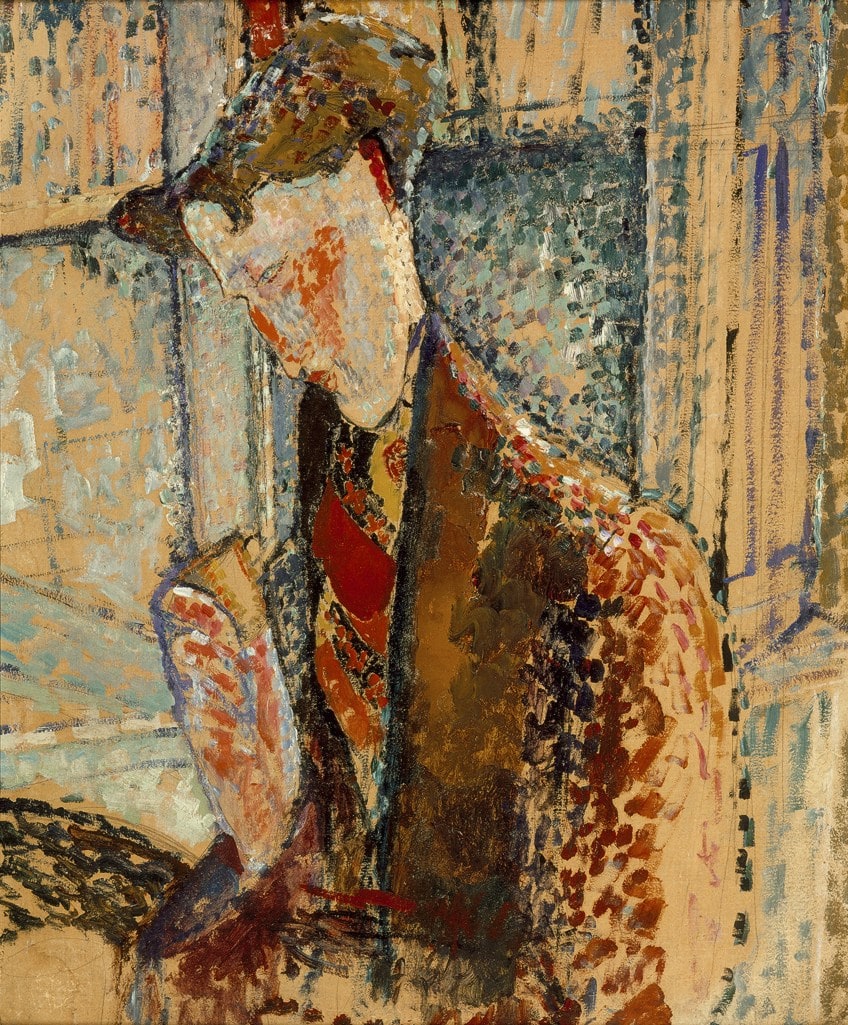 Reverie (Study for the Portrait of Frank Burty Haviland) (1914) by Amadeo Modigliani; Amedeo Modigliani, Public domain, via Wikimedia Commons
During the 1920s, in the aftermath of Modigliani's success and fueled by André Salmon's statements connecting cannabis and alcohol with the creation of Modigliani's aesthetic, many dreamers attempted to mimic his "achievement" by going on a road of drug abuse and hedonistic indulgence. Salmon argued that when Modigliani was clean, he was a completely mundane artist "…from the day he gave in to various sorts of decadence, an unanticipated light shone upon him, altering his work. From that day on, he was regarded as one of contemporary art's leaders."
However, some art scholars agree that Modigliani may have attained even higher creative heights if he had not been imprisoned and devastated by his indulgences.
Output in Paris
Modigliani produced rapidly during his formative days in Paris. He was continuously drawing, producing up to a hundred sketches every day. Many of Modigliani's drawings, however, were destroyed by the artist as substandard, left abandoned in his repeated moves, or given to lovers who did not maintain them. Henri de Toulouse-Lautrec was his initial inspiration, but it wasn't until 1907 that he became enamored with Paul Cézanne's art.
He eventually created his own distinct technique, which cannot be appropriately classified with other painters.
He encountered his earliest great love, Anna Akhmatova, a poet from Russia when he was 26 years old, in 1910. They shared workspace in the same complex, and despite the fact that Anna, 21, had recently got married, they started a romance. Anna was tall and dark-haired, with fair complexion and grey-green eyes: she represented Modigliani's aesthetic ideals, and the two became fascinated in one another. Anna, on the other hand, rejoined back with her spouse within a year. Around this time, Modigliani produced a portrait entitled Anna Akhmatova (1911).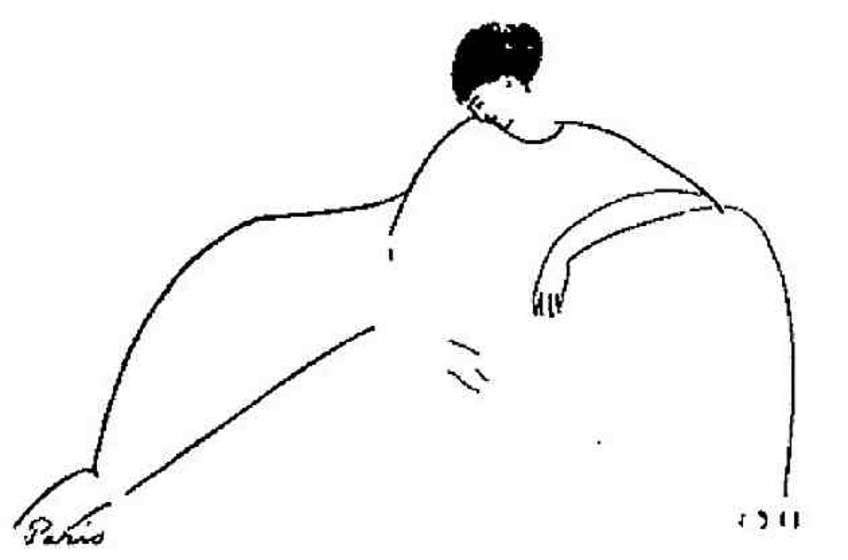 Anna Akhmatova (1911) by Amadeo Modigliani; Amedeo Modigliani, Public domain, via Wikimedia Commons
Modigliani's Sculptures
Modigliani moved back to Livorno in 1909, unwell and exhausted from his chaotic lifestyle. He was soon back in Paris, occupying a place near Montparnasse. He considered himself as a sculptor more than a painter at first, and was inspired to keep going after Paul Guillaume, an eager young art collector, expressed an interest in his works and connected him to artist Constantin Brâncuşi.
For one year, he was Constantin Brâncuși's student.
Even though a collection of Modigliani's sculptures were displayed in the Salon d'Automne in 1912, he had dismissed sculpting by 1914 and concentrated exclusively on his paintings, a decision prompted by the difficulty in obtaining sculptural raw material owing to the outbreak of war, as well as Modigliani's physical impairment. During this period, he created his sculpture Head of a Woman (1910-1911).
Head of a Woman (1910-1911) by Amadeo Modigliani; National Gallery of Art, CC0, via Wikimedia Commons
The War Period
Modigliani attempted to enroll in the military at the start of World War I but was turned down due to his bad health. Modigliani was a handsome fellow who drew a lot of feminine interest. He was known as Dedo to his friends and family. Ladies arrived and left in his life until Beatrice Hastings came along. She lived with him for about two years, was the focus of numerous of his pictures, including one of Madame Pompadour, and was the target of much of his inebriated rage.
When Nina Hamnett, an English artist, came to Montparnasse in 1914, the grinning gentleman at the adjacent table in the restaurant identified himself as "Modigliani, artist and Jew."
They became terrific companions. Modigliani met the art dealer from Poland, Léopold Zborowski, and his wife Anna, in 1916. In Modigliani's last years, Zborowski remained his major art distributor and confidant, assisting him monetarily and arranging his exhibition in 1917. During this period, he created the double portrait Jacques and Berthe Lipchitz (1916)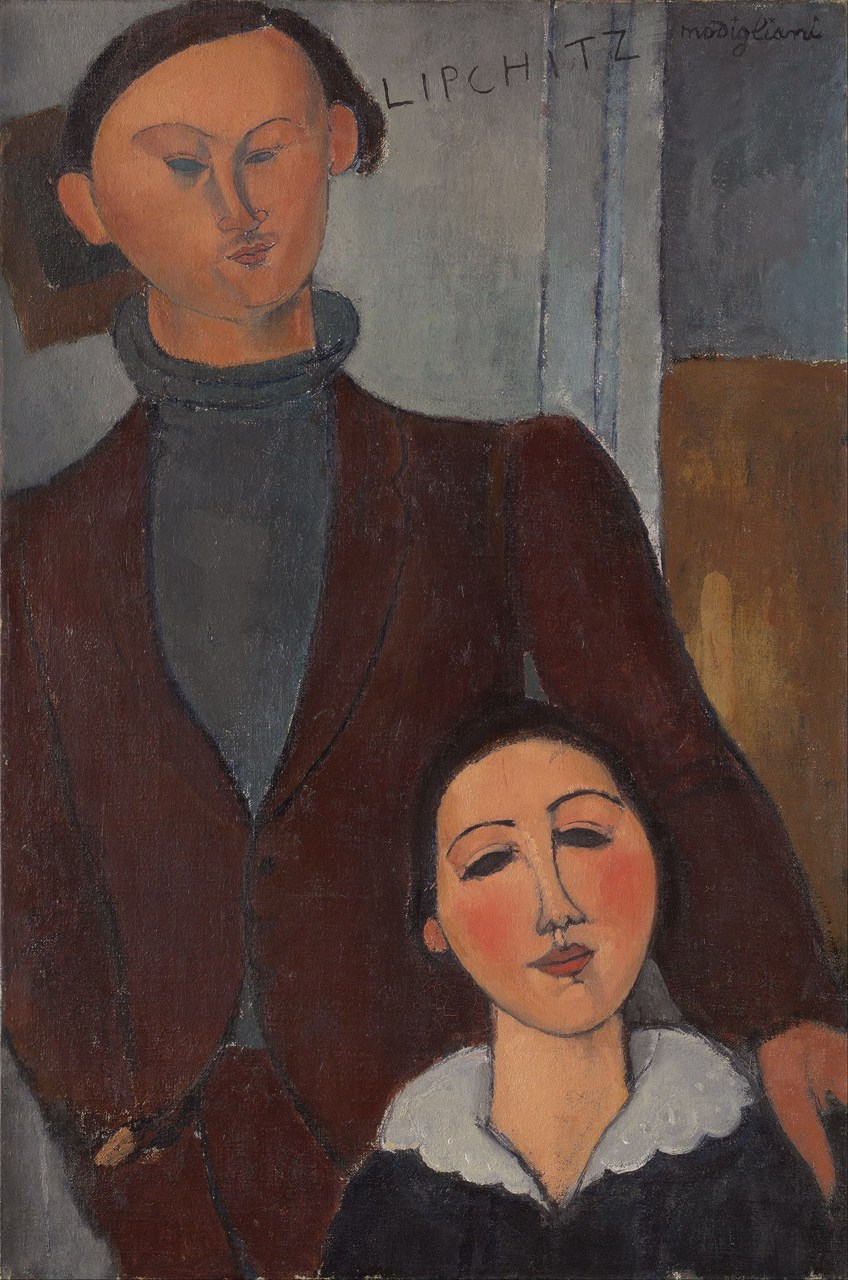 Jacques and Berthe Lipchitz (1916) by Amadeo Modigliani; Amedeo Modigliani, Public domain, via Wikimedia Commons
Léopold Zborowski the Patron
Many of Modigliani's paintings which achieved the most fame are of naked women, which he produced between 1916 and 1919. Léopold Zborowski, ordered this collection of nudes, lending the painter use of his flat, providing sitters and art equipment, and paying him around 15 and 20 Francs per day for his labor.
The works of art from this agreement differed from his prior representations of friends and partners in that they were commissioned by Zborowski for either his own acquisition, as a favor to a friend, or with a consideration of their "marketing profitability," as opposed to arising from the creator's intimate circle of friends.
Modigliani's lone solo exhibit in Paris was in 1917, and it is "legendary" in contemporary fine arts for its dramatic public reaction and the related concerns of indecency.
The display was shut down by authorities on the first day, but it reopened later, most likely when the artworks were removed from the venue's street-front display. It was during this time that he produced the Standing Blonde Nude with Dropped Chemise (1917).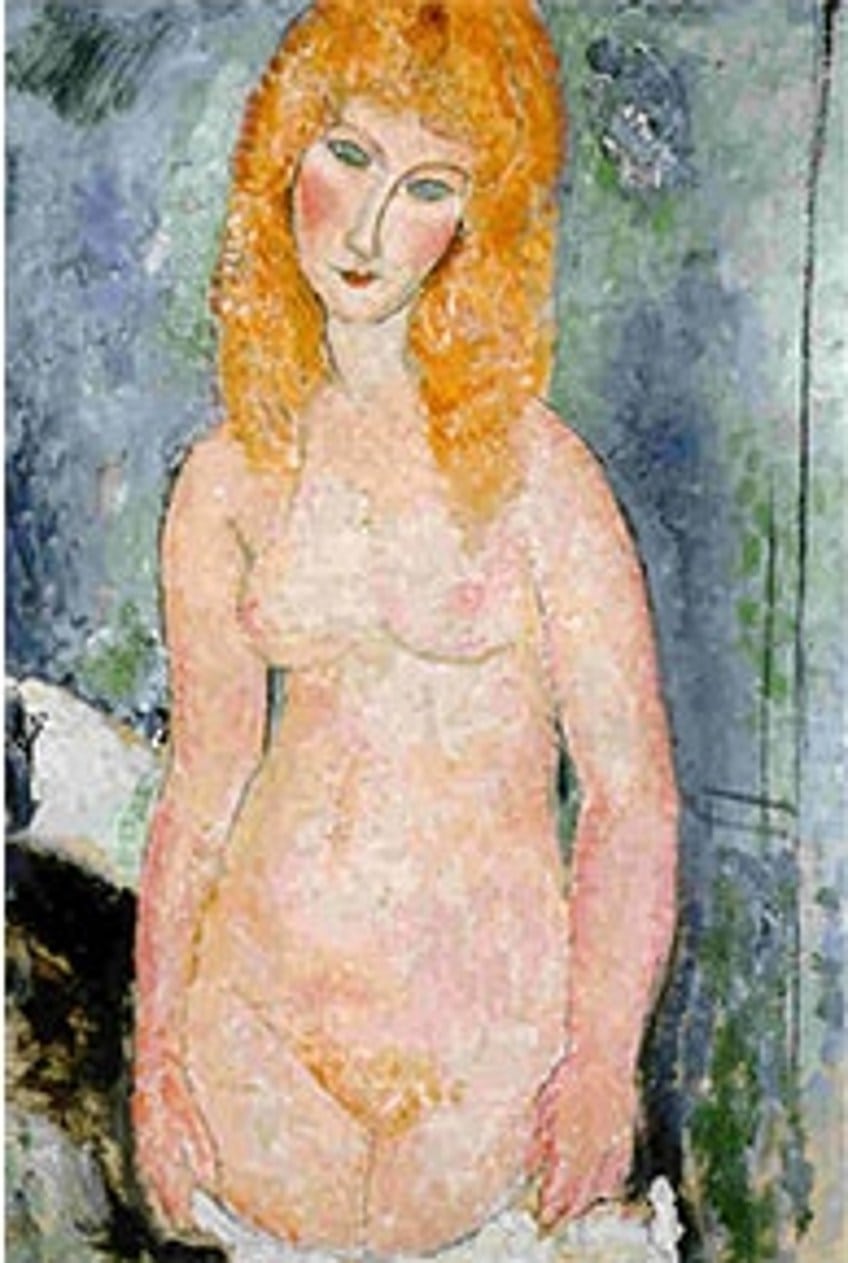 Standing Blonde Nude with Dropped Chemise (1917) by Amadeo Modigliani; Amedeo Modigliani, Public domain, via Wikimedia Commons
Trip to Nice
On a tour to Nice planned and managed by Zborowski, Modigliani and other artists attempted to peddle their artwork to wealthy vacationers. Modigliani was able to sell a few paintings, but only for a few hundred francs apiece. Despite this, he created the majority of the canvases that became his most renowned and valuable pieces during this period.
Several of his paintings were sold during his lifetime, although never for a large sum of money. What money he did acquire quickly went due to his bad habits.
Jeanne Hébuterne
In the summer of 1917, the Russian artist Chana Orloff acquainted him with Jeanne Hébuterne, a 19-year-old painting pupil who had modeled for Tsuguharu Foujita. Hébuterne, who came from a strict noble family, was shunned by her fervent Roman Catholic relatives for her affair with Modigliani, whom they considered as nothing more than a depraved vagrant. Despite her parent's opposition, they were shortly living together.
Modigliani terminated his connection with the British writer and literary critic Beatrice Hastings, and the two moved into an apartment on the Rue de la Grande Chaumière shortly after. Jeanne began posing for him and can be seen in numerous of his works. Modigliani left Paris with Hébuterne to escape the conflict at the conclusion of World War I, early in 1918, and traveled to Cagnes-sur-Mer. It was around this time that he produced the Portrait of Jeanne Hebuterne (1918)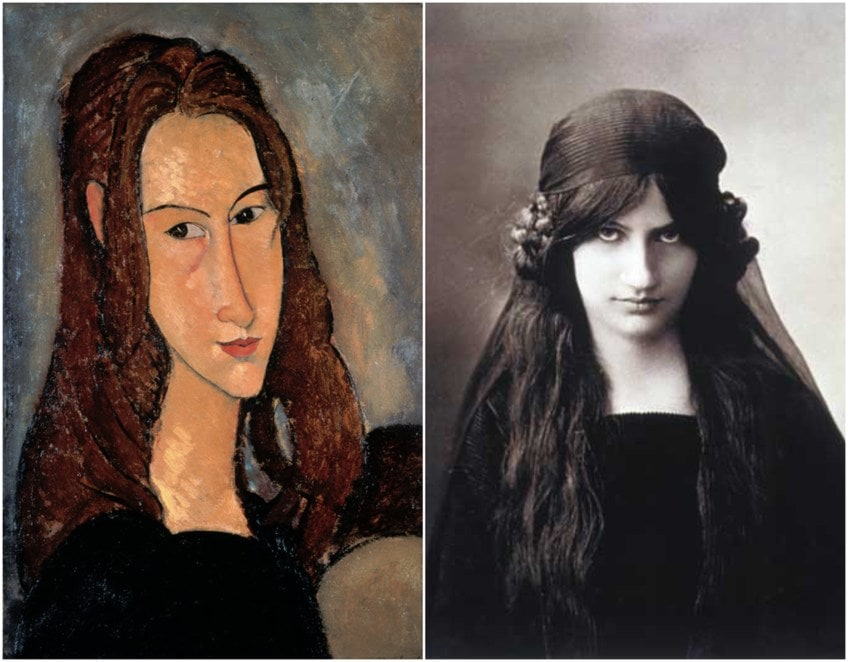 LEFT: Portrait of Jeanne Hébuterne (1918) by Amadeo Modigliani; Amedeo Modigliani, Public domain, via Wikimedia Commons | RIGHT: Photograph of Jeanne Hébuterne, c. 1918; Unknown author Unknown author, Public domain, via Wikimedia Commons
They planned to stay a year in France. They had a vibrant social existence at the time, with numerous acquaintances including Pablo Picasso, Pierre-Auguste Renoir, André Derain, and Giorgio de Chirico. On November 29, 1918, they relocated to Nice, where she gave birth to a daughter called Jeanne. Modigliani already had a child with Simone Thiroux, as well as at least two more illegitimate offspring. They returned to Paris in May 1919 with their young daughter and settled into a home on the Rue de la Grande Chaumière. Hébuterne became pregnant once more.
Modigliani immediately proposed to her, but Jeanne's family were opposed to the union, particularly given Modigliani's image as a drunkard and drug addict.
Modigliani, on the other hand, formally acknowledged her daughter as his offspring. Modigliani realized he had a severe type of TB, which wrecked the marital preparations irrespective of Jeanne's family's opposition.
Amedeo Modigliani's Death and Funeral
Despite continuing to create, Modigliani's condition steadily worsened, and his alcohol-induced episodes grew increasingly regular. After not having heard from him for many days, a neighbor went to check on the household and discovered Modigliani in the bedroom, disoriented and clutching Hébuterne. A doctor was called, but there was nothing that could be performed because he was in the last stages of tubercular meningitis. He passed away on the 24th of January, 1920. There was a massive memorial, joined by many members of the Montmartre and Montparnasse creative circles.
When Modigliani passed, Hébuterne was 21 years old and eight months pregnant with their second baby. Hébuterne was escorted to her parent's house a day later.
The day following Modigliani's death, she hurled herself out of a fifth-floor balcony, killing herself. Modigliani was laid to rest in Père Lachaise Cemetery. Hébuterne was interred at the Cimetière de Bagneux outside Paris, and it wasn't until 1930 that her enraged family agreed to have her remains transported to be placed alongside Modigliani.
They are both remembered by a single gravestone. "Struck down by death in the hour of grandeur," his gravestone says. Hers says, "Devout partner to the ultimate sacrifice." Modigliani died penniless, having only had one solo exhibition and given his paintings away in return for food at eateries.
The grave of Amadeo Modigliani and Jeanne Hébuterne; Kirill Barkunov, CC BY-SA 4.0, via Wikimedia Commons
Influences and Legacy of Amedeo Modigliani
His art was influenced by the linear shape of African sculptures and the humanism of representational Renaissance artists. Creating during the fruitful time of "isms," Cubism, Absurdism, Surrealism, and Modernism, Modigliani refused to be defined by any of these dominant, defining limitations. He was undefinable, insisting on his uniqueness.
He was an artist who placed paint on canvas to express, "This is what I perceive," rather than to surprise and offend.
Modigliani was more admired by collectors than academics and reviewers throughout the years, and he was uninterested in establishing himself in the academic avant-garde of the world of art. He understood the value of Jean Cocteau's declaration: "Don't wait for the avant-garde." Modigliani disease is another name for pseudo-goiter, a medical disorder. This term was inspired by the bent necks of ladies in Modigliani's paintings, which resembled pseudo-goiter.
Modigliani's renown has grown since his passing. His life has been the subject of nine publications, a drama, a television documentary, and three motion pictures. Jeanne Modigliani was adopted by Modigliani's sister in Florence. As a woman, she authored Modigliani: Man and Myth, a biography of her late father.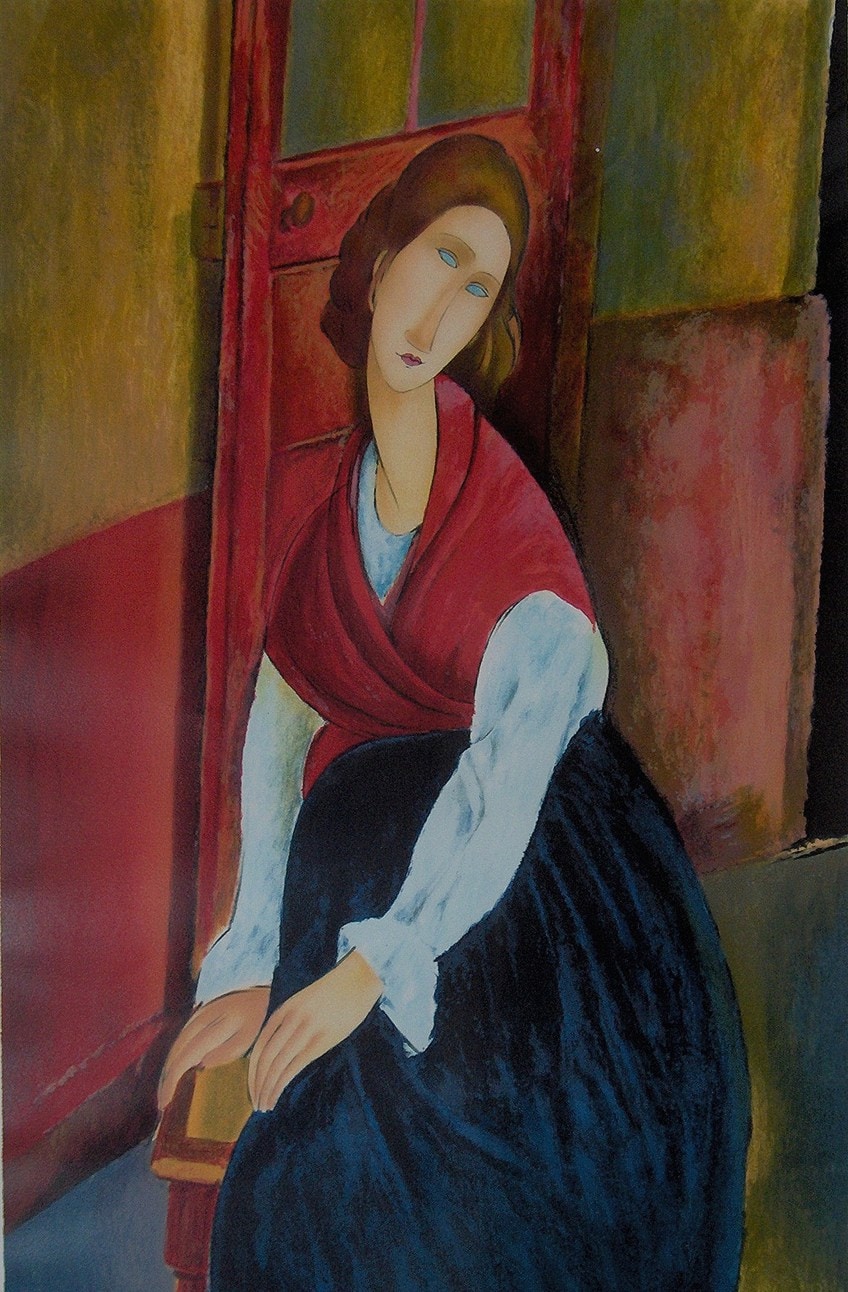 Jeanne Hébuterne in Red Shawl (1917) by Amadeo Modigliani; Amedeo Modigliani, CC BY 3.0, via Wikimedia Commons
Forgeries of Modigliani's Paintings
Modigliani is among the world's most imitated painters. Growing prices for pieces ascribed to him, along with the mystique accompanying his brief life, have fostered a demand for counterfeits of both paintings and Modigliani's sculptures. Students created three heads out of stone in the Modigliani manner in 1984, causing a commotion when they were uncovered in a waterway in Livorno, Italy, so enthusiastic were many to believe the statues were legitimate, but the pupils had recorded themselves building the heads using a Black & Decker machine.
As many as 20 imitation Modiglianis were confiscated during a Genoa show in 2018.
A Few of the Artist's Most Famous Pieces
Head of a Woman (1912)
Female Nude (1916)
Reclining Nude (1917)
Self Portrait (1919)
Portrait Of Lunia Czechowska (1919)
Nude Sitting on a Divan (1917)
Juan Gris (1915)
Amedeo Modigliani the artist created art that was as sensational as his lifestyle. The representation of traits such as body hair and their naked, unvarnished sensuality in Modigliani's nudes shocked spectators. Modigliani's reputation is intrinsically linked with his sad and hedonistic life: his bad health, which afflicted him from boyhood; his constant pennilessness; and, most notoriously, his self-destructive behavior, which encompassed sexual depravity and misuse of alcohol and drugs.
Take a look at our Modigliani paintings webstory here!
Frequently Asked Questions
Where Is Amedeo Modigliani from?
Modigliani was born in Livorno, Italy, into a Jewish family. Livorno, a port city, has long acted as a haven for individuals oppressed for their faith, and it was host to a sizable Jewish population. His ancestors came to Livorno as fugitives in the 18th century.
What Was Amedeo Modigliani the Artist Famous For?
Modigliani's portraits were very well known for their often-bizarre appearances. Yet, he was also a very capable sculptor and Modigliani's sculptures are also highly valued. Modigliani had limited recognition while living, however, after his passing, he became extremely popular.
What Characterized Amedeo Modigliani's Portraits?
He is mainly remembered for portraits and nudes in a contemporary style typified by a fantastical lengthening of features, necks, and bodies, which were not well appreciated during his career but have since become highly sought-after. Modigliani spent his early years in Italy, where he researched antiquity and Renaissance art.
Isabella studied at the University of Cape Town in South Africa and graduated with a Bachelor of Arts majoring in English Literature & Language and Psychology. Throughout her undergraduate years, she took Art History as an additional subject and absolutely loved it. Building on from her art history knowledge that began in high school, art has always been a particular area of fascination for her. From learning about artworks previously unknown to her, or sharpening her existing understanding of specific works, the ability to continue learning within this interesting sphere excites her greatly.
Her focal points of interest in art history encompass profiling specific artists and art movements, as it is these areas where she is able to really dig deep into the rich narrative of the art world. Additionally, she particularly enjoys exploring the different artistic styles of the 20th century, as well as the important impact that female artists have had on the development of art history.
Learn more about the Art in Context Team.