American artist Frank Frazetta is a renowned name in comic book illustration circles. Frank Frazetta's artworks are produced with pencil, ink, watercolor, and oil paint, and typically feature semi-clad people and wild animals in science fiction and fantasy settings. Referred to as the "Conan artist", Frank Frazetta's paintings often feature the mythical character of Conan the Barbarian. Let us discover more about the life of this famous illustrator.
The Life of Frank Frazetta
| | |
| --- | --- |
| Artist | Frank Frazetta |
| Nationality | American |
| Date of Birth | 9 February 1928 |
| Date of Death | 10 May 2010 |
| Place of Birth | Brooklyn, New York City, United States |
Frank Frazetta is regarded as one of the 20th century's greatest illustrators and is noted for his book covers, comic book illustrations, album covers, posters, and paintings. Originally producing illustrations for comic books out of financial necessity, it turned out to be a lucrative market until the market for comic books started to wane. This led the artist to explore work in the illustration market where he found success making covers for books and movie posters.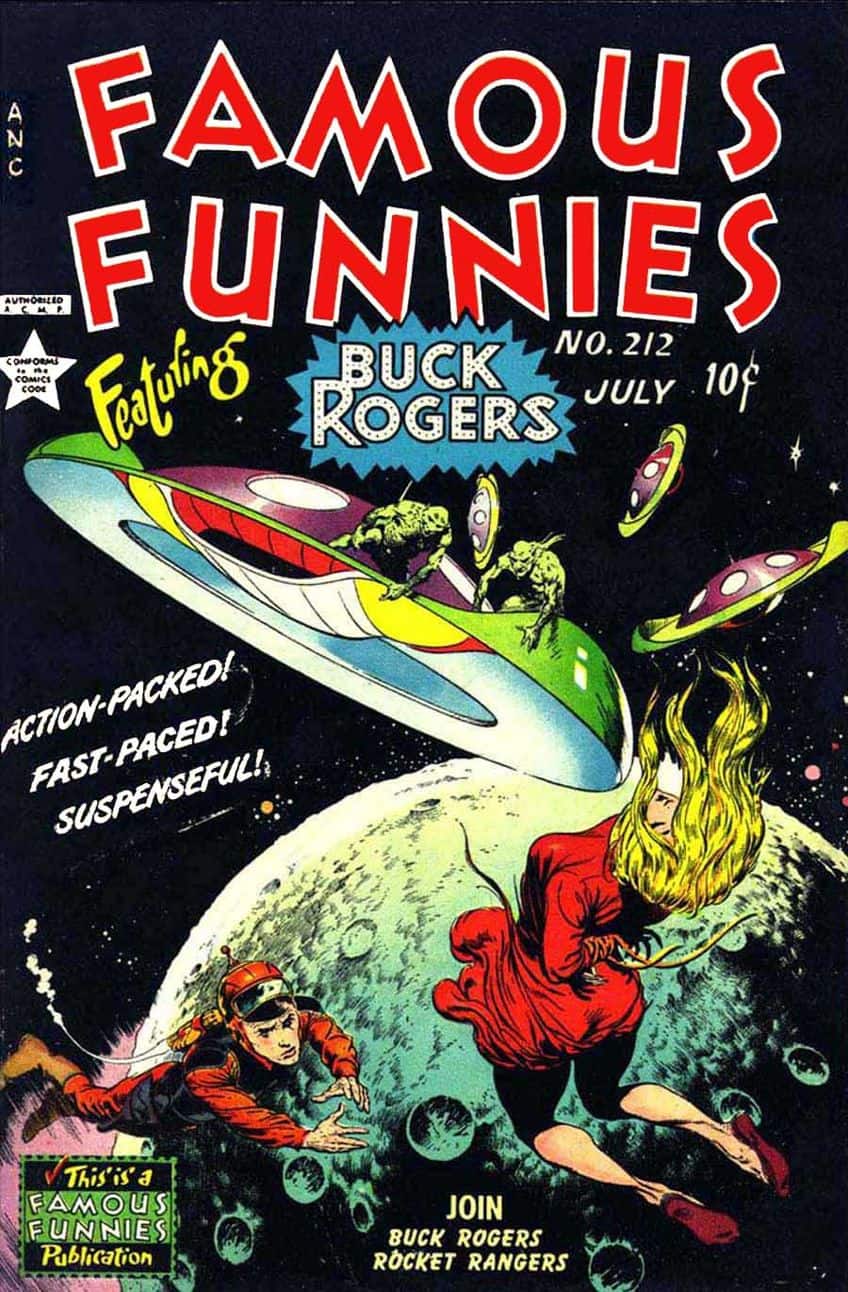 Cover of Famous Funnies number 212 (July 1954) by Frank Frazetta; Frank Frazetta, Public domain, via Wikimedia Commons
Early Life
Frank Frazetta was born in Brooklyn, New York City, as the only boy of four siblings. He spent a lot of time with his grandmother, who encouraged his art from when he was only two years old. When he drew anything, she was the one who said it was fantastic and gave him a dime to keep continuing. Sometimes he only had toilet paper to sketch on. As he grew older, He began to sketch some unusual things for his age.
He recalls that the lecturers were always intrigued by what he was doing, making it difficult to be taught anything by them.
So, he attended the Brooklyn Academy of Fine Arts when he was eight years old, and even the faculty there were amazed by his abilities. Frazetta claims that the instructor there, Michel Falanga, did not really impart any new techniques to the young student. Instead, he would walk in and just say if he liked something, or at most, would make a few suggestions. However, his English was not very good and conversations were minimal. Frazetta says that he actually learned more from other students than the faculty.
Early Work
At the age of 16, Frank Frazetta, who had always intended to pursue a career in comic books, started executing pencil clean-ups at the workshop of comics artist Bernard Baily. On his first comic book job, he inked the eight-page comic Snowman for the December 1944 edition of Tally-Ho Comics. Because it was not common practice in comic books at the time to include detailed credits, a thorough list of Frank Frazetta's artwork is difficult to come across. His next documented comic work was in the July 1946 edition of Treasure Comics #7.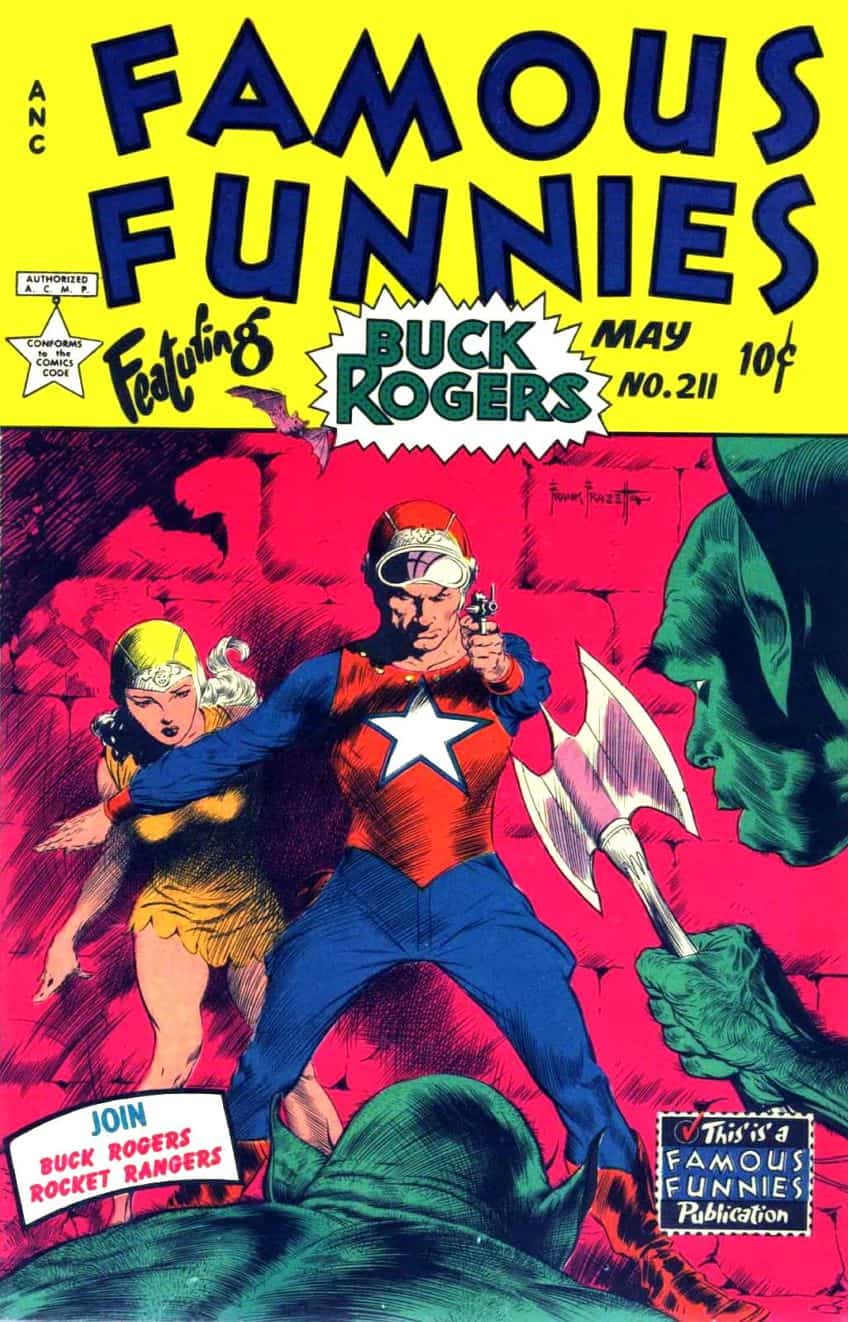 Cover of Famous Funnies number 211 (December 1953) by Frank Frazetta; Frank Frazetta, Public domain, via Wikimedia Commons
Frazetta acknowledged Graham Ingels as the first person in the comic book industry to notice his skill and hire him at Standard Comics in 1947, in an interview in 1991. Frazetta created military and human interest stories for Famous Funnies, as well as one-pagers advocating the merits of prayer and the dangers of drug use. In November 1956, he married Eleanor Kelly in New York City, and the couple had four children. After nine years working for Al Capp, he returned to making illustrations for comic books in 1961. He also assisted Will Elder and Harvey Kurtzman on a couple of strips of the racy parody comic Little Annie Fanny which was regularly featured in Playboy magazine.
Book Covers and Hollywood
Frank Frazetta's artwork of Beatle Ringo Starr for a Mad magazine advertising parody in 1964 piqued the interest of United Artists studios. He was contacted to design the movie poster for What's New Pussycat? and achieved his yearly income in one day. After that, produced several more movie posters. Frazetta also created artwork for the adventure novel market, specifically the paperback versions. His artistic portrayal of Robert E. Howard's Conan the Barbarian aesthetically transformed the genre and had a huge effect on subsequent generations of painters.
As Frazetta once said, his cover art only coincidentally reflected the narratives inside the books.
He didn't even read anything. He designed Conan how he imagined him to be. It was a rather "rugged" aesthetic that proved to be popular. As for the fact that the covers were illustrated without any reference to the actual book's storyline – no one who bought the books ever complained and the Conan artist once stated that he doubted if they even read them. They were primarily oil paintings, although he also created them in ink, watercolor, and pencil. For the war and horror publications Eerie, Creepy, Blazing Combat, and Vampirella published by Warren Publishing, Frazetta created cover artwork and a few black-and-white comic stories.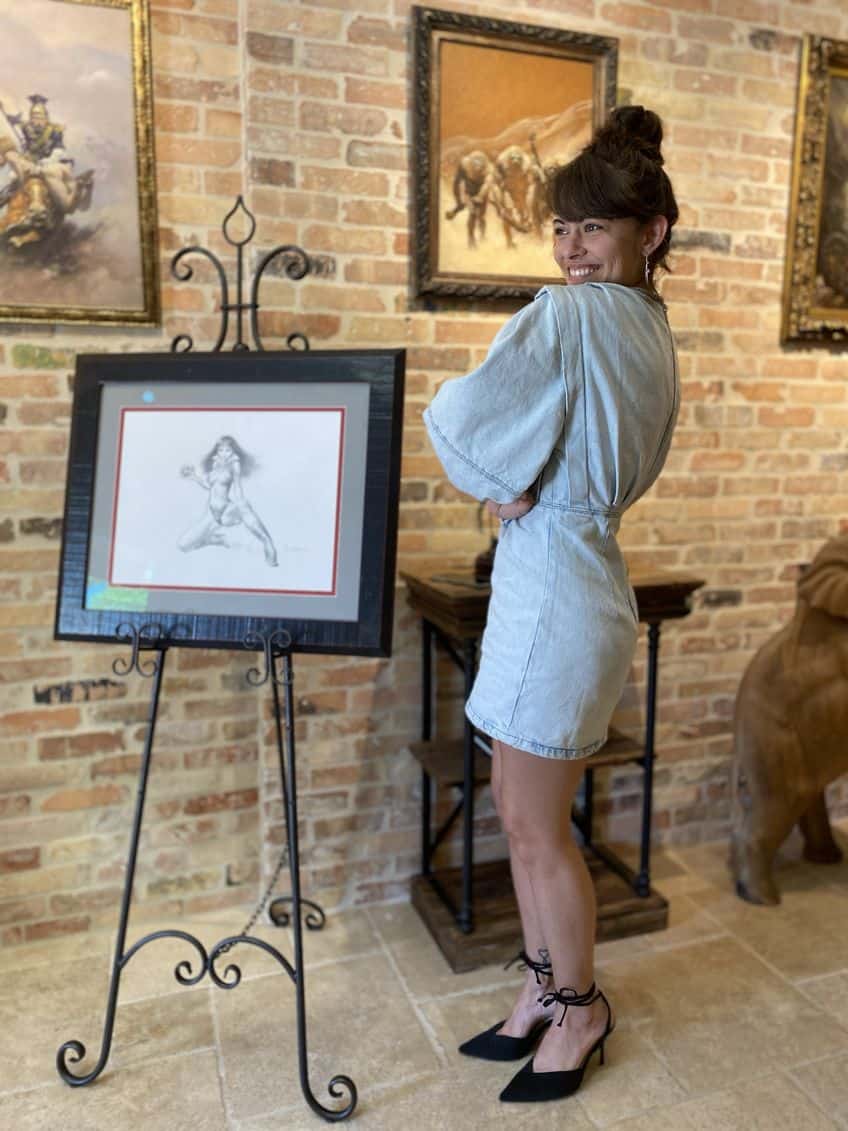 Franks's Granddaughter Sara Frazetta poses in front of original Vampirella artwork by Frank Frazetta in the Frazetta Art Museum in Boca Grande, Florida (2020); Webz1700, CC BY-SA 4.0, via Wikimedia Commons
From the casting until the final shot, Frank Frazetta and Ralph Bakshi were significantly involved in the development of the live-action segments utilized for the rotoscope animation in the movie Fire and Ice. Following the premiere of the film, Frazetta returned to producing his paintings and pen-and-ink drawings. A number of recording artists have utilized Frank Frazetta's paintings as album covers. The lead guitarist for Metallica, Kirk Hammett, purchased the cover artwork for the paperback publication of Conan the Conqueror in 2009.
Later Life
Frazetta established Frazetta's Fantasy Corner in a former Masonic building in East Stroudsburg, Pennsylvania, in the early 1980s. The building also featured the Frazetta art museum, which showcased both his own works and the works of other artists in a dedicated gallery. Quantum Cat Productions produced the magazine Frank Frazetta Fantasy Illustrated from 1998 to 1999, including cover art and drawings by Frazetta. Frazetta suffered from a number of health issues in his final years, including a thyroid disease that remained undiagnosed for many years. A succession of strokes rendered his right arm practically paralyzed.
Using his left hand, he re-trained himself to draw and paint. By 2009, he was living on an estate in Pennsylvania's Pocono Mountains, with a little museum open to the general public.
Eleanor, his wife, died on the 17th of July, 2009, following a year-long struggle with illness. Steve Ferzoco and Rob Pistella were then appointed to handle his business concerns. Frank Frazetta's eldest son was arrested on allegations of stealing $20 million worth of Frank Frazetta's artworks from the museum soon after Eleanor's passing. With the help of two accomplices, Frank Jr. broke into the museum and took 90 paintings following an argument over the family fortune. The responding trooper was told by Frank Jr. that he had authorization from Frank Frazetta, according to the affidavit. The trooper contacted Frazetta Sr., who stated that he had not granted his son authorization to enter or take artwork from the museum.
Cover of Famous Funnies number 213 (September 1954) by Frank Frazetta; Frank Frazetta, Public domain, via Wikimedia Commons
Bill Frazetta, the youngest son, stated that the artworks belonged to a business that he shared administration duties with his sisters and that the art was intended to remain in the museum. Frank Jr. argued that he was attempting to protect the artworks from being auctioned in accordance with his father's instructions, which he said had granted him the authority to rule over his estate. Frank Sr. stated that he was perplexed by his son's behavior. Afterward, the Frazetta family issued a statement indicating that all of Frank's children would from then on be working together to promote Frank Frazetta's artworks. Frazetta passed away from a stroke on the 10th of May 2010, in a hospital near his home in Florida.
The Legacy of Frank Frazetta's Paintings
Several artists in the science fiction and fantasy genres have been influenced by Frazetta. In a 1979 interview by Alan Arnold, filmmaker George Lucas praises Frank Frazetta's artwork, noting that he is a lover of comic art and collects it. He also mentioned that he admires a number of modern illustrators working in the science-fiction and fantasy genres. He stated that he likes them because their ideas and thoughts are so imaginative and that illustrators such as Frazetta have a refined style. Guillermo del Toro, an Oscar-nominated director, declared in 2010 that Frazetta was an artist who redefined fantasy art for the 20th century.
Del Toro went on to assert that he developed an additional narrative layer for every work he ever produced, giving the world a new pantheon of heroes.
Many people from various fields and disciplines have cited him as a major influence on their works such as Nintendo game designer Yusuke Nakano, musician and fantasy artist Joseph Vargo, comic artists Shelby Robertson and Marc Silvestri, and photographer Mark Seliger, to name a few. As of 2013, Holly Frazetta's collection of Frank Frazetta's art was touring the United States, including public showings at comic book events. In 2014, she co-founded Frazetta Girls with her daughter Sara Frazetta. The Frazetta Girls firm runs an online store with authentic Frank Frazetta products and has a significant social media presence with regular posts of Frank Frazetta's paintings. Holly Frazetta revealed the reopening of the Frazetta Art Museum in Boca Grande, Florida, in March 2020.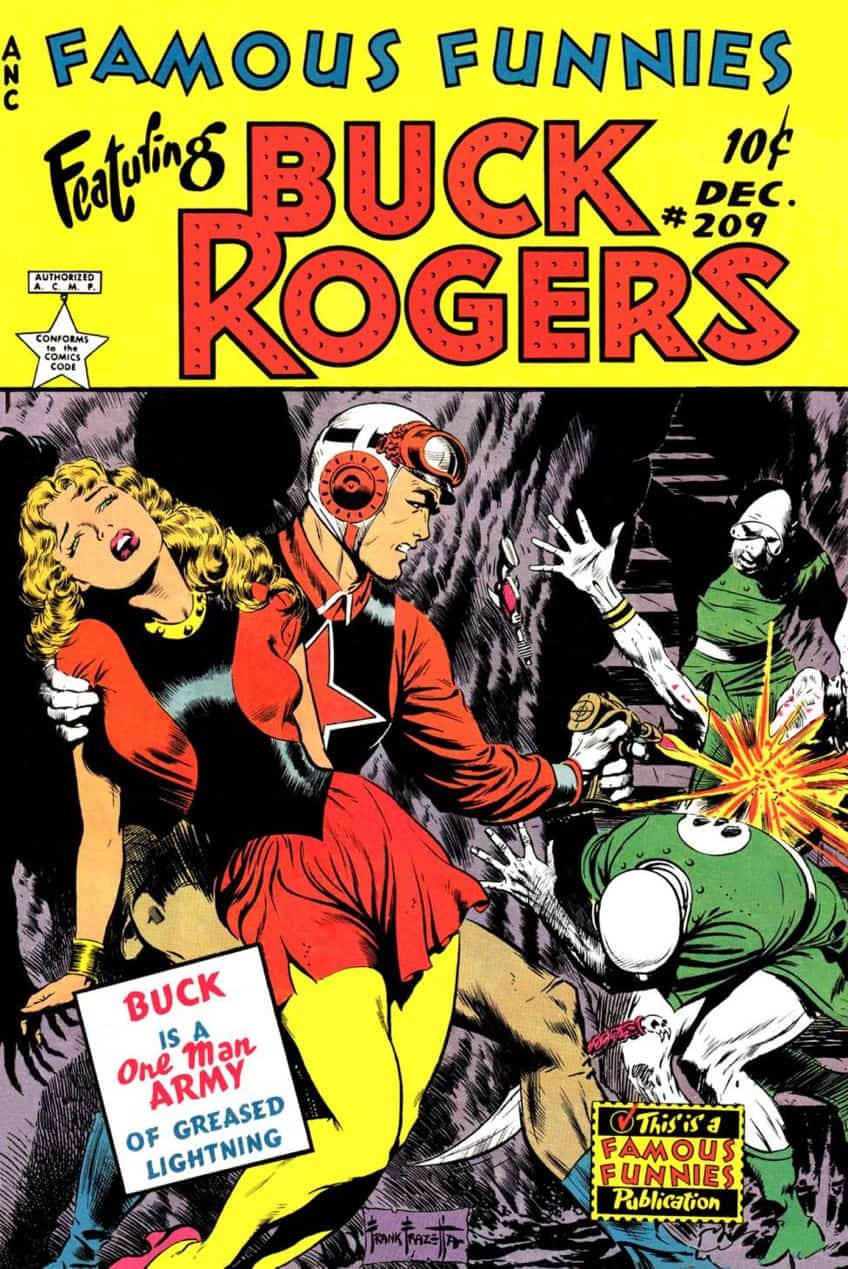 Cover of Famous Funnies number 209 (December 1953) by Frank Frazetta; Frank Frazetta, Public domain, via Wikimedia Commons
Frank Frazetta's Art Style
Frazetta is most renowned for his science-fiction and fantasy artwork, as well as his contributions to comic books and record covers. His art style was a distinct combination of romanticism, realism, and exaggeration, and he was an expert at utilizing light and shadow to produce dramatic effects. Among the artists who influenced Frazetta were illustrators J.C. Leyendecker and Howard Pyle, as well as masters Rembrandt, Michelangelo, and Rubens.
Popular culture, notably pulp fiction, and comic comics, also influenced him.
Frank Frazetta's paintings were distinguished by strong, expressive lines, exaggerated figures, and dramatic lighting. His compositions typically portrayed strong and muscular warriors, skimpily clad ladies, and frightening monsters. He was particularly talented at conveying motion and action in his paintings. Frazetta's visual style had a considerable influence on the fantasy and science fiction genres, and many artists acknowledge him as an inspiration.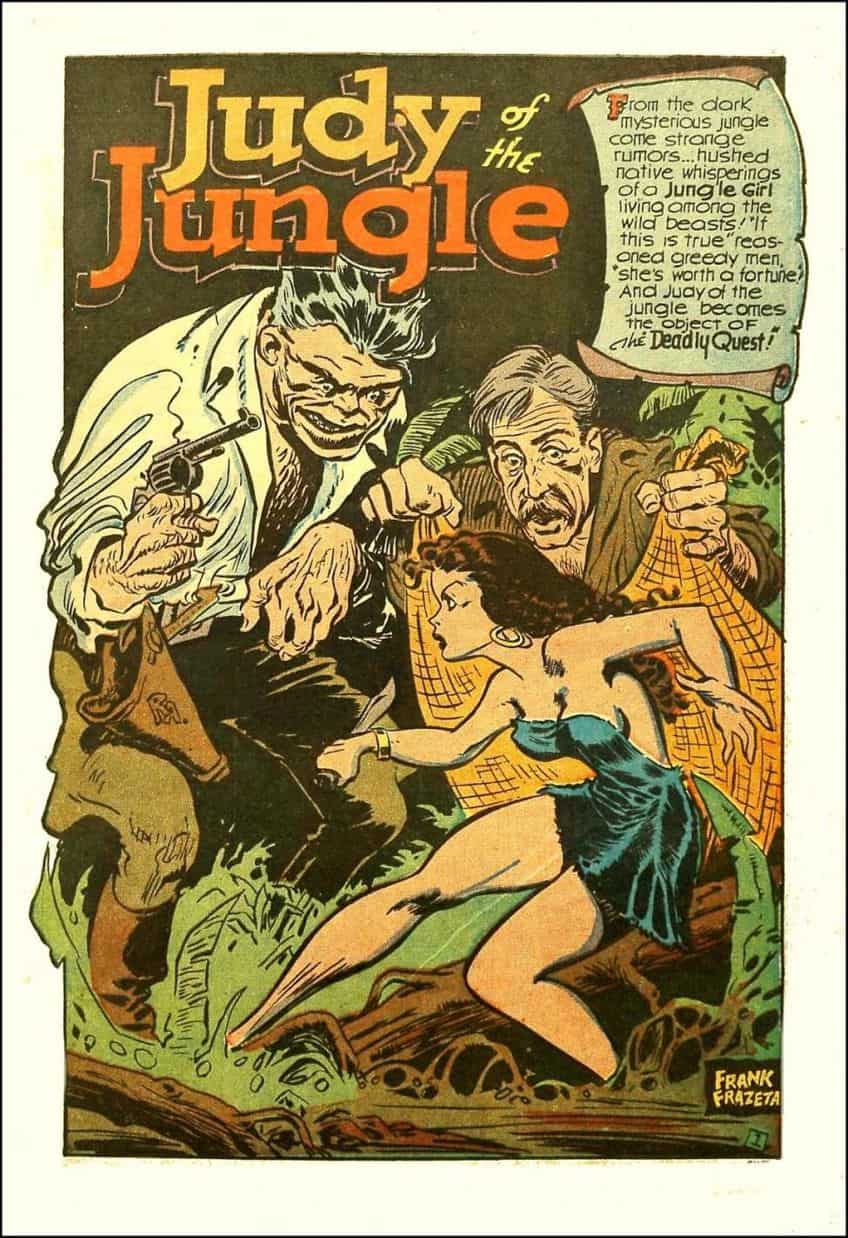 Page from Exciting Comics #59 (1948) by Frank Frazetta; Frank Frazetta, Public domain, via Wikimedia Commons
His artwork has appeared on several book covers, movie posters, and record covers, and he is regarded as one of the 20th century's most influential fantasy painters. Frazetta's style changed over his career, especially in his use of color. His early art was filled with vivid hues, however, his later work grew more somber and gloomy. He also dabbled in many media, such as watercolor, oil paint, and pen and ink. Frazetta suffered a stroke in 2009, which left him unable to use his dominant hand. Despite this handicap, he continued to make art with his non-dominant hand, even developing a new painting technique that was looser and more emotive than his earlier work.
Frazetta the Conan Artist
Frank Frazetta is mainly remembered for his iconic paintings of Conan the Barbarian, a fictitious character introduced in the 1930s by writer Robert E. Howard. Frank Frazetta's artwork was crucial in popularizing the character and in establishing the visual aesthetic of the sword and sorcery genre. During the span of his professional life, Frazetta produced many illustrations of Conan, spanning magazine illustrations, book covers, and comic book art.
His debut Conan painting was for the Lancer Books version of Conan the Adventurer in 1966, and his work was featured on many additional Lancer Conan paperbacks after that.
Conan was represented in Frank Frazetta's artwork as a formidable and muscular warrior, usually brandishing a sword or other weaponry. His Conan was usually depicted in action, fighting monsters, saving damsels, or engaging in heroic exploits. Frazetta's use of dramatic lighting and vibrant colors contributed to his artwork's sense of excitement and danger. Frazetta's Conan paintings had a huge impact on the genre, and many following representations of the character by other artists were inspired by his work. His legacy as one of Conan the Barbarian's defining artists lives on, and his artwork is a revered and enduring part of the character's visual heritage.
Exhibitions
Frank Frazetta's paintings have been displayed in museums and galleries all around the globe, and it is in high demand among collectors. Frazetta has also been featured in numerous retrospective exhibits and has had a considerable impact on the field of fantasy painting. The Frazetta Art Museum opened in East Stroudsburg, Pennsylvania, in 2008, to exhibit Frank Frazetta's artwork and commemorate his legacy as an artist. The museum has a vast collection of original artwork by Frank Frazetta, as well as memorabilia and souvenirs relating to his work. Here is a list of Frank Frazetta's most notable exhibitions:
Frank Frazetta: The Godfather of Fantasy Art (2008): A retrospective showcase of Frank Frazetta's artwork at New York City's Society of Illustrators.
Frazetta: The Collection (2011): An exhibition of Frank Frazetta artworks at New York City's Museum of American Illustration.
Frank Frazetta: Master of Fantasy Art (2019 – 2020): Frank Frazetta's artwork was included in a touring retrospective exhibition at the Norman Rockwell Museum in Massachusetts, the Boca Raton Museum of Art in Florida, and the Frazetta Art Museum in Pennsylvania.
Furthermore, Frank Frazetta's paintings have also been featured in a number of group exhibits and presentations, such as the annual Spectrum: The Best in Modern Fantasy Art exhibition, which highlights the works of contemporary fantasy artists.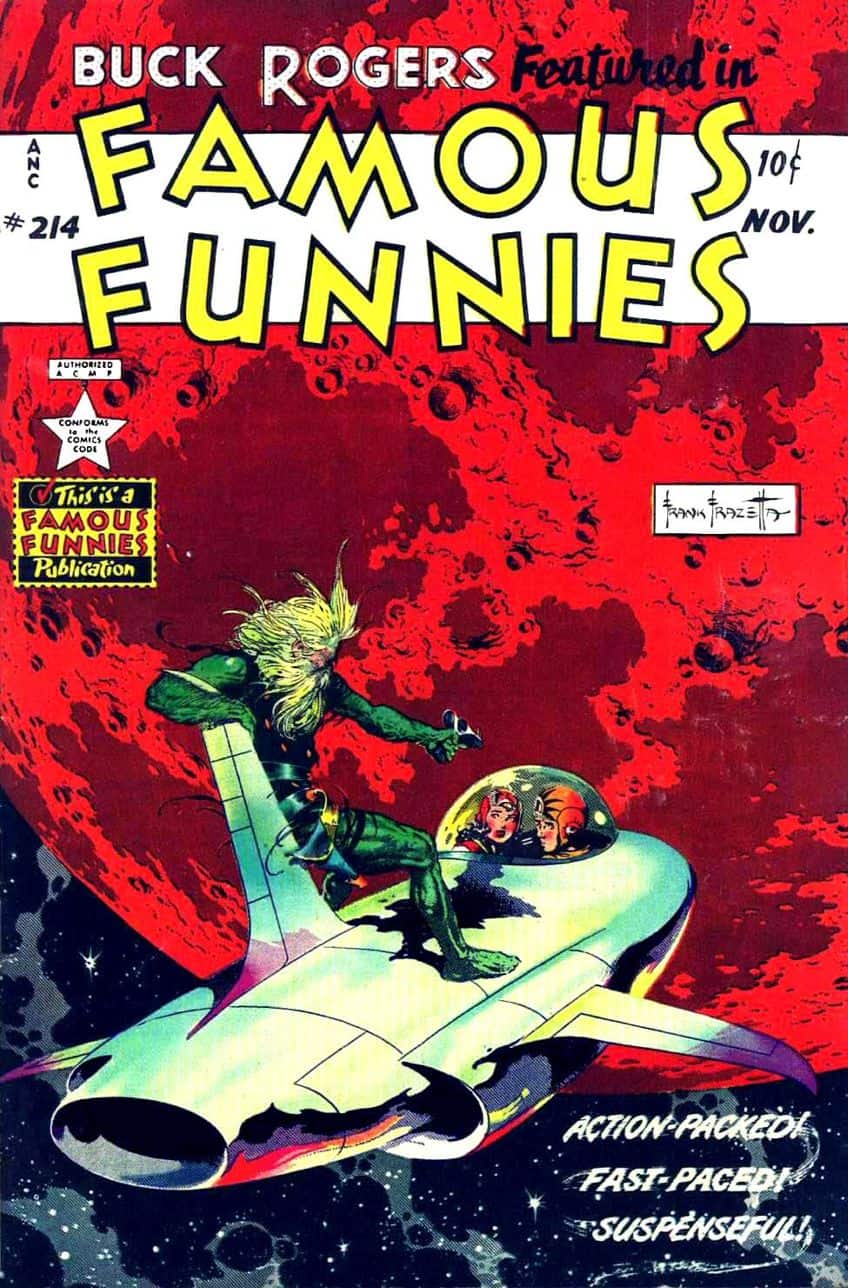 Cover of Famous Funnies number 214 (December 1953) by Frank Frazetta; Frank Frazetta, Public domain, via Wikimedia Commons
Documentary
In 2003, Lance Laspina, a documentary film director, produced a film about the life of Frazetta called Frazetta: Painting with Fire. The documentary includes interviews with Frazetta as well as his friends, family, and colleagues, as well as archive footage and photos of his artwork. The documentary follows Frazetta from his youth in Brooklyn to his early experiences in the comic book industry. It also dives into his seminal work in the science fiction and fantasy genres, featuring iconic depictions of Conan the Barbarian and other well-known characters.
During the documentary, Frank Frazetta discusses his processes, inspirations, and the creative problems he experienced throughout his career, providing insights into his artistic methodology and ideology.
The film also investigates the impact of Frazetta's works on popular cultures, such as his impact on the fantasy art genre and his involvement in molding the aesthetic identity of legendary figures such as Conan. Fans and critics commended the documentary for its informative look into Frazetta's existence and professional life, as well as its utilization of archive videos and interviews to present a thorough overview of his oeuvre. It is still a popular and well-regarded homage to one of the genre's most prominent artists in science fiction and fantasy.
Notable Frank Frazetta Artworks
Frank Frazetta is rated among the best comic book illustrators of all time. He was known as the Conan artist due to his affiliation with the iconic warrior figure that he drew so often. Here are some of his most well-known artworks.
| | | | | |
| --- | --- | --- | --- | --- |
| Artwork | Date | Medium | Dimensions (cm) | Location |
| Tomorrow Midnight | 1966 | Oil on board | 48 x 35 | Paperback illustration |
| Faith | 1970 | Oil on board | 60 x 38 | Private collection |
| Child of the Sun | 1972 | Oil on canvas board | 50 x 60 | Paperback illustration |
| Warrior with Ball and Chain | 1973 | Oil on board | 58 x 48 | Private collection |
| Red Planet | 1974 | Oil on masonite | 60 x 38 | Private collection |
| Barbarian and Woman | 1977 | Ink on illustration paper | 17 x 21 | Private collection |
| Conan the Barbarian | 1988 | Ink on paper | 13 x 24 | Private collection |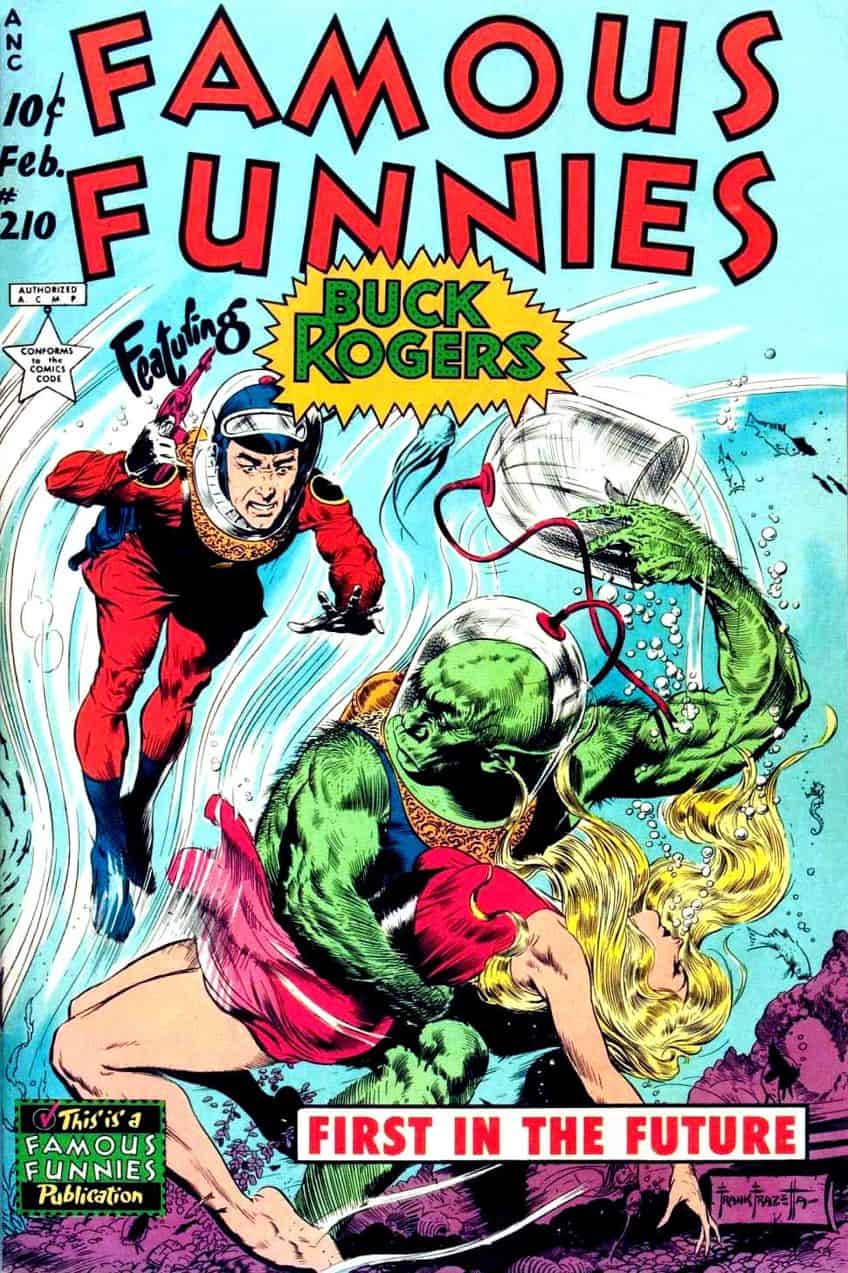 Cover of Famous Funnies number 210 (February 1954) by Frank Frazetta; Frank Frazetta, Public domain, via Wikimedia Commons
That concludes our article on the life and art of Frank Frazetta. While some people might deride cartoon art as childlike and simplistic, these are not terms that one would ever use to describe Frank Frazetta's artworks. In fact, his art was not just appreciated within comic book communities but throughout the world at large, including serious art collectors (even the lead guitarist of Metallica!). Even today, Frank Frazetta's artwork continues to inspire illustrators and artists with its loose, exaggerated, yet realistic fantasy and science fiction style that is so known and loved across the world.
Frequently Asked Questions
Who Was Frank Frazetta?
Frank Frazetta was an American illustrator who rose to prominence as a master of fantasy and science fiction imagery. Frazetta, who was born in Brooklyn in 1928, got his start as a comic book artist in the 1940s before transitioning to book covers, movie posters, and other types of illustration. His art was distinguished by a lively and expressive style, with muscular and heroic people engaging in epic confrontations with aliens, monsters, and other strange creatures. It is probably his portrayal of Conan the Barbarian that he is most remembered for. Frazetta's art can be seen in many museums and galleries across the world, and there was even a documentary made about him in 2003 called Frazetta: Painting with Fire.
Why Are Frank Frazetta's Paintings Important?
Frank Frazetta's renowned depictions of characters, such as Conan the Barbarian, helped to establish the visual aesthetic of the sword and sorcery subgenre, and his impact on pop culture has been enormous. Collectors and enthusiasts continue to adore Frazetta's artwork, and his reputation as a master of fantasy art is an indelible part of the genre's history. His artwork contributed to the definition and popularization of the fantasy genre. The technical expertise and aesthetic inventiveness of Frank Frazetta's work are equally noteworthy. His energetic and expressive style, with strong strokes and vibrant colors, served to establish a new benchmark for fantasy illustration, and his utilization of chiaroscuro lent depth and intensity to his art that was unique at the time. The cultural effect of Frazetta's art is significant. Throughout the years, his artwork has appeared on innumerable book covers, movie posters, and record covers, and his effect on popular culture has been substantial.
Who Was the Conan Artist?
In the 1960s, Frank Frazetta was commissioned to produce cover designs for a series of Conan paperback novels published by Lancer Publications. Frazetta's Conan paintings, which depicted the strong and heroic barbarian involved in epic fights against beasts and other opponents, served to define the character's visual identity and established the pattern for subsequent Conan artwork. Frank Frazetta's distinctive Conan paintings have become intertwined with the character, and his artwork has appeared on a plethora of Conan-related goods, including movie posters, comic books, and video games. Frank Frazetta's depiction of a world filled with brave warriors, seductive princesses, and horrifying beasts has become a staple of the science fiction and fantasy canon.
Isabella studied at the University of Cape Town in South Africa and graduated with a Bachelor of Arts majoring in English Literature & Language and Psychology. Throughout her undergraduate years, she took Art History as an additional subject and absolutely loved it. Building on from her art history knowledge that began in high school, art has always been a particular area of fascination for her. From learning about artworks previously unknown to her, or sharpening her existing understanding of specific works, the ability to continue learning within this interesting sphere excites her greatly.
Her focal points of interest in art history encompass profiling specific artists and art movements, as it is these areas where she is able to really dig deep into the rich narrative of the art world. Additionally, she particularly enjoys exploring the different artistic styles of the 20th century, as well as the important impact that female artists have had on the development of art history.
Learn more about the Art in Context Team.