Watching documentaries about artists is one of the best things you can do to feel inspired. There are many of the best art documentaries that describe the tale of an artist's life in the relatively brief history of streaming services. One can discover art documentaries on Netflix, Hulu, and many other online services. This article will explore the art history documentary genre, and hopefully expose you to your potential future favorite artistic documentary.
The Best Art Documentaries Online
Documentaries about artists might be more common than you think. However, nowadays, we are inundated with so many streaming services, that finding a good art history documentary can sometimes prove a bit of a challenge. We have tried to help relieve some of the guesswork by handpicking art documentaries on Netflix, Amazon, Hulu, and others, for your viewing pleasure.
Which artistic documentary will you watch first?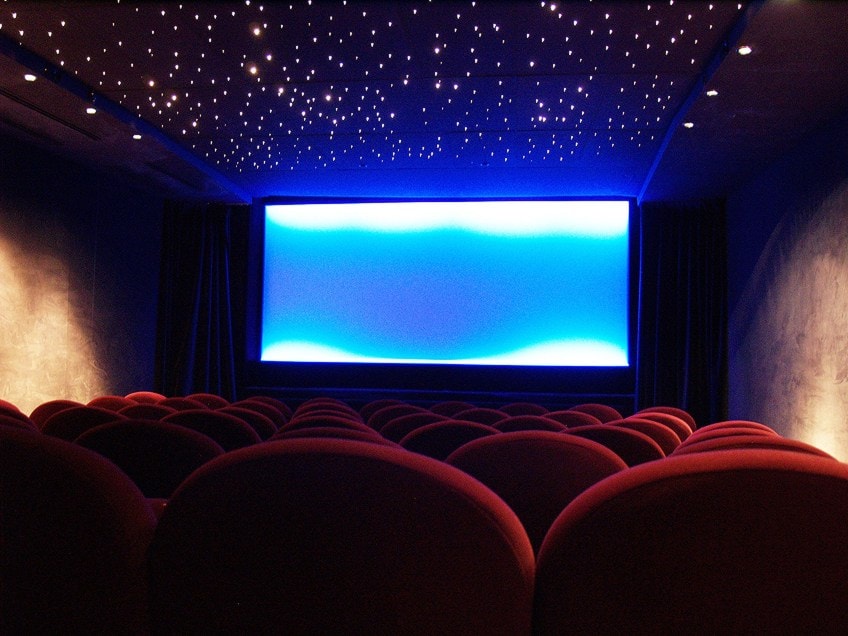 Paris arthouse cinema interior somewhere in the Quartier Latin, possibly Le Champo, July 2006; Kotivalo, CC BY-SA 4.0, via Wikimedia Commons
The Mystery of Picasso (1956) Directed by Henri-Georges Clouzot
The director Henri-Georges Clouzot had to use a novel strategy in order to document the creative side of the finest painter of the 20th century. He collaborated with the director of photography Claude Renoir, and the two employed translucent canvases to film Picasso's paintings. Picasso makes 20 pieces of art during the duration of the film, which was first shot in black and white, each one becoming more intricate from the initial crude sketches. The Mystery of Picasso then erupts into vivid color for the last reel, displaying the artist's palette in all its splendor.
One of the most thrilling and happy movies ever created, according to renowned New Yorker writer Pauline Kael, the movie earned the Special Jury Prize at the 1956 Cannes Film Festival.
The artist approaches his easel like a matador facing a bull. The artwork dances into existence before our eyes as he manipulates his brush. The master produced 20 pieces of art for the film, ranging from humorous black-and-white drawings to panoramic color paintings, to capture the moment and the mystique of creativity.
This type of art history documentary captures all these aspects.
Picasso quickly produced imaginative paintings on bleed-through paper, which Clouzot was able to film from the back, catching their production in real-time. The director converted to color film and stopped motion animation when the artist opted to paint in oils. Almost all of these artworks were required to be demolished by contract when the movie was finished.
If you would like to rent this art history documentary, then click here.
Painters Painting (1972) Directed by Emile de Antonio
Artists are sometimes accused of expressing their ideas about their work in perplexing, gnomic ways, yet this 1972 documentary is surprisingly insightful. It could be a result of the director, Emile de Antonio, being a well-known figure in the art world who knew many of the artists before they were well-known.
Whatever the cause, he unquestionably brings out the best in his subjects, a prestigious collection of Abstract and Pop painters that include Jasper Johns, Helen Frankenthaler, Andy Warhol, and Willem de Kooning.
The explanations by Frank Stella of Samuel Beckett's effect on his works and Robert Rauschenberg of the difficulty of erasing a de Kooning drawing are two of the highlights. The classic film on the New York School of painters, from 1940 to 1970, is called Painters Painting.
If you hope to complete craft
In-studio interviews with artists on their work from the periods of Abstract Expressionism, Color Field painting, Hard Edge, and Pop Art are conducted by director Emile de Antonio.
If you would like to rent this art history documentary, then click here.
Leaving Home, Coming Home: A Portrait of Robert Frank (2005) Directed by Gerald Fox
Gerald Fox, a documentary filmmaker who has previously worked on projects on Marc Quinn, Bill Viola, and Brett Easton Ellis, focused on the famous photographer Robert Frank. The majority of the movie is made up of interviews with the author, who gained notoriety with his 1958 novel The Americans and was by this point an irritable 80-year-old. Looking out from his previous workshop on Bleecker Street in Manhattan, he remarks, "The yuppies, they have a right to exist too, but I don't want to exist beside them!"
Frank only agreed to let Fox distribute the movie in theaters in 2019, postponing its wider distribution by 14 years. But within a few months, Frank had died suddenly in Nova Scotia, far from the yuppies.
Frank created 40 Fotos in 1946 at the conclusion of his extensive training. This hand-bound collection of images displays the diverse influences he had absorbed during his formative years, including reportage, modernism, and the Heimat style, which celebrates the straightforwardness of rural Swiss life.
It was also the first of four handmade photobooks he would create over the course of the following six years.
Frank emigrated to the United States in 1947 after becoming disenchanted with the limitations of his native Switzerland. He was employed by Harper's Bazaar's famed art director Alexey Brodovitch not long after arriving in New York. Despite being encouraged by Brodovitch's creative lessons, Frank rapidly became weary of the magazine's work and culture.
If you would like to view this artistic documentary, then click on the link here.
Alice Neel (2007) Directed by Andrew Neel
The film's director, Andrew Neel, examines the challenges his grandmother, Alice Neel, faced as a female artist, a young mother, and a rebellious artist. Neel created her expressionist portraits of friends and fellow artists during the height of Pop art, but they were dismissed as sentimental because of their use of muted colors and heavy impasto. Personal one-on-one interviews with Alice Neel's living family members and private archive video let filmmaker Andrew – Alice Neel's grandson – piece together the details of the artist's life.
The documentary focuses on Alice Neel's turbulent life and the legacy of her commitment to painting her time.
Alice Neel was one of the greatest American artists of the 20th century and a trailblazer for female artists. Neel, a creator of still life, landscapes, and individuals, was never hip or in tune with avant-garde tendencies.
Alice Neel's approach and method were uniquely her own while being sensitive to the expressionists of Scandinavia and Europe as well as the heavier arts of Spanish art.
Neel received her education at the Philadelphia School of Design for Women before being born close to Philadelphia in 1900. She developed into an artist with strong left-wing views and a sense of social responsibility. She registered for the Works Progress Administration in the 1930s while residing in Greenwich Village, New York, and painted urban views for them.
If you would like to view this artistic documentary, then click on the link here.
Louise Bourgeois – The Spider, the Mistress and the Tangerine (2008) Directed by Amei Wallach
This Film was created by Marion Cajori and Amei Wallach in honor of one of the 20th century's most significant painters. The artist's incredible body of work and the fascinating tale of her early life, which impacted much of her artwork, are discussed in the film, which was released two years before her passing in 2010, at the age of 98. Louise Bourgeois offers some insight into her creative process, which spans more than six decades, by divulging information about her life.
The French-American artist, who passed away in 1982 at the age of 71, was the first woman to get a significant retrospective at the MoMA.
If you would like to rent this art history documentary, then click on the link here.
The Woodmans (2010) Directed by Scott Willis
Unquestionably gifted, Francesca Woodman made a significant contribution to photography with her self-portraits. At the terribly young age of 22, she took her own life, leaving her images behind. In the 2011 film The Woodmans, the artist's relatives and associates discuss her legacy while being accompanied by a collection of films, images, and passages from Francesca Woodman's private journal.
The 2010 Tribeca Film Festival's outstanding "New York Documentary", directed by Scott Willis, also took home an Emmy.
If you would like to rent this art history documentary, then click on the link here.
Gerhard Richter – Painting (2011) Directed by Corinna Belz
In the 2011 documentary Painting, German painter Gerhard Richter—one of the best-selling artists of today whose paintings fetch multi-million-dollar sums at auctions across the globe—shares some of his creativity's best-kept secrets. The film was directed by Corinna Belz, who previously helmed the 2007 short Gerhard Richter's Window.
It examines Richter's more-than-50-year career via close interviews with his critics, associates, and gallerists as well as through rare archival footage.
If you would like to rent this art history documentary, then click on the link here.
Eames: The Architect and The Painter (2011) Directed by Jason Cohn and Bill Jersey
The married couple team of Ray and Charles Eames began with modest beginnings, molding plywood seats in the guest bedroom of their Los Angeles apartment, and went on to become incredibly significant in reshaping 20th-century Americana as designers, architects, and filmmakers. James Franco, the narrator of the Hollywood film Eames: The Architect and The Painter, uses archive material and interviews with influential people to convey their tale.
The Peabody Award-winning film was characterized as "full of items, information, tales, and people, organized with frenetic grace" by The New York Times.
The iconic chairs designed by Charles and Ray Eames changed how we think of contemporary furniture, yet this was only one aspect of their body of work. They were designers, directors, and textile designers. We would still be talking about them now if they had limited their work to just one of these categories.
Nevertheless, they dispersed their skills widely, emerging as two of the best designers of the 20th century.
After two years of studying architecture at Washington University, he left to establish his own architectural practice. The meeting with two talented Finnish architects, Eliel and Eero Saarinen, changed the course of his life. He married his college love and had a daughter.
If you would like to view this artistic documentary, then click on the link here.
AI WeiWei: Never Sorry (2012) Directed by Alison Klayman
Never Sorry, a 2012 art documentary available on Netflix, explores the notorious Chinese dissident Ai Weiwei's life and work during the years from 2008 through 2010. The artist was planning for his show at the Haus der Kunst in Munich in September 2009 and his 100-million-piece ceramic porcelain installation at the Tate Modern the following September during this period. We may observe Chinese government agents pursuing Ai Weiwei in a public café in the movie, which also comes before his 2011 detention, or how the artist looks after his pet animals.
Alison Klayman, an American director, was behind the camera.
If you would like to view this artistic documentary, then click on the link here.
Marina Abramović: The Artist Is Present (2012) Directed by Matthew Akers
I want to be a legitimate form of art before I perish," the Serbian performance artist jokes to the cameraman at one point in this movie. But it's obvious by the expression in her eyes that she's dead serious. The cameras follow Abramović as she gets ready for her solo exhibition "The Artist Is Present" at New York's Met Museum in 2010, which will be her professional apotheosis.
Without food or water, the artist spent seven and a half hours each day for three months looking seriously into the eyes of the visitor seated across from her in a wooden chair.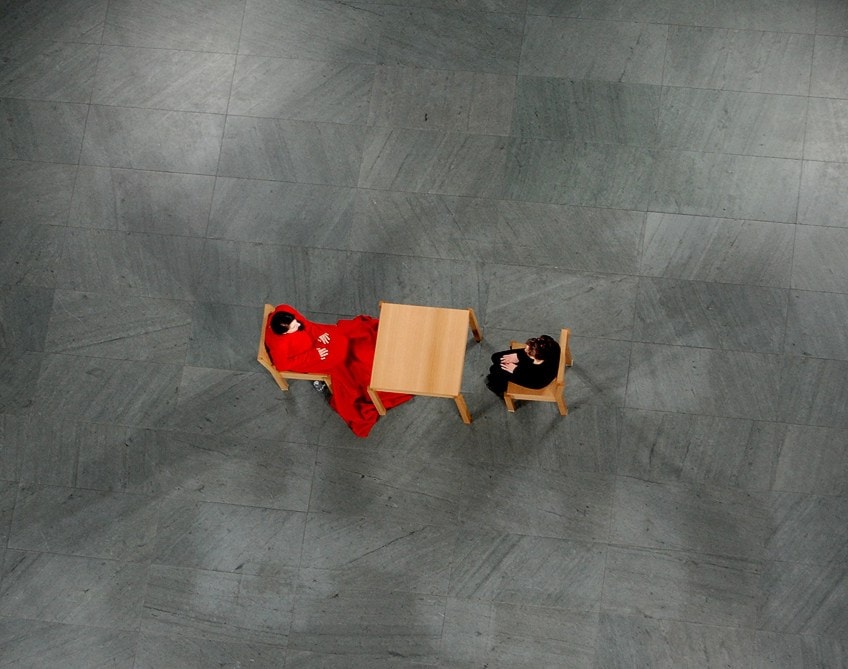 "Marina Abramović: The Artist Is Present" at the Museum of Modern Art, New York, 2010; Andrew Russeth from New York, New York, CC BY-SA 2.0, via Wikimedia Commons
The film's director, Matthew Akers, aims to provide a response to the issue of how we identify art by weaving in the tale of how Abramović went from being dismissed as mad to being hailed as the mother of performance art.
Since her early work in Belgrade, she has been mocked and called an egotist and masochist—performance artists being an easy target—but not anymore. With major exhibits and celebrity partnerships (Lady Gaga once went to a secret session with Abramović in which the singer didn't eat or talk for four days and made her way out of a forest, bound and gagged and nude), Abramović is a celebrity in the art world, garnering her recognition and fortune.
She claims, "I didn't produce art for that. I create art because I think it's important."
If you would like to rent this art history documentary, then click on the link here.
National Gallery (2014) Directed by Frederick Wiseman
With 2400 paintings dating from the 13th to the end of the 19th century, London's National Gallery is one of the major museums in the world. Among the artworks, nearly every human experience is shown. Sequences from the movie include members of the public visiting various galleries, educational programs, academics, scientists, and curators researching, repairing, and organizing exhibitions.
It investigated how storytelling and art relate.
This three-hour, one-year-long documentary on London's National Gallery lacks a storyline. Instead, the camera captures the minute details of museum life, including docents lecturing kids, janitors shining gallery floors, curators changing artwork, and the required private viewings. Frederick Wiseman, the Veteran American filmmaker whose critical analysis of the prison system launched his career in the 1960s, is known for his refusal to include commentary, conduct interviews, or identify the speakers.
As a result, there is a lengthy reflection on art and the people who view it.
If you would like to view this artistic documentary, then click on the link here.
Peggy Guggenheim: Art Addict (2015) Directed by Lisa Immordino Vreeland
For her biography of the pioneering art patron, Jacqueline Weld interviewed Peggy Guggenheim throughout the summers of 1978 and 1979. Unfortunately, the cassettes were misplaced, and nobody ever heard them. Years later, when Lisa Immordino Vreeland set out to produce a movie about Guggenheim, she never imagined she would find them. But when Vreeland unexpectedly dropped by Weld's apartment, she discovered them languishing in a box of books in the basement.
The recordings served as the foundation for this gripping documentary.
It focuses on how Guggenheim is perceived by historians: she is frequently accused of having had her preferences dictated to her by the guys she hung out with, such as Rothko, Motherwell, and Pollock, which is something a male in a comparable situation would never be accused of.
Despite having the support of experienced advisers, Guggenheim's collection was driven by her emotional response to the art. She acquired items that she adored, were captivating, or were provocative. Bohemian at heart, Guggenheim wants to share her collection with the general world as a creative project.
Guggenheim was a quick study and showed foresight in the shows she produced at her many galleries.
She expanded the popularity of modern art in Britain by giving Wassily Kandinsky his first solo exhibition there, and she had the guts to offer the young Abstract Expressionists some of their first significant high-level exposure in New York and later in Italy.
If you would like to rent this art history documentary, then click on the link here.
Sky Ladder: The Art of Cai Guo-Qiang (2016) Directed by Kevin Macdonald
Cai Guo-Qiang is an artist most recognized for his utilization of gunpowder, which he ignites on canvases to produce burned designs and uses to create pyrotechnic displays, most notably at the 2008 Summer Olympics in Beijing. Cai, a 1957-born artist, became the first Chinese artist to receive the Venice Biennale's Golden Lion in 1999.
Since then, he has gained notoriety for his shocking public installations that have astounded audiences from Russia to Ohio.
In this film by Kevin Macdonald, the artist is followed as he constructs his most spectacular event to date: a 500-meter ladder hovering in the night sky and lighted by pyrotechnics. The piece, created to commemorate Cai's grandmother's 100th birthday, displays a well-known artist with a strong sense of place.
If you would like to view this artistic documentary, then click on the link here.
Boom for Real: The Late Teenage Years of Jean-Michel Basquiat (2017) Directed by Sara Miller Driver
After seeing the items of a bank vault containing Basquiat's artwork with her acquaintance, an ex-roommate of Basquiat's, Sara Driver was moved to create a movie on the New York art community in the late 1970s.
In an interview from 2018, she recalled, "I realized everything she had and I was thinking, this is not only a glimpse into him, but this is a portal into New York at that specific period in time."
Driver's video examines the essential few years during which Basquiat developed from a youthful, destitute graffiti artist into a future star of the art world by combining old material with fresh interviews. Jim Jarmusch, a filmmaker, and Kenny Scharf, a painter, both make cameo appearances to recount their early experiences.
If you would like to rent this art history documentary, then click on the link here.
That wraps up our list of the best art documentaries available for you to watch right now! These documentaries about artists are sure to not only quench your thirst for artistic knowledge but also encourage you to start creating art! Don't forget to check them out for yourself, there are art documentaries on Netflix, Hulu, Amazon, and many more streaming services for you to enjoy!
Frequently Asked Questions
What Are Art Documentaries Created For?
Understanding art can be a challenging endeavor. Sometimes understanding the artists helps us understand their works. Thankfully, there are film directors who have taken the time to create these wonderful documentaries about artists that further deepen our understanding of the vast world of art.
Where Can I Watch the Best Art Documentaries?
This list is a great place to start! Simply choose one that looks appealing to you and click on the link provided. Or, if you cannot decide, then be adventurous and just start with any one of them. Every documentary on this list is entertaining and informative.
In 2005, Charlene completed her Wellness Diplomas in Therapeutic Aromatherapy and Reflexology from the International School of Reflexology and Meridian Therapy. She worked for a company offering corporate wellness programs for a couple of years, before opening up her own therapy practice. It was in 2015 that a friend, who was a digital marketer, asked her to join her company as a content creator, and this is where she found her excitement for writing.
Since joining the content writing world, she has gained a lot of experience over the years writing on a diverse selection of topics, from beauty, health, wellness, travel, and more. Due to various circumstances, she had to close her therapy practice and is now a full-time freelance writer. Being a creative person, she could not pass up the opportunity to contribute to the Art in Context team, where is was in her element, writing about a variety of art and craft topics. Contributing articles for over three years now, her knowledge in this area has grown, and she has gotten to explore her creativity and improve her research and writing skills.
Learn more about the Art in Context Team.